Bay of Fundy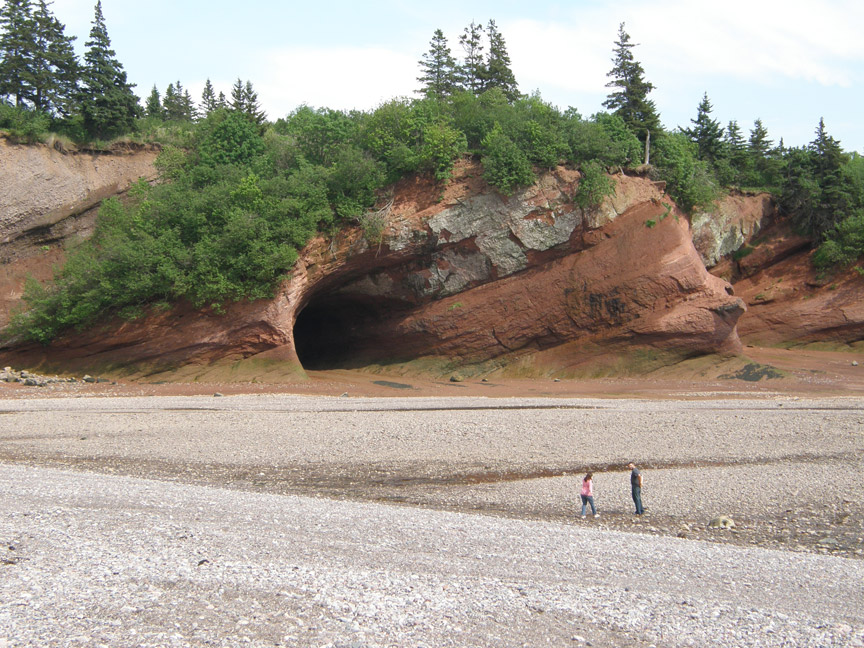 Sea Caves at low tide
New Brunswick is bounded on the north by Quebec's Gaspé Peninsula and Chaleur Bay. Along the east coast, the Gulf of Saint Lawrence and Northumberland Strait are found. In the south-east corner of the province, the narrow Isthmus of Chignecto connects New Brunswick to the Nova Scotia peninsula. The south of the province is bounded by the Bay of Fundy, which has the highest tide in the world, with a rise of 16m. On the west, the province borders the American state of Maine.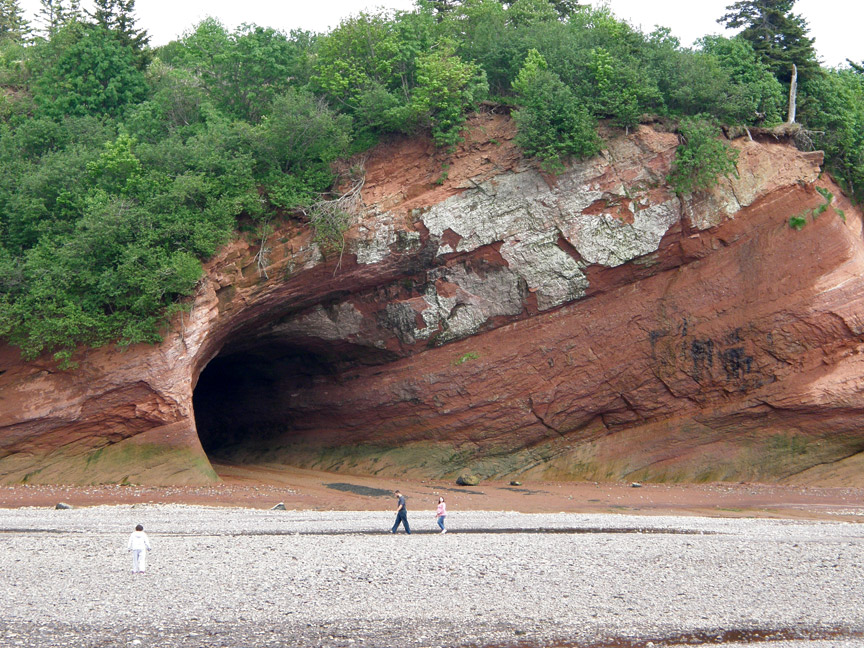 entrance to the sea cave near Saint Martins
New Brunswick differs from the other Maritime provinces physiographically, climatologically and ethnoculturally. Both Nova Scotia and Prince Edward Island are either wholly or nearly surrounded by water and oceanic effects therefore tend to define their climate, economy and culture. New Brunswick, on the other hand, although having a significant seacoast, is sheltered from the Atlantic Ocean proper and has a large interior which is removed from oceanic influences. The climate therefore tends to be more continental than maritime. The settlement patterns and the economy of New Brunswick also is more based on its river systems than on its seacoasts.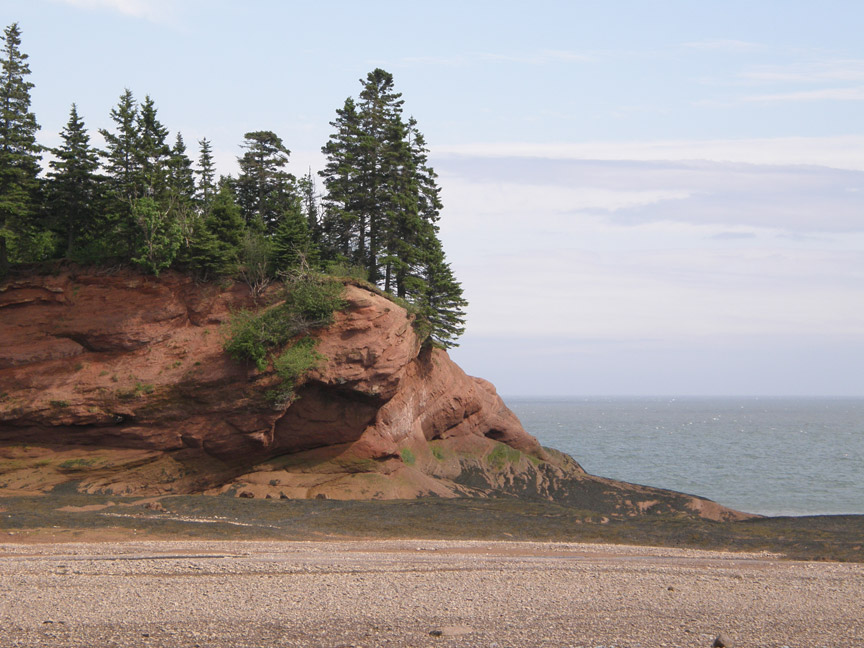 The major river systems in the province include the Saint John River, Petitcodiac River, Miramichi River, St. Croix River, Kennebecasis River and the Restigouche River. New Brunswick lies entirely within the Appalachian Mountain range. The eastern and central part of the province consists of the New Brunswick Lowland. The Caledonia Highlands and St. Croix Highlands extend along the Bay of Fundy coast, reaching elevations of 300 metres. The northwestern part of the province is comprised of the remote and more rugged Miramichi Highlands, as well as the Chaleur Uplands and the Notre Dame Mountains with a maximum elevation at Mount Carleton of 820 metres. The total land and water area is 72, 908 kms², 80% of which is forested. Agricultural land is found mostly in the upper Saint John River valley, with lesser amounts of farmland in the southeast of the province. The major urban centers lie in the southern third of the province.
Text from Wikipedia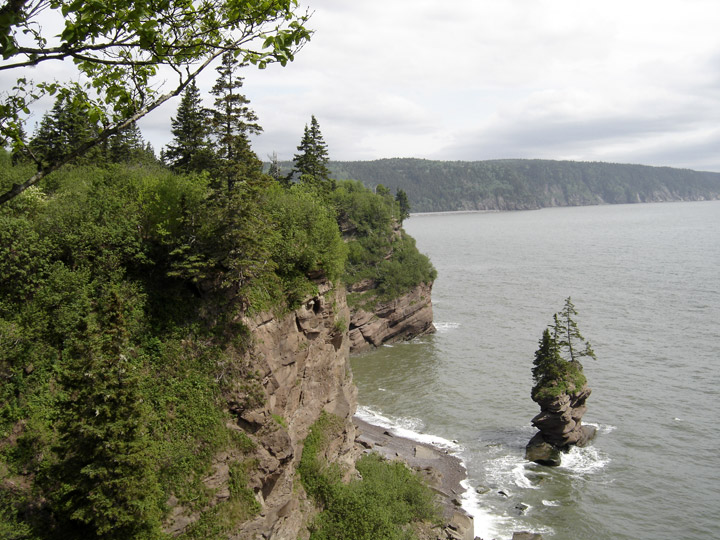 flower pot rock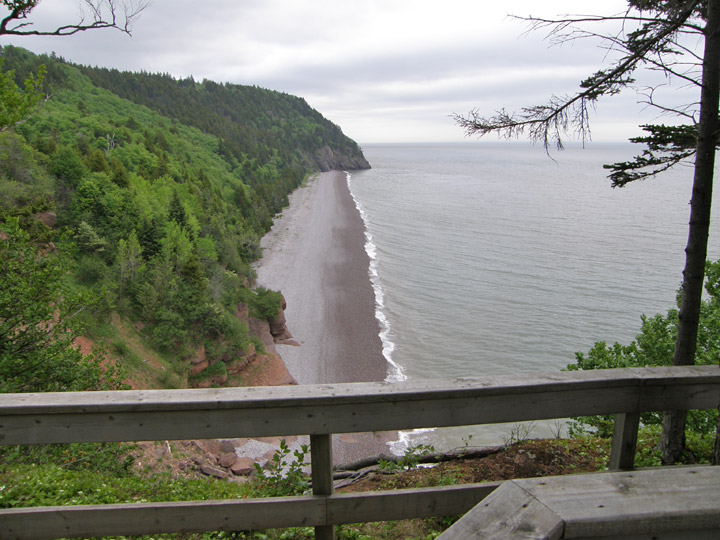 ---
Salt Marshes along the Bay of Fundy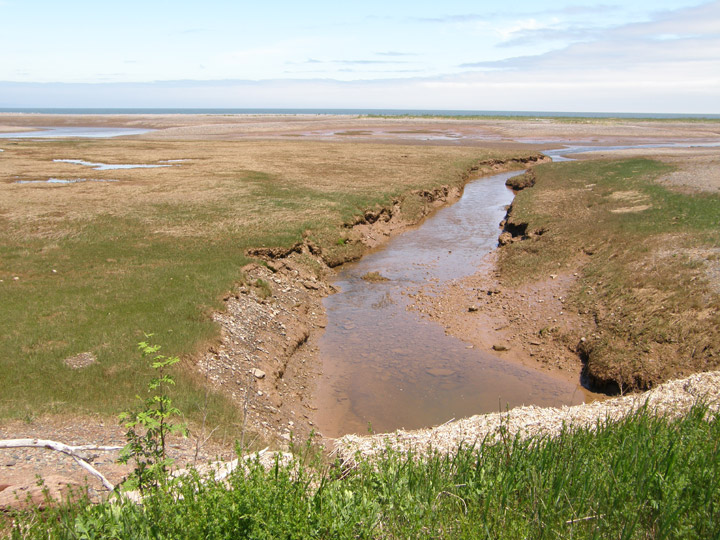 now tidal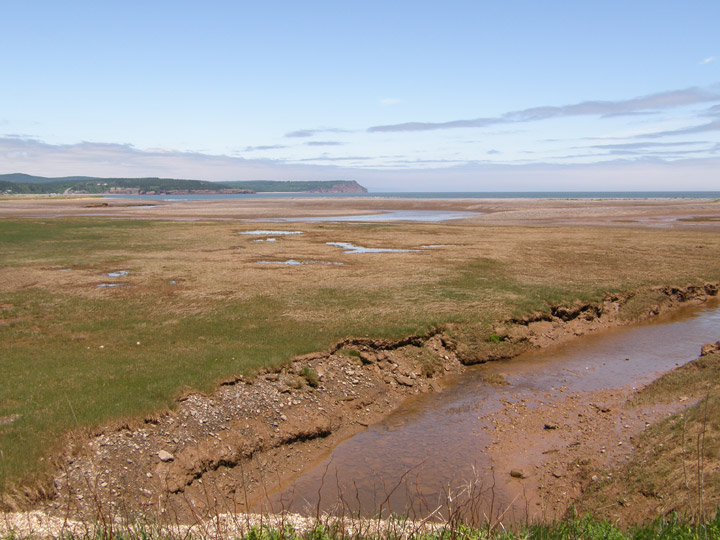 were drained and farmed by early settlers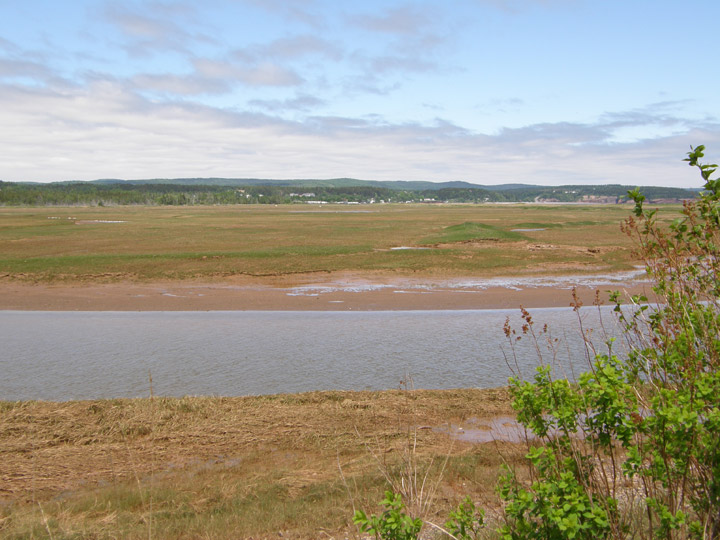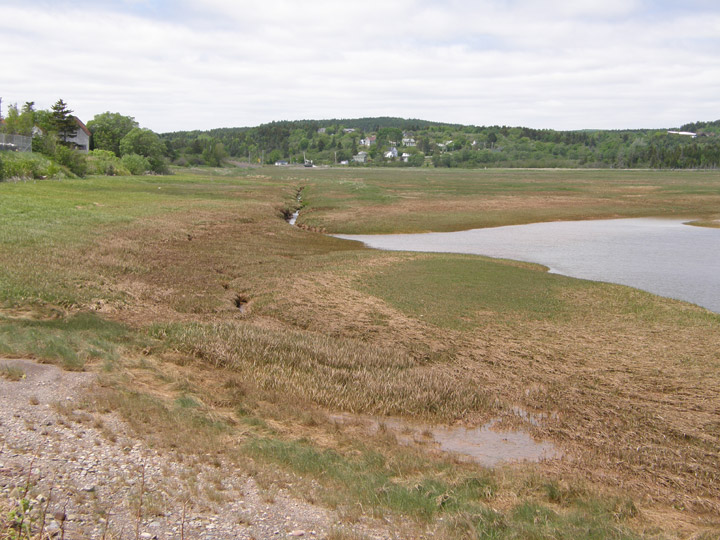 ---
Tidal Waters
in an inlet of the Bay of Fundy
Lobsterman's boat high and dry at low tide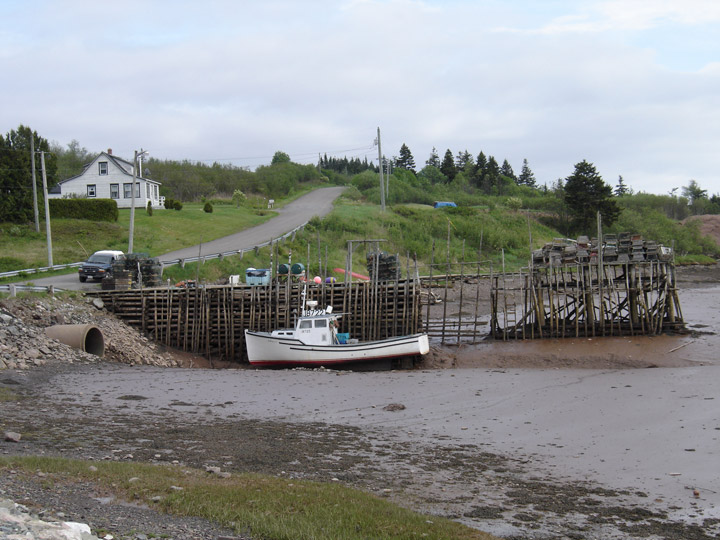 on the boat waiting for the tide to come in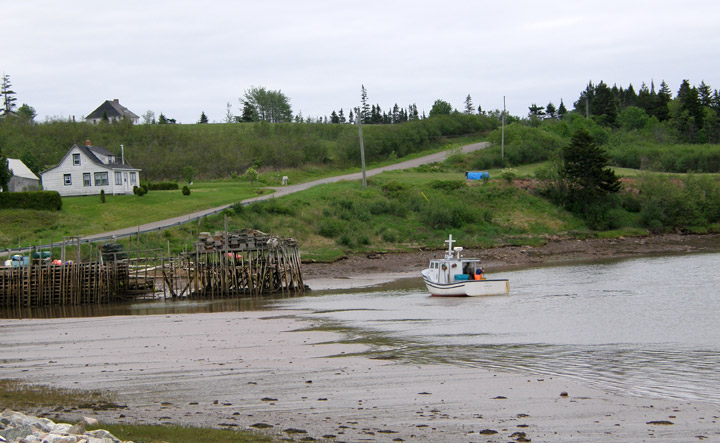 sufficient water to float the boat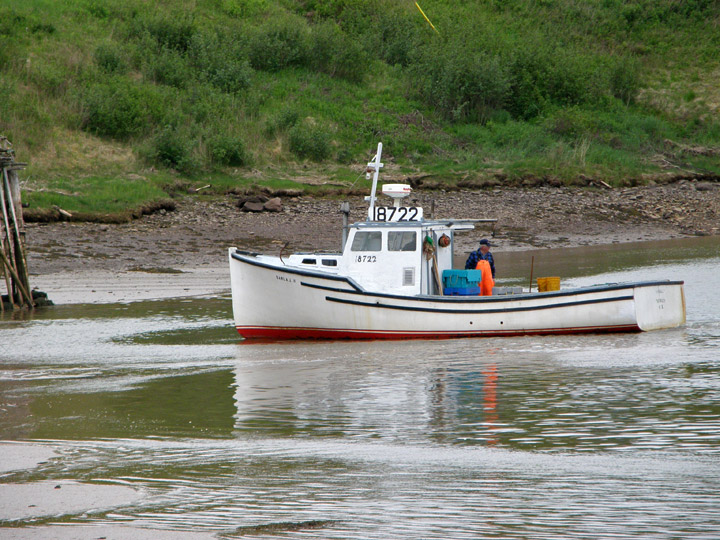 getting ready to tend his lobster traps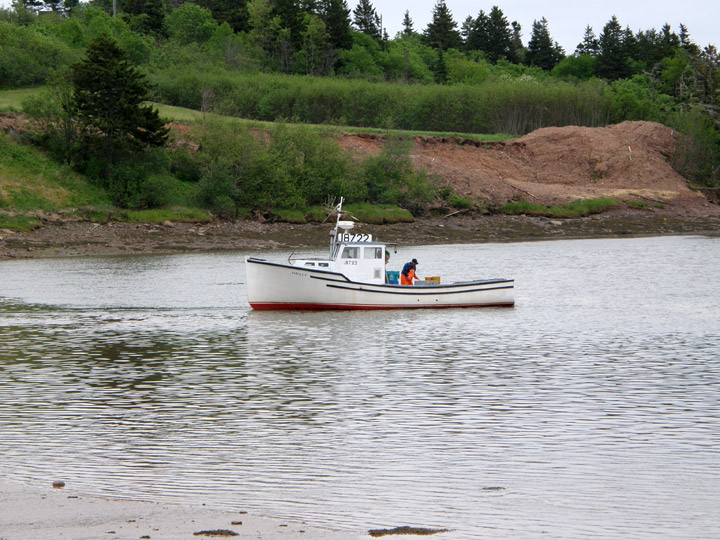 water getting deeper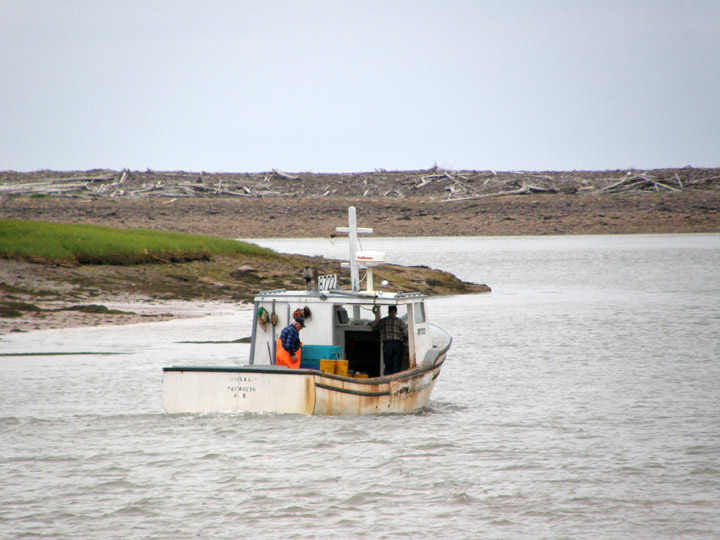 on the way to go around the sand bar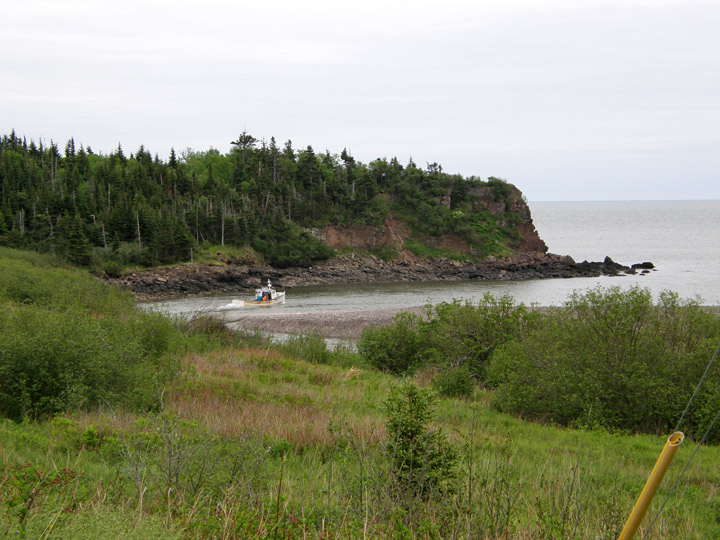 heading for the Bay of Fundy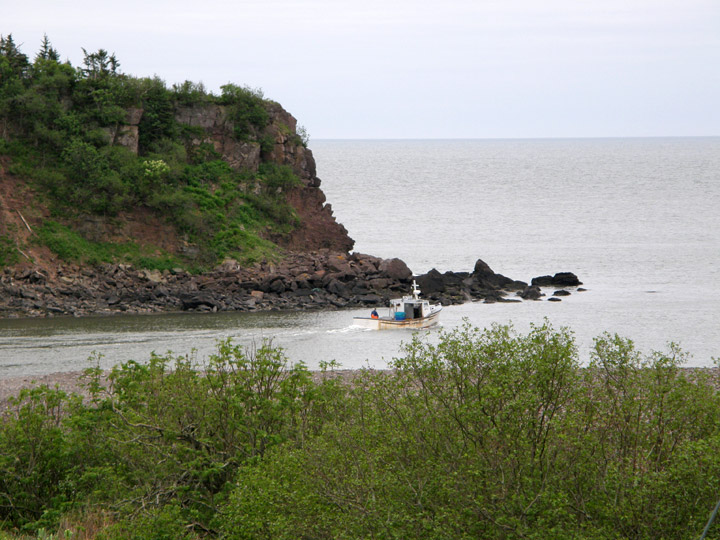 reaching the Bay of Fundy
where his lobster traps are located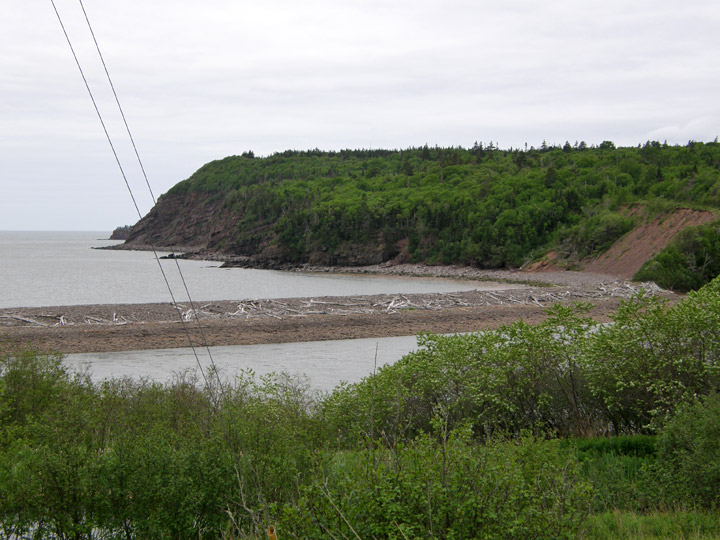 the sand bar almost closing this inlet
---
---