Excavations
Xian, China
photographed June 2005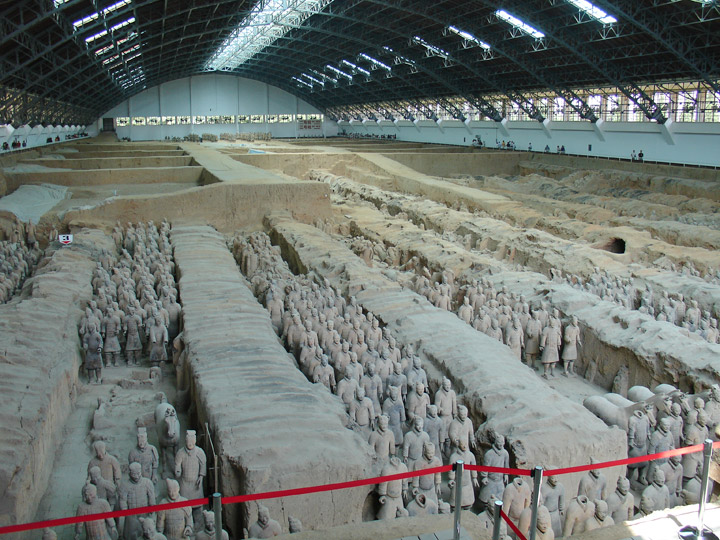 the terra-cotta warriors
The Terra Cotta Warriors and Horses are the most significant archeological excavations of the 20th century. Work is ongoing at this site, which is around 1.5 kilometers east of Emperor Qin Shi Huang's Mausoleum, Lintong County, Shaanxi province.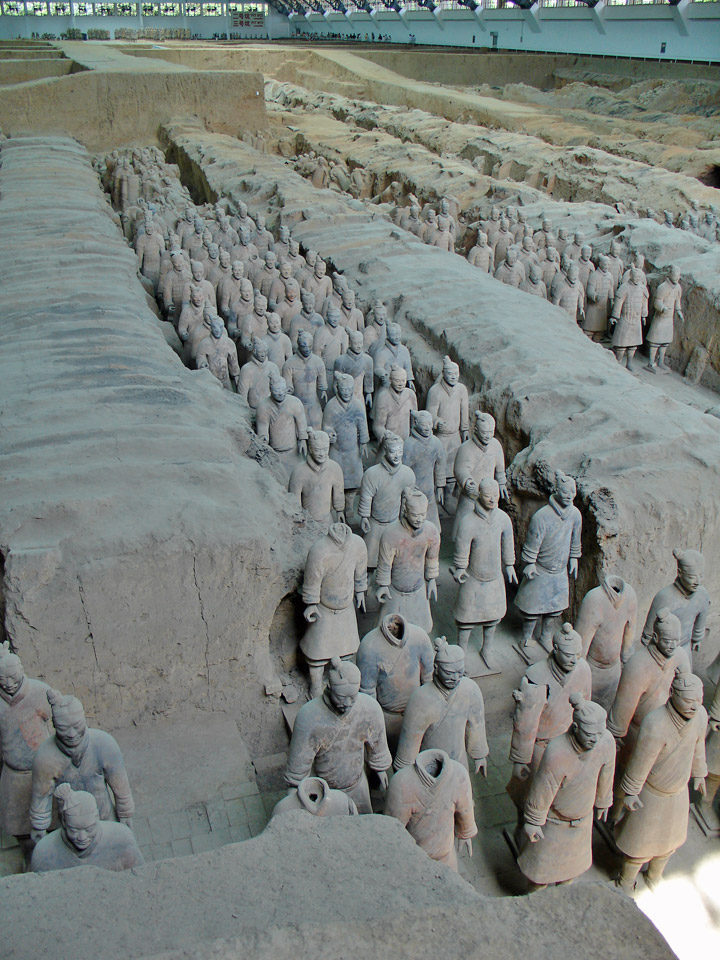 ranks of warriors
Upon ascending the throne at the age of 13 (in 246 BC), Qin Shi Huang, later the first Emperor of all China, had work begun on his mausoleum. It took 11 years to finish. It is speculated that many buried treasures and sacrificial objects had accompanied the emperor in his after life. Chariot No. 1 is exhibited in the Multi-Exhibition Hall in the Terra Cotta Army Museum. A group of peasants uncovered some pottery while digging for a well nearby the royal tomb in 1974. It caught the attention of archeologists immediately. They came to Xian in droves to study and to extend the digs. They had established beyond doubt that these artifacts were associated with the Qin Dynasty (211 --206 BC).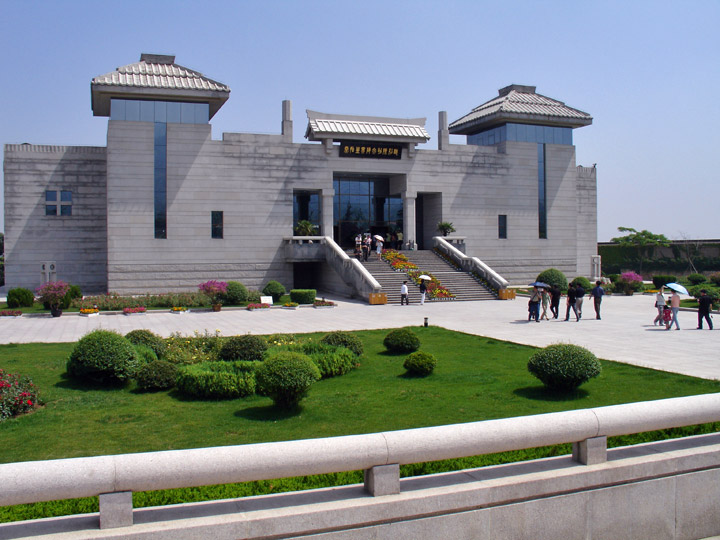 Exhibition Hall
The State Council authorized to build a museum on site in 1975. When completed, people from far and near came to visit. Xian and the Museum of Qin Terra Cotta Warriors and Horses have become landmarks on all travelers' itinerary.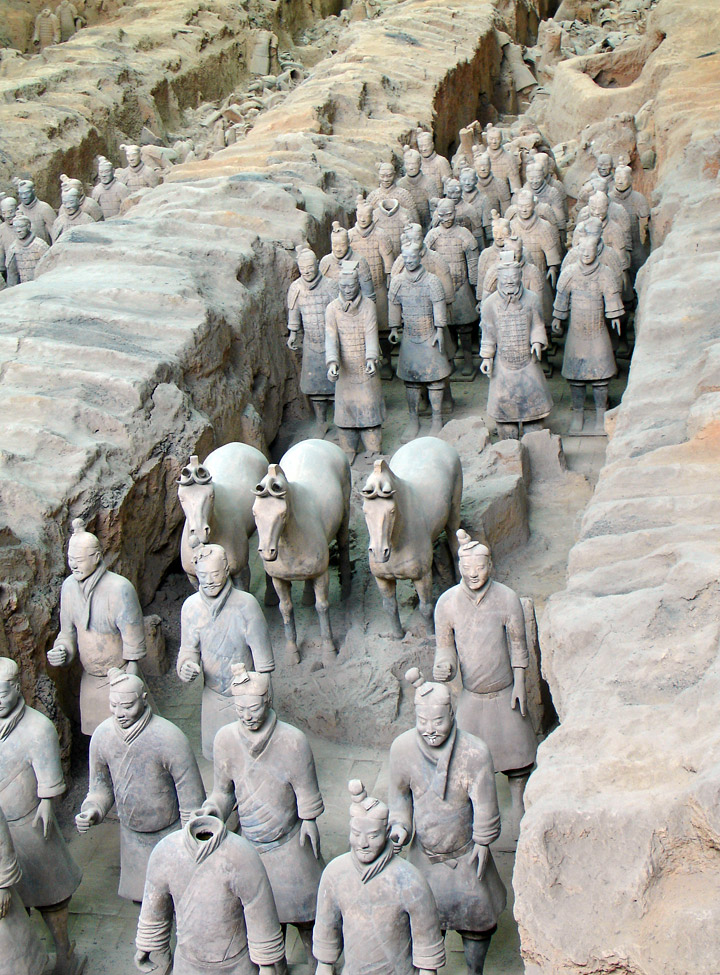 men and horses
Pit 3 of Qin Terra Cotta Army, is supposed to be the headquarters of the garrison exercising military control. Life size terracotta figures of warriors and horses arranged in battle formations are the star features at the museum. They are replicas of what the imperial guard should look like in those days of pomp and vigor.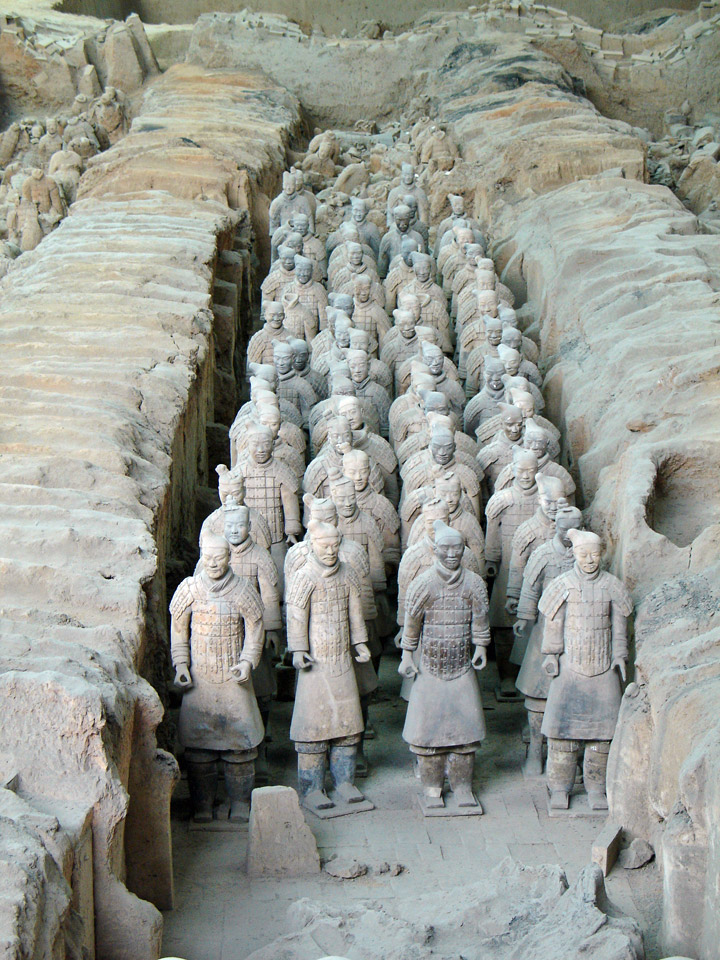 The museum covers an area of 16,300 square meters, divided into three sections: No. 1 Pit, No. 2 Pit, and No. 3 Pit respectively. They were tagged in the order of their discoveries. No. 1 Pit is the largest, first opened to the public on China's National Day, 1979. There are columns of soldiers at the front, followed by war chariots at the back.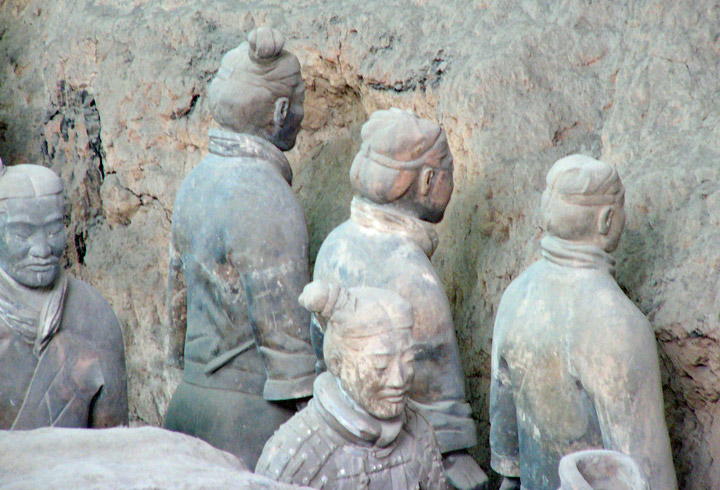 Excavations of Qin Terra Cotta figures
No. 2 Pit, found in 1976, is 20 meters northeast of No. 1 Pit. It contained over a thousand warriors and 90 chariots of wood. It was unveiled to the public in 1994.Archeologists came upon No. 3 Pit also in 1976, 25 meters northwest of No. 1 Pit. It looked like to be the command center of the armed forces. It went on display in 1989, with 68 warriors, a war chariot and four horses.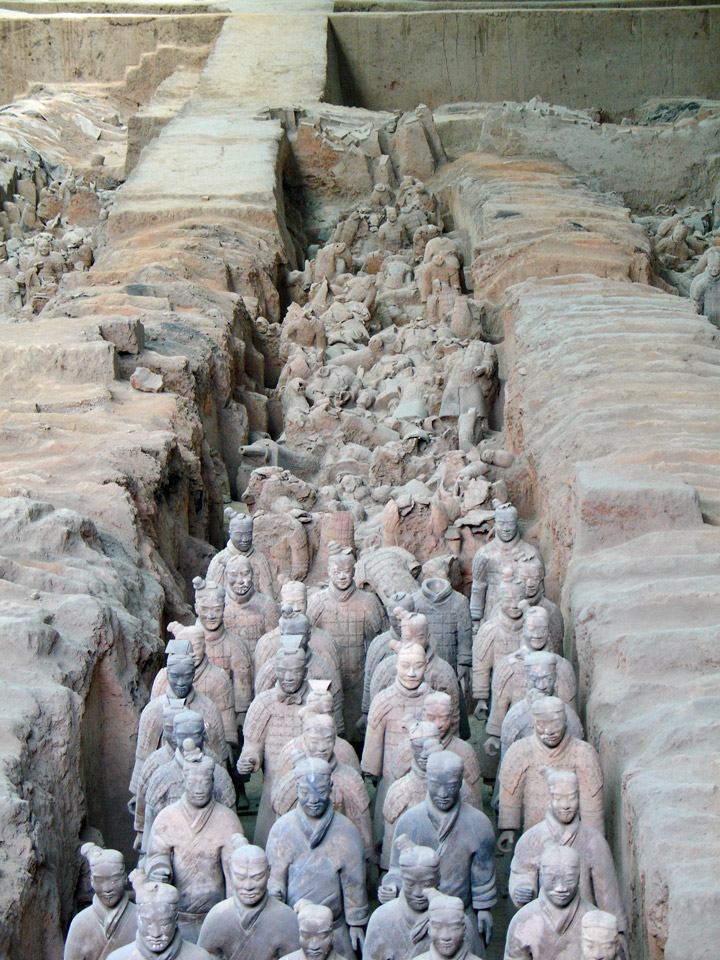 note the broken and un-reassembled figures in the background
Altogether over 7,000 pottery soldiers, horses, chariots, and even weapons have been unearthed from these pits. Most of them have been restored to their former grandeur.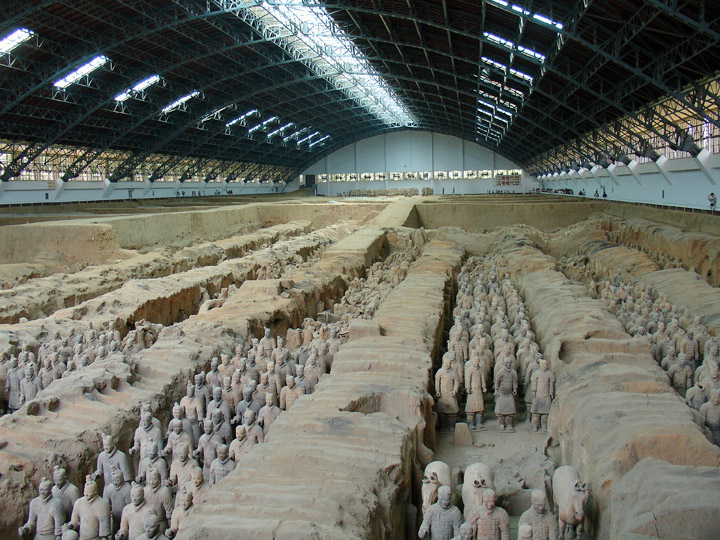 Pit #1
The Terracotta Warriors and Horses is a sensational archeological find of all times. It has put Xian on the map for tourists. It was listed by UNESCO in 1987 as one of the world cultural heritages.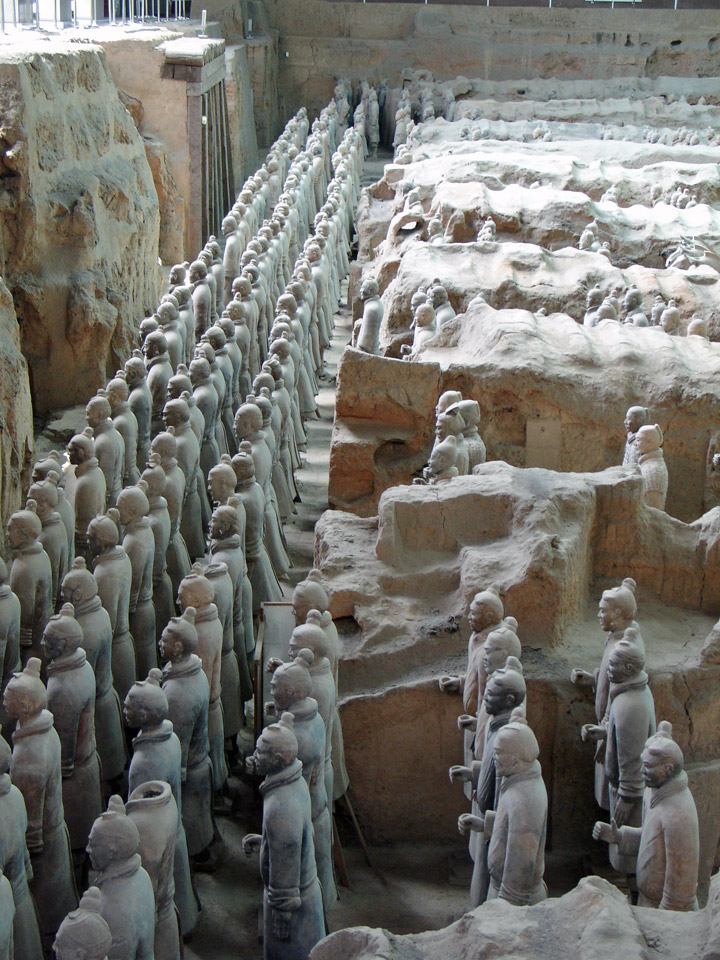 side view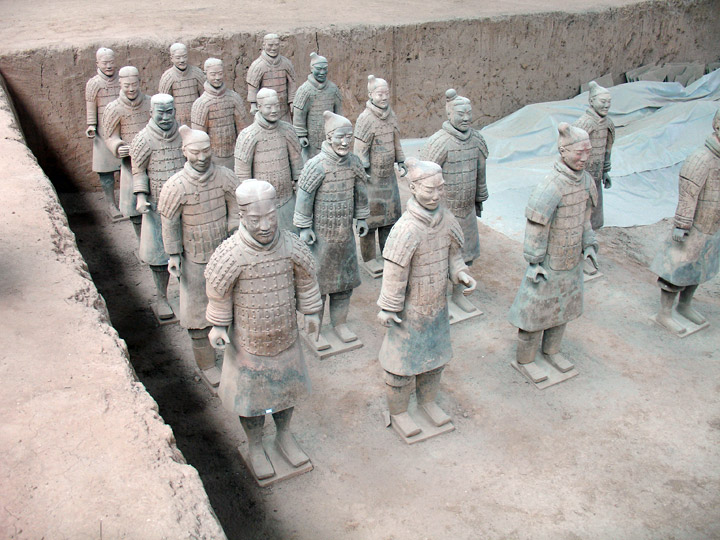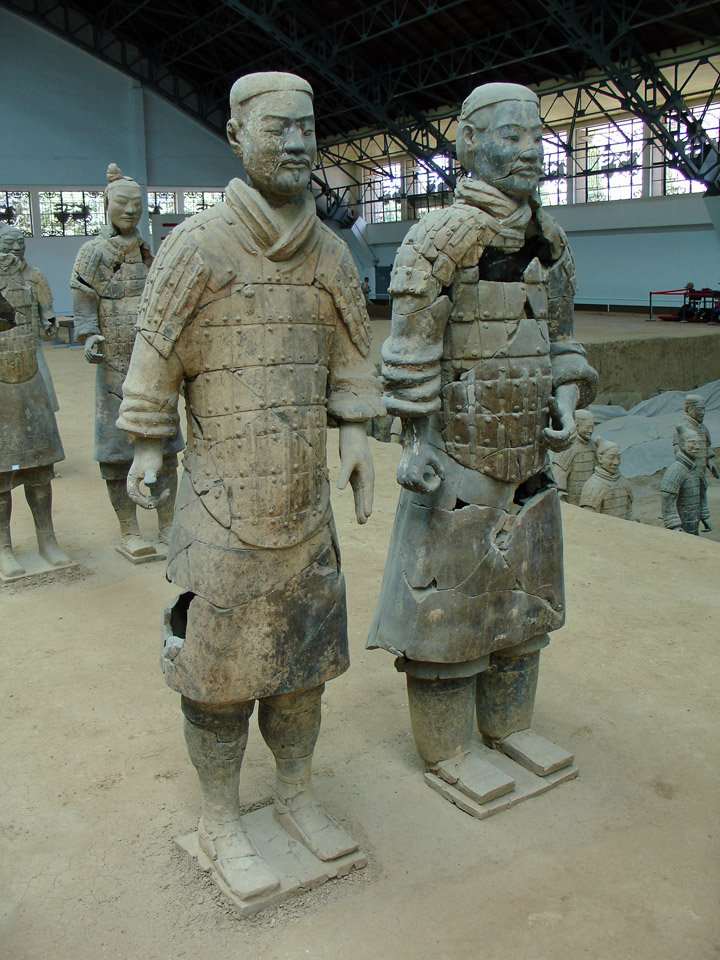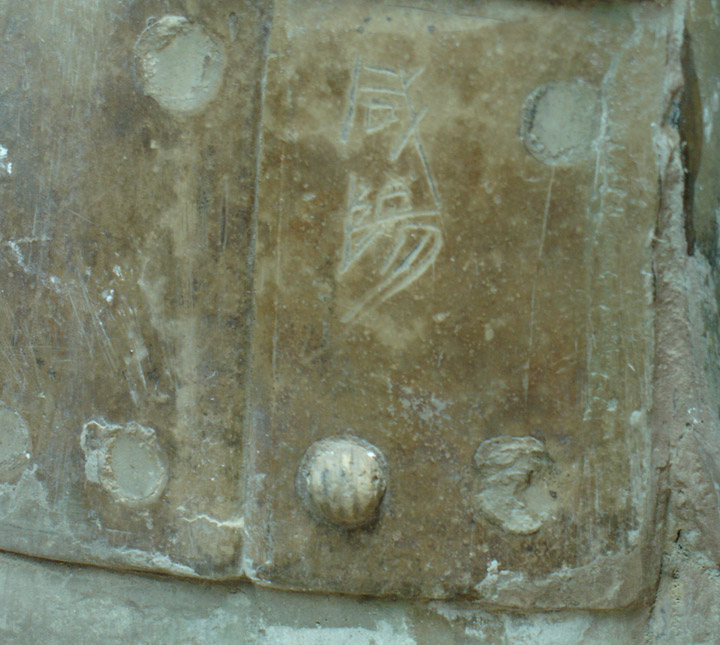 mark of the maker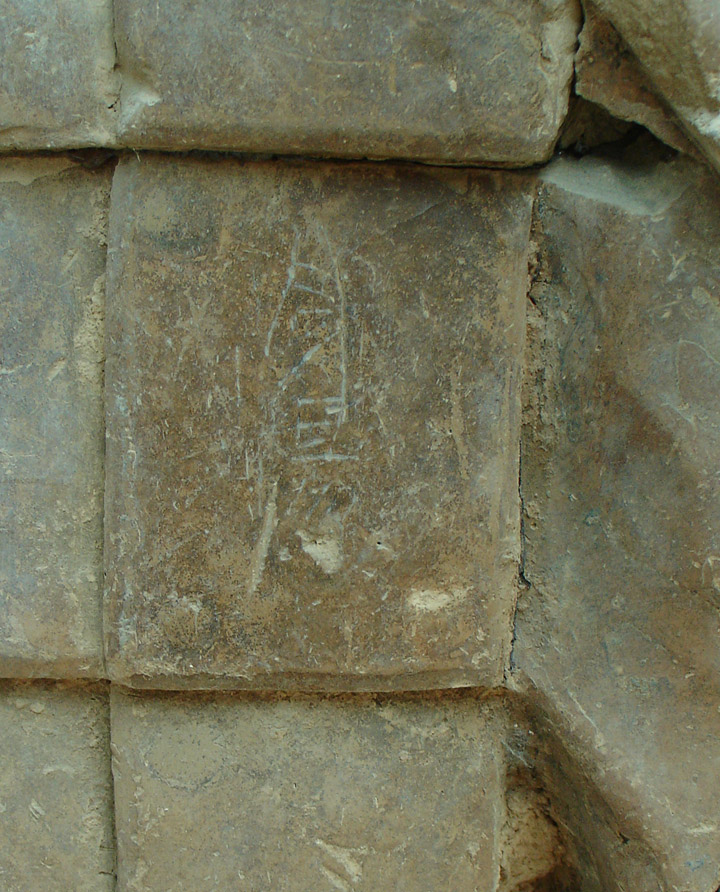 identifies the artisan crafting the body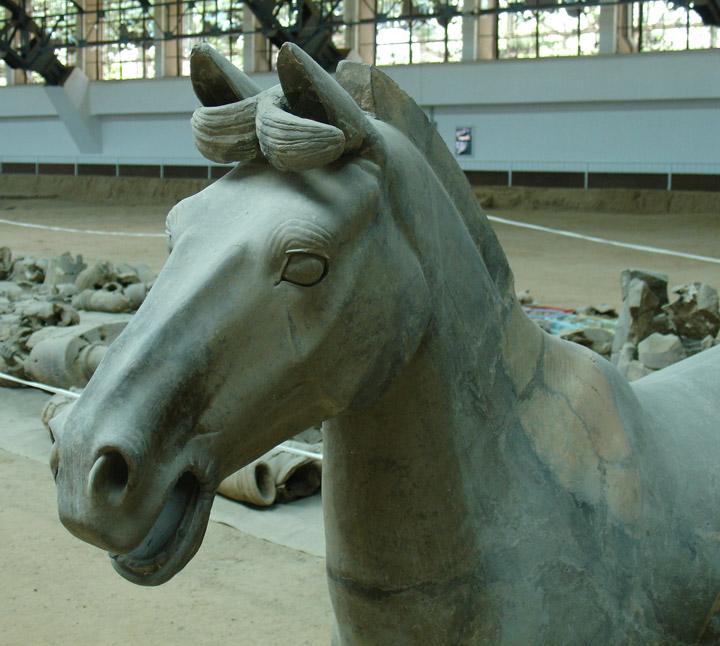 horse head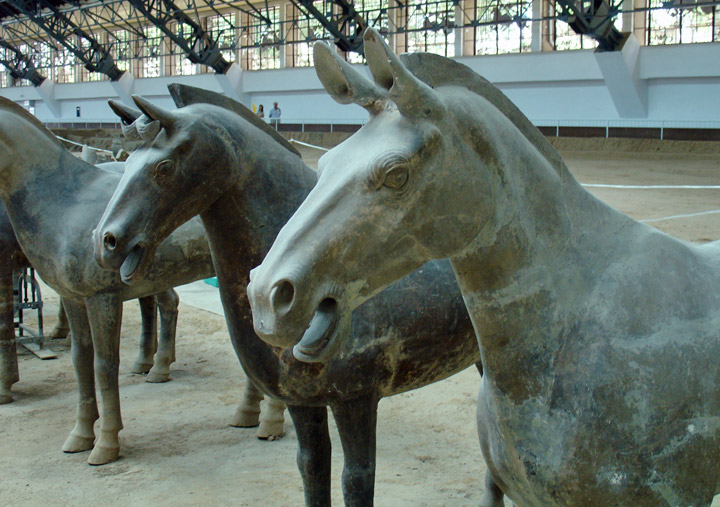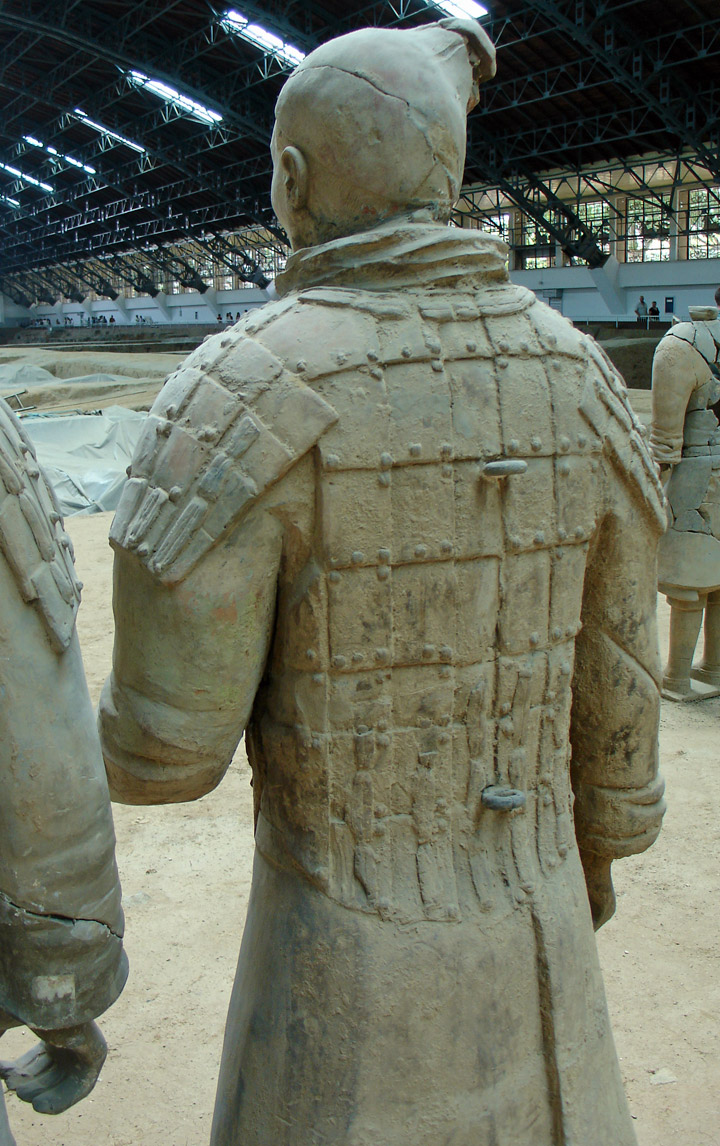 loops for holding the spears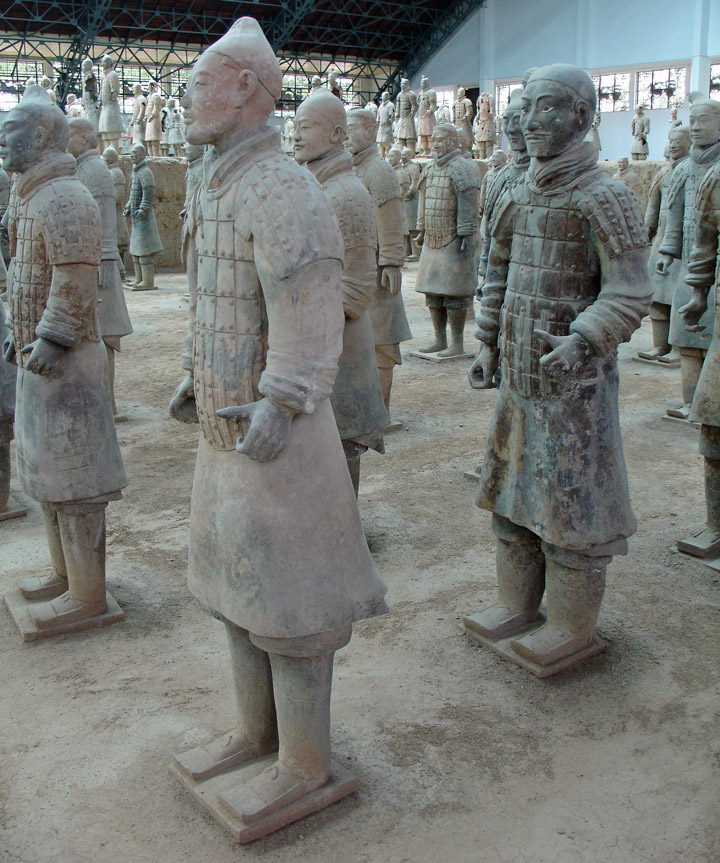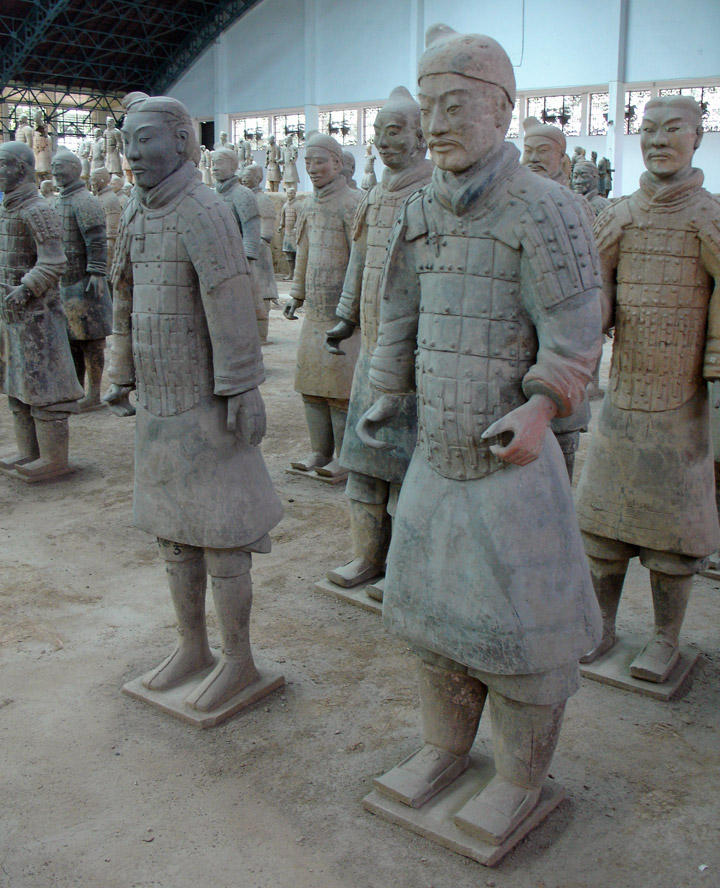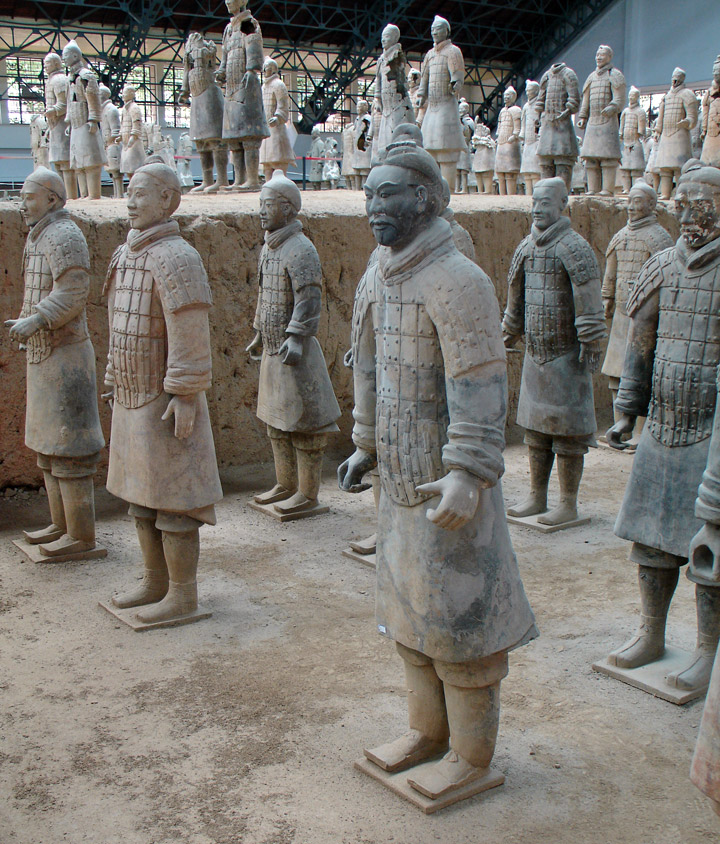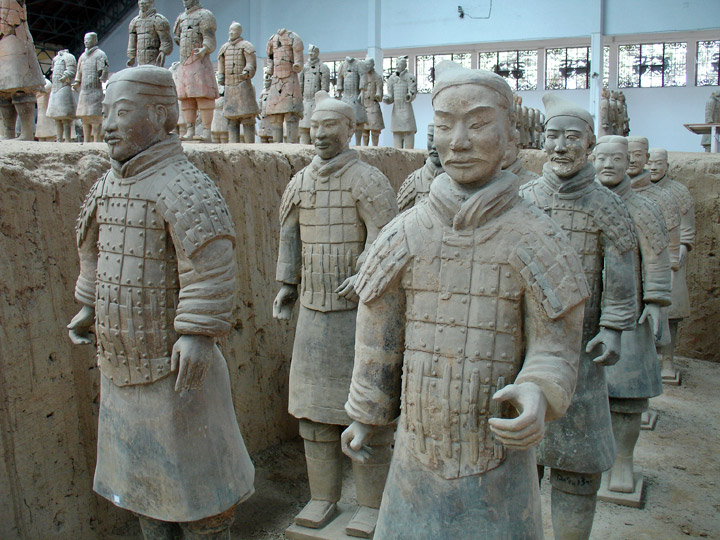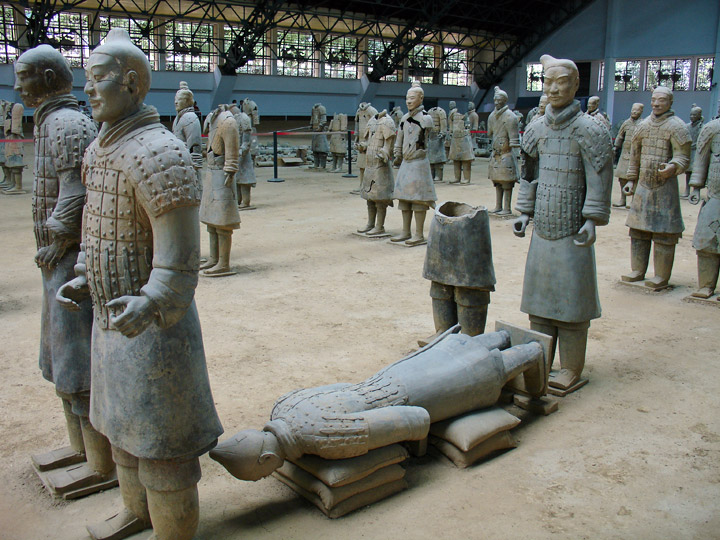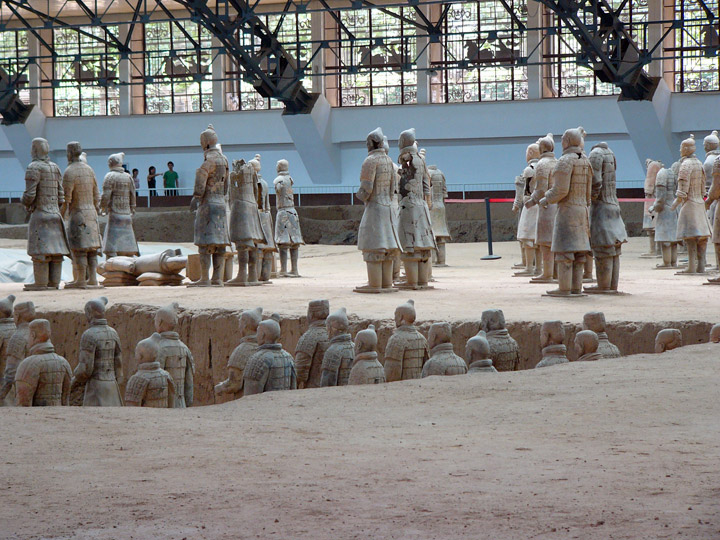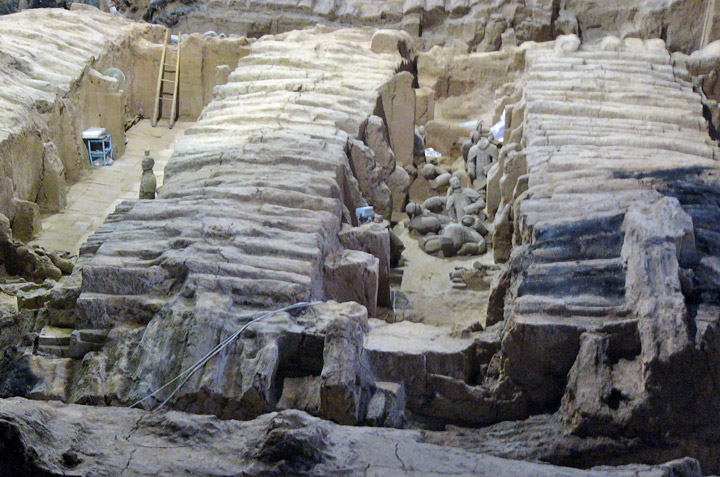 excavation where the fabric top of the vaults can be observed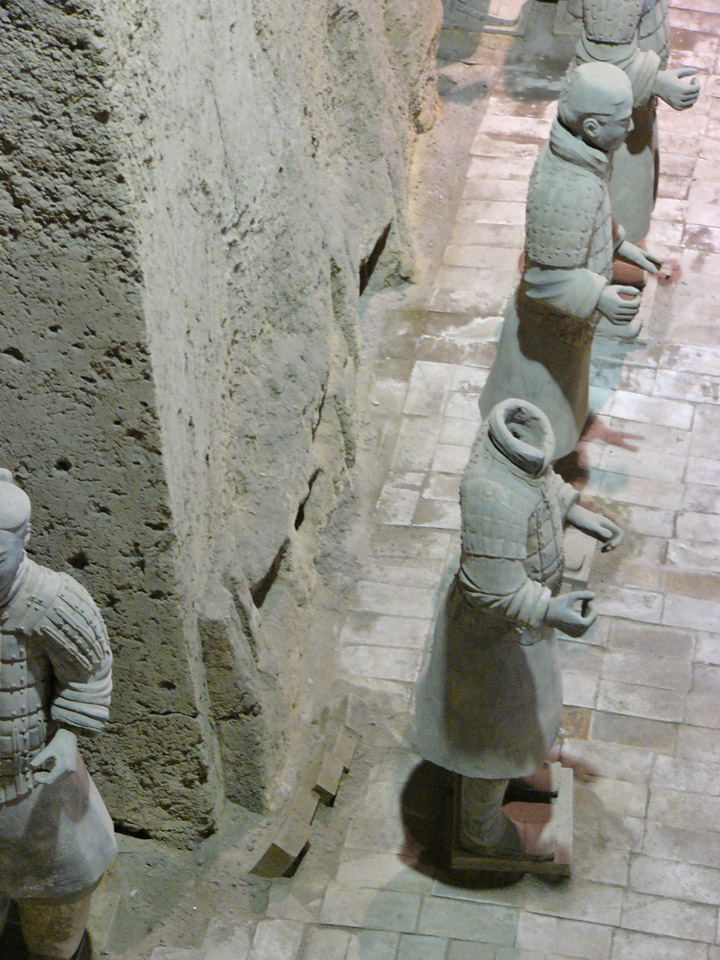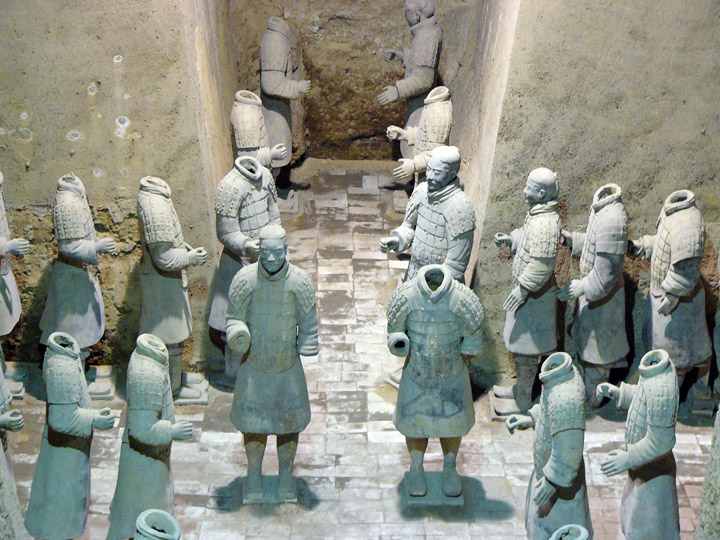 ---
---