Ankara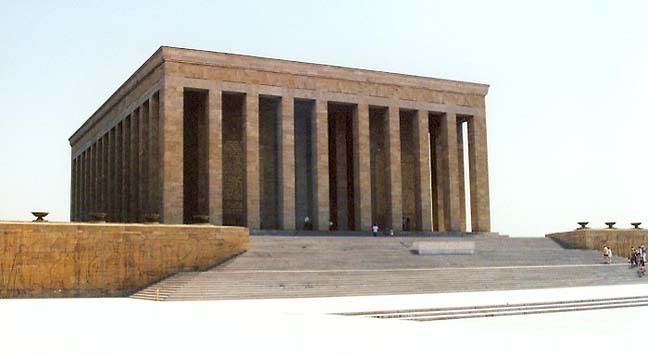 tomb of Mustafa Kemal Atatürk, (1881-1938)
Ankara, formerly Angora, city in central Turkey, capital of the country and of Ankara Province. It is principally a residential city and government seat, but a number of small industries produce carpets, leather goods, wine, farm implements, and cement. Ankara is an important market and processing center for mohair and for the fine fruits and wheat grown in the surrounding region.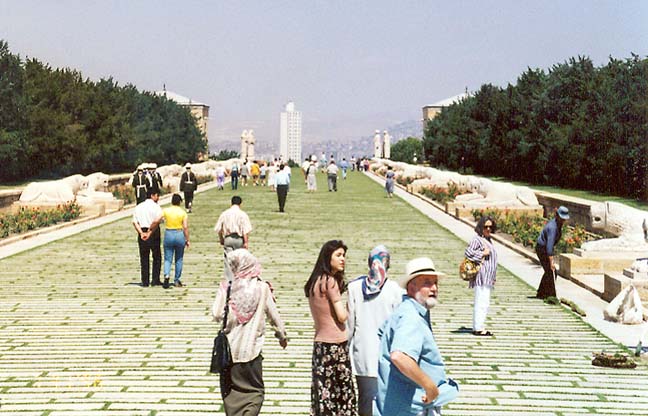 walkway to the Atatürk tomb
The city lies on the main east-west rail line across the Anatolia region of Turkey, and is a major crossroads for trade. Tourism is also increasingly important to the local economy. Ankara is a city of contrasts. The old quarter, built around the ruins of an ancient citadel, has narrow, winding streets and crowded buildings. The new city, laid out in 1928, is spacious and well-planned, with broad boulevards, libraries, museums, embassies, government buildings, and fashionable shops and hotels. Ankara is home to the Museum of Anatolian Civilizations, which contains a notable collection of Hittite artifacts.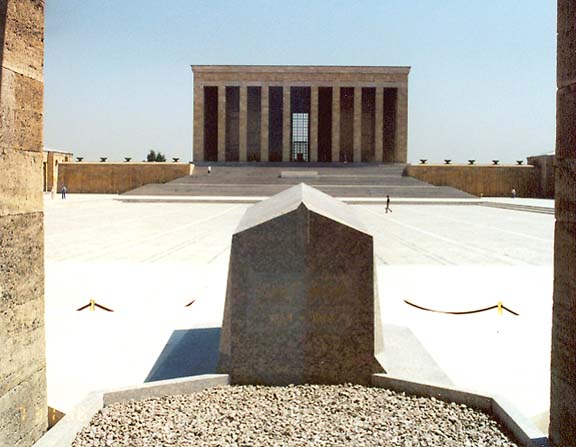 the tomb as seen across the court yard

Ankara has been a trading center since ancient times. Hittites occupied the site about 2000 BC. They were succeeded by the Phrygians about 1000 BC. Alexander the Great subdued the city in 333 BC; after his death, conquering Gallic tribes (Galatians) made it their capital. Known as Ancyra, it came under Roman rule in 189 BC, and in 25 BC it became capital of the province of Galatia Prima. Later a major city of the Byzantine Empire, it was successively occupied by Persians, Arabs, Seljuk Turks, and Latin Crusaders. The city, renamed Angora by the Seljuks, fell to the Ottoman Turks in 1360. It was occupied briefly by Turkic conqueror Tamerlane in 1402, but reverted to the Ottoman Empire the following year.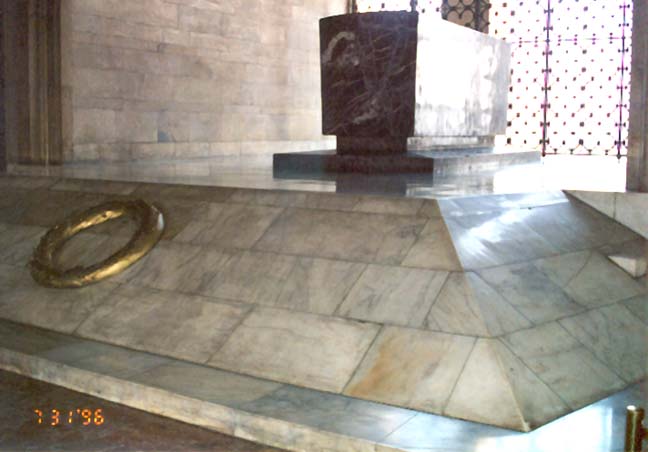 Atatürk's tomb
In 1923, after the establishment of the republic of Turkey, Angora succeeded İstanbul as the capital. The name was changed to Ankara in 1930. Some ruins from its long history still remain. Population (1996 estimate) 2,890,025.
Text from Microsoft Encarta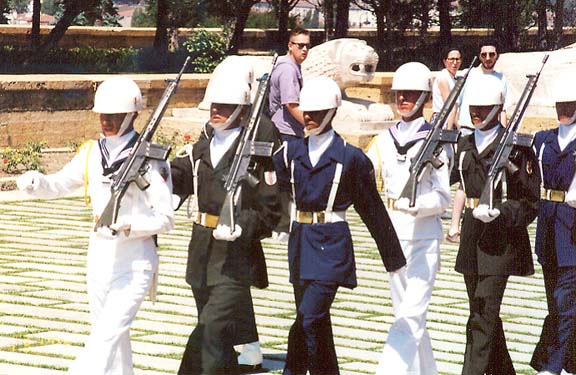 the honor guard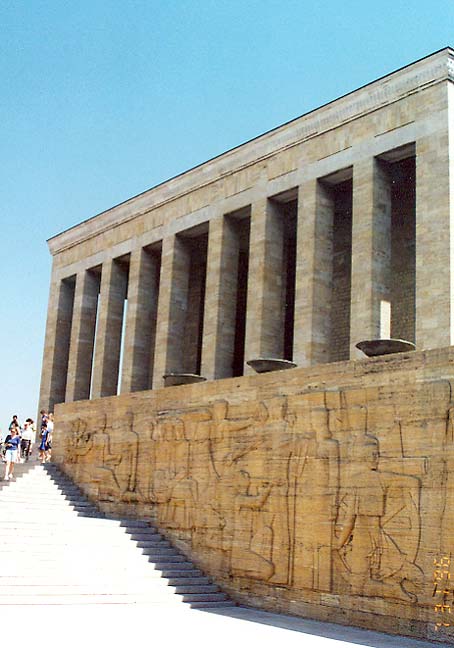 side view of the monument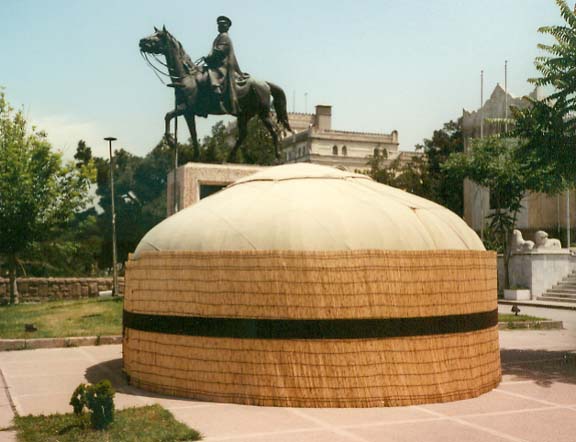 statue of Mustafa Kemal Atatürk, and a yurt in front of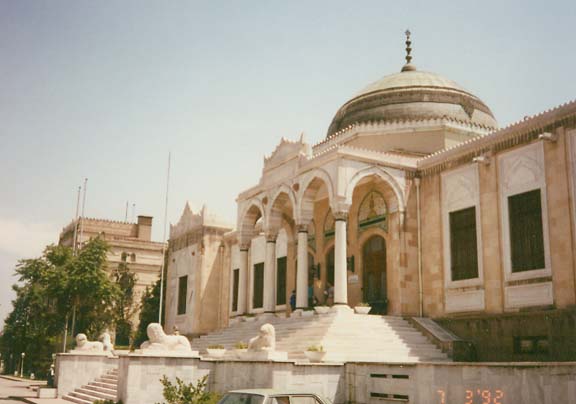 government offices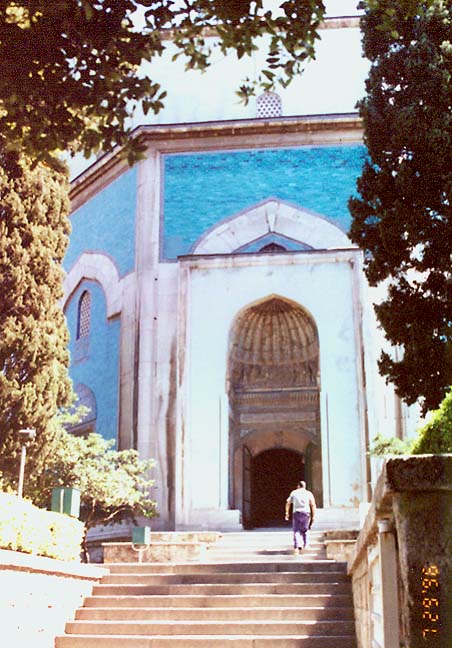 Green Ottoman complex
Bursa (ancient Prousa), city in northwestern Turkey, near Mudanya, a port on the Sea of Marmara, with which it is connected by rail. Formerly Brusa or Brussa, it is the capital of Bursa Province. Bursa is divided into three parts by a series of ravines, which are spanned by a number of bridges. A ruined castle on a rocky eminence in the central section marks the site of ancient Prousa.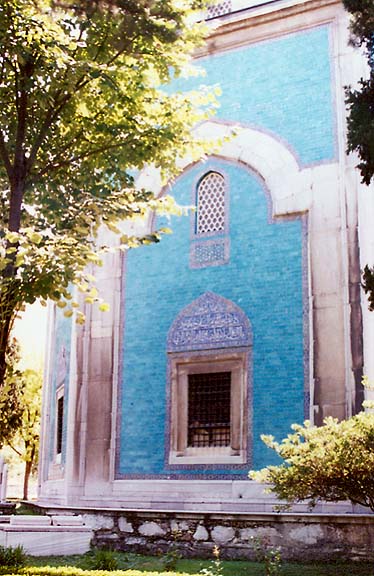 side view
The city is noted for its mosques, some of which show the influence of Byzantine, Persian, and Arab architecture; for its hot sulfur springs and baths; and for its tombs, containing the remains of several early Ottoman sultans. Textile production and the manufacture of towels and rugs are among the principal industries of the city.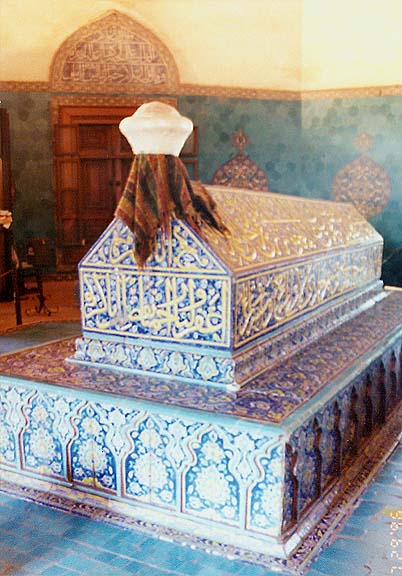 Ottoman sultan tomb

Founded in the 3rd century BC by Prusias I, king of Bithynia, and made the royal capital, Bursa later was included in the Roman and Byzantine empires. Orhan, son of the second sultan of Turkey, captured the city in 1326 during the Turkish conquest of the Byzantine Empire and made it the capital of the Ottoman Empire; in 1361 Orhan's son, Murad I, moved the royal residence to Adrianople (modern Edirne). Sacked by the Tatars in 1402, Bursa was burned by mutinous Janissaries in 1607. Between 1921 and 1922, during the Greco-Turkish War, considerable fighting took place in and around Bursa. Population (1996 estimate) 1,057,016.

Text from Microsoft Encarta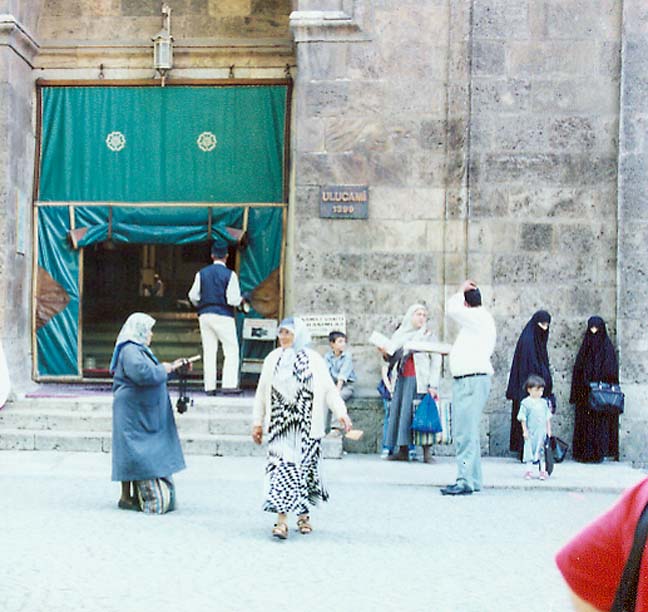 outside the mosque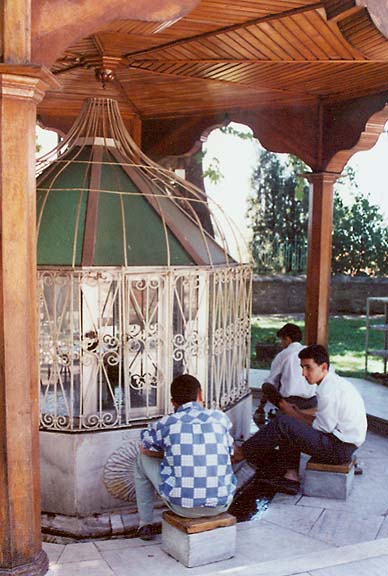 washing before prayers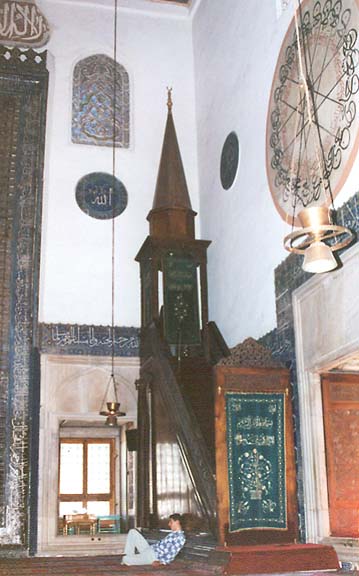 inside the mosque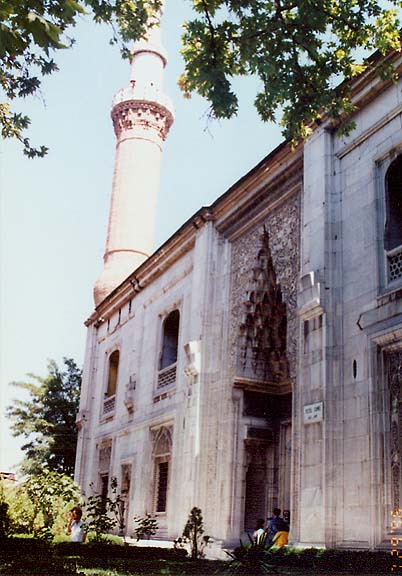 the Ottoman mosque style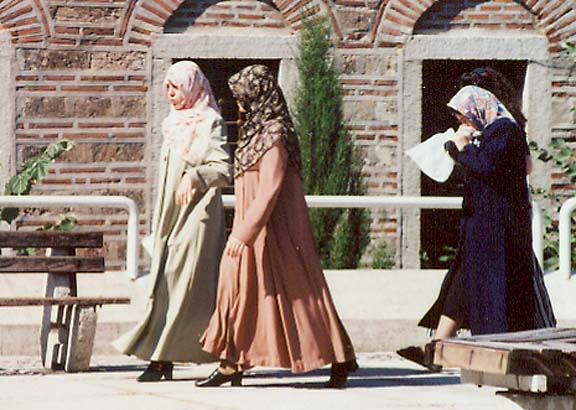 woman on the street
(Bursa is a conservative town, so many women are wearing the headscarves)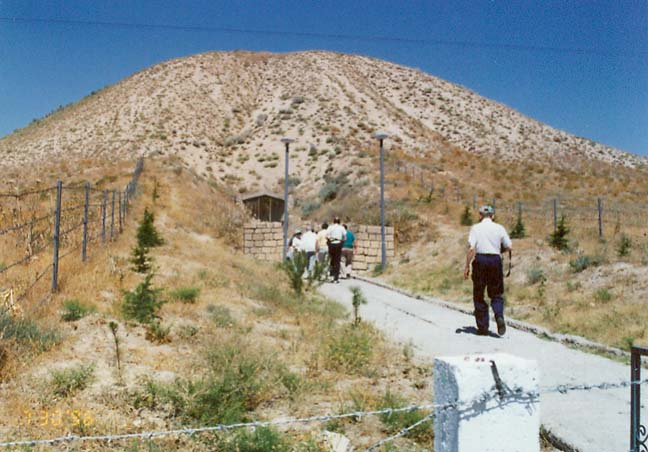 the mound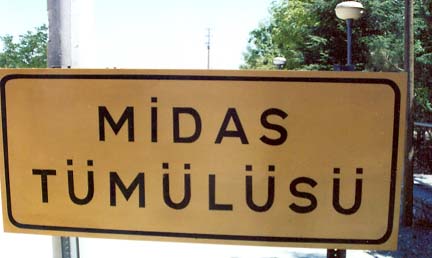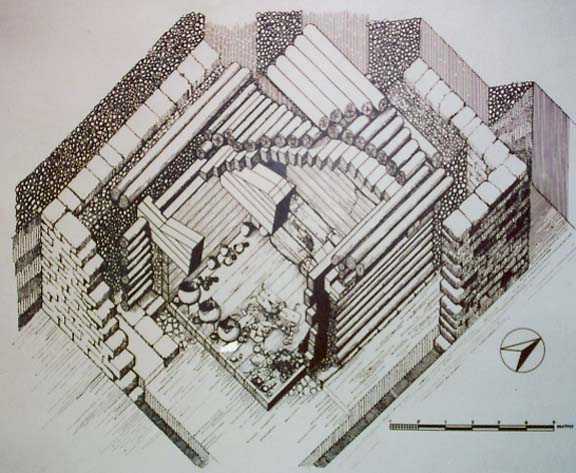 drawing of the tomb detail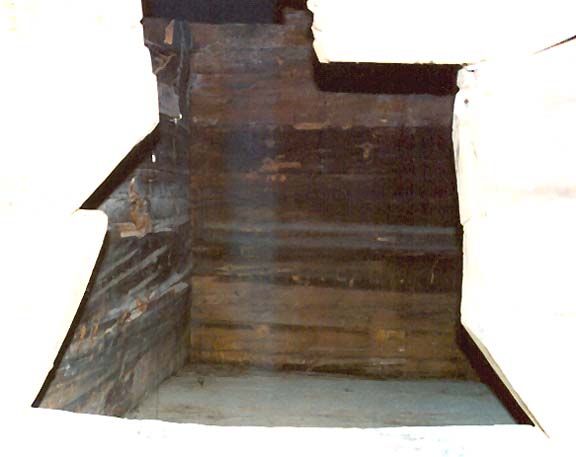 the interior tomb

Return to Turkey in Europe page