Ephesus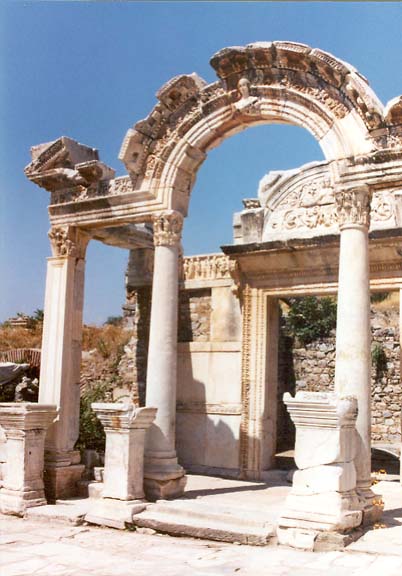 Temple of Hadrian (117 - 128 AD)
Ephesus, one of the 12 cities of Ionia (an ancient Greek district on the western coast of Asia Minor), located near modern İzmir, Turkey. As a port city at the mouth of the Cayster (modern Küçükmenderes) River, it was a major departure point for trade routes into Asia Minor. Known in antiquity for its sacred shrines, notably a famous temple (one of the Seven Wonders of the World) to the goddess Artemis, or Diana, the city was also an important center of early Christianity.
Triumphal Arch (100 - 200 AD)

Probably founded in the 11th century BC by Ionian Greeks, Ephesus was conquered by the Cimmerians in the 7th century BC; by Croesus, king of Lydia, in the 6th century; and soon after, by Cyrus the Great, king of Persia. Later it was a tributary of Athens, but it sided with Sparta against Athens in the Peloponnesian War (431-404 BC). Sparta ceded it to the Persians, who were driven out by Alexander the Great in 333 BC.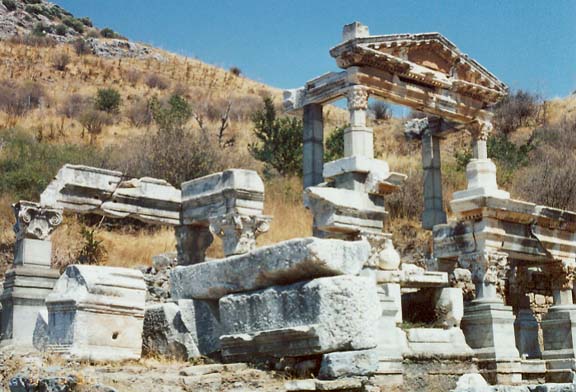 fountain of Trajan (98 - 112 AD)
Under this Macedonian rule Ephesus flourished, and it was briefly renamed Arsinoë. The city passed to Roman rule in 189 BC and remained an important commercial center. St. Paul established a Christian congregation in Ephesus in the 1st century AD, and it was the site of the third general council of the Christian church, which condemned the Nestorian heresy, in 431.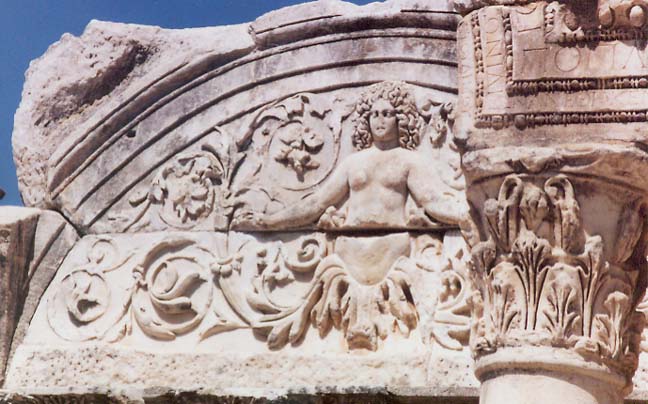 from the frieze (Temple of Hadrian), a woman symbolizing fertility

Having been destroyed by the Goths in 262, Ephesus, although rebuilt, never regained its former splendor. Under the Byzantine Empire it declined, and its harbor silted up; it was abandoned in the 14th century.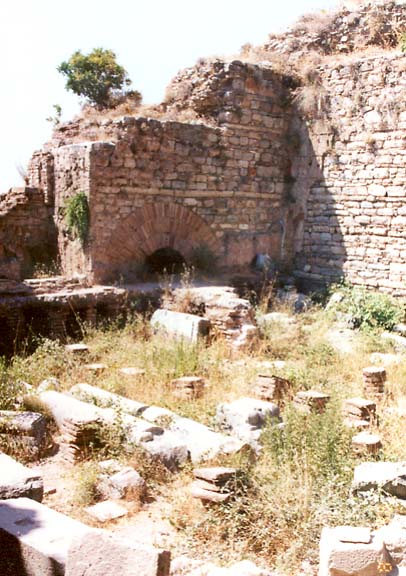 Scholastikia baths
(the brick pillars held up a marble floor which was heated
with hot gases from fires lighted underneath)

Excavations at Ephesus, begun in 1863, have uncovered temples to Artemis, public buildings, works of the Greek sculptors Phidias and Polyclitus, and a portrait of Alexander the Great.

Text from Microsoft Encarta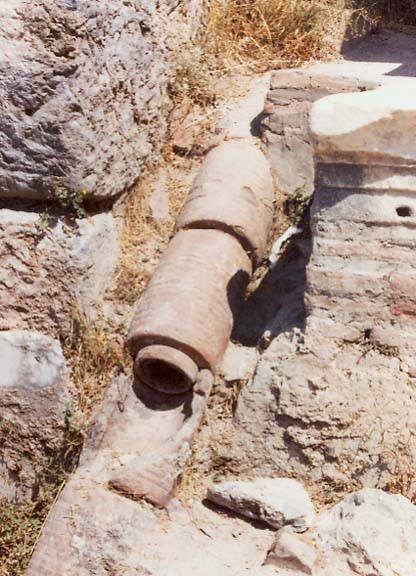 the Roman water pipes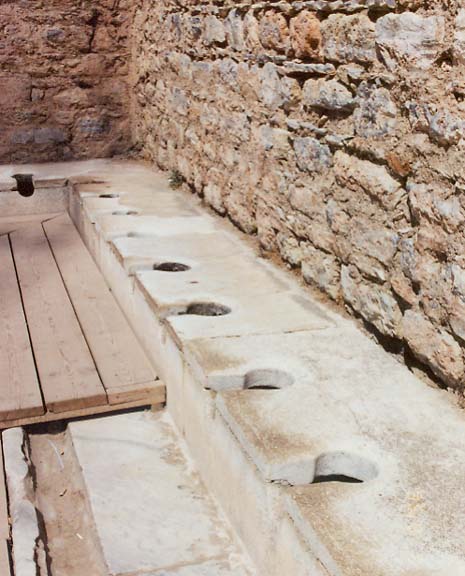 the nearby latrine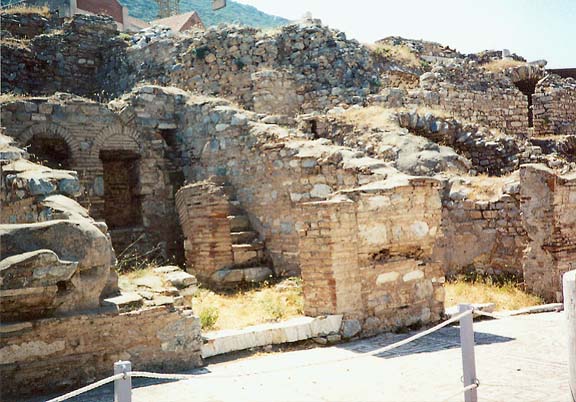 the Roman Brothel
(constructed by Emperor Trianus (98 - 117 AD)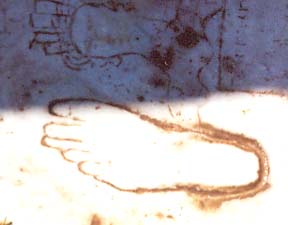 A sign carved on the marble street, in Roman times, that shows the way to the Brothel

The Library of Celsus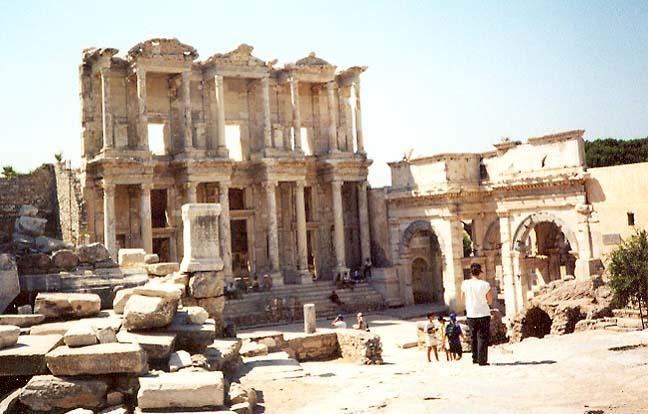 After the death of Celsus Polemaenus in 114 AD
his son started the construction of a monument
and the library, and in his will left a sum of 25,000 denarii
to be used for the completion of the library and the purchase of books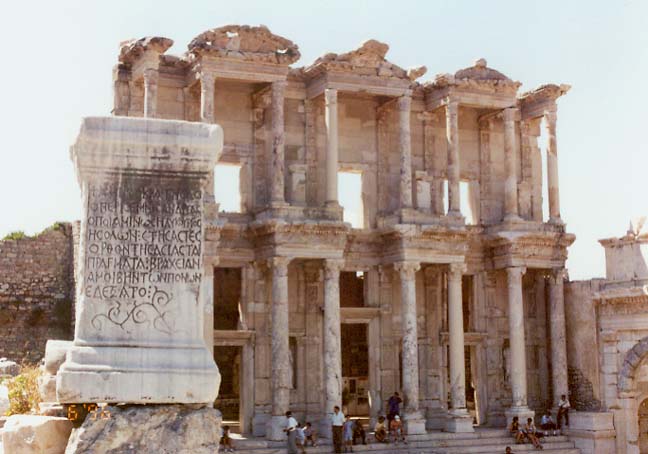 It served the cultural life of the community for 145 years.
It and the books were burned by the invading Goths in 262 AD.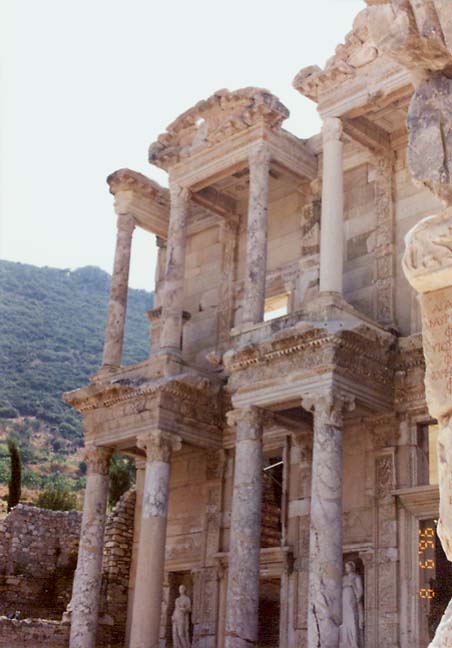 detail of the library of Celsus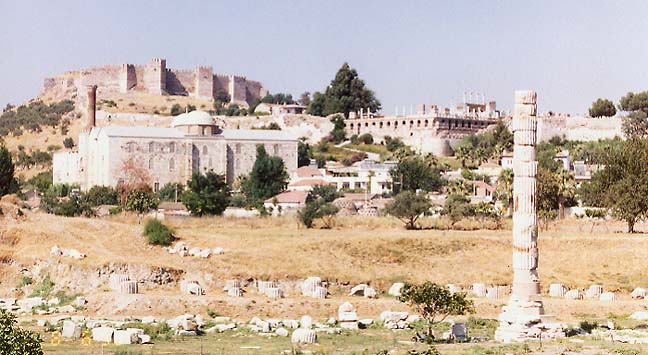 Selcuk Ephesus
the Isabey Mosque in front of the Selcuk Castle

Hierapolis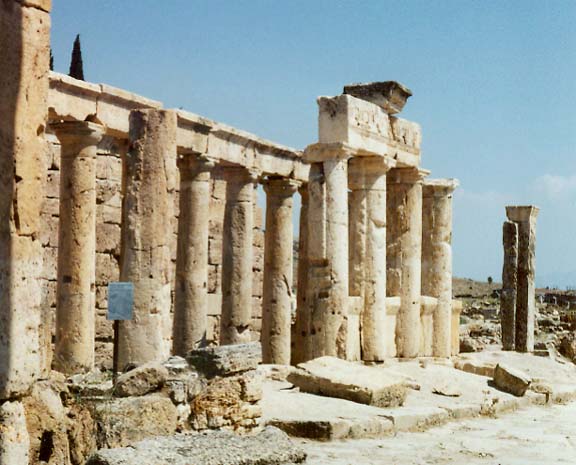 Latrines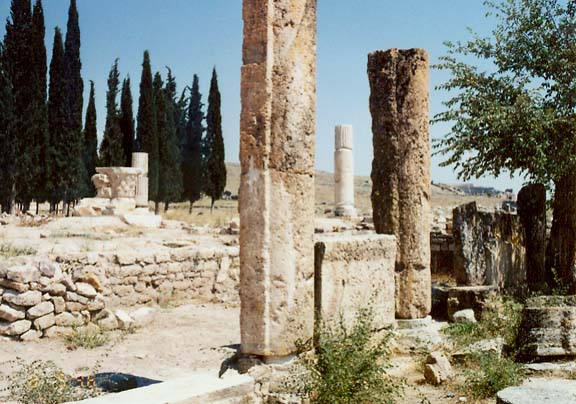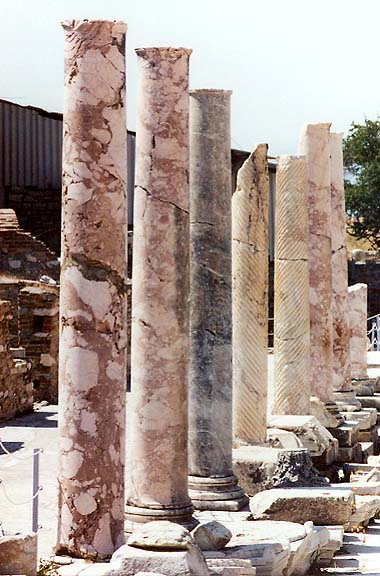 marble columns

Return to Turkey in Europe page