Crac de Chevaliers
(Crusader's Castle)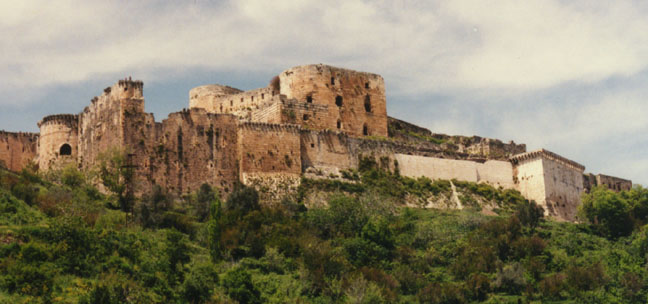 Secular builders of the Middle Ages constructed great buildings in the years 1000 to 1400. The medieval castle is a romantic symbol of feudalism; one of the most impressive and best-preserved examples is the Krak des Chevaliers (1131) in Syria, built by the Knights Hospitalers at the time of the Crusades.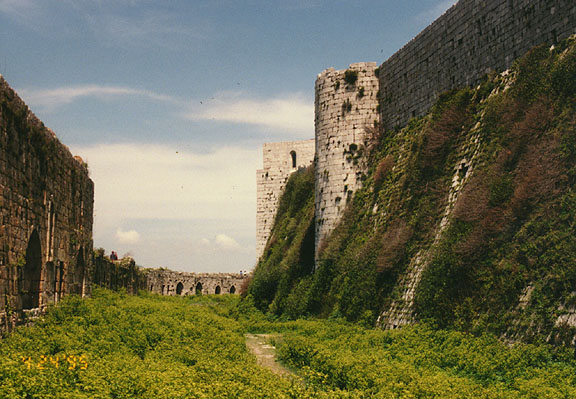 inner defensive towers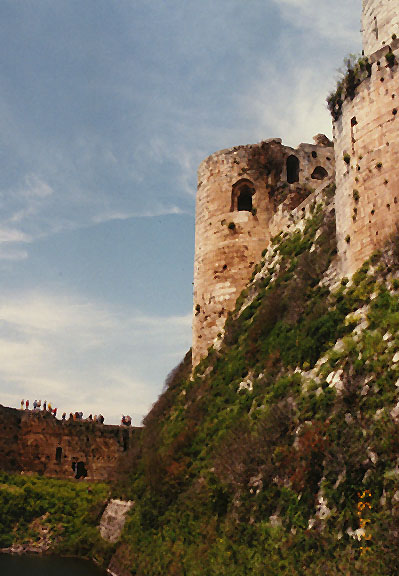 the tower
The Knights of Saint John of Jerusalem

Members of the military religious order of the Knights of Saint John of Jerusalem are most often referred to as Hospitalers. The Hospitalers were the oldest institution among the three great military orders of the Roman Church in Palestine, although they originally performed charitable rather than military functions. They were established before the First Crusade (1095-1099). In the 11th century the French nobleman Gerard founded an order to care for sick pilgrims near the Church of Saint John the Baptist in Jerusalem. In 1113 Pope Paschal II officially recognized the order, which limited membership to men of noble birth.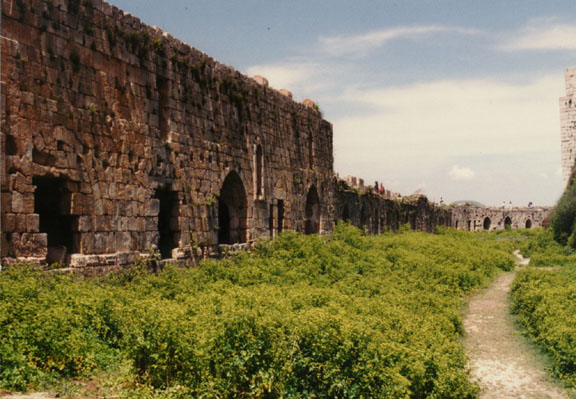 stables
Members of the order wore a black cloak with an eight-pointed Maltese cross on it, and the orderís organization was similar to that of the Templars. The Hospitalers had a grand master who presided over a centralized organization of knights, chaplains, and servants.The Hospitalers followed the popular monastic Rule of Saint Augustine, named for the Roman bishop, Augustine of Hippo, who had inspired many of its practices. These regulations, like those that Bernard of Clairvaux wrote for the Templars, governed the orderís daily rituals of prayer, study, and work. The Rule of Saint Augustine was frequently adopted by monks in the 12th century.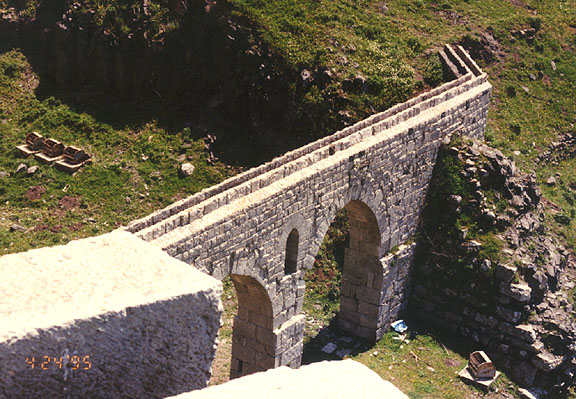 aqueduct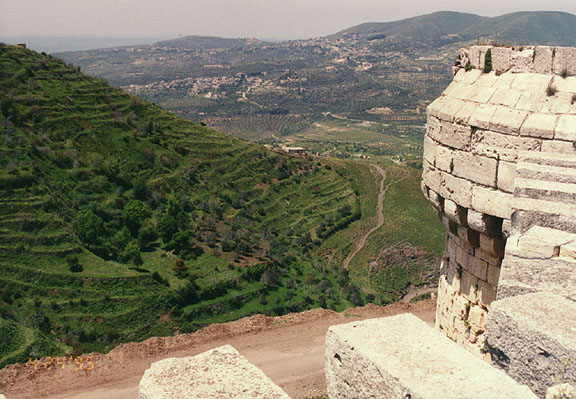 view over the valley
Under the orderís second grand marshal, Raymond du Puy, it began to take on military duties in addition to its work at the Hospital of Saint John. By 1200 the Hospitalersí charitable functions were playing a secondary role to their military duties. Successes in war defending the Holy Land enriched the order with vast gifts of property in Europe and Palestine. In the 12th century the Hospitalers acquired three impressive fortresses in Palestine at Krak des Chevaliers, Belvoir, and Margat. At the height of their power in the 13th century, the Hospitalers regularly supplied 500 knights to defend the Latin Kingdom of Jerusalem against the Turks.
Text from Microsoft Encarta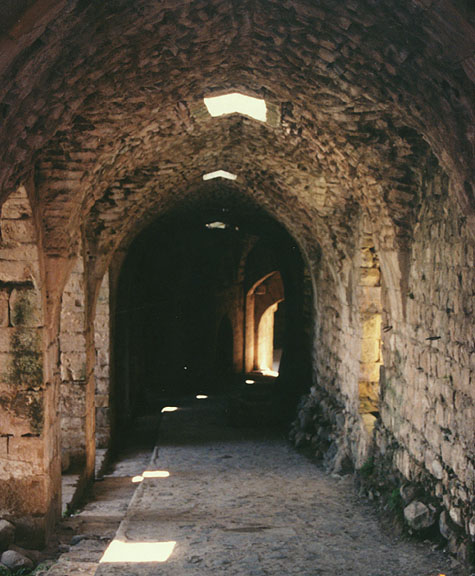 interior loggia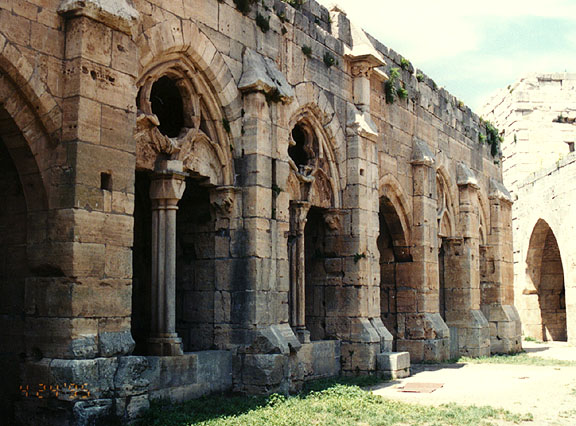 great hall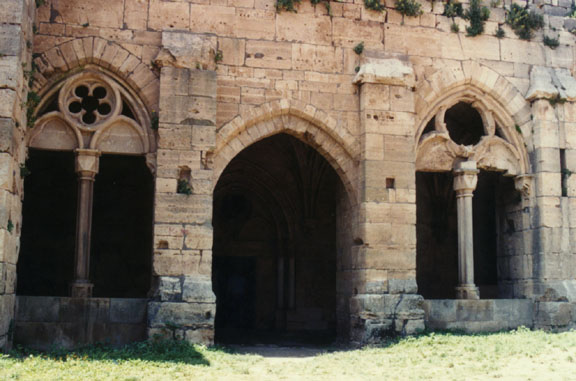 the entrance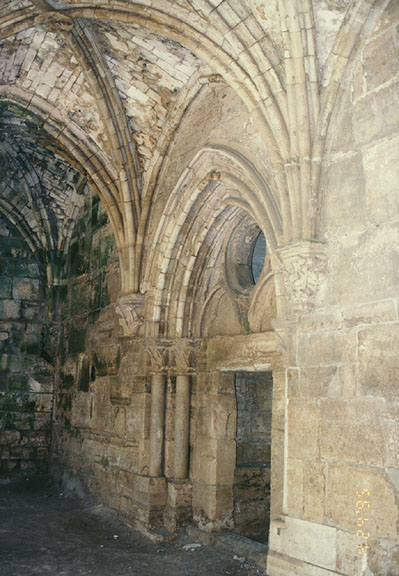 chapel interior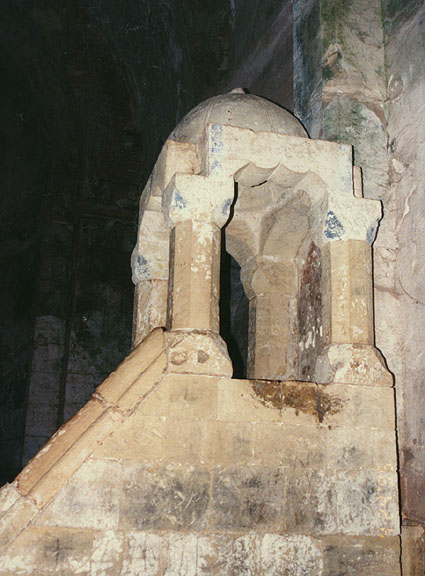 from the Muslim period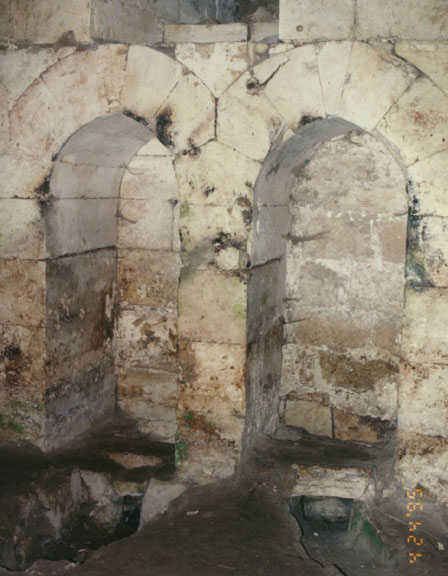 the essential throne !
view of Arab town from the castle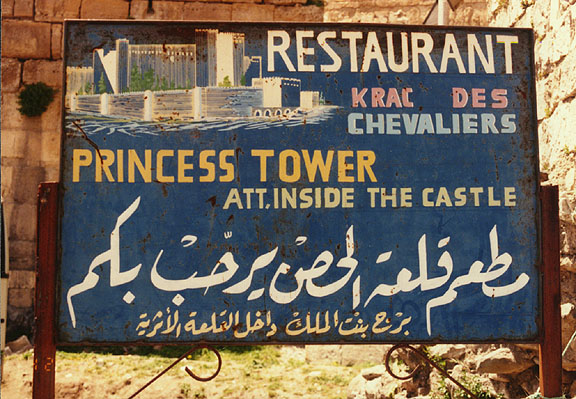 restaurant for the visitors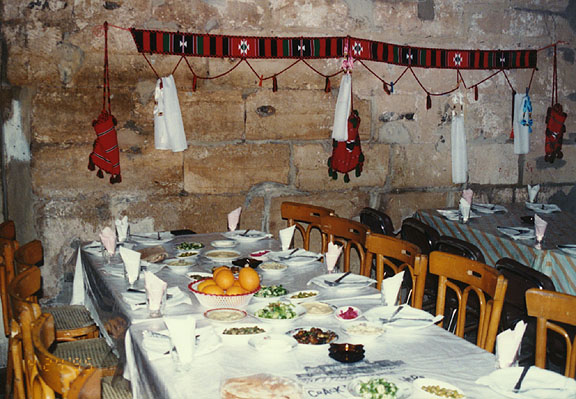 fine Arab lunch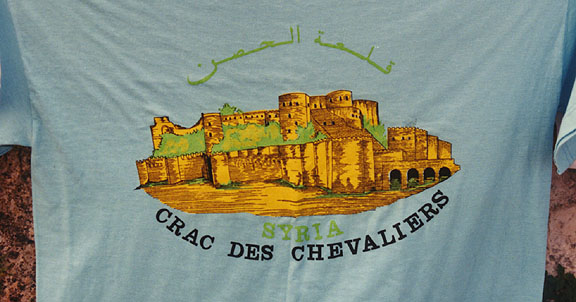 t shirts for the tourists