Fringe Festival
Photos taken August 2011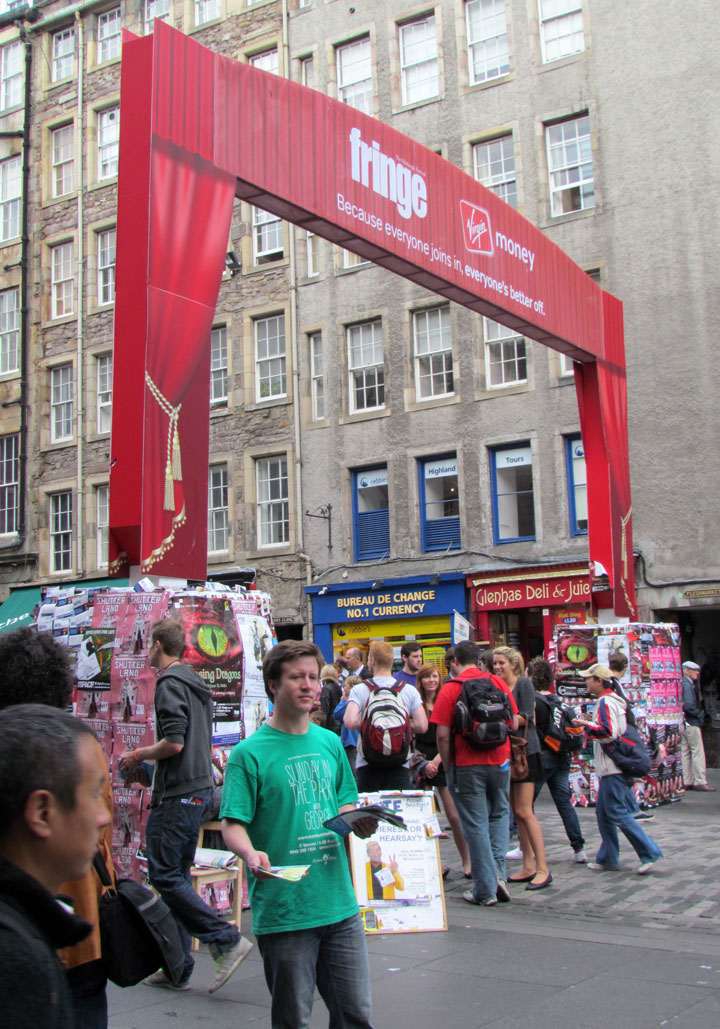 The Fringe
The Edinburgh Festival Fringe (The Fringe) is the world's largest arts festival. Established in 1947 as an alternative to the Edinburgh International Festival, it takes place in Scotland's capital during four weeks every August.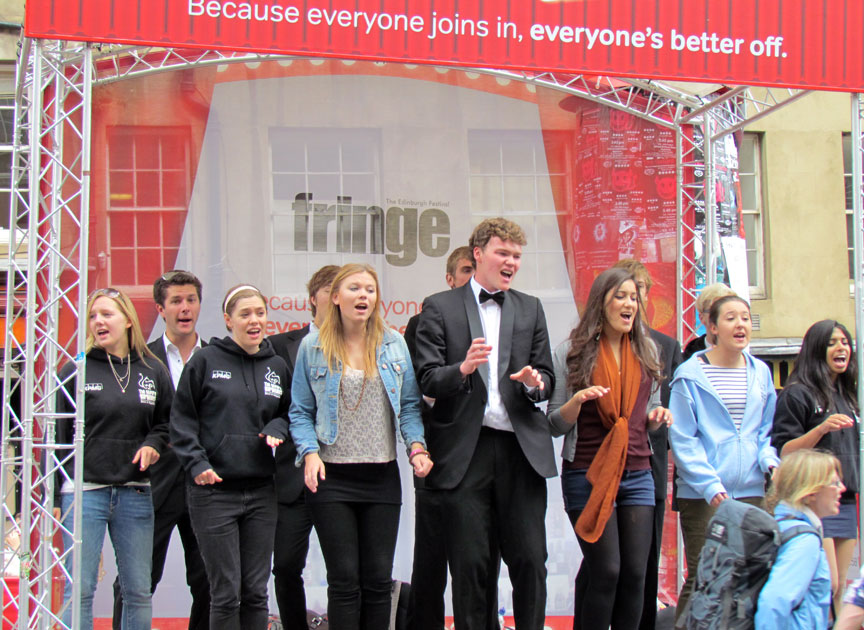 The Fringe mostly attracts events from the performing arts, particularly theatre and comedy (which has seen substantial growth in recent years), although dance and music also figure significantly: in 2009 35% of shows were comedy and 28% were theatre. Theatre events can range from the classics of ancient Greece, William Shakespeare and Samuel Beckett to modern works, and in 2009 37% of shows were world premieres. However, there is no selection committee to approve the entries – it is an unjuried festival – so any type of event is possible; the Fringe often showcases experimental works which might not be admitted to a more formal festival. In addition to ticketed events included in the programme, there is an ongoing street fair, particularly on the Royal Mile. The organizers are the Festival Fringe Society who publish the programme, sell tickets and offer advice to performers from the Fringe office on the Royal Mile.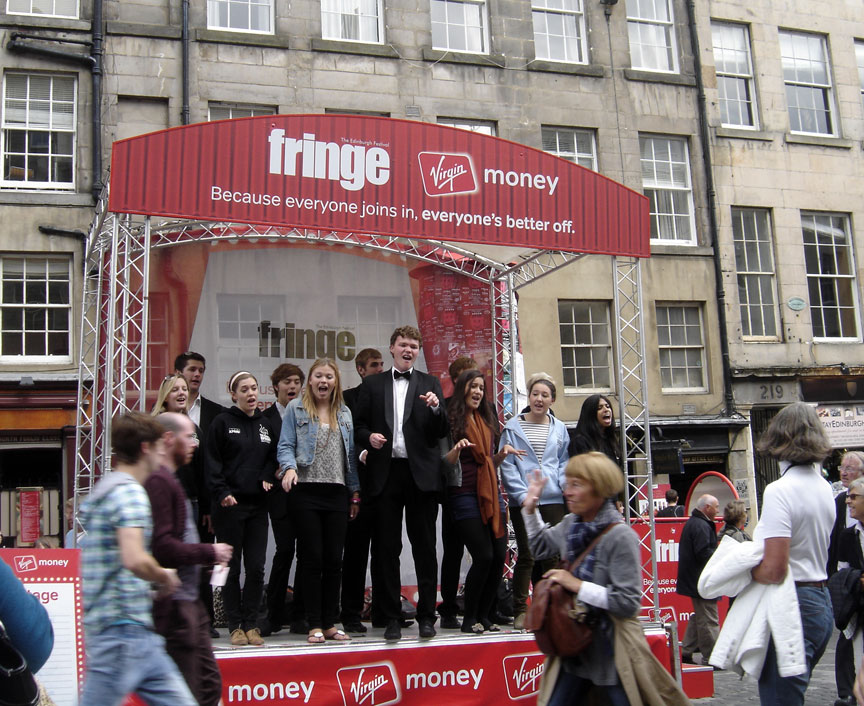 The Fringe 2009 sold 1,859,235 tickets for 34,265 performances of 2,098 shows in 265 venues, over 25 days, for an average of over 74,000 admissions and 1,300 performances per day. There were an estimated 18,901 performers, from 60 countries.
Text from Wikipedia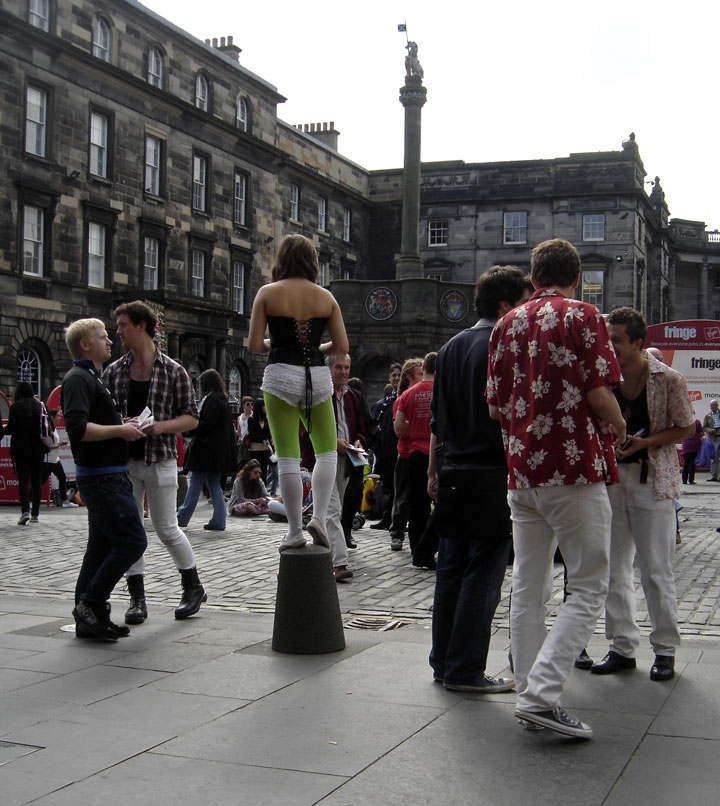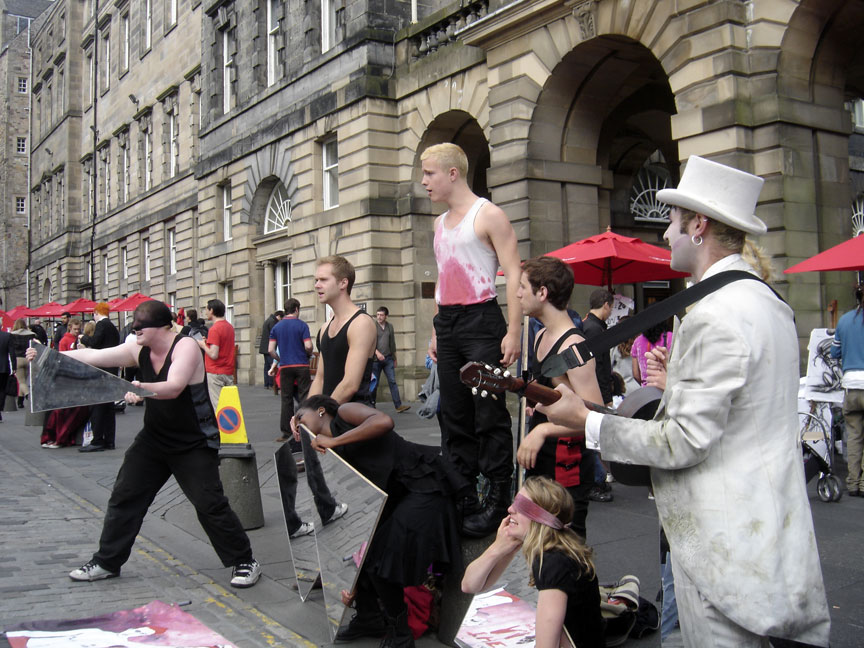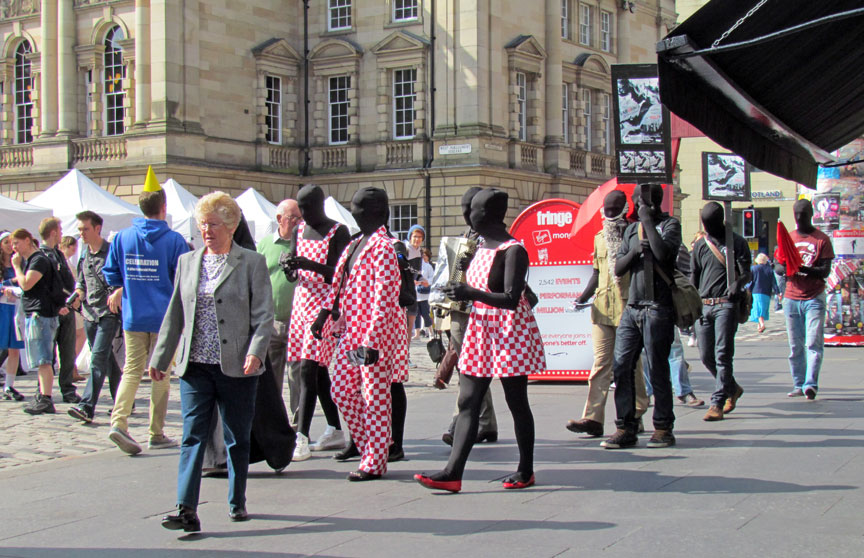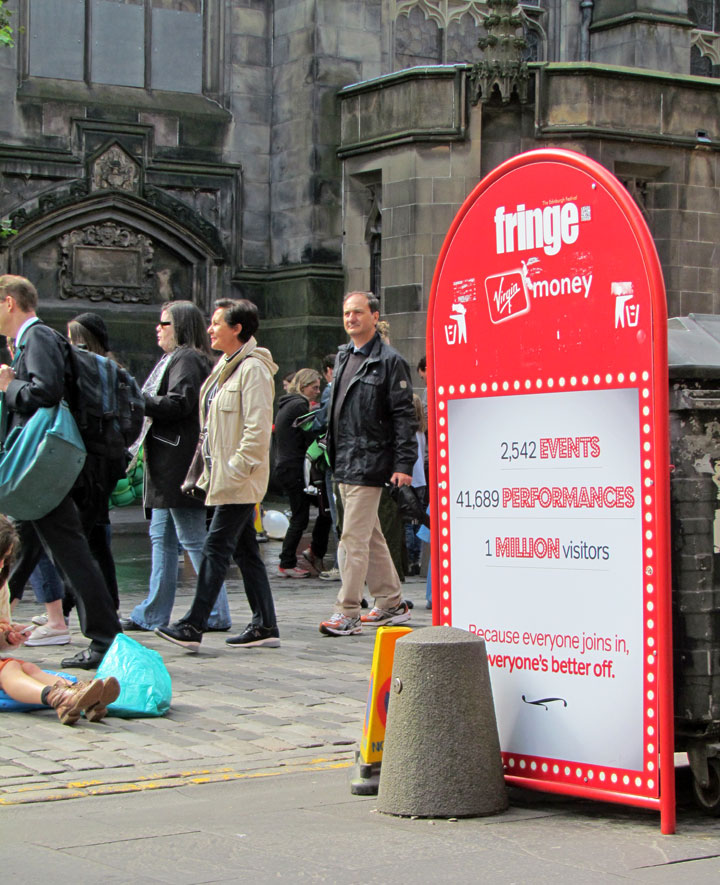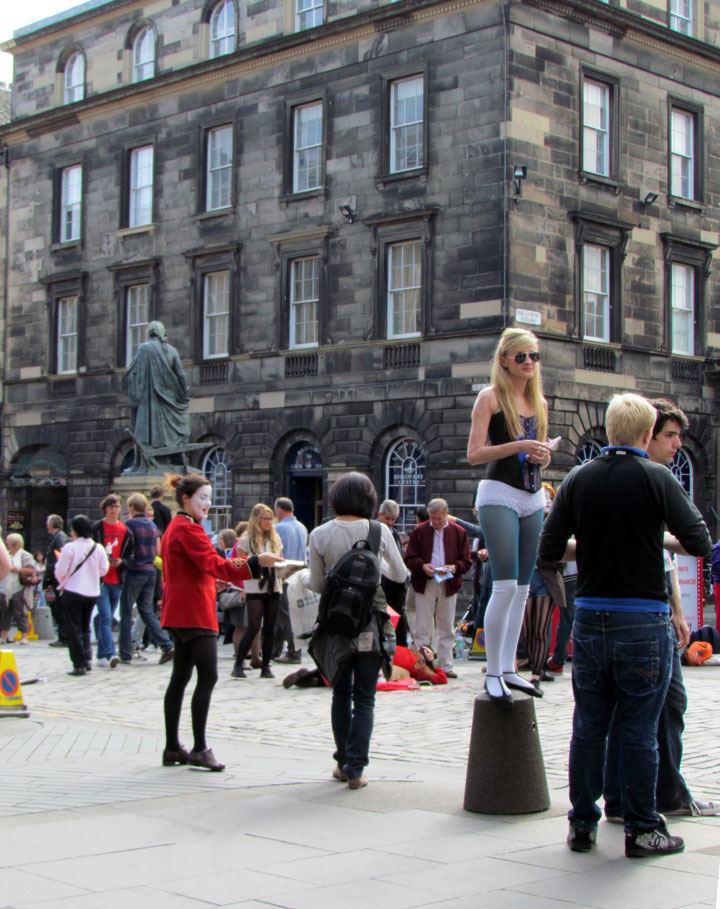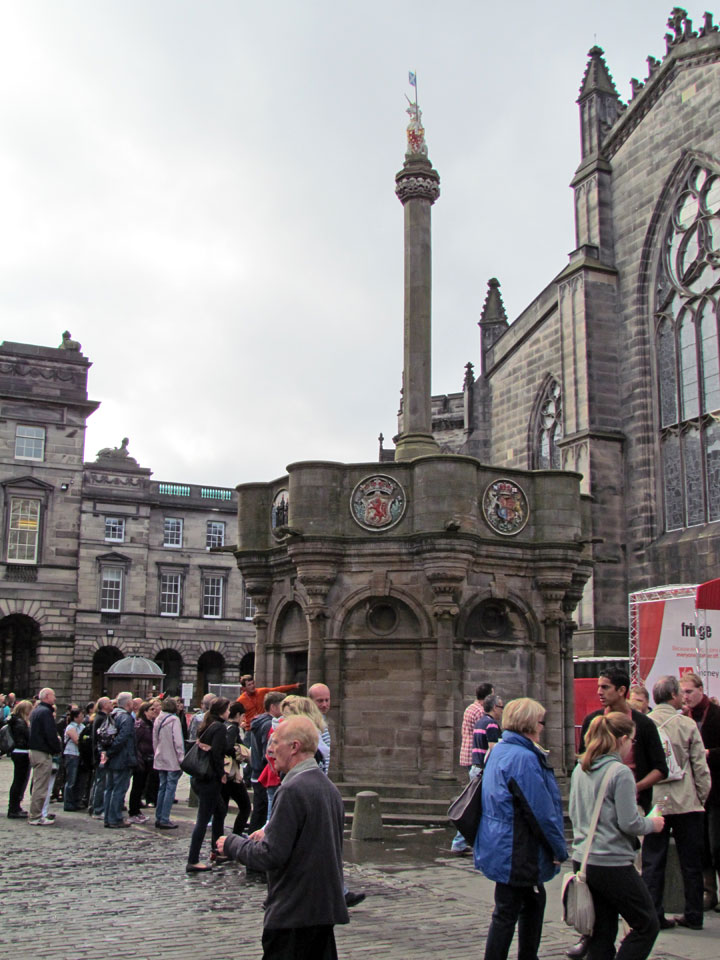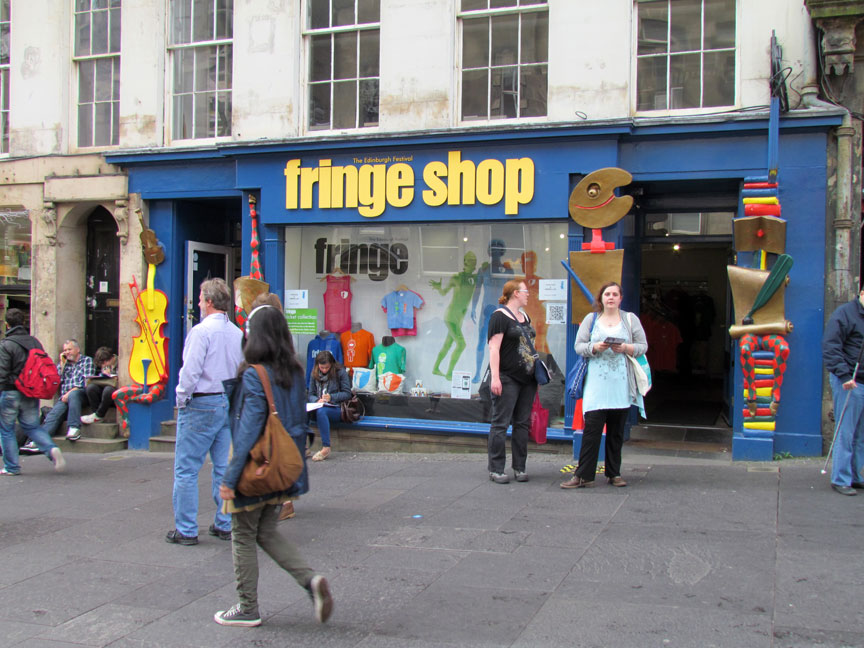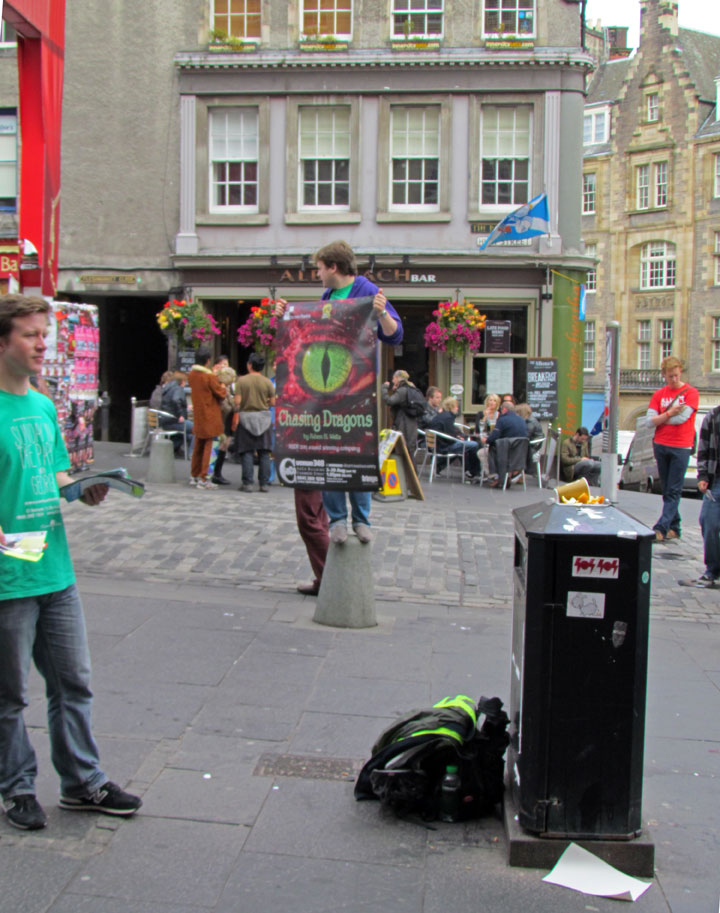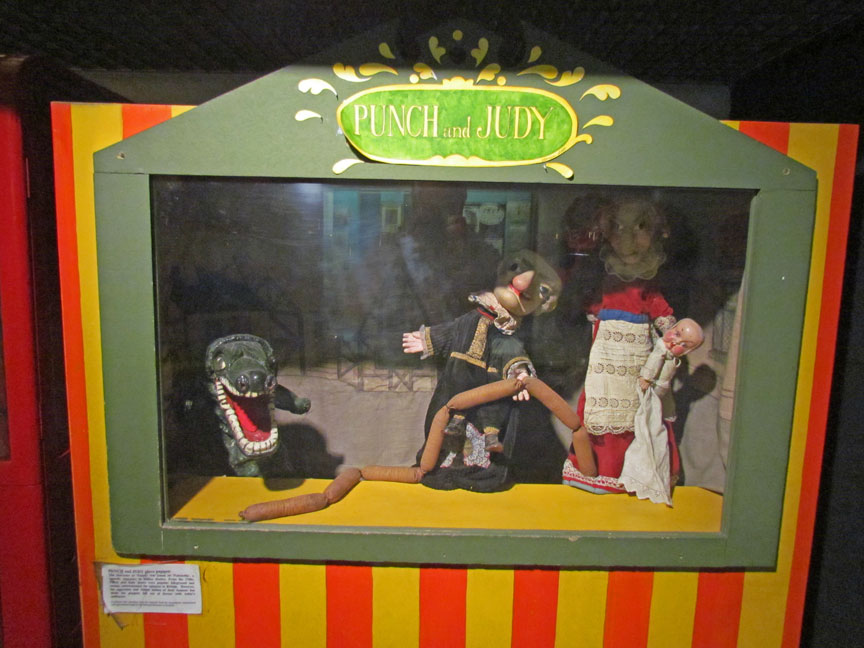 traditional show in town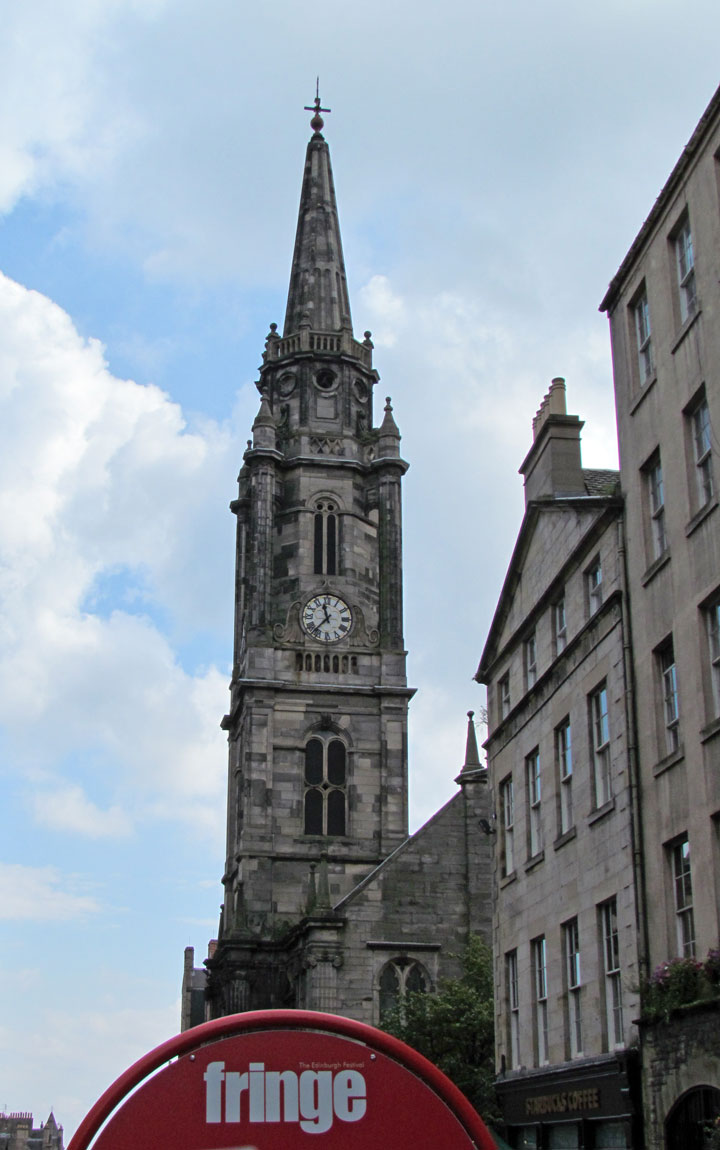 ---
Deacon Brodie Bar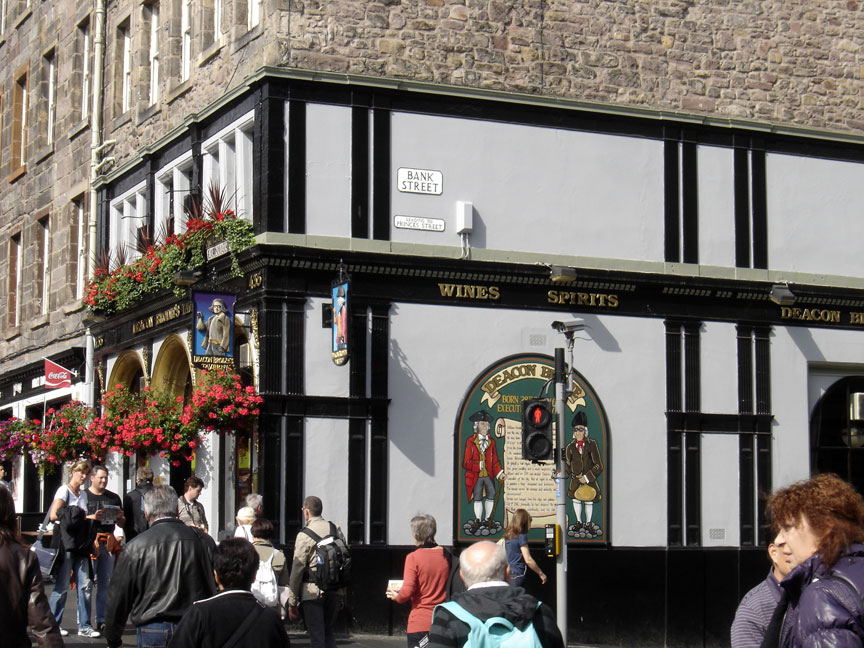 William Brodie (28 September 1741 – 1 October 1788), more commonly known by his prestigious title of Deacon Brodie, was a Scottish cabinet-maker, deacon of the trades guild and Edinburgh city councillor, who maintained a secret life as a burglar, partly for the thrill, and partly to fund his gambling.
By day, Brodie was a respectable businessman, member of the burgh council and deacon (or president) of the Incorporation of Wrights and Masons. Part of his job in building cabinets was to install and repair their locks and other security mechanisms and repair door locks. He also served on a jury. He socialised with the gentry of Edinburgh, and met the poet Robert Burns and the painter Sir Henry Raeburn. He was also a member of The Edinburgh Cape Club.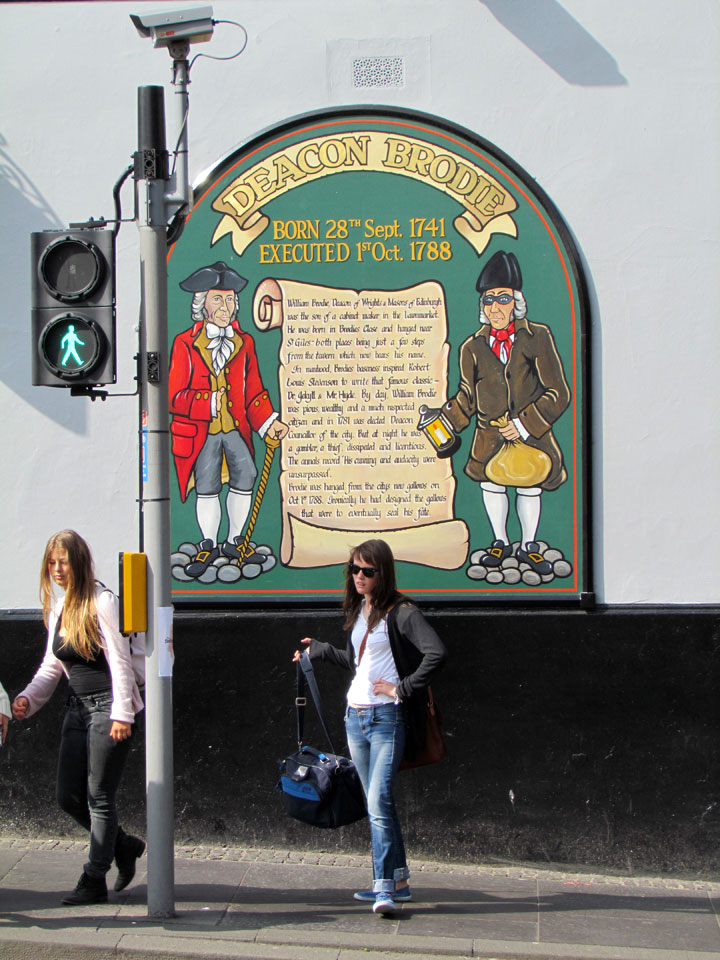 At night, however, Brodie became a burglar and thief. He used his daytime job as a way to gain knowledge about the security mechanisms of his clients and to copy their keys using wax impressions. As the foremost wright of the city, Brodie was asked to work in the homes of many of the richest members of Edinburgh society. He used the illicit money to maintain his second life, including five children, two mistresses who did not know of each other, and a gambling habit. He reputedly began his criminal career around 1768 when he copied keys to a bank door and stole £800. In 1786 he recruited a gang of three thieves, Brown, Smith, and Ainslie. The case that lead to Brodie's downfall began later in 1786 when he organised an armed raid on an Excise office in Chessel's Court on the Canongate. Brodie's plan failed and Ainslie was captured. Ainslie agreed to turn King's evidence, to avoid transportation, and informed on the rest of the gang. Brodie escaped to the Netherlands intending to flee to the United States but was arrested in Amsterdam and shipped back to Edinburgh for trial.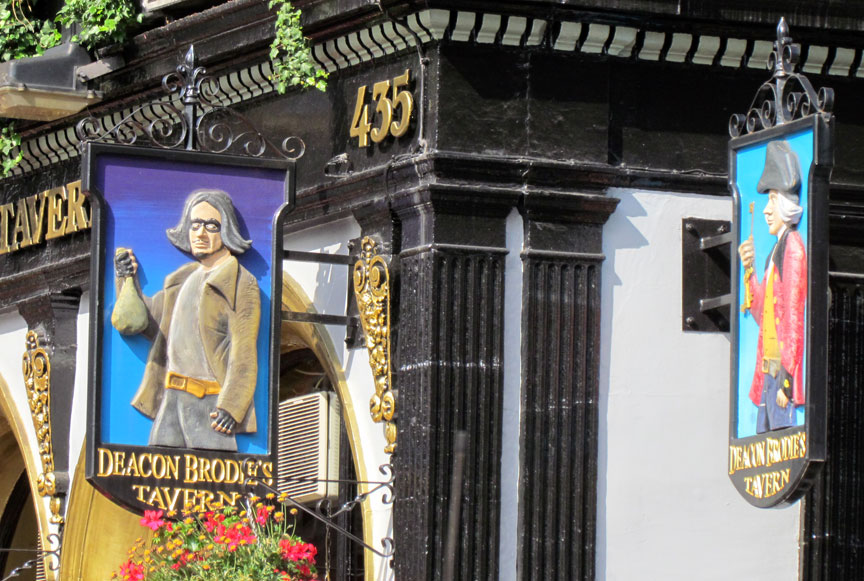 by night (left), by day (right)
The trial started on 27 August 1788. At first there was no hard evidence against Brodie before the tools of his criminal trade were found in his house; copied keys, a disguise and pistols. The jury found Brodie and his henchman George Smith, a grocer, guilty. Smith was an English locksmith responsible for a number of thefts, even stealing the silver mace from the University of Edinburgh. Brodie and Smith were hanged at the Tolbooth on 1 October 1788, using a gallows Brodie had designed and funded the year before. According to one tale, Brodie wore a steel collar and silver tube to prevent the hanging from being fatal. It was said that he had bribed the hangman to ignore it and arranged for his body to be removed quickly in the hope that he could later be revived. If so, the plan failed. Brodie was buried in an unmarked grave at the Parish Church in Buccleuch. However rumours of his being seen in Paris circulated later and gave the story of his scheme to evade death further publicity.
Text from Wikipedia
---
---