Adair Covered Bridge
Carleton County
55-02-01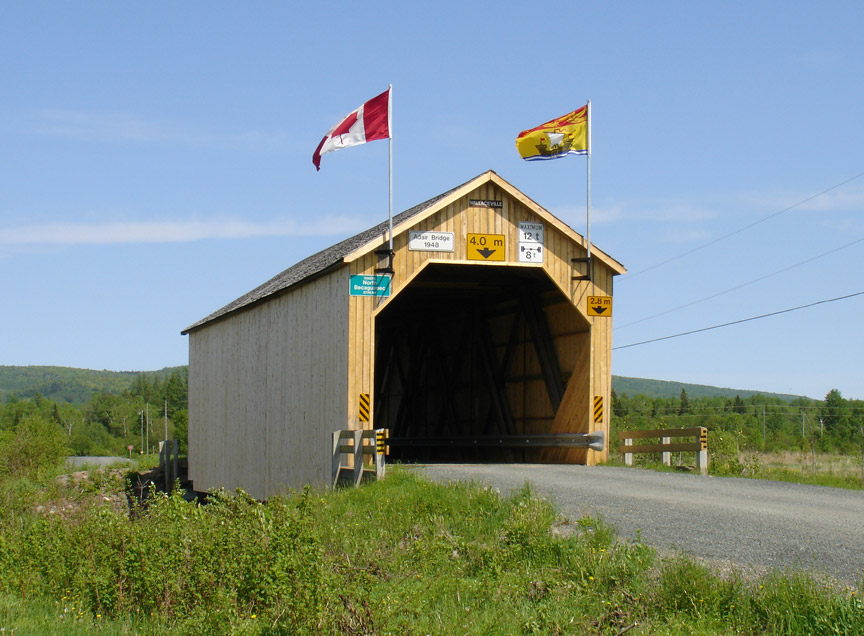 Adair Covered Bridge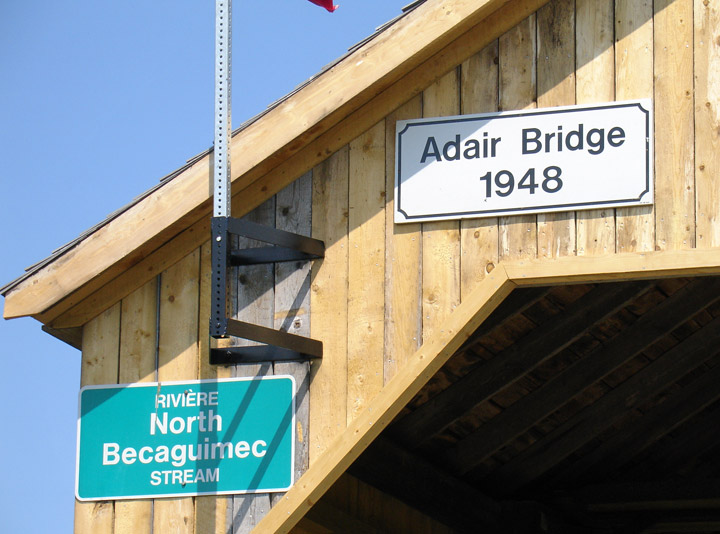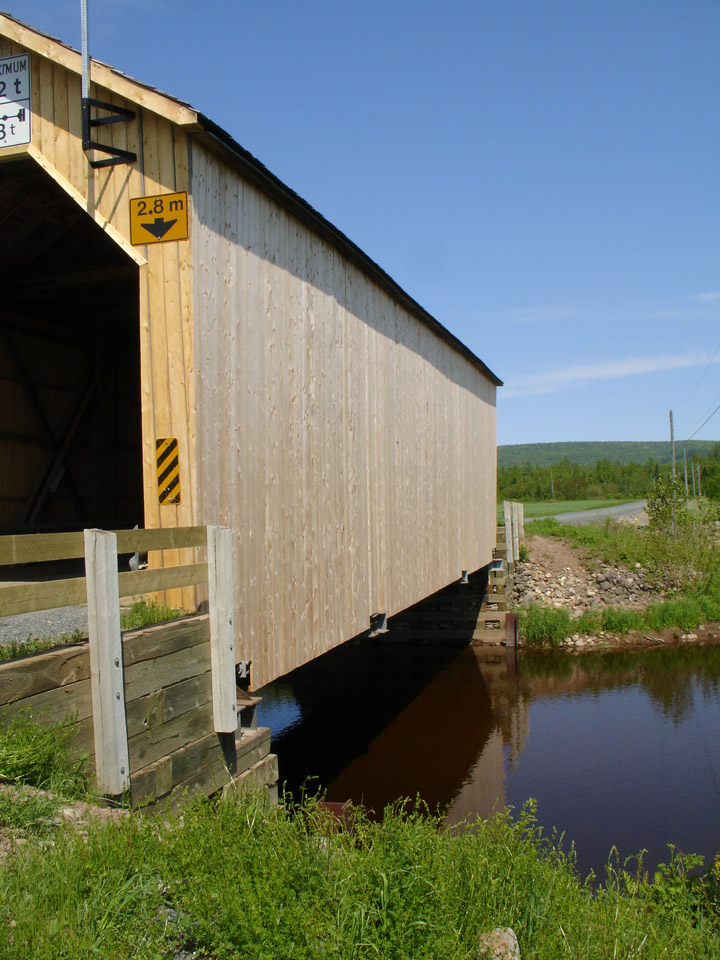 Span: 62' Length: 68'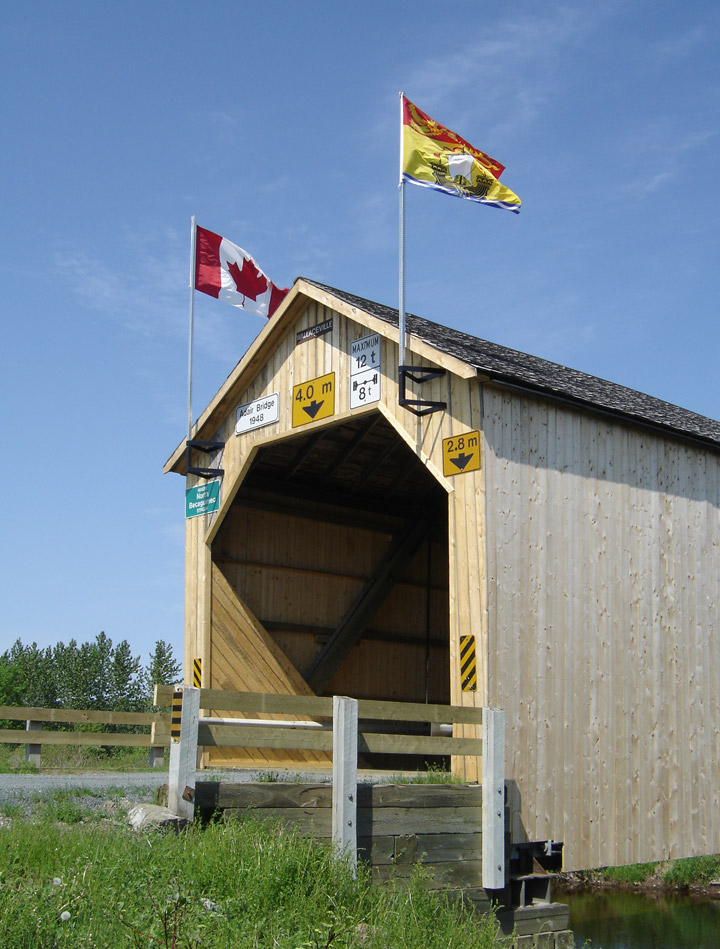 built in 1948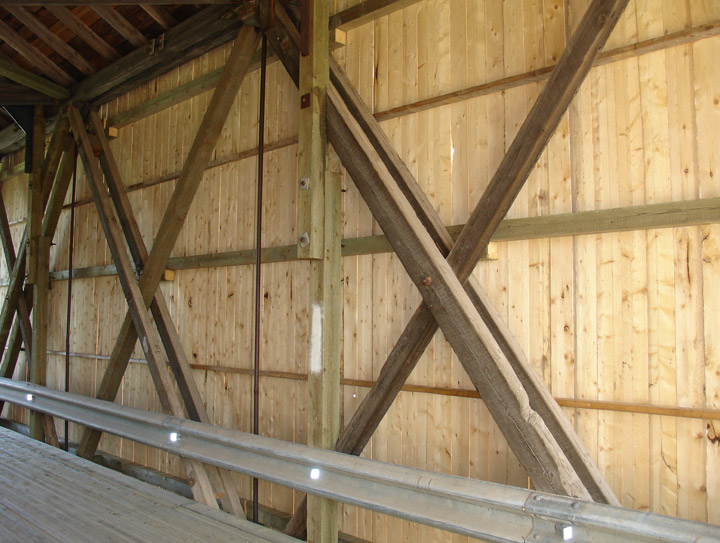 Howe Truss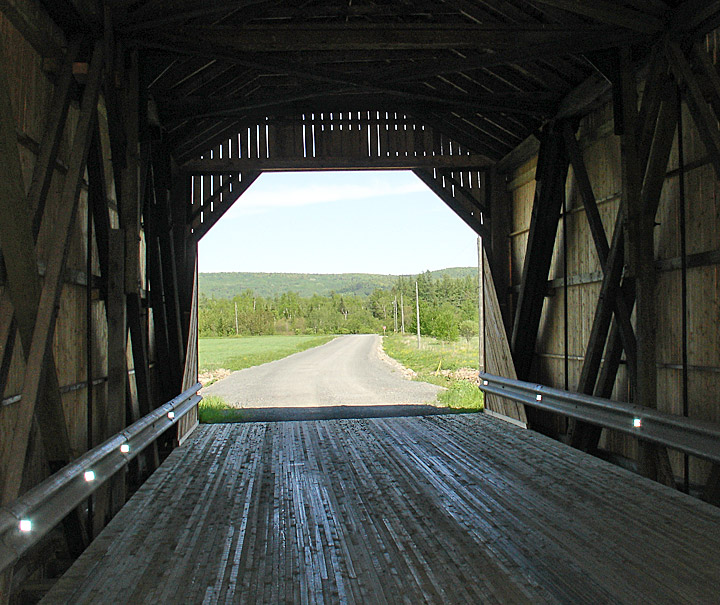 Bridge destroyed by fire on October 14, 2009
---
A 60-YEAR-OLD COVERED BRIDGE NEAR HARTLAND WAS DESTROYED BY FIRE EARLY YESTERDAY MORNING - AND OFFICIALS SAY THE BLAZE WAS DELIBERATELY SET.
PEOPLE IN NEW BRUNSWICKS CARLETON COUNTY ARE ARE TAKING THE LOSS PRETTY HARD - AS A PIECE OF THEIR HISTORY IS NOW IN RUINS.
GLOBAL'S ALLISON MELANSON REPORTS.
AN EXCAVATOR DIGS UP THE STILL SMOKING TIMBERS FROM THE ABUTMENTS OF WHAT USED TO BE THE ADAIR BRIDGE.
IT BURNED EARLY YESTERDAY MORNING - THE WORK OF AN ARSONIST.
[Notes:FIRE CHIEF ]
"we received the call at 1:05 and arrived on scene at 1:20 to find nothing but the floor left, the deck of the bridge, and it had fallen into the stream at that time, everything else had burnt."
BUILT IN 1948, THE SMALL COVERED BRIDGE SPANNED THE BECAGUIMEC RIVER, ABOUT 20 KILOMETERS NORTHEAST OF HARTLAND.
THESE PHOTOS SHOW IT ENGULFED IN FLAMES - UNABLE TO BE SAVED.
IT TOOK NEARLY 20 FIREFIGHTERS ABOUT 2 HOURS TO PUT OUT THE BLAZE.
PAULINE WALLACE WAS THE FIRST TO NOTICE IT BURNING.
[Notes:PAULINE]
"i got up around 12:30 to let my cat out and I looked down at the bridge and it was all a fire that was some sad lookin' sight you know."
WALLACE HAS LOOKED OUT AT THE BRIDGE FROM HER KITCHEN WINDOW EVERY DAY SINCE IT WAS BUILT.
IT'S BEEN PART OF HER FAMILY'S HISTORY FOR THREE GENERATIONS.
[Notes:PAULINE ]
"the kids had a lot of fun down there, climbing on the bridge, climbing clear to the top of it, being boys you know."
SHE'S NOT THE ONLY ONE DEVASTATED TO LEARN SOMEONE SET IT ON FIRE DELIBERATELY.
THERE'S BEEN A REGULAR STREAM OF PEOPLE STOPPING BY THE SITE TO TAKE A LAST PICTURE OF WHAT'S LEFT.
[Notes:bob rourke ]
"it was terrible, that bridge has been here a long time, they've done a lot of work on it the last few years, gonna miss it."
[Notes:PAT ROURKE ]
"we'd drive over through and I'd bike down here, look down the stream, come over across the bridge and go down fishing."
AT THE TURN OF THE 19TH CENTURY, THERE WERE MORE THAN 400 COVERED BRIDGES IN NEW BRUNSWICK.
TODAY - ONLY 62 REMAIN.
THIS IS THE SECOND BURNED BY ARSONISTS IN THE LAST YEAR.
[Notes:reporter]
"major work was done to upgrade the bridge just last year. The wooden roof and walls were replaced and the road surface repaved. Now the department of transportation is assessing the need and cost of rebuilding it entirely."
UNTIL THEN, RESIDENTS WHO LIVE ON THE SOUTH SIDE OF THE RIVER HAVE A 12 KILOMETER DETOUR ALONG THIS NARROW DIRT ROAD.
ALLISON MELANSON, GN, CLOVERDALE NEW BRUNSWICK. (News article used by permission of GN)
---
On January 6, 2010, District 7 RCMP's Crime Reduction Unit and RCMP members from Hartland made an arrest in connection with the Adair Covered Bridge fire on October 14, 2009.

The historical bridge had been located on the Furlong Road over the North Branch of the Becaguimec Stream in Cloverdale, near Hartland before it was burned beyond repair.

A 19-year old man has been arrested and is scheduled to appear in Woodstock Provincial Court on March 9, 2010 on arson charges.

This investigation is continuing.
---
Location:

Cloverdale Township.
1.7 (2.7 km) N. of jct NB575 on NB104, then 0.1 (0.2 km) left on Furlong Rd.
---
---