New York-New York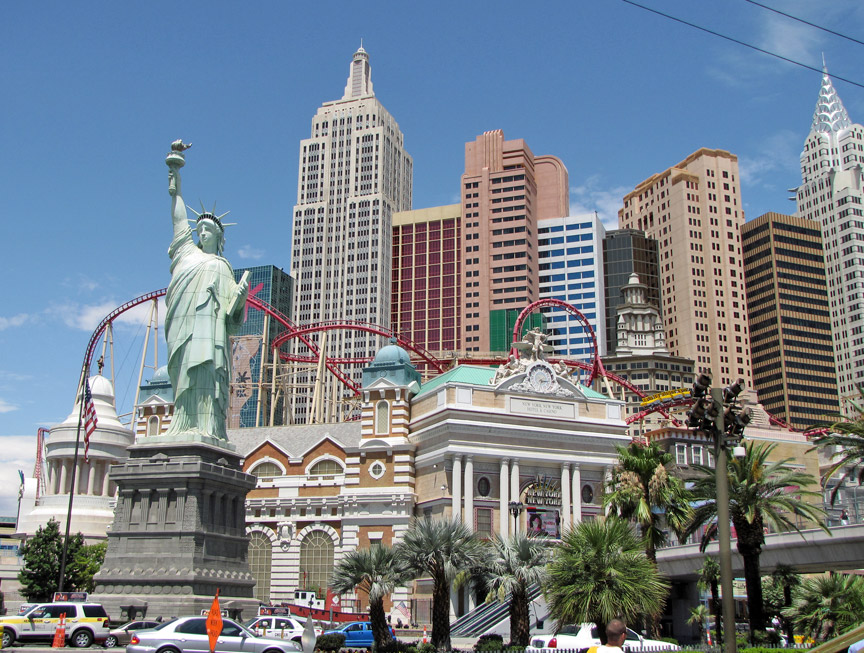 New York-New York Hotel & Casino
New York-New York Hotel & Casino is a hotel and casino located on the famed Las Vegas Strip at 3790 Las Vegas Boulevard South, in Paradise, Nevada. It is one of the many casinos owned and operated by MGM Mirage.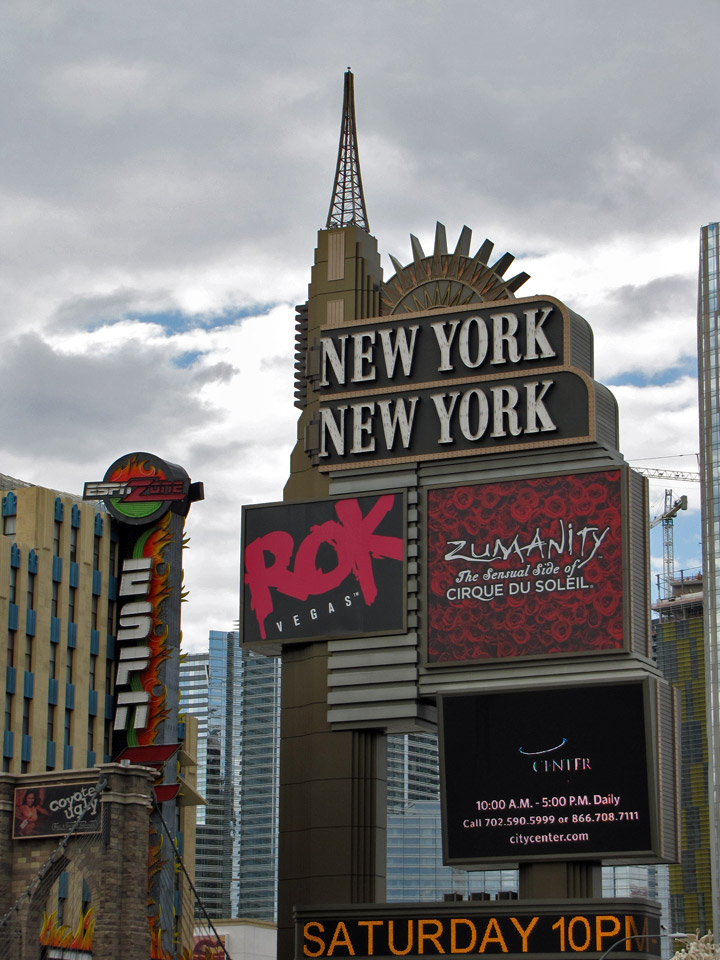 New York-New York uses the New York City theme of its name in many ways. Its architecture creates an impression of the New York City skyline; the hotel includes several towers configured to resemble New York City skyscrapers, such as the Empire State Building and the Chrysler Building. In front of the property is a pool representing New York Harbor, with a 150 ft (46 m) tall (half-scale) replica of the Statue of Liberty, a roller coaster, and replicas of the Brooklyn Bridge, Soldiers and Sailors Monument, the Whitney Museum of American Art, Ellis Island, and Grand Central Terminal, among other well-known structures.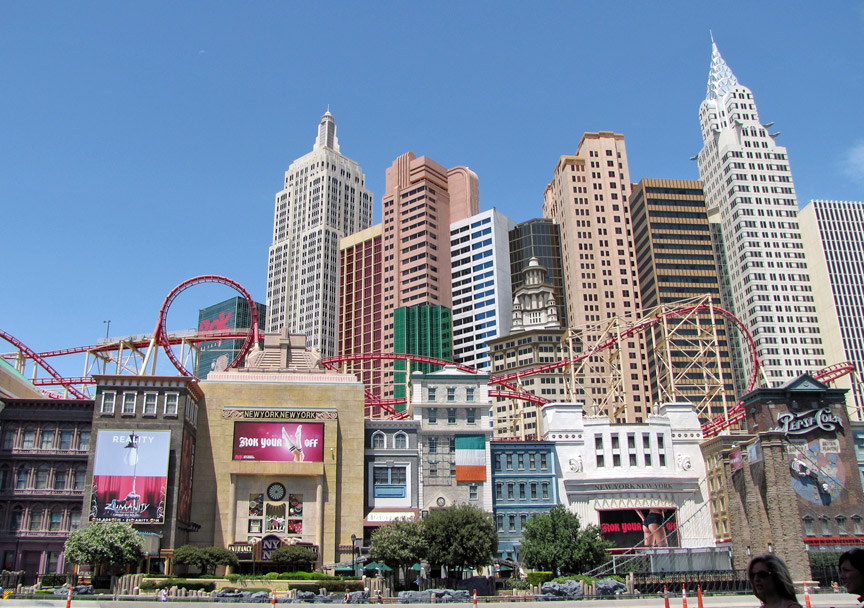 Within the resort, particular gambling areas, bars, eating areas and meeting rooms are named after New York City neighborhoods or landmarks. The main casino area, for example, is named after Central Park, while the "Village Eateries" food court is modeled after New York City's Greenwich Village, even including real menus from New York Chinese takeout restaurants taped to the doors of the mock apartment buildings. New York-New York uses the trademarked slogan "The Greatest City in Las Vegas".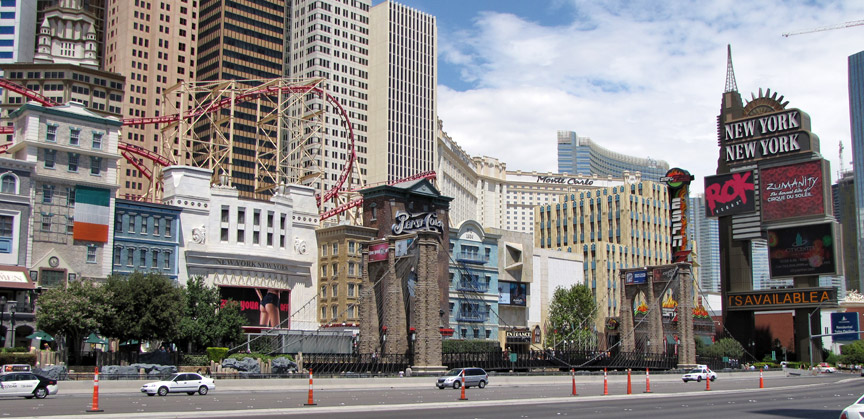 replica of Brooklyn Bridge
The resort is located on the northwest corner of the Tropicana - Las Vegas Boulevard intersection. At street level, pedestrians are blocked from crossing by concrete barriers. Instead, New York-New York is linked by overhead pedestrian bridges to its neighboring casinos to the south (the Excalibur, across Tropicana Avenue) and to the east (the MGM Grand, across the Strip).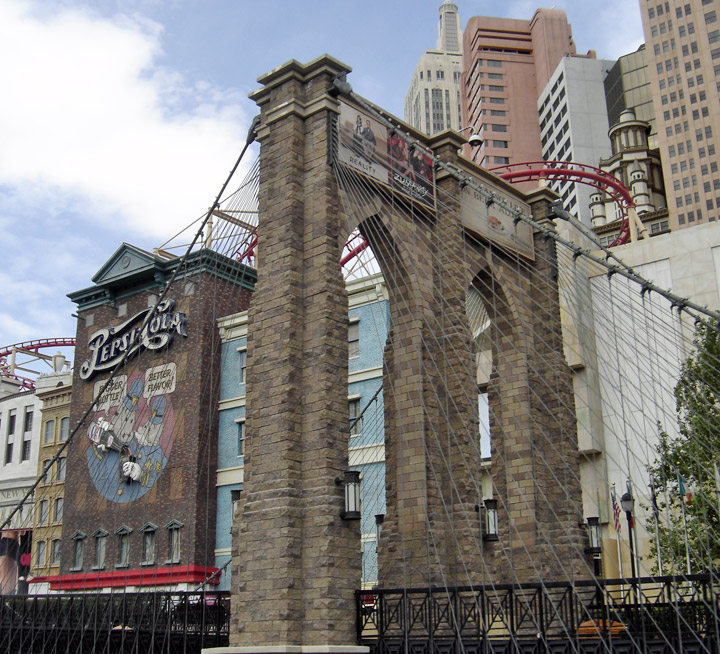 The property opened on January 3, 1997. The project, which was first announced in 1994, was a joint venture of MGM Grand Inc. and Primadonna Resorts.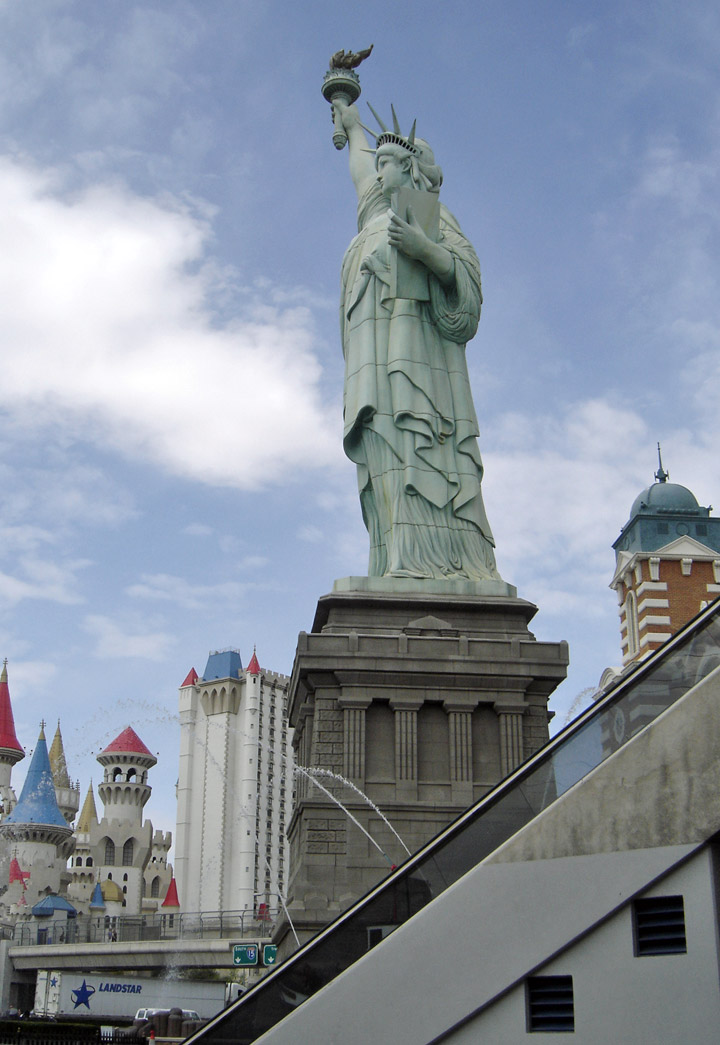 After the September 11, 2001 attacks, people spontaneously sent various tributes to New York-New York, especially T-shirts from police, fire and rescue departments around the country. These are displayed along the fence in front of the "Lady Liberty" replica. Eventually, they added a permanent memorial. The twin towers of the World Trade Center are not included in the skyscrapers depicted in its facade.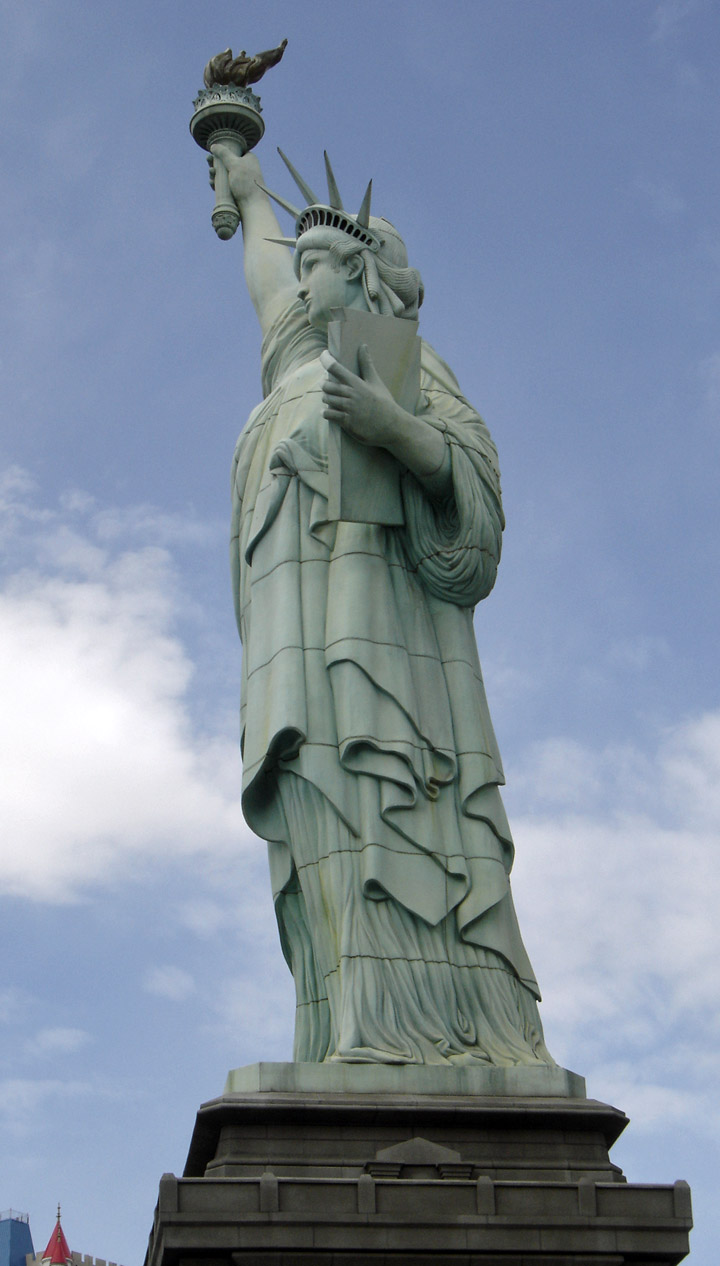 The Roller Coaster at New York-New York, formerly known as 'Manhattan Express', travels through the property's interior and exterior, and has cars painted to resemble a traditional Checker Cab; the coaster is 203 ft (62 m) tall, has a maximum drop of 144 ft (44 m), and reaches speeds up to 67 mph (108 km/h). The ride has recently undergone a variety of enhancements including the introduction of a magnetic braking system and new trains from Premier Rides. It was built by TOGO Inc. From Japan
Text from Wikipedia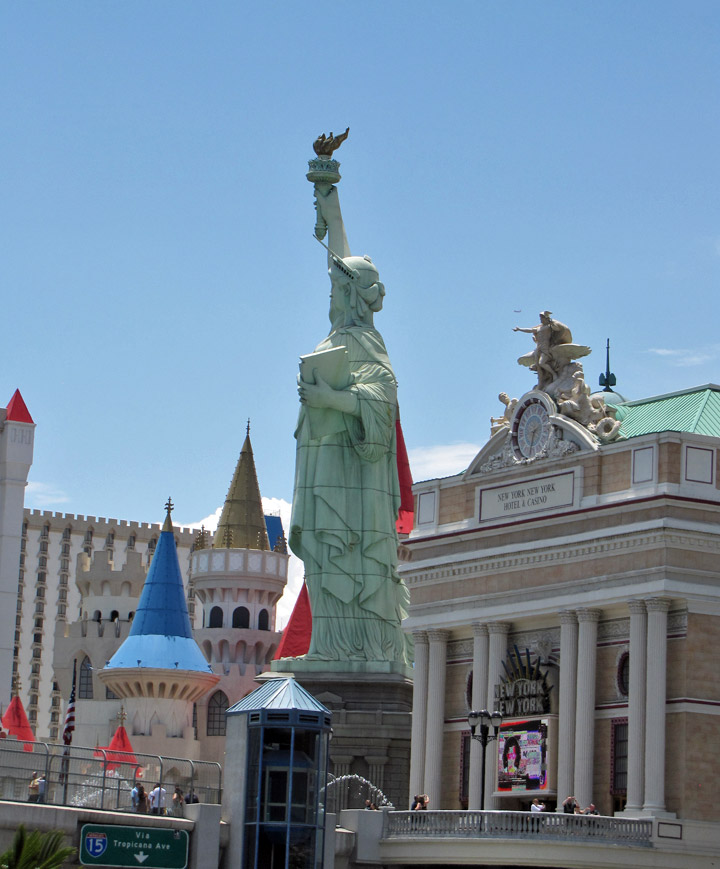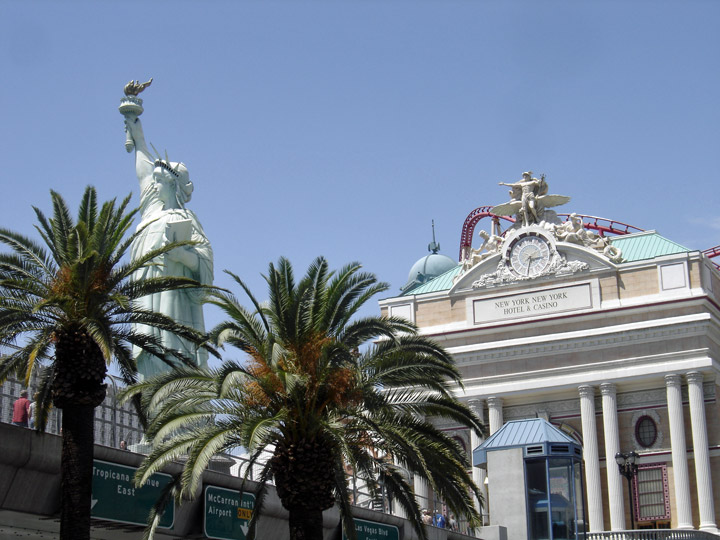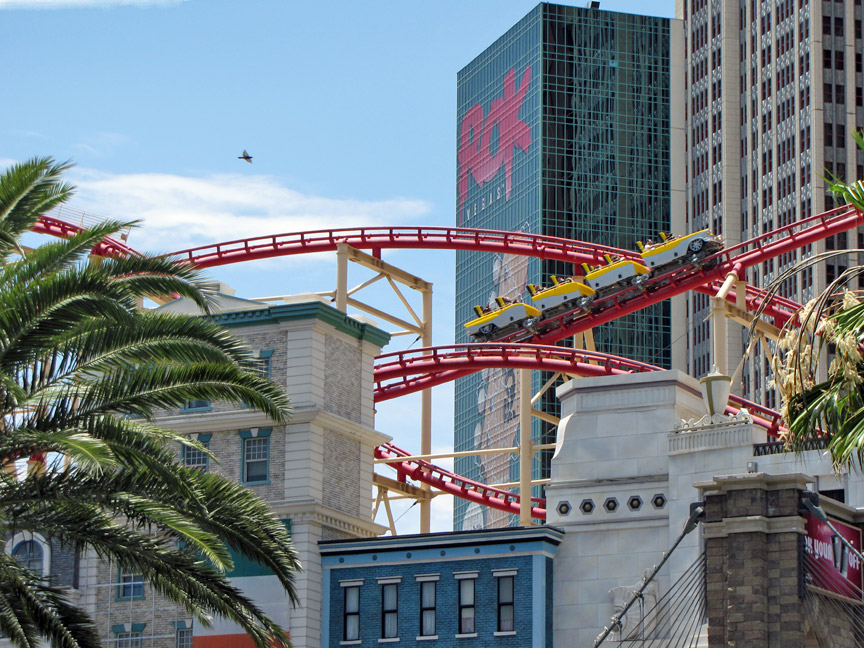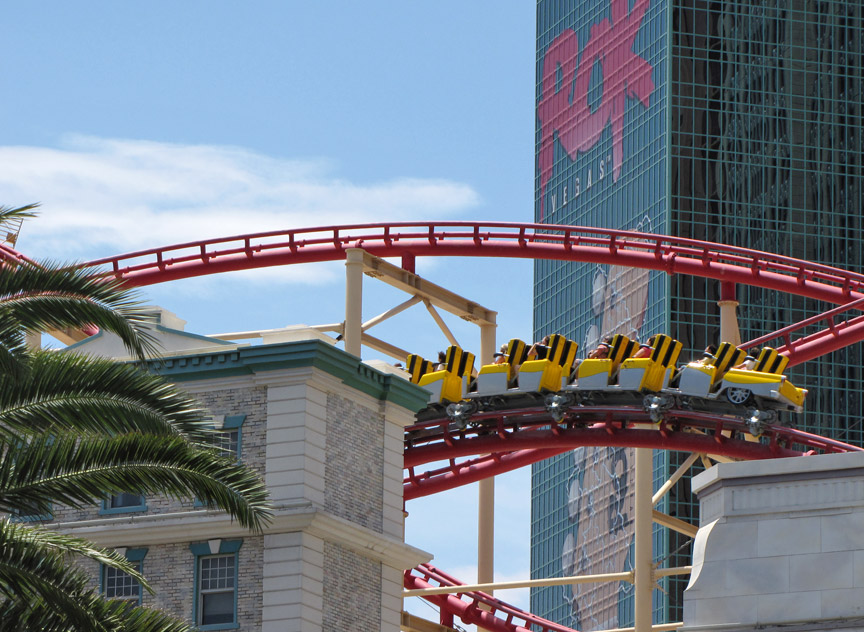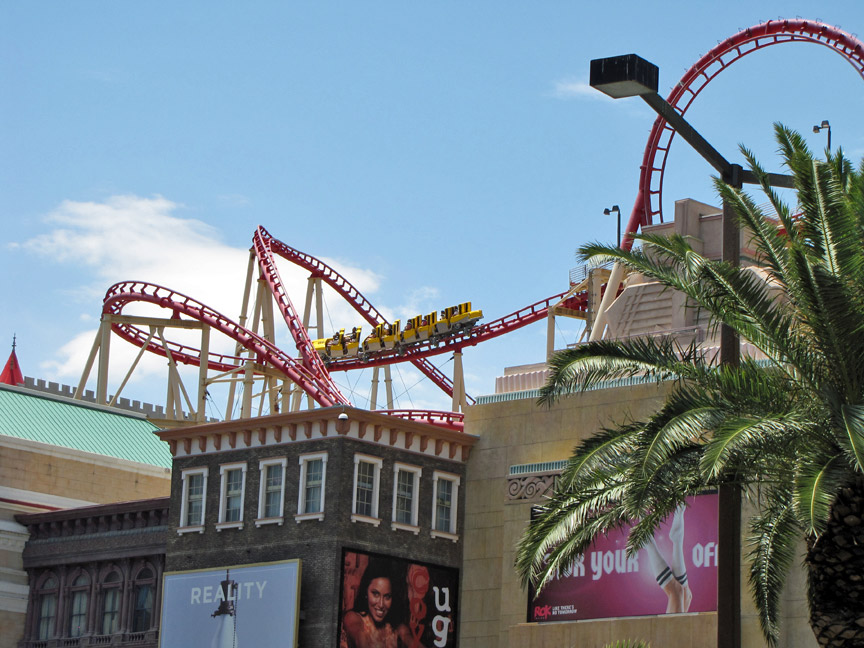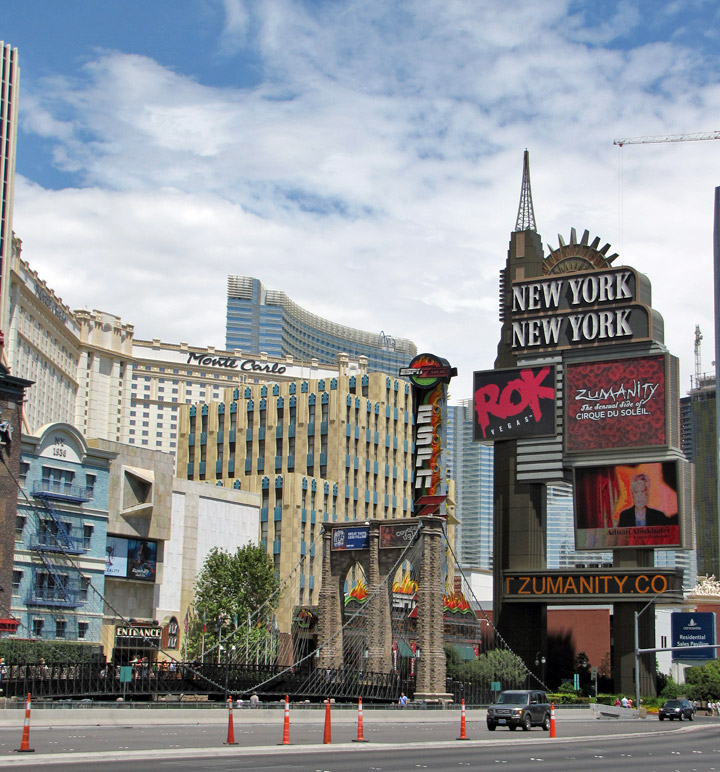 ---
---