Kyoto
Scenes from 1966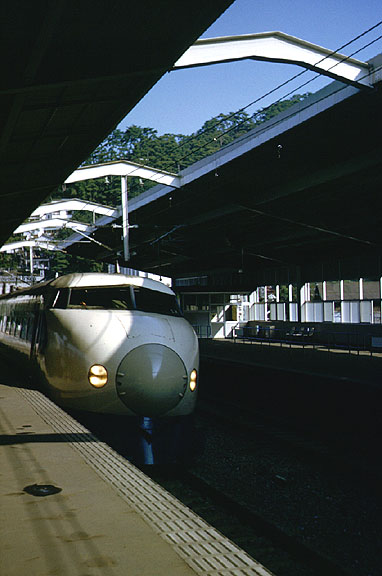 Bullet train ride from Tokyo
Kyōto, city in Japan, capital of Kyōto Prefecture, located in west-central Honshū, Japan's largest island. Kyōto served as Japan's capital and the seat of the imperial court for more than 1,000 years, from its founding in 794 until 1868, when the emperor moved to Tokyo. The city is rich in historic and cultural sites, housing many of Japan's most renowned temples, shrines, palaces, and gardens. It is famous for the preservation of traditional Japanese crafts, performing arts, religious observances, and cuisine.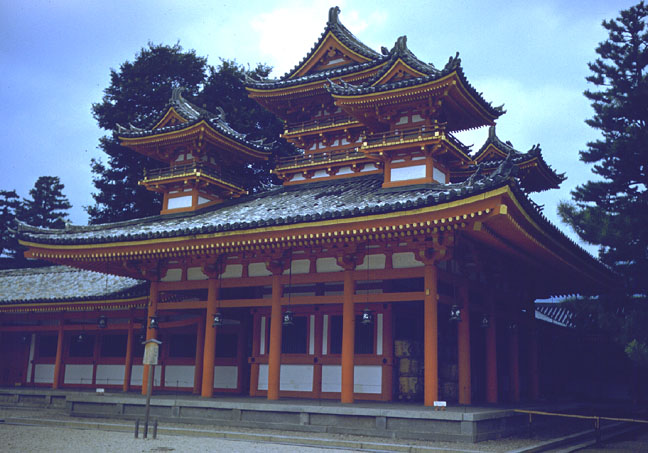 Kyōto is one of Japan's largest cities. It lies 370 km (230 mi) west of Tokyo and 45 km (28 mi) northeast of Ōsaka. The city and the rest of Kyōto Prefecture are part of Japan's Kinki region. They are also located within the Kanshin (or Keihanshin) Industrial Zone, which also encompasses Ōsaka and Kōbe.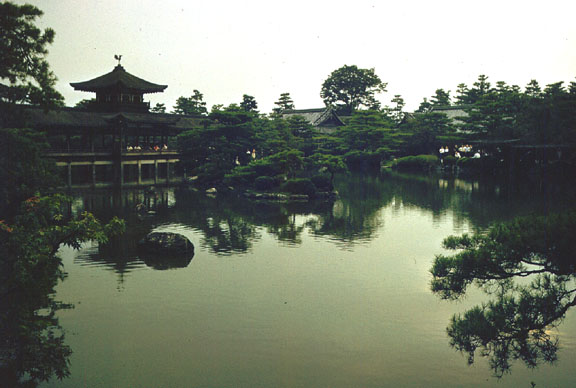 A landlocked city, Kyōto is surrounded on three sides by mountain ranges, and the Yamato plain—the heartland of ancient Japanese civilization—lies to its south. The Kamo River flows south into Kyōto from the northeast, while the Katsura River enters the city from the west and flows south. South of the city, these rivers merge with Ōsaka's Yodo River, creating a water passage to the port of Ōsaka. The forested mountains that encircle the city abound with scenic streams, waterfalls, and trees that bear flowers in springtime and radiant foliage in autumn. The mountains produce hot, humid summers and cold winters with only occasional snowfall. Temperatures are typically highest in August, averaging 27° C (80° F), and lowest in January, averaging 3° C (38° F). The average temperature is 15° C (59° F). A rainy season of about four weeks occurs in June, and average yearly rainfall is 1,575 mm (62 in).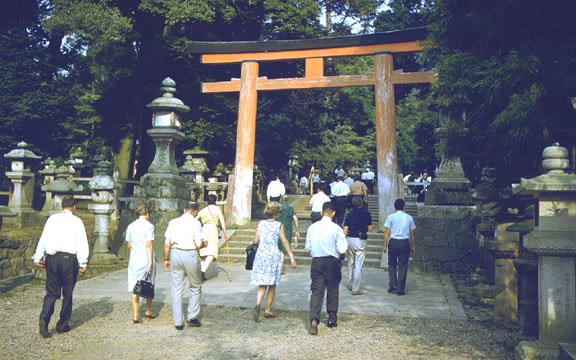 When the city was founded, it was called Heian-kyō ("Capital of Peace and Tranquility"). By 1185 it had become known as Kyōto, or "Capital City." In the past, the city was also popularly referred to as Miyako ("The Capital").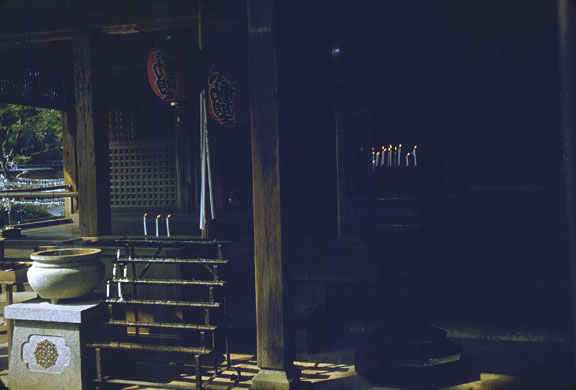 shrine
Kyōto's historic and cultural sites include 15 percent (about 1,700) of Japan's registered Important Cultural Properties (buildings, artworks, books, and other properties designated for government protection) and 20 percent (about 200) of the country's National Treasures (those cultural properties designated as being of exceptional historical and artistic importance). In the mid-1990s, 17 cultural properties in Kyōto (13 temples, 3 shrines, and 1 castle) were listed as World Heritage sites by the United Nations Educational, Scientific and Cultural Organization (UNESCO). The city has more than 1,600 Buddhist temples and nearly 400 Shinto shrines. Many of the most beautiful temples are those associated with Zen Buddhism, a sect introduced to Japan from China in the 12th century. These include Ryōanji, famous for its minimalist sand-and-rock garden; Daitokuji, Tōfukuji, and Nanzenji, three large temple complexes; Tenryūji, in Arashiyama; Kinkakuji (the Golden Pavilion), designed for the estate of a shogun (military dictator) and now reconstructed; and Ginkakuji (the Silver Pavilion), also built to serve as a shogunal retreat. The most important Shinto shrines are Yasaka Jinja, in the Gion district; Fushimi Inari, at the foot of Mount Inari; Kitano, the site of a popular monthly flea market; and Heian, founded in 1894 in commemoration of the 1,100th anniversary of Kyōto's founding.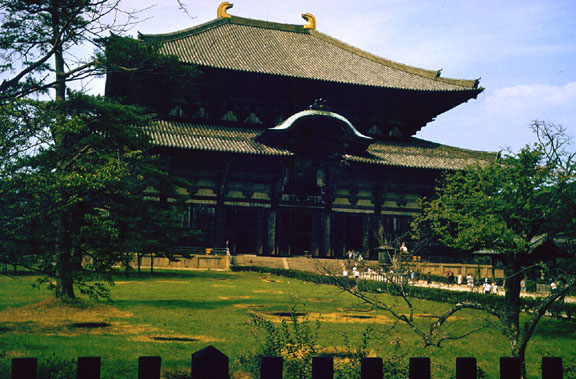 Other points of interest in Kyōto include the Municipal Zoo, the second oldest in Japan (founded in 1903), and the Kyōto Prefectural Botanical Gardens (1923), Japan's first public botanical garden. The city's parks include Kyōto Imperial Park, Okazaki Park, and Maruyama Park. Another attraction is the Tōei Uzumasa Movie Village, a motion-picture set open to the public.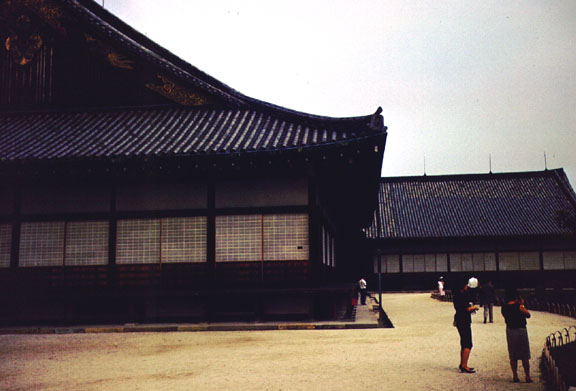 exterior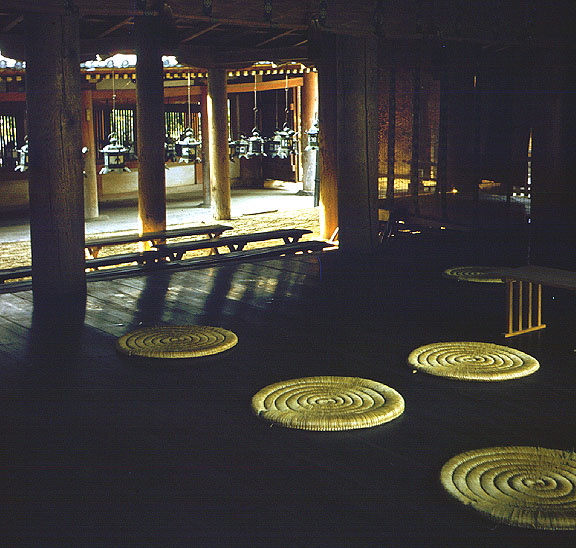 interior

Nara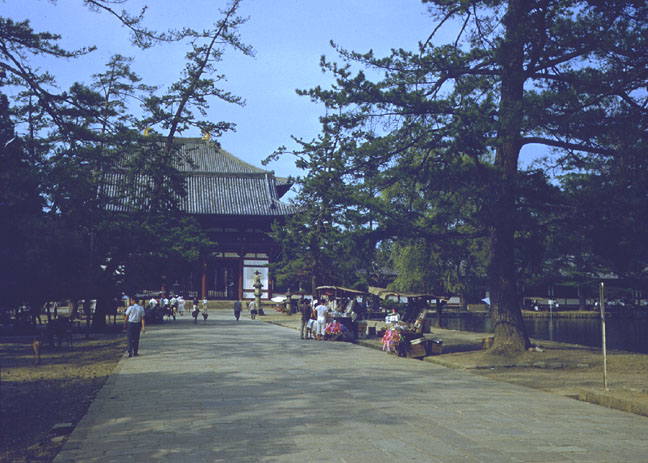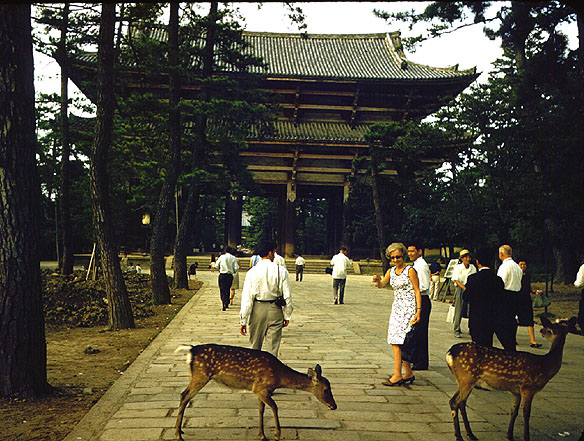 Deer Park
Nara, city, Japan, capital of Nara Prefecture, southern Honshū Island, near Ōsaka. The principal manufactures are India ink, fans, and toys. In Nara Park is one of the largest bronze statues in the world, a 16.2-m (53.5-ft) statue of Buddha.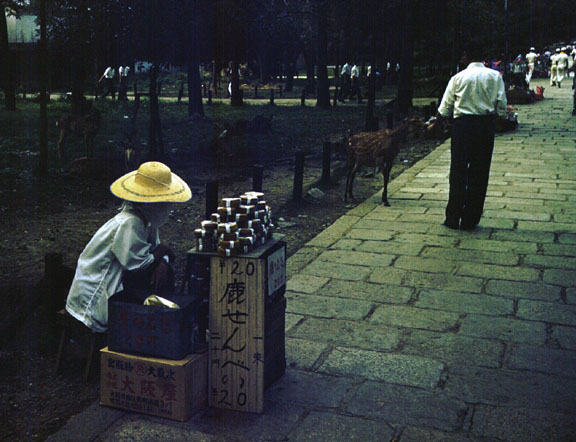 d

eer food for sale

Also in Nara are the temples of Kasuga and Todai-ji. From 710 to 784, Nara was the first permanent capital of Japan. It is the home of Nara Women's University (1908). Population (1999) 363,303.

Text from Microsoft Encarta