Onsen
the Japanese bath
In his quintessential tome Things Japanese (1890), humorist and Japan-expert Basil Hall Chamberlain wryly observed 'Cleanliness is one of the few original items of Japanese civilization'. Chamberlain was impressed by the Japanese mania for onsen (mineral hot-spring spas), not least by the pool in rural Gunma-ken where 'the bathers stay in the water for a month on end, with a stone on there lap to prevent them from floating in their sleep'.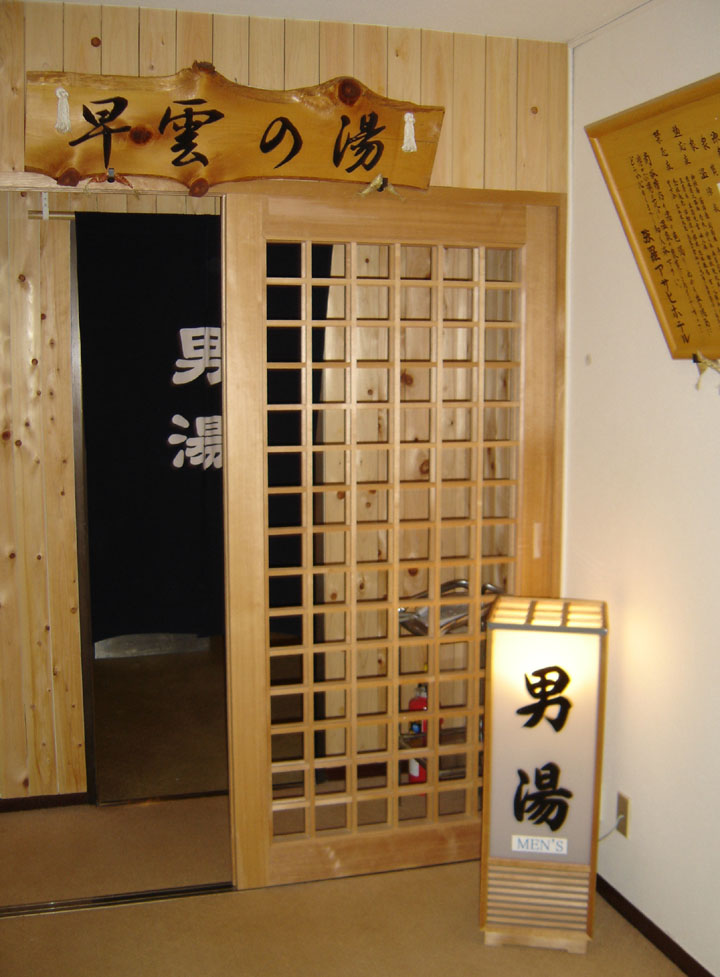 entrance to the onsen
A century later, onsen addicts may not be weighing themselves down with boulders, but fascination with hot springs remains as strong as ever, and the activity has developed into a fine art with its own rules of etiquette. Baths are found just about everywhere due to plenty of underground thermal activity — poke a stick in the ground and out comes o-yu (literally, 'honourable hot water') Onsen range from pristine mountain retreats to workaday bath houses and kitsch, overdeveloped spa towns.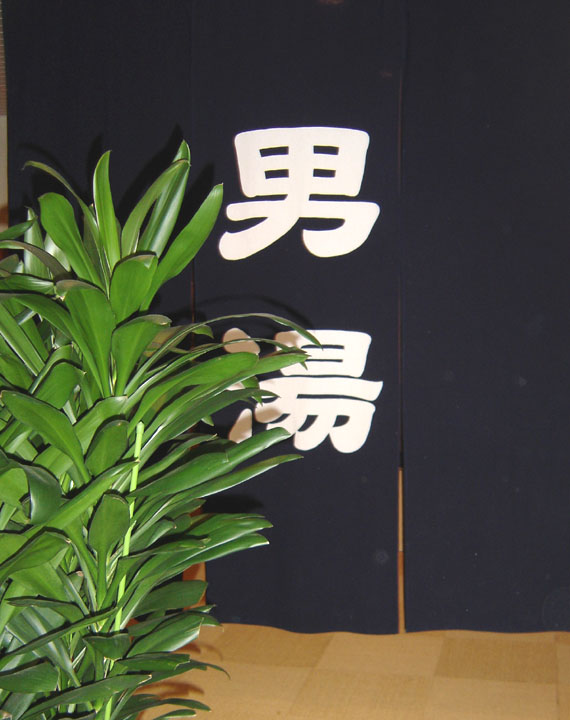 curtain which one passes through to enter
Getting naked with total strangers is not, for most of us, the cultural norm (California readers please forgive me), but shy gaijin (foreigners) should know that the Japanese perceive bathing as a great social leveler; company presidents rub naked shoulders with truck drivers, priests with publicans — and all revel in the anonymity that nudity allows. Only the yakuza (Japanese mafia) stand out with their magnificent irezumi (tattoos) or, in Yakuza parlance, iremono. They are often happy if you show an interest.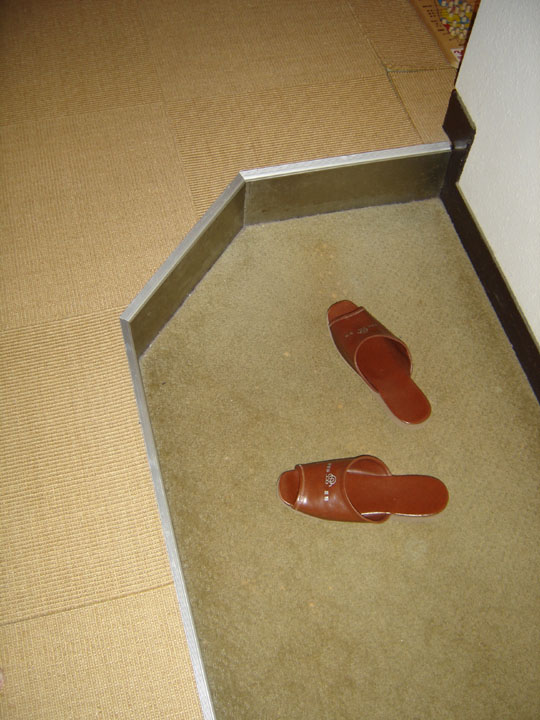 leaving your house slippers at the door
The baths themselves come in as many different shapes and sizes as the customers. Essentially you will either visit solely for an o-furo (literally, 'the honorable bath'); or you will stay at an ryokan (traditional hot-spring inn) to enjoy good food, copious amounts of alcohol, karaoke and a soak in the establishment's private baths, either indoors or out. Ryokan will often allow you to have a soak even if you aren't staying there (ask for ofuro-nomi). This is an excellent and affordable way to experience some beautiful, traditional baths. Unfortunately, bathing is also big business and commercialism has marred many once-lovely onsen.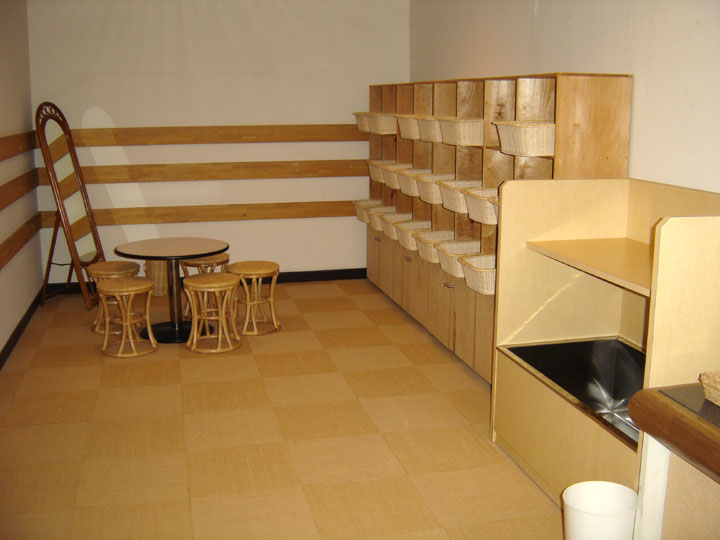 disrobing room
There are two excellent books devoted to hot springs: 'A Guide to Japanese Hot Springs' and 'Japans Hidden Hot Springs'. Both are worth seeking out for anyone looking to onsen-hop their way through Japan.
So whether it's being buried up to the neck in a thermally heated sand bath, soaking in a pool in a remote forest or luxuriating in a glitzy resort, the onsen experience is one of Japan's greatest treasures. And where else can you safely get naked with a mobster?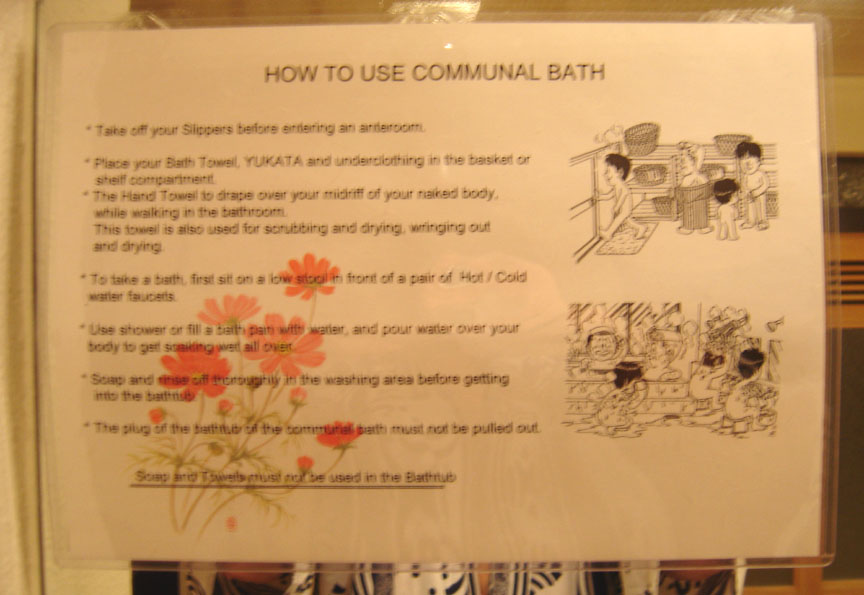 posted rules for the gaijin

Onsen Etiquette
The Japanese hot-spring o-furo is blissfully free of the rules and regulations that make life a minefield of potential societal gaffes for the average Japanese citizen. No doubt this liberation from the strictures of polite society is what makes it so popular. The first-time-naked gaijin needn't be intimidated —once the basics have been mastered.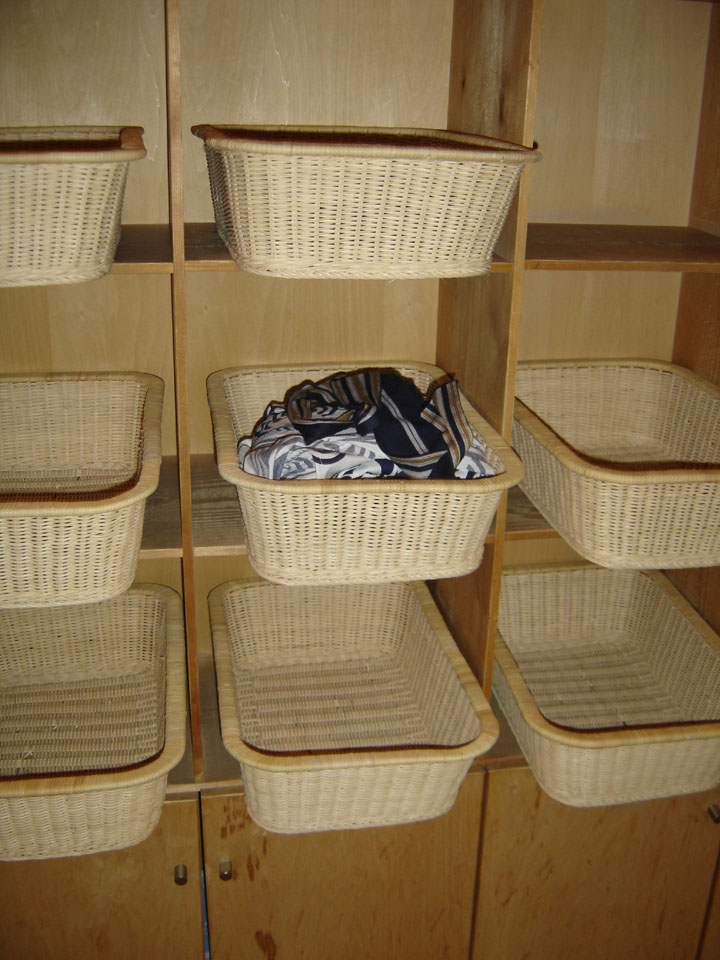 basket for holding your yukata and obi
Soap is a commodity kept as far from the bath water as possible. Have a rinse in the adjacent shower. If there's no shower, squat on one of the Lilliputian stools provided and ladle hot water over your body, using one of the available buckets, while outside the bath. Then gracefully ease yourself into the water. Incidentally, stealing someone else's bucket or stool while they are soaking is officially owned upon but, in fact, seems to be an undeclared national pastime.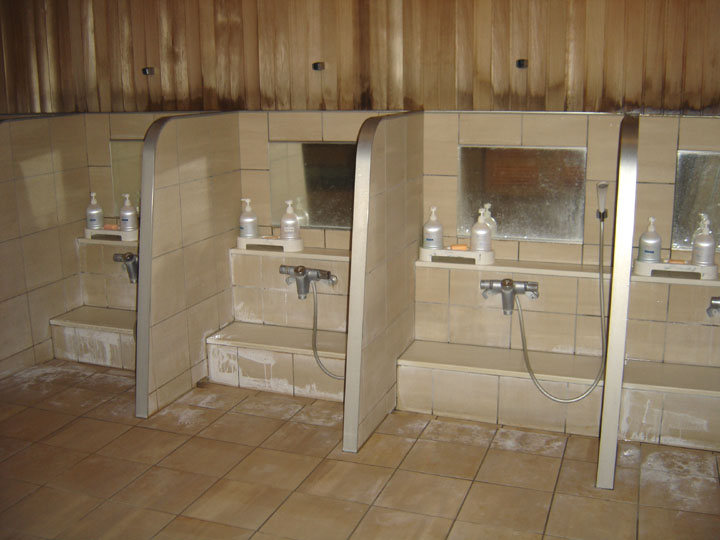 the place to squat on one of the Lilliputian stools provided
and ladle hot water over your body, using one of the available buckets
One should endeavor to slip into the water with the minimum of disturbance, not unlike a cherry blossom petal delicately slipping into a moonlit Kyoto temple pond. Doing a double-pike with a half-somersault into the ornamental stone bath might impress your traveling companions, but not only result in cerebral hemorrhaging as you strike cranium to bath-bottom, it will mean instant social death - blood in the bath-water is a strict no-no.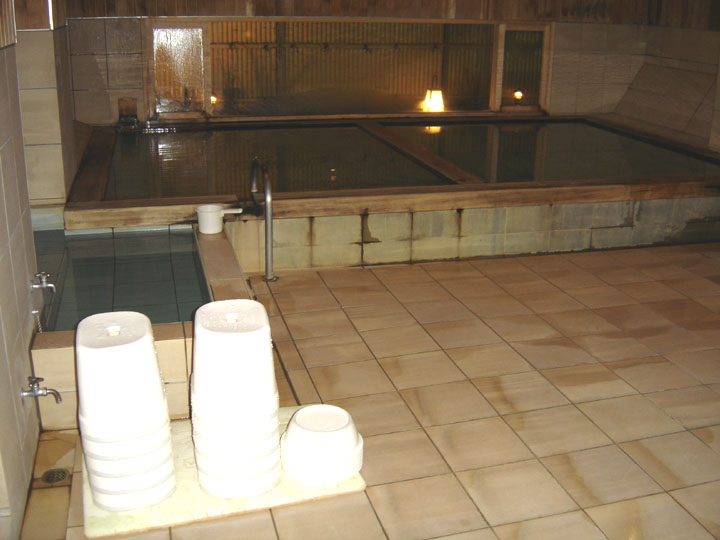 the hot water pool
stack of stools and buckets in the foreground
In the event that the water is hot enough to strip the skin off a rhino, it is perfectly acceptable to do a reverse long-jump action, although if you can slowly ease yourself into the superheated water, grimacing is positively encouraged. If you accompany your facial contortions with a long drawn 'achee' (hot), you will be considered a professional.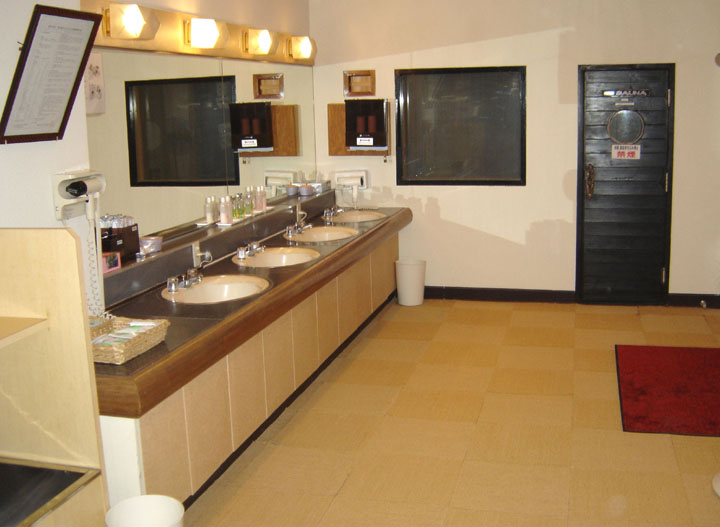 the recovery room
to primp and recloth refreshed for the dinner
(most Japanese bath before evening dinner rather than in the morning)
An essential piece of onsen equipment is a 'modesty' towel to delicately cover your most private bits and pieces. Once they are safely underwater, this useful item can be dipped in the water, rinsed out (outside the bath) and placed on your head. This is rumored to prevent you from passing out (another minor social infringement). In the more rural, single-sex baths, however, no one bothers with a modesty towel — bathers wibble and wobble around, starkers as the day they were born.
lt's that simple. And if you do commit a faux pas, most people are too busy forgetting work and looking forward to a night of karaoke to care.

Text by John Ashburne for the Lonely Planet guide book
---
---