Ryokan
the Japanese style Inn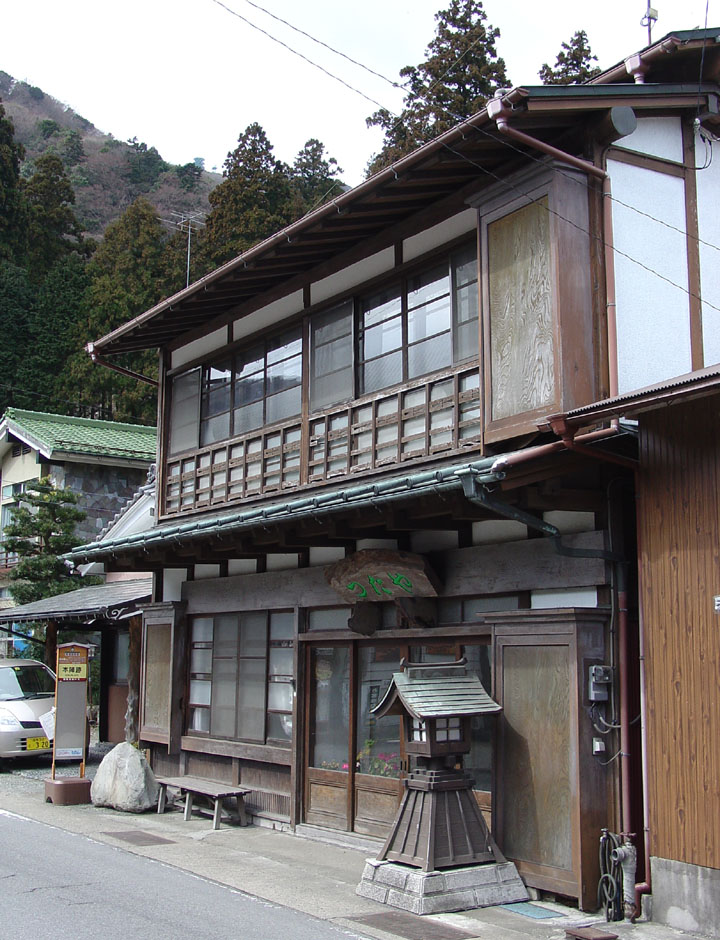 typical Ryokan in a small town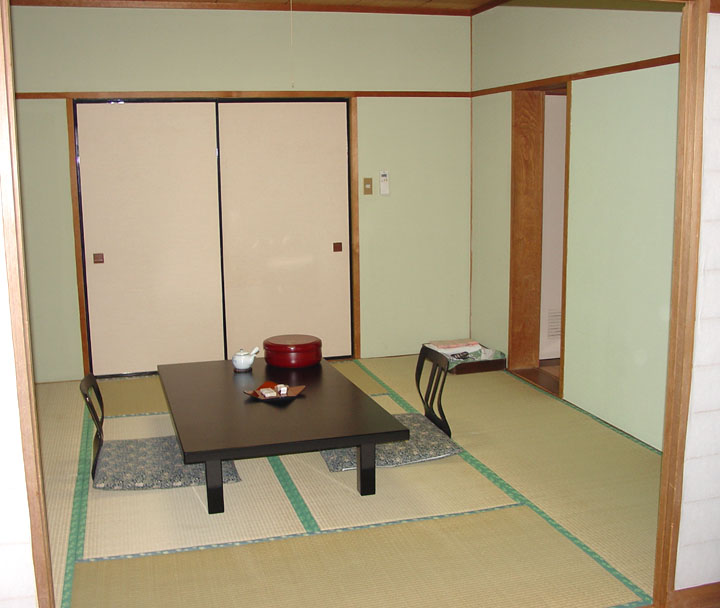 tatami, reed mat, room
Everything You Need to Know about Staying at a Ryokan
Note that the following describes a night at a mid-range or higher ryokan (traditional Japanese inn). Many ryokan in Japan that specialize in foreign guests may be much less formal and may not serve dinner or even breakfast.
On arrival at a ryokan, you leave your shoes at the entrance, don a pair of slippers, and are shown by a maid to your room, which has a tatami (reed mat) floor. Slippers are taken off before entering tatami rooms.
Instead of using numbers, rooms are named after auspicious flowers, plants or trees. The interior of the room will contain a tokonoma (alcove), probably decorated with a flower display or a calligraphy scroll. Do not step into or place any objects in the tokonoma. One side of the room will contain a cupboard with sliding doors for the bedding; the other side will have sliding screens covered with rice paper and, may perhaps, open onto a veranda with a garden view.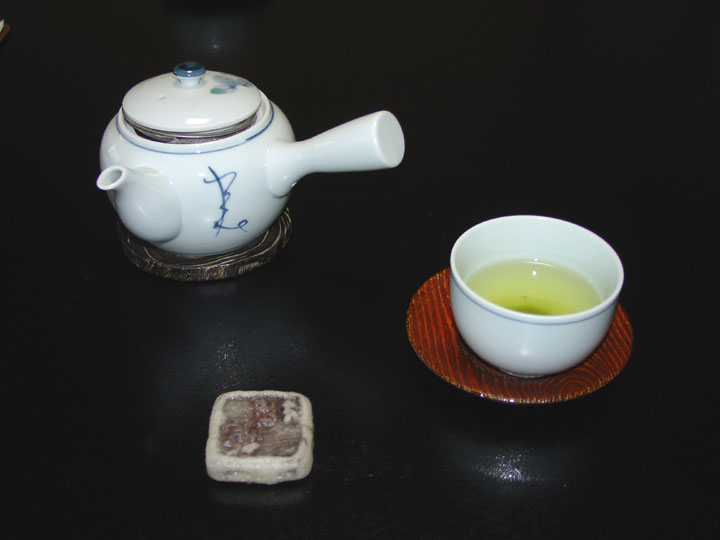 tea service with the sweet
The room maid then serves tea, with a Japanese sweet, on a low table surrounded by zabuton (cushions) in the centre of the room.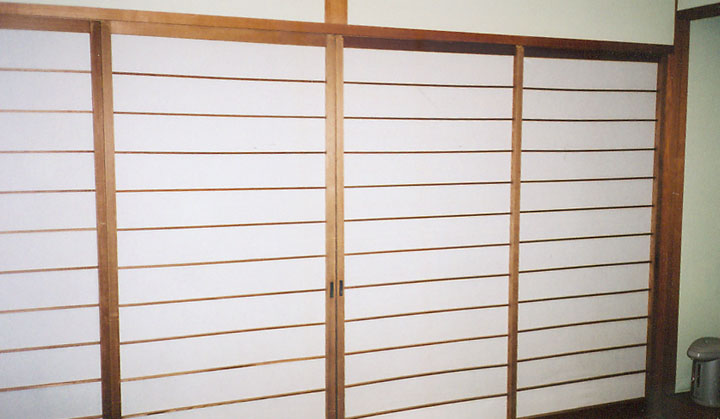 sliding walls with translucent rice paper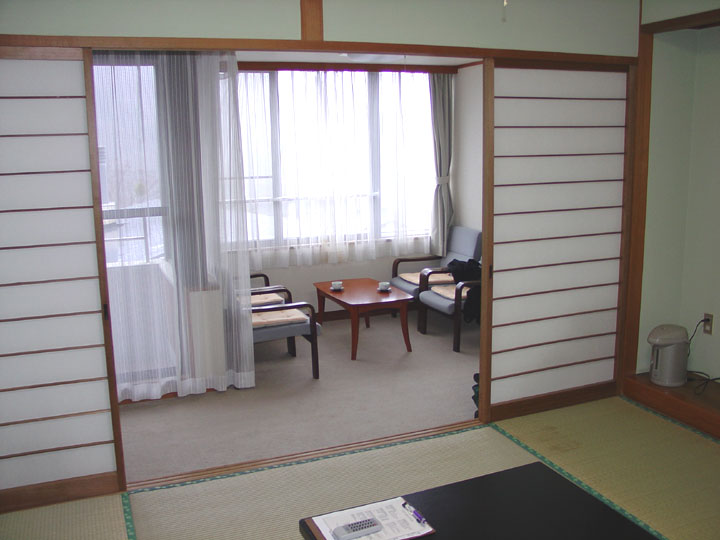 the view to the garden view windows
At the same time you are asked to sign the register. A tray is provided with a towel, yukata (cotton kimono) and obi (belt) which you put on before taking your bath. Remember to wrap the left side over the right — the reverse order is used for dressing the dead. In colder weather, there will also be a tanzen (outer jacket). Your clothes can be put away in a closet or left on a hanger.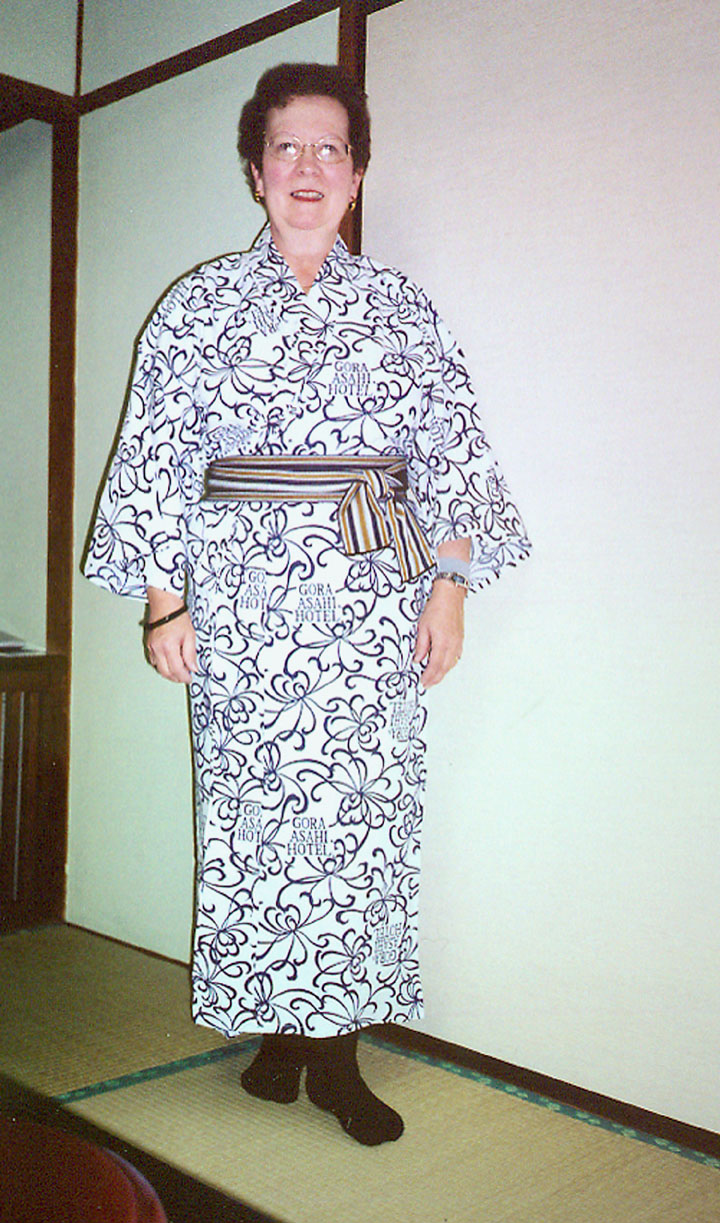 wearing the yukata from the hotel
Dressed in your yukata, you will be shown to the o-furo (bath). At some ryokan, there are rooms with private baths but the communal ones are often designed with natural pools or a window looking out into a garden.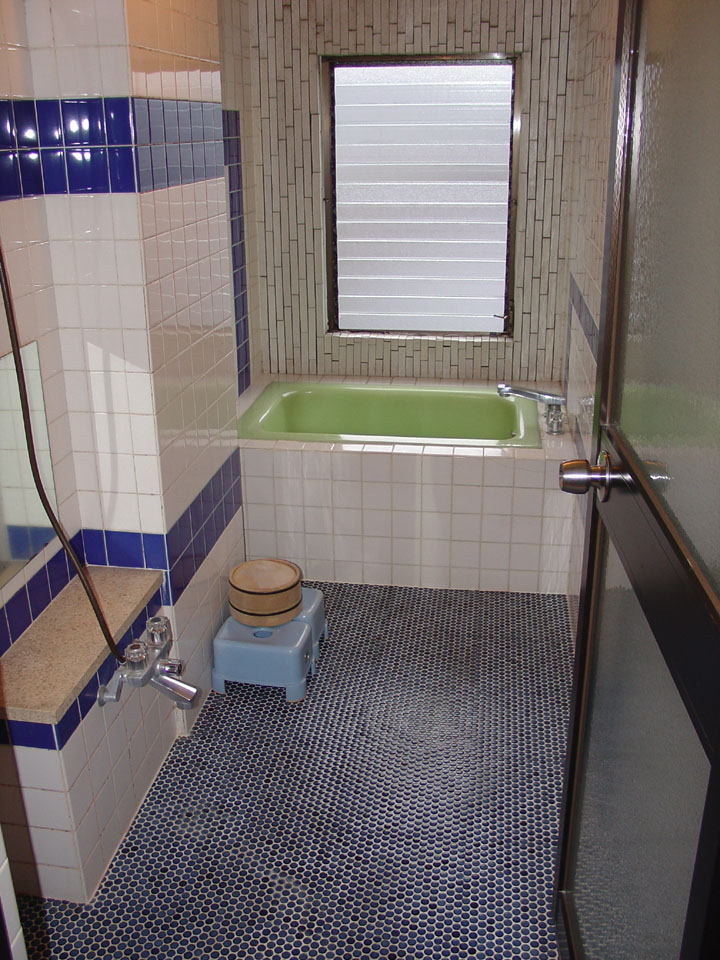 the o-furo (bath)
Bathing is communal, but sexes are segregated. Make sure you can differentiate between the bathroom signs for men and women, although ryokan used to catering for foreigners will often have signs in English. Many inns will have family bathrooms for couples or families.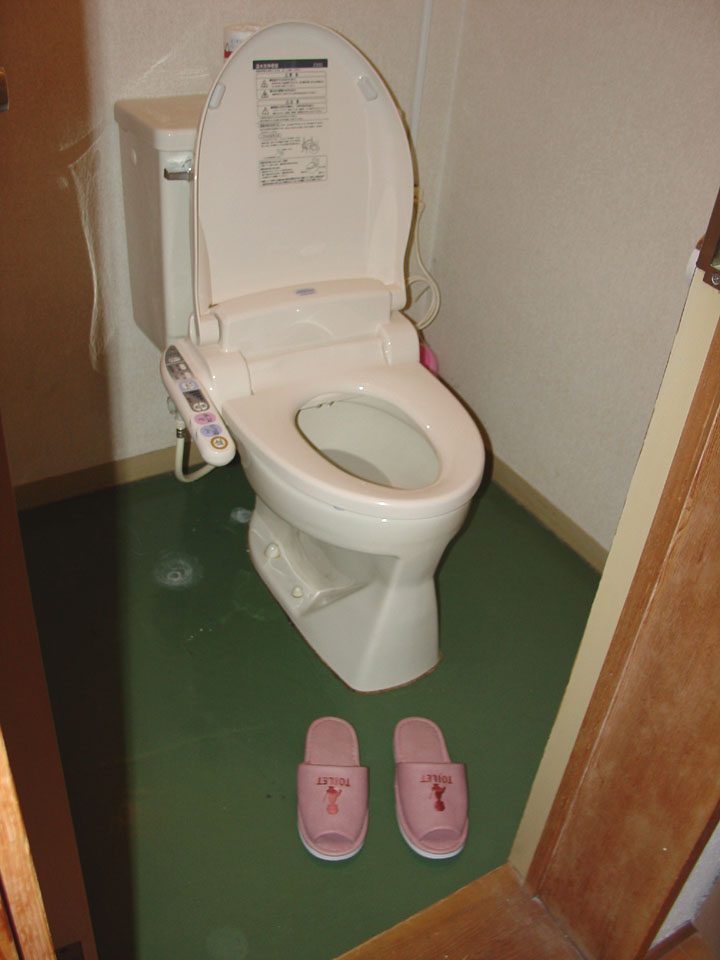 "toilet" slippers are used to go to this sophisticated toilet
(warmed seat, and bidet spray)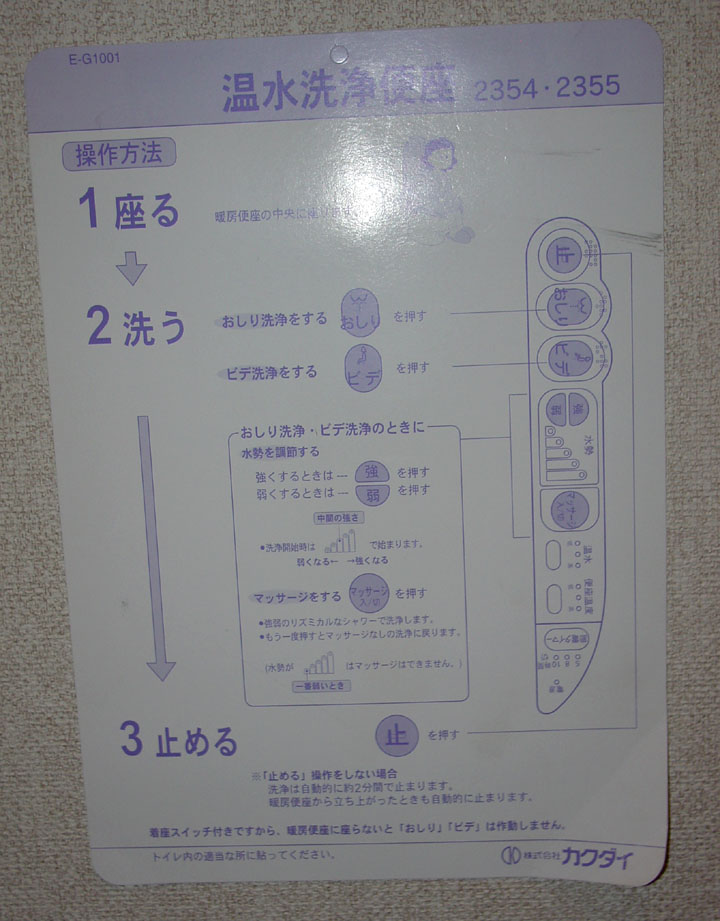 even Japanese need instructions for its use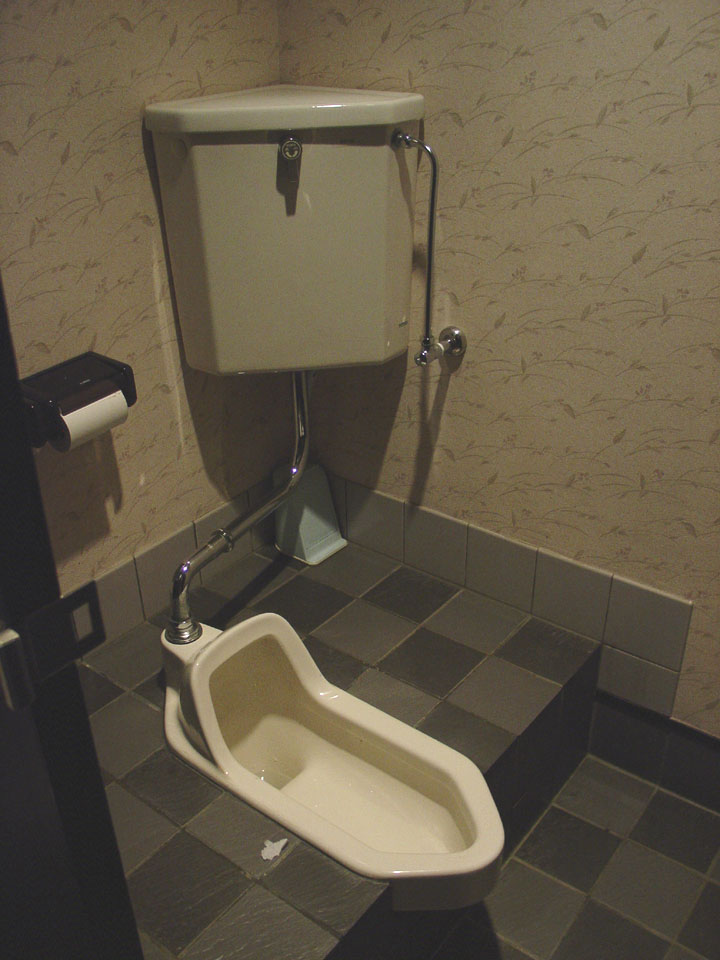 or sometimes in public places the Asian style
Dressed in your yukata after your bath, you return to your room where the maid will have laid out dinner — in some ryokan, dinner is provided in a separate room but you still wear your yukata for dining. Depending on the price, meals at a ryokan can become flamboyant displays of local cuisine or refined arrangements of kaiseki (formal multi-course Japanese meal).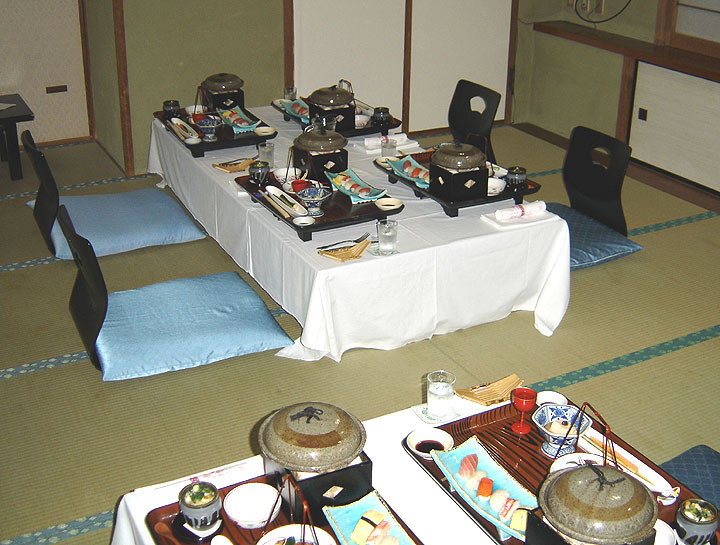 dinner at the ryokan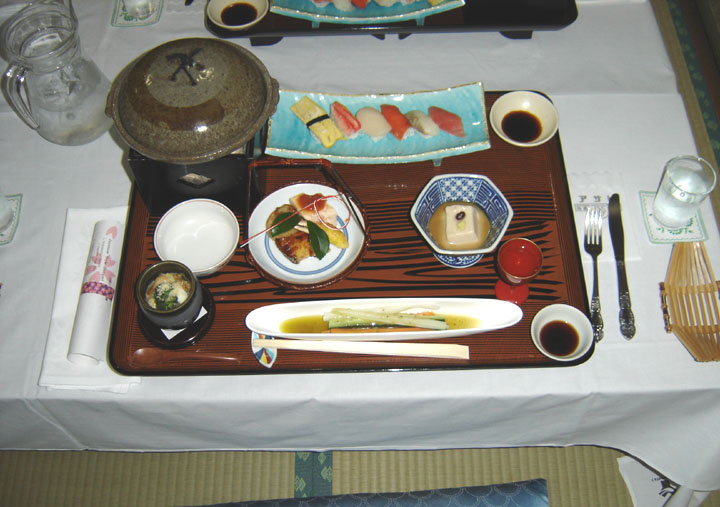 with the Japanese menu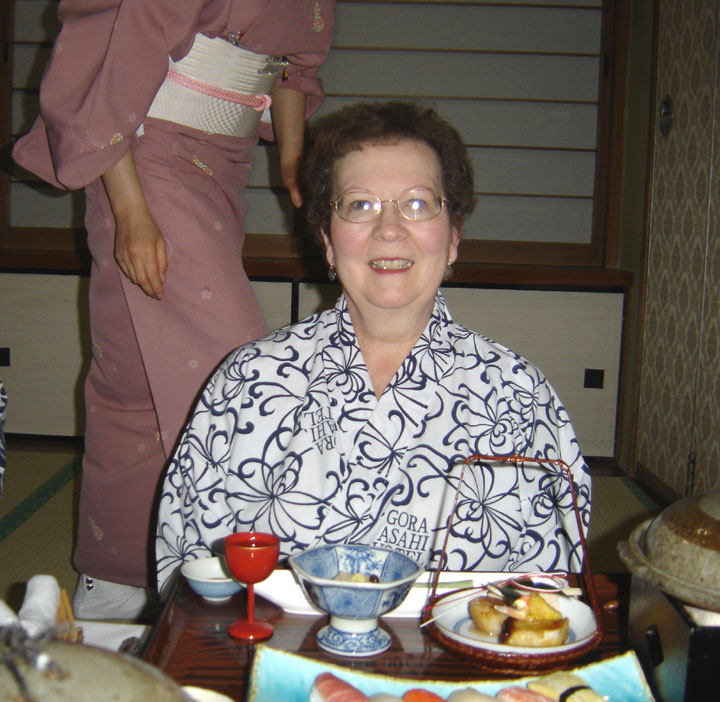 diners wear the provided yukata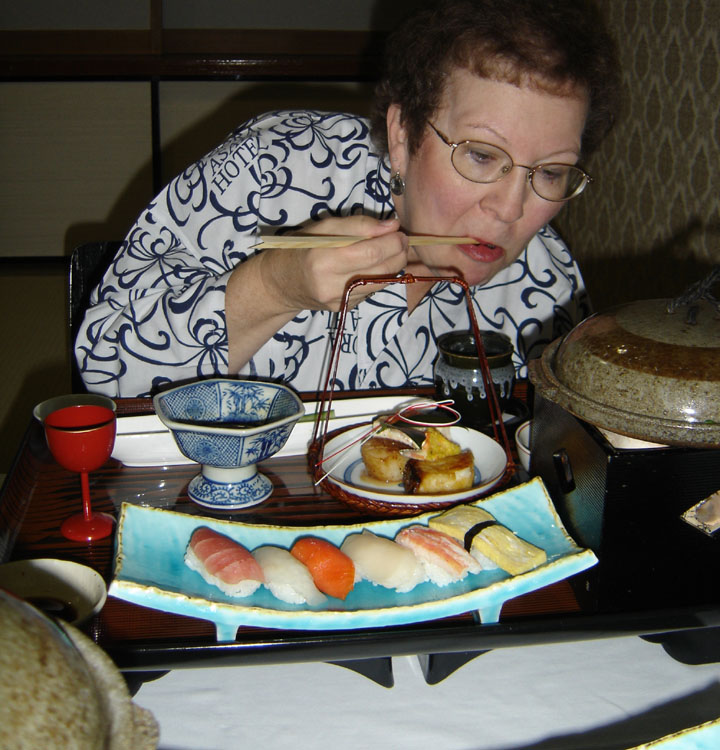 and eat with chop sticks
After dinner, while you potter around or go out for a stroll to admire the garden, the maid will clear the dishes and prepare your bedding. A futon is placed on the tatami floor and a quilt put on top. In colder weather, you can also add a mofu (blanket).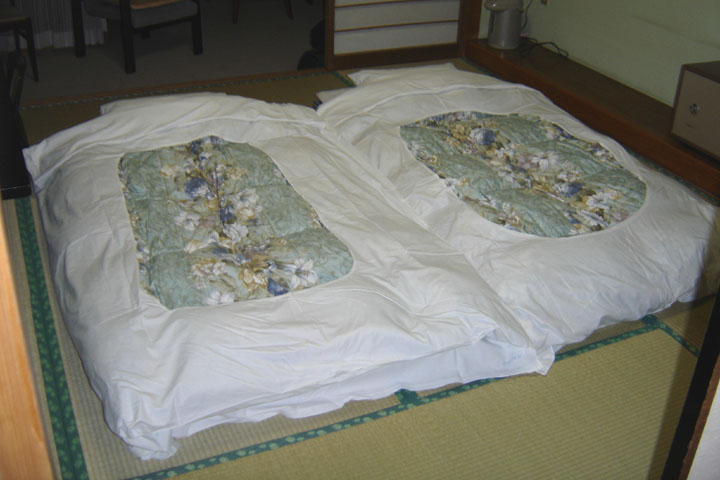 futon on the tatami floor and quilts put on top
In the morning, the maid will knock to make sure you are awake and then come in to put away the bedding before serving breakfast — sometimes this is served in a separate room.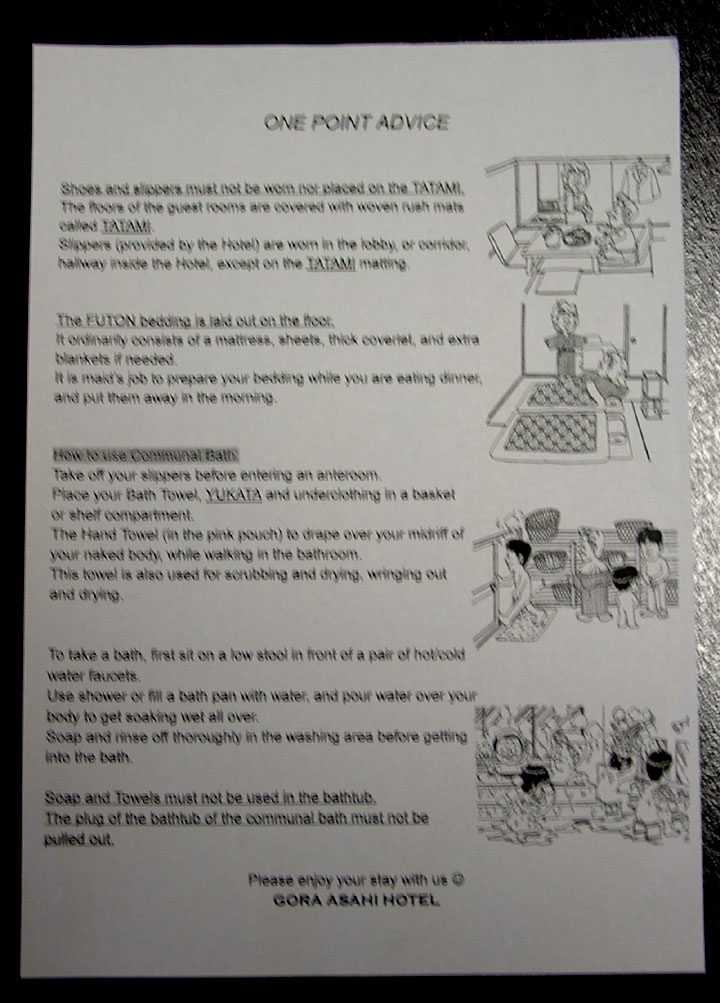 posted rules for the gaijin
Although ryokan etiquette can seem rather complicated at first, and some ryokan are a little wary of foreigners, once you grasp the basics you'll find yourself looking forward to the nights you spend inane. Truly, they are welcome havens for the weary traveler.
Text from Lonely Planet guide book
---
Japanese style Dining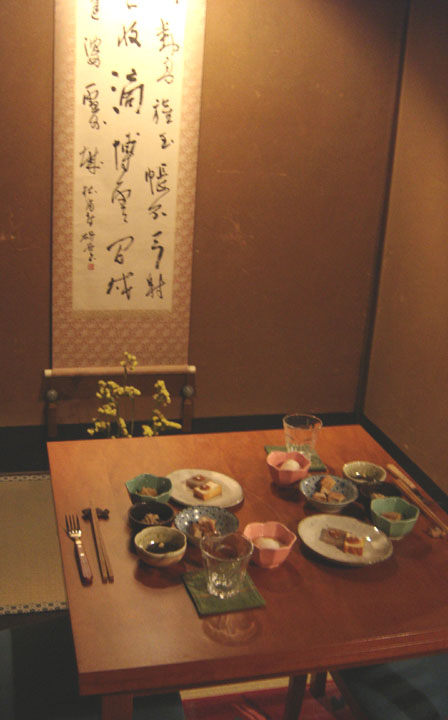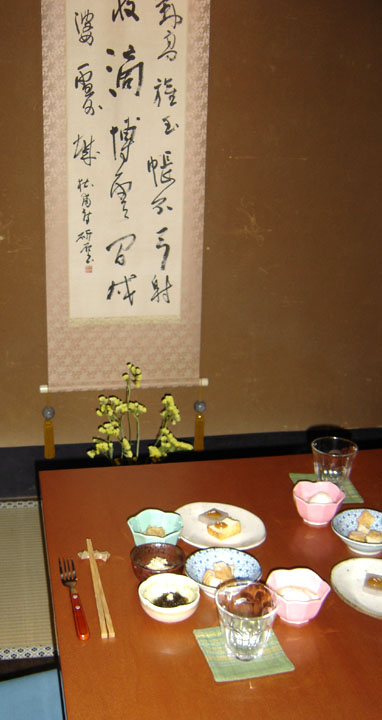 table setting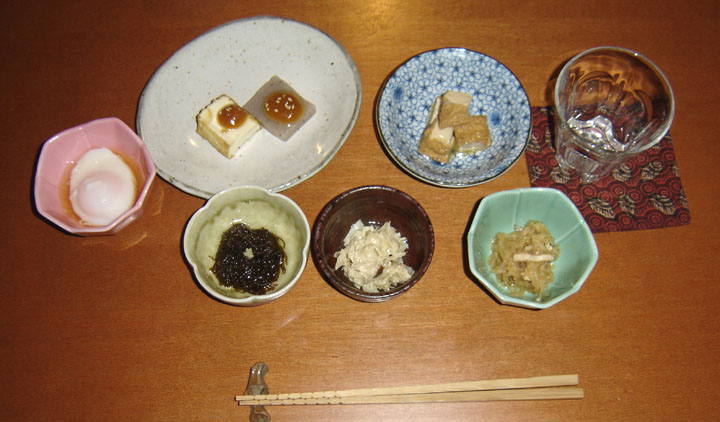 the meal
---
---