Frank Lloyd Wright Houses in St Louis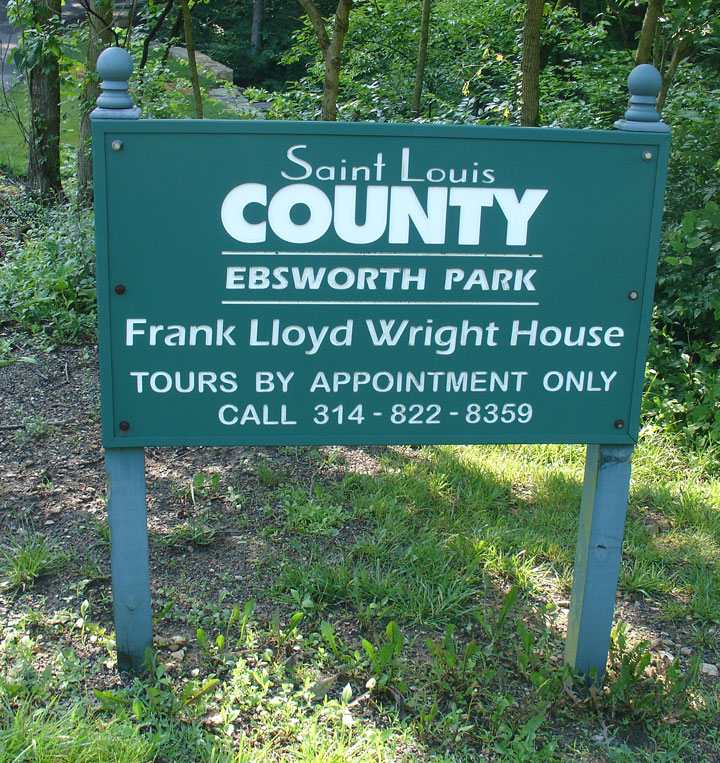 The Kraus House, also known as the Frank Lloyd Wright House in Ebsworth Park, is a house in Kirkwood, Missouri designed by architect Frank Lloyd Wright. The house was designed and constructed for Russell and Ruth Goetz Kraus, and the initial design was conceived in 1950. Construction continued until at least 1960 and was never formally completed. The owners lived in the house for about 40 years (Ruth died in 1992).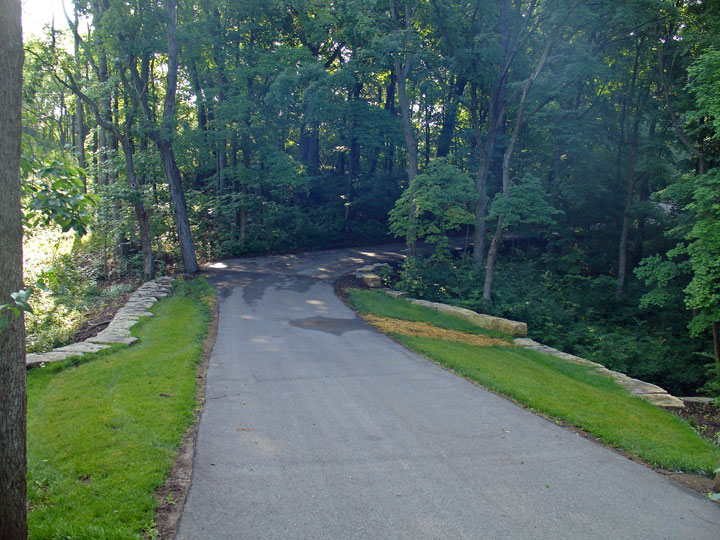 at the end of the road
In 1997, the house was recognized with listing on the National Register of Historic Places of the National Park Service. Russell Kraus sold the house in 2001 to a non-profit organization formed for the specific purpose of saving it. Title was subsequently transferred to the St. Louis County Parks Department, which maintains the 10.5-acre (42,000 m2) grounds as Ebsworth Park. The house and park are open to the public by appointment only. Tours are available for a small fee and do not allow pictures to be taken inside the house.
---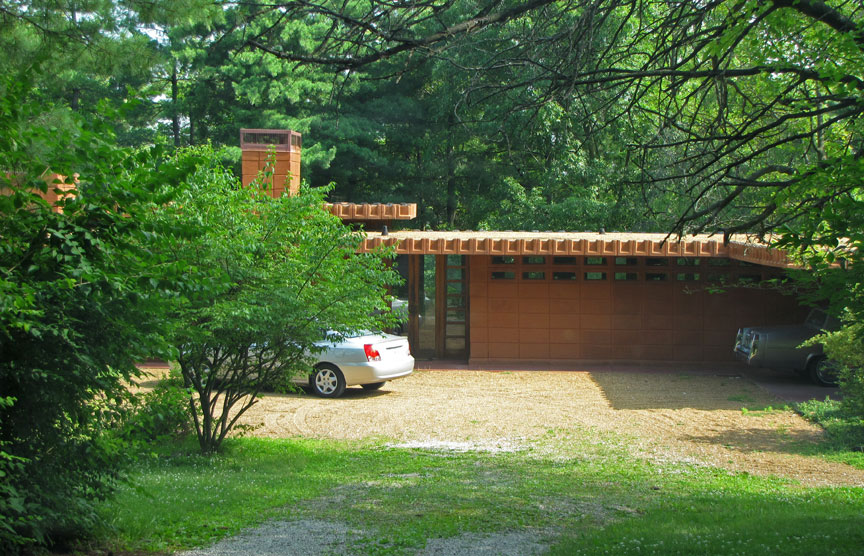 The Theodore A. Pappas House is a Frank Lloyd Wright designed Usonian house in St. Louis, Missouri. The Pappas house was listed on the National Register of Historic Places in 1979, when it was only 15 years old. It is one of two houses in St. Louis designed by Wright, the only Usonian Automatic in Missouri. Wright designed it between 1955 and 1959 at the Pappas' request, and Theodore and Bette Pappas built the house together with the help of day laborers between 1960 and 1964. The Pappas house is a rambling 4-bedroom house, and after the Gerald B. and Beverley Tonkens House, is the largest of the Usonian Automatics built.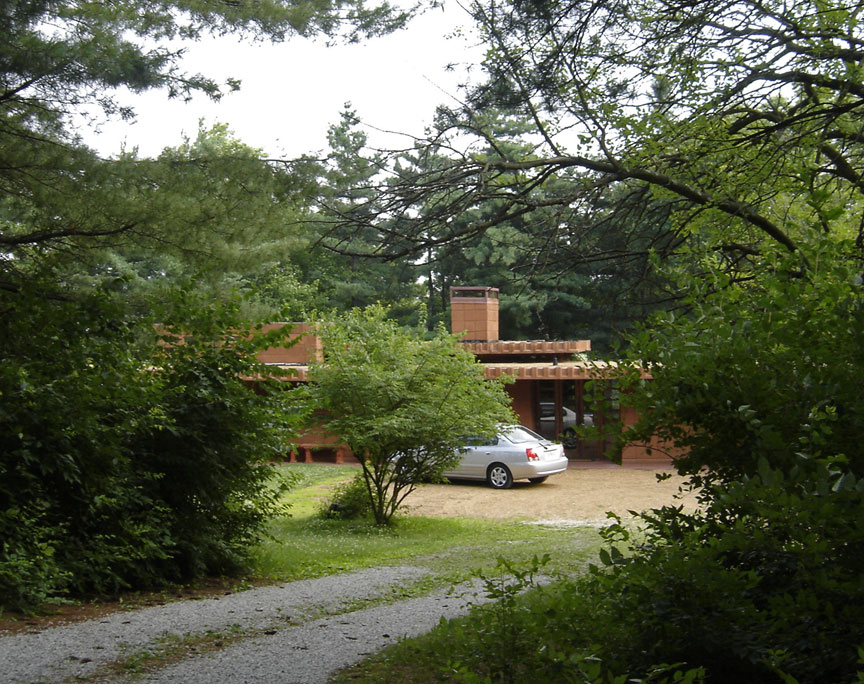 The entire body of the Pappas House, including the roof is made up of plain concrete blocks standardized to a module. These blocks were placed on top of and next to one another with no mortar. The hidden sides of each block had hollows through which steel rods were inserted, running vertically and horizontally, creating a "knit" effect. Grout was used to fill the hollows after the rods were in place. Theoretically, all elements of the house could be manufactured and sent to the owners as a sort of "do-it-yourself" kit, the "automatic" aspect of an Usonian Automatic. However, metal molds for the blocks were not available, and the blocks had to be cast in molds created by a local craftsman. The concrete was pretinted according to Wright's idea that color should be in and not on the surface. The color scheme throughout the house is monochromatic, a warm natural, earthen color, complemented by a uniform unstained Philippine mahogany for trim and built in furniture.
Text from Wikipedia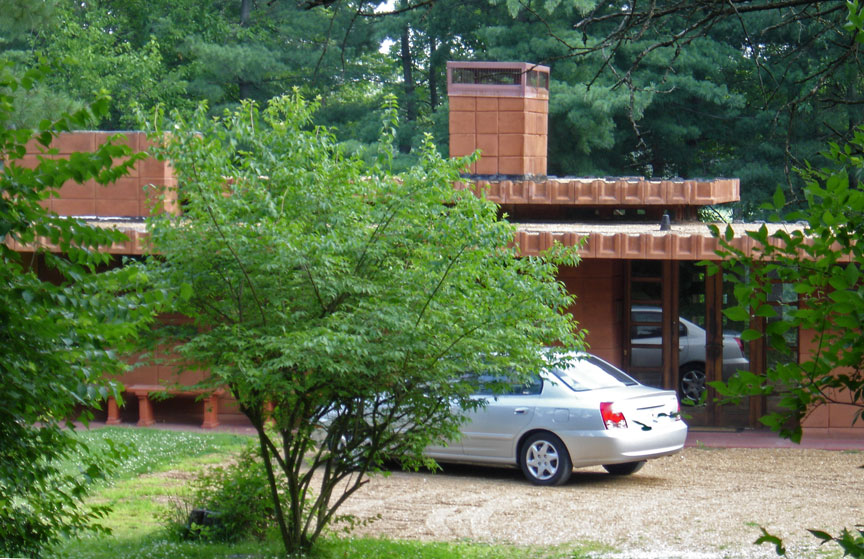 ---
---