George Washington Carver
National Monument
Diamond, Missouri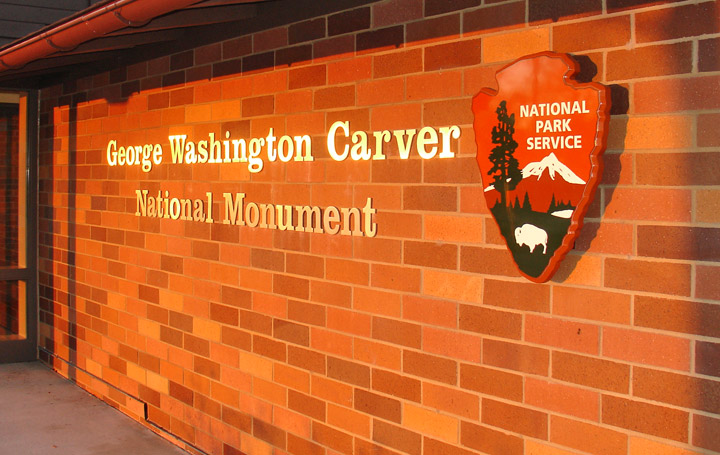 George Washington Carver (July 12, 1864 – January 5, 1943) was an American botany researcher and agronomy educator who worked in agricultural extension at the Tuskegee Institute, in Tuskegee, Alabama, teaching former slaves farming techniques for self-sufficiency.

To bring education to farmers, Carver designed a mobile school, called a Jesup Wagon after the New York financier, Morris Ketchum Jesup, who provided funding. In 1921, Carver spoke in favor of a peanut tariff before the Ways and Means Committee of the United States House of Representatives. Given racial discrimination of the time, it was unusual for a black person to be called as an expert. Carver's well received testimony earned him national attention, and he became an unofficial spokesman for the peanut industry. Carver wrote 44 practical agricultural bulletins for farmers.

In the Reconstruction South, an agricultural monoculture of cotton depleted the soil; and, in the early 20th century, the boll weevil destroyed much of the cotton crop. Much of Carver's fame was based on his research and promotion of alternative crops to cotton, such as peanuts and sweet potatoes. He wanted poor farmers to grow alternative crops as both a source of their own food and a cash crop. His most popular bulletin contained 105 existing food recipes that used peanuts. His most famous method of promoting the peanut involved his creation of about 100 existing industrial products from peanuts, including cosmetics, dyes, paints, plastics, gasoline, and nitroglycerin. His industrial products from peanuts excited the public imagination, but none was a successful commercial product. There are many myths about Carver, especially the myth that his industrial products from peanuts played a major role in revolutionizing Southern agriculture.

Carver's most important accomplishments were in areas other than industrial products from peanuts, including agricultural extension education, improvement of racial relations, mentoring children, poetry, painting, religion, and advocacy of sustainable agriculture and appreciation of plants and nature. He served as a valuable role model for black Americans and others, and as an example of the importance of hard work, a positive attitude, and a good education. His humility, humanitarianism, good nature, frugality, and lack of economic materialism also have been admired widely.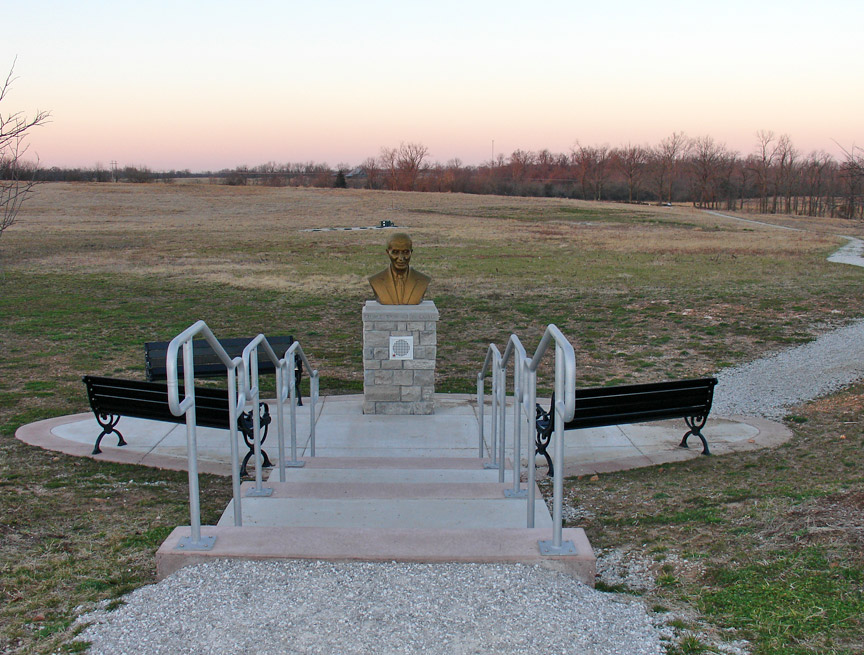 the National Monument near Diamond, Missouri where George Washington Carver was born into slavery
One of his most important roles was in undermining, through the fame of his achievements and many talents, the widespread stereotype of the time that the black race was intellectually inferior to the white race. In 1941, Time magazine dubbed him a "Black Leonardo", a reference to the white polymath Leonardo da Vinci.

He was born into slavery in Newton County, Marion Township, near Diamond Grove, now known as Diamond, Missouri. He was born on July 12, 1864. His owner, Moses Carver, was a German American immigrant who had purchased George's mother, Mary, from William P. McGinnis on October 9, 1855 for seven hundred dollars. The identity of Carver's father is unknown but he had sisters and a brother, all of whom died prematurely.

When George was an infant, he, a sister, and his mother were kidnapped by night raiders and sold in Arkansas, a common practice. Moses Carver hired John Bentley to find them. Only Carver was found, orphaned and near death from whooping cough. Carver's mother and sister had already died, although some reports stated that his mother and sister had gone north with the soldiers. For returning George, Moses Carver rewarded Bentley with his best filly that would later produce winning race horses. This episode caused George a bout of respiratory disease that left him with a permanently weakened constitution. Because of this, he was unable to work as a hand and spent his time wandering the fields, drawn to the varieties of wild plants. He became so knowledgeable that he was known by Moses Carver's neighbors as the "Plant Doctor."

One day he was called to a neighbor's house to help with a plant in need. When he had fixed the problem, he was told to go into the kitchen to collect his reward. When he entered the kitchen, he saw no one. He did, however, see something that changed his life: beautiful paintings of flowers on the walls of the room. From that moment on, he knew that he was going to be an artist as well as a botanist.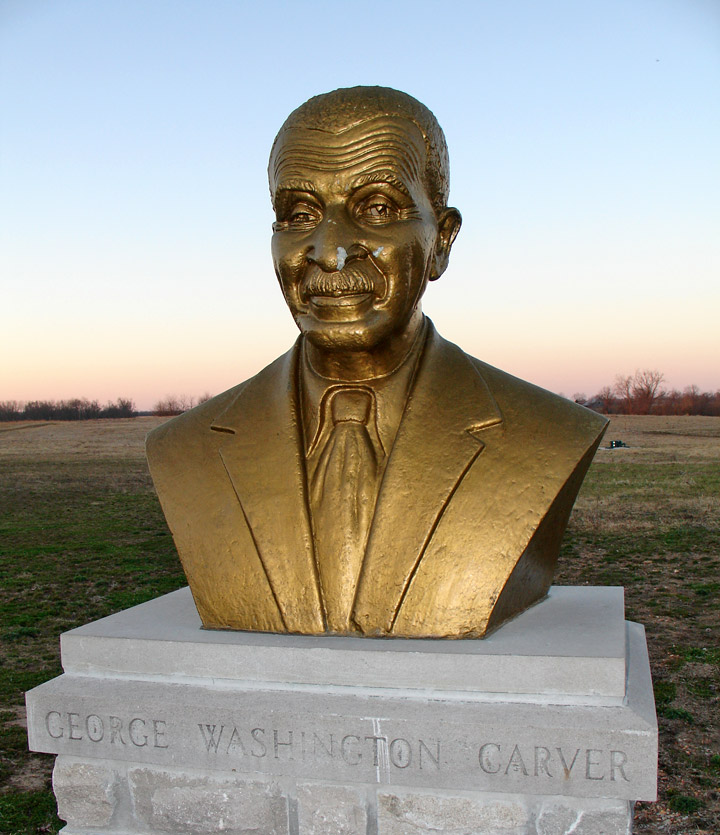 After slavery was abolished, Moses Carver and his wife Susan raised George and his brother Jim as their own children. They encouraged George Carver to continue his intellectual pursuits and "Aunt Susan" taught him the basics of reading and writing.

Since blacks were not allowed at the school in Diamond Grove and he had received news that there was a school for blacks ten miles (16 km) south in Neosho, he resolved to go there at once. To his dismay, when he reached the town, the school had been closed for the night. As he had nowhere to stay, he slept in a nearby barn. By his own account, the next morning he met a kind woman, Mariah Watkins, from whom he wished to rent a room. When he identified himself "Carver's George," as he had done his whole life, she replied that from now on, his name was "George Carver." George liked this lady very much and her words "You must learn all you can, then go back out into the world and give your learning back to the people," made a great impression on him.

At the age of thirteen, due to his desire to attend high school, he relocated to the home of another foster family in Fort Scott, Kansas. After witnessing the beating to death of a black man at the hands of a group of white men, George left Fort Scott. He subsequently attended a series of schools before earning his diploma at Minneapolis High School in Minneapolis, Kansas.

After high school, George started a laundry business in Olathe, Kansas.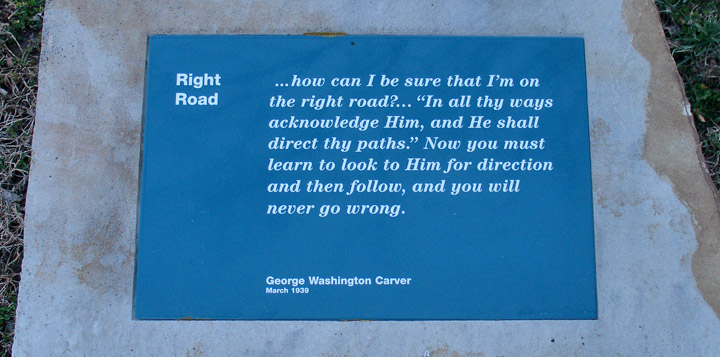 Over the next five years, he sent several letters to colleges and was finally accepted at Highland College in Highland, Kansas. He traveled to the college, but he was rejected when they discovered that he was an African American.

Carver's travels took him to Winterset, Iowa in the mid-1880s, where he met the Milhollands, a white couple whom he later credited with encouraging him to pursue higher education. The Milhollands urged Carver to enroll in nearby Simpson College in Indianola, Iowa, which he did despite his reluctance due to his previous rejection at Highland College.

In 1887, he was accepted into Simpson as its second African-American student. While in college at Simpson, he showed a strong aptitude for singing and art. His art teacher, Etta Budd, was the daughter of the head of the department of horticulture at Iowa State: Joseph Budd. Etta convinced Carver to pursue a career that paid better than art and so he transferred to Iowa State. The encouragement Etta Budd gave Carver to seek a better-paying career was well-warranted, at least for Etta. She died a poor retired art teacher in a Boone, Iowa retirement home.

He transferred in 1891 to Iowa State Agricultural College, where he was the first black student, and later the first black faculty member. In order to avoid confusion with another George Carver in his classes, he began to use the name George Washington Carver.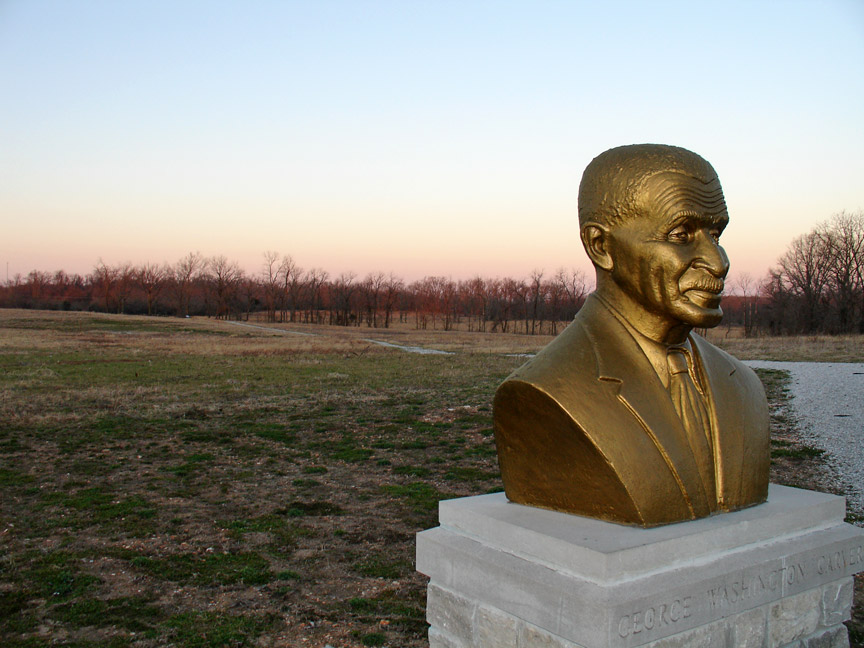 At the end of his undergraduate career in 1894, recognizing Carver's potential, Joseph Budd and Louis Pammel convinced Carver to stay at Iowa State for his master's degree. Carver then performed research at the Iowa Agriculture and Home Economics Experiment Station under Pammel from 1894 to his graduation in 1896. It is his work at the experiment station in plant pathology and mycology that first gained him national recognition and respect as a botanist.

In 1896, Carver was invited to lead the Agriculture Department at the five year old Tuskegee Normal and Industrial Institute, later Tuskegee University, by its founder, Booker T. Washington, in Tuskegee, Alabama. Carver accepted the position, and remained there for 47 years, until his death in 1943. Carver never married.

Carver had numerous problems at Tuskegee before he became famous. Carver's perceived arrogance, his higher than normal salary and the two rooms he received for his personal use were resented by other faculty. Single faculty members normally bunked two to a room. One of Carver's duties was to administer the Agricultural Experiment Station farms. He was expected to produce and sell farm products to make a profit. He soon proved to be a poor administrator. In 1900, Carver complained that the physical work and the letter-writing his agricultural work required were both too much for him.

In 1902, Booker T. Washington invited a nationally famous woman photographer to Tuskegee. Carver and Nelson Henry, a Tuskegee graduate, accompanied the attractive white woman in the town of Ramer. Several white citizens thought Henry was improperly associating with a white woman. Someone fired three pistol shots at Henry and he fled. Mobs prevented him from returning. Carver considered himself fortunate to escape alive.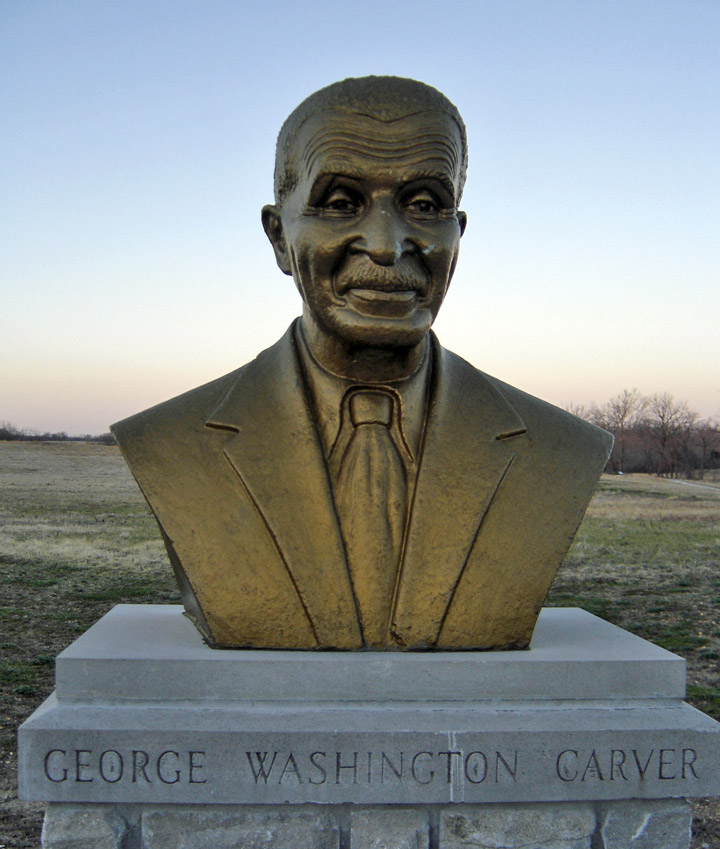 In 1904, a committee reported that Carver's reports on the poultry yard were exaggerated, and Washington criticized Carver about the exaggerations. Carver replied to Washington "Now to be branded as a liar and party to such hellish deception it is more than I can bear, and if your committee feel that I have willfully lied or [was] party to such lies as were told my resignation is at your disposal." In 1910, Carver submitted a letter of resignation in response to a reorganization of the agriculture programs. Carver again threatened to resign in 1912 over his teaching assignment. Carver submitted a letter of resignation in 1913, with the intention of heading up an experiment station elsewhere. He also threatened to resign in 1913 and 1914 when he didn't get a summer teaching assignment. In each case, Washington smoothed things over. It seemed that Carver's wounded pride prompted most of the resignation threats, especially the last two because he did not need the money from summer work.

In 1911, Washington wrote a lengthy letter to Carver complaining that Carver did not follow orders to plant certain crops at the experiment station. He also refused Carver's demands for a new laboratory and research supplies for Carver's exclusive use and for Carver to teach no classes. He complimented Carver's abilities in teaching and original research but bluntly stated his poor administrative skills, "When it comes to the organization of classes, the ability required to secure a properly organized and large school or section of a school, you are wanting in ability. When it comes to the matter of practical farm managing which will secure definite, practical, financial results, you are wanting again in ability." Also in 1911, Carver complained that his laboratory was still without the equipment promised 11 months earlier. At the same time, Carver complained of committees criticizing him and that his "nerves will not stand" any more committee meetings.

Despite their clashes, Booker T. Washington praised Carver in the 1911 book, My Larger Education: Being Chapters from My Experience. Booker called Carver "one of the most thoroughly scientific men of the Negro race with whom I am acquainted." Like most later Carver biographies, it also contained exaggerations. It inaccurately claimed that as a young boy Carver "proved to be such a weak and sickly little creature that no attempt was made to put him to work and he was allowed to grow up among chickens and other animals around the servants' quarters, getting his living as best he could." Carver wrote elsewhere that his adoptive parents, the Carvers, were "very kind" to him.

Booker T. Washington died in 1915. His successor made fewer demands on Carver. From 1915 to 1923, Carver's major focus was compiling existing uses and proposing new uses for peanuts, sweet potatoes, pecans and other crops. This work and especially his promotion of peanuts for the peanut growers association and before Congress eventually made him the most famous African-American of his time.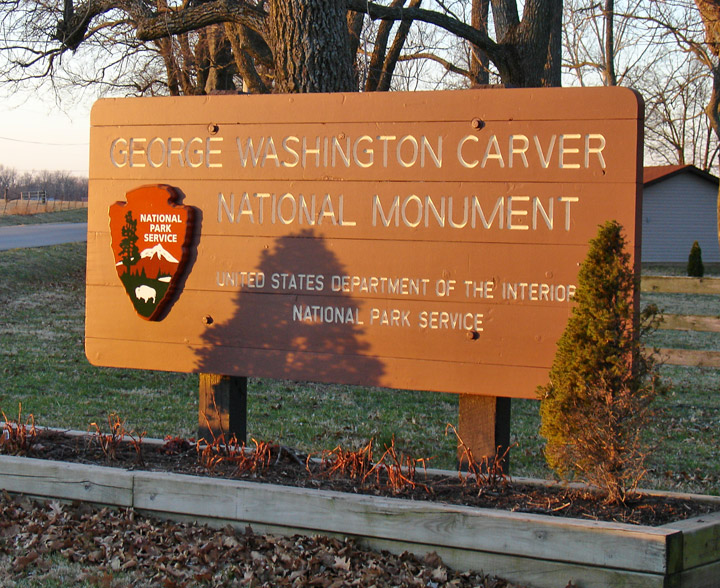 Carver had an interest in helping poor Southern farmers who were working low quality soils that had been depleted of nutrients by repeated plantings of cotton crops. He and other agricultural workers urged farmers to restore nitrogen to their soils by practicing systematic crop rotation, alternating cotton crops with plantings of sweet potatoes or legumes (such as peanuts, soybeans and cowpeas) that were also sources of protein. Following the crop rotation practice resulted in improved cotton yields and gave farmers new foods and alternative cash crops. In order to train farmers to successfully rotate crops and cultivate the new foods, Carver developed an agricultural extension program for Alabama that was similar to the one at Iowa State. In addition, he founded an industrial research laboratory where he and assistants worked to popularize use of the new plants by developing hundreds of applications for them through original research and also by promoting recipes and applications that they collected from others. Carver distributed his information as agricultural bulletins.

Much of Carver's fame is related to the hundreds of plant products he supposedly invented. However, the number and impact of Carver's inventions have been greatly inflated. After Carver's death, lists were created of the plant products Carver compiled or originated. Such lists enumerate about 300 applications for peanuts and 118 for sweet potatoes, although 73 of the 118 were dyes. He made similar investigations into uses for cowpeas, soybeans and pecans. Carver did not write down formulas for most of his novel plant products so they could not be made by others. None of Carver's peanut products was ever a commercial success so they did not revolutionize Southern agriculture as frequently claimed. Carver is also often incorrectly credited with the invention of peanut butter.

Until 1921, Carver was not widely known for his agricultural research. However, he was known in Washington, D.C. President Theodore Roosevelt publicly admired his work. James Wilson, a former Iowa state dean and teacher of Carver's, was U.S. Secretary of Agriculture from 1897 to 1913. Henry Cantwell Wallace, U.S. Secretary of Agriculture from 1921 to 1924, was one of Carver's teachers at Iowa State. Carver was a friend of Wallace's son, Henry A. Wallace, also an Iowa State graduate. The younger Wallace served as U.S. Secretary of Agriculture from 1933 to 1940 and as Franklin Delano Roosevelt's Vice President from 1941-1945.

In 1916 Carver was made a member of the Royal Society of Arts in England, one of only a handful of Americans at that time to receive this honor. However, Carver's promotion of peanuts gained him the most fame.

In 1919, Carver wrote to a peanut company about the great potential he saw for his new peanut milk. Both he and the peanut industry seemed unaware that in 1917, William Melhuish had secured patent #1,243,855 for a milk substitute made from peanuts and soybeans. Despite reservations about his race, the peanut industry invited him as a speaker to their 1920 convention. He discussed "The Possibilities of the Peanut," and exhibited 145 peanut products.

By 1920, U.S. peanut farmers were being undercut with imported peanuts from the Republic of China. White peanut farmers and processors came together in 1921 to plead their cause before a Congressional committee hearings on a tariff. Carver was elected to speak at the hearings because he had spoken at the convention of the United Peanut Associations of America. Carver was a novel choice because of U.S. racial segregation. On arrival, Carver was mocked by surprised Southern congressmen, but he was not deterred and began to explain some of the many uses for the peanut. Initially given ten minutes to present, the now spellbound committee extended his time again and again. The committee rose in applause as he finished his presentation, and the Fordney-McCumber Tariff of 1922 included a tariff on imported peanuts. Carver's presentation to Congress made him famous, while his intelligence, ability to communicate, and amiability and courtesy delighted the general public.

During the last two decades of his life, Carver seemed to enjoy his celebrity status. He was often traveling to promote Tuskegee, peanuts or racial harmony. Although he only published six agricultural bulletins after 1922, he published articles in peanut industry journals and wrote a syndicated newspaper column, "Professor Carver's Advice." Business leaders came to seek his help, and he often responded with free advice. Three American presidents — Theodore Roosevelt, Calvin Coolidge and Franklin Roosevelt — met with him, and the Crown Prince of Sweden studied with him for three weeks.

In 1923, Carver received the Spingarn Medal from the NAACP, awarded annually for outstanding achievement. From 1923 to 1933, Carver toured white Southern colleges for the Commission on Interracial Cooperation.
Carver was famously criticized in a Nov. 20, 1924 New York Times article "Men of Science Never Talk That Way." The Times considered Carver's statements that God guided his research were inconsistent with a scientific approach. The criticism garnered a lot of sympathy for Carver because Christians viewed it as an attack on religion.

In 1928, Simpson College bestowed Carver with an honorary doctorate. For a 1929 book on Carver, Raleigh H. Merritt contacted Carver. Merritt wrote "At present not a great deal has been done to utilize Dr. Carver's discoveries commercially. He says that he is merely scratching the surface of scientific investigations of the possibilities of the peanut and other Southern products." [23] Yet in 1932, Professor of Literature, James Saxon Childers wrote that Carver and his peanut products were almost solely responsible for the rise in U.S. peanut production after the boll weevil devastated the American cotton crop beginning about 1892. Childer's 1932 article on Carver, "A Boy Who Was Traded for a Horse" in The American Magazine and its 1937 reprint in Reader's Digest did much to establish this Carver myth. Other major magazines and newspapers of the time also exaggerated Carver's impact on the peanut industry.

From 1933 to 1935, Carver was largely occupied with work on peanut oil massages for treating infantile paralysis (polio). Carver received tremendous media attention and visitations from parents and their sick children; however, it was ultimately found that peanut oil was not the miracle cure it was made out to be--it was the massages which provided the benefits. Carver had been a trainer for the Iowa State football team and was skilled as a masseur. From 1935 to 1937, Carver participated in the USDA Disease Survey. Carver had specialized in plant diseases and mycology for his Master's degree.

In 1937, Carver attended two chemurgy conferences. He met Henry Ford at the Dearborn, MI conference, and they became close friends. Also, in 1937, Carver's health declined. Time magazine reported in 1941 that Henry Ford installed an elevator for Carver because his doctor told him not to climb the 19 stairs to his room. In 1942, the two men denied that they were working together on a solution to the wartime rubber shortage. Carver also did work with soy, which he and Ford considered as an alternative fuel.

In 1939, Carver received the Roosevelt Medal for Outstanding Contribution to Southern Agriculture inscribed "to a scientist humbly seeking the guidance of God and a liberator to men of the white race as well as the black." In 1940, Carver established the George Washington Carver Foundation at the Tuskegee Institute. In 1941, the George Washington Carver Museum was dedicated at the Tuskegee Institute. In 1942, Henry Ford built a replica of Carver's slave cabin at the Henry Ford Museum and Greenfield Village in Dearborn, MI as a tribute to his friend. Also in 1942, Ford dedicated the George Washington Carver Laboratory in Dearborn, Michigan.

Upon returning from home one day, Carver took a bad fall down a flight of stairs; he was found unconscious by a maid who took him to a hospital. Carver died January 5, 1943 at the age of 78 from complications (anemia) resulting from this fall. He was buried next to Booker T. Washington at Tuskegee University.

On his grave was written the simplest and most meaningful summary of his life. He could have added fortune to fame, but caring for neither, he found happiness and honor in being helpful to the world.

Before and after his death, there was a movement to establish a U.S. national monument to Carver. However, because of World War II such non-war expenditures were banned by presidential order. Missouri Senator Harry S Truman sponsored a bill anyway. In a committee hearing on the bill, one supporter argued that "The bill is not simply a momentary pause on the part of busy men engaged in the conduct of the war, to do honor to one of the truly great Americans of this country, but it is in essence a blow against the Axis, it is in essence a war measure in the sense that it will further unleash and release the energies of roughly 15,000,000 Negro people in this country for full support of our war effort." The bill passed in both houses without a single vote against.

On July 14, 1943, President Franklin Delano Roosevelt dedicated $30,000 for the George Washington Carver National Monument west-southwest of Diamond, Missouri - an area where Carver had spent time in his childhood. This was the first national monument dedicated to an African-American and first to a non-President. At this 210-acre (0.8 km²) national monument, there is a bust of Carver, a ¾-mile nature trail, a museum, the 1881 Moses Carver house, and the Carver cemetery. Due to a variety of delays, the National Monument was not opened until July, 1953.

In December 1947, a fire destroyed all but three of 48 of Carver's paintings at the Carver Museum Carver appeared on U.S. commemorative stamps in 1948 and 1998, and was depicted on a commemorative half dollar coin from 1951 to 1954. The USS George Washington Carver (SSBN-656) is also named in his honor.

In 1977, Carver was elected to the Hall of Fame for Great Americans. In 1990, Carver was inducted into the National Inventors Hall of Fame. In 1994, Iowa State University awarded Carver the Doctor of Humane Letters. In 2000, Carver was a charter inductee in the USDA Hall of Heroes as the "Father of Chemurgy."

In 2005, Carver's research at the Tuskegee Institute was designated a National Historic Chemical Landmark by the American Chemical Society. On February 15, 2005, an episode of Modern Marvels included scenes from within Iowa State University's Food Sciences Building and about Carver's work. In 2005, the Missouri Botanical Garden in St. Louis, Missouri opened a George Washington Carver garden in his honor, which includes a life size statue of him.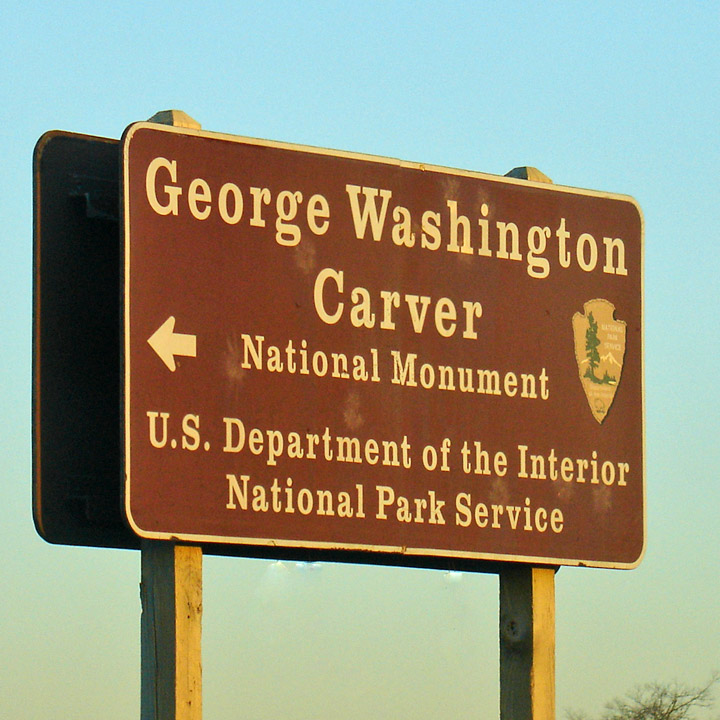 Many institutions honor George Washington Carver to this day, particularly the American public school system. Dozens of elementary schools and high schools are named after him. Ironically, despite his fame and wish to share his work with all mankind, few of Carver's writings are available online, just 3 of 44 bulletins, a poem or two and a few dozen inspirational quotations.
Text from Wikipedia
---
---