David Livingstone

Livingstone, David (1813-1873), Scottish missionary and physician, who spent half his life exploring southern and central Africa. In addition to adding greatly to Europe's knowledge of the continent's geography, he heightened Western awareness of Africa and stimulated Christian missionary activity there. His activities helped bring about the Scramble for Africa, in which European powers seized virtually all of Africa in the late 19th century and early 20th century.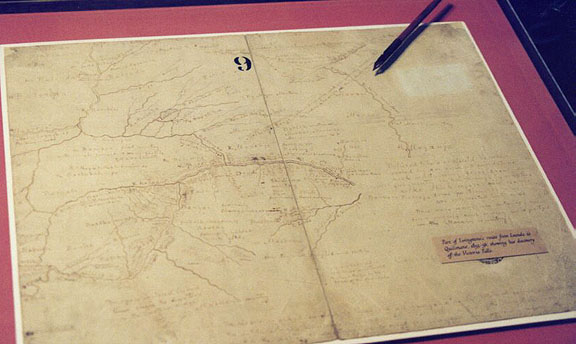 One of the mapping sketches by Livingstone
sent to the Royal Geographic Society in London

Livingstone was born in Blantyre, Scotland, to religious, working-class parents. At age ten he began working in the local cotton mill, with long hours and meager pay. He read and studied diligently when not at work and in 1836 entered Anderson's College (now the University of Strathclyde) in Glasgow. Theology and medicine were his primary interests. In 1838 the London Missionary Society accepted him as a candidate, and two years later he received a medical degree from the University of Glasgow. The First Opium War (1839-1843) between Britain and China ruined his hopes of becoming a medical missionary to China, but the missionary society arranged a new placement for him in southern Africa.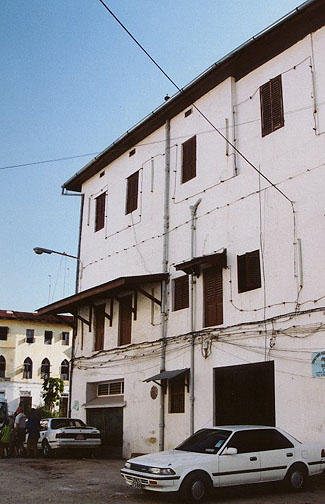 former British Counsel building in Stone Town, Zanzibar

Livingstone was 27 when he arrived at Cape Town on Africa's southern tip in 1841. He proceeded to the missionary society's most northerly station, Kuruman, on the southern fringes of the Kalahari Desert. The station was led by fellow Scottish missionary Robert Moffat. Dissatisfied with the small number of converts at Kuruman, and having a growing desire to, as he put it, "preach the gospel beyond every other man's line of things," Livingstone began adventuring northward. Within a few years he had his own station at Mabotsa on the headwaters of the Limpopo River. In 1845 Livingstone married Mary Moffat, one of Robert Moffat's daughters whom Livingstone had met at Kuruman. Through the early years of his explorations, Mary and their children would travel with Livingstone, facing considerable hardship as they did so.

As a missionary, Livingstone quickly came to believe that his primary task was not to remain in one spot, preaching the gospel to the few local people willing to listen. Instead, he should keep on the move, reaching new groups and extending to them an acquaintance with Christianity. Eventually he would expand this idea into a belief that his role was to "open up" Africa's interior to broader influences from Western civilization. Once that occurred, he reasoned, commerce and Christianity would work hand in hand to end slave trading and uplift African peoples. Such motives drove Livingstone ("I will open a way to the interior or perish," he vowed to his brother) and turned him into one of Europe's greatest African explorers.

In 1849, with two European sportsmen and an African guide, Livingstone crossed the Kalahari Desert and found Lake Ngami, legendary among the people of the southern Kalahari for the rich, fertile area surrounding it. He had hoped to reach the Makololo people farther north (Livingstone had reason to believe that the Makololo chief would be open to a Christian mission), but failed to reach that area. Two years later, accompanied by his wife and children, Livingstone crossed the desert again. This time he reached the Makololo, whose chief welcomed him, and sighted the upper Zambezi River. Livingstone envisioned the Zambezi as a navigable waterway that would help open central Africa's interior.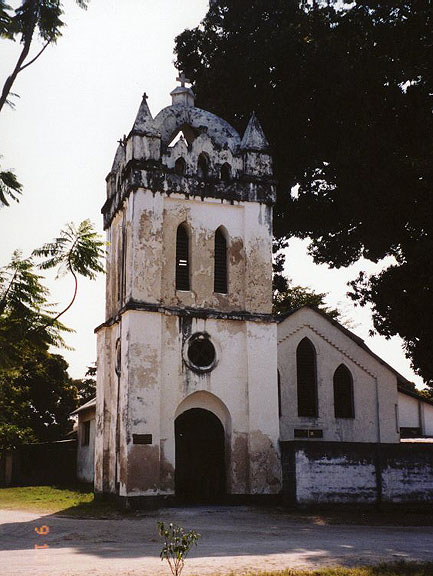 church in Bagamoyo where his body lay in state

Livingstone returned to Cape Town in 1852, sent his family to England, and then made preparations for a return expedition. His intentions were to locate a healthy site in Makololo country to build a mission and trading center, and to find a route from the upper Zambezi to one of Africa's coasts. Over the next four years, he undertook this remarkable venture. First he traveled back to the Zambezi, then west to the Atlantic Ocean coast at Luanda (now in Angola). Having failed to find a navigable waterway to connect the river and the coast, Livingstone returned to the Zambezi and headed downriver. In spite of repeated episodes of malaria, dysentery, and hunger, he kept careful geographical records, which would fill huge gaps in European knowledge of central and southern Africa. In 1855 Livingstone became the first European to see the Zambezi's spectacular plunge into a narrow gorge, which he named Victoria Falls after reigning British monarch Queen Victoria. Livingstone reached the mouth of the Zambezi on the Indian Ocean in May 1856, becoming the first European ever to cross the full width of southern Africa.

Livingstone returned to England in 1856 a national hero, and he was honored by the Royal Geographical Society. His book Missionary Travels and Researches in South Africa (1857) sold widely and he made speeches across the country. One speech, at Cambridge University, led to the establishment of the Universities Mission for Christian Work in Africa. In 1857 he resigned from the London Missionary Society, whose directors were not convinced that he was spreading the gospel through his journeys. With Mary and one son, he left for Africa again in March 1858, this time with an official appointment as Her Majesty's Consul for the East Coast of Africa.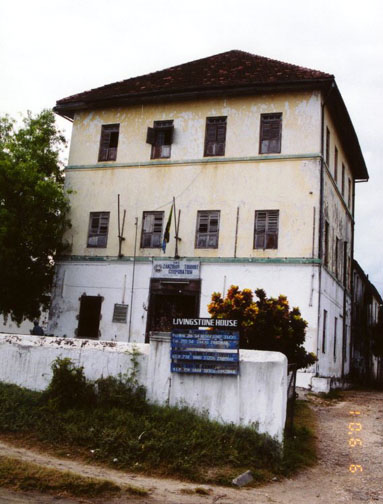 house where he lived in Zanzibar
Between 1858 and 1863, with half a dozen British assistants and a succession of steam vessels, Livingstone explored the Zambezi, the Shire River, Lake Nyasa, and the Ruvuma River. In 1861 Livingstone helped the Universities Mission set up a station near Lake Chilwa, south of Lake Nyasa; the death of the mission's leader and its withdrawal within a year were bitter disappointments. A more personal blow was the death of Mary Livingstone in April 1862 from malaria. In addition, Livingstone was disheartened by the slave trading between Lake Nyasa and Africa's east coast. Encounters with marches of manacled slaves and with an entire countryside devastated by warring and slave raiding weighed heavily on him. Livingstone was ordered home in 1864 by a British government disappointed by the results of his explorations.
LIVINGSTONE'S FINAL JOURNEY
Back in England, Livingstone remained immensely popular with the Royal Geographical Society and the British public. His speeches about the need to take action against the slave trade and his publication of Narrative of an Expedition to the Zambezi and Its Tributaries (1865) brought private support for another venture, this time to explore the watersheds (divides between river drainage basins) of central Africa. This expedition would search for the source of the Nile, a topic hotly debated in Europe, and report further on the slave trade in the region. Livingstone never lost hope that "civilizing influences" could begin the process of suppressing the slave trade, which he termed "that enormous evil." Appointed British consul to Central Africa, without salary, he left for Africa in 1865.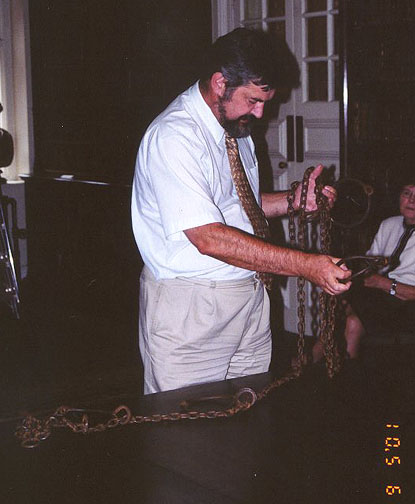 slave chains
sent back to London by Livingstone
to show the horrors of slavery
(held by Dr. Andrew Tatham, Keeper of Collections,
Royal Geographic Society in London)

Livingstone's final expedition lasted from 1866 until his death in 1873. Accompanying him throughout were two Africans: Chuma, a freed slave, and Susi, a man employed earlier to work on an expedition steamer. Livingstone tried once more, unsuccessfully, to penetrate eastern Africa by way of the Ruvuma River. Then, ridden with various fevers and becoming increasingly frail, he explored Lake Nyasa, Lake Mweru, Lake Bangweulu, and the watercourses of rivers flowing into and out of these lakes. From Ujiji on Lake Tanganyika he accompanied a group of Arab slave traders westward, in March 1871, becoming the first European to reach the Lualaba River. Livingstone theorized that the Lualaba was the headwaters of the Nile (it is actually the headwaters of the Congo River), but instability caused by slave raiding made further exploration impossible. With his health deteriorating, he made it back to Ujiji in October.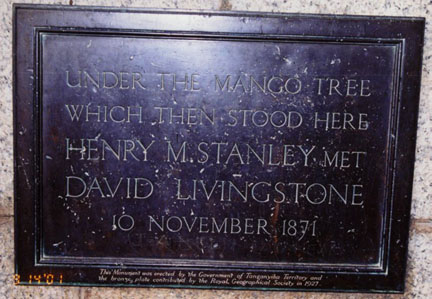 to commemorate their meeting at this place in Ujiji
Throughout most of these last explorations, Livingstone was unable to get word out about his activities, and his welfare became a matter of international concern. Five days after his arrival in Ujiji, a rescue party headed by Anglo-American explorer and journalist Henry Morton Stanley reached Livingstone. Stanley supposedly greeted Livingstone with the famous words "Dr Livingstone, I presume?" After Livingstone convinced Stanley that he was not in need of rescue, the two men explored Lake Tanganyika together. Then, with replenished supplies, Livingstone made off on his own again, toward Lake Bangweulu, and continued his efforts to find the source of the Nile. Dysentery eventually weakened him to the point that he had to be carried on a stretcher, and finally he could not travel at all. He died in Chitambo (in present-day Zambia) in May 1873. Chuma and Susi buried his heart at the foot of a nearby tree and dried and wrapped Livingstone's body.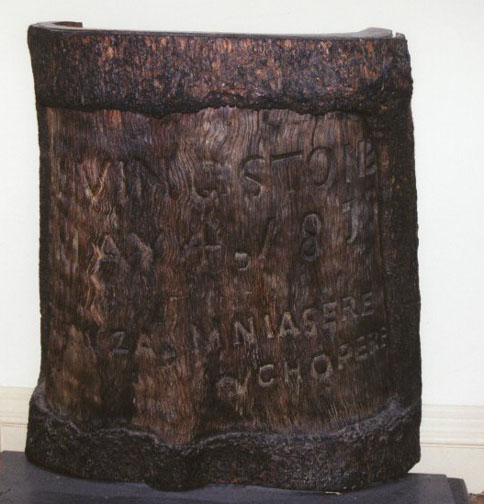 carved trunk of the tree from where Livingstone was buried
(now in the Royal Geographic Society, London)
They then carried the body, along with Livingstone's papers and instruments, to the Indian Ocean coast and the island of Zanzibar, a trip that lasted nine months.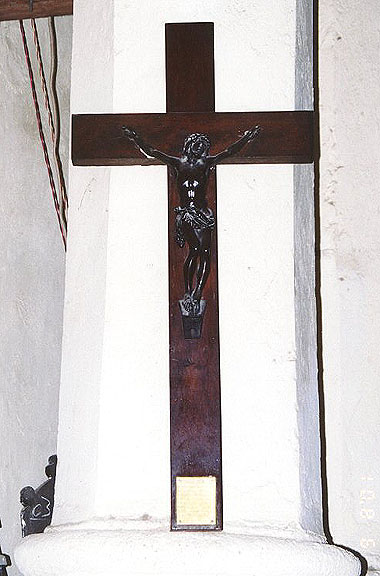 Cross in the Anglican church in Zanzibar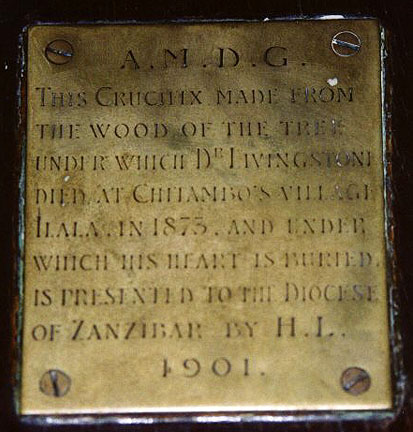 the plaque's inscription
In April 1874 Livingstone's remains reached England by boat and were buried in Westminster Abbey in London.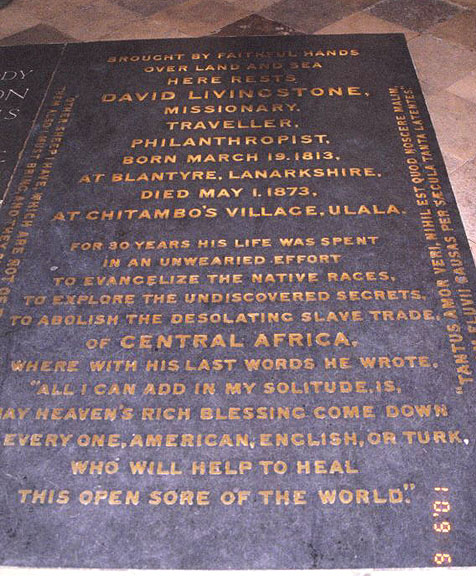 His Grave in Westminster Abbey
The hero's funeral fixed British attention once more on Africa and Livingstone's ideas for African progress. The Last Journals of David Livingstone in Central Africa (1874) was published after his burial.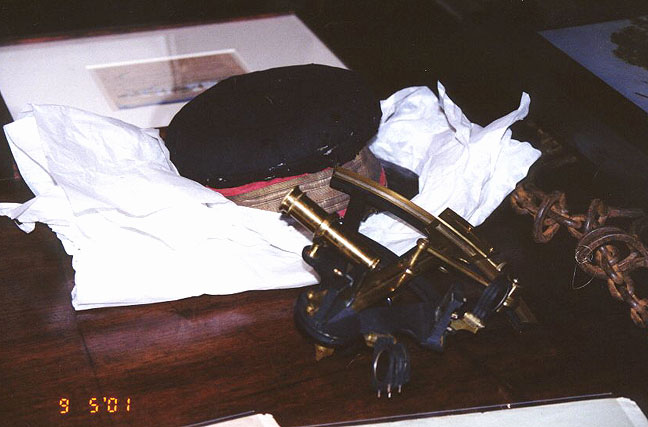 His famous Counsel's Hat
and the sextant he used in the field
(now preserved at the Royal Geographic Society in London)
No European explorer did so much for knowledge of African geography as Livingstone. For more than 30 years he traveled across one-third of the continent, making careful observations of people and places. By the time of his death, the Western world had a heightened interest in Africa and a greatly enhanced idea of what was there. His explorations revealed that the interior of the African continent was not an arid wasteland, as many 19th-century geographers believed. He also inspired countless Christian missionaries to work among Africans. Moreover, in his long effort to marshal English interest in the tragedies associated with slave trading in central and east Africa, he provided new moral incentives for European colonization of Africa. His idea of opening Africa to Christianity and legitimate commerce, the latter to replace the slave trade, became the standard rhetoric of European colonialists through the subsequent years of the Scramble for Africa.
Text By: Donald R. Wright for Microsoft Encarta

Return to the "In Search of the Source of the Nile" page
Return to Royal Geographic Society page