Echmiadzin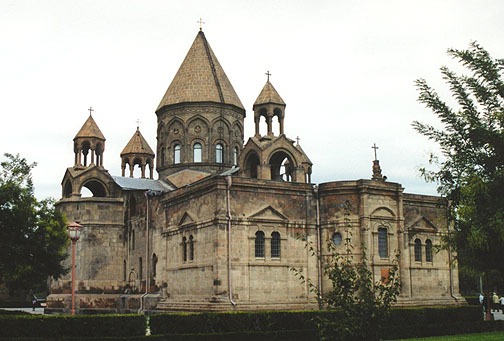 the cathedral
(7th century ground plan)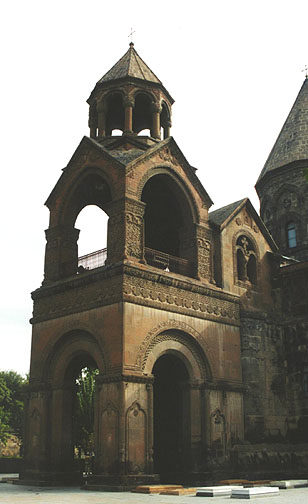 bell tower added in 17th century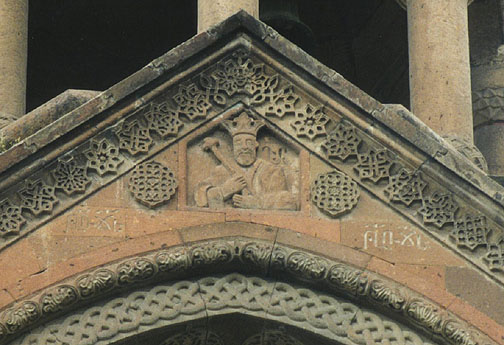 figure over entry
(explained to Shah Jahan that it was to him,
so that he would not destroy church)
Armenian Church, one of the oldest branches of the Christian faith. The earliest authentic accounts of the introduction of Christianity into Armenia date from the apostolic work of St. Gregory the Illuminator, who, in 303, converted King Tiridates III and members of his court. Christianity was strengthened in Armenia by the translation of the Bible into the Armenian language by the Armenian monk and scholar St. Mesrob. Following the ecclesiastical controversy concerning the twofold nature of Christ, the Armenian Christians refused to accept the decisions of the Council of Chalcedon and formed a separate church, sometimes referred to as the Gregorian church.

Saint's grave

In 1439 a union with the Roman Catholic church was accepted by some members of the Armenian church. This was later repudiated, but a group of Armenian Catholics accept papal supremacy and the authority of the Catholic Armenian patriarchate of Sis or Cilicia (in Beirut, Lebanon), which was set up in 1742. They use an Armenian rite.

cleric

The remaining larger portion of the Armenian church is headed by its catholicos, who resides at Echmiadzin, a monastery near Yerevan in Armenia.

catholicos grave marker

He is nominally in authority over the Armenian patriarchs of Jerusalem and Constantinople (that is, residing in İstanbul, Turkey). The monastery has been the ecclesiastical metropolis of the Armenian nation since the 4th century; it is said to be the oldest monastic foundation in the Christian world.

altar
(raised in the custom of the Armenian Church)

ancient fire worship place under main altar

The older branch of the Armenian church in the U.S., the Armenian Church of North America, has been under the jurisdiction of the See of Echmiadzin since 1887. In 1957 this diocese joined the National Council of Churches. In the early 1990s the diocese reported about 14,000 confirmed members in 72 churches. Another diocese, which left the parent American body in 1932, recognized the authority of the See of Cilicia in 1957. Known as the Armenian Apostolic Church of America, it reported a confirmed membership of 30,000 in 32 churches.

old church marker

newer commemorative marker

the campus

guard dogs! ever on alert!