Hanka Homestead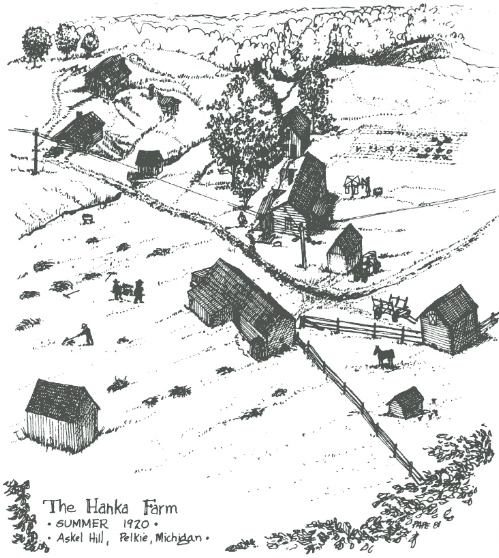 The Hanka Homestead stands out because it remains as it was in 1920.
Alan Pape's evocative drawing brings to life a summer day
on this self-sufficient Finnish farm. Dispersed outbuildings characterize Finnish farms.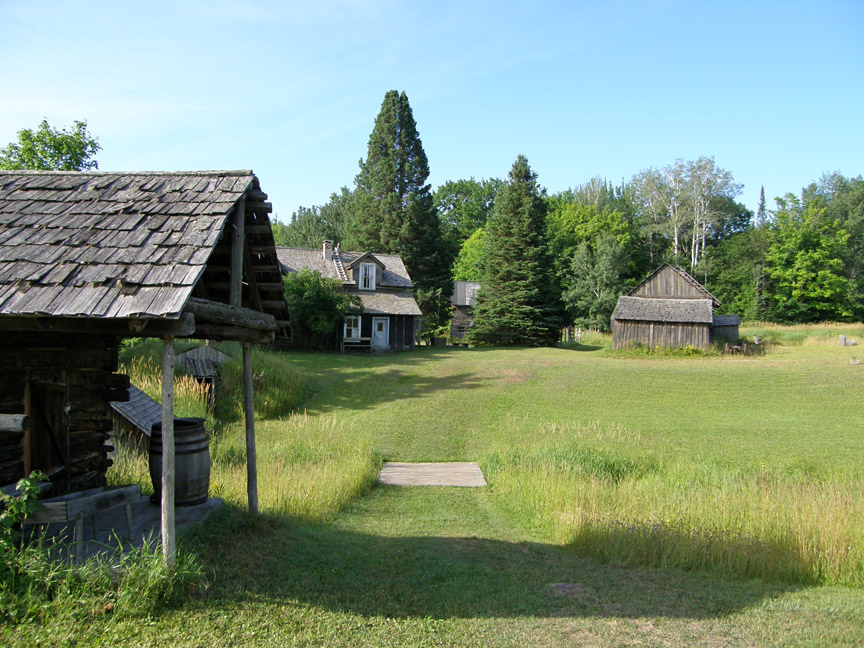 Hanka Homestead
Though the Finnish influence is everywhere in the western Upper Peninsula, pure Finnish survivals are rare. Probably the most remarkable is this self-sufficient homestead farm on a beautiful, remote hillside near the Keweenaw Peninsula's base. Its farmhouse and nine outbuildings are carefully crafted Scandinavian log construction. The Hanka farm has been restored to the way it was in its prime in 1920, when it was the home of Herman Hanka, a disabled miner, his wife, and their four adult children. On the farm they continued the Old World ways they had brought with them to the U.S.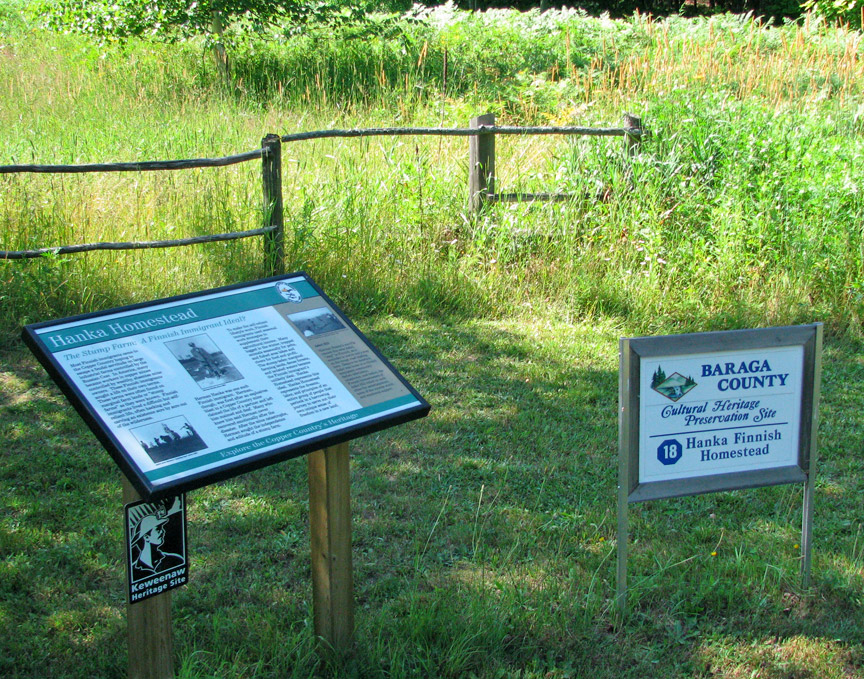 The Hanka Homestead and the simple, subsistence lifestyle its buildings convey have a powerful effect on many people. One fine online appreciation is a photo gallery by Daryl Laitila, best known as the technobrains behind Pasty.com. Search for "Daryl Laitila Hanka Homestead." Another reflection, more in words is Bill Lagerroos's illustrated essay on the fresh New World Finn site. Search for "Hanka Homestead New World Finn."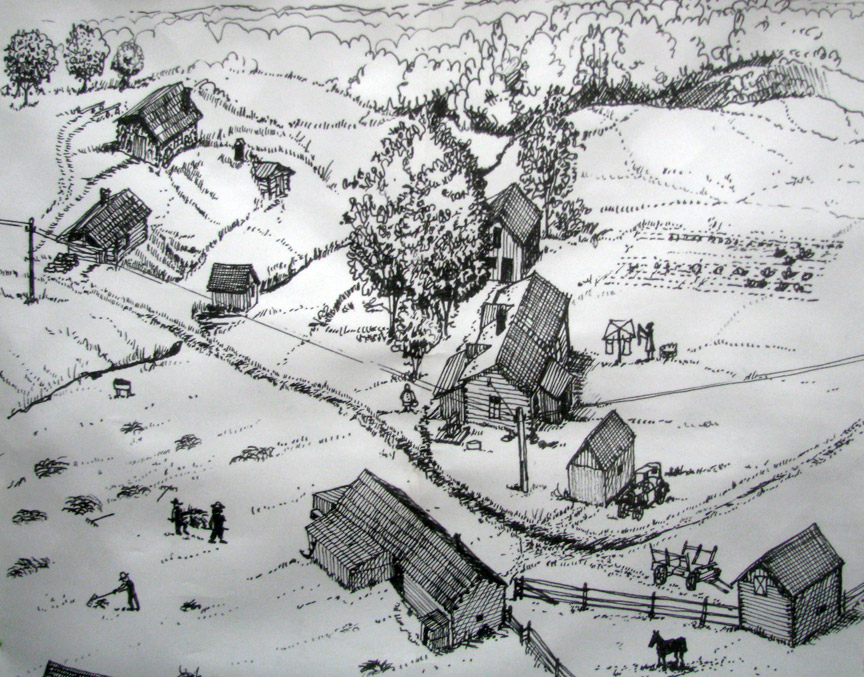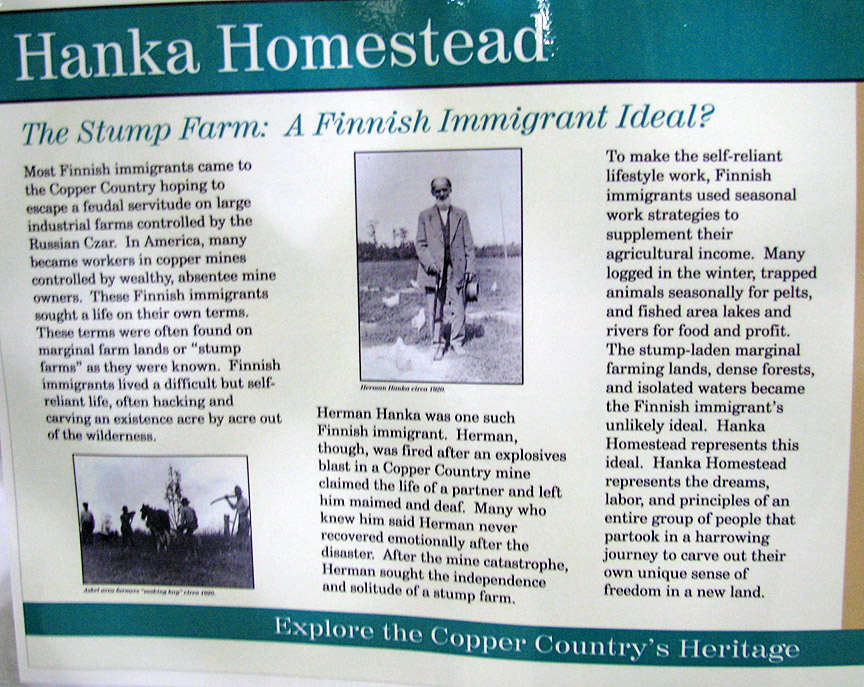 By the time you get to the Hankas' place, you've gone down five miles of country road from U.S. 41 toward Otter Lake; turned at a fire tower near the top of long, high Askel Hill; and driven down a rugged gravel road through a mile of forest. It's quite remote from the outside world, just as the Finns were who homesteaded in this neighborhood in the 1890s. The log house (now a century old), two-story log barn, sauna, and other small outbuildings sit in an 18-acre clearing, surrounded by forest. The Huron Mountains are blue in the distance across nearby Keweenaw Bay. The scene looks like something you'd expect to find in a remote hollow of the Smoky Mountains.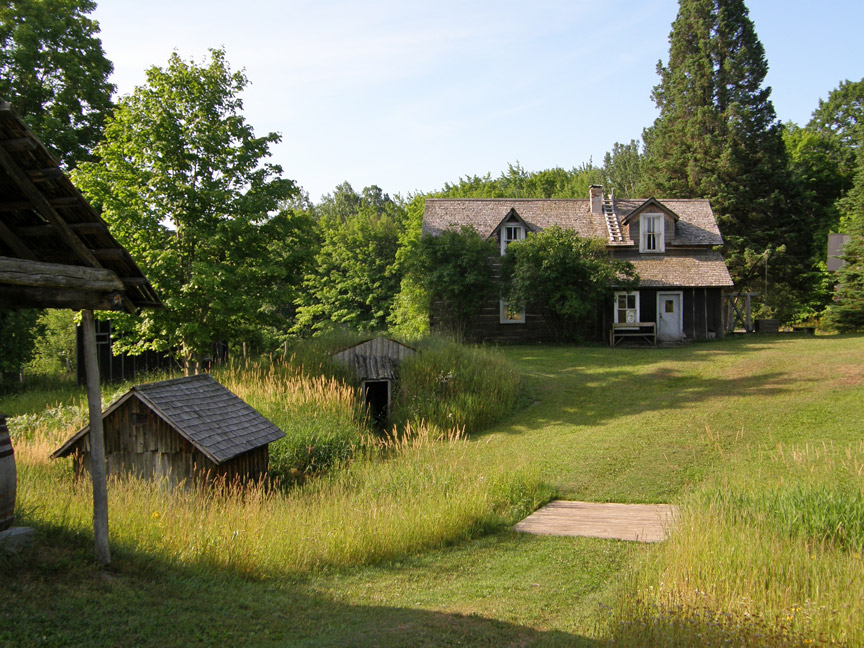 the log farm house
More Photos of the Log Farm House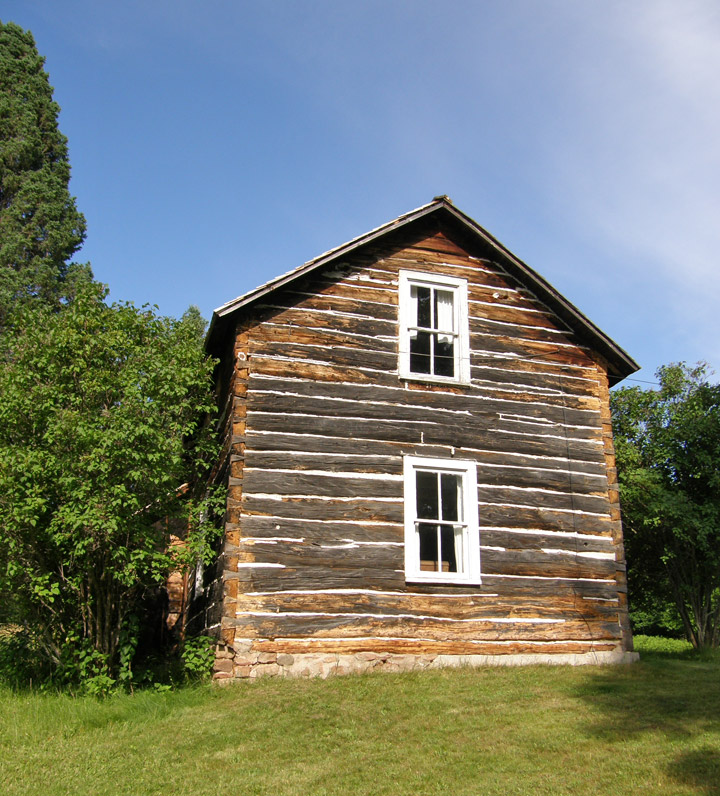 older section of the log farm house
One mainstay of self-sufficient local economies like these was cooperation. Neighbors traded and shared harvest work and other skills and products. The disabled father, Herman Hanka, tanned hides and made shoes for neighbors. His son Jalmar tinkered and fixed things; in the early days of automobiles he became a local legend as a self-taught auto mechanic. The family boarded logging horses, which needed intermittent rest between periods of strenuous work. In winter Jalmar and his brother Nik, the farm manager, worked in logging camps, where their sister, Mary, cooked. One neighbor went to town every Saturday to shop for the neighborhood.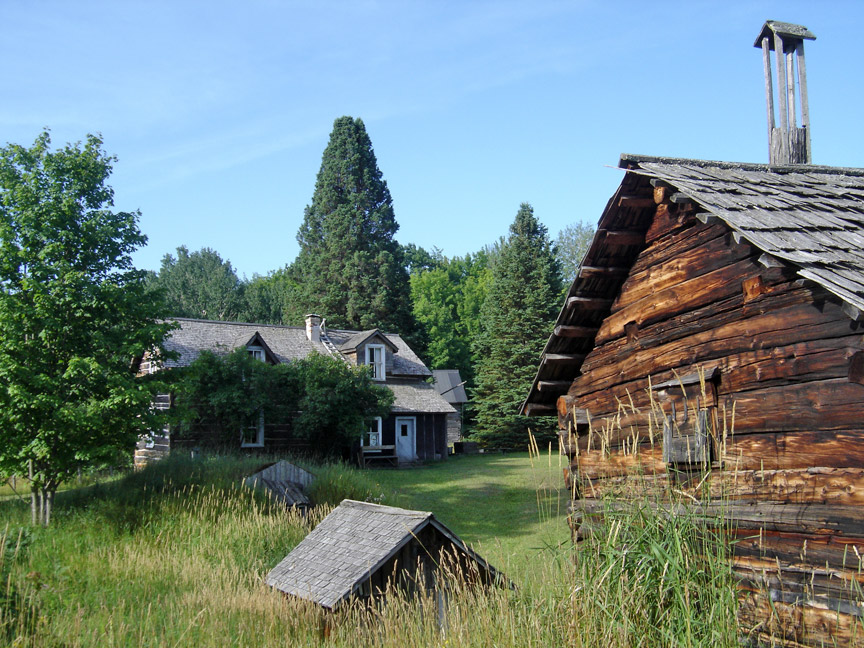 the log farm house as seen from the back of the sauna
People raised their own grains and vegetables, kept chickens and sometimes a pig. The Hankas depended on the Jersey cow and her rich milk for butter and cheese. And they hunted rabbits, partridges, and deer. Such a short growing season (an average of 85 frost-free days) made farmers focus on cold-resistant root crops like turnips, rutabagas, and potatoes. Preserving and preparing food took up an immense amount of time. Social life consisted of the weekly Saturday sauna, visiting, and music. Nik played a homemade kantele, a kind of zither that's the Finnish national folk instrument. Occasional dances were held at a pavilion that stood near where the fire tower is.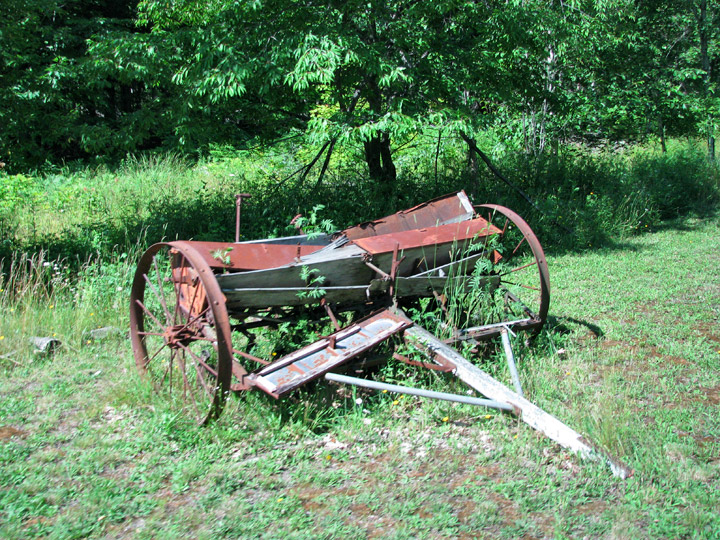 horse drawn planter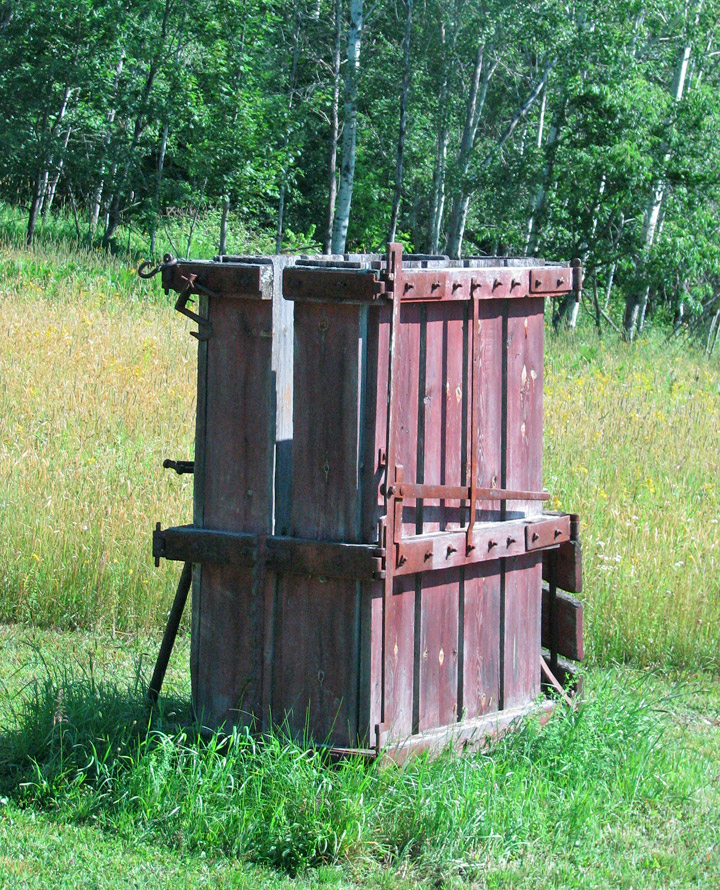 stationer hay bailer
Finland's shifting 19th-century economy had transformed many independent farmers into a class of industrial workers and landless tenants without opportunities. Only the oldest son could hope to farm his own land. Finns emigrated to the northern U.S., and many found work in mines. Inexperienced as miners, they did the lower-paying work timbering and tramming. Between the peak emigration years of 1899 and 1914, over 200,000 Finns came to the U.S., largely from two rural counties, Vaasa and Oulu. On the edges of Upper Peninsula mining towns, miners also farmed smaller plots to support their large families. It was a big step up from working in the dark, dangerous mines to buying a 40-acre farm under the Homestead Act and becoming a full-time farmer.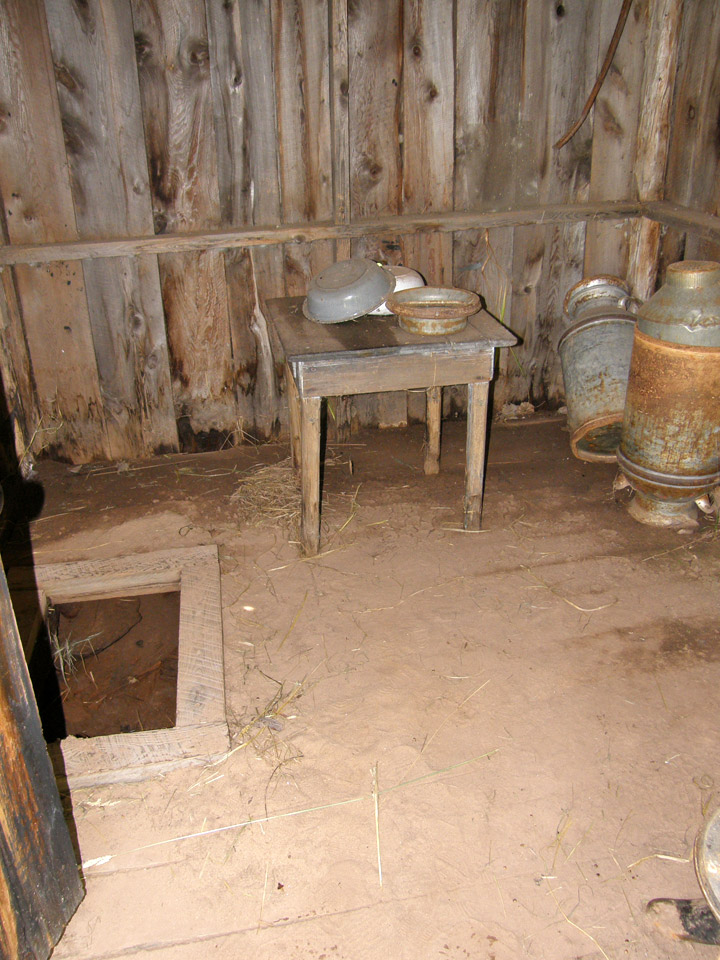 spring house for cooling milk and foods
For farms like the Hankas,' everything changed in the 1920s. New sanitation policies allowed the sale only of Grade A milk, which had to be produced and cooled under super-sanitary, refrigerated conditions. Grade B milk produced at farms like theirs could be sold only as cheese. Phone service in this remote neighborhood, unreliable to begin with, became so expensive as the population shrank that customers dropped it and lines were removed. Forests reclaimed many fields. Sons went into the army and saw a bigger world. Beginning when the 1913 copper miners' strike disrupted mining, many Finns went to work in Detroit's auto factories, like Mary's son, Arvo. Henry Ford's five-dollar day only hastened the exodus. Detroit even had a Finnish neighborhood around Livernois and Six Mile. The emigrant children came back to the U.P. only to retire.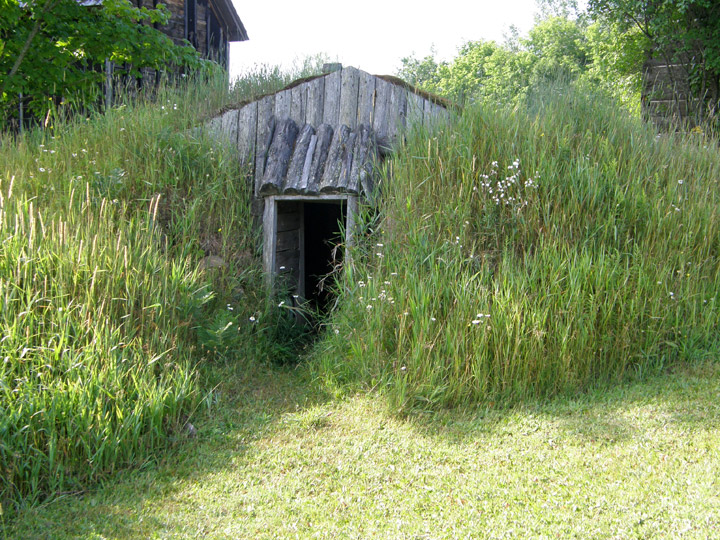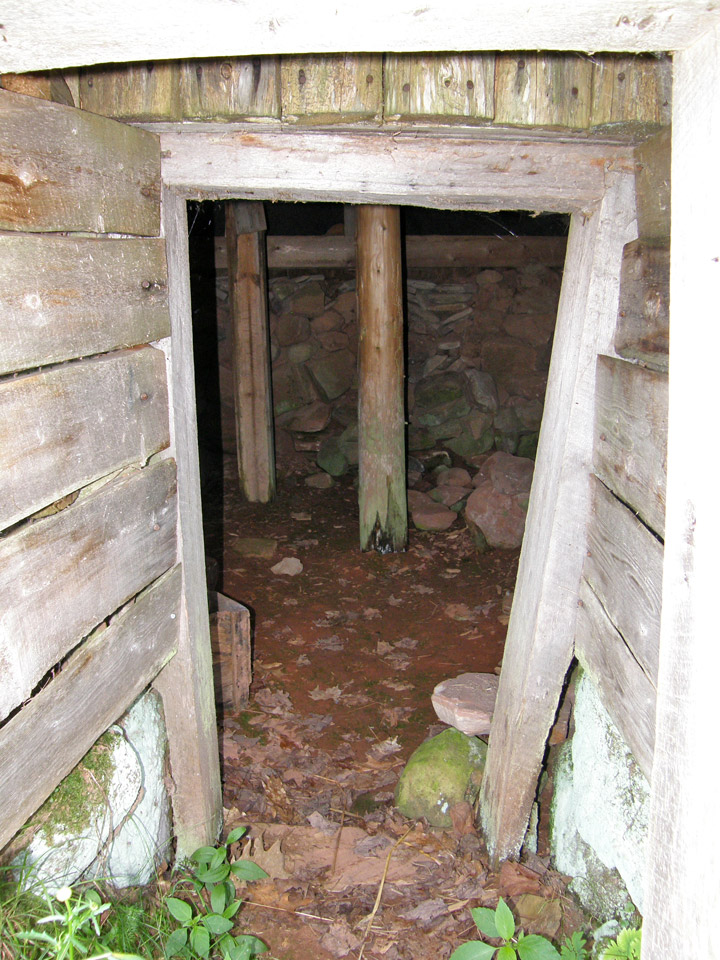 root cellar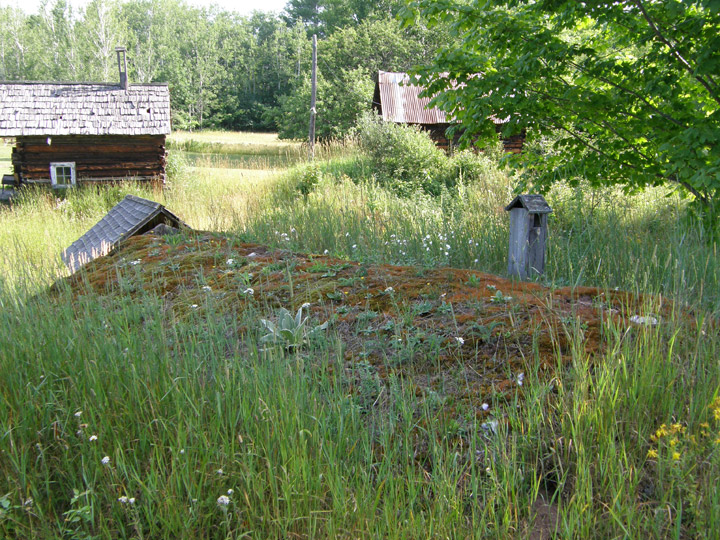 top of the root cellar
The Hanka farm stopped being improved in 1923, when Nik, its energetic manager, died. Gradually most of the Hankas died off, but easygoing Jalmar lived on here until his death in 1966. His needs were simple, and he didn't have the ambition to modernize. The farm pretty much remained a time capsule of old Finnish folkways.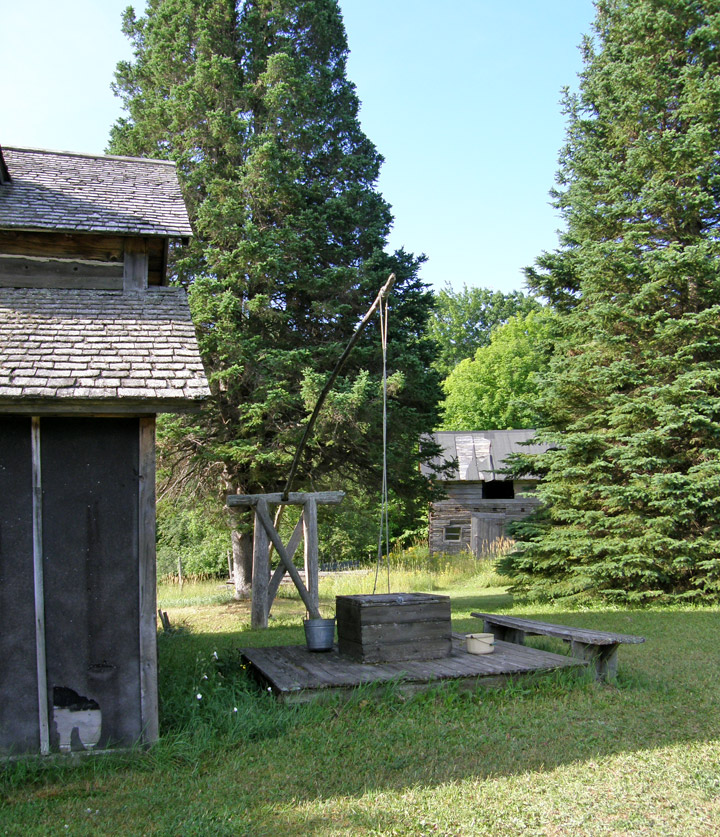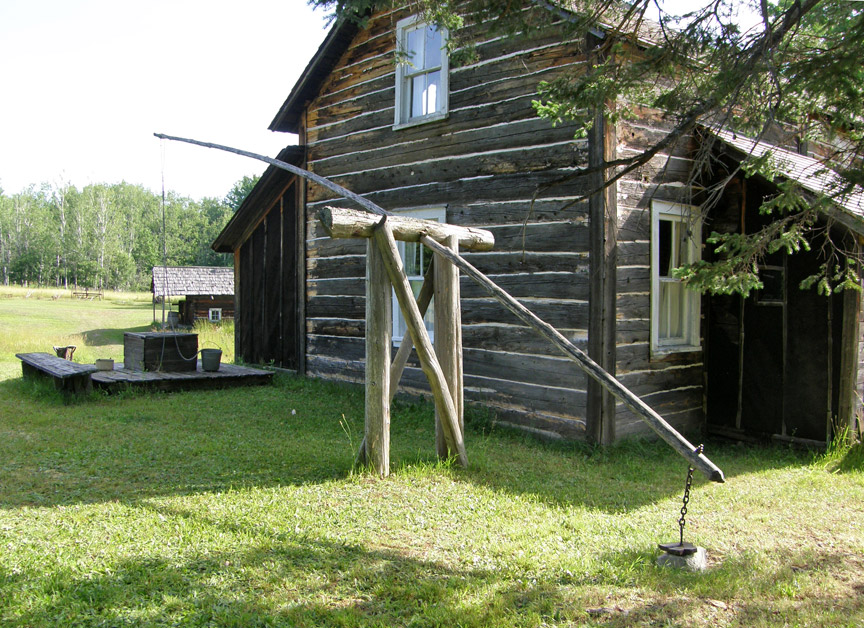 the well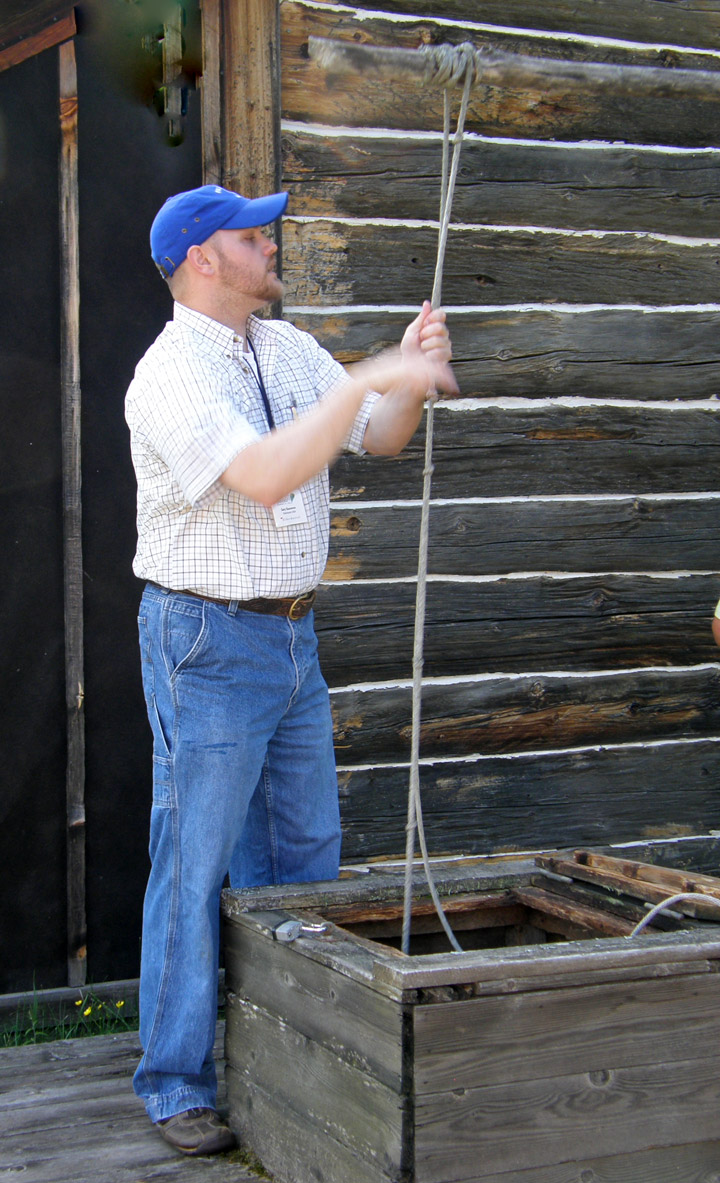 lowering the bucket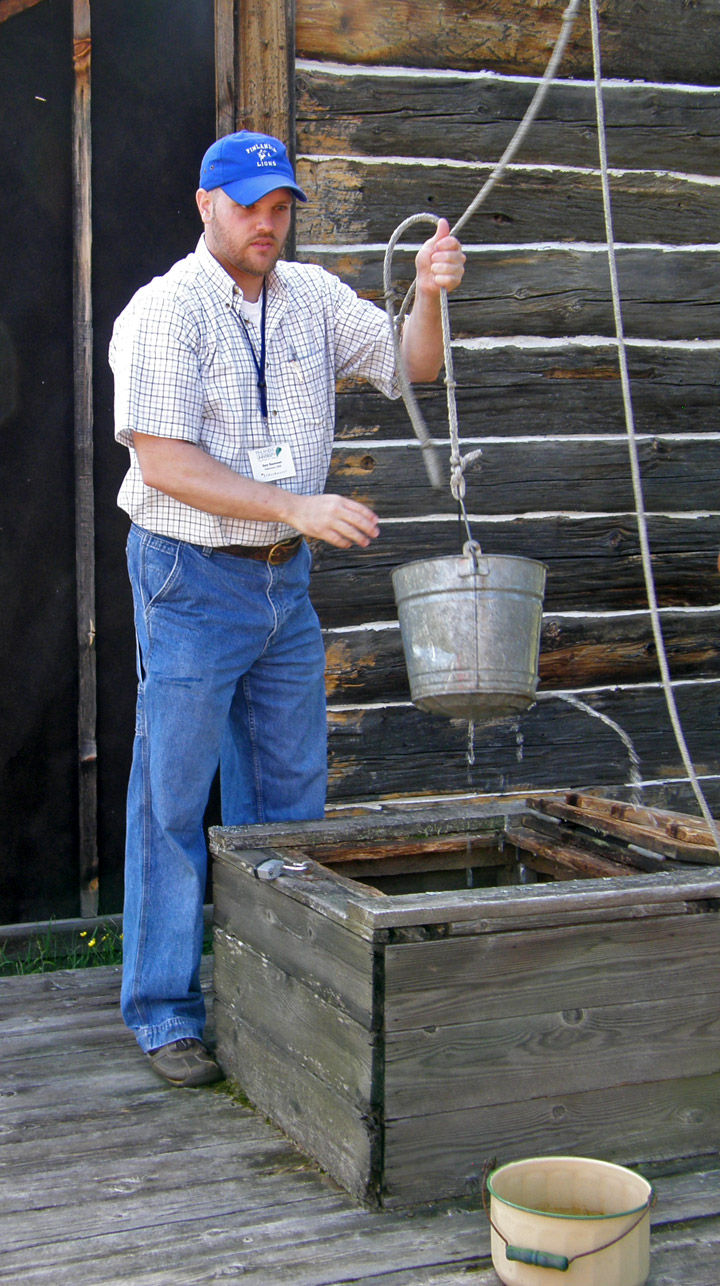 drawing water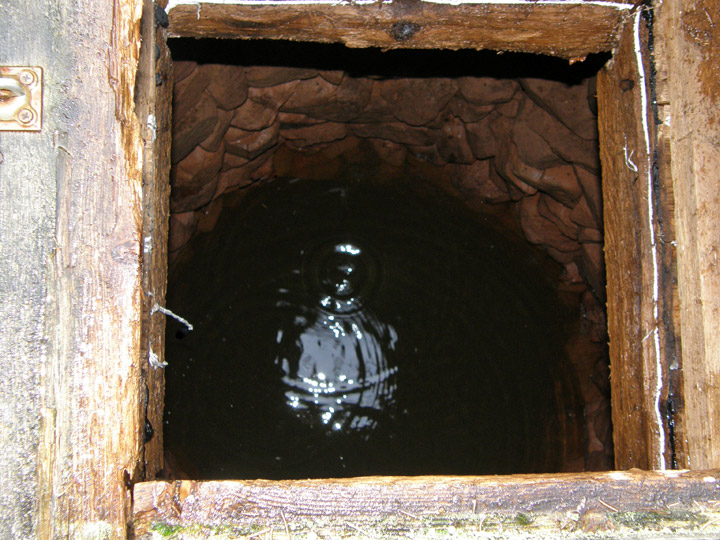 looking into the well
Scouts from Old World Wisconsin, a distinctive outdoor museum of pioneer ethnic farm buildings on 1,600 acres in southeastern Wisconsin, came up here to buy the barn and move it. But they were so impressed with the unaltered condition of this classic Finnish farm that they encouraged a local group to preserve it as a museum.
Text from Midwestern Guides
---
The Sauna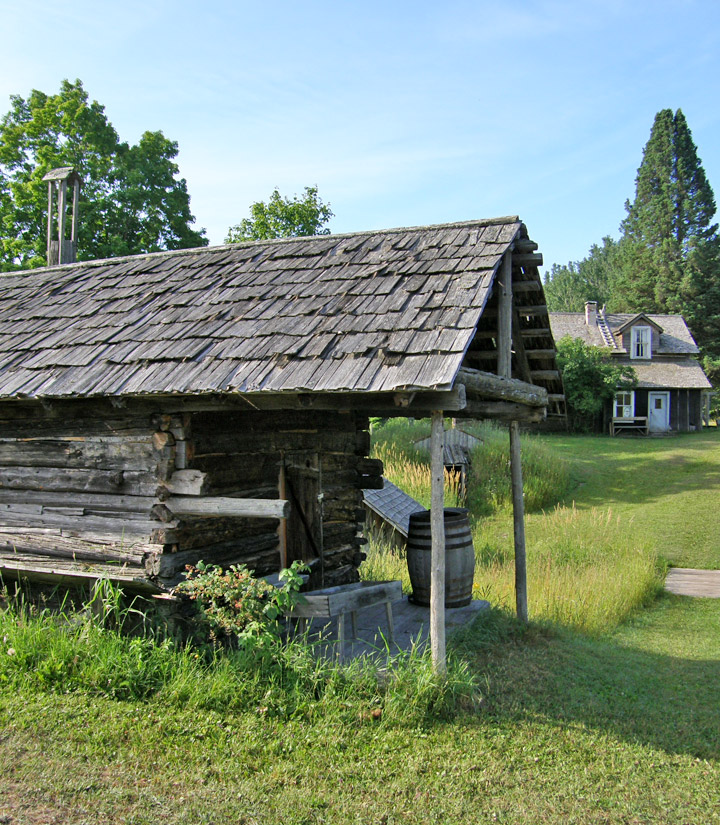 The first building built
used as a dwelling until log house was finished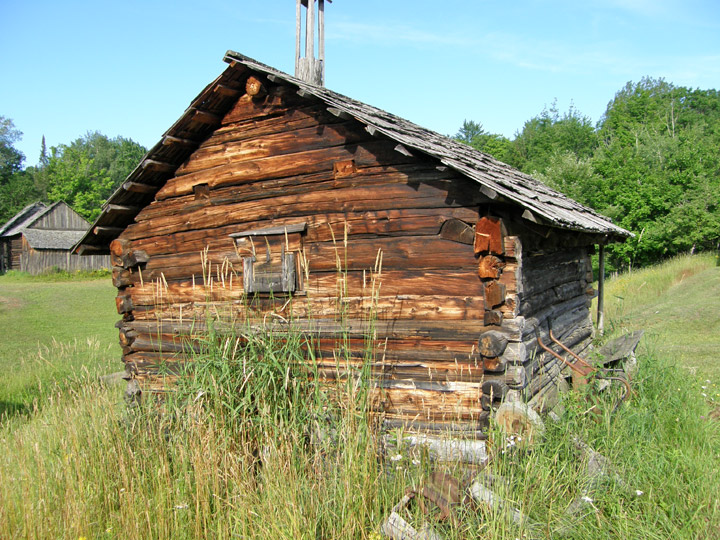 rear of sauna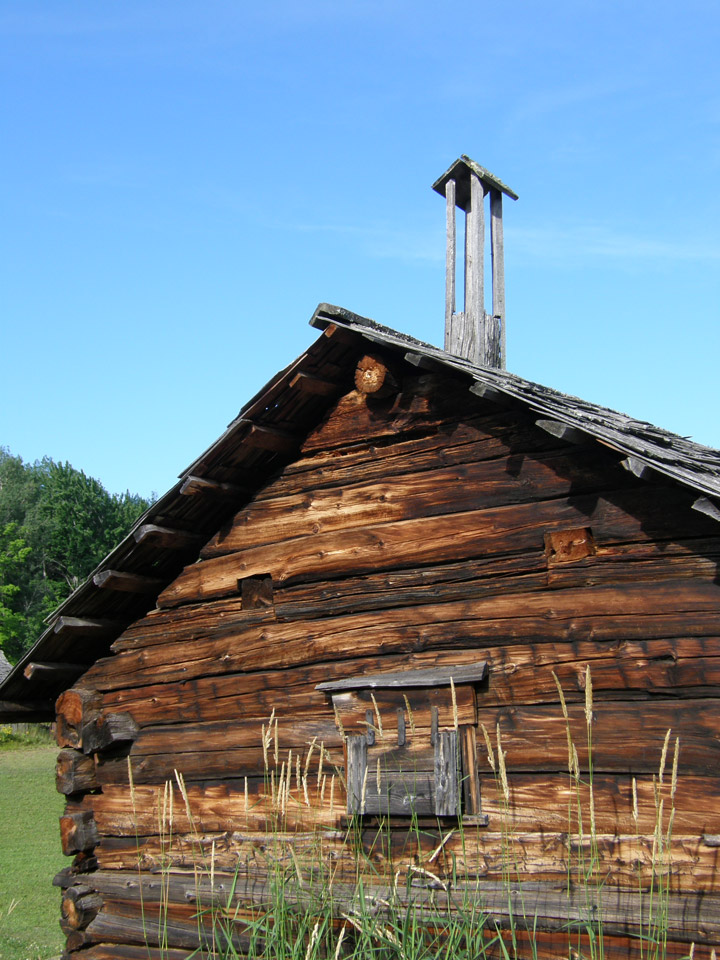 smoke vent on roof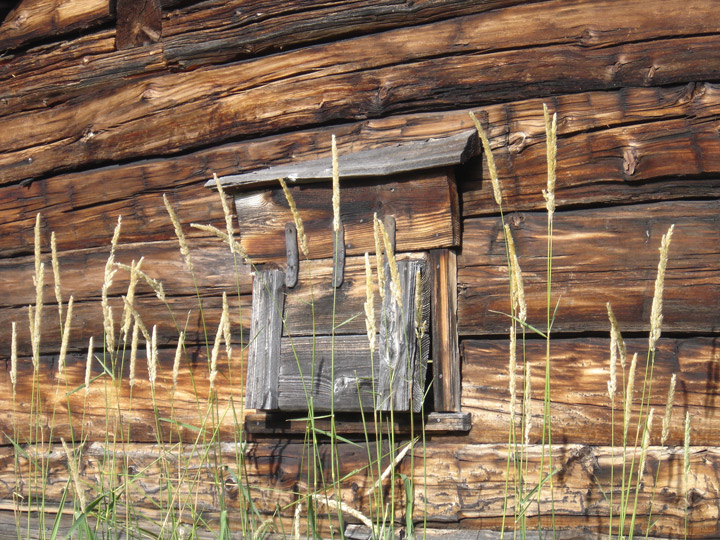 rear vent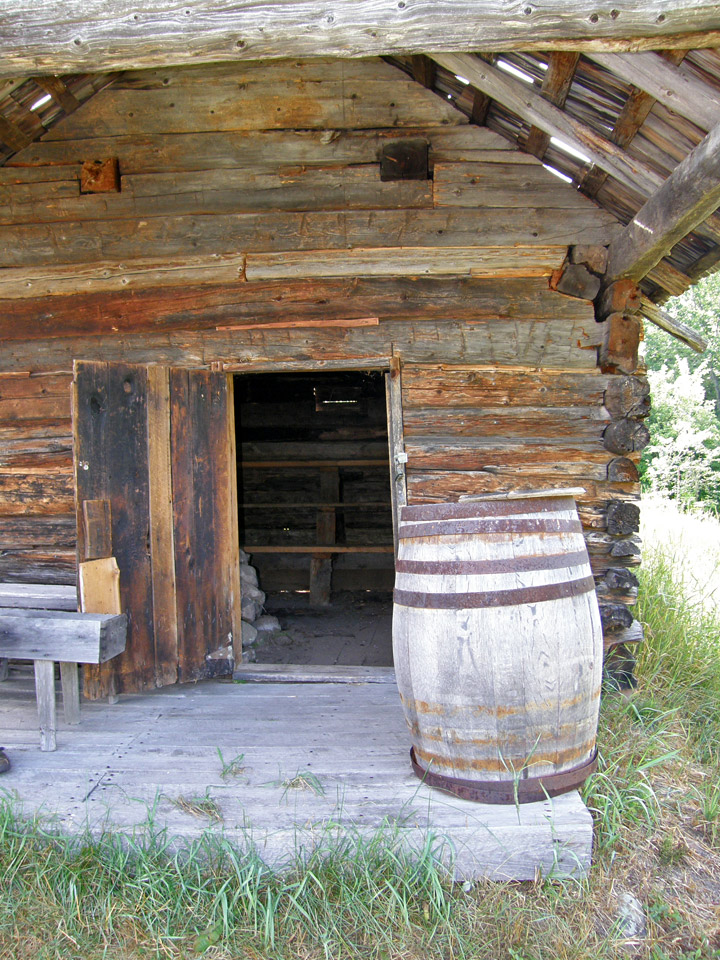 sauna doorway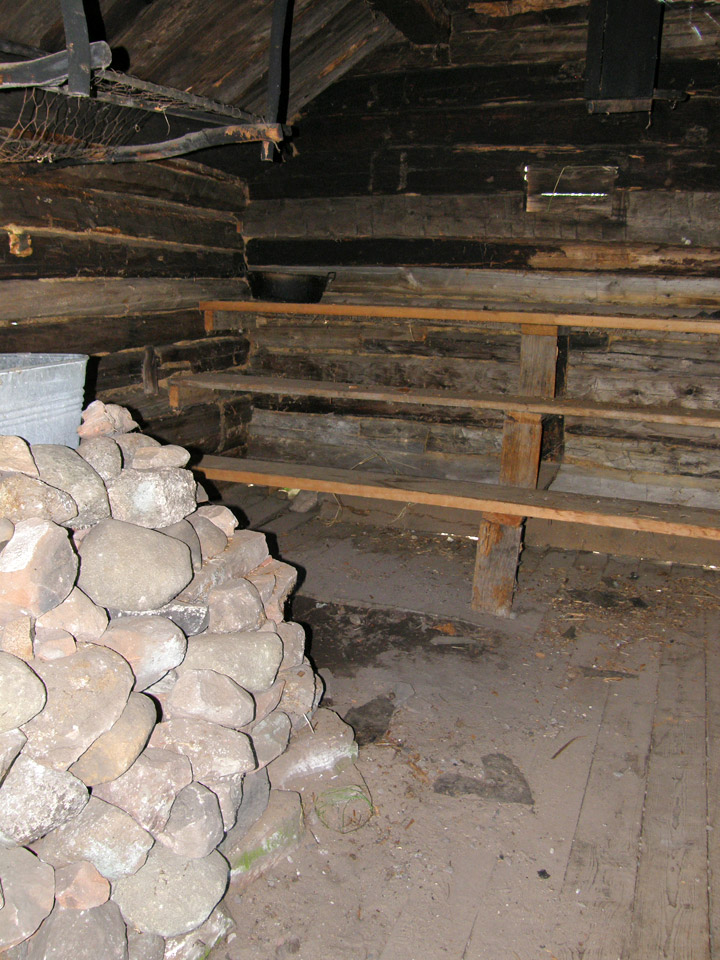 sauna interior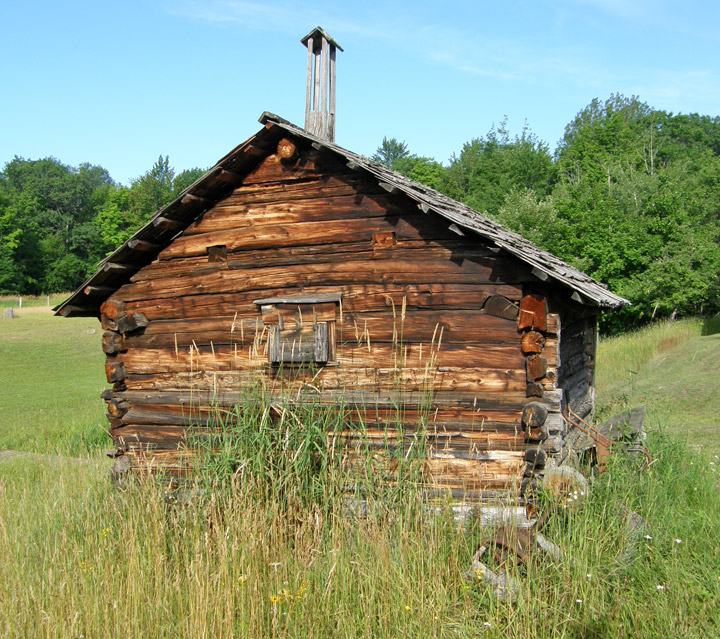 ---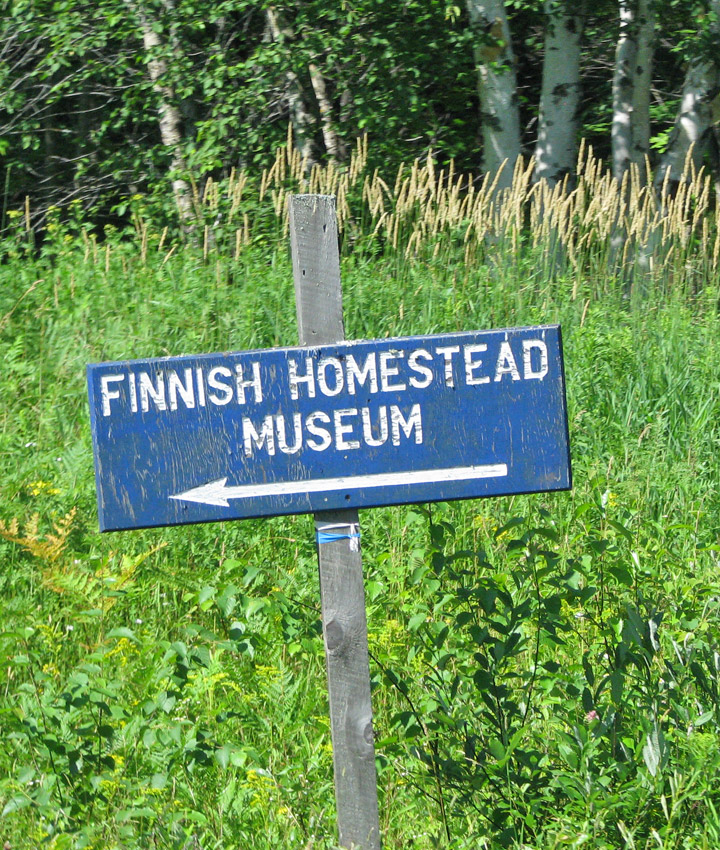 Finnish Homestead Museum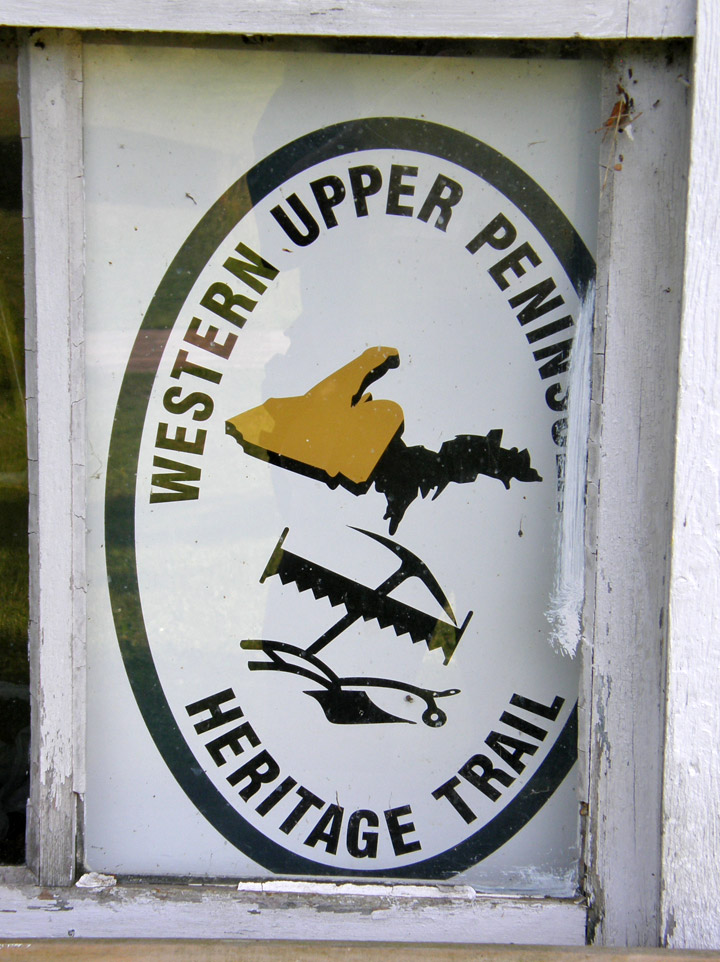 on the Western Upper Peninsula Heritage Trail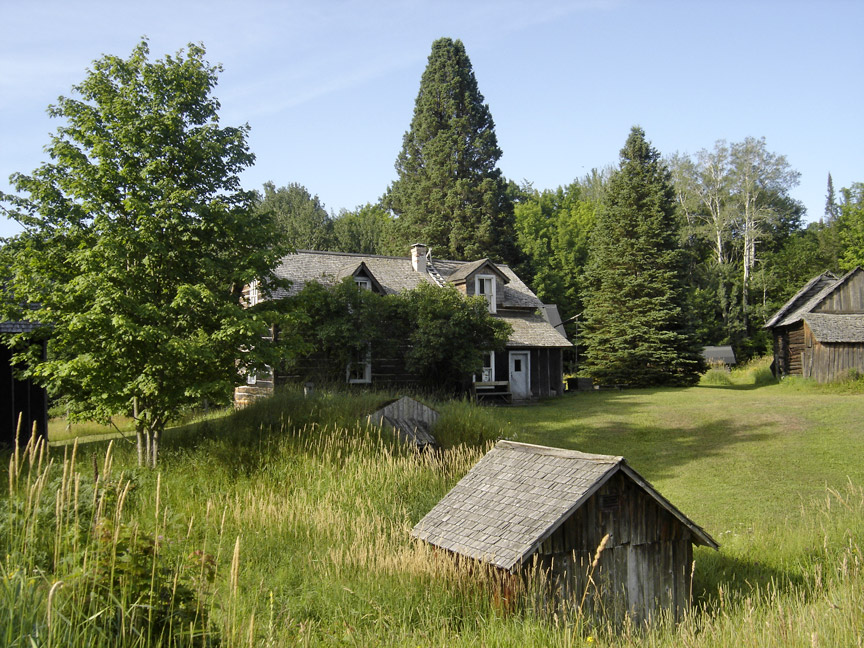 the Hanka Homestead
log farm barn on the right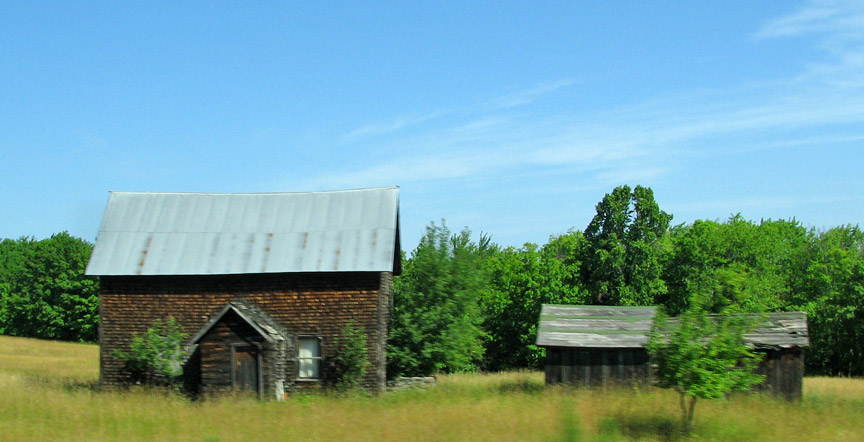 similar farm buildings nearby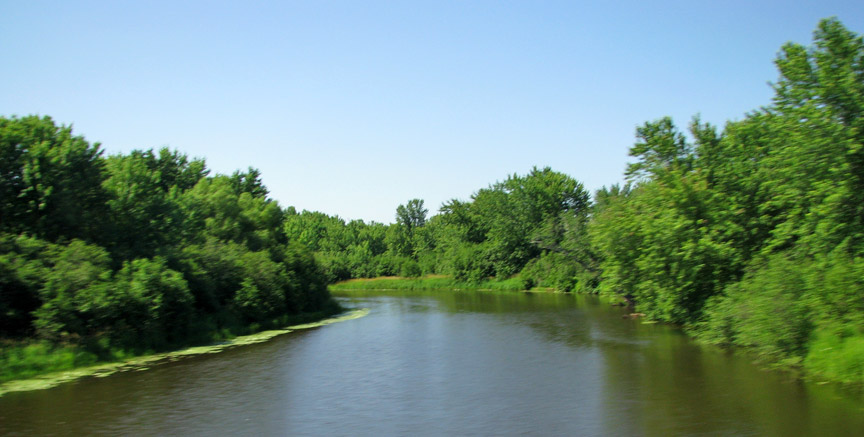 the local stream
---
---