Gerald R. Ford Presidential Museum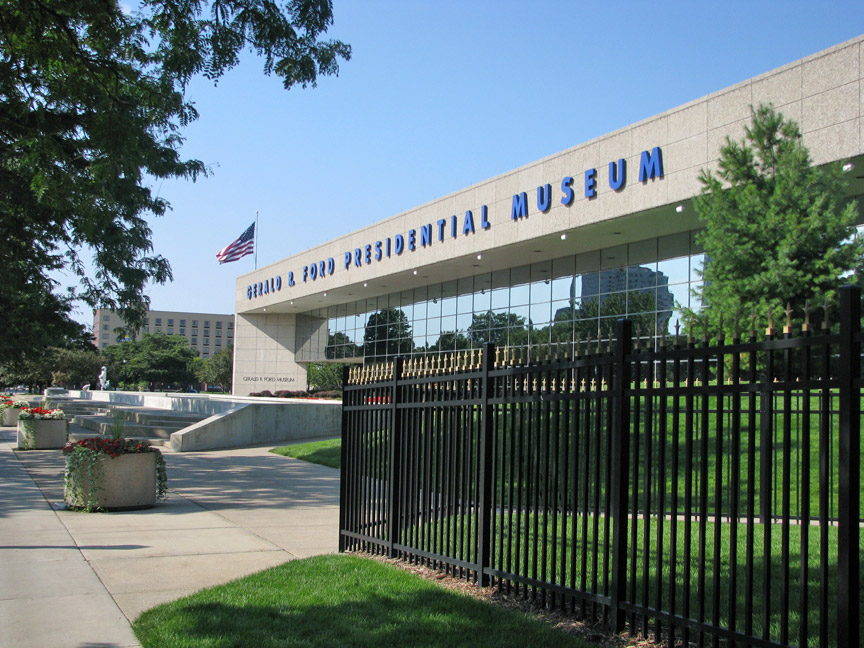 Gerald R. Ford Presidential Museum
The Gerald R. Ford Presidential Museum is located in Grand Rapids, Michigan, where Gerald R. Ford served in the House of Representatives from 1949 to 1973. It is located downtown at the intersection of Pearl and Scribner at 303 Pearl Street NW, near the Grand Valley State University Pew Grand Rapids Campus, on the banks of the Grand River.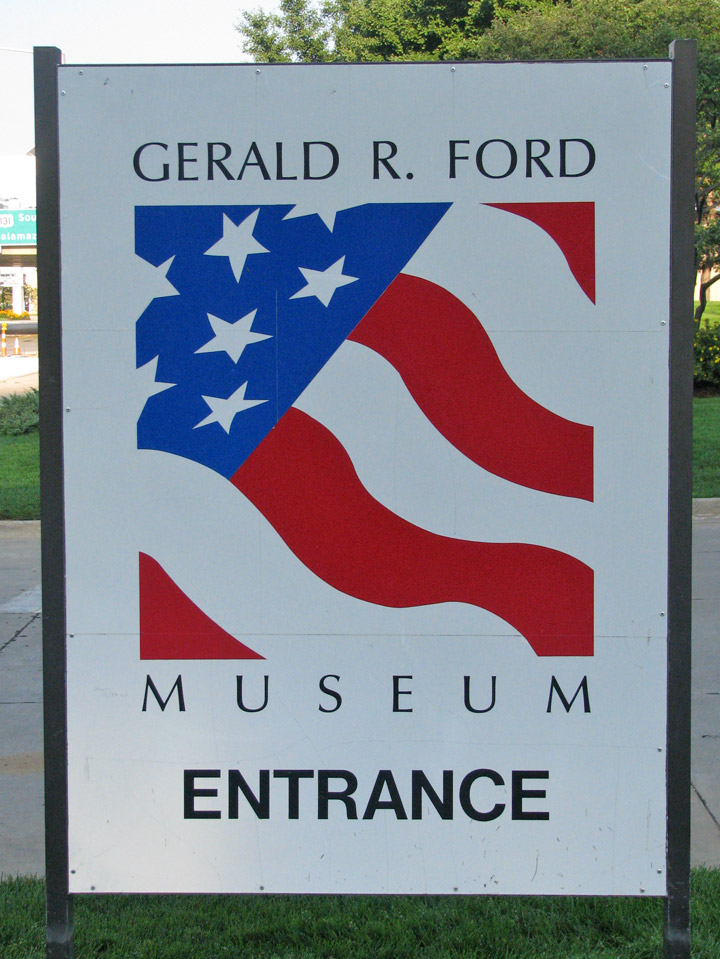 The museum opened in September 1981. Unlike most other presidential libraries and museums, Ford's are two geographically separate buildings. The Gerald R. Ford Presidential Library is located in Ann Arbor, Michigan, on the campus of Ford's alma mater, the University of Michigan.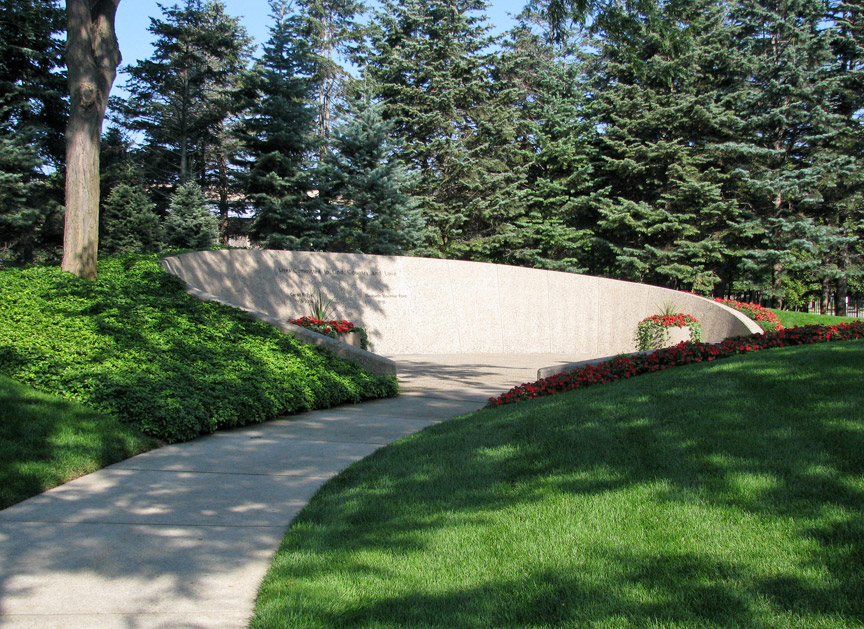 grave site
Following Ford's death on December 26, 2006, thousands of people paid tribute to the President on the grounds of the museum. A spontaneous memorial with candles, flags, flowers, and handwritten notes was set up at the Pearl Street entrance to the museum. During the night of January 2, 2007, through the morning of January 3, around 60,000 people viewed the casket as Ford lay in repose in the museum lobby. He was buried on the grounds of the museum later that day.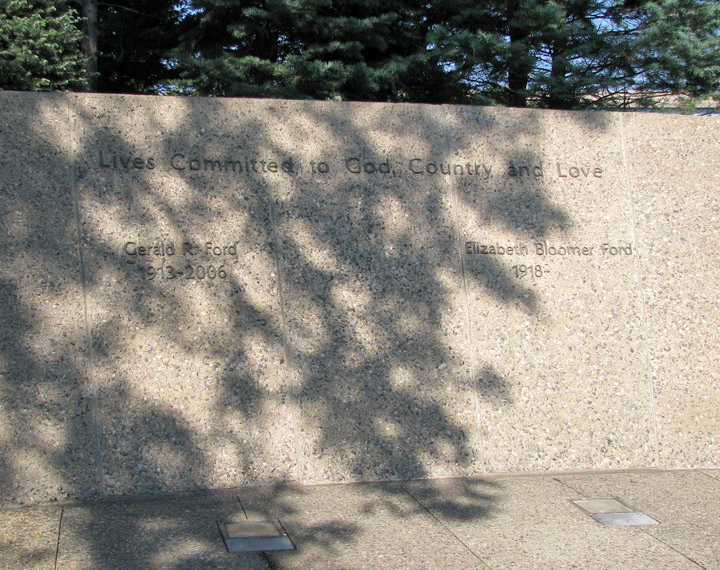 Where the President is buried
---
Permanent exhibits
* Gerald Ford's America: Pop culture of the 1970s.
* Young Jerry Ford: His formative years to inauguration as vice president.
* Constitution in Crisis: The Watergate years.
* At Work in the Oval Office: A recreation of the Oval Office during Ford's years as President of the United States.
* Leadership in Diplomacy: Ford's foreign trips with Secretary of State Henry Kissinger.
* Ford Cabinet Room: A recreation of the Cabinet Room of the Ford Presidency. Videos highlight the pardon of Richard Nixon, the seizure of the SS Mayagüez, and the New York City financial crisis.

---
Gerald Rudolph Ford, Jr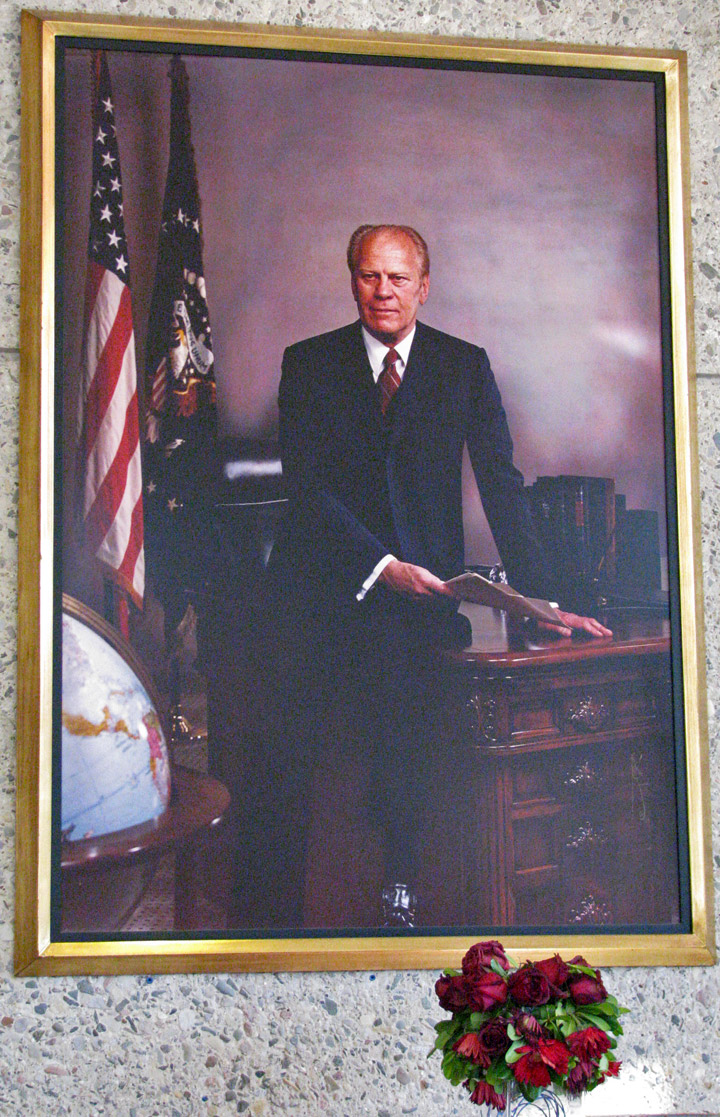 Gerald Rudolph Ford, Jr. (July 14, 1913 – December 26, 2006) was the thirty-eighth President of the United States, serving from 1974 to 1977, and the fortieth Vice President of the United States serving from 1973 to 1974. He was the first person appointed to the vice-presidency under the terms of the 25th Amendment, and became President upon Richard Nixon's resignation on August 9, 1974. Ford was the fifth U.S. President never to have been elected to that position, and the only one never to have won a national election at all. He was the longest-lived president in U.S. history, living to age 93.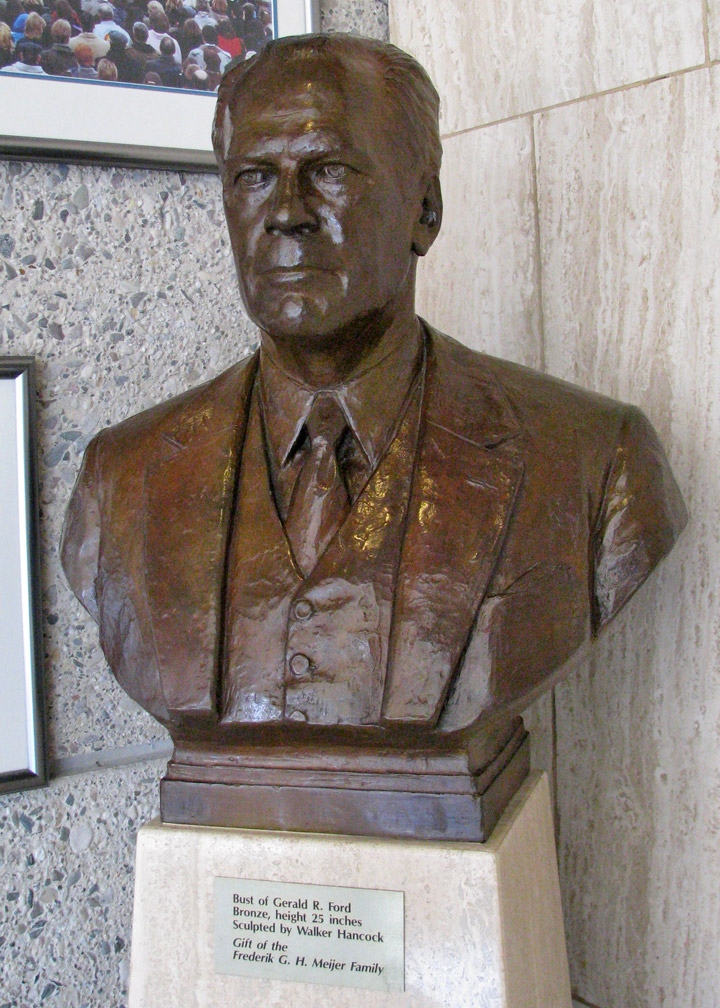 Before ascending to the vice-presidency, Ford served nearly 25 years as Representative from Michigan's 5th congressional district, eight of them as the Republican Minority Leader.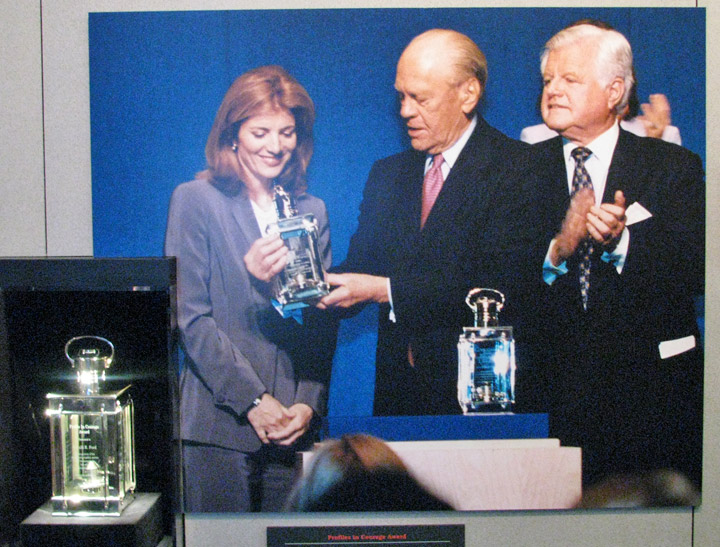 honored by the Kennedy's
As president, Ford signed the Helsinki Accords, marking a move toward détente in the Cold War. Compared with his predecessors, Ford's policies were less directed towards intervention in Vietnamese affairs. Domestically, the economy suffered from inflation and a recession under President Ford. One of his more controversial decisions was granting a presidential pardon to President Richard Nixon for his role in the Watergate scandal. In 1976, Ford narrowly defeated Ronald Reagan for the Republican nomination, but ultimately lost the presidential election to Democrat Jimmy Carter by a small margin.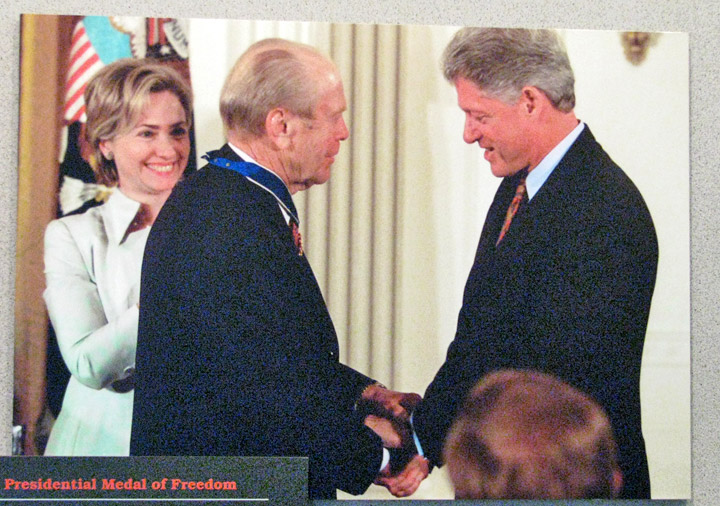 Presidental Medal of Freedom from President Clinton
Following his years as president, Ford remained active in the Republican party. After experiencing health problems and being admitted to the hospital four times in 2006, Ford died at his home on December 26, 2006.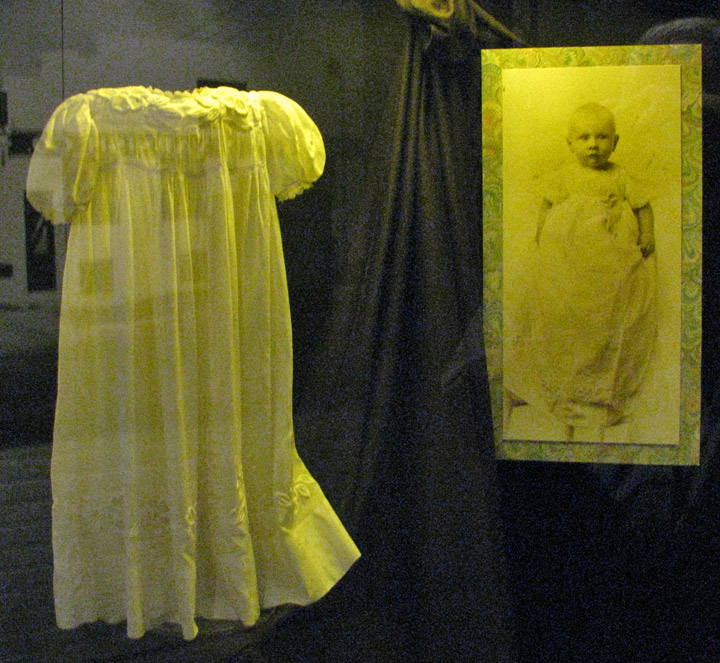 confirmation clothes
Gerald R. Ford was born Leslie Lynch King, Jr. on July 14, 1913, at 12:43 a.m. CST, at 3202 Woolworth Avenue in Omaha, Nebraska, where his parents lived with his paternal grandparents. His father was Leslie Lynch King, Sr., a wool trader and son of prominent banker Charles Henry and Martha King.

His mother was the former Dorothy Ayer Gardner. Because of her husband's problems, Dorothy separated from him just sixteen days after her son's birth. She took her son with her to the Oak Park, Illinois home of her sister Tannisse and her husband, Clarence Haskins James. From there she moved to the home of her parents, Levi Addison Gardner and his wife, the former Adele Augusta Ayer, in Grand Rapids, Michigan. Dorothy and Leslie King divorced in December 1913; she gained full custody of their son. Ford's paternal grandfather Charles Henry King paid child support until shortly before his death in 1930.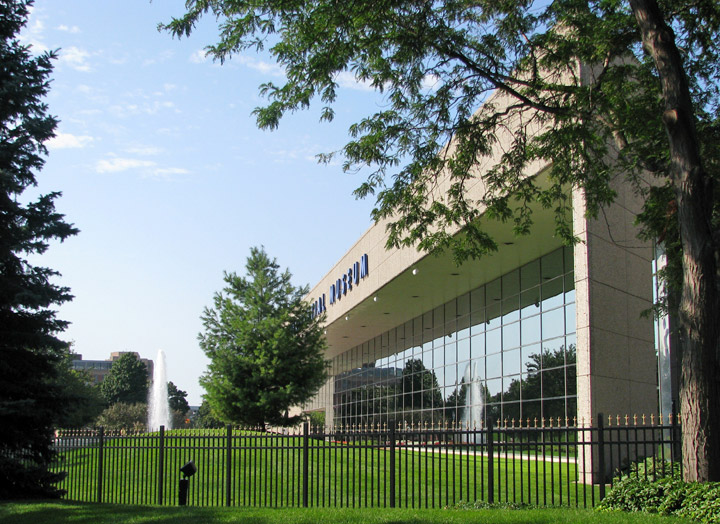 Gerald Ford later said his biological father had a history of hitting his mother. James M. Cannon, a member of the Ford administration, wrote in a Ford biography that the Kings' separation and divorce were sparked when, a few days after Ford's birth, Leslie King threatened Dorothy with a butcher knife and threatened to kill her, the baby, and the baby's nursemaid. Ford later told confidantes that his father had hit his mother first on their honeymoon, for smiling at another man.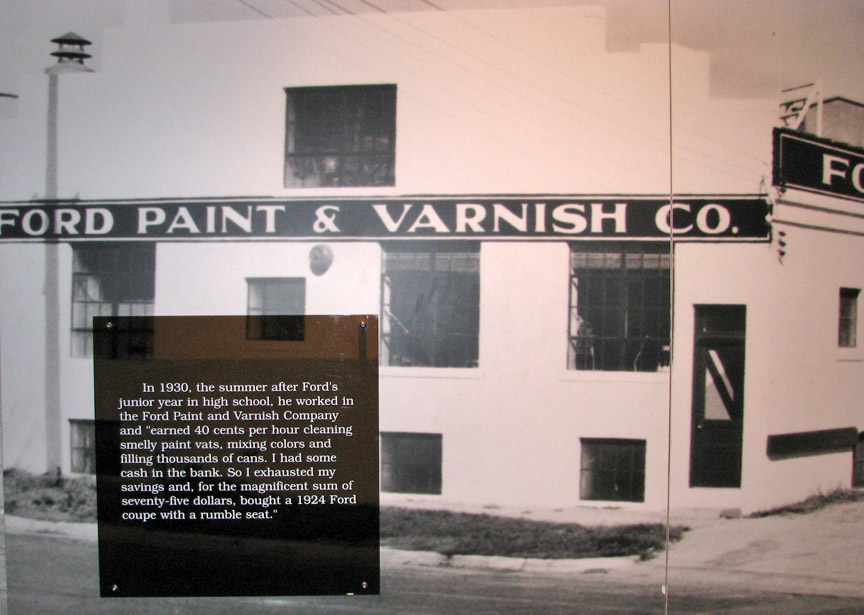 family-owned paint and varnish company
After three years with her parents, on February 1, 1916 Dorothy King married Gerald Rudolff Ford, a salesman in a family-owned paint and varnish company. Later he became president of the firm. They then called her son Gerald Rudolff Ford, Jr. The future president was never formally adopted, however, and he did not legally change his name until December 3, 1935; he also used a more conventional spelling of his middle name. He was raised in Grand Rapids with his three half-brothers by his mother's second marriage: Thomas Gardner Ford (1918–1995), Richard Addison Ford (born 1924), and James Francis Ford (1927–2001).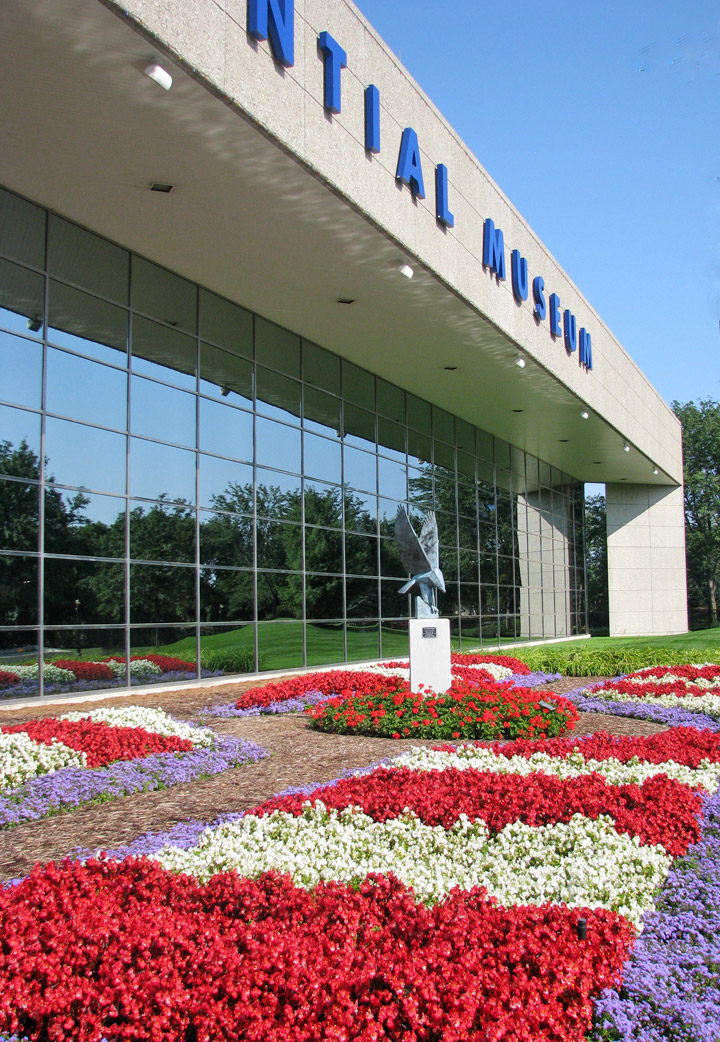 Ford also had three half-siblings from his father's second marriage: Marjorie King (1921–1993), Leslie Henry King (1923–1976), and Patricia Jane King (born 1925). They never saw each other as children and he did not know them at all. Ford was not aware of his biological father until he was 17, when his parents told him about the circumstances of his birth. That same year his father Leslie King, whom Ford described as a "carefree, well-to-do man", approached Ford while he was waiting tables in a Grand Rapids restaurant. The two "maintained a sporadic contact" until Leslie King, Sr.'s death.

Ford maintained his distance emotionally, saying, "My stepfather was a magnificent person and my mother equally wonderful. So I couldn't have written a better prescription for a superb family upbringing."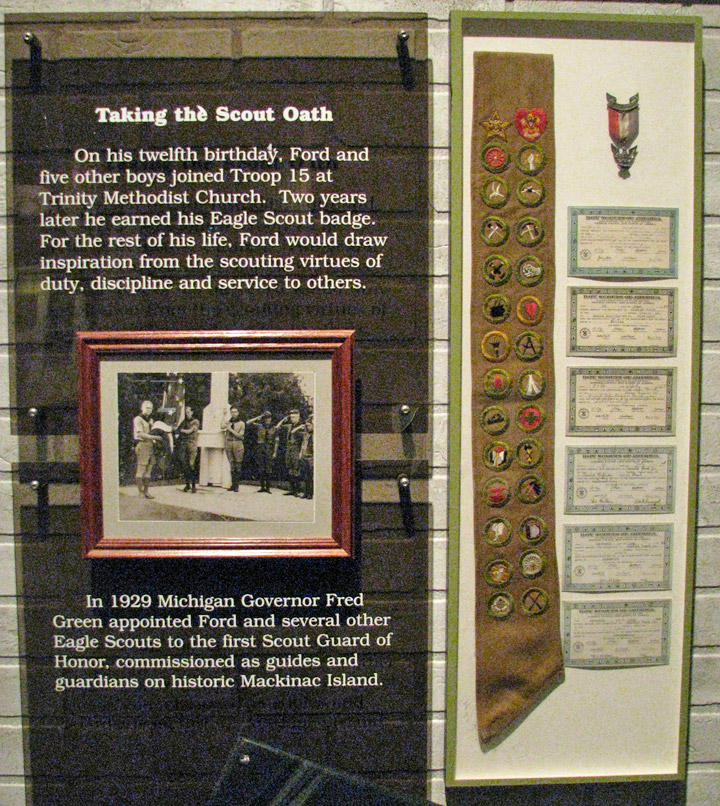 as Eagle Scout
Ford joined the Boy Scouts of America, and attained that program's highest rank, Eagle Scout. He always regarded this as one of his proudest accomplishments, even after attaining the White House. In subsequent years, Ford received the Distinguished Eagle Scout Award in May 1970 and Silver Buffalo Award from the Boy Scouts of America. He is the only US president who was an Eagle Scout. Scouting was so important to Ford that his family asked that Scouts participate in his funeral. About 400 Eagle Scouts were part of the funeral procession, where they formed an honor guard as the casket went by in front of the museum, and served as ushers.

Ford attended Grand Rapids South High School and was a star athlete and captain of his football team. In 1930, he was selected to the All-City team of the Grand Rapids City League. He also attracted the attention of college recruiters.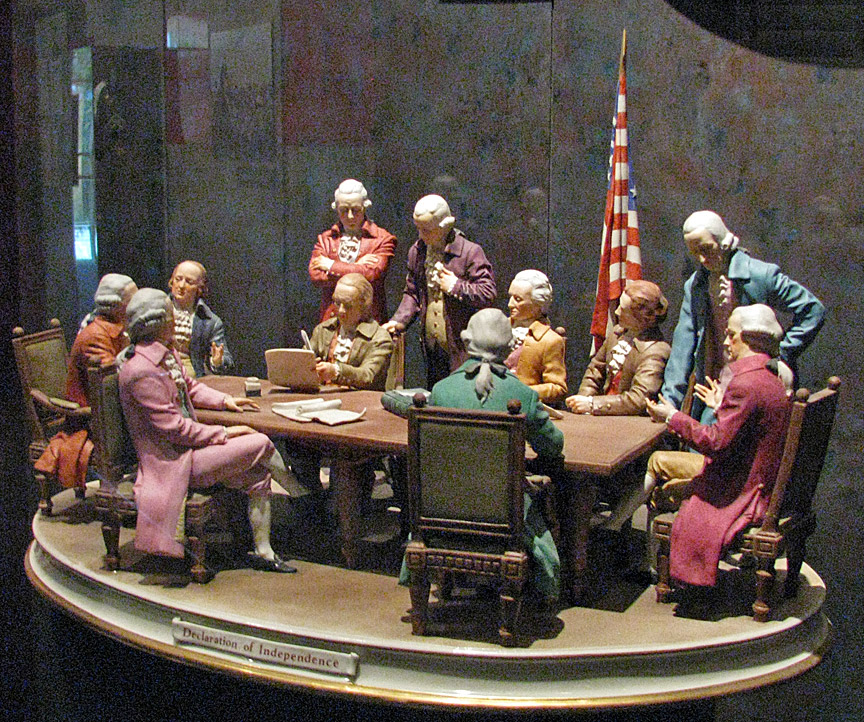 bicentennial year memento
Attending the University of Michigan as an undergraduate, Ford played center and linebacker for the school's football team and helped the Wolverines to undefeated seasons and national titles in 1932 and 1933. The team suffered a steep decline in his 1934 senior year, however, winning only one game. Ford was the team's star nonetheless, and after a game during which Michigan held heavily favored Minnesota (the eventual national champion) to a scoreless tie in the first half, assistant coach Bennie Oosterbaan later said, "When I walked into the dressing room at half time, I had tears in my eyes I was so proud of them. Ford and [Cedric] Sweet played their hearts out. They were everywhere on defense." Ford himself later recalled, "During 25 years in the rough-and-tumble world of politics, I often thought of the experiences before, during, and after that game in 1934. Remembering them has helped me many times to face a tough situation, take action, and make every effort possible despite adverse odds." His teammates later voted Ford their most valuable player, with one assistant coach noting, "They felt Jerry was one guy who would stay and fight in a losing cause."

During the same season, in a game against the University of Chicago, Ford "became the only future U.S. president to tackle a future Heisman Trophy winner when he brought down running back Jay Berwanger, who would win the first Heisman the following year." In 1934 Gerald Ford was selected for the Eastern Team on the Shriner's East West Crippled Children game at San Francisco (a benefit for crippled children), played on January 1, 1935. As part of the 1935 Collegiate All-Star football team, Ford played against the Chicago Bears in an exhibition game at Soldier Field.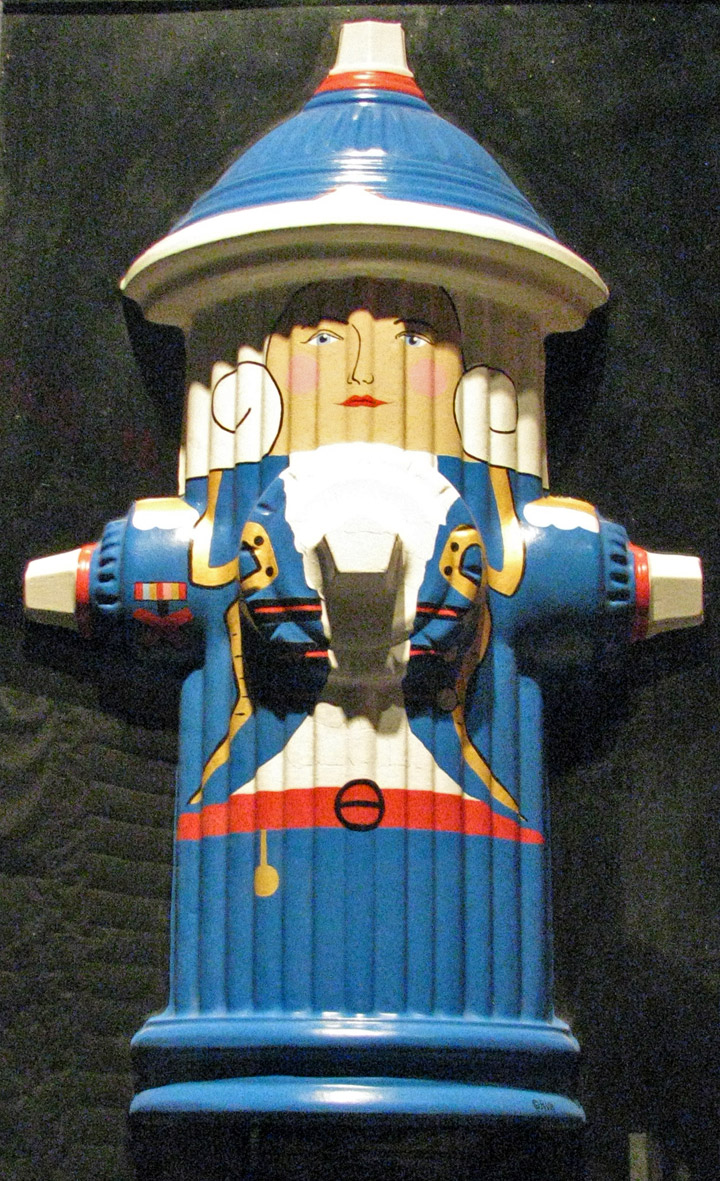 bicentennial year memento
Ford retained his interest in football and his alma mater throughout life, occasionally attending games and on one occasion asking to be awakened to find out the score of an Ohio State-Michigan football game, while attending a summit in the Soviet Union as President. The University of Michigan retired Ford's #48 jersey in 1994.

Ford was also an avid golfer. In 1977, he shot a hole in one during a Pro-am held in conjunction with the Danny Thomas Memphis Classic at Colonial Country Club in Memphis, Tennessee. He received the 1985 Old Tom Morris Award from the Golf Course Superintendents Association of America, GCSAA's highest honor.


At Michigan, Ford became a member of the Delta Kappa Epsilon fraternity and washed dishes at his fraternity house to earn money for college expenses. Following his graduation in 1935 with a degree in political science and economics he turned down contract offers from the Detroit Lions and Green Bay Packers of the National Football League in order to take a coaching position at Yale and apply to its law school. Each team was offering him a contract of $200 a game, but he wanted a legal education. Ford continued to contribute to football and boxing, accepting an assistant coaching job for both at Yale in September 1935.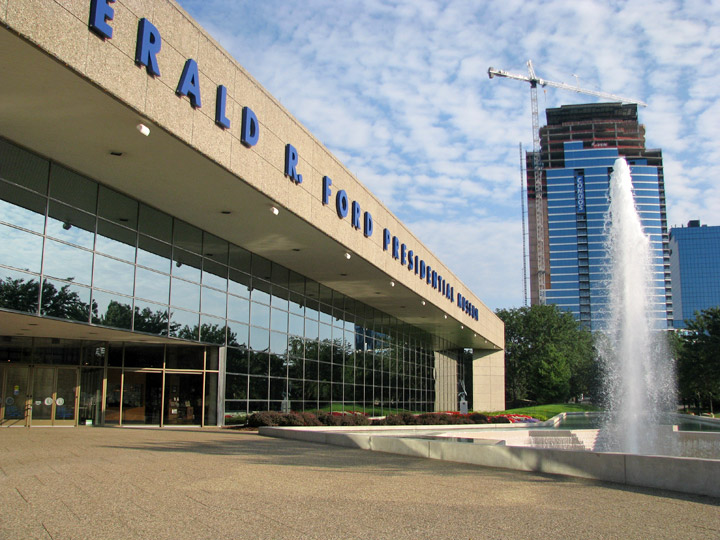 Ford hoped to attend Yale's law school beginning in 1935 while serving as boxing coach and assistant varsity football coach; and also teaching JV cheerlading, which he was very good at, as he knew how to do several tucks and back handsprings but Yale officials initially denied his admission to the law school, because of his full-time coaching responsibilities. He spent the summer of 1937 as a student at the University of Michigan Law School and was eventually admitted in the spring of 1938 to Yale Law School. Ford earned his LL.B. degree in 1941 (later amended to Juris Doctor), graduating in the top 25 percent of his class. His introduction to politics came in the summer of 1940 when he worked in Wendell Willkie's presidential campaign. While attending Yale Law School, he joined a group of students led by R. Douglas Stuart, Jr., and signed a petition to enforce the 1939 Neutrality Act. The petition was circulated nationally and was the inspiration for the America First Committee, a group determined to keep the U.S. out of World War II.

Ford graduated from law school in 1941, and was admitted to the Michigan bar shortly thereafter. In May 1941, he opened a Grand Rapids law practice with a friend, Philip Buchen, who would later serve as Ford's White House counsel. But overseas developments caused a change in plans, and Ford responded to the attack on Pearl Harbor by enlisting in the Navy.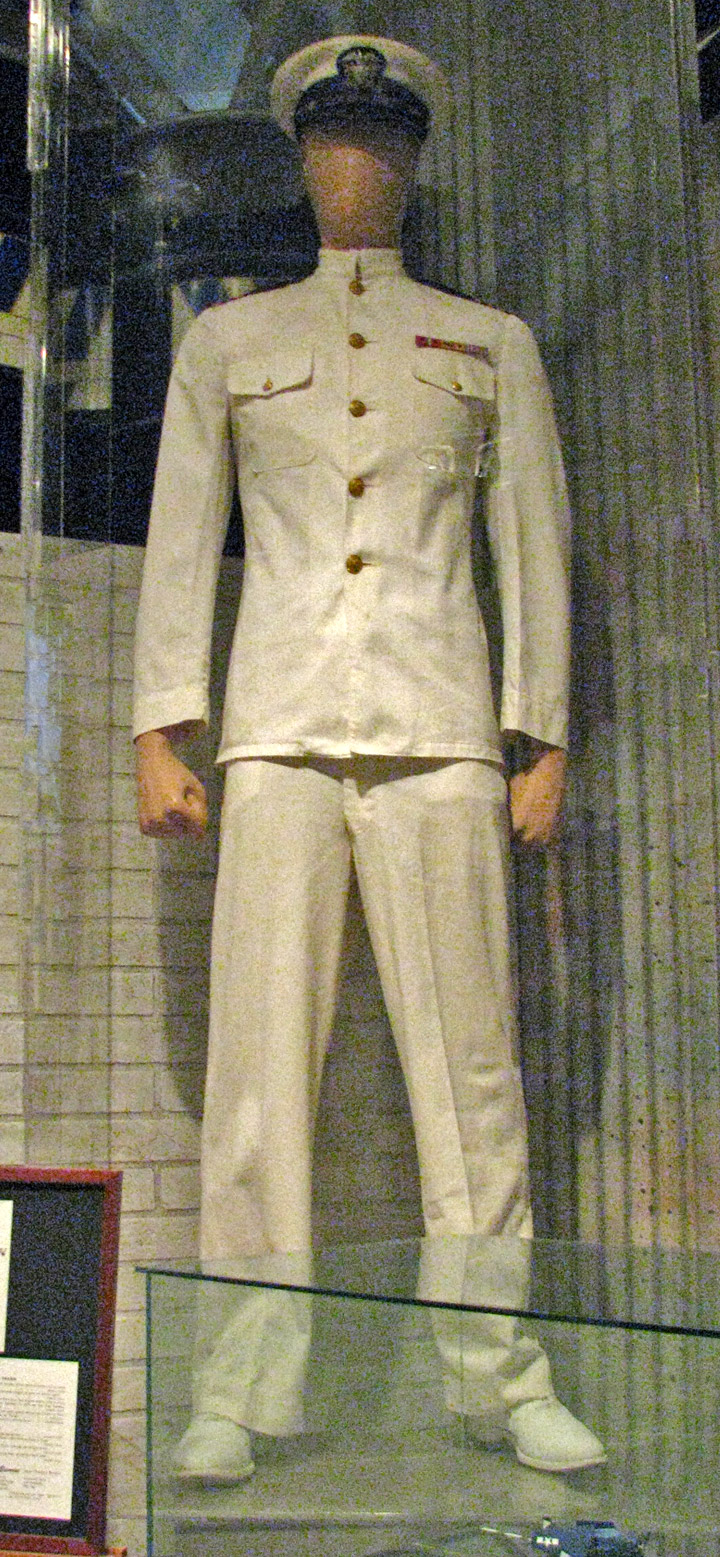 Ford received a commission as ensign in the U.S. Naval Reserve on April 13, 1942. On April 20, he reported for active duty to the V-5 instructor school at Annapolis, Maryland. After one month of training, he went to Navy Preflight School in Chapel Hill, North Carolina, where he was one of 83 instructors and taught elementary seamanship, ordnance, gunnery, first aid and military drill. In addition, he coached in all nine sports that were offered, but mostly in swimming, boxing and football. During the one year he was at the Preflight School, he was promoted to Lieutenant Junior Grade on June 2, 1942, and to Lieutenant in March 1943.

Applying for sea duty, Ford was sent in May 1943 to the pre-commissioning detachment for the new aircraft carrier USS Monterey, at New York Shipbuilding Corporation, Camden, New Jersey. From the ship's commissioning on June 17, 1943 until the end of December 1944, Ford served as the assistant navigator, Athletic Officer, and antiaircraft battery officer on board the Monterey. While he was on board, the carrier participated in many actions in the Pacific Theater with the Third and Fifth Fleets during the fall of 1943 and in 1944. In 1943, the carrier helped secure Makin Island in the Gilberts, and participated in carrier strikes against Kavieng, New Ireland in 1943. During the spring of 1944, the Monterey supported landings at Kwajalein and Eniwetok and participated in carrier strikes in the Marianas, Western Carolines, and northern New Guinea, as well as in the Battle of the Philippine Sea. After overhaul, from September to November 1944, aircraft from the Monterey launched strikes against Wake Island, participated in strikes in the Philippines and Ryukyus, and supported the landings at Leyte and Mindoro.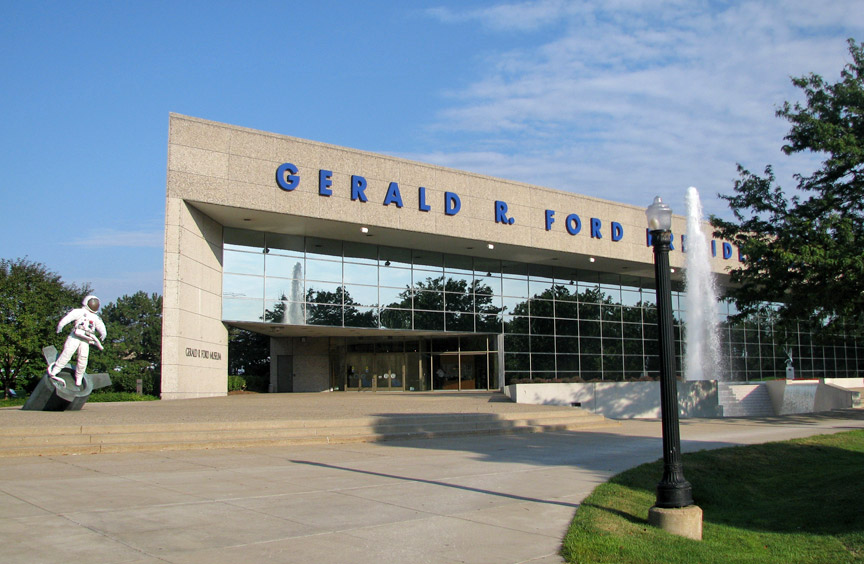 Although the ship was not damaged by Japanese forces, the Monterey was one of several ships damaged by the typhoon that hit Admiral William Halsey's Third Fleet on December 18–19, 1944. The Third Fleet lost three destroyers and over 800 men during the typhoon. The Monterey was damaged by a fire, which was started by several of the ship's aircraft tearing loose from their cables and colliding on the hanger deck. During the storm, Ford narrowly avoided becoming a casualty himself. As he was going to his battle station on the bridge of the ship in the early morning of December 18, the ship rolled twenty-five degrees, which caused Ford to lose his footing and slide toward the edge of the deck. The two-inch steel ridge around the edge of the carrier slowed him enough so he could roll, and he twisted into the catwalk below the deck. As he later stated, "I was lucky; I could have easily gone overboard."

Because of the extent of the fires, Admiral Halsey ordered Captain Ingersoll to abandon ship. Instead Captain Ingersoll ordered Ford to lead a fire brigade below. After five hours he and his team had put out the fire.

After the fire the Monterey was declared unfit for service, and the crippled carrier reached Ulithi on December 21 before proceeding across the Pacific to Bremerton, Washington where it underwent repairs. On December 24, 1944 at Ulithi, Ford was detached from the ship and sent to the Athletic Department of the Navy Pre-Flight School at Saint Mary's College of California, where he was assigned to the Athletic Department until April 1945. One of his duties was to coach football. From the end of April 1945 to January 1946, he was on the staff of the Naval Reserve Training Command, Naval Air Station, Glenview, Illinois as the Staff Physical and Military Training Officer. On October 3, 1945 he was promoted to Lieutenant Commander. In January 1946, he was sent to the Separation Center, Great Lakes to be processed out. He was released from active duty under honorable conditions on February 23, 1946. On June 28, 1946, the Secretary of the Navy accepted Ford's resignation from the Naval Reserve.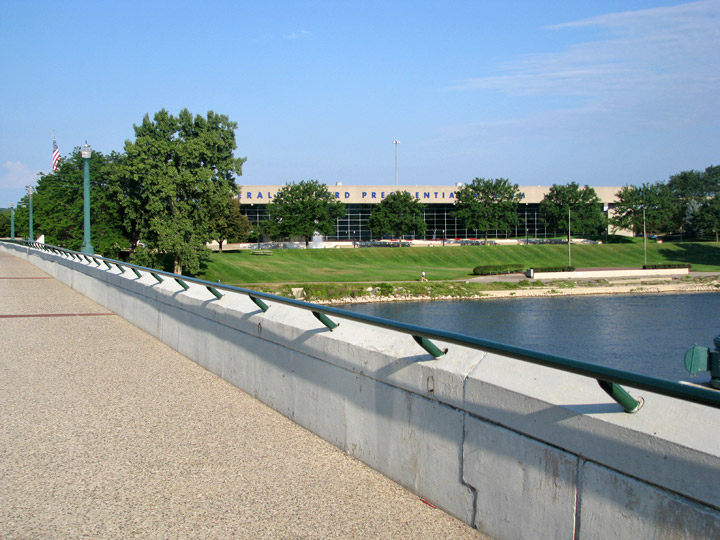 For his naval service, Gerald Ford earned the Asiatic-Pacific Campaign Medal with nine engagement stars for operations in the Gilbert Islands, Bismarck Archipelago, Marshall Islands, Asiatic and Pacific carrier raids, Hollandia, Marianas, Western Carolines, Western New Guinea, and the Leyte Operation. He also received the Philippine Liberation Medal with two bronze stars for Leyte and Mindoro, as well as the American Campaign and World War II Victory medals.

Ford was a member of several civic organizations, including the Benevolent and Protective Order of Elks, American Legion, Veterans of Foreign Wars, and AMVETS.Gerald R. Ford was initiated into Freemasonry on September 30, 1949. He later said in 1975, "When I took my obligation as a master mason — incidentally, with my three younger brothers — I recalled the value my own father attached to that order. But I had no idea that I would ever be added to the company of the Father of our Country and 12 other members of the order who also served as Presidents of the United States."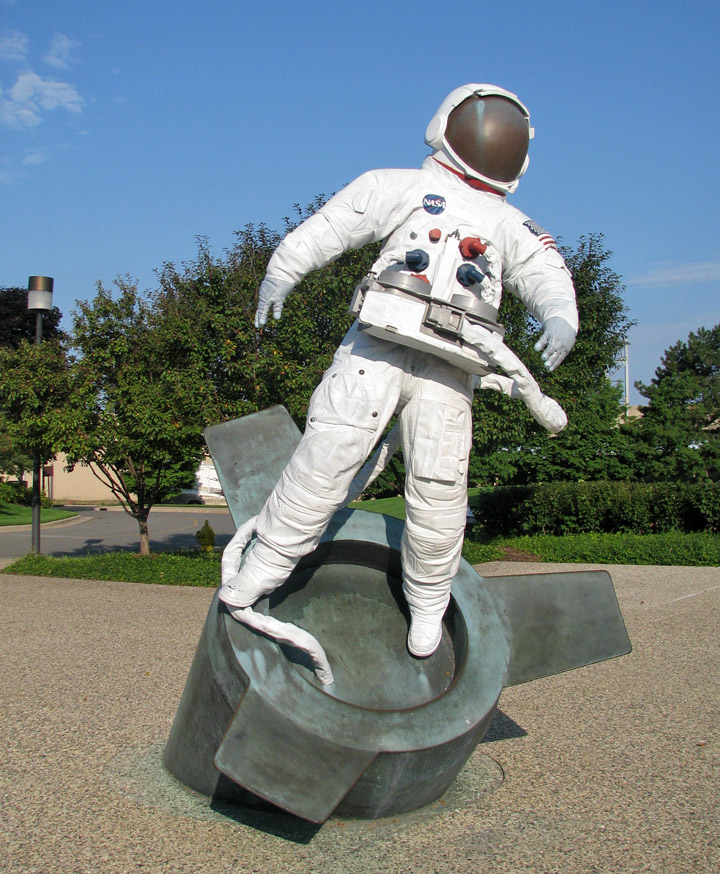 space exploration
On October 15, 1948, at Grace Episcopal Church in Grand Rapids, Ford married Elizabeth Bloomer Warren, a department store fashion consultant. Warren had been a John Robert Powers fashion model and a dancer in the auxiliary troupe of the Martha Graham Dance Company. She had previously been married to and divorced from William G. Warren.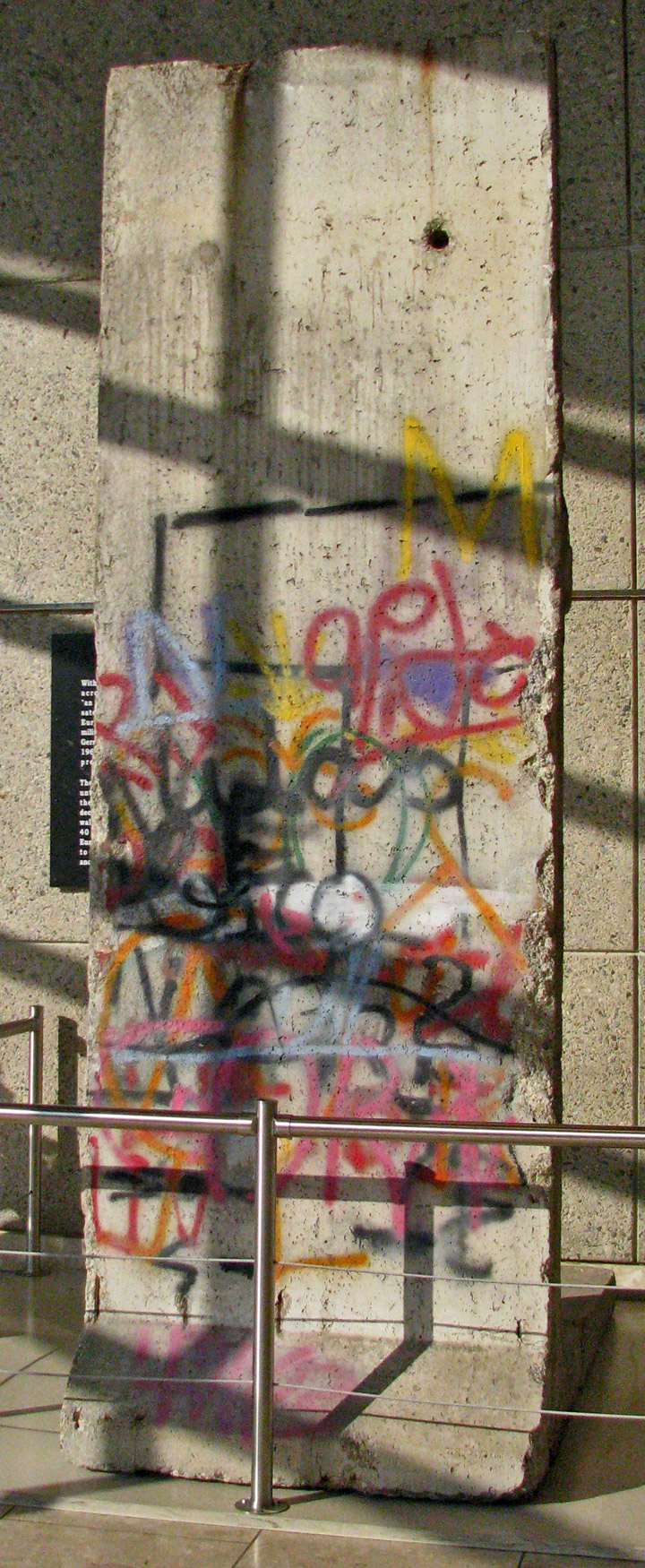 segment of the Berlin Wall
At the time of his engagement, Ford was campaigning for what would be his first of thirteen terms as a member of the United States House of Representatives. The wedding was delayed until shortly before the elections because, as The New York Times reported in a 1974 profile of Betty Ford, "Jerry was running for Congress and wasn't sure how voters might feel about his marrying a divorced ex-dancer."

After returning to Grand Rapids, Ford became active in local Republican politics, and supporters urged him to take on Bartel J. Jonkman, the incumbent Republican congressman. Military service had changed his view of the world; "I came back a converted internationalist", Ford wrote, "and of course our congressman at that time was an avowed, dedicated isolationist. And I thought he ought to be replaced. Nobody thought I could win. I ended up winning two to one." During his first campaign in 1948, Ford visited farmers and promised he would work on their farms and milk the cows if elected—a promise he fulfilled. In 1961, the U.S. House membership voted Ford a special award as a "Congressman's Congressman" that praised his committee work on military budgets.

Ford was a member of the House of Representatives for twenty-four years, holding the Grand Rapids congressional district seat from 1949 to 1973. It was a tenure largely notable for its modesty. As an editorial in The New York Times described him, Ford "saw himself as a negotiator and a reconciler, and the record shows it: he did not write a single piece of major legislation in his entire career." Appointed to the House Appropriations Committee two years after being elected, he was a prominent member of the Defense Appropriations Subcommittee. Ford described his philosophy as "a moderate in domestic affairs, an internationalist in foreign affairs, and a conservative in fiscal policy."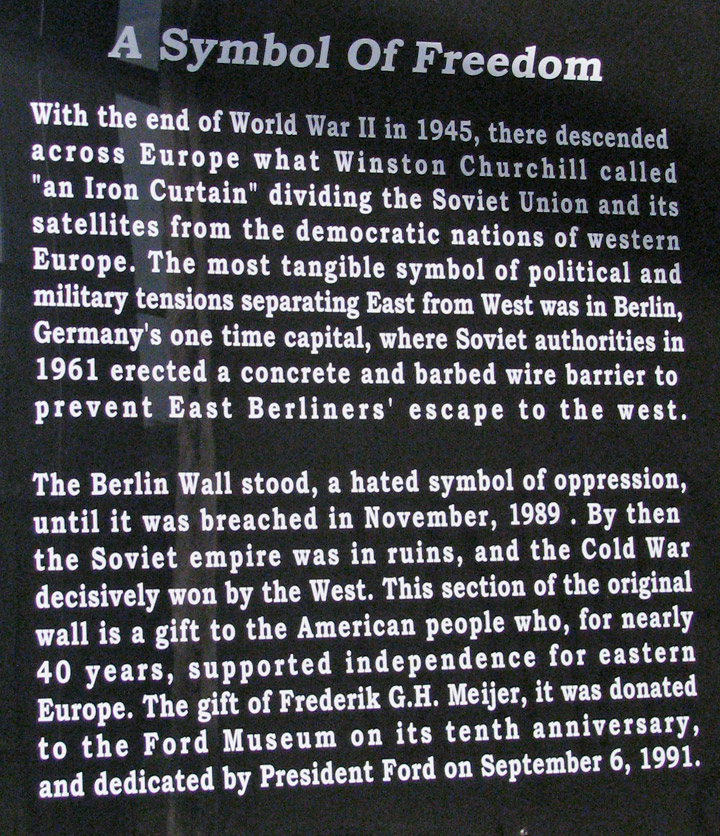 In November 1963, President Lyndon B. Johnson appointed Ford to the Warren Commission, a special task force set up to investigate the assassination of President John F. Kennedy. Ford was assigned to prepare a biography of Lee Harvey Oswald, the accused assassin. The Commission's work continues to be debated in the public arena.

According to newly released records from Ford's FBI files, he secretly advised the FBI that two of his fellow members on the Warren Commission doubted the FBI's conclusion that John F. Kennedy was shot from the sixth floor of the Texas Book Depository in Dallas. A 1963 FBI memo that said Ford, then a Republican congressman from Michigan, had volunteered to keep the FBI informed about the panel's private deliberations, but only if that relationship remained confidential. The bureau agreed. Ford generally believed in single bullet and single assassin theory.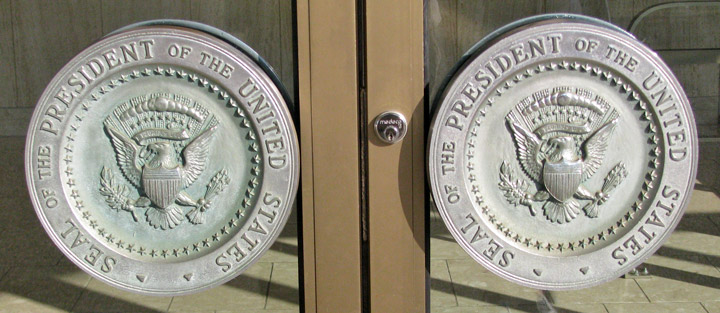 According to the same reports, Ford generally had a strong ties to FBI and J. Edgar Hoover.

In 1965, Republican members of the House elected Ford as its Minority Leader. During the eight years (1965–1973) he served as Minority Leader, Ford won many friends in the House because of his fair leadership and inoffensive personality. But President Johnson disliked Ford for the congressman's frequent attacks on the administration's "Great Society" programs as being unneeded or wasteful, and for his criticism of the President's handling of the Vietnam War. As Minority Leader in the House, Ford appeared in a popular series of televised press conferences with famed Illinois Senator Everett Dirksen, in which they proposed Republican alternatives to Johnson's policies. Many in the press jokingly called this "The Ev and Jerry Show". Johnson said of Ford at the time, "That Gerald Ford. He can't fart and chew gum at the same time." The press, used to sanitizing LBJ's salty language, reported this as "Gerald Ford can't walk and chew gum at the same time."

On October 10, 1973, Vice President Spiro Agnew resigned the Nixon administration and then pleaded no contest to criminal charges of tax evasion and money laundering, part of a negotiated resolution to a scheme wherein he accepted $29,500 in bribes while governor of Maryland. According to The New York Times, "Nixon sought advice from senior Congressional leaders about a replacement. The advice was unanimous. 'We gave Nixon no choice but Ford,' House Speaker Carl Albert recalled later".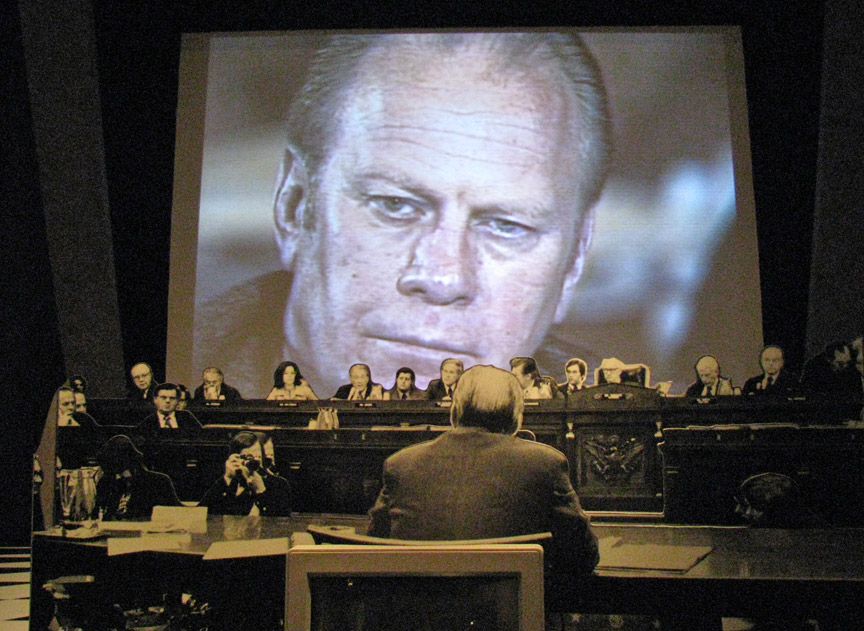 exhibit of hearing for vice-presidential vacancy confirmation
Ford was nominated to take Agnew's position on October 13, the first time the vice-presidential vacancy provision of the 25th Amendment had been implemented. The United States Senate voted 92 to 3 to confirm Ford on November 27. Only three Senators, all Democrats, had voted against Ford's confirmation: Gaylord Nelson of Wisconsin, Thomas Eagleton of Missouri and William Hathaway of Maine. On December 6, the House confirmed Ford by a vote of 387 to 35. One hour after the confirmation vote in the House, Ford took the oath of office as Vice President of the United States.

Ford's tenure as Vice President was little noted by the media. Instead, reporters were preoccupied by the continuing revelations about criminal acts during the 1972 presidential election and allegations of cover-ups within the White House. Ford said little about the Watergate scandal, although he privately expressed his personal disappointment in the President's conduct.

Following Ford's appointment, the Watergate investigation continued until Chief of Staff Alexander Haig contacted Ford on August 1, 1974, and told him that "smoking gun" evidence had been found. The evidence left little doubt that President Nixon had been a part of the Watergate cover-up. At the time, Ford and his wife, Betty, were living in suburban Virginia, waiting for their expected move into the newly designated vice president's residence in Washington, D.C. However, "Al Haig [asked] to come over and see me," Ford later related, "to tell me that there would be a new tape released on a Monday, and he said the evidence in there was devastating and there would probably be either an impeachment or a resignation. And she said, 'I'm just warning you that you've got to be prepared, that things might change dramatically and you could become President.' And I said, 'Betty, I don't think we're ever going to live in the vice president's house.'"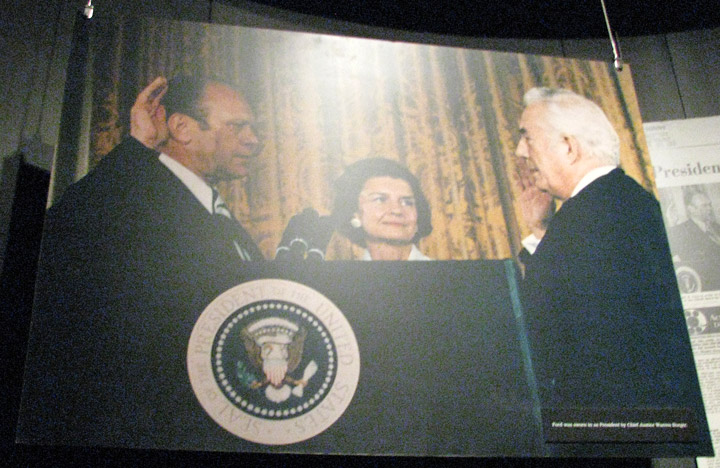 taking the oath of office in the East Room of the White House
When Nixon resigned in the wake of the Watergate scandal on August 9, 1974, Ford assumed the presidency, making him the only person to assume the vice-presidency and the presidency without having been voted into either office. Immediately after taking the oath of office in the East Room of the White House, he spoke to the assembled audience in a speech broadcast live to the nation. Ford noted the peculiarity of his position: "I am acutely aware that you have not elected me as your president by your ballots, and so I ask you to confirm me as your president with your prayers."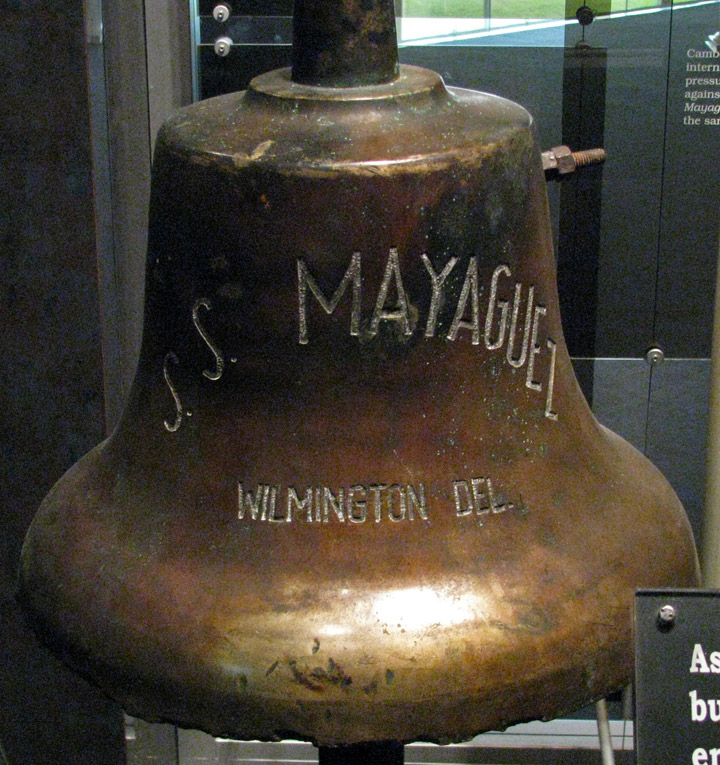 bell of the Mayaguez
the ship incident being one of the tough military moments of his Presidency
I have not sought this enormous responsibility, but I will not shirk it. Those who nominated and confirmed me as Vice President were my friends and are my friends. They were of both parties, elected by all the people and acting under the Constitution in their name. It is only fitting then that I should pledge to them and to you that I will be the President of all the people.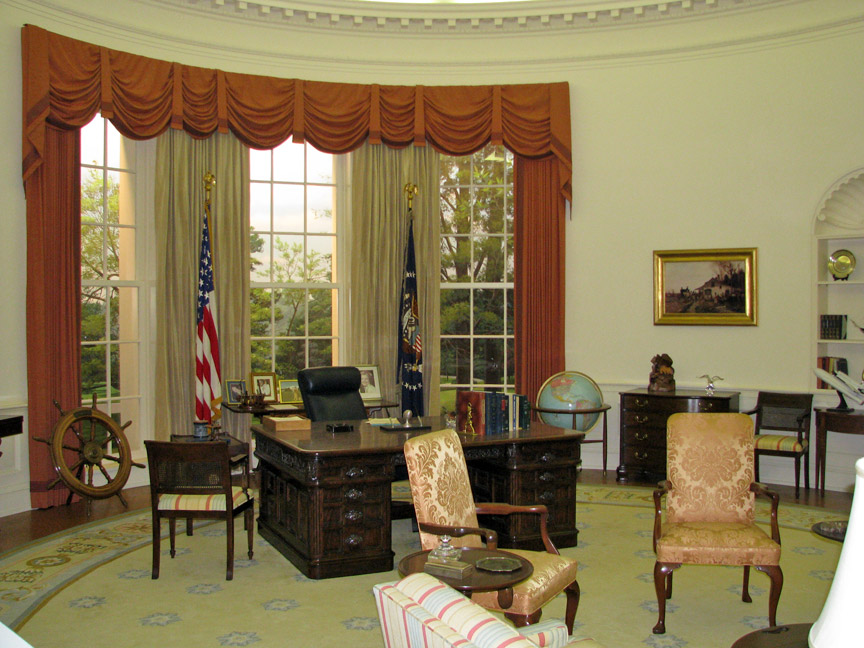 how Ford's Oval Office in the White House was arranged
A portion the speech would later be memorialized with a plaque at the entrance to his presidential museum.

On August 20 Ford nominated former New York Governor Nelson Rockefeller to fill the vice presidency he had vacated. Rockefeller's top competitor had been George H.W. Bush. Rockefeller underwent extended hearings before Congress, which caused embarrassment when it was revealed he made massive gifts to senior aides, such as Henry Kissinger. Although conservative Republicans were not pleased that Rockefeller was picked, most of them did vote for his confirmation, and his nomination passed both the house and senate. However, some, including Barry Goldwater, voted against him.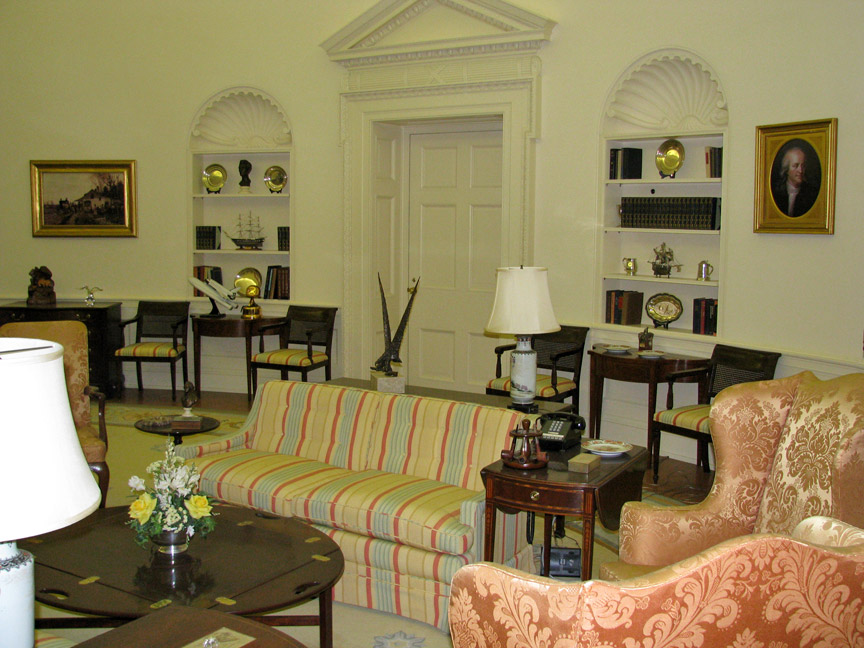 Betty's decorating touch to the Oval Office
On September 8, 1974, Ford issued Proclamation 4311, which gave Nixon a full and unconditional pardon for any crimes he may have committed against the United States while President. In a televised broadcast to the nation, Ford explained that he felt the pardon was in the best interests of the country, and that the Nixon family's situation "is a tragedy in which we all have played a part. It could go on and on and on, or someone must write the end to it. I have concluded that only I can do that, and if I can, I must." At the same time as he announced the Nixon pardon, Ford introduced a conditional amnesty program for Vietnam War draft dodgers who had fled to countries such as Canada. Unconditional amnesty, however, did not come about until the Jimmy Carter Presidency.

The Nixon pardon was highly controversial. Critics derided the move and claimed, a "corrupt bargain" had been struck between the men. They claimed Ford's pardon was quid pro quo, in exchange for Nixon's resignation that elevated Ford to the Presidency. Nixon's Chief of Staff, Alexander Haig, did in fact offer a deal to Ford. Bob Woodward, in his book Shadow, recounts that Haig entered Ford's office on August 1, 1974 while Ford was still Vice President and Nixon had yet to resign. Haig told Ford that there were three pardon options: (1) Nixon could pardon himself and resign; (2) Nixon could pardon his aides involved in Watergate and then resign; or (3) Nixon could agree to leave in return for an agreement that the new president would pardon him. After listing these options, Haig handed Ford various papers; one of these papers included a discussion of the president's legal authority to pardon, and another sheet was a draft pardon form that only needed Ford's signature and Nixon's name to make it legal. Woodward summarizes the setting between Haig and Ford as follows: "Even if Haig offered no direct words on his views, the message was almost certainly sent. An emotional man, Haig was incapable of concealing his feelings; those who worked closely with him rarely found him ambiguous."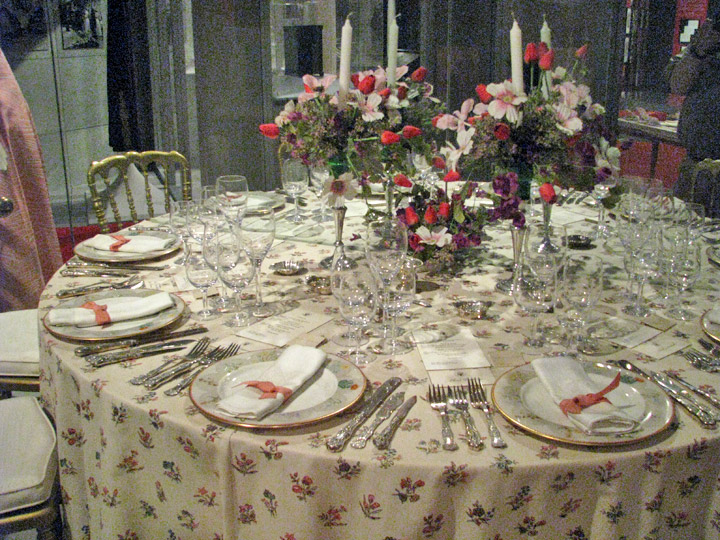 White House table service
Despite the situation, Ford never accepted the offer from Haig, and later decided to pardon Nixon on his own terms. Regardless, historians believe the controversy was one of the major reasons Ford lost the election in 1976, an observation with which Ford concurred. In an editorial at the time, The New York Times stated that the Nixon pardon was "a profoundly unwise, divisive and unjust act" that in a stroke had destroyed the new president's "credibility as a man of judgment, candor and competence."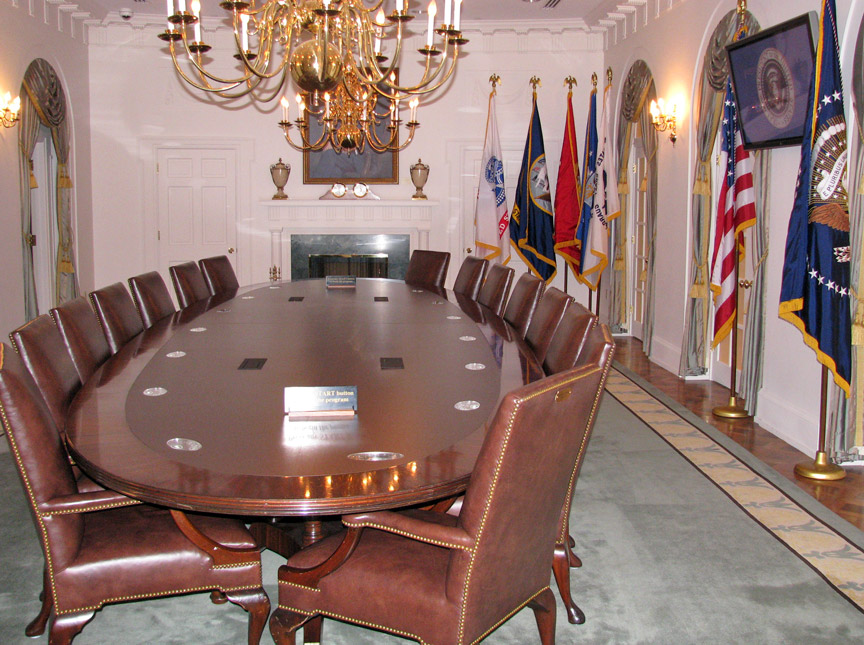 cabinet room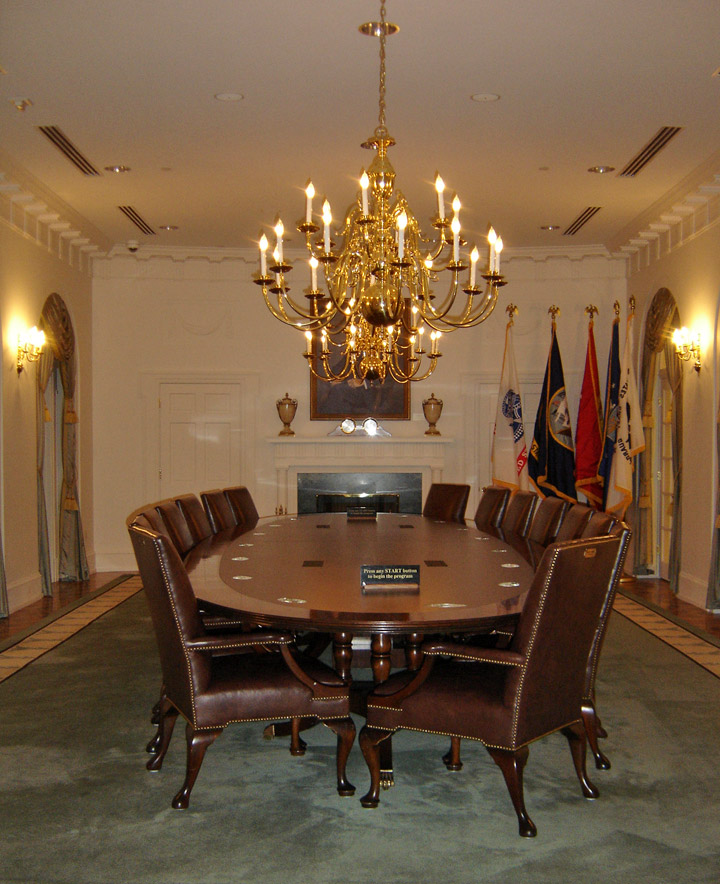 Ford's first press secretary and close friend Jerald Franklin terHorst resigned his post in protest after the announcement of President Nixon's full pardon. Ford also voluntarily appeared before Congress on October 17, 1974 to give sworn testimony—the only time a sitting president has done so—about the pardon.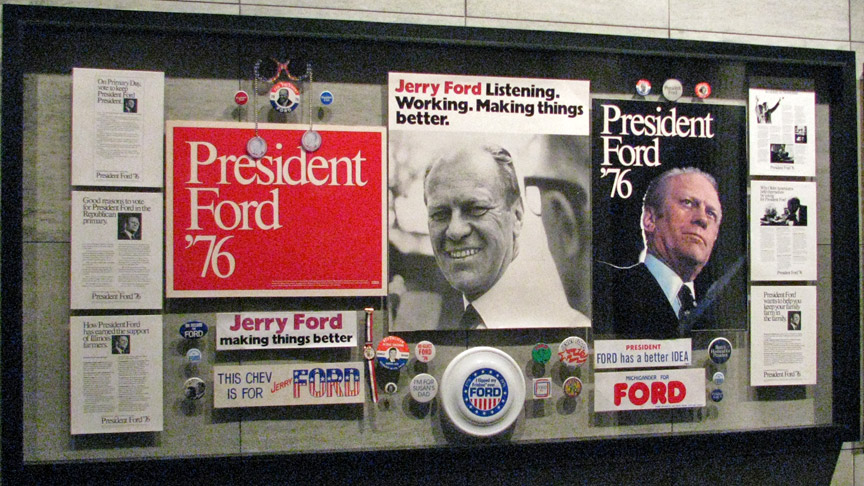 Ford's reelection campaign
After Ford left the White House in 1977, intimates said that the former President privately justified his pardon of Nixon by carrying in his wallet a portion of the text of Burdick v. United States, a 1915 U.S. Supreme Court decision which stated that a pardon indicated a presumption of guilt, and that acceptance of a pardon was tantamount to a confession of that guilt. In 2001, the John F. Kennedy Library Foundation awarded the John F. Kennedy Profile in Courage Award to Ford for his pardon of Nixon.
Text from Wikipedia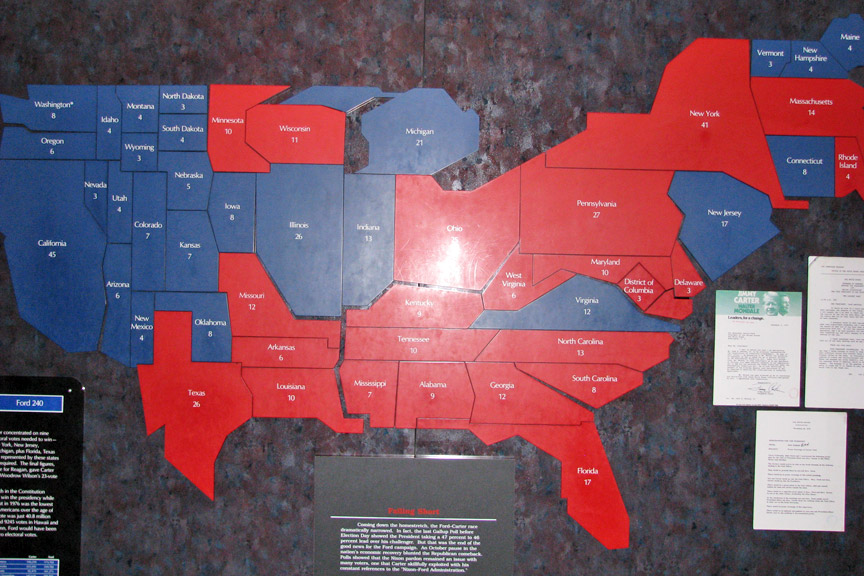 Falling Short to Jimmy Carter in reelection bid
---
---