Dams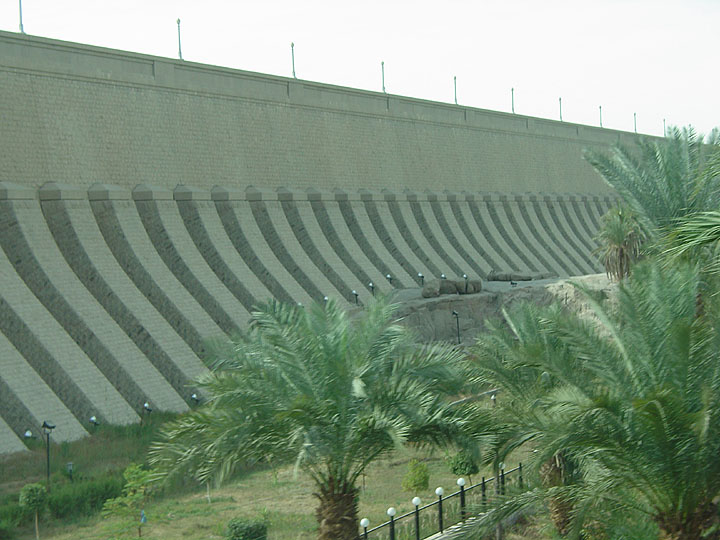 the dam built between 1898 and 1902
"Egypt is the gift of the Nile," wrote the Greek historian Herodotus in the fifth century B.C. For thousands of years the Nile River overflowed its banks every spring. No other country owes its very existence to a single lifeline.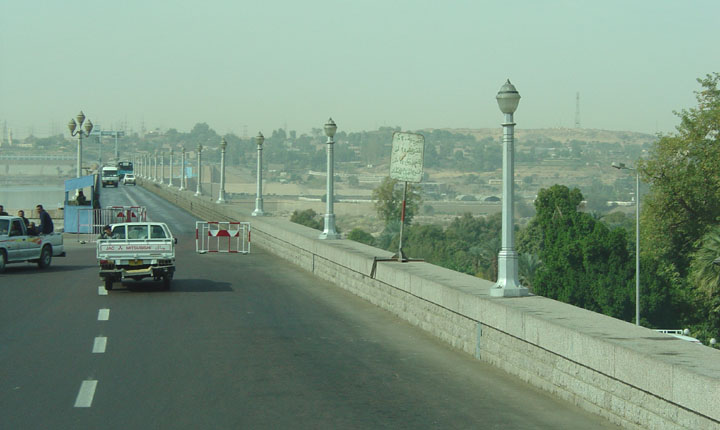 the roadway over the dam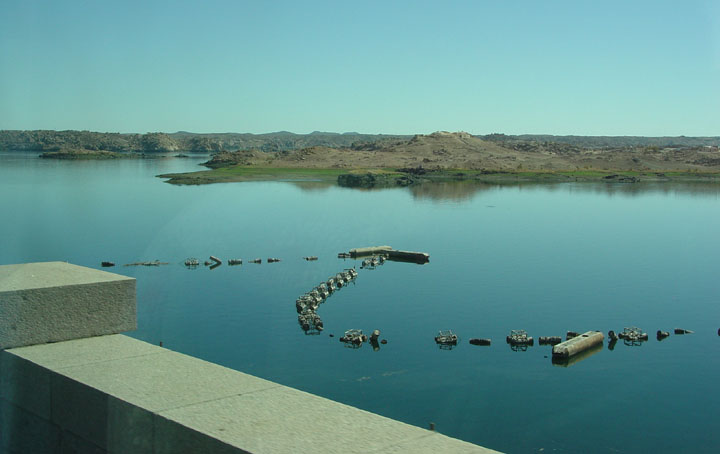 South showing the damned up water
The annual cycle in which the Nile flood deposits layers of silt at the rate of several centimeters per century built the highly fertile Nile Delta in the north of Egypt and the Nile Valley in the south. The Nile flood normally begins in August and ends in October, originating as rainfall on the Ethiopian highlands and melting snow in the Mountains of the Moon, on the Uganda-Zaire border.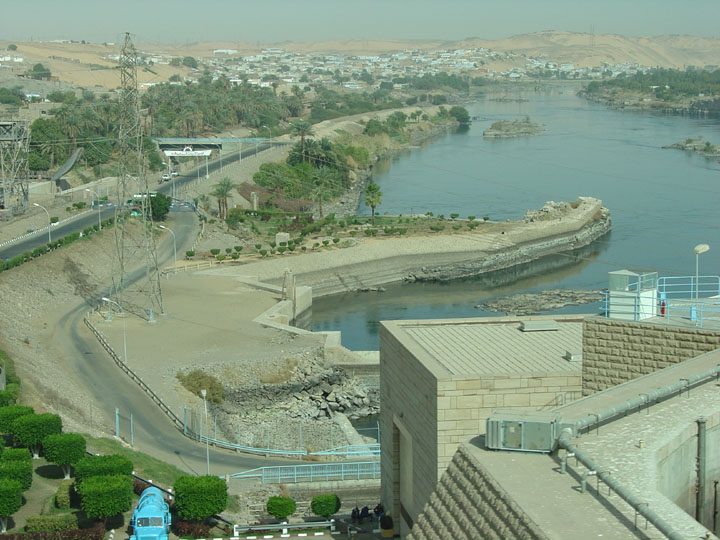 looking North from the old dam
6 Km away of the High Dam lies the older Aswan Dam . It was originally built by the British between 1898 and 1902. The Old Dam was enlarged twice in the early part of this century. However it proved insufficient for Egypt's perceived needs .lt had to be opened annually to allow the flood waters of the Nile through. It was however modernized in 1960, and is also producing electricity.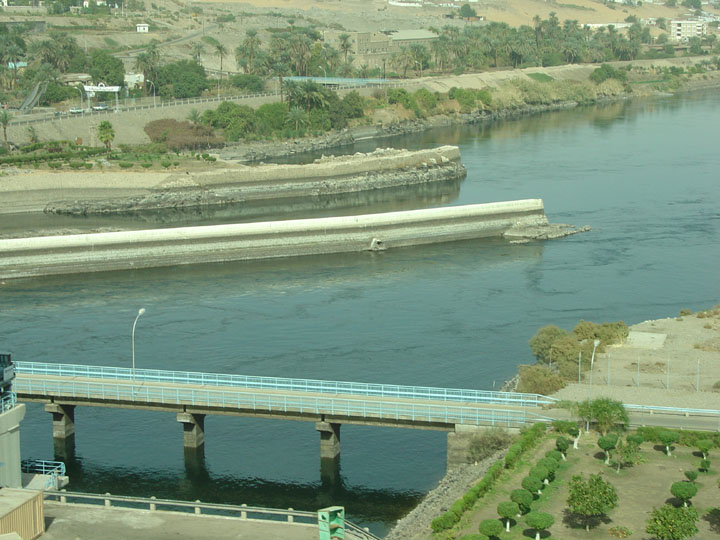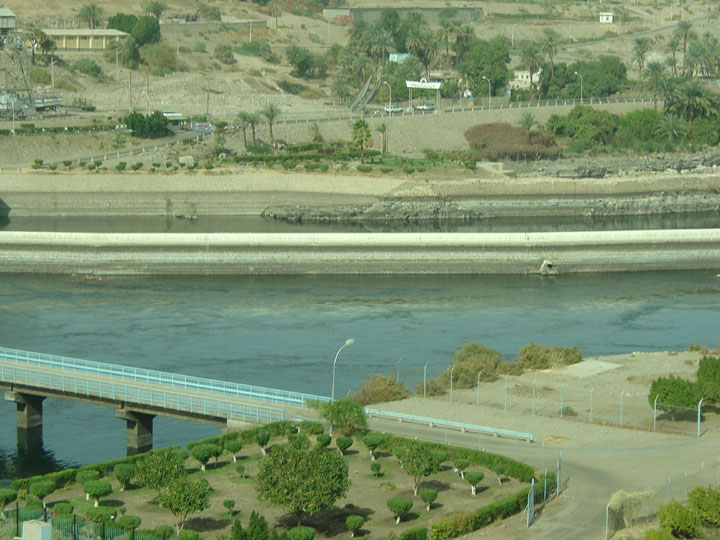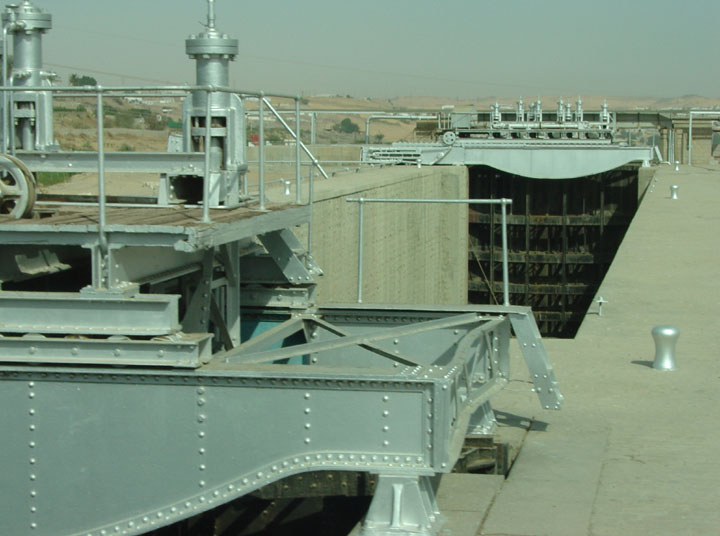 the old locks
(no longer functioning)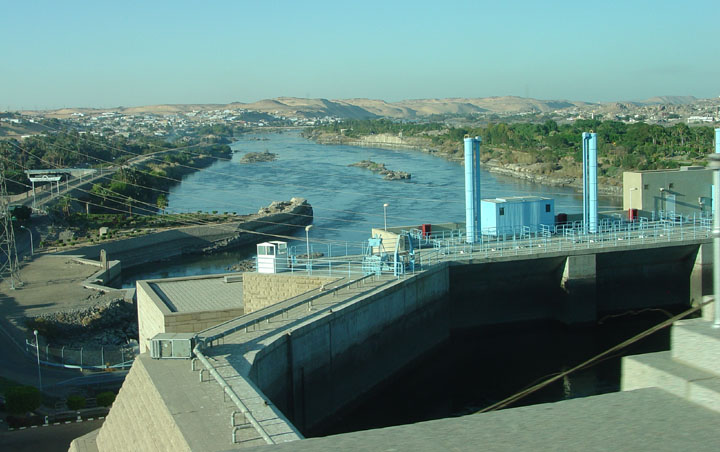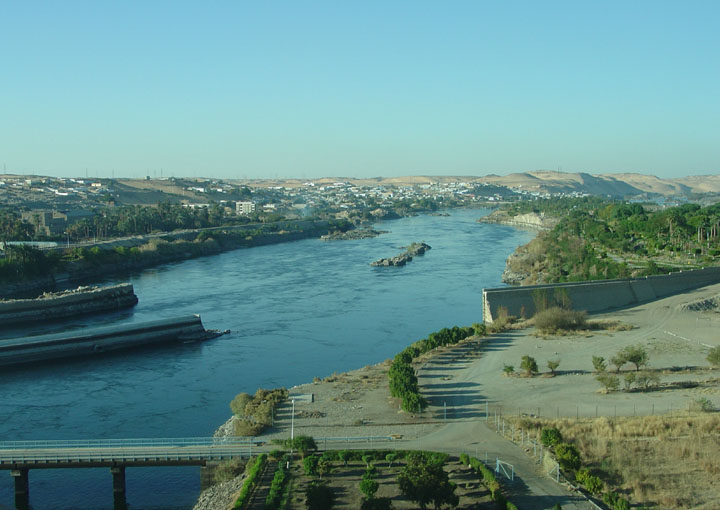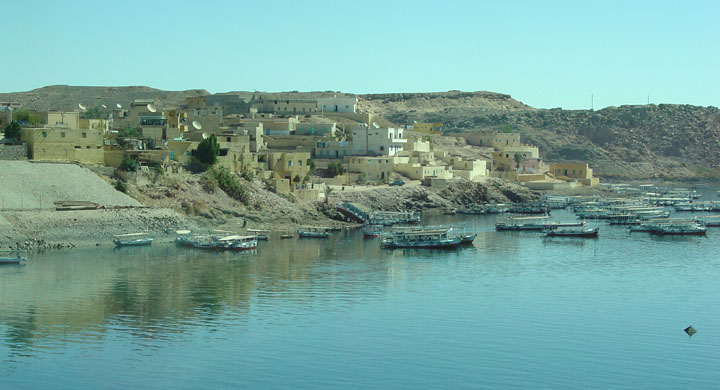 ---
The High Dam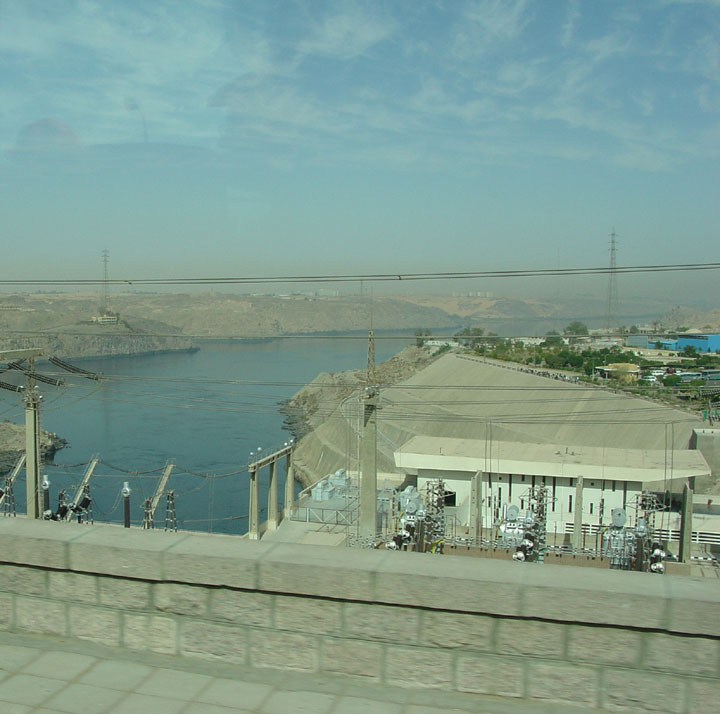 looking North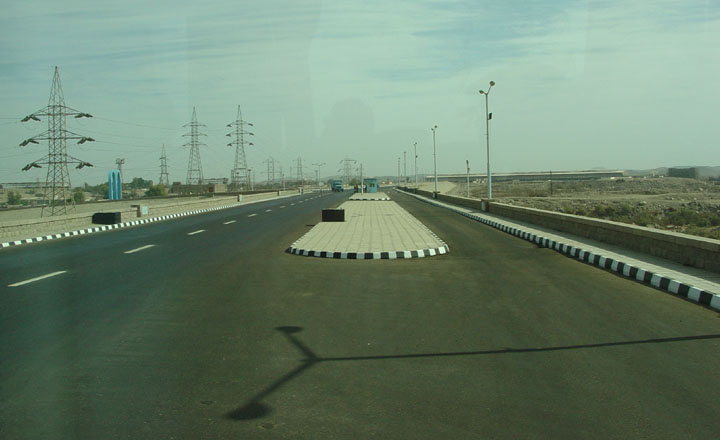 roadway across the high dam
The construction of the Aswan High Dam started in 1960, and fully finished 10 years later. The High Dam became an expression of political tensions in those days - financed by the help of the Soviet Union, a few years after the war inflicted upon Egypt by Israel, France and Britain.. The Soviet Union provided 400 technicians for the work. Since 1970, the Aswan Dam has controlled the annual flood. By holding back water, the Aswan Dam created the world's largest man-made lake: Lake Nasser, in honor of the president Gamal Abdel Nasser, who died the year the dam was finished.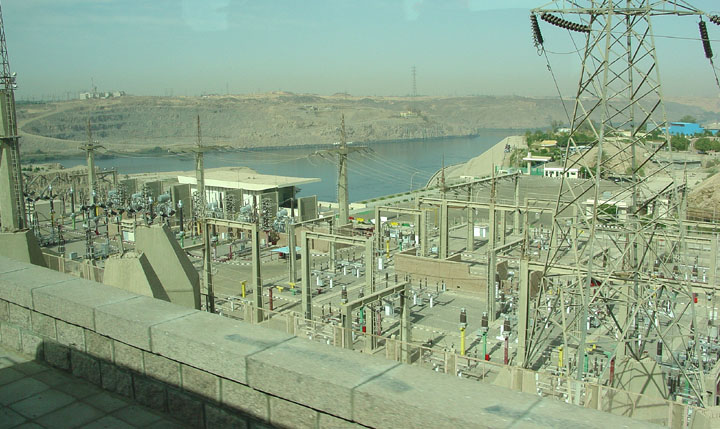 electrical generating station
The embankment is 11 meters high, with a width of near 1,000 meters. Lake Nasser is 480 km long and up to 16 km wide. The power station has a yearly output capacity of 2.1 gigawatts, but the full capacity cannot be exploited due to a lower water level in Lake Nasser than the full capacity.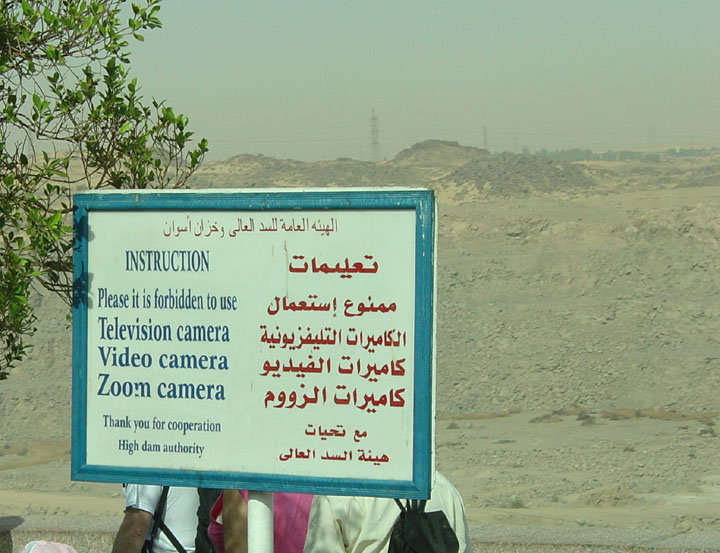 security rules
The water from Lake Nasser provided new fishing areas and provides much needed water for agriculture. It also makes it possible to grow an extra crop each year by holding back the summer flood that covers the banks of the Nile River.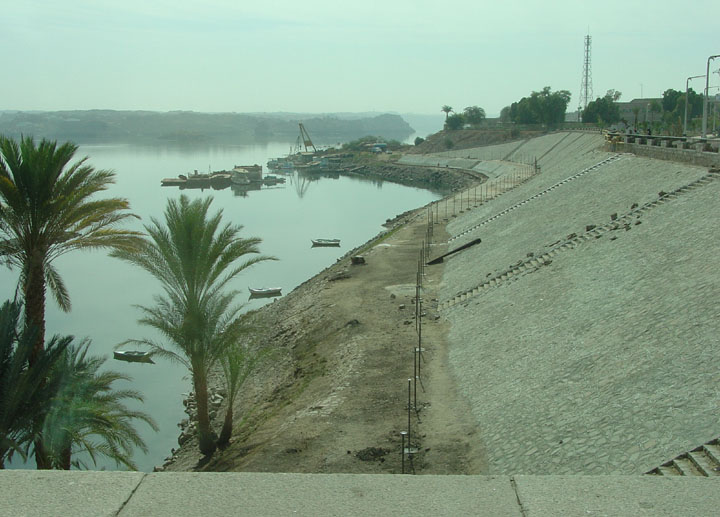 The construction of the High Dam is considered the greatest public work to be undertaken in Egypt since the pyramids. It has been an unquestionably tremendous boon to Egyptian agriculture and has benefited industry by providing cheap electric power.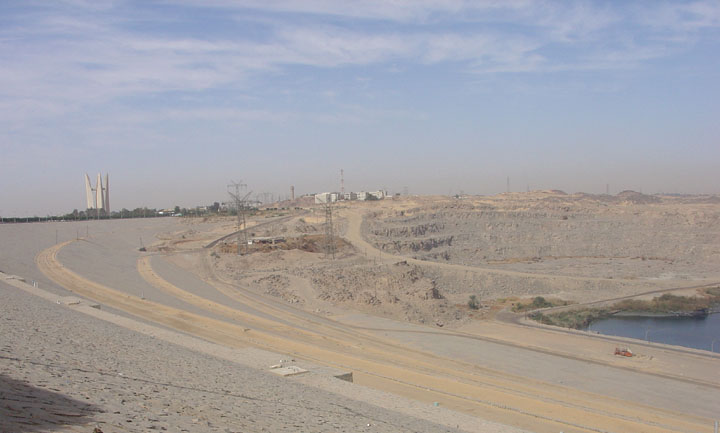 the partially unfilled lake
(the monument tower on the left)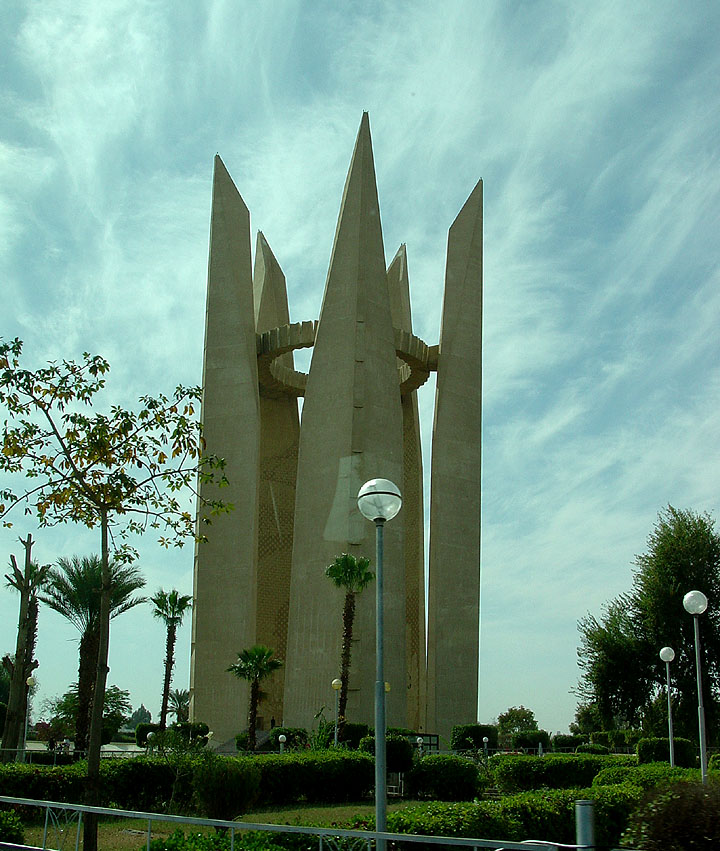 stone monument honoring Soviet - Egyptian friendship and cooperation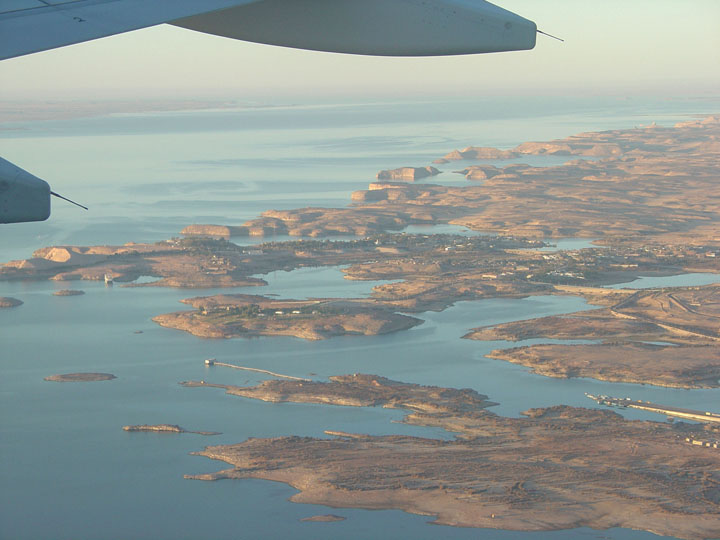 Lake Nasser
(as seen from the plane to Abu Simbel)
---
---