On the Nile river in Egypt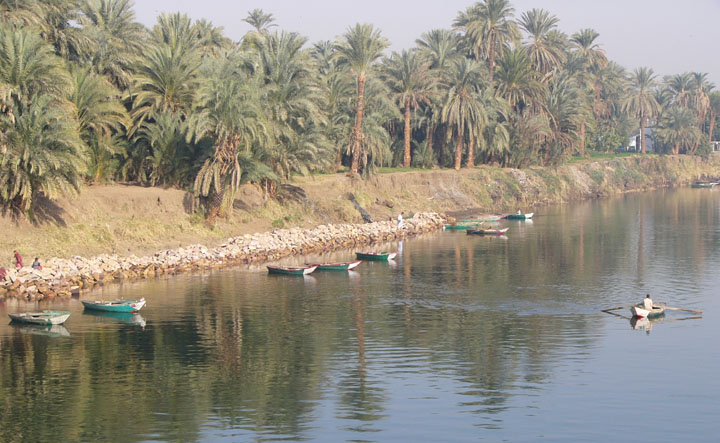 dates from palm trees and fish from the Nile river sustain the people
Egypt was blessed by the Nile in many different ways. Because of the Nile Egypt became one of the great cradles of world civilization. The Nile provided the people that moved to it's valley in the year 5000 BC water to drink, irrigation water, farming opportunity, fish and waterfowl for food, papyrus reeds grew on the banks of the Nile and they were used for boats and for houses. these reeds also allowed the ancient Egyptians to make paper on which to write important documents.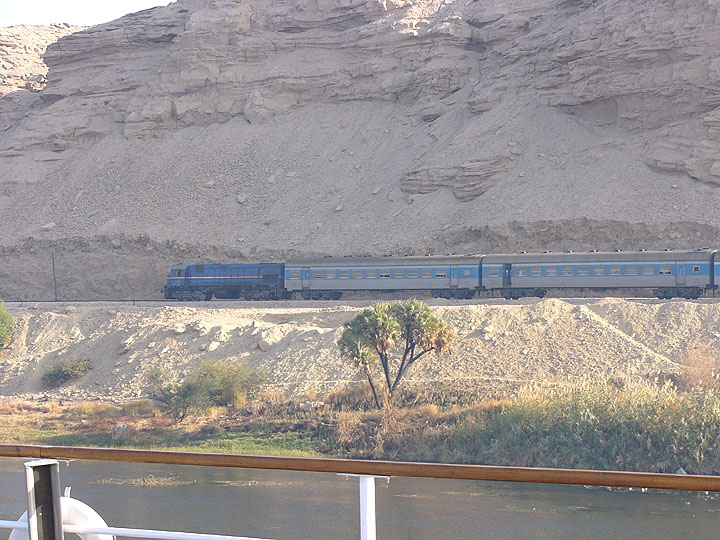 transportation is by boats on the Nile or trains on the banks
It was in the delta region of the Nile that the Israelites settled when they first entered Egypt and it was from that area that the Exodus was conducted. The delta area would have provided plenty of water for the crops needed to produce sufficient food reserves to overcome the 7-year famine that occurred at the time of Jacob's entry into Egypt.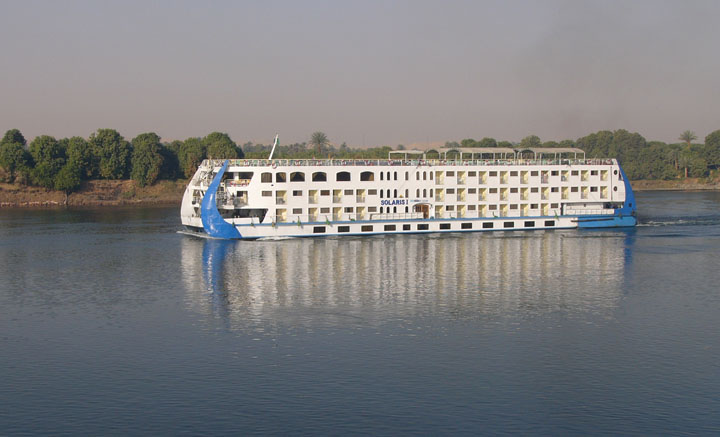 modern tourist river cruise boat
It was into the Nile River that the infant Moses was placed in a waterproof basket by his sister Miriam, and where he was found by the Pharaoh's daughter . A number of The Ten Plagues inflicted upon Pharaoh's kingdom and The Ancient before the Exodus involved the Nile, including turning the waters to blood.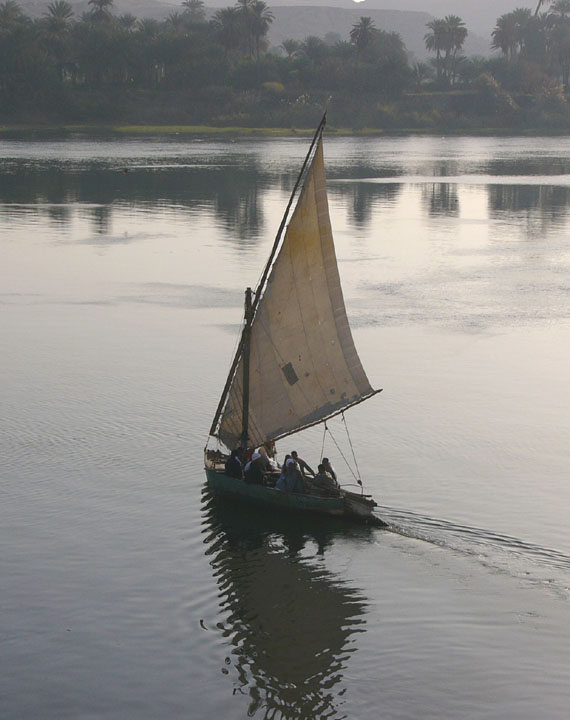 fellucca on the Nile river at sundown
The Nile river is the longest river in the world. It's 4,132 miles in length and 1,107,000 square-mile basin. It gets its name from the Greek word "Nelios", meaning River Valley.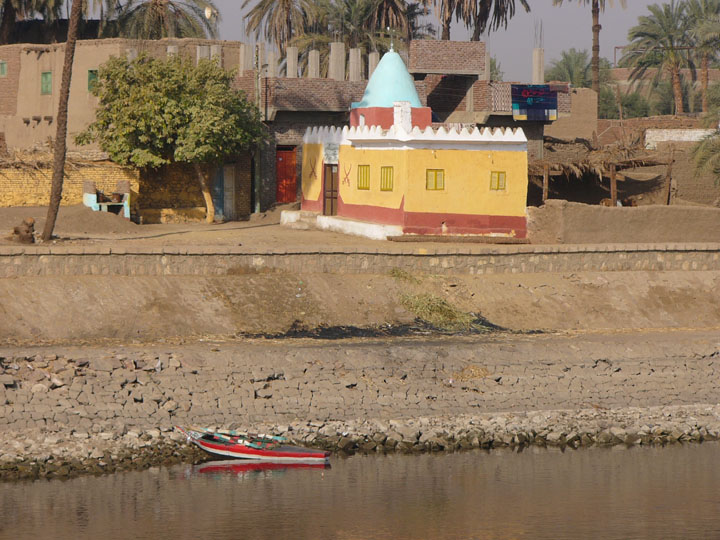 mosque along the river bank
It is made up of two rivers the White Nile and the Blue Nile. These rivers meet in Sudan and then go on their large journey. The white Nile is a lot bigger then the Blue Nile. it flows from south to north and is formed by three major tributaries: the White Nile, the Blue Nile and the Atbara.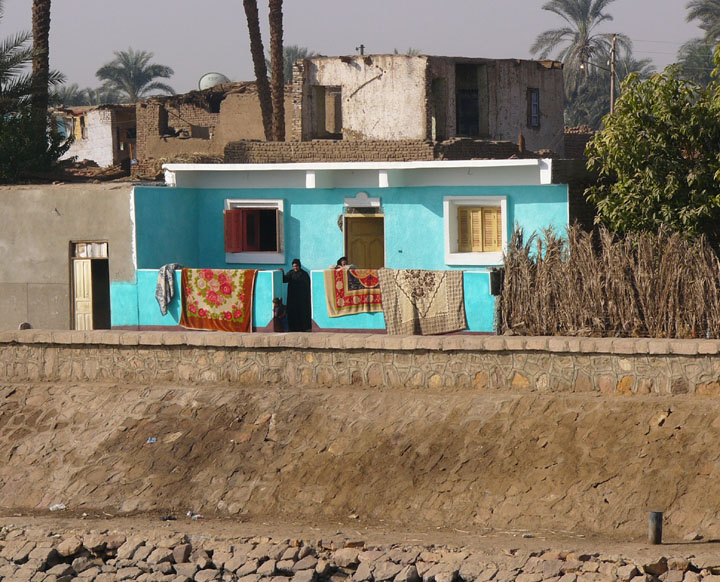 airing the carpets at a residence along the river
Sources of The White Nile are Lake Victoria, Uganda while for The Blue Nile it is Lake Tana, Ethiopia. The Nile and its tributaries flow though nine countries with an average discharge of about 300 million cubic meters per day. The White Nile flows though Uganda, Sudan, and Egypt. The Blue Nile starts in Ethiopia. Zaire, Kenya, Tanzanian, Rwanda, and Burundi all have tributaries, which flow into the Nile or into lake Victoria.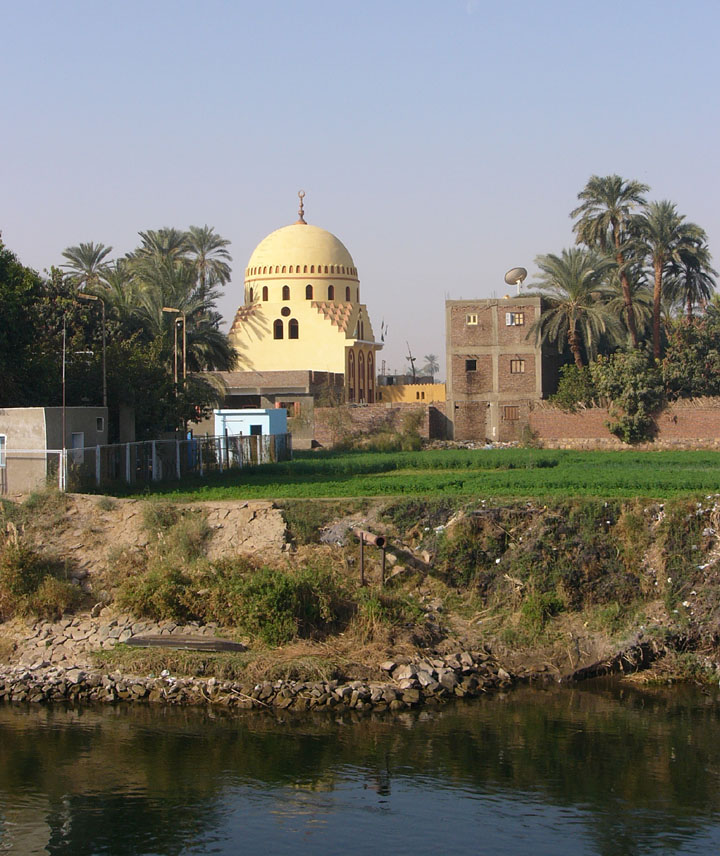 mosque and satellite dish for TV reception
The major cities that are located on the edge of the Nile and White Nile are: Cairo, Gondokoro, Khartoum, Aswan, Thebes/Luxor, Karnak, and the town of Alexandria lies near the Rosetta branch.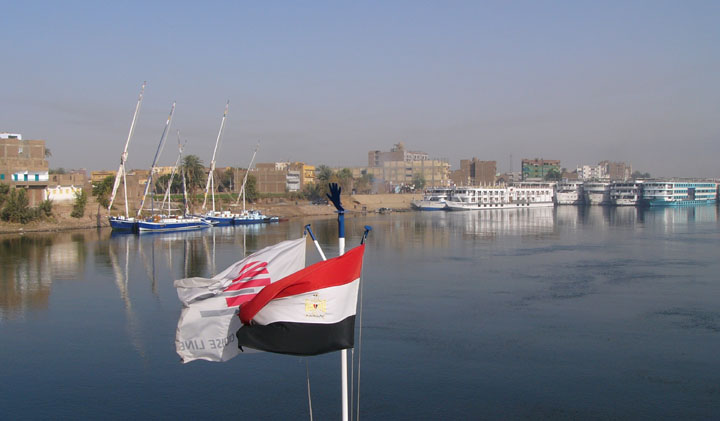 approaching Luxor
---
From Aswan to Luxor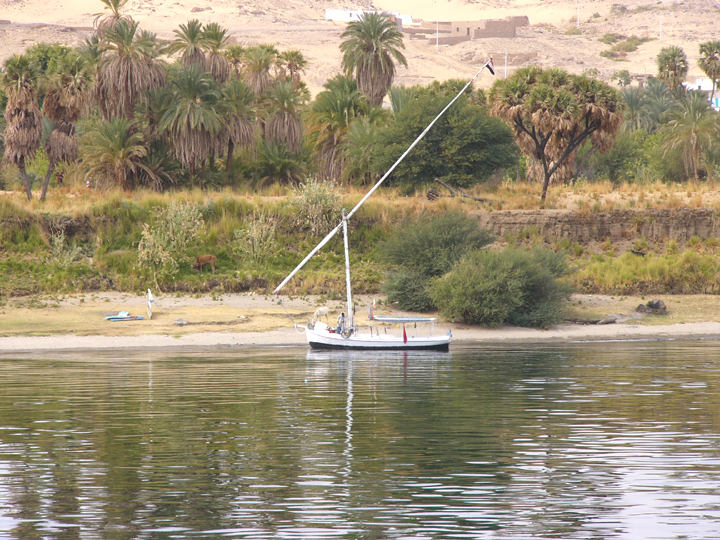 fellucca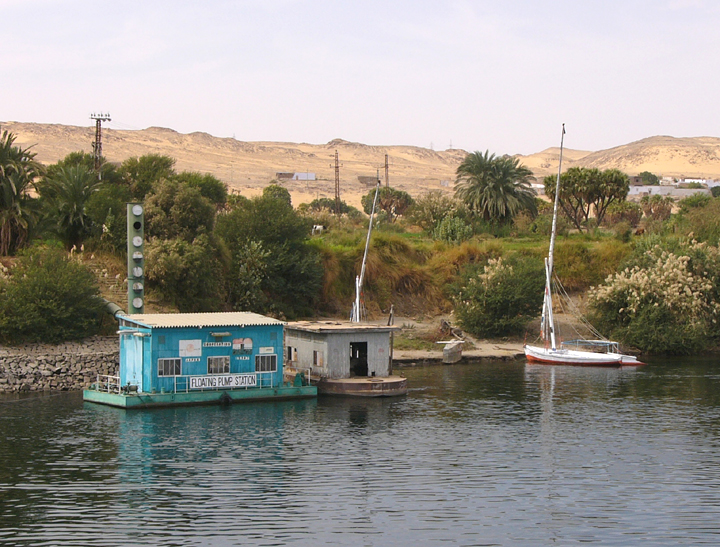 the oxen driven water wheels have been replaced by
"Floating Pump Stations" to provide water for the farm plots.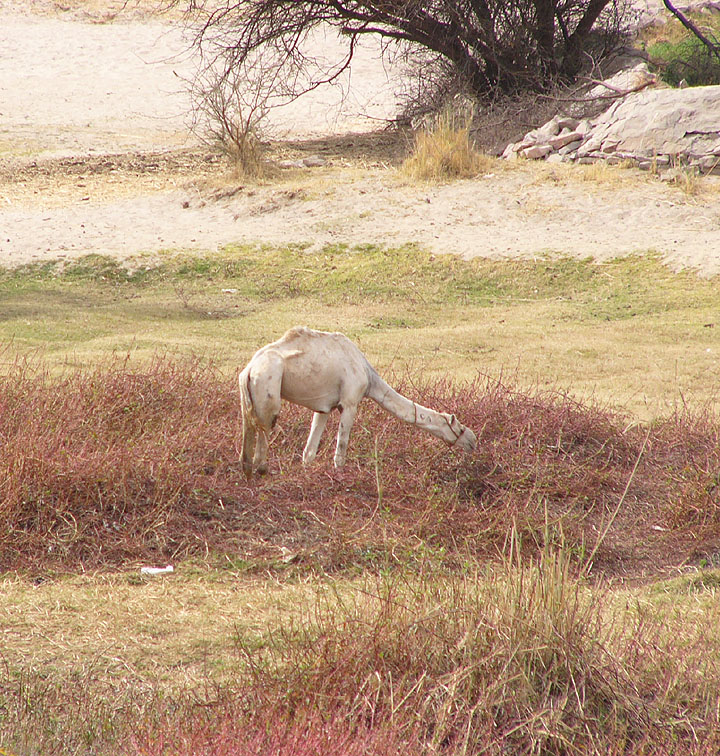 camel grazing

one of the modern bridges across the Nile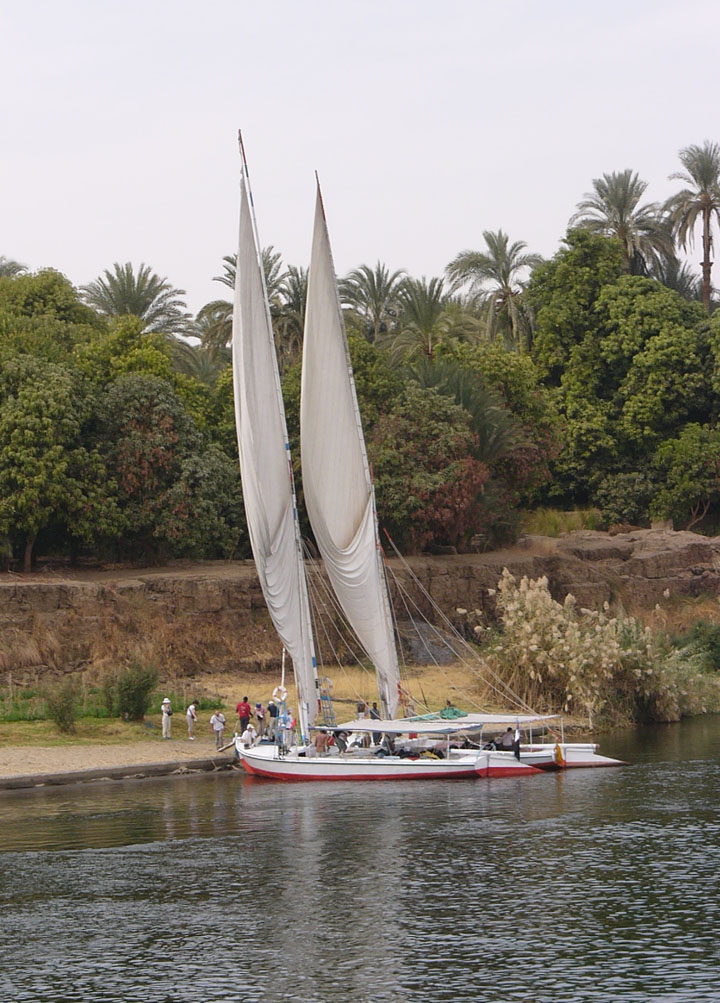 felluccas for providing Nile experienced for tourists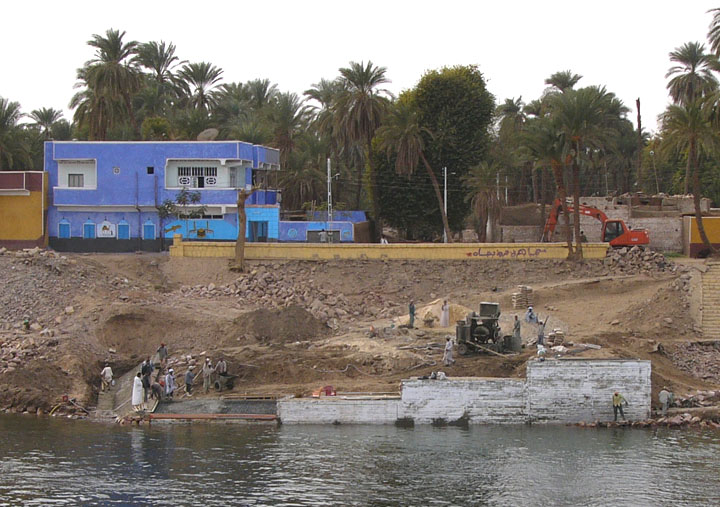 concrete mixer for building up the river wall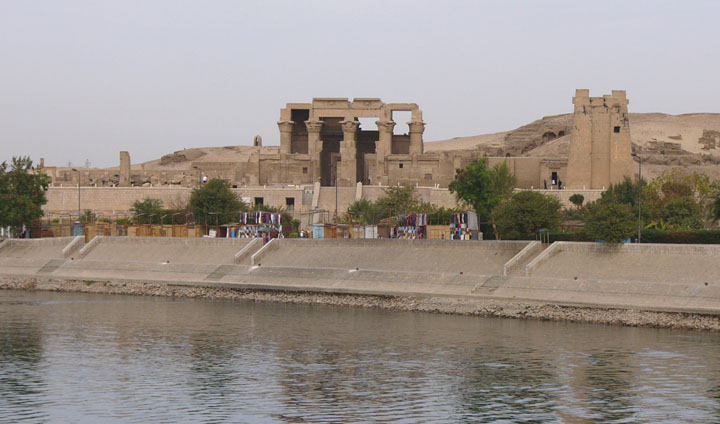 approaching Kom Ombo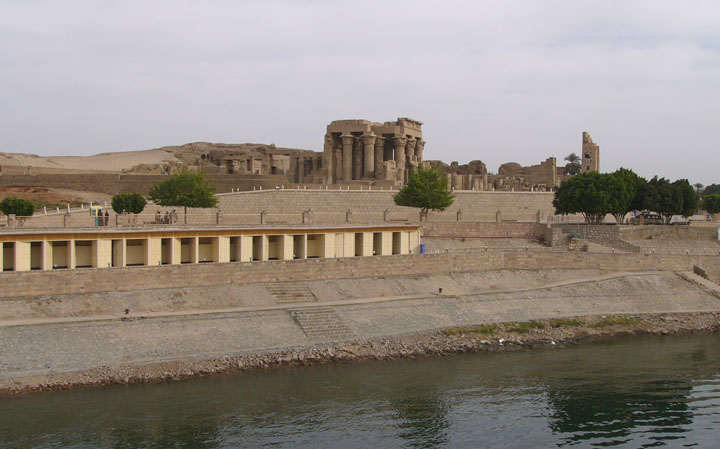 future "strip mall" in Kom Ombo
more tourists required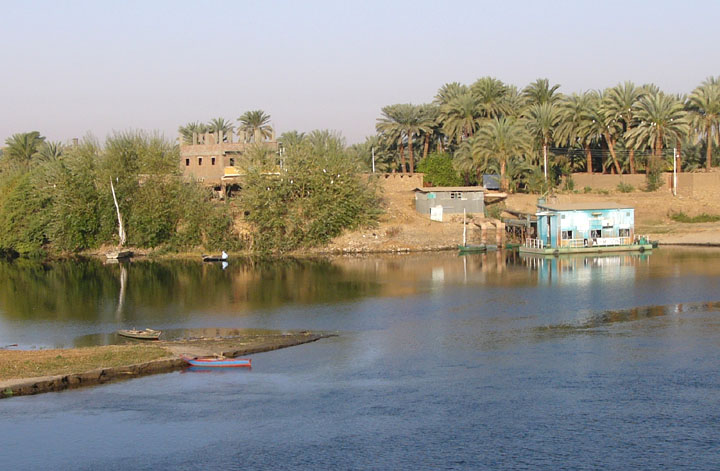 another floating pump station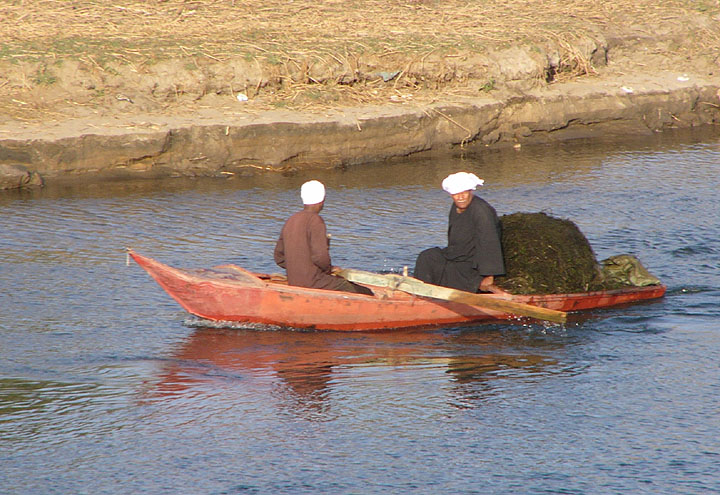 taking the fishing nets home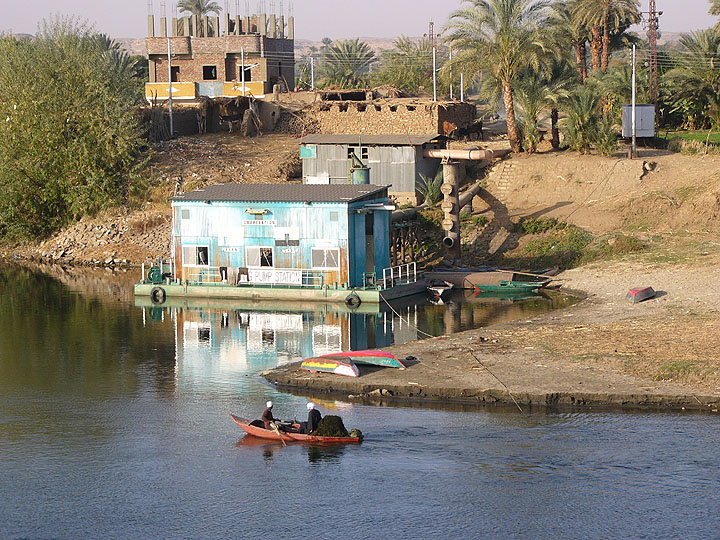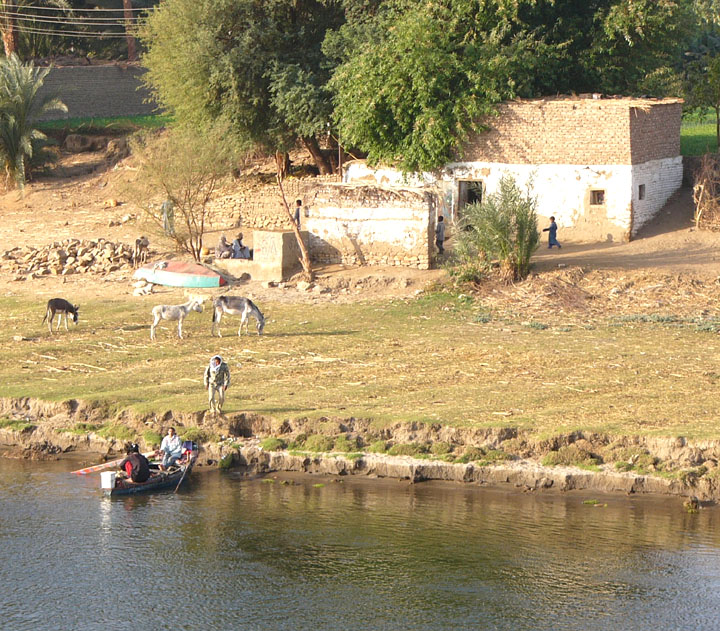 a farm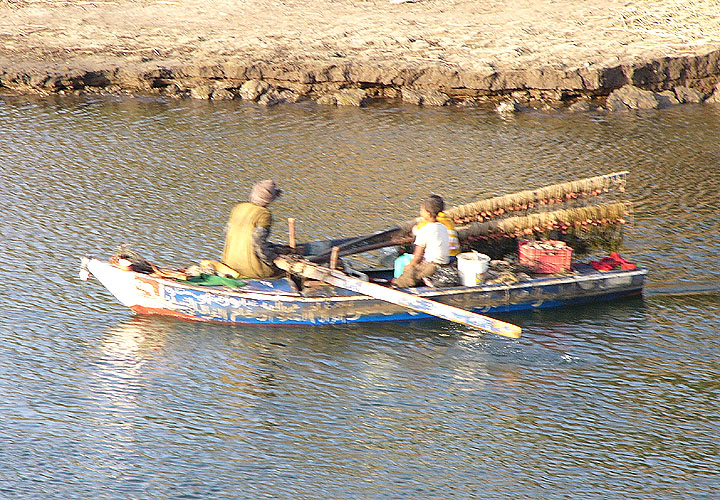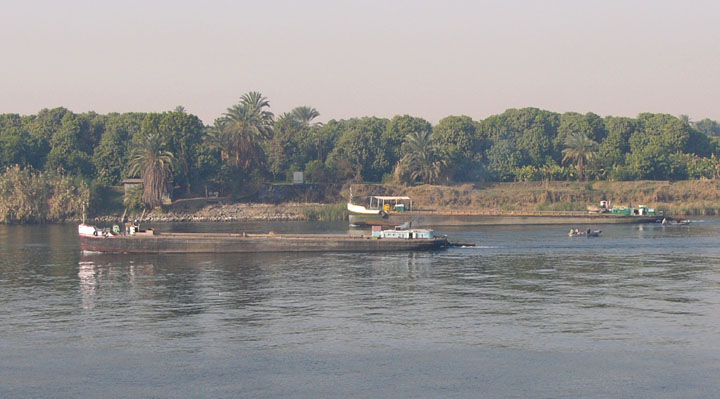 river barges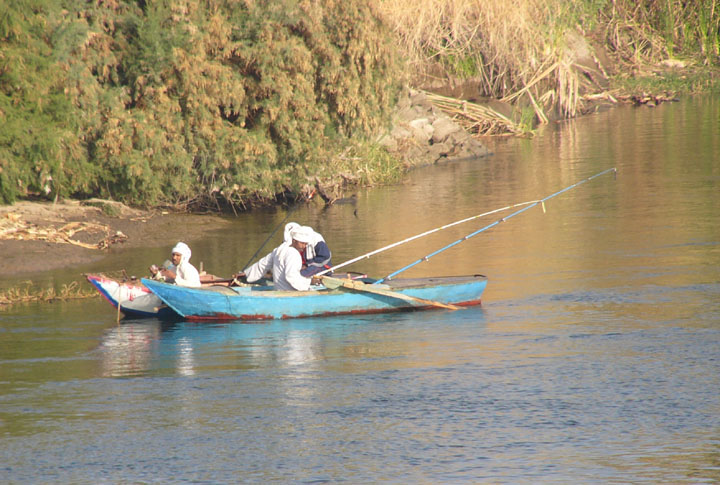 and fisher folk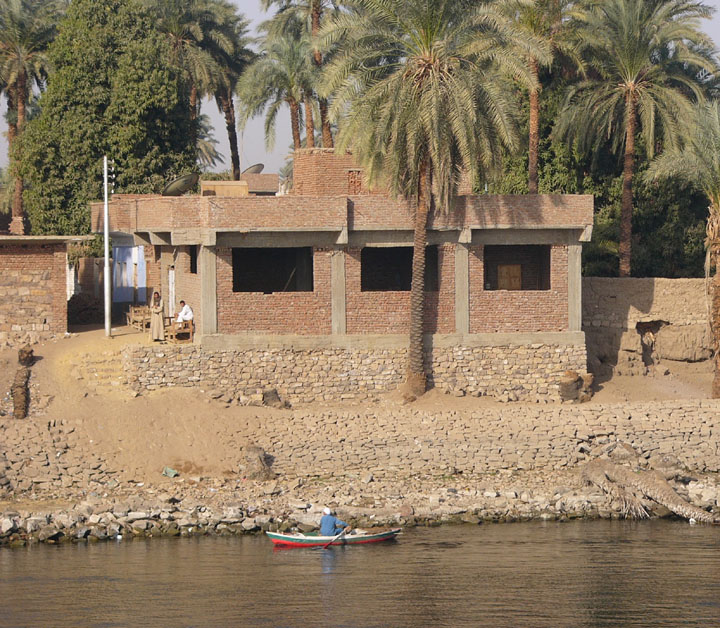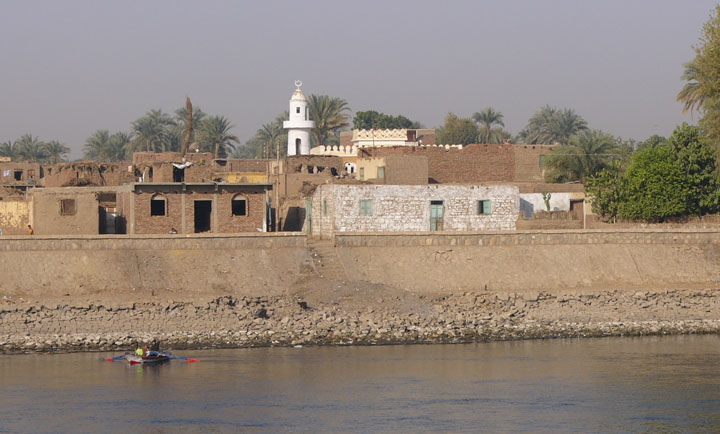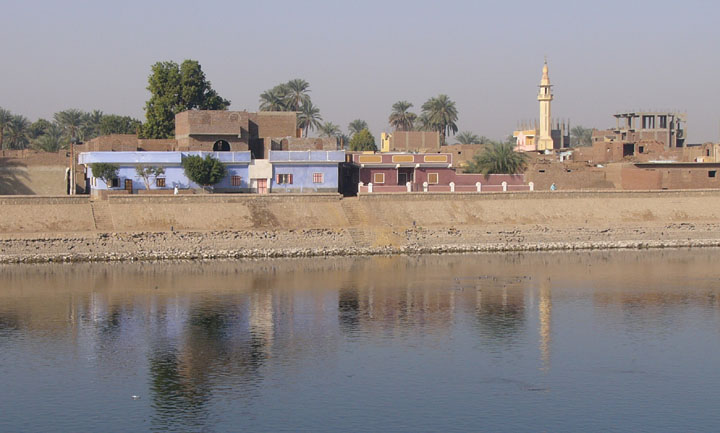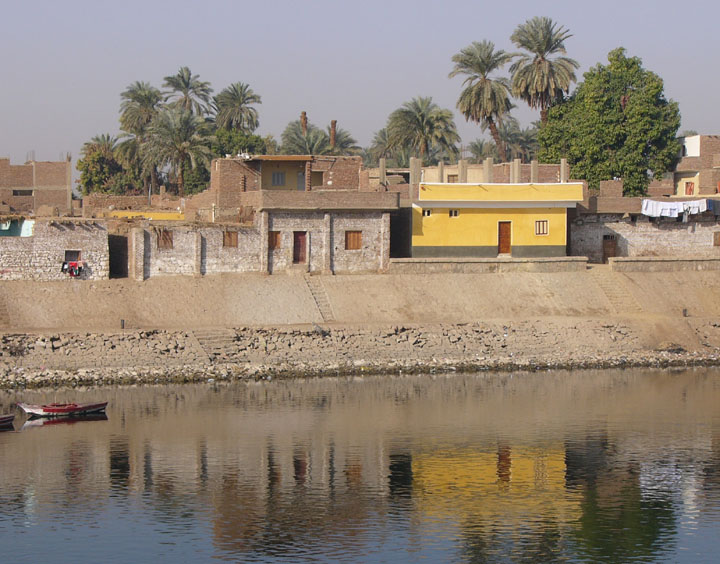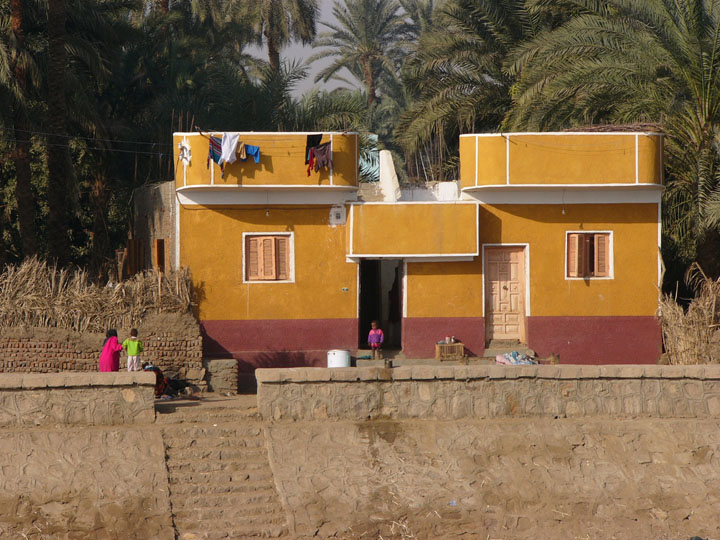 a residence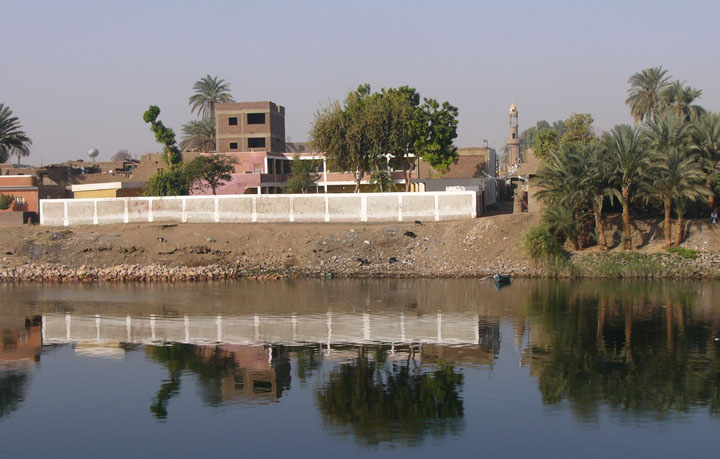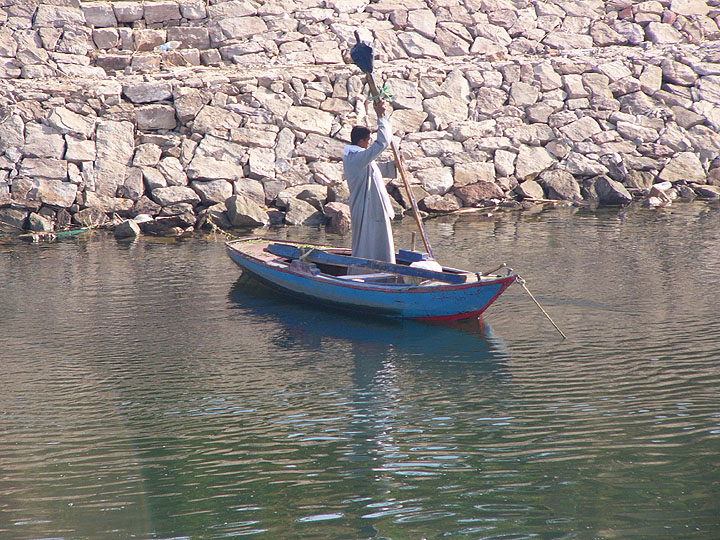 poling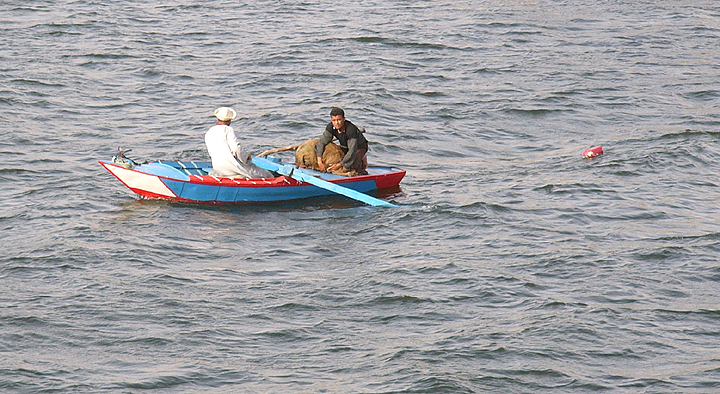 nets out behind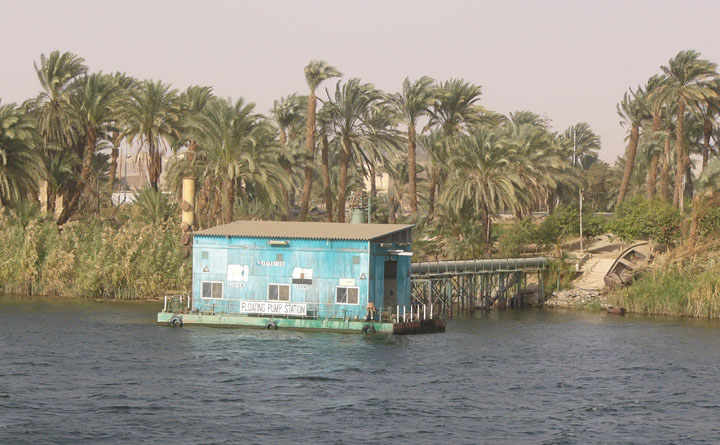 floating pump station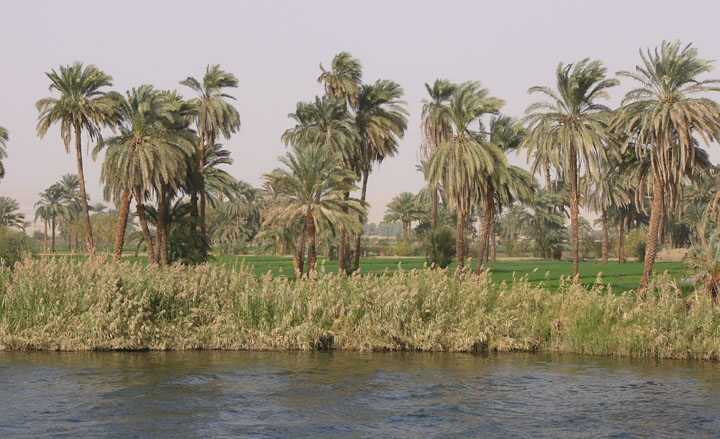 irrigates this lush crop land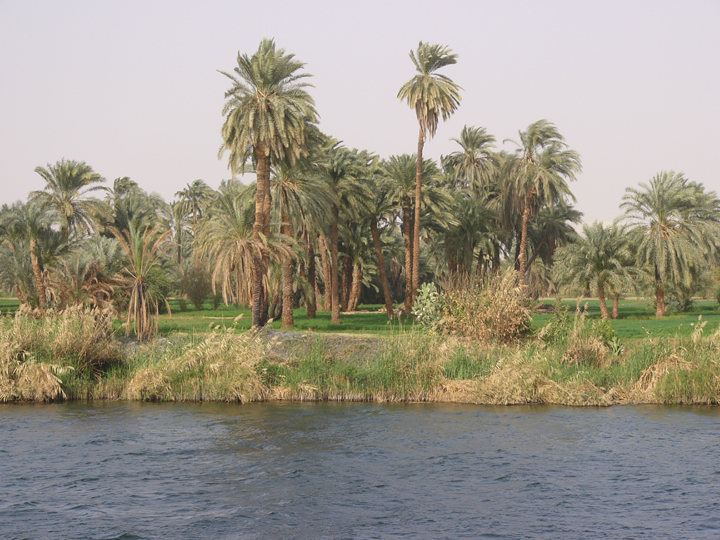 with its date palms
---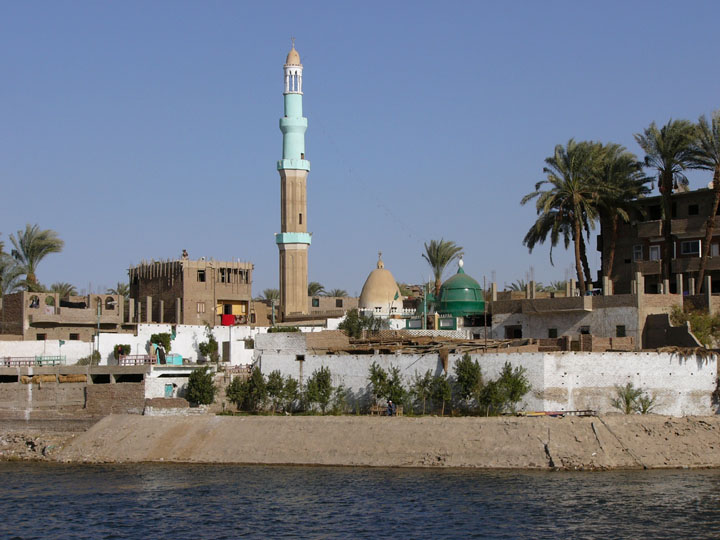 cruising to Quena
---

---