Bowerbirds in Australia
Bowerbird, common name for birds of the bowerbird family of New Guinea and Australia, considered by most ornithologists to be closely related to the birds of paradise of the same geographic region. Bowerbirds are most noted for their courtship practices, which involve elaborate displays of inanimate objects. Males live apart from females for most of the year, but in breeding season gather together to compete for mates. Each male clears a "court" on the forest floor to which he attempts to attract females. On this space many species place shells, flowers, brightly colored berries, and even human-made objects such as bits of glass. In addition, males build various kinds of structures. Some construct "maypoles" of sticks, often decorated with lichens and flowers, around a tree trunk.
the bower

The Vogelkop bowerbird (also known as the gardener bowerbird), a 25-cm (10-in) bird, builds a tepee like structure as much as 1.6 m (63 in) across, with a low entranceway in front of which is a "garden" of bright objects and flowers that are regularly replaced as soon as they fade.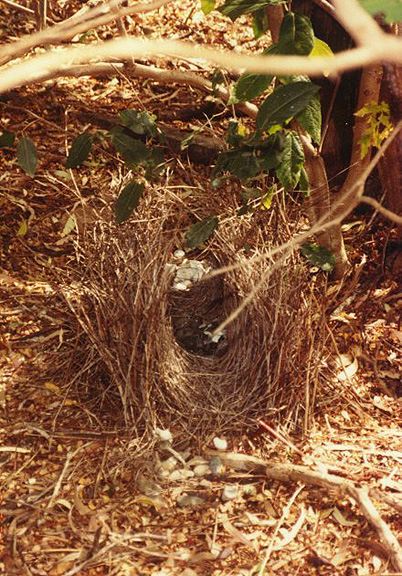 collection of bright objects
The male satin bowerbird, common in parts of Australia, is a silky, blue-black bird, about 20 cm (about 7.8 in) long, with bright blue eyes; the male of this species builds a stick mat, down the middle of which he places two walls of vertical sticks that may reach 38 cm (16 in) high. He mixes a blue or green fruit juice with saliva and "paints" this on the bower with a wad of bark, one of the few known instances of birds using a tool. He hopes to entice the grayish-green female into the decorated bower to mate. Others among the 19 species of bowerbirds have equally complex courtship displays.
Scientific classification: Bowerbirds make up the bowerbird family, Ptilonorhynchidae. The Vogelkop, or gardener, bowerbird is classified as Amblyornis inornatus, and the satin bowerbird is classified as Ptilonorhynchus violaceus.

Return to Favorite animals page

Other Parts of Australia
Jump to: Cape York Peninsula
Jump to: Carpentaria
Jump to: Cooktown
Jump to: Green Island
Jump to: Koalas
Jump to: Kuranda
Jump to: the Bowerbird
Jump to: Tasmania