Punxsutawney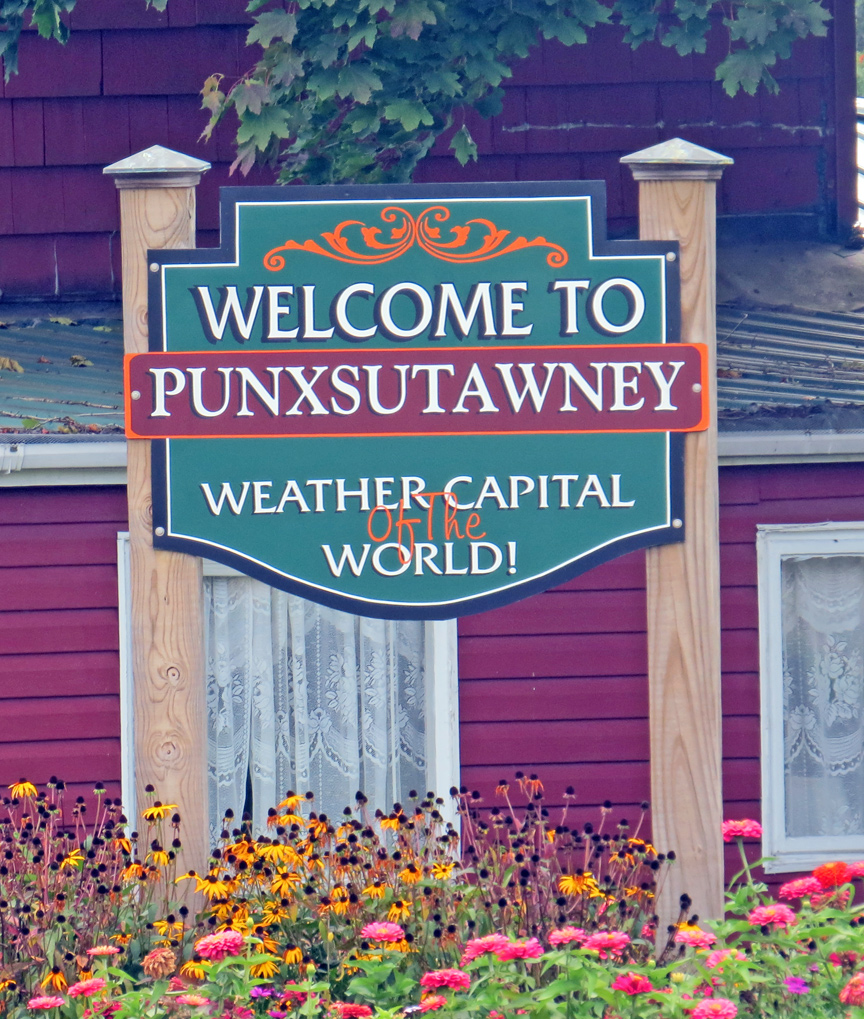 Punxsutawney is a borough in Jefferson County, Pennsylvania, United States, 84 miles (135 km) northeast of Pittsburgh.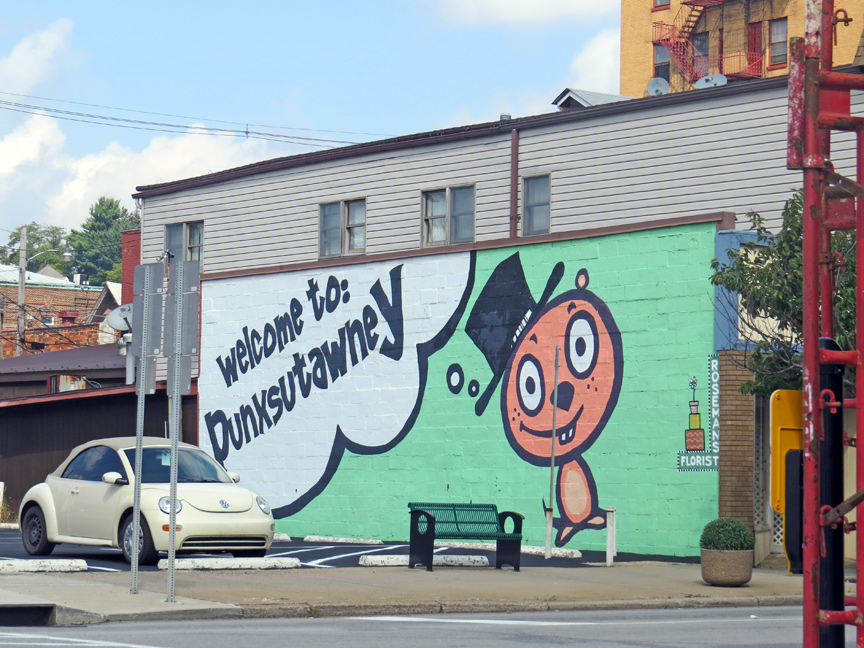 From the Unami-Len'api term Put'schisk'tey, which means "poison vine." In 1907, Punxsutawney and Claysville boroughs were consolidated and incorporated as Greater Punxsutawney. A high-grade soft coal was mined in the surrounding region. Formerly, the factories included glassworks, foundries, ironworks, machine shops, and planing, flour, feed, and silk mills. In 1900, 6,746 people lived there; in 1910, 9,058; in 1920, 10,311; and in 1940, 9,482 people lived there. The population was 5,962 at the 2010 census.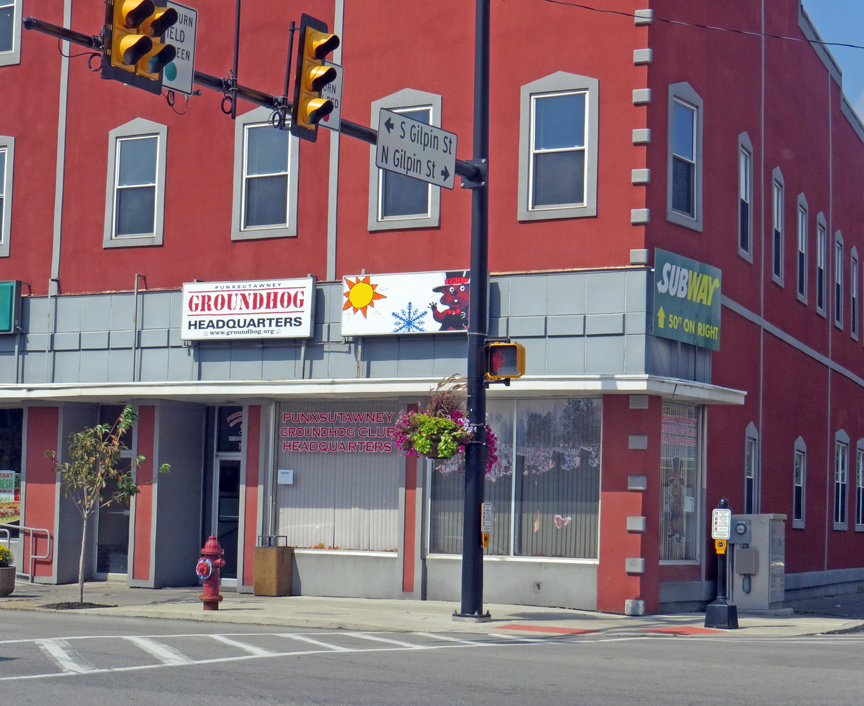 Groundhog Headquarters
The area was originally settled by the Delaware Indians, and the name "Punxsutawney" derives from a Native American term which translates to "town of the sandflies" (or, perhaps, "town of the mosquitoes").
Punxy Phil's Family Restaurant
Punxsutawney's most famous resident is Punxsutawney Phil, a groundhog said to predict the weather annually on Groundhog Day (February 2). Phil and the town were the basis for the 1993 film Groundhog Day (although nearly all of the film was shot in Woodstock, Illinois).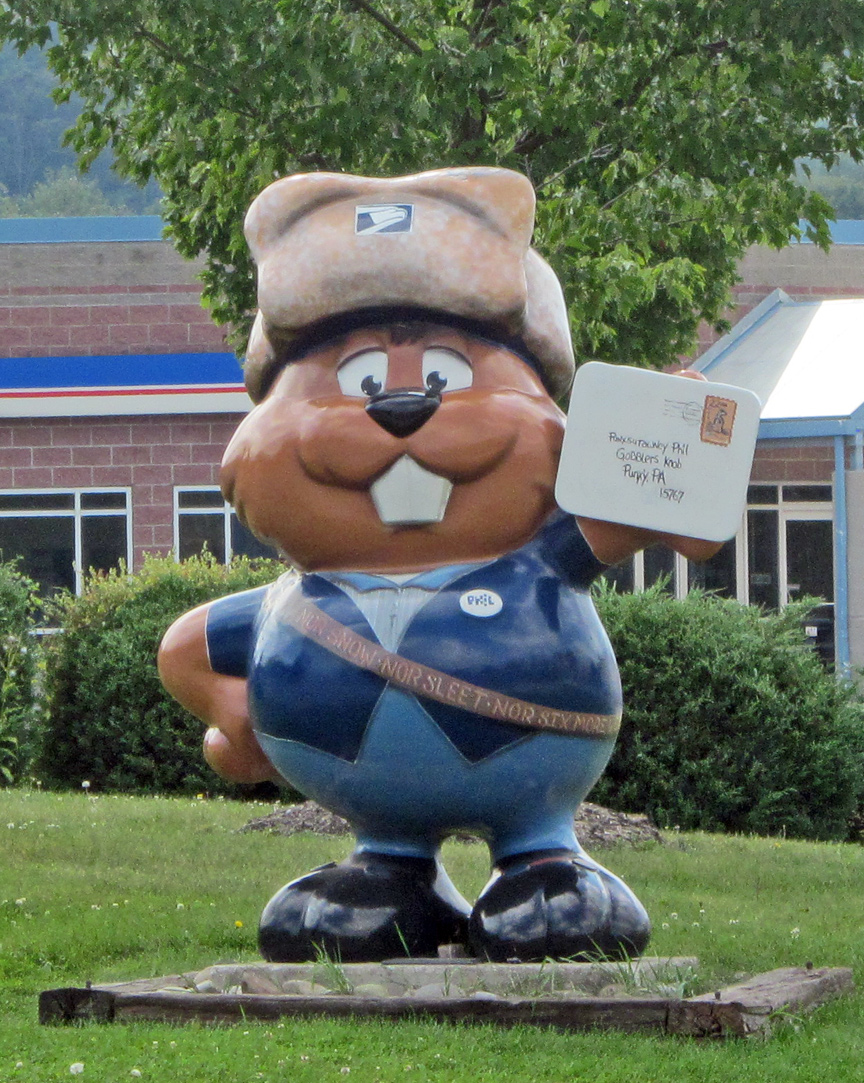 Phil as Mail Carrier
Punxsutawney Phil is a mythical groundhog in Punxsutawney, Pennsylvania. On February 2 (Groundhog Day) of each year, the town of Punxsutawney celebrates the legendary groundhog with a festive atmosphere of music and food. During the ceremony, which begins well before the winter sunrise, Phil emerges from his temporary home on Gobbler's Knob, located in a rural area about 2 miles (3.2 km) east of town. According to the tradition, if Phil sees his shadow and returns to his hole, he has predicted six more weeks of winter-like weather. If Phil does not see his shadow, he has predicted an "early spring." The date of Phil's prognostication is known as Groundhog Day in the United States and Canada, and has been celebrated since 1887.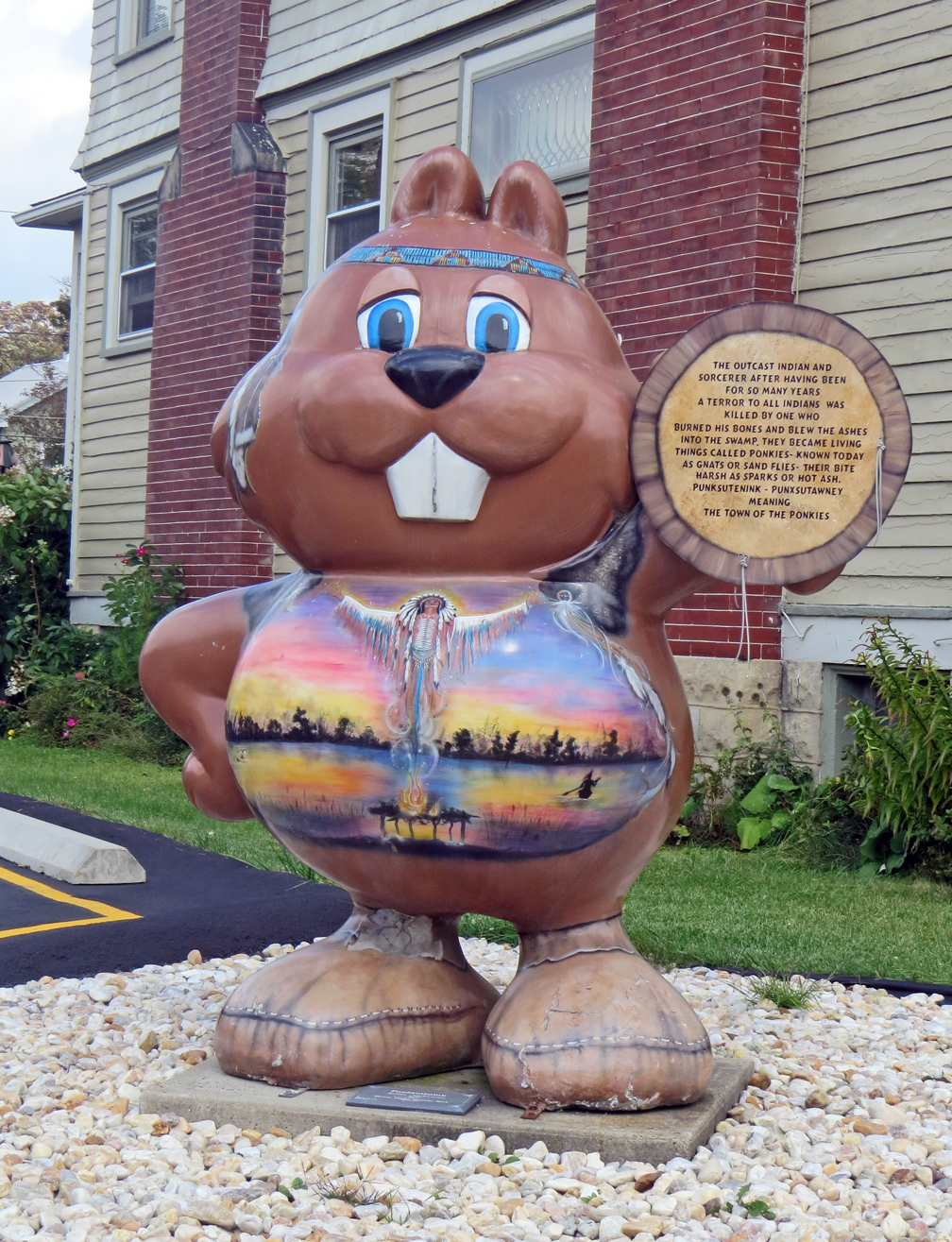 Phil telling of the Native American name
A select group, called the Inner Circle, takes care of Phil year-round and also plans the annual ceremony. Members of the Punxsutawney Groundhog Club's Inner Circle are recognizable by their top hats and tuxedos.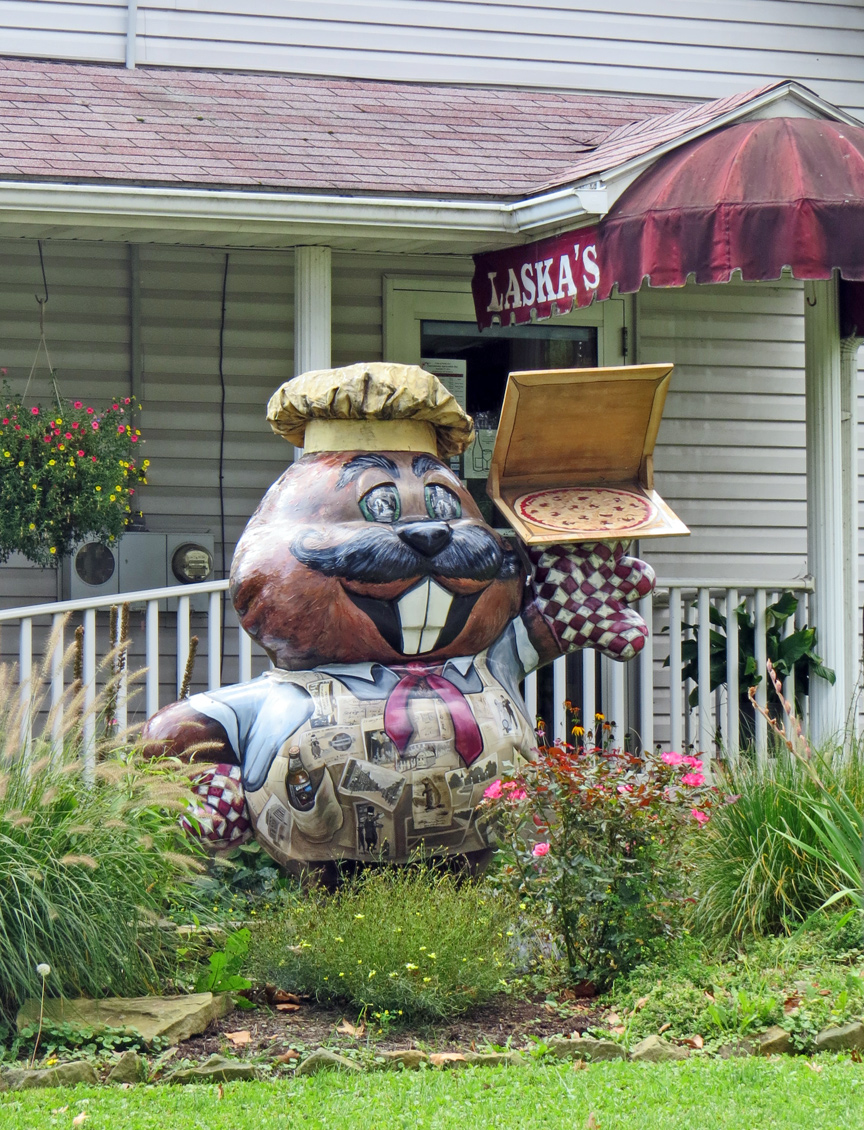 Phil as a Pizza Maker
Punxsutawney Phil fans say that there is only one Phil, and that all the other groundhog weathermen are impostors. It is claimed that Phil has made weather prognostications since 1887, making Phil a legendary rather than factual figure, since groundhogs only live up to six years. It is publicly unknown how many groundhogs have actively played Phil.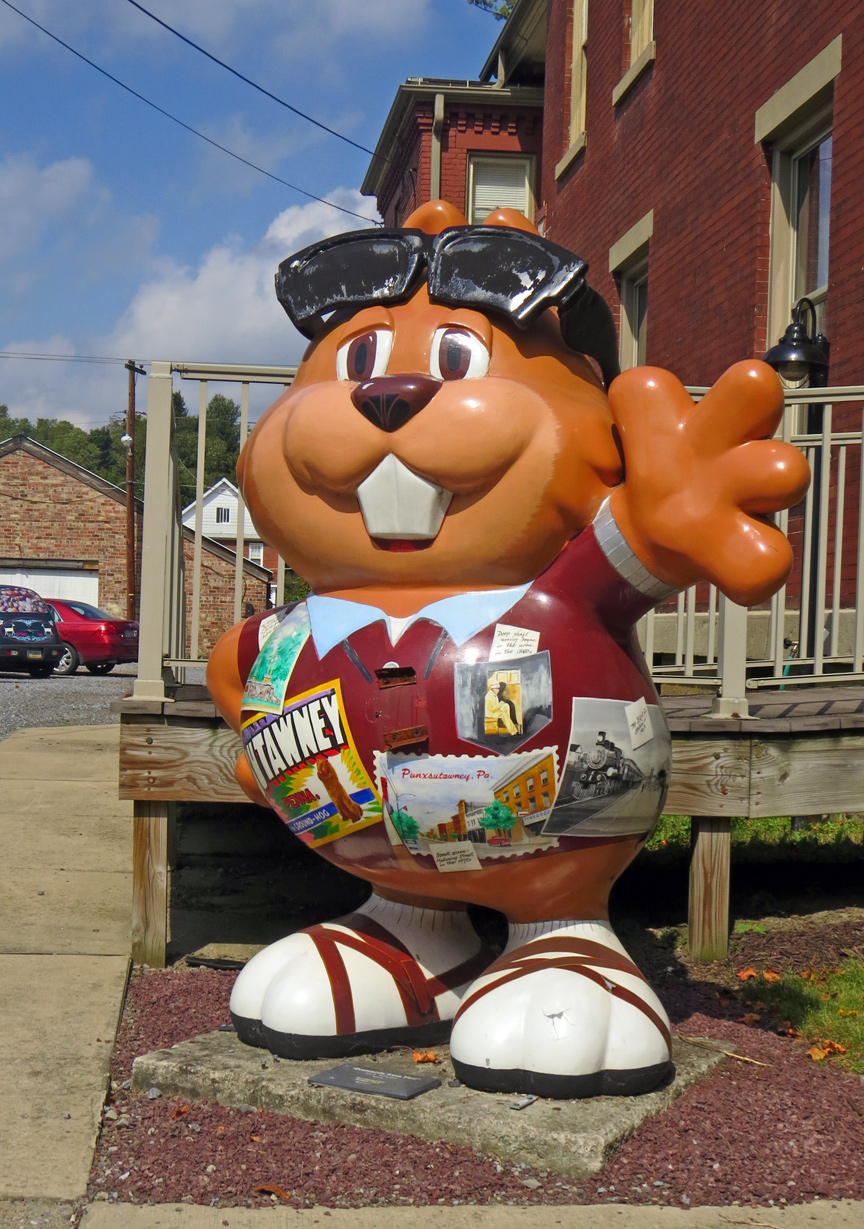 According to the Groundhog Club, Phil, after making the prediction, speaks to the Club President in "Groundhogese", which only the current president can understand, and then his prediction is translated for the entire world.

The Groundhog Day celebration is rooted in a Celtic tradition that says if a hibernating animal casts a shadow on February 2, the Pagan holiday of Imbolc, winter will last another six weeks. If no shadow was seen, legend says spring would come early.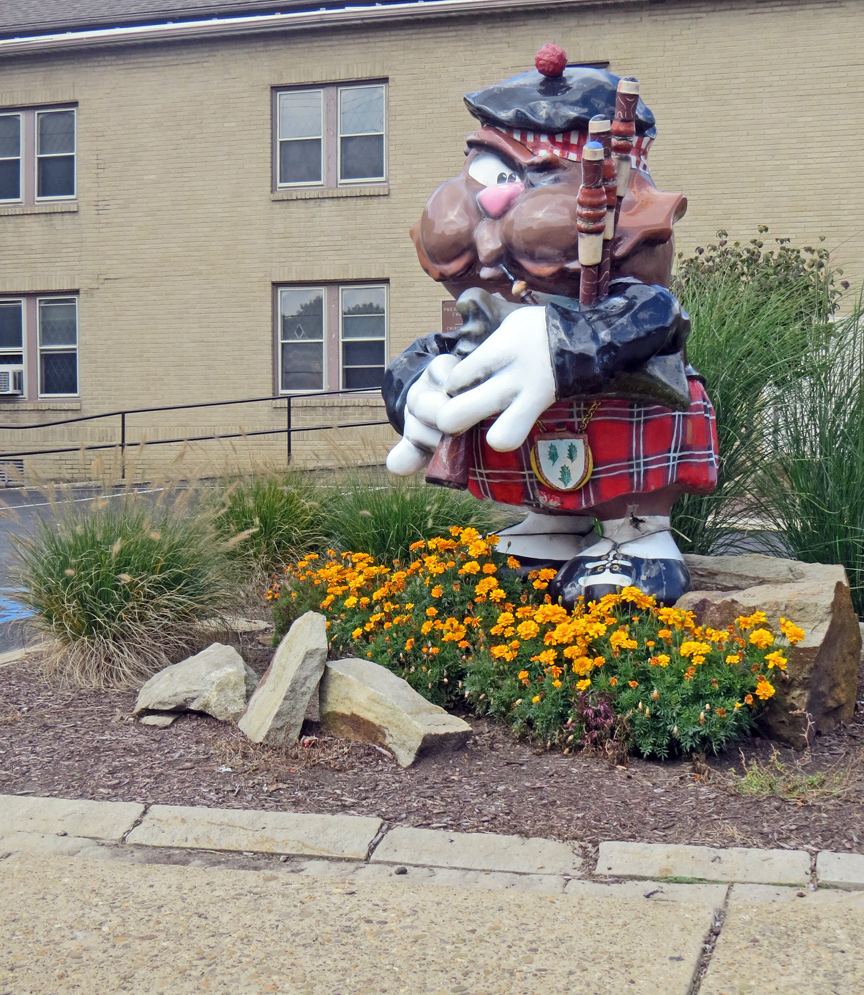 Phil as Bagpiper
The ties in Pennsylvania may actually come from Germans, when clear skies on Candlemas Day, February 2, were said to herald cold weather ahead. In Germany, the tradition morphed into a myth that if the sun came out on Candlemas, a hedgehog would cast its shadow, predicting snow all the way into May. When German immigrants settled in Pennsylvania, they transferred the tradition onto local fauna, replacing hedgehogs with groundhogs.
Text from Wikipedia
---
---