2004 Rose Bowl parade
Music Music Music

Parade Wagon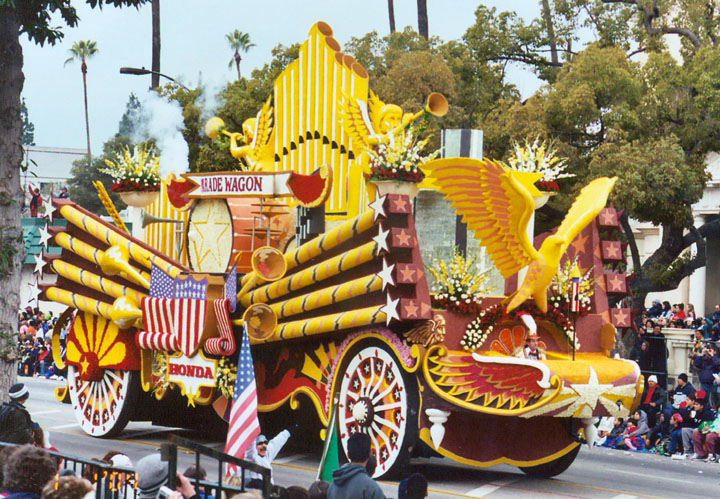 A "Parade Wagon" complete with a calliope and one—man hand is American Honda's 28th Rose Parade entry. The wagon, which features American eagles and cherubic heralds created with yellow and brown strawflower, onion seeds and ground sweet rice, evokes images of the traditional circus wagons which lured families to the big top. The enchanting float, built 30 feet high and 55 feet long, boasts trumpets, drums, cymbals and "steam-powered" organ pipes created with silver leaf and onion seed. The gigantic wheels of the float are accented by black seaweed, orange lentil, strawflower, ground rice and carnation petals.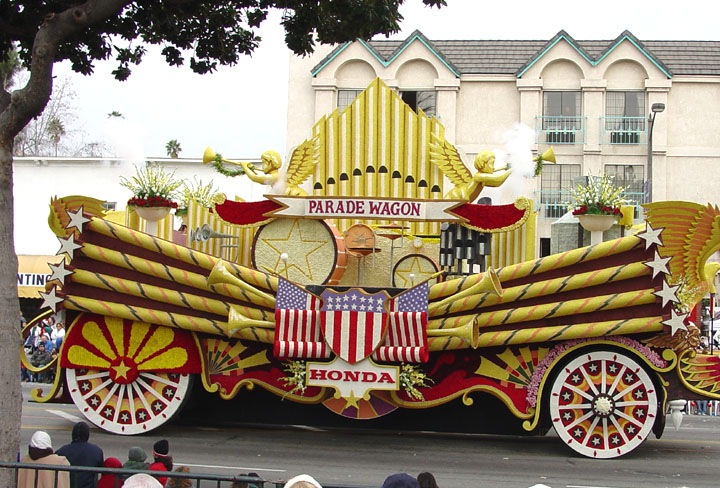 America the Beautiful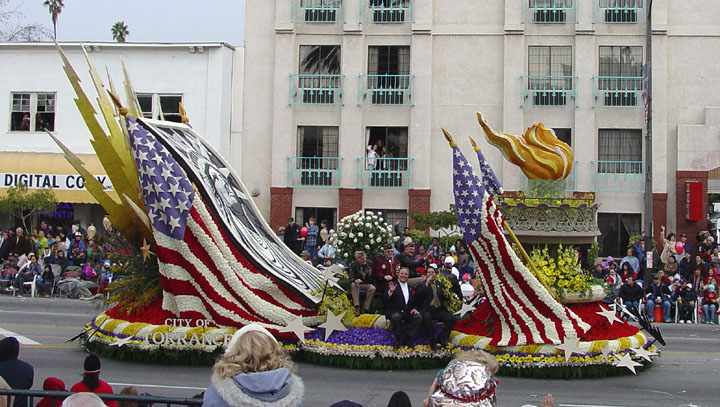 The city of Torrance commemorates its 50th year in the Rose Parade with a salute to 'America the Beautiful." The enormous, photo-floragraph of Miss Liberty blends black onion and chive seed, rich dark brown niger seed, light and dark gray poppy seed and crisp white sweet rice — resulting in seventeen distinct shades. Miss Liberty gazes down at the torch created with golden Aallsmere and orange Marjan, Saturno and Star 2000 roses with strawflower petals in shades of yellow and gold. Flags of red and white carnations, with a field of blue delphinium florets, flank the floragraph.

Show Boat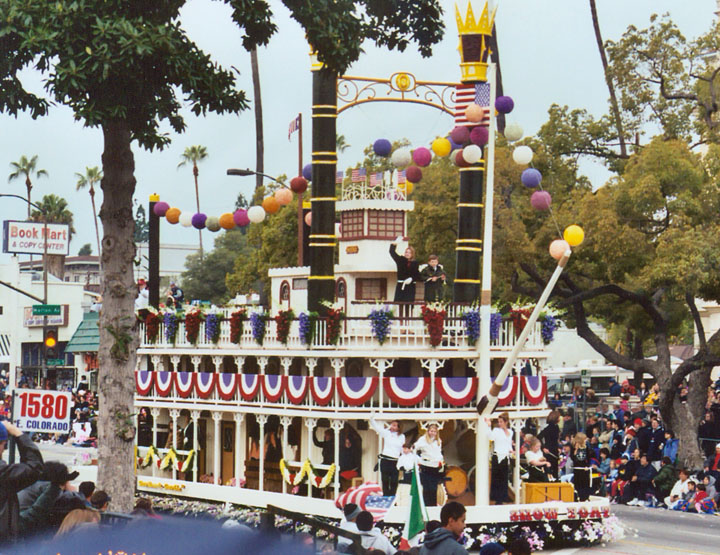 All aboard! It's showtime on the paddle-driven showboat that is making its way down the Rose Parade route. Almost life-sized, this river craft features an animated paddle wheel, stacks spewing smoke and nearly a dozen-and-a-half musicians and passengers. Ground and whole rice and coconut create the white woodwork on the ship's decor, with black seaweed used on the stacks. The rushing water beneath the ship is made of blue iris, orchids and gypsophila and black seaweed covers the hull of the boat as it cuts through its floral river environment. Floragraphs of animals transported on these ships are created with a selection of seeds, walnut shells, spices and other various dry organic items.

Thanks for the Memories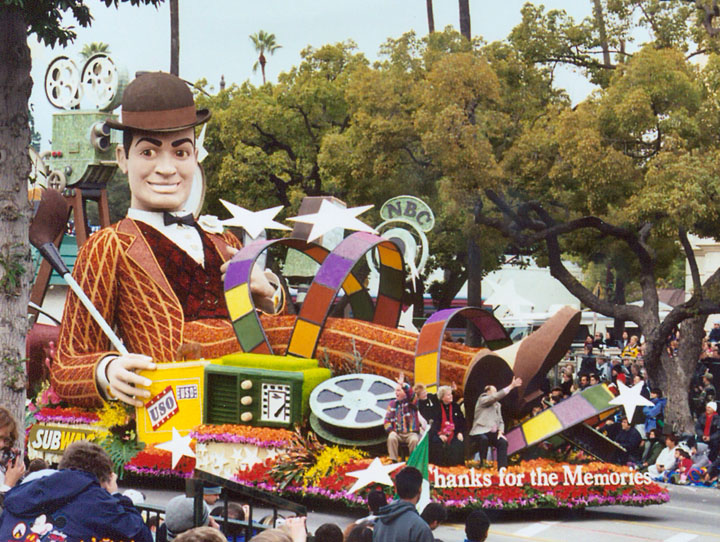 Bob Hope's quick wit, generous philanthropic contributions and outstanding patriotic citizenship are honored with SUBWAY'S float, "Thanks for the Memories." Hope's signature song is the float's title and inspiration, commemorating the 70-plus years of memories Mr. Hope gave his fans. In this 55-foot long character sculpture, the dapperly attired figure of Bob Hope is dressed in a linen suit of white chrysanthemums with pinstripes of tan sesame seeds. His outfit is complete with a howler hat of black onion seed and spats of yellow strawflower petals. Skin tones are a special combination blend of walnut shell, cinnamon and paprika spice with hair of glossy black-brown flax seed.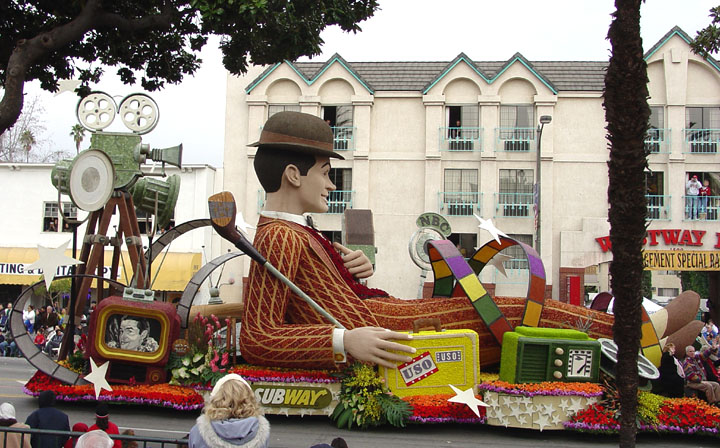 Make Music to the Lord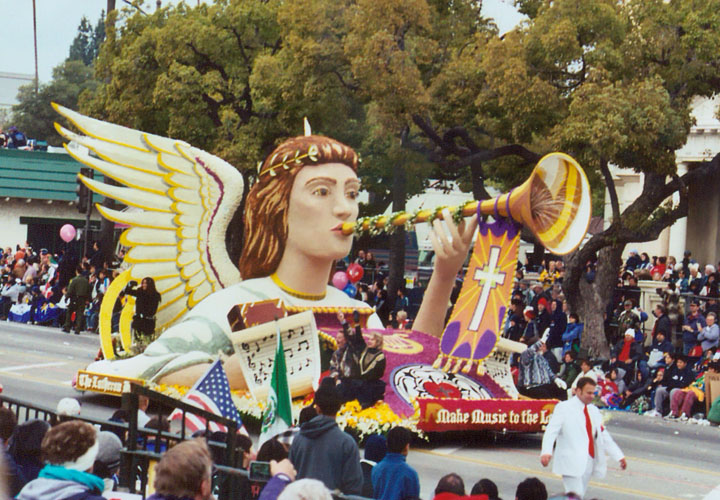 An angelic herald will Make Music to the lord as she floats along the Rose Parade route, trumpeting the message of the Lutheran Laymen's League to the world. The angel's face is created with a special blend of spices and dry materials, and her hair is made with combed palm fiber. Her wings feature crushed and powdered rice, along with white and yellow strawflower. The base of the float is decorated with roses. orchids and chrysanthemums. This is the group's 54th consecutive entry in the Rose Parade. and it is as decorated by its dedicated 'Petal Pusher" volunteer group.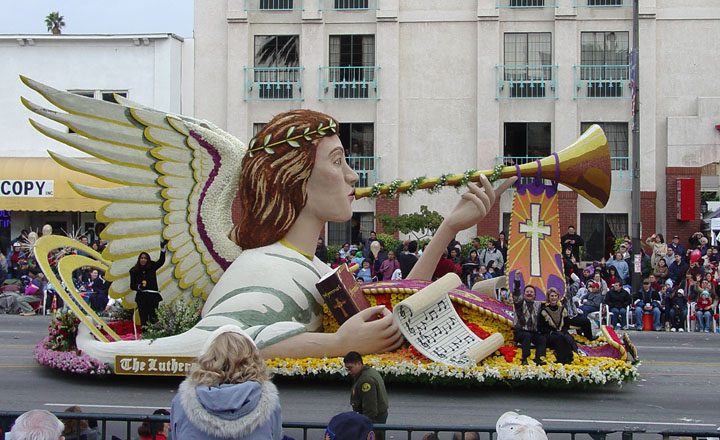 Springtime Symphony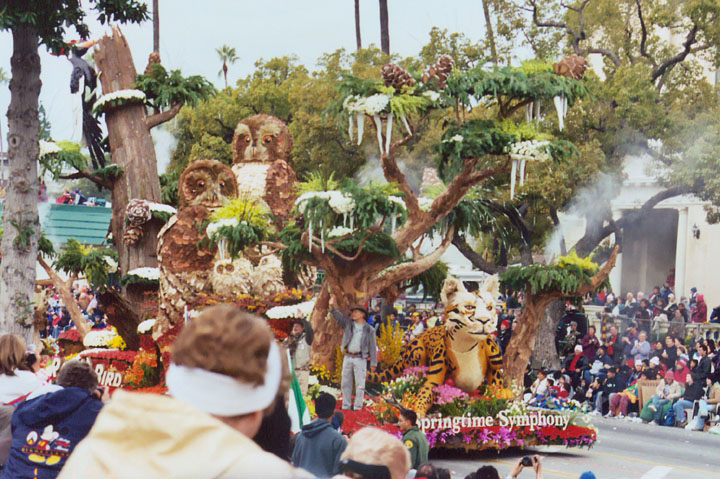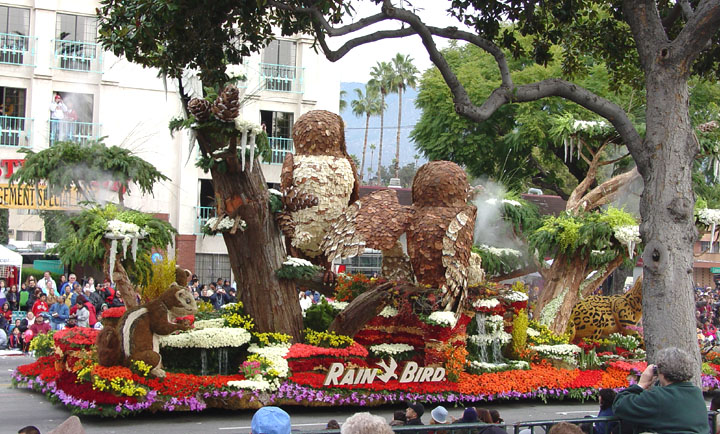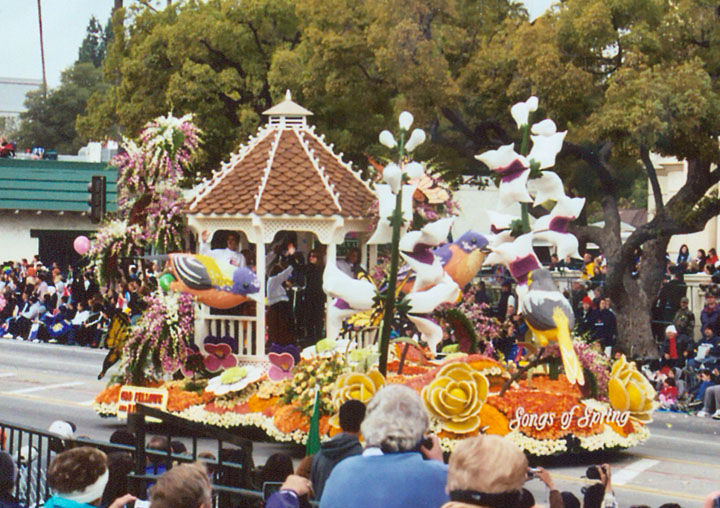 A colorful collection of birds, butterflies and flowers provide a visual image of the "Songs of Spring" - delightfully accented by live musicians producing tunes of the season in the float's full-sized gazebo. The birds and butterflies are created with blue statice, yellow straw flower, crushed parsley, onion seed and black seaweed, The gazebo is covered in crushed and powdered rice. The gardens feature roses, carnations, gladiolus, chrysanthemums and a variety of live plants.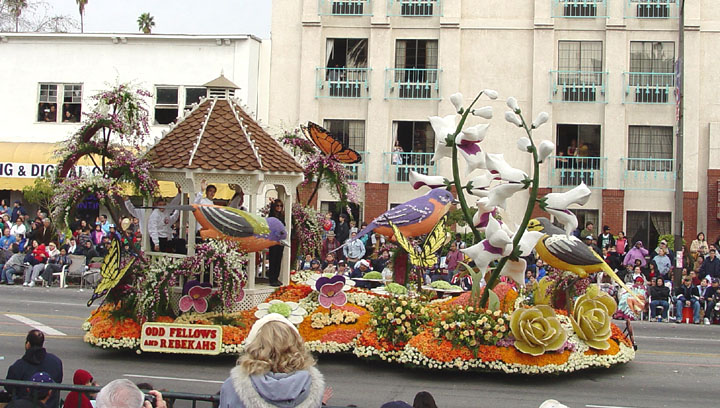 Let Freedom Ring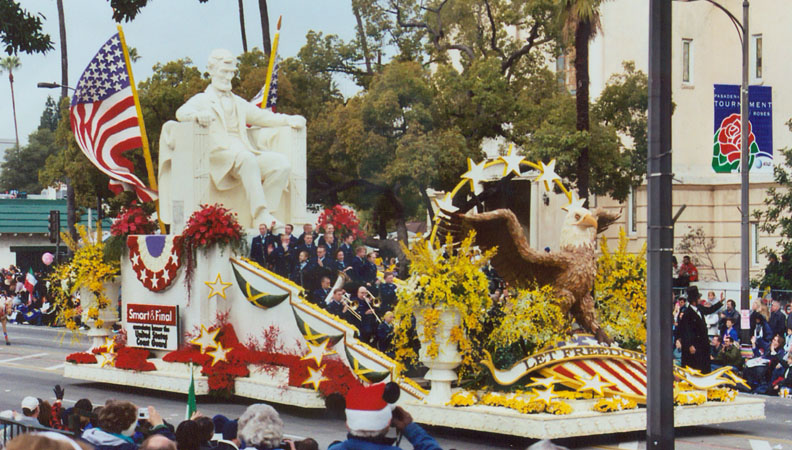 The associates of Smart & Final selected this float theme to demonstrate their strong sense of gratitude toward the men and women of America's armed services. "Let Freedom Sing' showcases the talented musical members of the U.S. Coast Guard Chorale and Band and features the majestic Lincoln Memorial. The sculpture of Lincoln, the pedestal on which it sits and the four urns have been artistically decorated in blends of sweet rice, sesame seed and shredded coconut flake to resemble the white Georgia marble used on the actual monument. Flanking the red, white and blue buntings is an enormous American flag and crisp white stars floating over vibrant floral gardens of red roses, gerberas and carnations.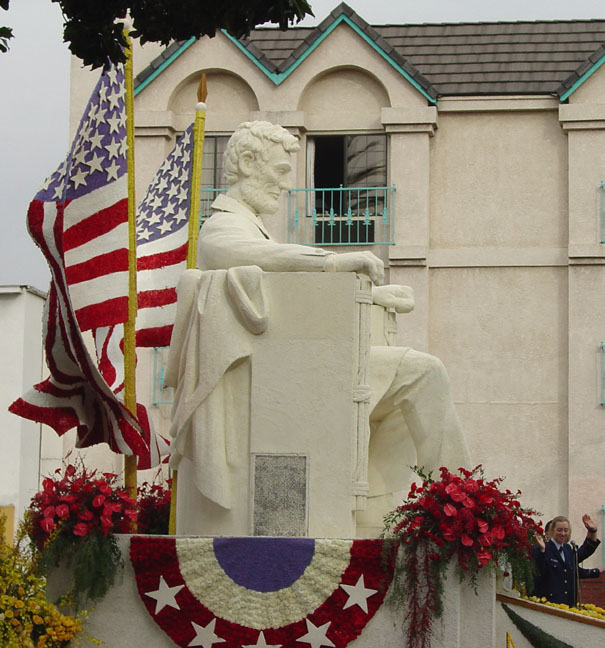 When a Child Leads the Way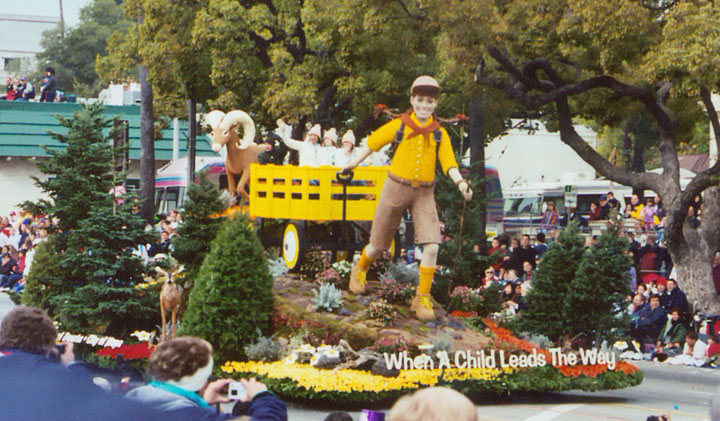 The City of Duarte and City of Hope National Medical Center celebrate their 31st consecutive combined Rose Parade entry with this exciting float depicting childhood memories of summer camp. A yellow wagon of chrysanthemums overflows in vibrant orange Mercedes roses and is pulled by a camper dressed in a golden brown walnut shell uniform and yellow strawflower petals. As favorite childhood camp songs enhance this woodland setting, Noble pine trees shade the forest floor that seemingly comes alive in brilliant colors of spring and early summer in meadows of daffodils, monta casino, lilies, liatris, gerbera, iris, forsythia and roses.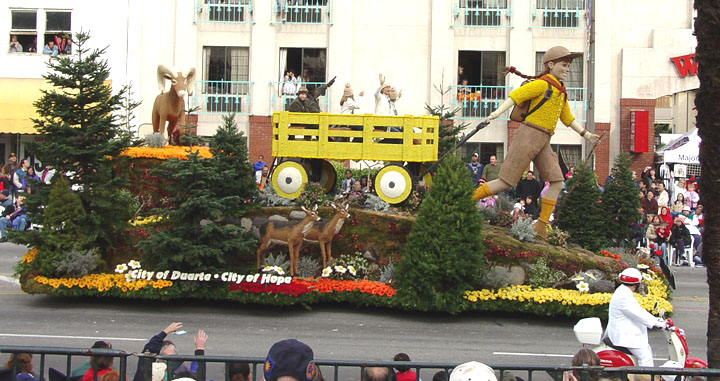 Rhapsody in BlueBlue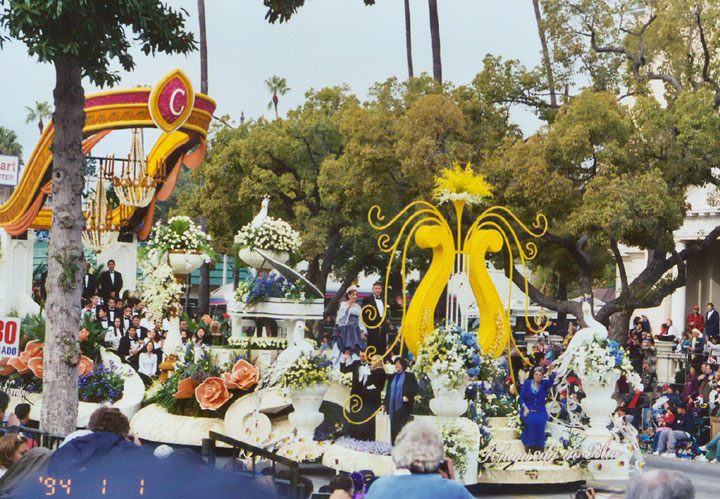 The city of Cerritos float is a salute to the city's talented citizens and patrons of the arts. This floral rendition of an opening night concert showcases the 30-piece ABC Unified School District Orchestra performing George Gershwin's "Rhapsody in Blue" live on the float. The scene features formally attired patrons entering an exquisite auditorium lobby. Fanciful stylized peacocks of white carnation petals and coconut flakes with fanciful tails of dendrobium and vanda orchid florets adorn the brazier bowls overflowing with creamy white Vendela roses. Sculptured roses and orchids line the length of the float — which at 76 feet makes it the longest single-unit float in the 2004 Rose Parade.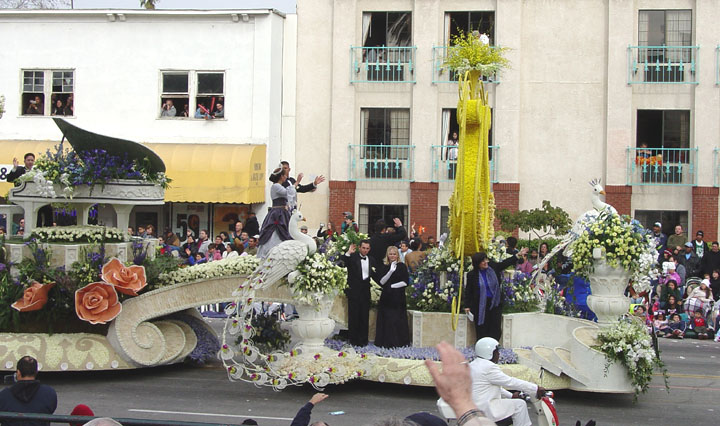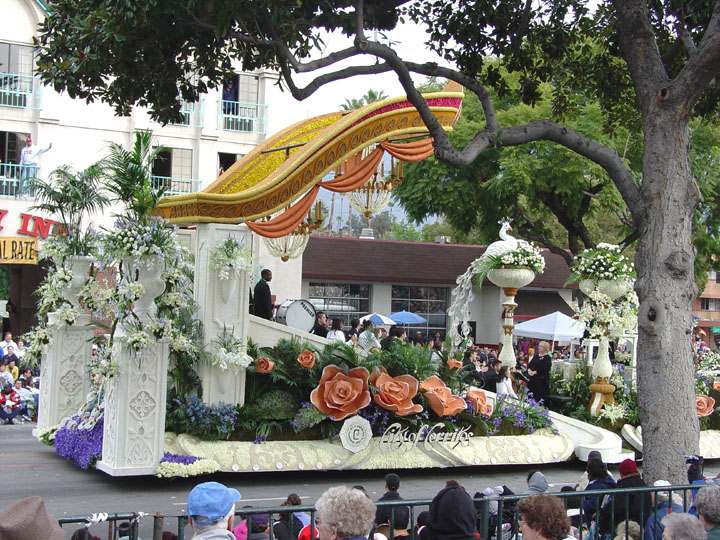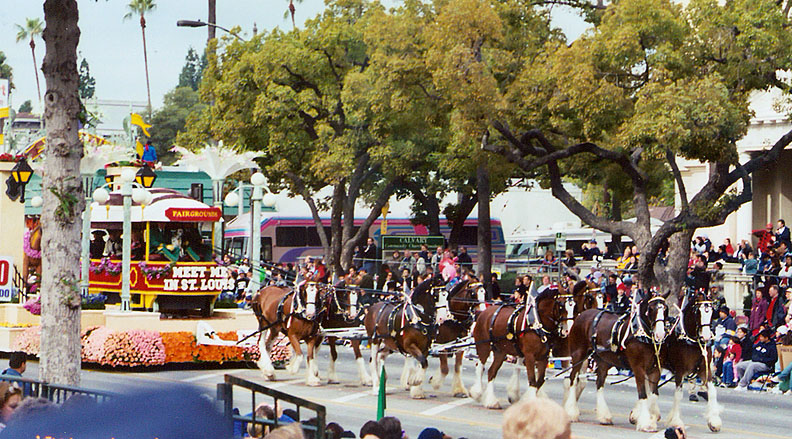 "Meet Me in St. Louis" is the current invitation as well as the title song from the classic 1944 Judy Garland movie musical of the same name. The world-famous Clydesdales once again will provide the power for the St. Louis float, this time pulling a life—sized trolley car to the grounds of the city's 1904 World's Fair — the largest one ever held. The trolley is created with red carnations, yellow strawflower and crushed rice. The sculpted horse features blended strawflowers. The trees along the roadway are decorated with a variety of orchids.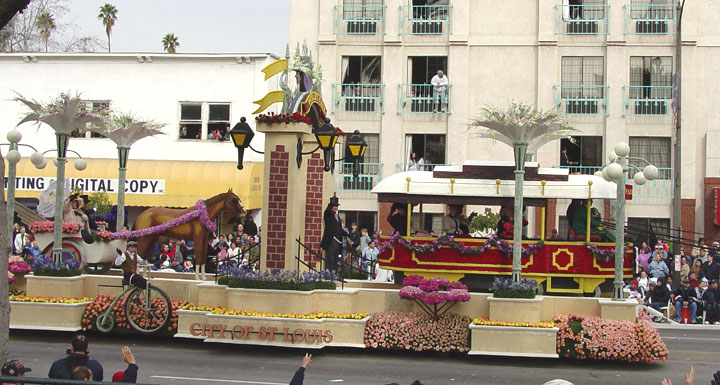 Photo of this float being decorated

Orchestrating Freedom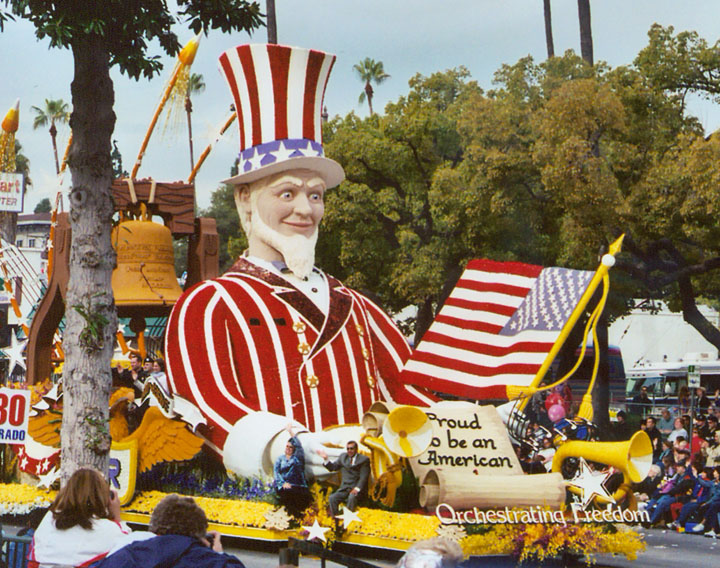 Employer Support of the Guard and Reserve (ESGR) presents Uncle Sam gliding down the Rose Parade route displaying the majestic American flag. Uncle Sam wears a star-spangled suit fashioned from red and white carnations and accents of blue sinuata statice, and his flesh tone has been achieved with a mixture of walnut shell, cornmeal and crushed dehydrated rose petals. Surrounded by symbols of America — including American eagles artistically decorated with yellow, gold, bronze and white strawflower petals — this is a floral tribute to the 1.3 million active members of the National Guard and Reserve and a salute to their employers for their continued support and cooperation.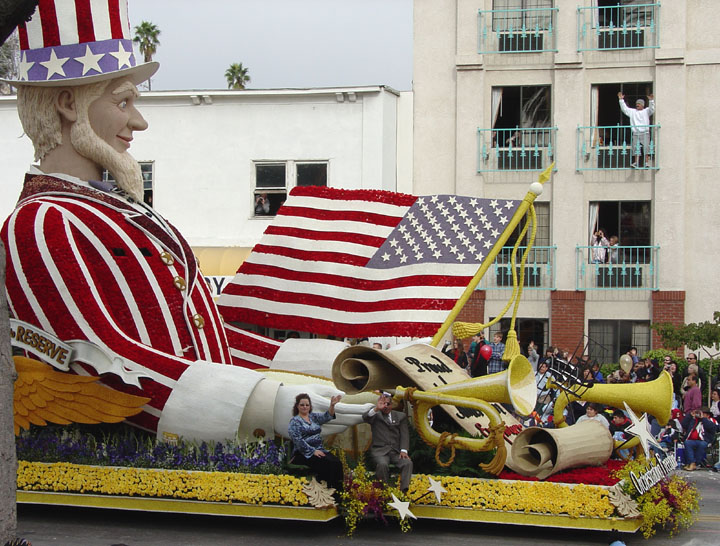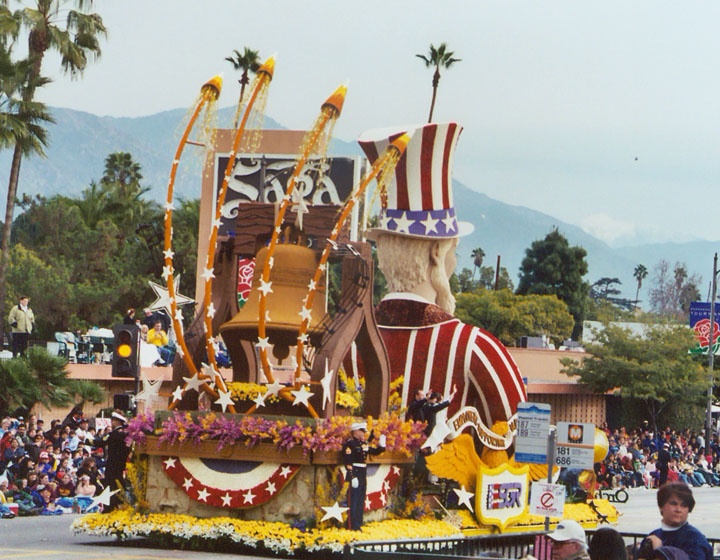 Blast from the Past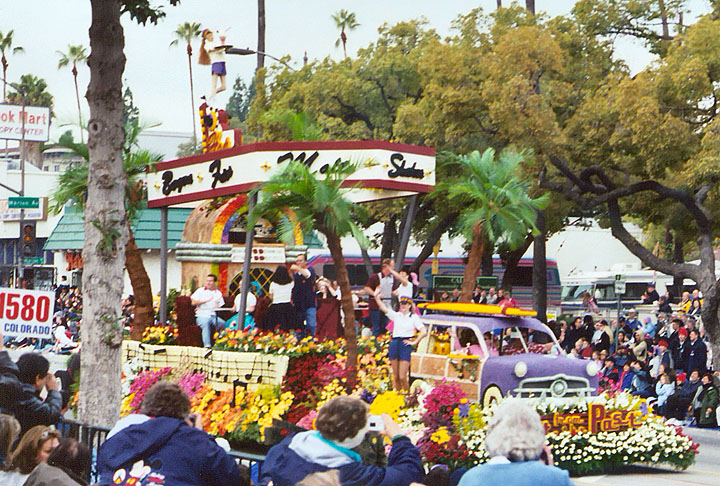 This float features an oversized juke box with music of the 50s, rock and roll dancers and roller skating car hops. South Pasadena is a city that is strong in community, and their depiction of the typical California drive-in celebrates people coming together for food, dance, socializing, and fun. The scene incorporates flowers that are indigenous to tile state including Bird of Paradise, a variety of palms, lilies, orange and lemon trees, palm tree bark, paper tree bark, orchids, gladiolas, gerberas, and carnations. oversized California poppies, covered in dried marigold petals and ground orange split pea, enhance tile gardens.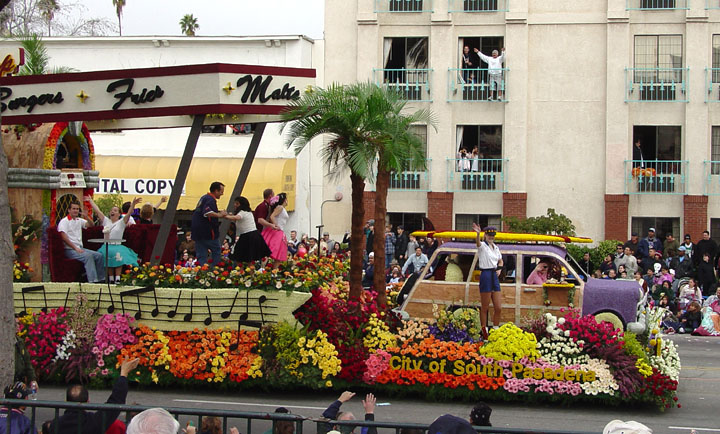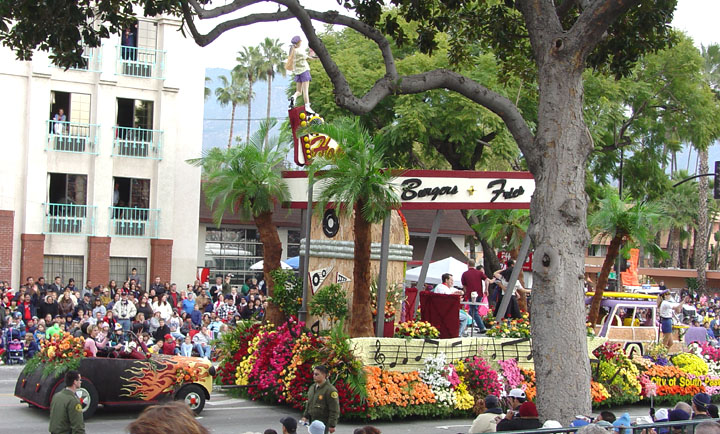 Love Songs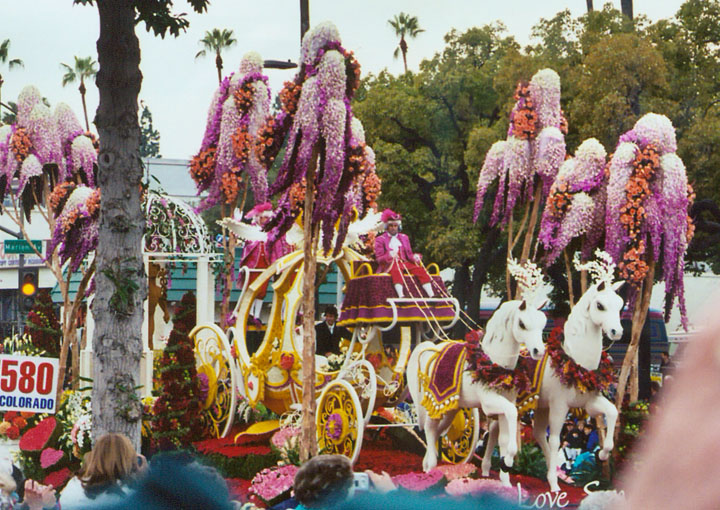 FTD pays a floral and musical tribute to one of the most romantic stories ever told — the love story of Cinderella and her prince charming living happily ever after. Two graceful white steeds pull an ornate golden carriage through manicured formal rose gardens and down a pathway lined with rose—filled hearts and rose—laden trees. An exquisite gazebo with garlands of Peekaboo roses frame the bronze mercury sculpture and complete this dreamy scene. Melodies from the on—board music system enhance the romance in this exquisite floral setting. More than 100,000 roses in over 20 different varieties were used in the creation of FTD's float.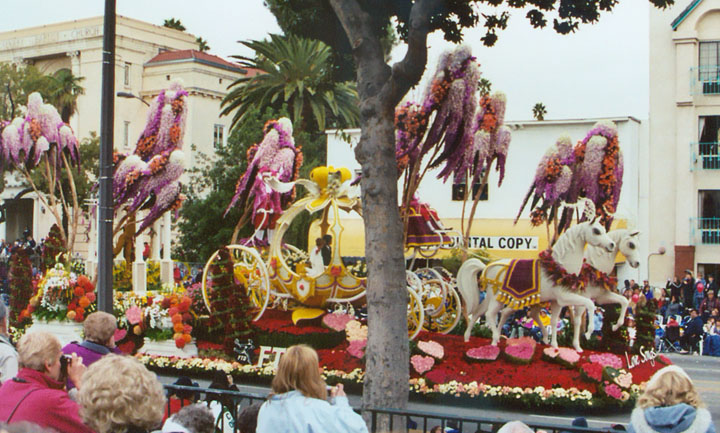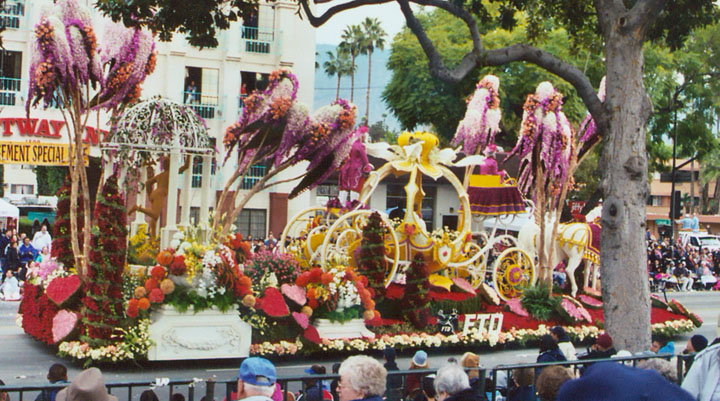 The Shower Serenade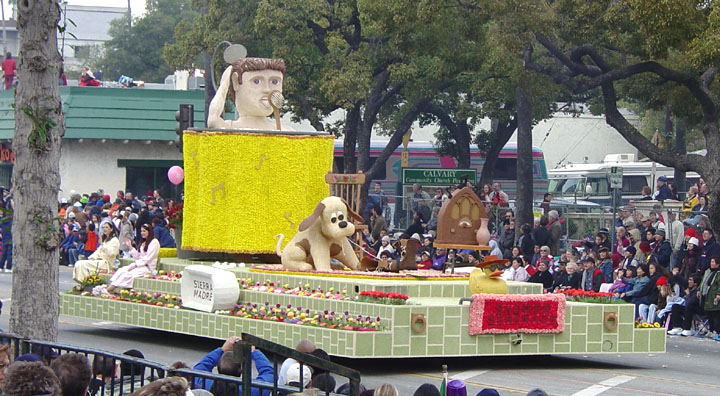 The Sierra Madre Rose Float Association presents a whimsical look at a "Shower Serenade." The singing man is so entertained that he doesn't realize his dog is chewing on his towel and bubbles are spilling onto the floor. Thousands of beautiful roses and other flowers are used to create the colorful and comedic scene. The float design concept was chosen through a contest open to local community residents and association members.

In tune with Los Angeles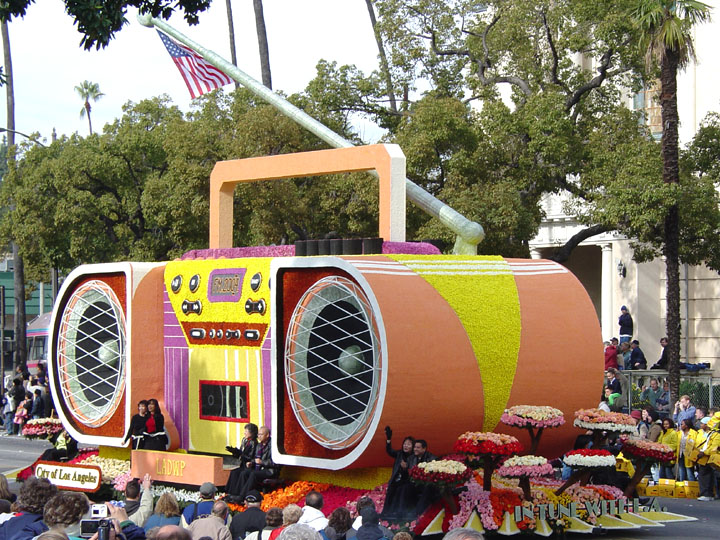 The city of Los Angeles, the longest consecutive float participant in the Rose Parade, celebrates the city's cultural diversity through music in its 106th float entry. A gigantic music machine, created using various colors of strawflower, lentil seeds, sesame seeds, black seaweed, silver leaf and carnation petals, booms the sounds enjoyed by the diverse population of Los Angeles: rap, mariachi, jazz, salsa, rock 'n' roll, and of course the tune, "I Love L.A." The CD features a rainbow of fresh and dried flowers, and the bed of the float is covered with red, orange and yellow roses, as well as lavender orchids, gladiolas, iris, gypsophilia and leather fern.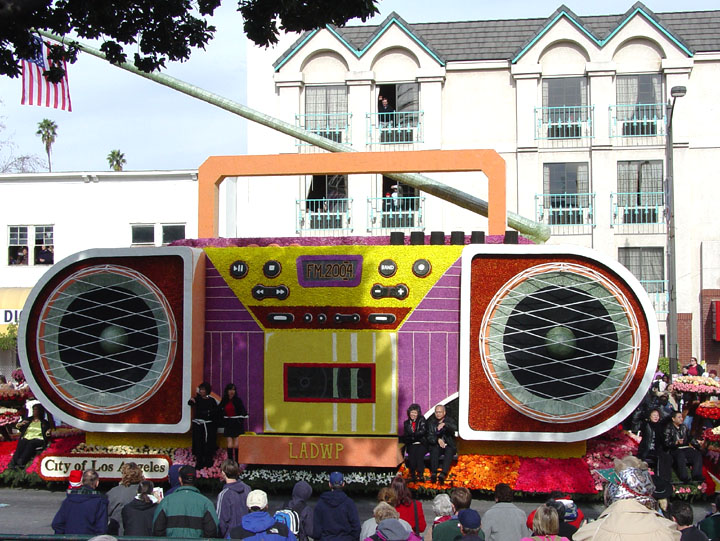 Unit descriptions taken from material supplied by the Pasadena Tournament of Roses in their parade program.