Gilcrease Museum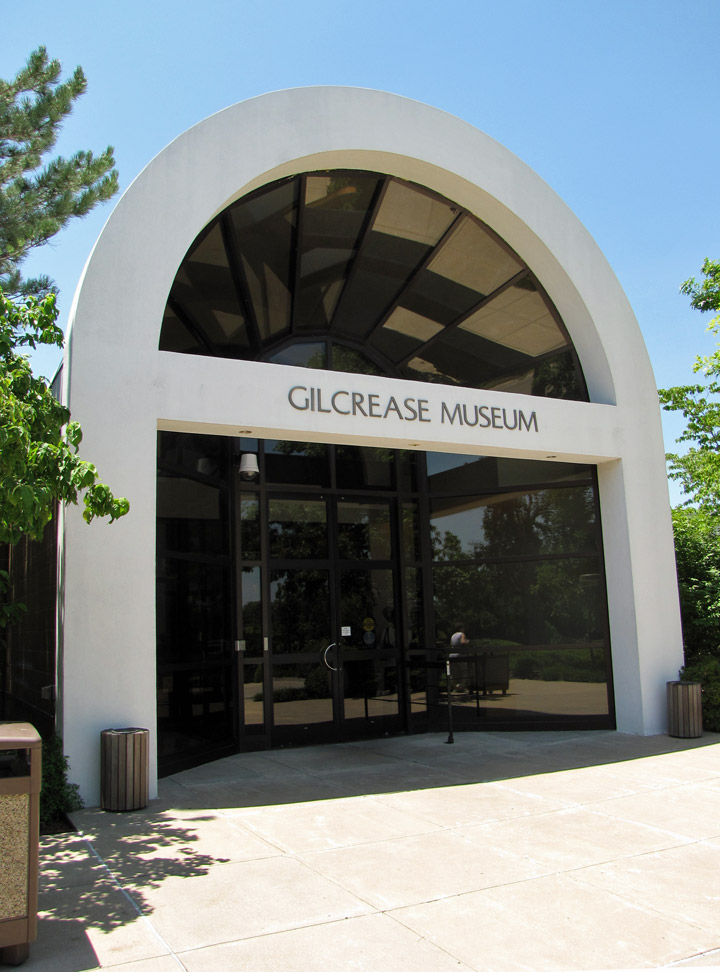 Gilcrease Museum
Gilcrease Museum is a museum located northwest of downtown Tulsa, Oklahoma. The museum now houses the world's largest, most comprehensive collection of art of the American West as well as a growing collection of art and artifacts from Central and South America. The museum is named for Thomas Gilcrease, an oil man and avid art collector.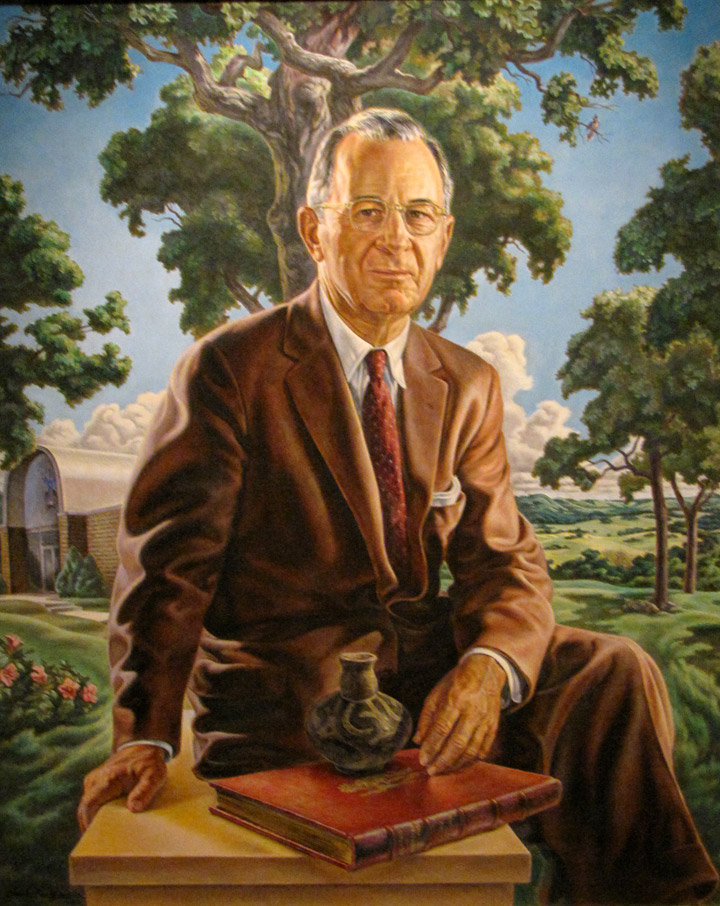 Thomas Gilcrease
Thomas Gilcrease grew up in the Creek nation, located within present day Oklahoma. At the turn of the 20th century the federal government distributed lands held by American Indian tribes to private citizens. His tribal membership entitled him to an allotment of 160 acres (0.65 km2) located south of Tulsa near Glenn Pool. The land subsequently became part of one of Oklahoma's major oil fields, and Gilcrease proved to be an able businessman. In 1922, he founded the Gilcrease Oil Company, and in less than ten years had greatly expanded his original holdings. Thomas Gilcrease traveled extensively in Europe during the 1920s and 1930s. His visits to European museums inspired him to create his own collection. Pride in his American Indian heritage and interest in the history of the American West provided a focus for his collecting.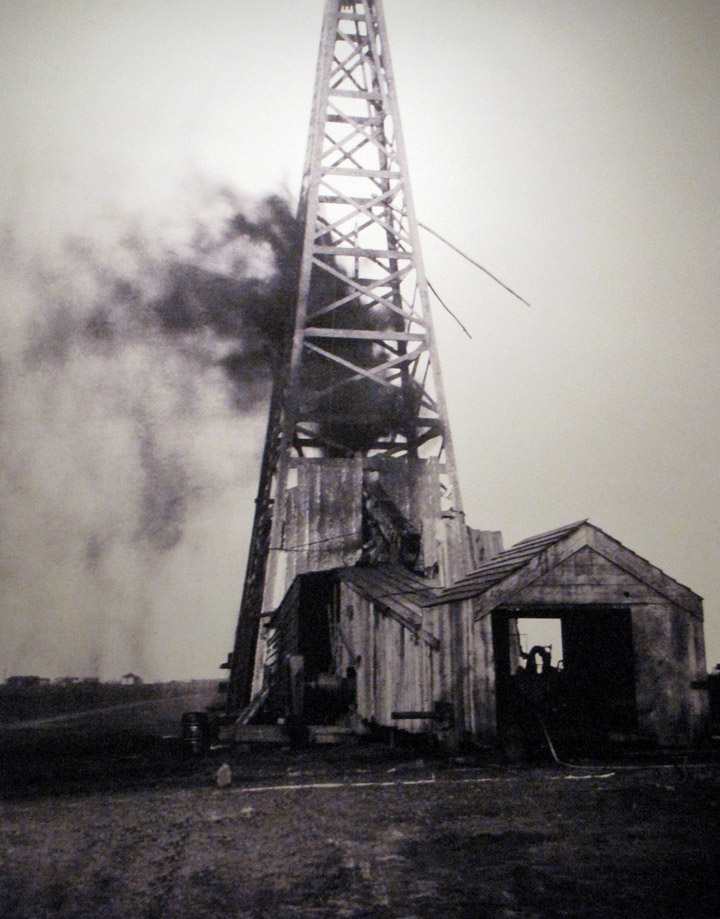 Gilcease's first oil well
Gilcrease purchased for $ 1,500 his first oil painting titled Rural Courtship in 1912, but most of the collection was amassed after 1939. The first Gilcrease Museum opened at his oil company headquarters (at that time located in San Antonio, Texas) in 1943. Within a few years, he returned to Tulsa with his oil company and his growing collection. He opened a gallery for public viewing on his Tulsa estate in 1949.
the museum
Gilcrease collected at a time when few people were interested in the art or history of the American West, and so his collection grew rapidly. During the early 1950s, he acquired numerous works of art, artifacts, and documents. But declining oil prices made it difficult for him to finance major purchases. Faced with a seemingly insurmountable debt, Gilcrease offered to sell his entire collection in order to keep it intact. In 1954, fearing that Gilcrease Museum would leave Tulsa, a small group of citizens organized a bond election. The voters of Tulsa approved, by a 3-to-1 margin, the bond issue that paid Gilcrease's outstanding debts. This kept the collection in the city.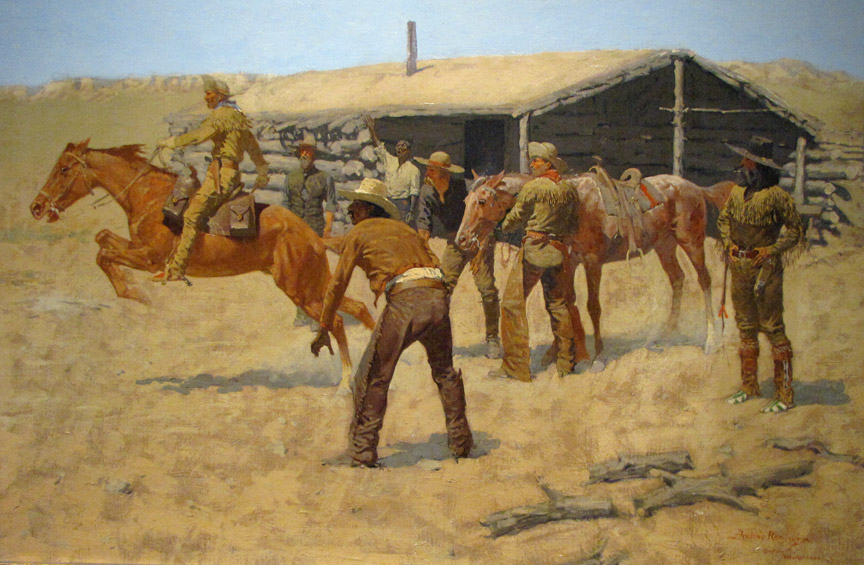 the pony express
from the Western Art collection
Thomas Gilcrease then deeded his collection to the city of Tulsa in 1955. In 1958, the Gilcrease foundation conveyed the museum buildings and grounds to the city of Tulsa. In addition, Gilcrease committed oil property revenue to Tulsa for assistance in maintaining the museum until the $2.25 million bond was fully repaid. In the years following the transfer of the collection, Thomas Gilcrease continued to fund archaeological excavations and acquire additional materials for the collection. Upon his death in 1962, he bequeathed to the museum the material he had collected during his final years.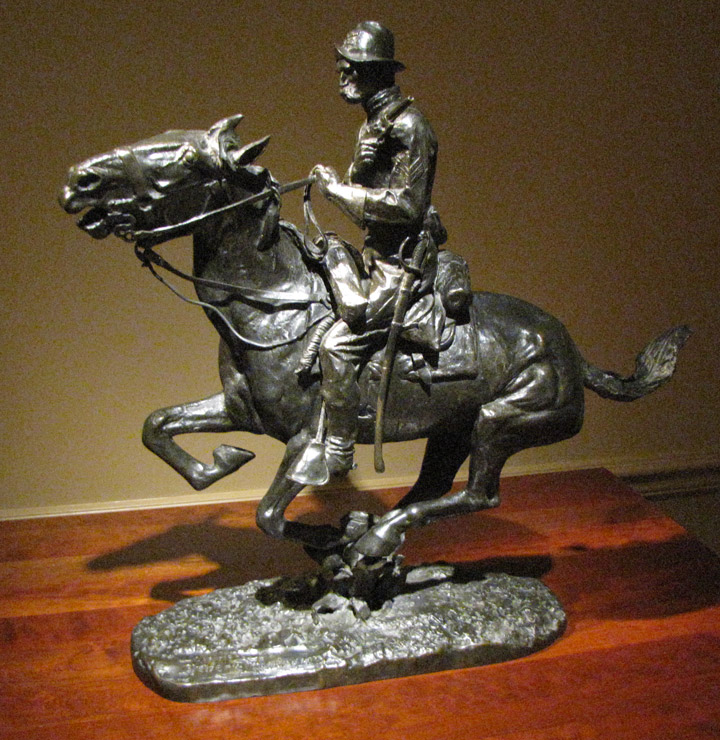 bronze statues
Many of America's most famous artists have their work displayed in Gilcrease Museum's American West Gallery. Albert Bierstadt, Frederic Remington, Thomas Moran, and Joseph Henry Sharp are featured prominently. Also on display at the Gilcrease Museum are works by Charles Marion Russell, Alexandre Hogue, and John James Audubon.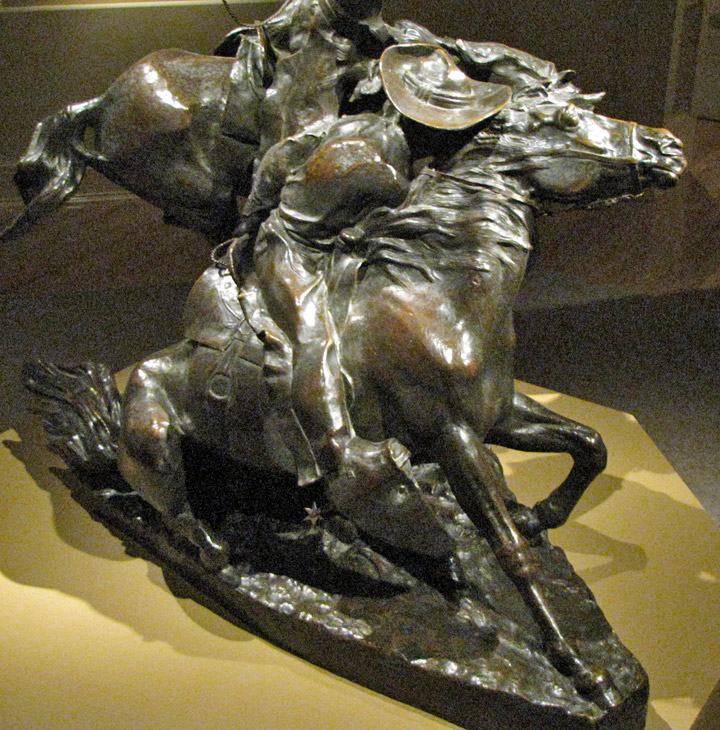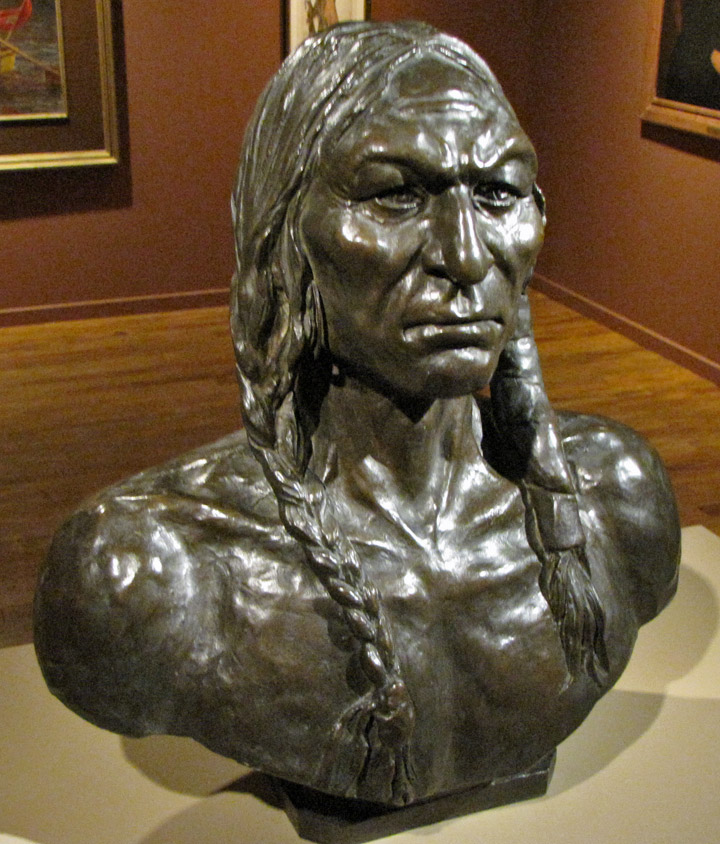 from the Native American collection
Thomas Gilcrease believed that the story of the American West could be told through art and that the history of the native Americans and his own American Indian heritage could be preserved through painting, sculpture, and other forms of art. He was a patron to a number of native American artists of his time and purchased over 500 paintings by 20th century native American artists alone.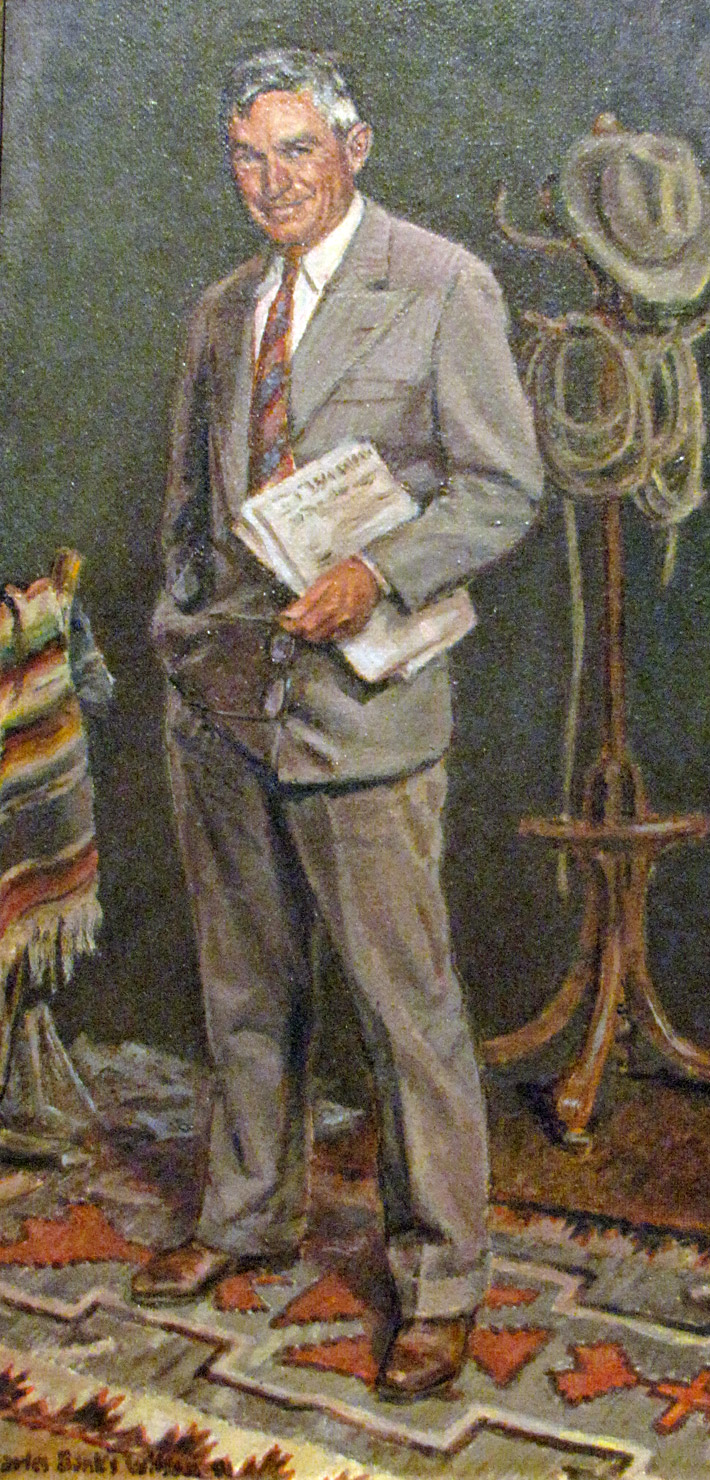 Will Rogers
one of the State Capitol paintings
Special Exhibition of State Capitol paintings
Gilcrease Museum now has a new long-term native American exhibition. Enduring Spirit: Native American Artistic Traditions permits the museum to showcase some of the major strengths of the permanent collection as well as provide a much more comprehensive and integrated presentation of the museum's native American art collections.
Text from Wikipedia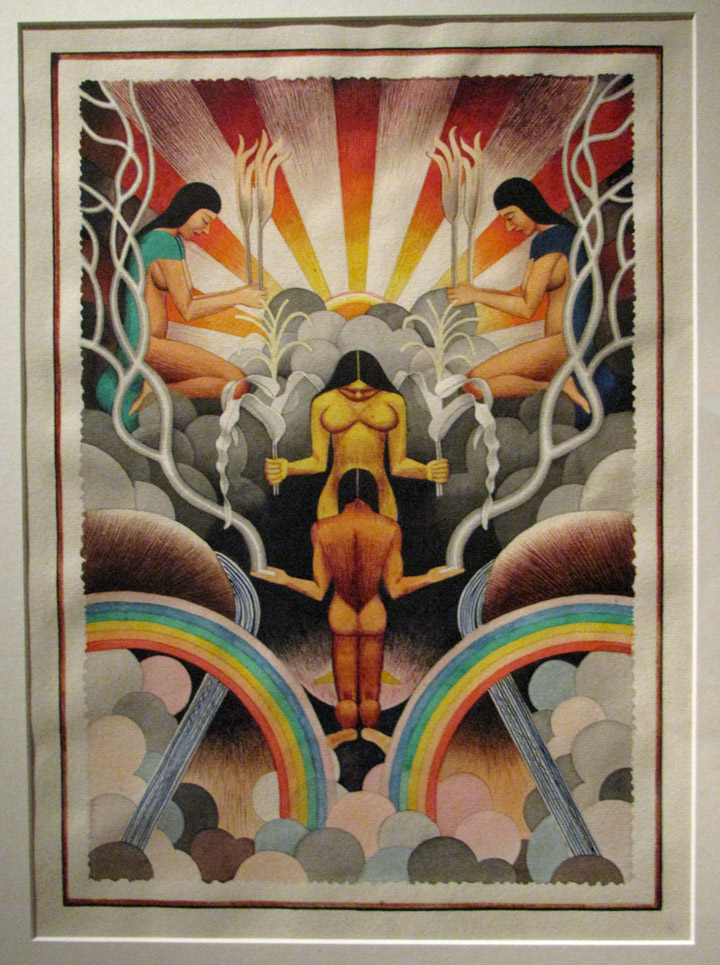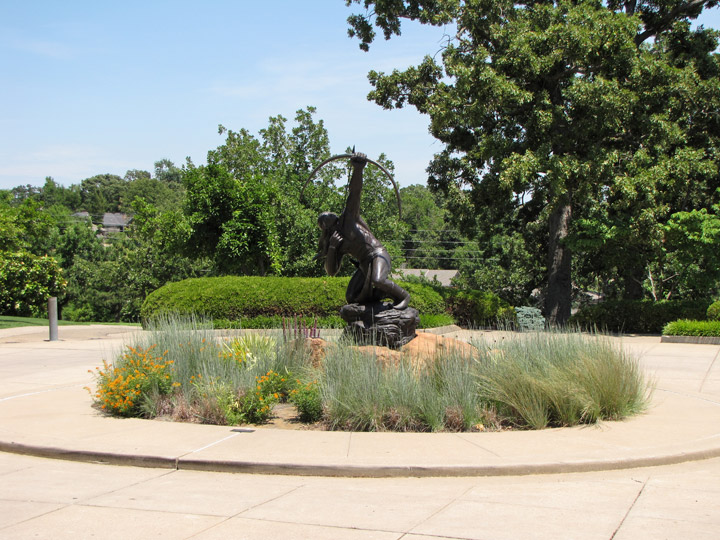 the oval in front of the museum
---
The Gilcrease residence
on the museum grounds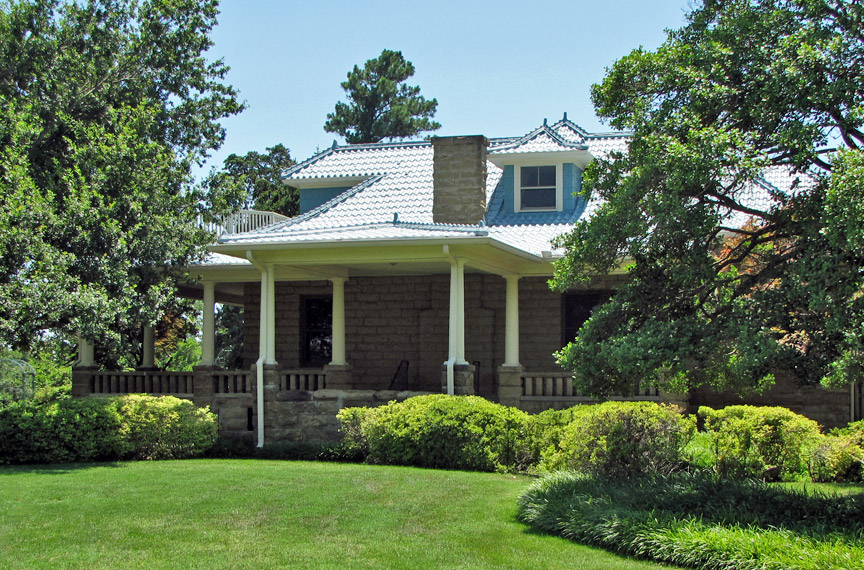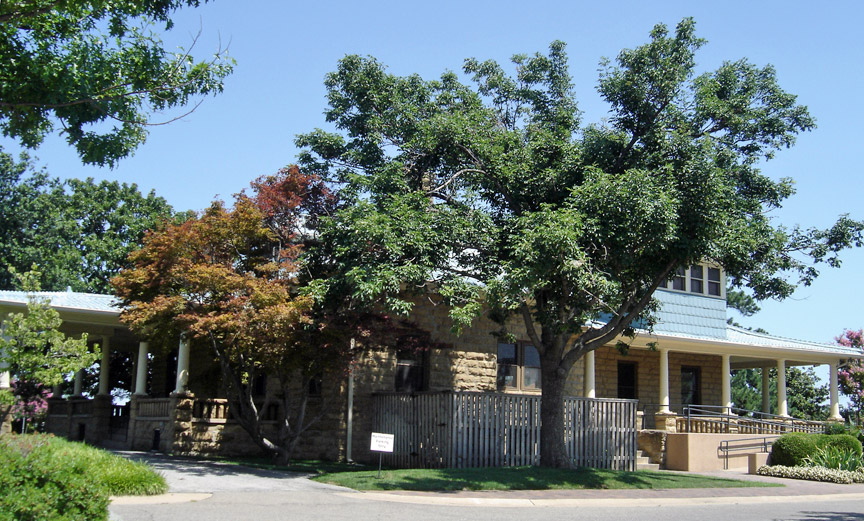 ---
---