Chocolate Museum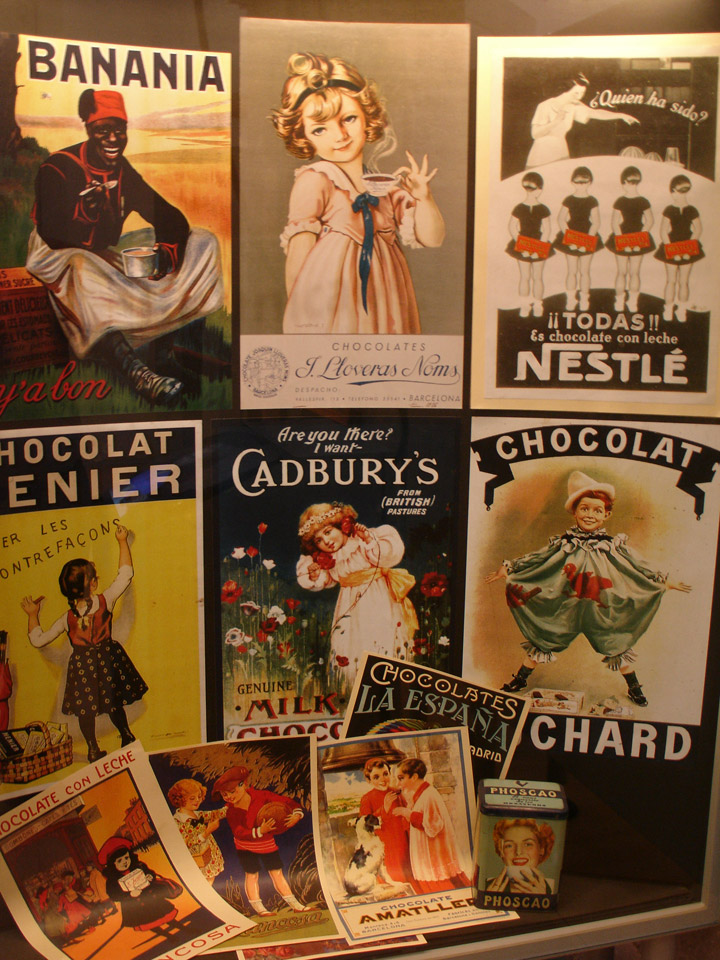 chocolate sales posters
The initiative of the Barcelona Confectionery Guild promotes the Chocolate Museum as part of their determination to innovate and modernize the sector based on the traditions of the world of confectionery.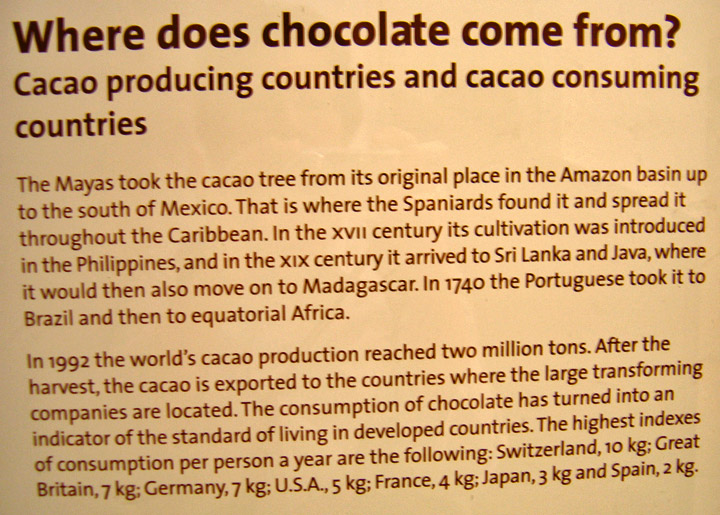 The Chocolate Museum is the first facility of its kind in Catalonia. Its creation has been possible thanks to the determination and efforts of the members of the Guild and their suppliers. This initiative is reflected in the privileged setting of the museum itself.
---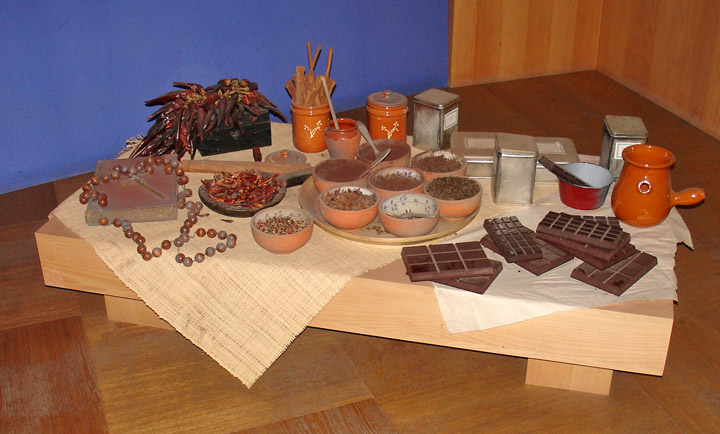 Chocolate comprises a number of raw and processed foods that originate from the seed of the tropical cacao tree. It is a common ingredient in many kinds of confections such as chocolate bars, candy, ice cream, cookies, cakes, pies, chocolate mousse, and other desserts. It is one of the most popular (or at least recognizable) flavors in the world.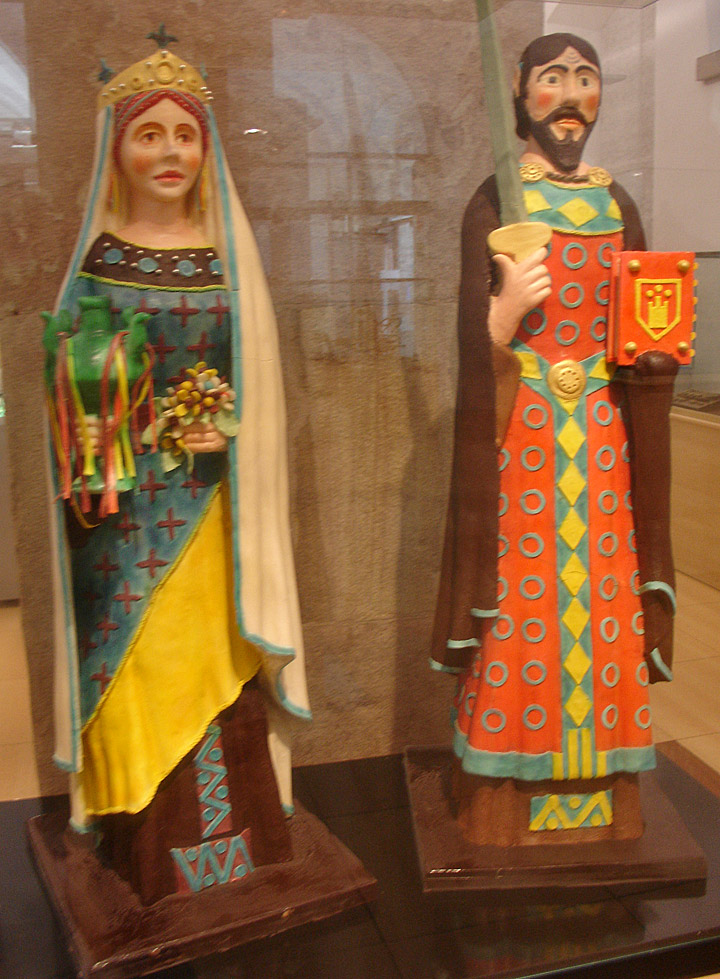 Royalty in chocolate

Chocolate was created by the Mesoamerican civilization, from cacao beans, and cultivated by pre-Columbian civilizations such as the Maya and Aztec, who used it as a basic component in a variety of sauces and beverages. The cocoa beans were ground and mixed with water to produce a variety of beverages, both sweet and bitter, which were reserved for only the highest noblemen and clerics of the Mesoamerican world. Chocolate is made from the fermented, roasted, and ground beans taken from the pod of the tropical cacao tree, Theobroma cacao, which was native to Central America and Mexico, but is now cultivated throughout the tropics. The beans have an intensely flavored bitter taste. The resulting products are known as "chocolate" or, in some parts of the world, cocoa.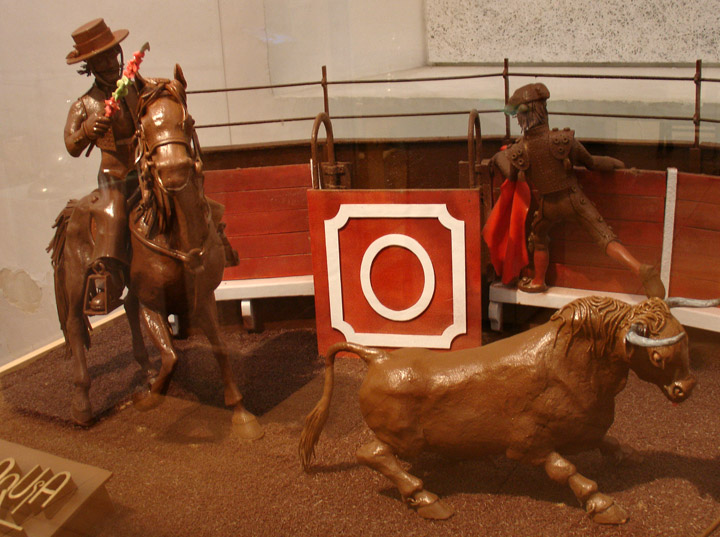 bullfighting in chocolate

Today, chocolate commonly refers to bars made from the combination of cocoa solids, fat, sugar and other ingredients. Chocolate is often produced as small molded forms in the shape of squares, animals, people, or inanimate objects to celebrate festivals worldwide. For example, there are moulds of rabbits or eggs for Easter, coins for Hanukkah, Saint Nicholas (Santa Claus) for Christmas, and hearts for Valentine's Day.

Chocolate can also be made into drinks (called cocoa and hot chocolate), as originated by the Aztecs and the Mayas. In England, Samuel Pepys records in his diaries at least two entries relating to "jocolatte" as early as the 1660s. Later, in 1689 Hans Sloane developed a milk chocolate drink in Jamaica initially used by apothecaries, but later sold by the Cadbury brothers.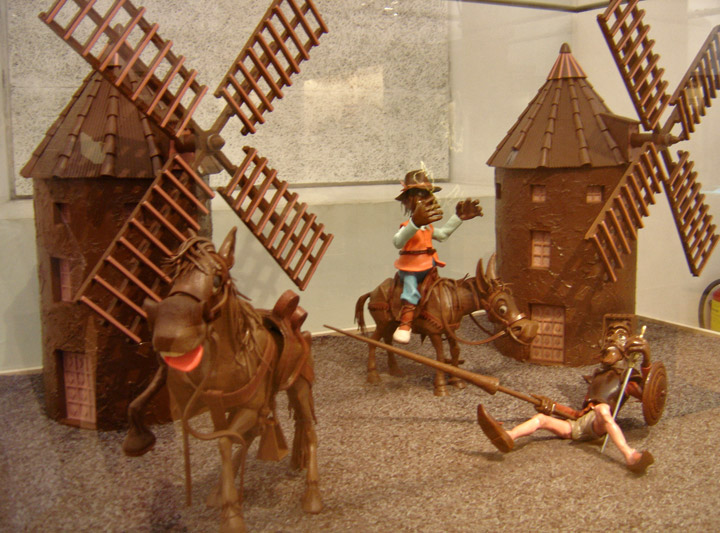 Don Quixote in chocolate
The word "chocolate" comes from the Nahuatl language of the Aztecs of Mexico. The word is derived from the Nahuatl word xocolatl , which is a combination of the words, xocolli, meaning "bitter", and atl, which is "water". The Aztecs associated chocolate with Xochiquetzal, the goddess of fertility. Chocolate is also associated with the Mayan god of Fertility. Mexican philologist Ignacio Davila Garibi, proposed that "Spaniards had coined the word by taking the Maya word chocol and then replacing the Maya term for water, haa, with the Aztec one, atl." However, it is more likely that the Aztecs themselves coined the term, having long adopted into Nahuatl the Mayan word for the "cacao" bean; the Spanish had little contact with the Mayans before Cortés's early reports to the Spanish King of the beverage known as xocolatl.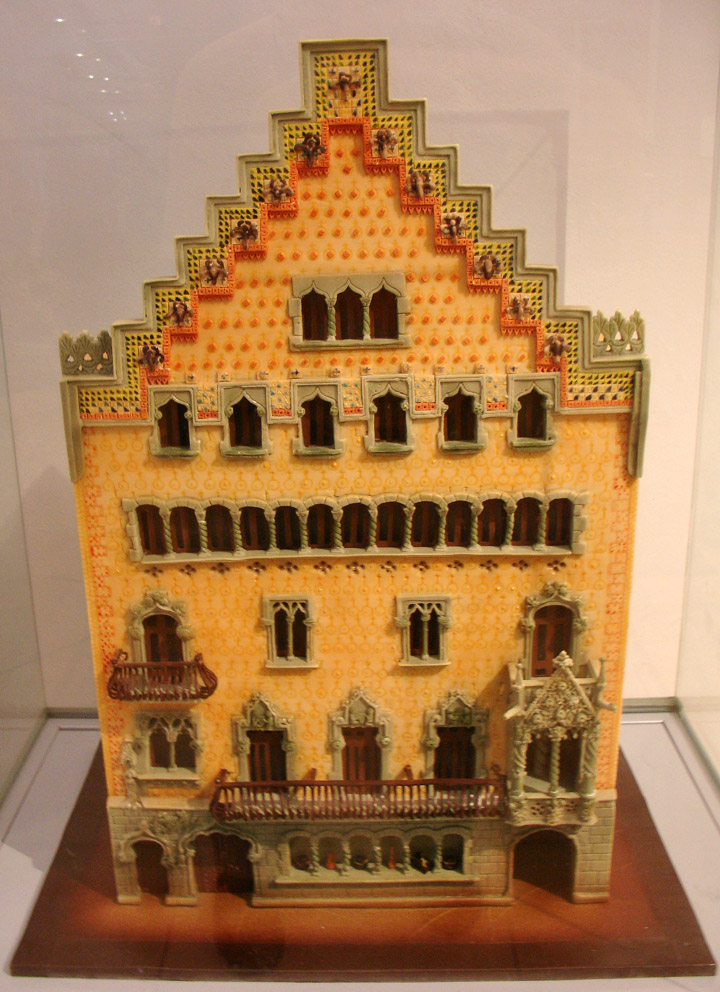 famous Barcelona architecture in chocolate
The earliest record of using chocolate dates back to the Mayans. The chocolate residue found in an ancient Maya pot suggests that Mayans were drinking chocolate 2,600 years ago. Chocolate has been used solely as a drink for nearly all of its history. In the New World, chocolate was consumed in a bitter, spicy drink called xocoatl, and was often flavored with vanilla, chile pepper, and achiote, (which is known today as annatto). Xocoatl was believed to fight fatigue, a belief that is probably attributable to the theobromine content. Other chocolate drinks combined it with such edibles as maize starch paste (which acts as an emulsifier and thickener), various fruits, and honey. In 1689 noted physician and collector Hans Sloane, developed a milk chocolate drink in Jamaica which was initially used by apothecaries, but later sold by the Cadbury brothers.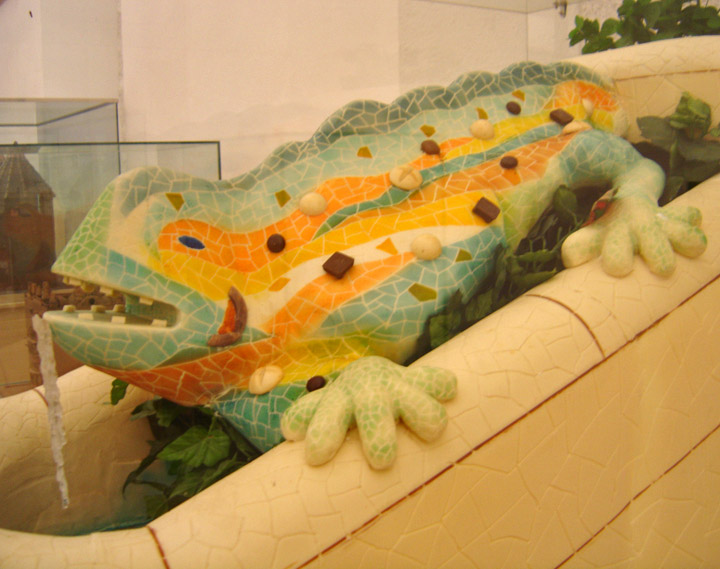 Gaudi's Parc Guell dragon in chocolate
Chocolate was an important luxury good throughout pre-Columbian Mesoamerica, and cacao beans were often used as currency. For example, the Aztecs used a system in which one turkey cost one hundred cacao beans and one avocado was worth three beans.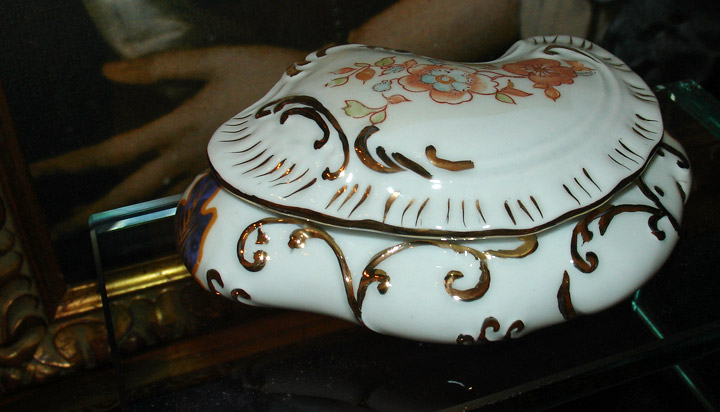 ceramic vessel used to deliver chocolates on social occasions
Roughly two-thirds of the entire world's cocoa is produced in Western Africa, with close to half of the total sourced from Côte d'Ivoire. Like many food industry producers, individual cocoa farmers are at the mercy of volatile world markets. The price can vary from £500 ($945) to £3,000 ($5,672) per ton, in the space of just a few years. While investors trading in cacao can dump shares at will, individual cocoa farmers cannot increase production or abandon trees at anywhere near that pace. When cocoa prices drop, farmers in West Africa sometimes cut costs by using slave labor. It has been alleged that an estimated 90% of cocoa farms in Côte d'Ivoire have used some form of slave labor in order to remain viable.
Harvesting
Harvesting cacao beans is a delicate process. First, the pods, containing cacao beans, are harvested. The beans, together with their surrounding pulp, are removed from the pod and placed in piles or bins to ferment for three to seven days. The fermentation process is what gives the beans the chocolate taste that we know and love. The beans must then be quickly dried to prevent mold growth; weather permitting, this is done by spreading the beans out in the sun.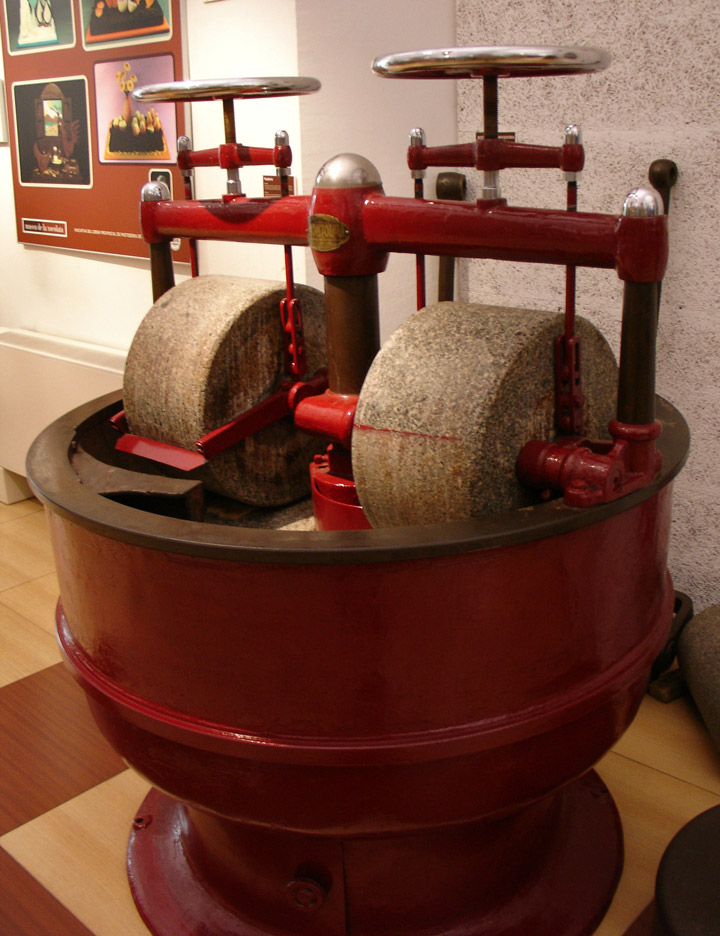 for grinding of beans
Chocolate liquor
The dried beans are transported from the plantation where they were grown to a chocolate manufacturing facility.

The beans are then cleaned (removing twigs, stones, and other debris), roasted, and graded. Next the shells are removed to extract the nib. Finally, the nibs are ground which releases and melts the cocoa butter producing chocolate liquor.

There are three things that can be done with the chocolate liquor at this point:

* It can be solidified and sold (in the US) as unsweetened baking chocolate.
* Cocoa butter can be removed from it and the result is cocoa. There are several mechanisms for removing cocoa butter from chocolate liquor. These include using hydraulic pressure, the Broma process.
* Cocoa butter can be added to it to make eating chocolate.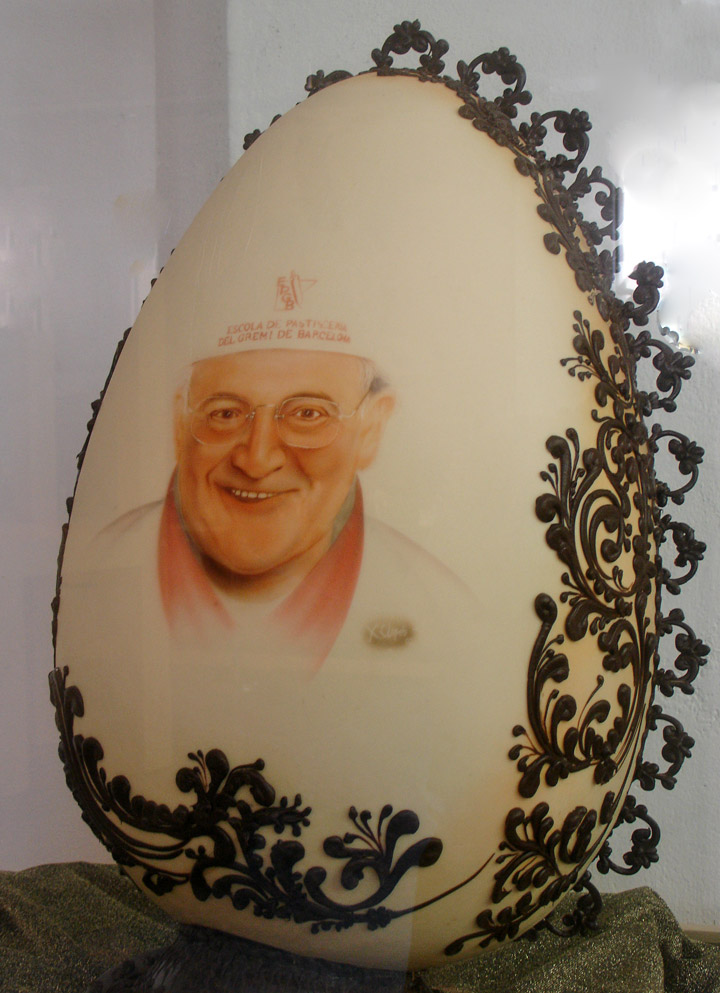 Chocolate Chef
Chocolate liquor is blended with the cocoa butter in varying quantities to make different types of chocolate or couvertures. The basic blends of ingredients for the various types of chocolate (in order of highest quantity of cocoa liquor first), are as follows:

1. Dark chocolate: sugar, cocoa butter, cocoa liquor, and (sometimes) vanilla
2. Milk chocolate: sugar, cocoa butter, cocoa liquor, milk or milk powder, and vanilla
3. White chocolate: sugar, cocoa butter, milk or milk powder, and vanilla

Usually, an emulsifying agent such as soya lecithin is added, though a few manufacturers prefer to exclude this ingredient for purity reasons and to remain GMO-free (Soya is a heavily genetically modified crop), sometimes at the cost of a perfectly smooth texture. Some manufacturers are now using PGPR, an artificial emulsifier derived from castor oil that allows them to reduce the amount of cocoa butter while maintaining the same mouthfeel.

The texture is also heavily influenced by processing, specifically conching. The more expensive chocolates tend to be processed longer and thus have a smoother texture and "feel" on the tongue, regardless of whether emulsifying agents are added.

Different manufacturers develop their own "signature" blends based on the above formulas but varying proportions of the different constituents are used.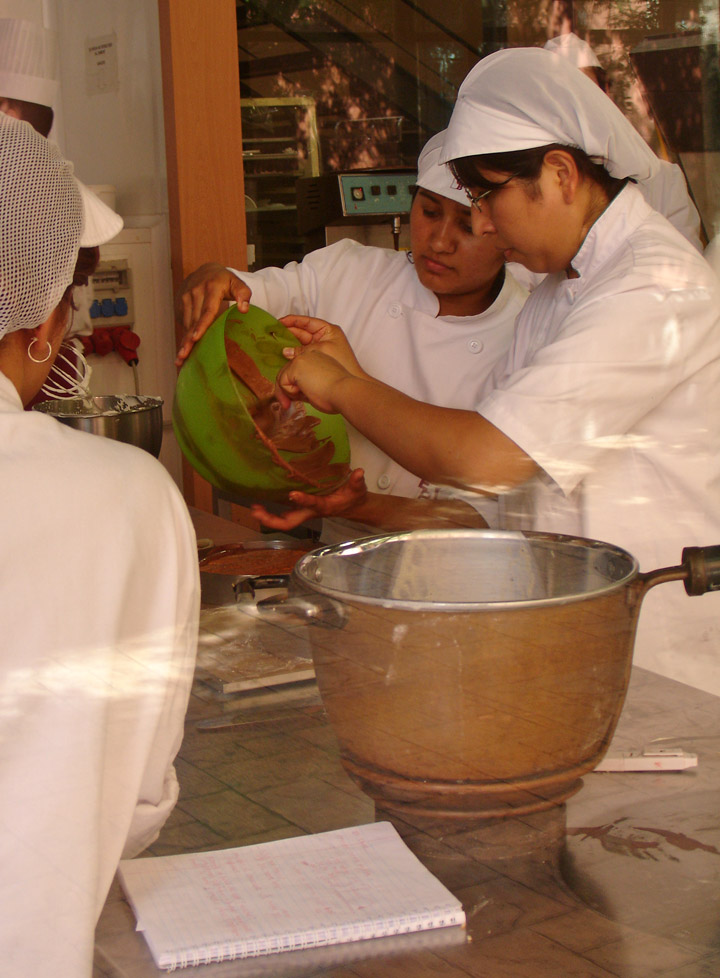 working with chocolate
The finest plain dark chocolate couvertures contain at least 70% cocoa (solids + butter), whereas milk chocolate usually contains up to 50%. High-quality white chocolate couvertures contain only about 33% cocoa. Some mass-produced chocolate contains much less cocoa (as low as 7% in many cases) and fats other than cocoa butter. Some chocolate makers opine that these "chocolate" products should not be classed as couvertures, or even as chocolate, because of the low or virtually non-existent cocoa content.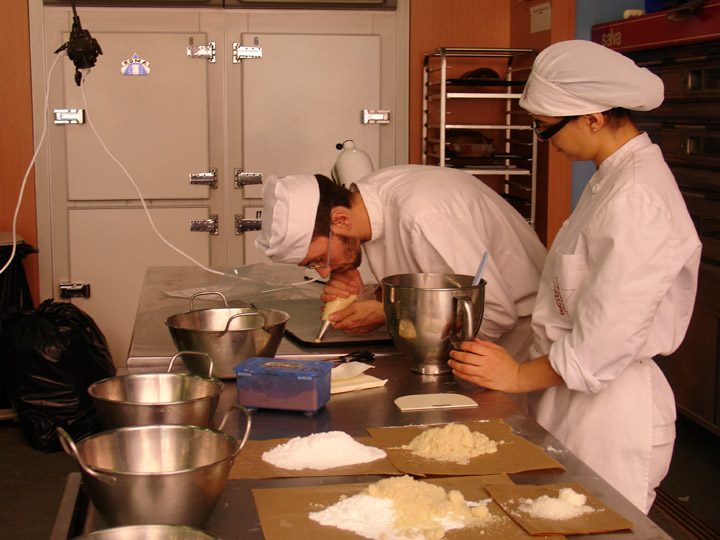 making pastry in the school kitchen
In 2007, the Chocolate Manufacturers Association, whose members include Hershey, Nestlé, and Archer Daniels Midland, are lobbying the FDA to change the legal definition of chocolate to let them substitute partially hydrogenated vegetable oils for cocoa butter in addition to using artificial sweeteners and milk substitutes. Currently, the FDA does not allow a product to be referred to as "chocolate" if the product contains any of these ingredients.
Text from Wikipedia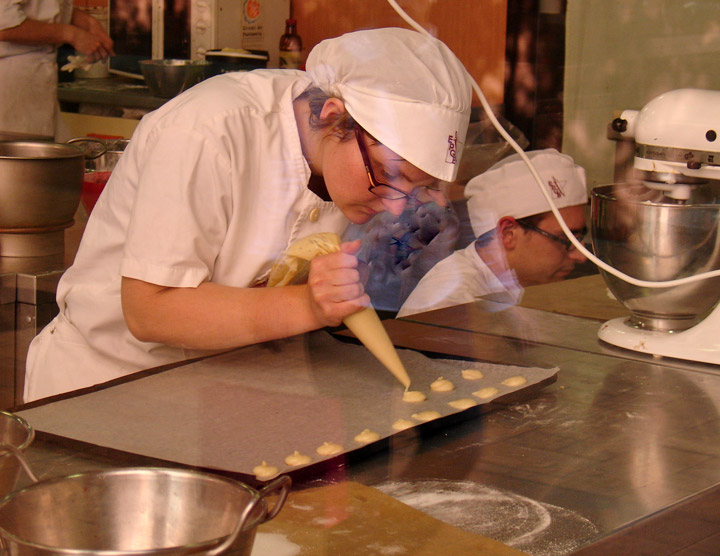 ---
---