Sagrada Familia
Consecrated by Pope Benedict on November 7, 2010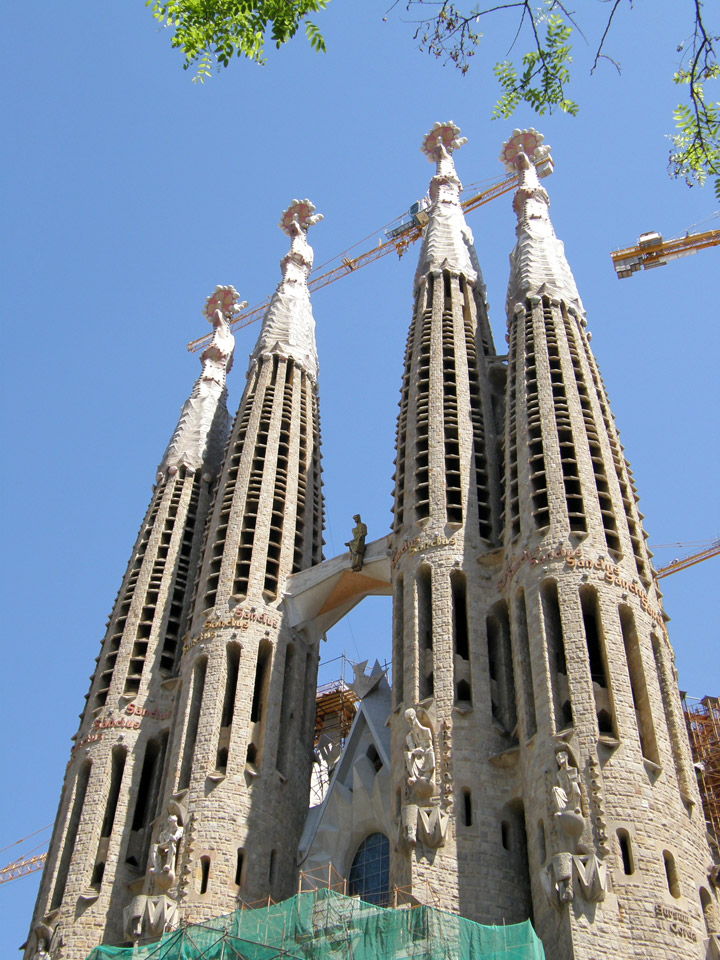 La Sagrada Família (Catalan, 'The Holy Family') is a large Roman Catholic basilica under construction in Barcelona, Catalonia, Spain. Its formal title is Temple Expiatori de la Sagrada Família. Antoni Gaudí worked on the project for over 40 years, devoting the last 15 years of his life entirely to this endeavor. On the subject of the extremely long construction period, Gaudí is said to have joked, "My client is not in a hurry." After Gaudí's death in 1926, work continued under the direction of Domènech Sugranyes until interrupted by the Spanish Civil War in 1935.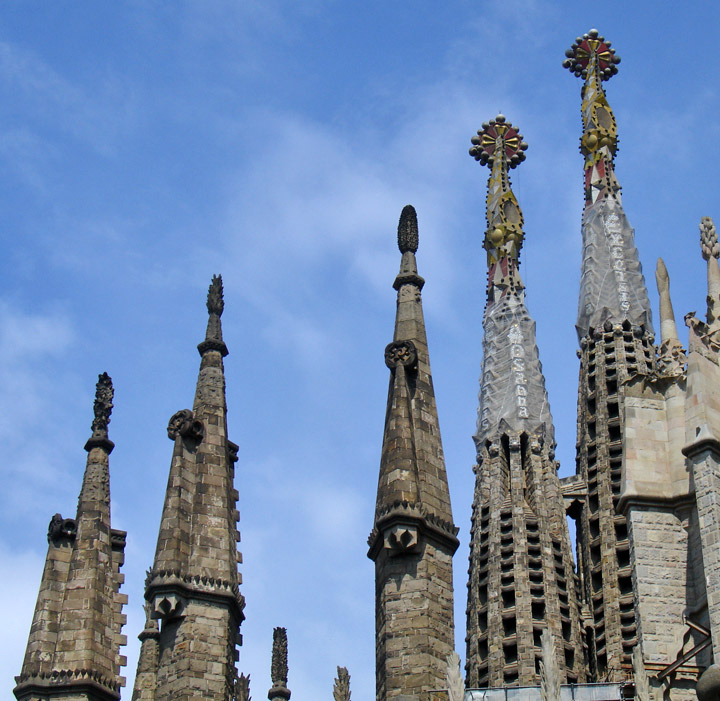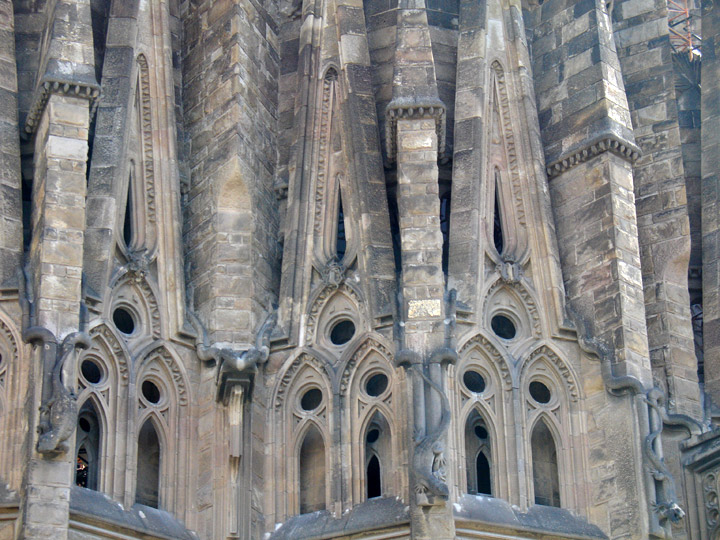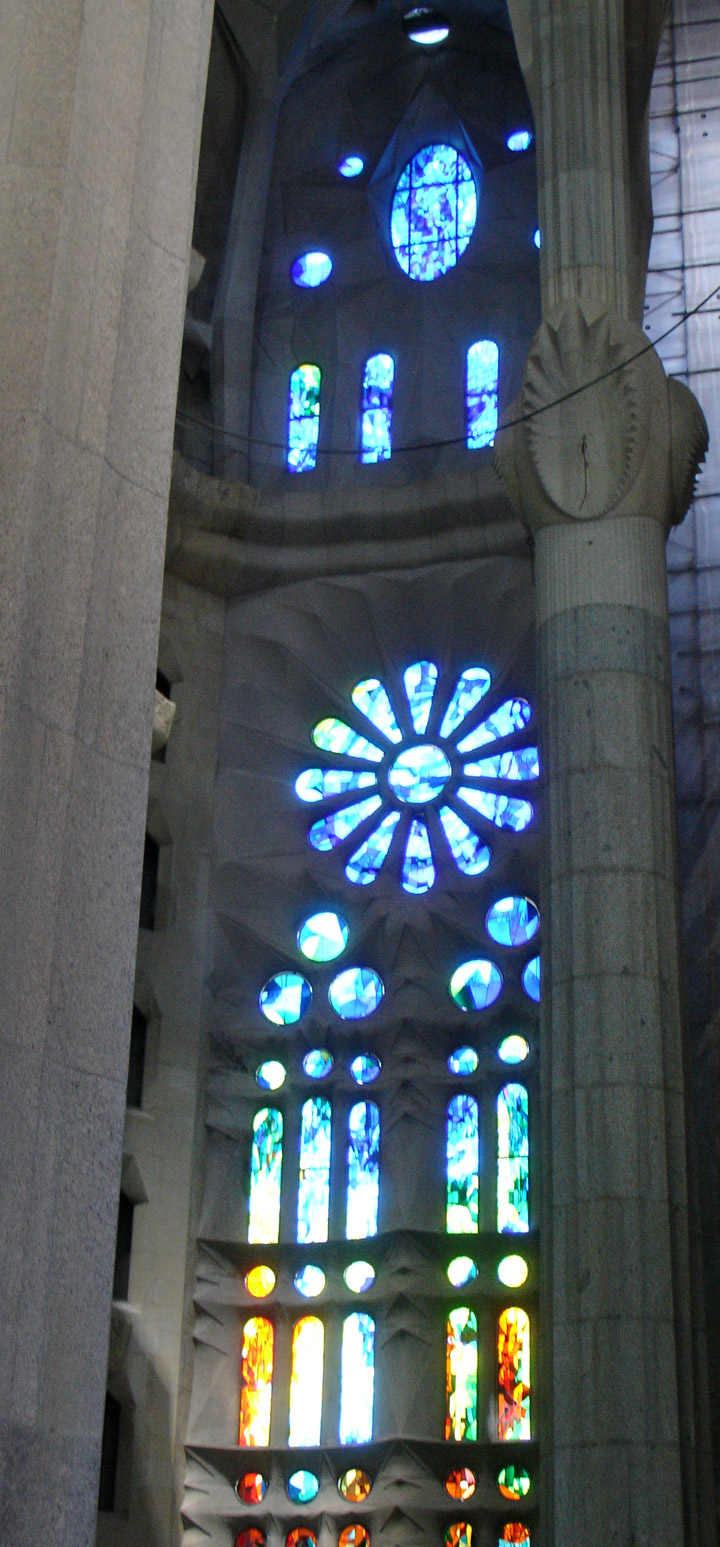 Photos of the Stain Glass Windows

Parts of the unfinished building and Gaudí's models and workshop were destroyed during the war by Catalan anarchists. The design, as now being constructed, is based both on reconstructed versions of the lost plans and on modern adaptations. Since 1940 the architects Francesc Quintana, Isidre Puig Boada, Lluís Bonet i Gari and Francesc Cardoner have carried on the work. The current director and son of Lluís Bonet, Jordi Bonet i Armengol, has been introducing computers into the design and construction process since the 1980s. Sculptures by J. Busquets, Etsuro Sotoo and the controversial Josep Subirachs decorate the fantastical façades.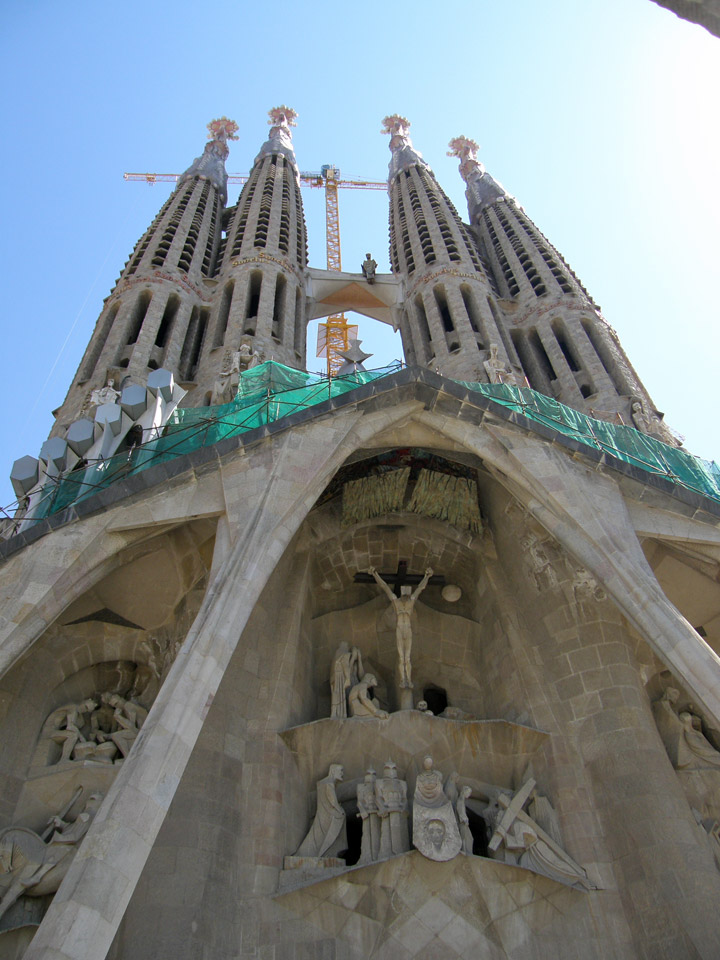 Passion facade

Detail of the Passion facade
According to the newspaper El Periódico de Catalunya, 2.26 million people visited the partially built basilica in 2004, making it one of the most popular attractions in Spain, alongside the Museo del Prado and Alhambra. The central nave vaulting was completed in 2000 and the main tasks since then have been the construction of the transept vaults and apse. Current work (2007) concentrates on the crossing and supporting structure for the main tower of Jesus Christ as well as the southern enclosure of the central nave which will become the Glory façade.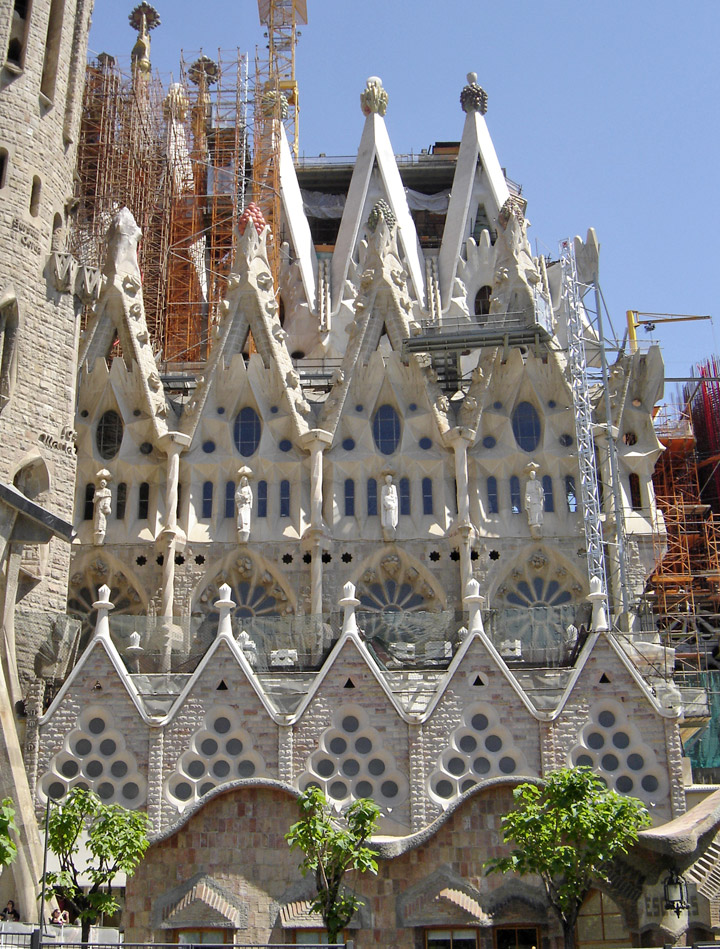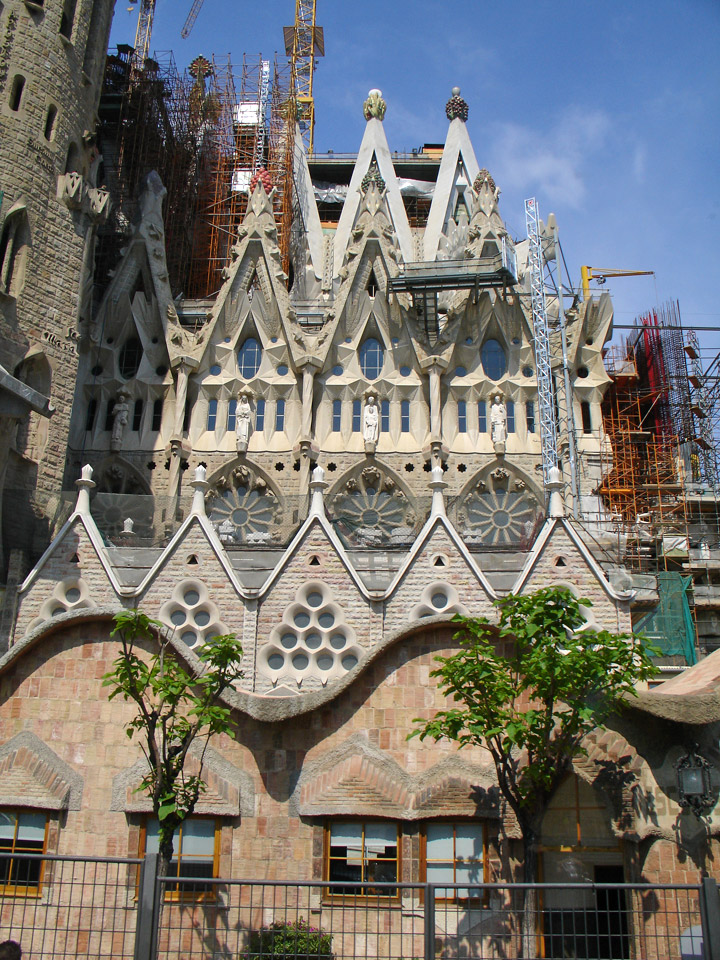 The cloister in the side of the Baptistery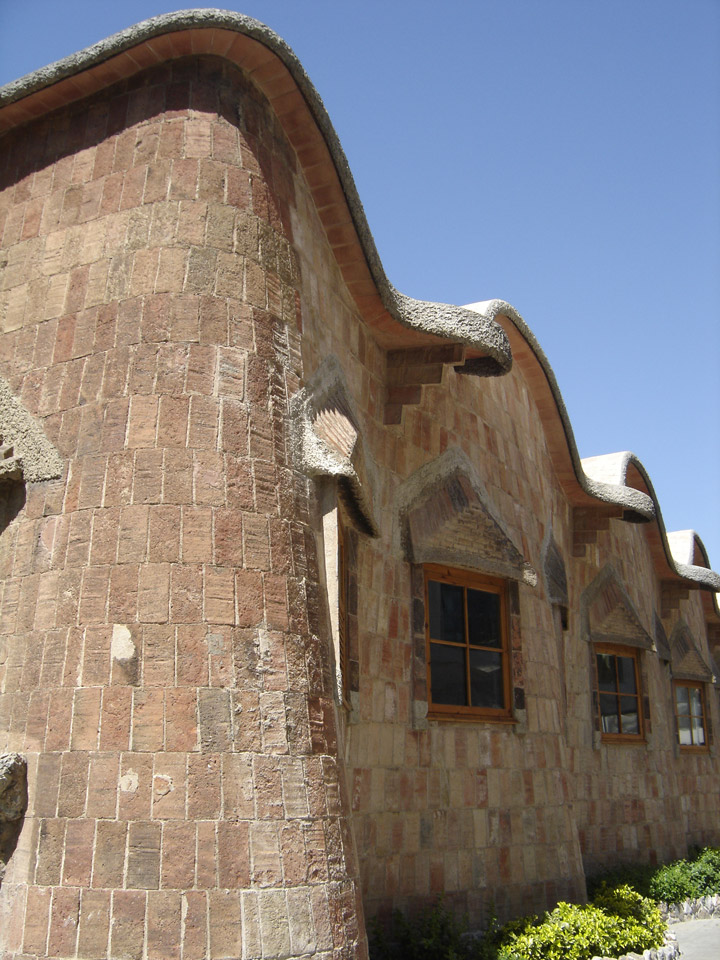 cloister
Photos of the Museum in the lower level
Every part of the design of La Sagrada Família is rich with Christian symbolism, as Gaudí intended the church to be the "last great sanctuary of Christendom". Its most striking aspect is its spindle-shaped towers. A total of 18 tall towers are called for, representing in ascending order of height the twelve Apostles, the four Evangelists, the Virgin Mary and, tallest of all, Jesus Christ. (According to the 2005 "Works Report" of the temple's official website, drawings signed by Gaudí found recently in the Municipal Archives indicate that the tower of the Virgin was in fact intended by Gaudí to be shorter than those of the evangelists, and this is the design — which the Works Report states is more compatible with the existing foundations — that will be followed. The same source explains the symbolism in terms of Christ being known through the Evangelists.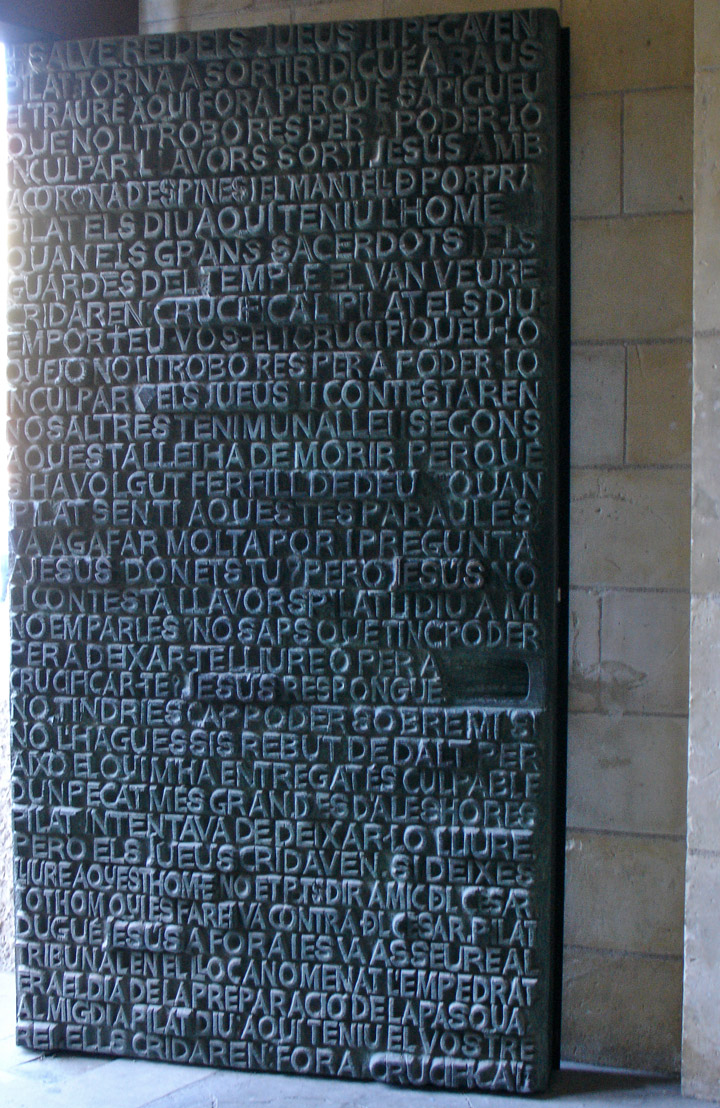 the metal main door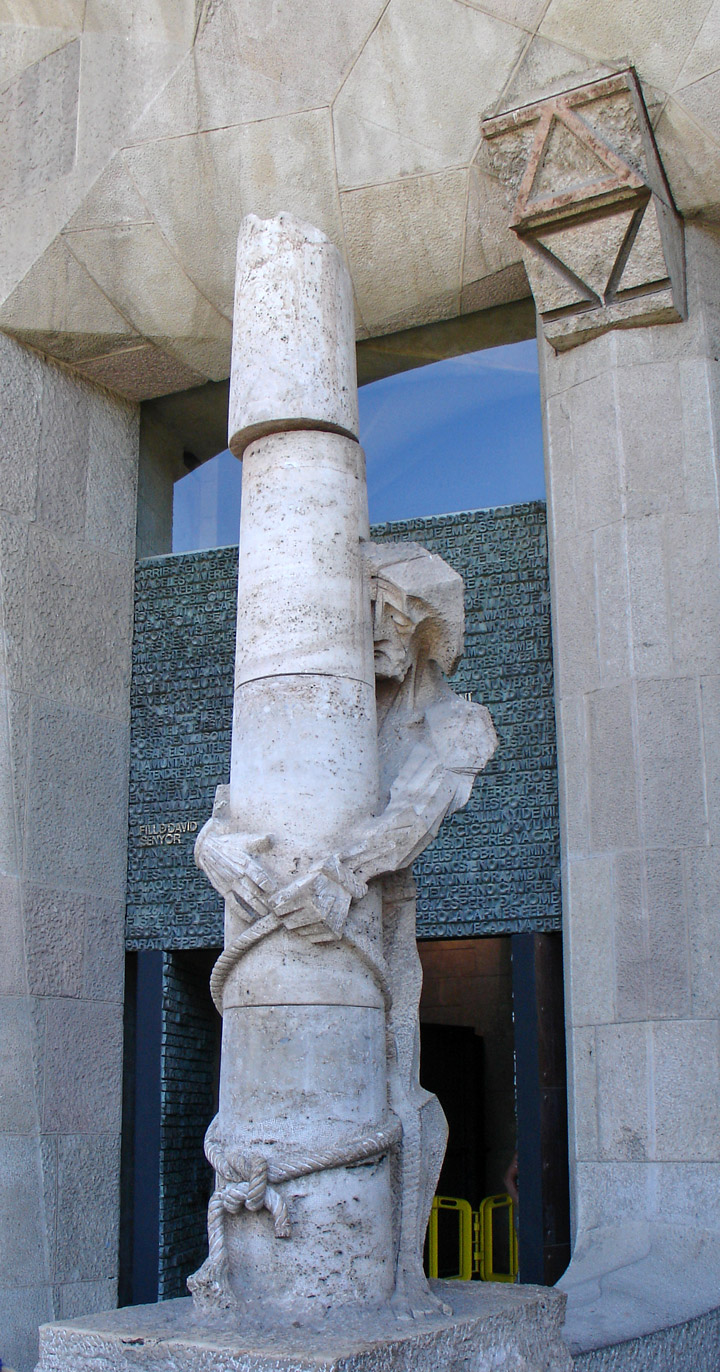 Christ flagellated
Antoni Gaudí used hyperboloid structures in later designs of the Sagrada Família (more obviously after 1914), however there are a few places on the nativity façade—a design not equated with Gaudi's ruled-surface design, where the hyperboloid crops up. For example, all around the scene with the pelican there are numerous examples (including the basket held by one of the figures). There is a hyperboloid adding structural stability to the cypress tree (by connecting it to the bridge). And finally, the "bishop's mitre" spires are capped with hyperboloid structures.. In his later designs ruled surfaces are prominent in the nave's vaults and windows and the surfaces of the Passion facade.

Text from Wikipedia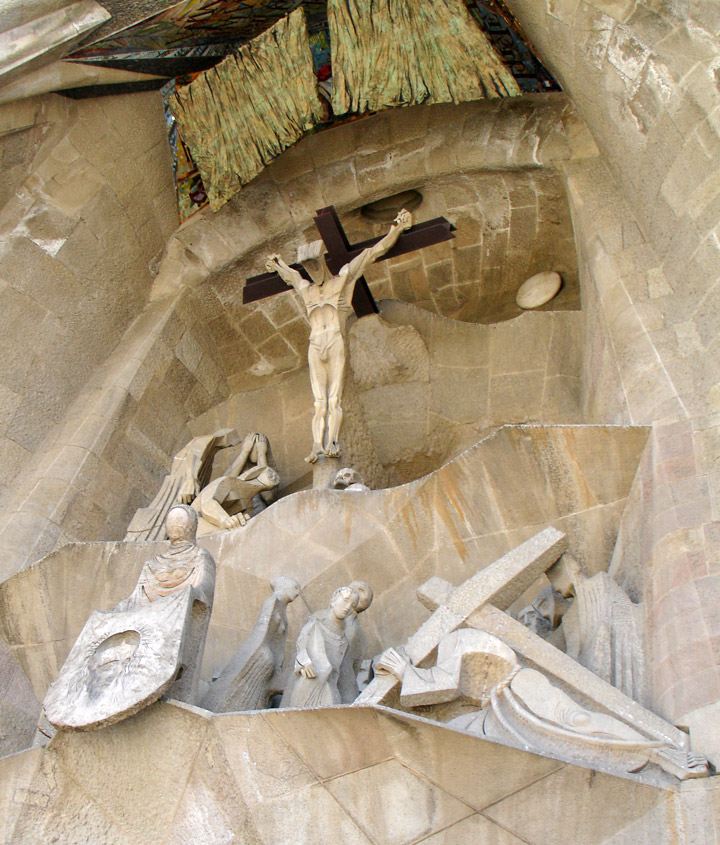 Passion detail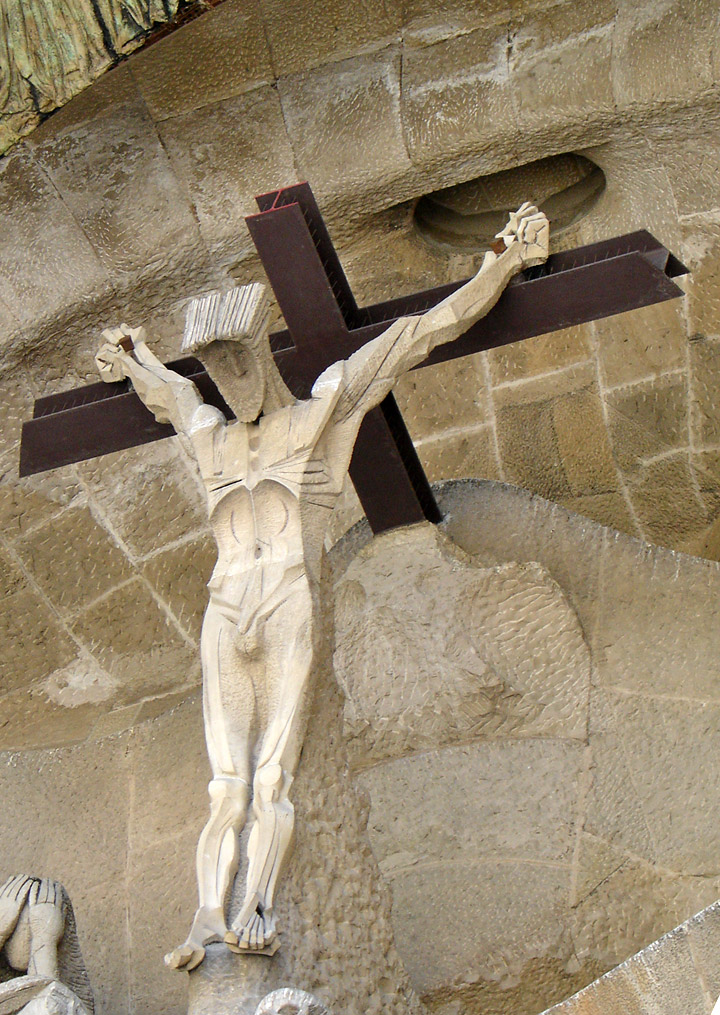 Christ on the Cross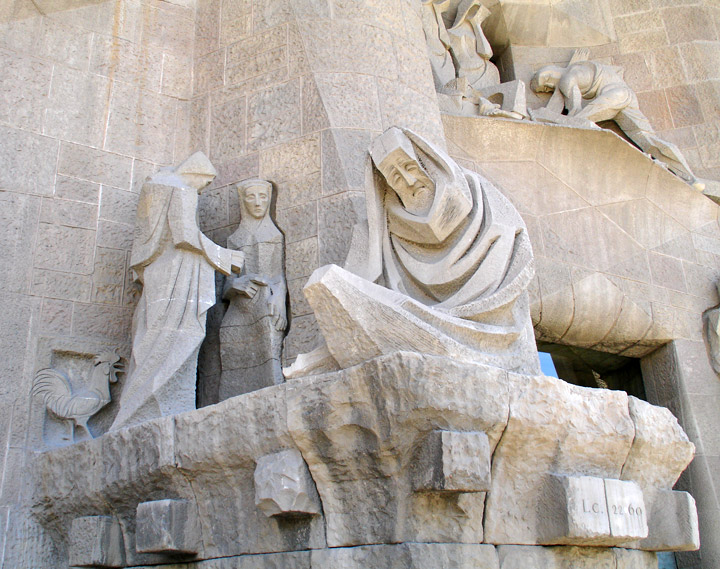 Peter negations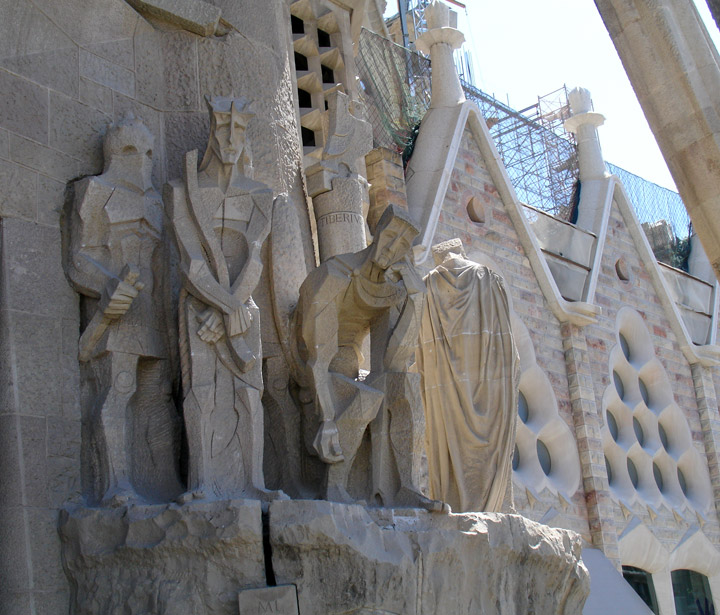 More Photos of the Passion facade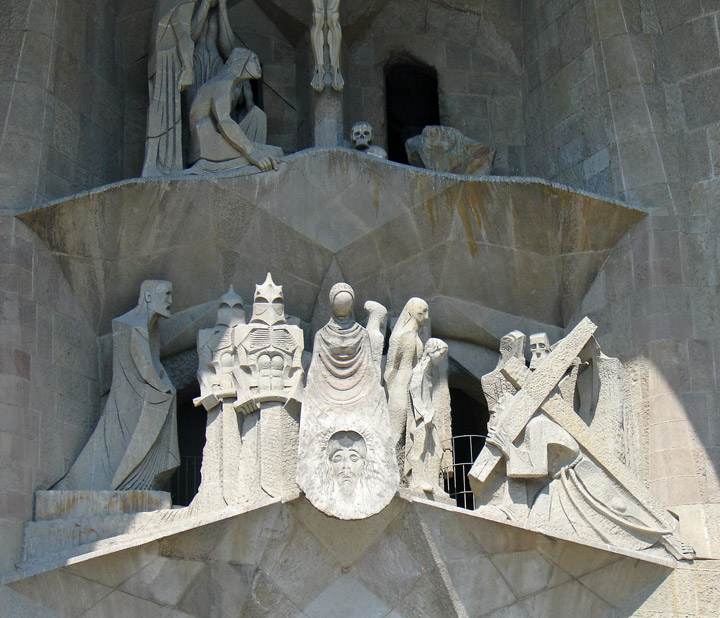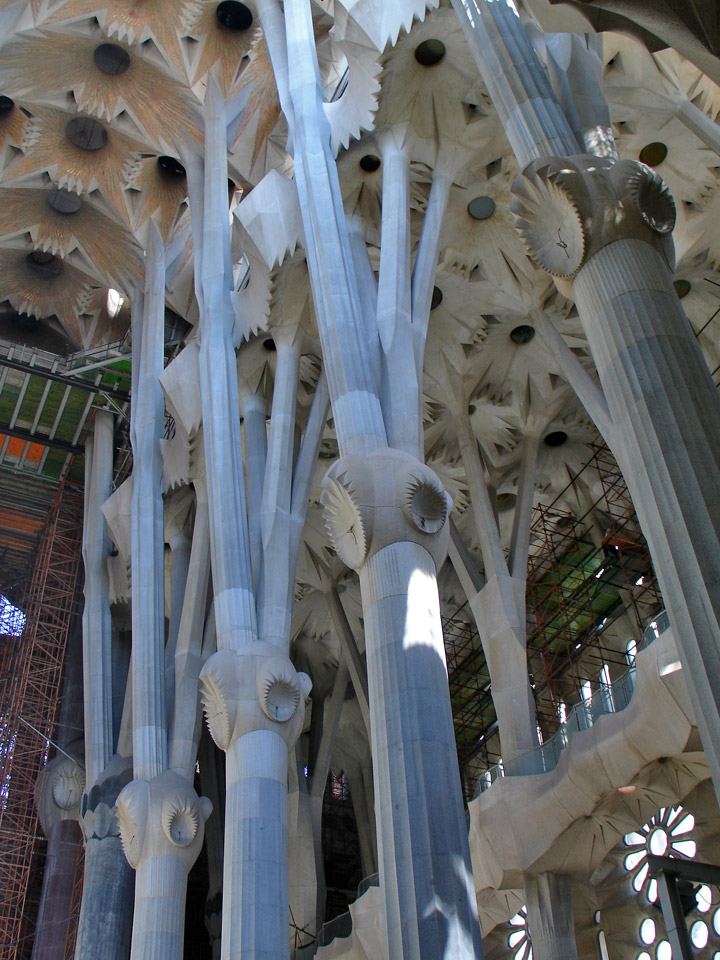 interior vaulting
Consecrated by Pope Benedict on November 7, 2010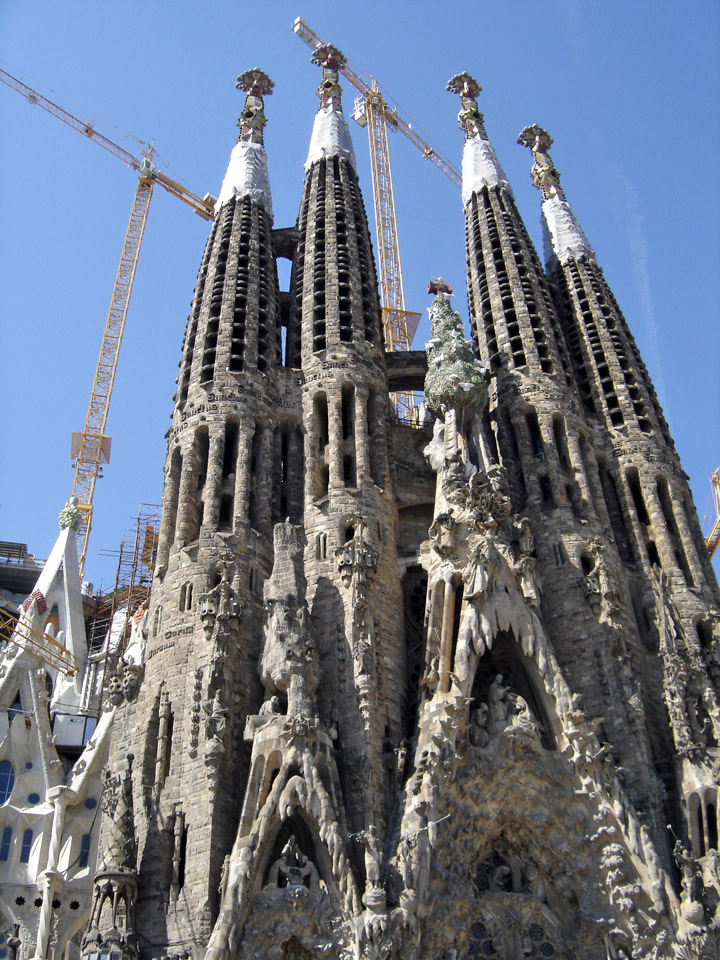 Nativity facade
More Photos of the Nativity Facade
---
---