Ghadames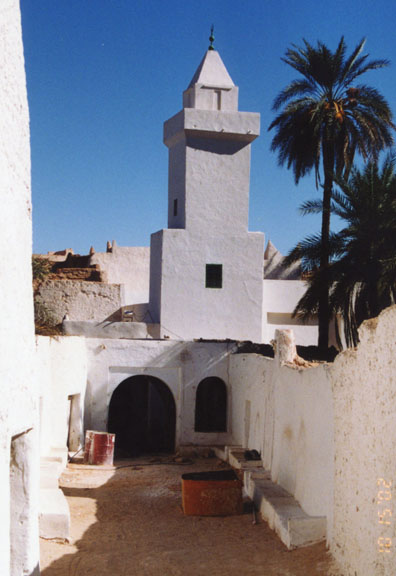 the old town
(an UNESCO Heritage site)
Town and oasis in Libya, with 10,000 inhabitants, next to the borders of Tunisia and Algeria.
Ghadames is recognized for its beautiful and inventive architecture, designed to fight the dramatic extremities of Saharan climate.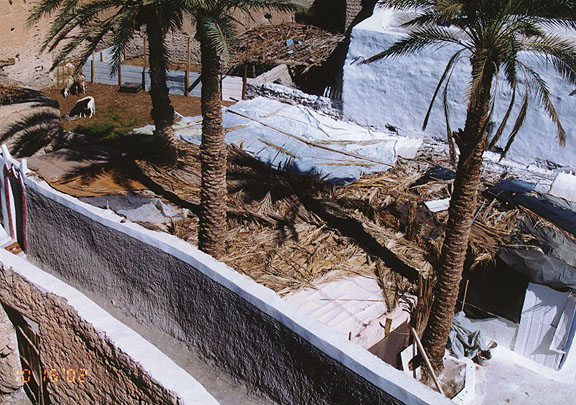 looking down on a palm leaf covered tea house
All houses are made out of mud, lime, and palm tree trunks. They are constructed so that all fit together, with covered alleyways between them, and adjacent roofs, allowing passage from one house to another.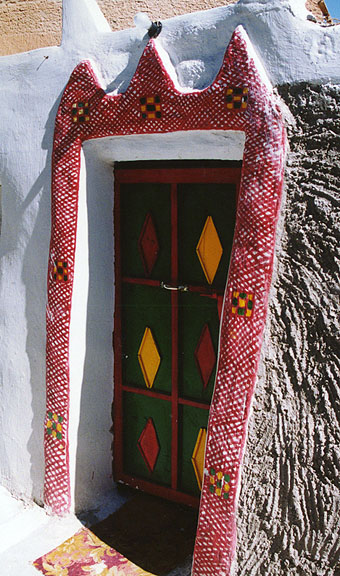 doorway to tea house
While the entire population have moved out to the modern nearby village, the old one offers the only good shelter against summer heat, so that the old village is still popular to use.
tea house interior
The economical base for Ghadames has been dwindling over the ears. Earlier the town was an important stopover on the caravan routes crossing the Sahara. Today's income is from some camel breeding, a small agriculture as well as administrative and military activities.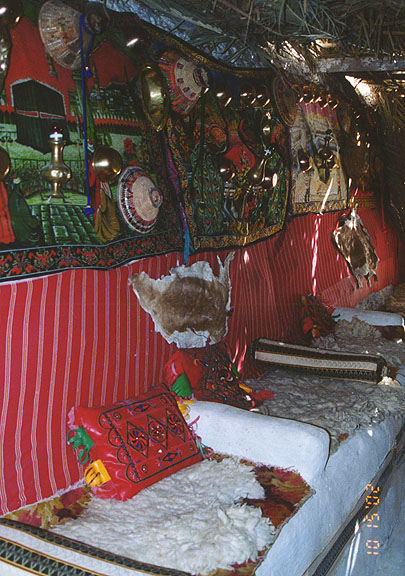 the tea house
HISTORY
There is evidence of settlements here back to Paleolithic and Neolithic times (about 10,000 years).
19 BCE: The Roman garrison Cydaus is set up, but the Romans found this a difficult post to hold.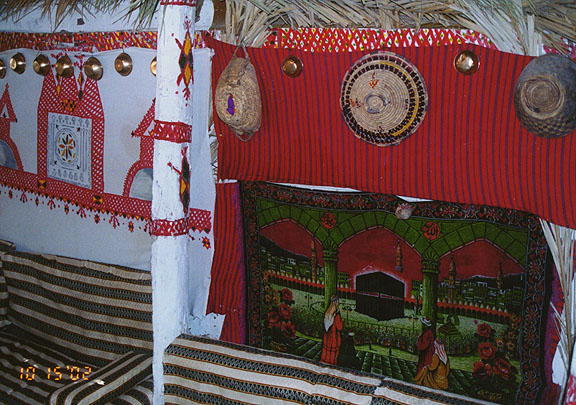 red Berber colors
4-5th centuries: Cydaus becomes an episcopate under the Byzantine empire, and altogether 4 bishops served their mission here.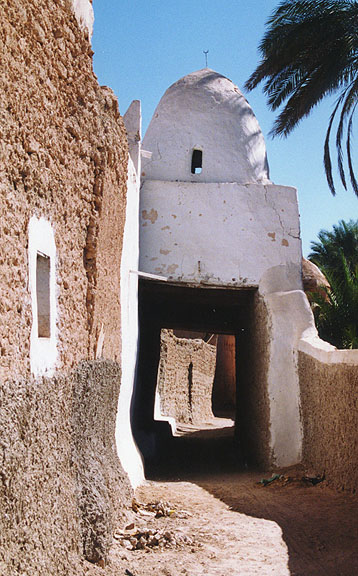 some passageways are open
667: Arab invasion. Uqba Bin Nefi stopped here on his way to Tunis.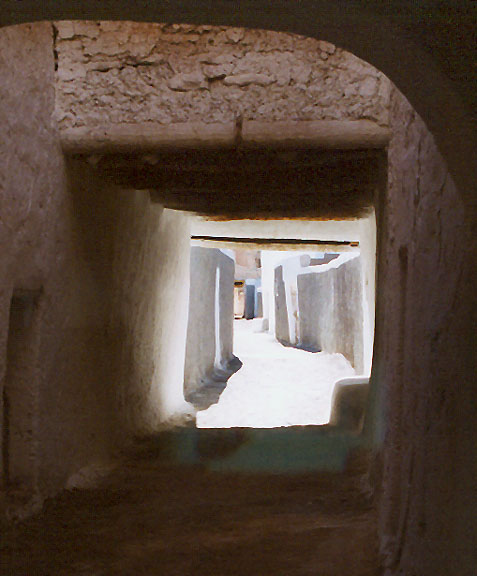 some are closed

8th century: Ghadames is established as an important trading point for caravans.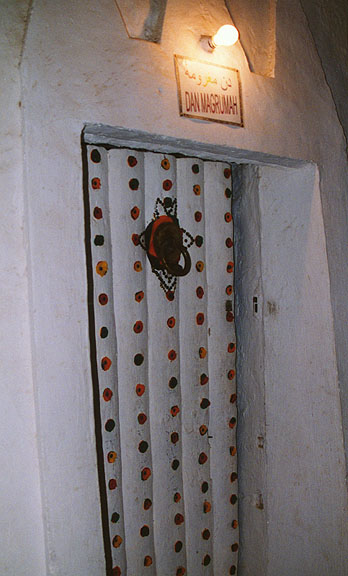 door to a residence
16th century: Ghadames is set under the Bey of Tunis.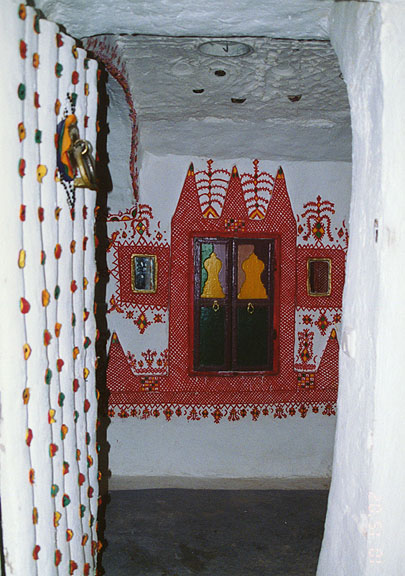 residence hallway
1860: Ghadames is set under the Bey of Tripoli.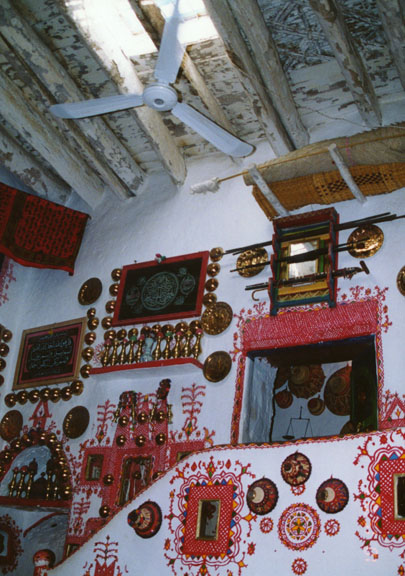 house interior
1914: The Italians reach Ghadames, three years after starting the occupation of the rest of Libya. They are met with strong resistance.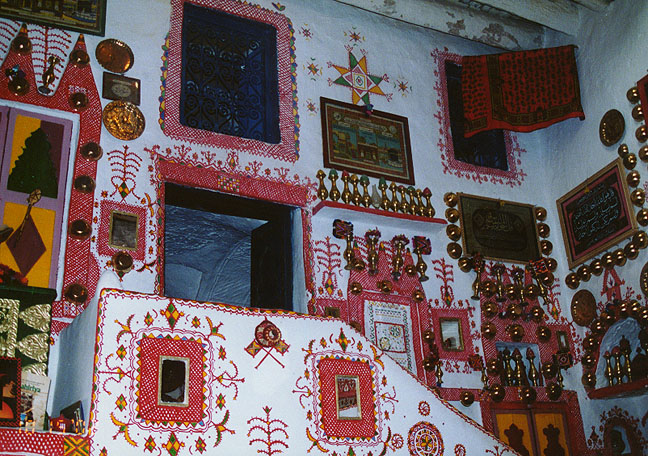 living area
1924: Italians finally get control over Ghadames.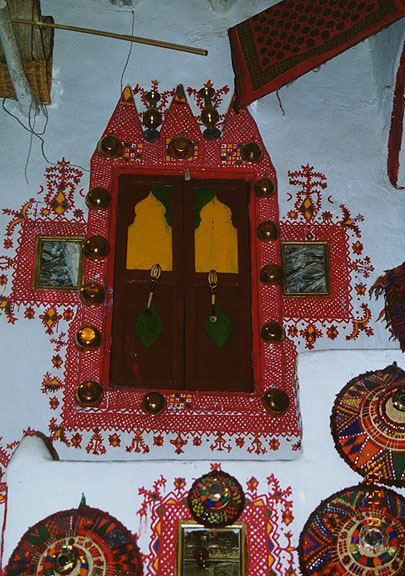 adornment on the wall
1940: Ghadames is set under French control. Under World War 2, the old city is strongly damaged.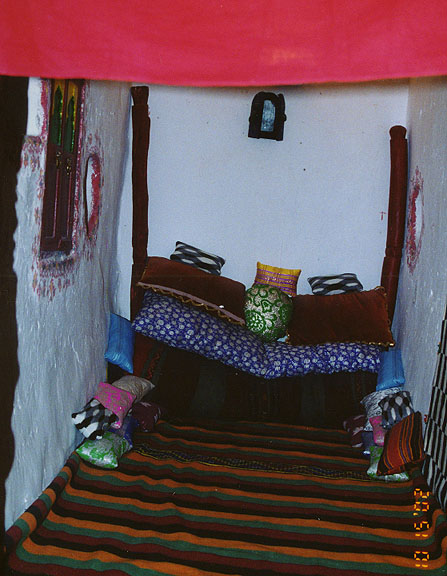 special room in the house
used for the bride to meet her husband
and for the widow to use after her husband's death
1951: After strong pressure, the Tunisian protectorate gives Ghadames up to the newly independent Libya.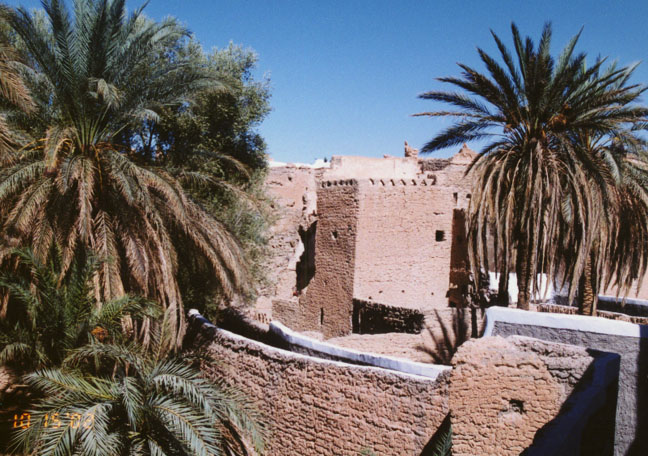 old town
1955: The last French troops leave.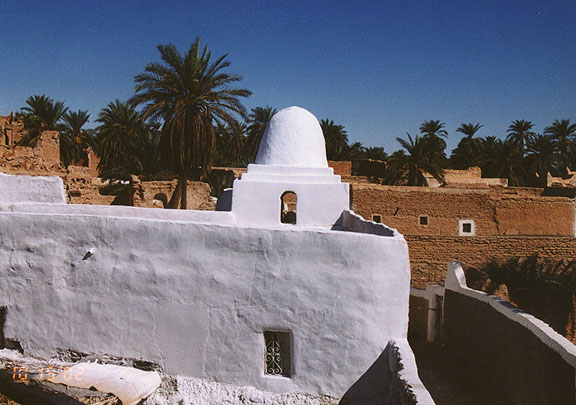 newly while washed for the celebration
1986: Families start to move out of the old town for good
Text from The Encyclopedia of the Orient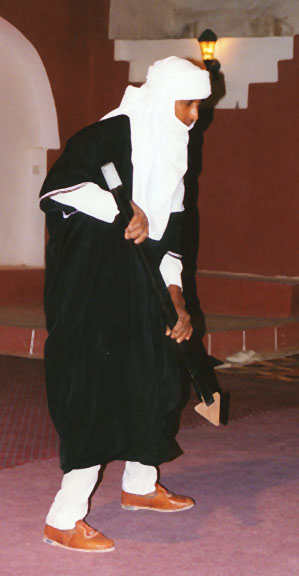 doing local dance
More Photos of the Ghadames dancers