Kathakali Dancers
Kerala, India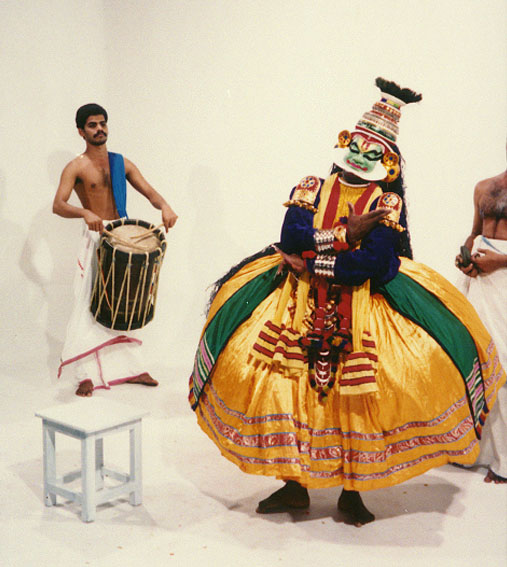 the dance

Kathakali

, spectacular dance-drama form of the southern Indian region of Kerala, characterized by its complex language of mime and highly stylized and colorful makeup that resemble masks.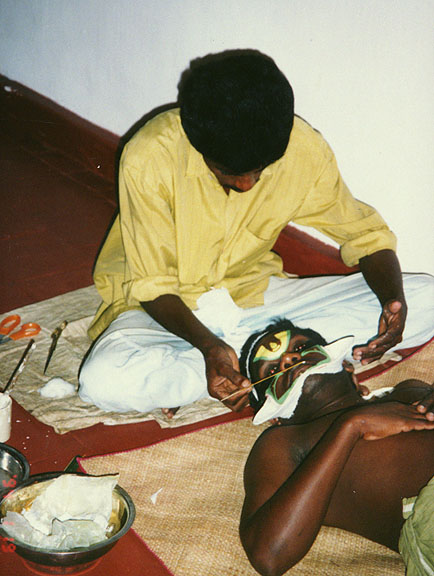 preparing for the dance
(can take many hours)

A kathakali performance includes few props since the details of a scene are described in mime. Stories involve heroes, villains, gods, and demons, in addition to more subtle characterizations of those who commit evil deeds yet retain a streak of valor. These personality traits are all indicated by complex makeup, which can take up to three hours to apply and which highlights facial expressions, a vital aspect of the art. The faces of gods, heroes, and kings are always painted green with ridges of white rice paste around the edges, while demons have red beards, white mustaches, and knobs on their noses. All male dancers attach 7.5-cm (3-in) silver fingernails on their left hands and put the juice of a crushed seed in their eyes, causing them to appear red.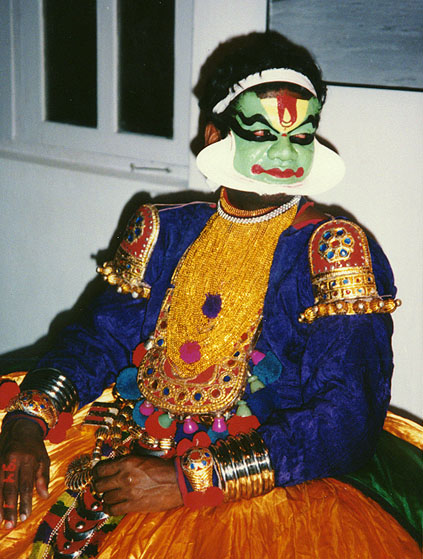 waiting for the performance
Female dancers use simpler costumes and makeup. The six-year training required for a kathakali dancer is arduous, and the regular oil massages, included in training to promote turnout of the legs, can be painful. The dance is athletic in nature, with dramatic leaps. Costumes are colorful and include heavily decorated headdresses associated with the parts played and voluminous white skirts enabling freedom of movement. Apart from the occasional grunt from a demon character, the dancers remain silent, enacting the story in mime that is interspersed with sequences of pure dance.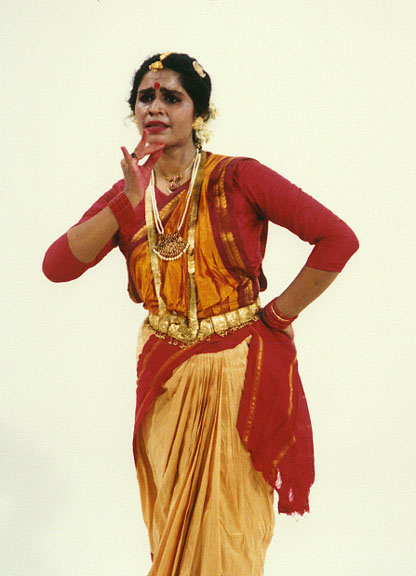 female dancer
Performances traditionally begin after dusk and end with sunrise, although individual scenes are now often put together as an evening performance for modern, urban audiences. The accompanying verses are rendered by two singers at the back of the stage, and musical accompaniment is provided by cymbals, gong, and drums called chenda and maddalam.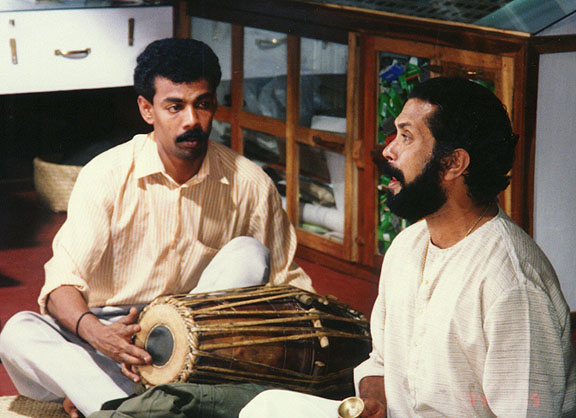 singer with drum accompaniment

Originally an exclusively male art form, women are now actively involved in kathakali as both performers and teachers. While the pure dance elements require great skill, the quality of the performance is ultimately judged by the dancer's interpretation of the role in mime. With a complex system of 24 primary hand gestures (mudras), over 800 descriptive and symbolic meanings can be conveyed. Using regional interpretations of the classic Hindu epics, the verses themselves are of great interest in their sometimes unorthodox and challenging perceptions of traditional Hindu belief.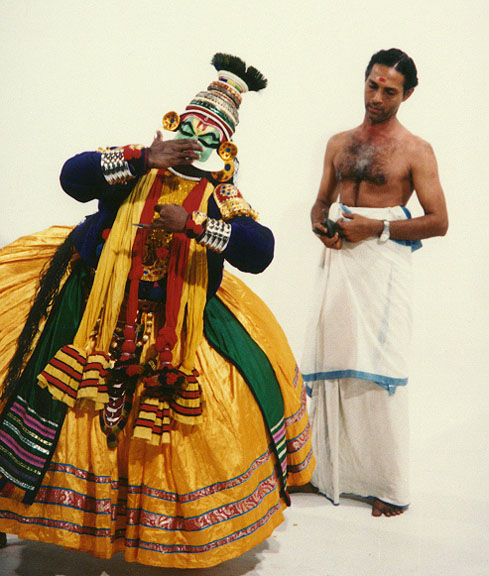 telling the story

Kathakali derives from both a rich folk culture and the religious plays traditionally performed in temples. It developed more specifically from ramanattam, a masque-like form involving music, dance, and drama, which evolved in the 17th century as an effective vehicle for the plays of the raja (prince) of Kottarakara. These plays were written in the regional language of Malayalam, making them more accessible to a wider audience than works in classical Sanskrit, a language known only by the upper castes. The repertoire included themes from Hindu literature such as the incarnation of the god Vishnu as Prince Rama in the Ramayana and the territorial dispute between two noble families in the Mahabharata. The art form, which became widely popular through royal patronage, soon evolved the highly sophisticated features of a classical dance style. In the 18th century kathakali became a theater for people of all castes, with performances held outside the temples. During the British rule of India (1885-1947), kathakali suffered a serious decline. The current vigorous revival results from efforts in the 1930s of the poet Vallathol, who was largely responsible for its reestablishment, especially through his founding of the major dance school of Kalamandalam, in Cheruthuruthi, a city in southern India.

Text from Microsoft Encarta