New Delhi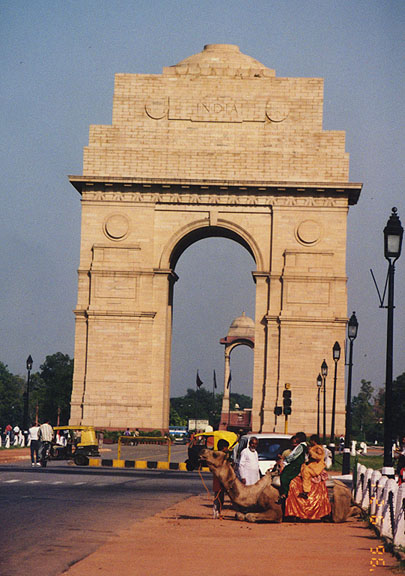 from British India
(India gate commemorating Indian Army Soldiers)

More Photos of the Soldier's Memorial

New Delhi

, city, northern India. The country's capital city, New Delhi is located in the state of Delhi, on the Yamuna River. New Delhi was built between 1912 and 1929 on a site adjacent to Delhi, or Old Delhi, which had been chosen to replace Calcutta (now Kolkata) as the capital of India in 1911; New Delhi was inaugurated as the new capital in 1931.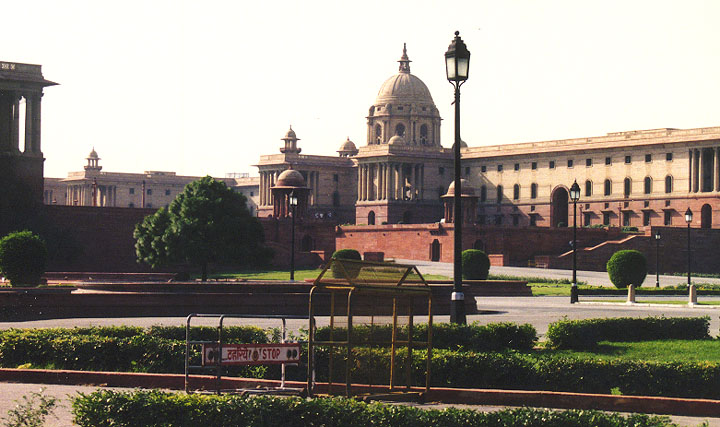 government buildings
Predominantly an administrative center, the city also has textile mills, printing plants, and small manufacturing establishments.

parliament
More Photos of the Government Buildings
The streets of New Delhi are laid out symmetrically, according to the city plan drawn by the English architect Sir Edwin Landseer Lutyens. Lutyens also designed the majestic red sandstone and marble Rashtrapati Bhawan, formerly the palace of the viceroy and now the residence of the president, which is in the center of the city, as are parliament and other important government buildings. The architecture of these buildings is mainly European, with details of indigenous Indian styles. Another building that combines Indian and Western styles is the United States embassy designed by the American architect Edward Durell Stone.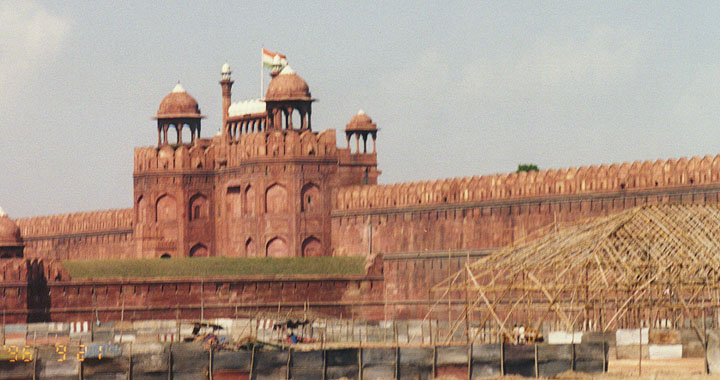 Red Fort (1638 - 1648)
The Raj Path, a wide boulevard bordered by trees and canals, runs east from the palace to a war memorial arch. The streets of the commercial center, Connaught Place, northeast of the palace, are laid out in a radial pattern.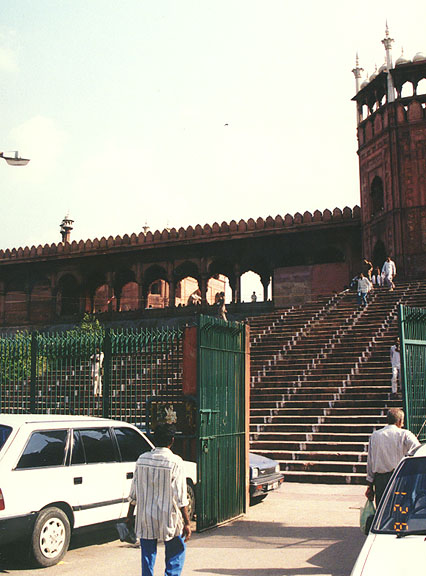 entrance to Jami Masjid
(the great mosque of Delhi)
Shah Jahan 1644 - 1658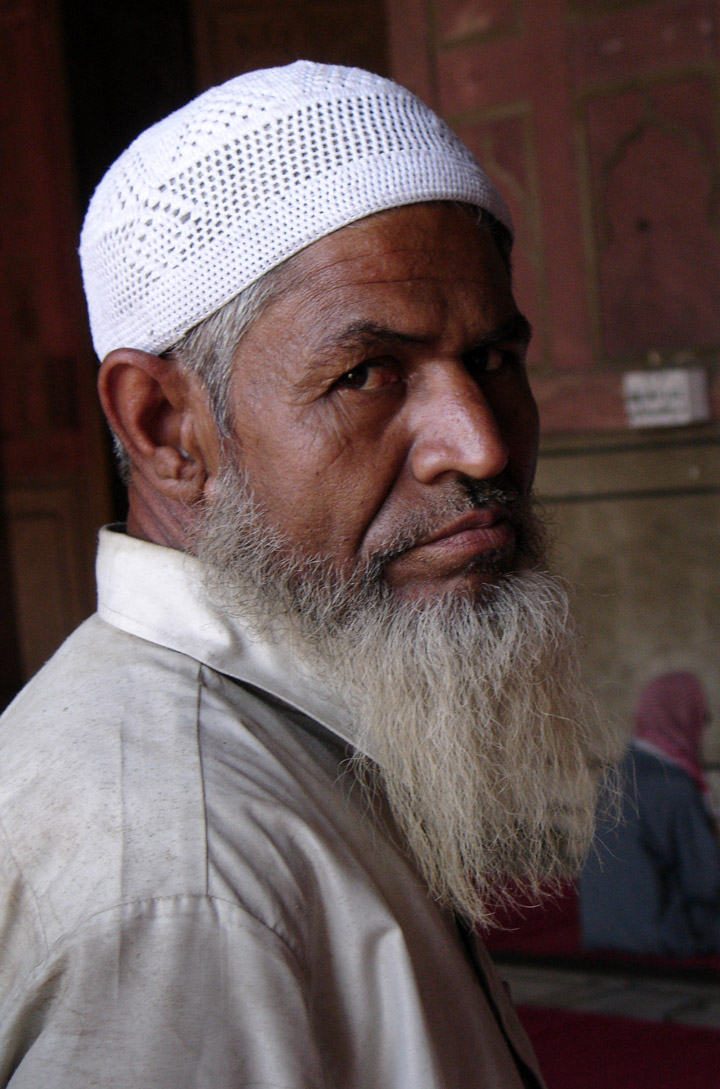 man at the mosque

More Photos of the People of Delhi

A number of institutions for higher education and research, as well as the National Museum, are located near the city.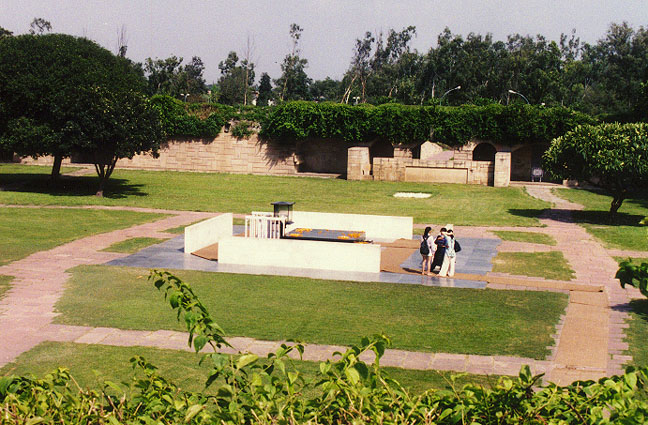 Mohandas Gandhi Memorial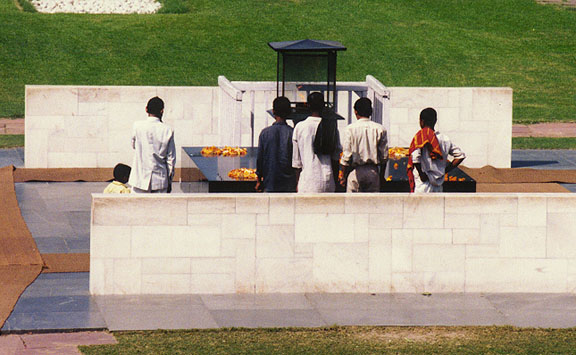 people paying respect
More Photos of the Gandhi Memorial
A prayer ground in the southern section of New Delhi was the scene of the assassination of Mohandas Gandhi in 1948.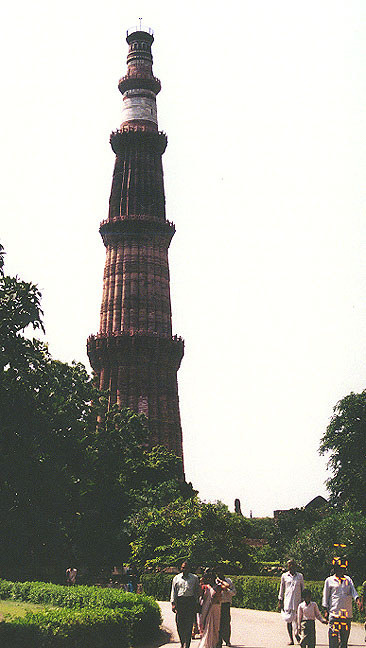 Qutab Minar (1193-1368)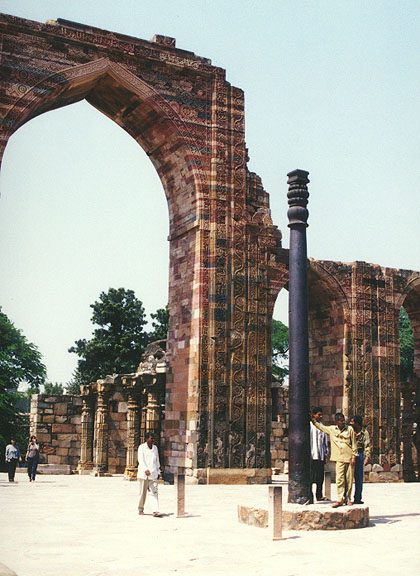 Quwwat-ul-lslam Mosque
(the iron pillar dates from Gupta King, who ruled from 375 - 413 AD)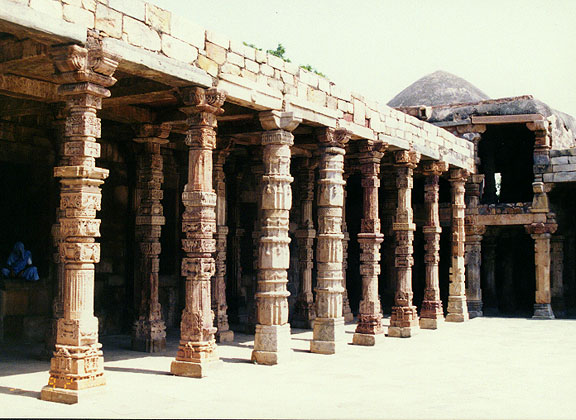 the Mosque was built on the grounds of prior Hindu temple
(columns were from the Hindu temple)
More Photos of the Qutab Minar
The Balmiki and Lakshminarayan temples, which he often visited, are in the city's western sector. Population (1991) 301,000.
Text from Microsoft Encarta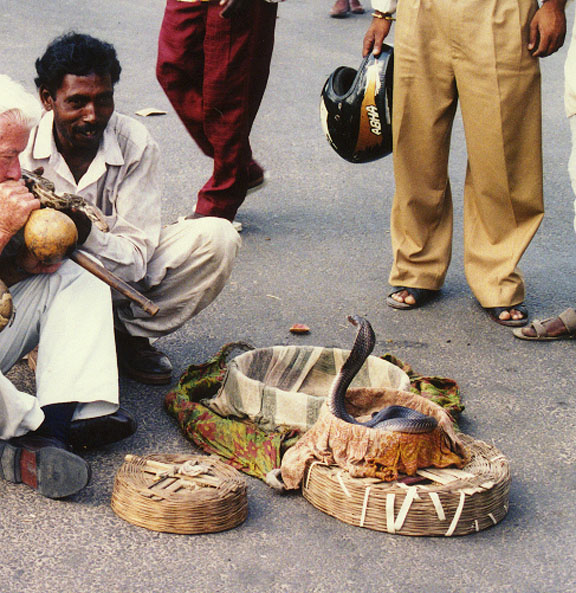 snake charmer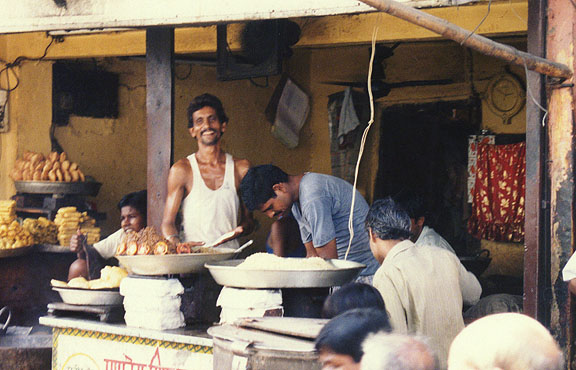 fast food
More Photos of the Shops of Delhi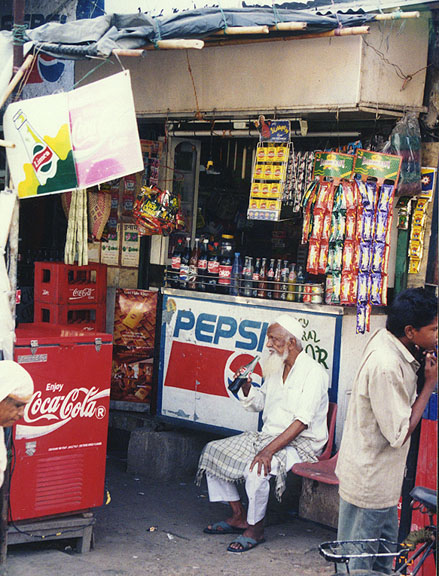 Muslim man prefers "Coke"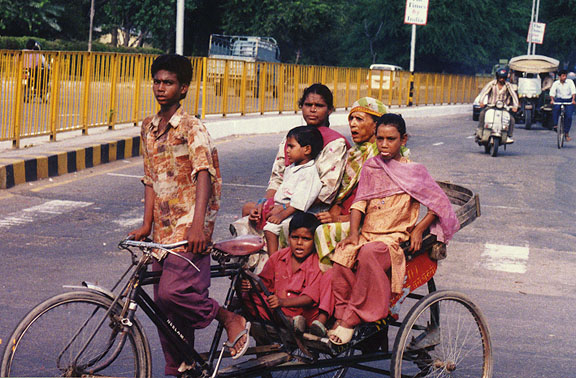 family transport by pedicab
More Photos of Transport in Delhi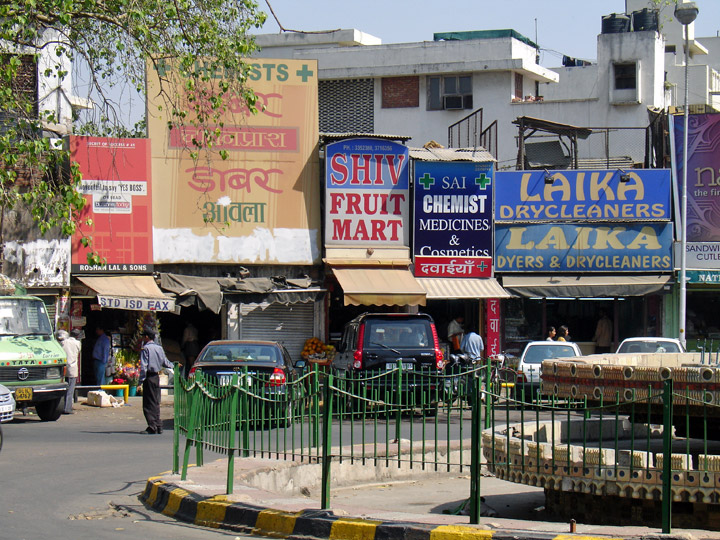 street scene
More Photos of the Streets of Delhi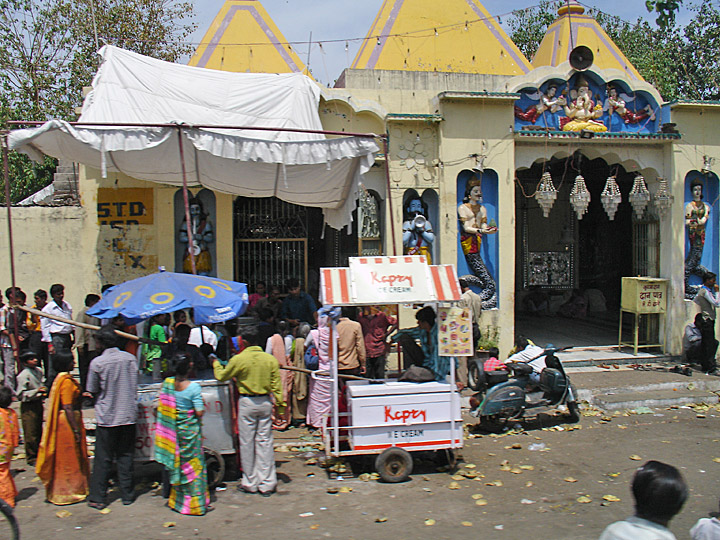 Hindu temple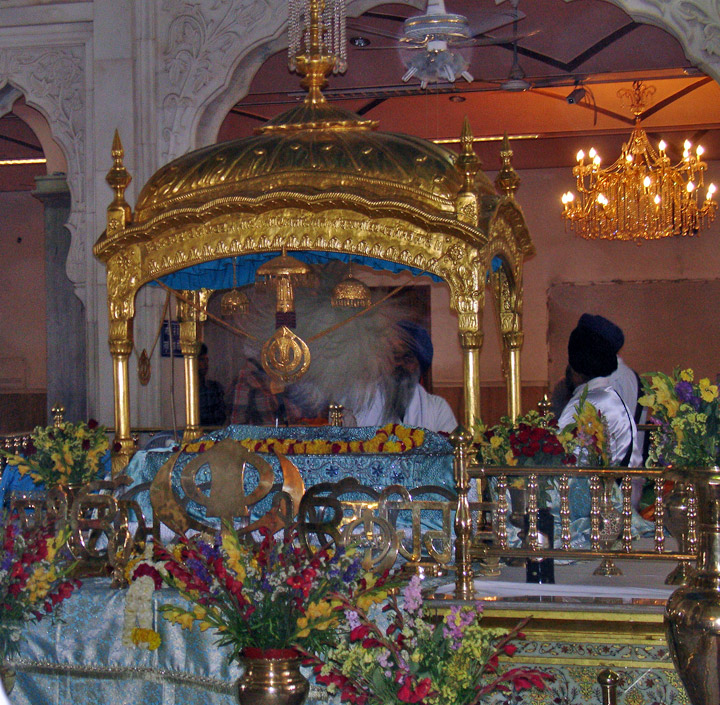 the book at a Sikh temple
More Photos of the Sikh temple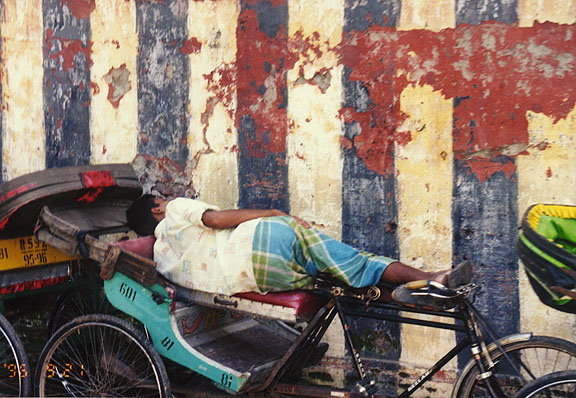 off duty