The Revolution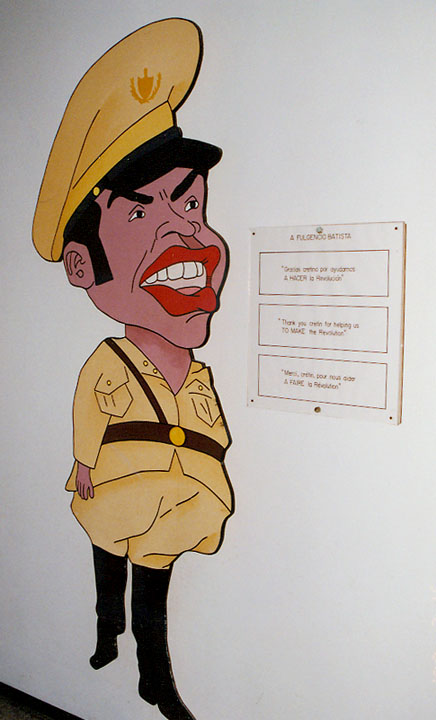 caricature of Fulgencio Batista
The Cuban Revolution was a widespread uprising in Cuba that overthrew the dictatorship of Fulgencio Batista (1952-1958) and brought the government of revolutionary leader Fidel Castro to power. The revolution established the only communist state in the western hemisphere and produced profound changes in the economic and social structure of Cuban society. It also ended more than a half century of United States influence in Cuban internal affairs.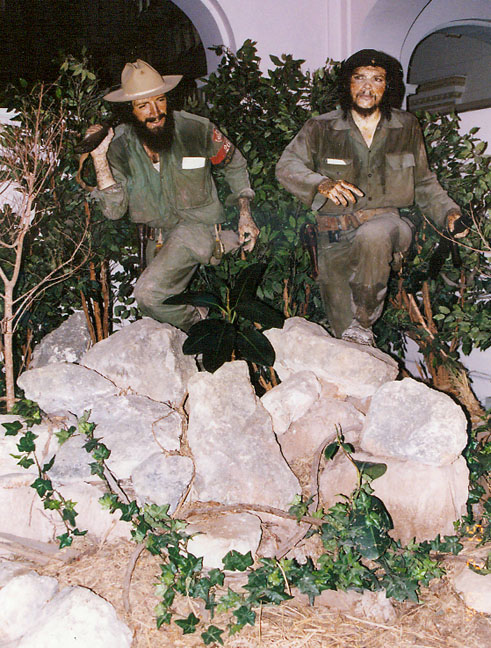 Camilo Cienfuegos and Che Guevara
coming down from the hills to free Cuba of the Batista dictatorship
Batista's government, which came to power following a military coup in 1952, had become widely unpopular as a result of rampant corruption and harsh repression of dissent. Batista faced growing opposition to his rule from many segments of Cuban society. Fidel Castro, a political activist and former lawyer, led the best organized of a number of anti-Batista forces. He waged a successful guerrilla campaign from the mountains of eastern Cuba while steadily building a broad network of support both within Cuba and abroad. This coalition of opposition forces eventually induced Batista to flee the country.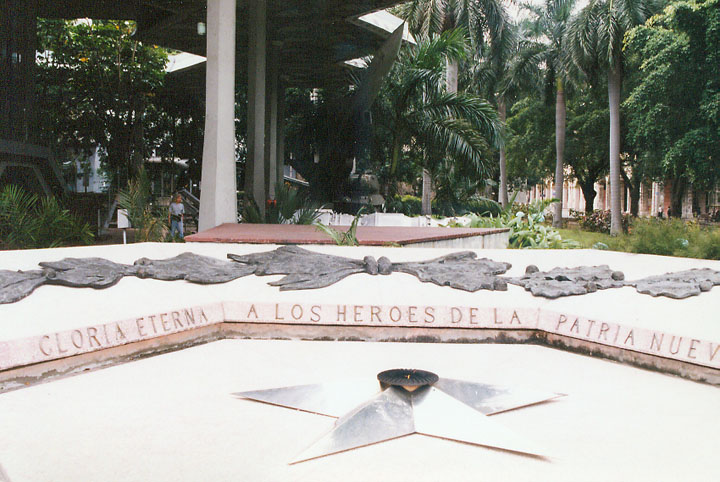 Monument to the heroes of the Revolution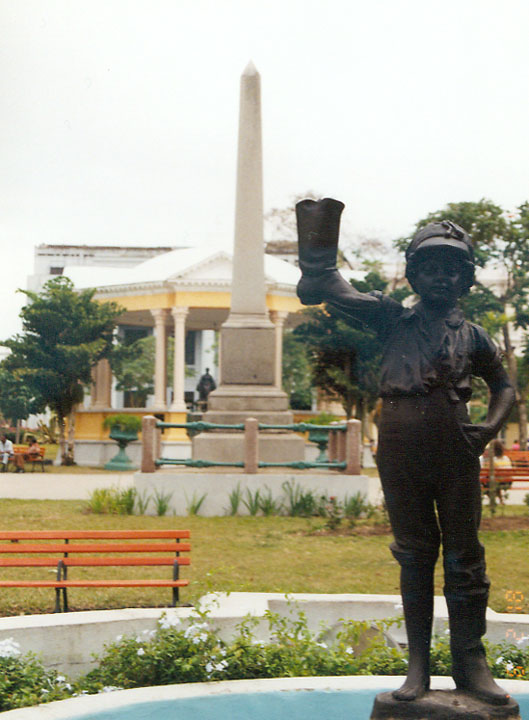 typical of the monuments in every town

Plaza de la Revolución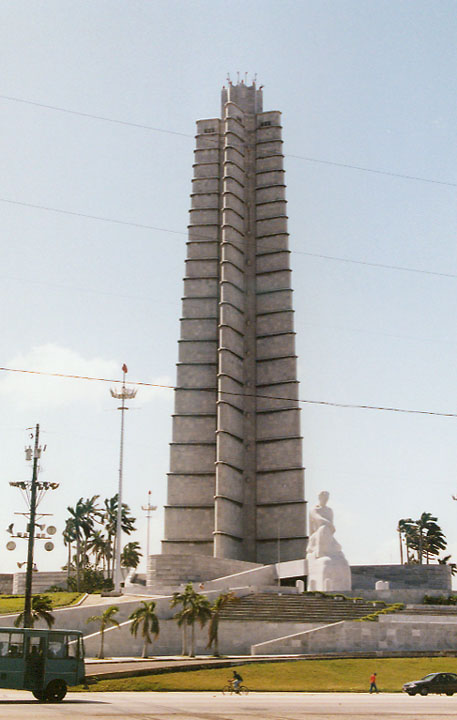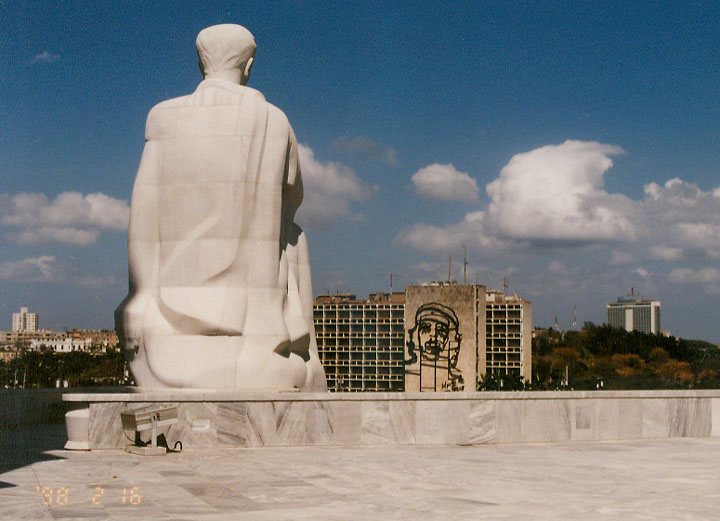 Che Guevara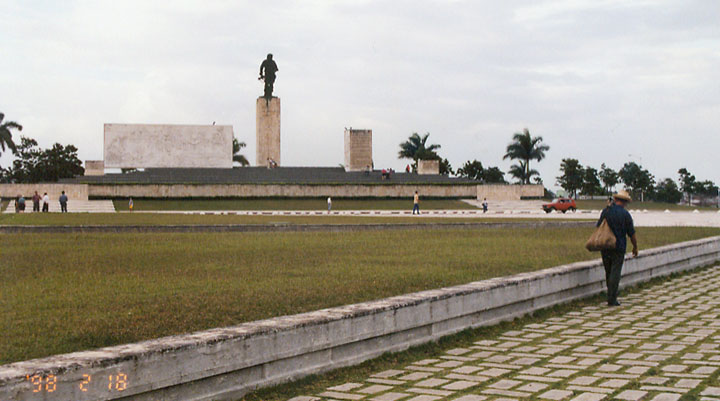 Monument to Che Guevara
Born in Argentina and trained as a physician, Che Guevara became a military commander for Fidel Castro from 1956 to 1959, during the Cuban revolution. Guevara opposed United States intervention in Latin American affairs and believed that only violent revolution could remedy the poverty of the masses. Guevara wrote two books about guerrilla warfare and led guerrilla forces in South American countries. He was captured and killed in 1967 while leading a guerrilla band trying to overthrow the Bolivian government.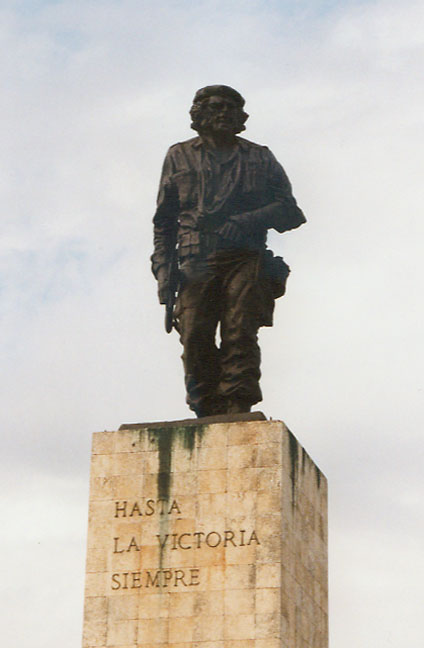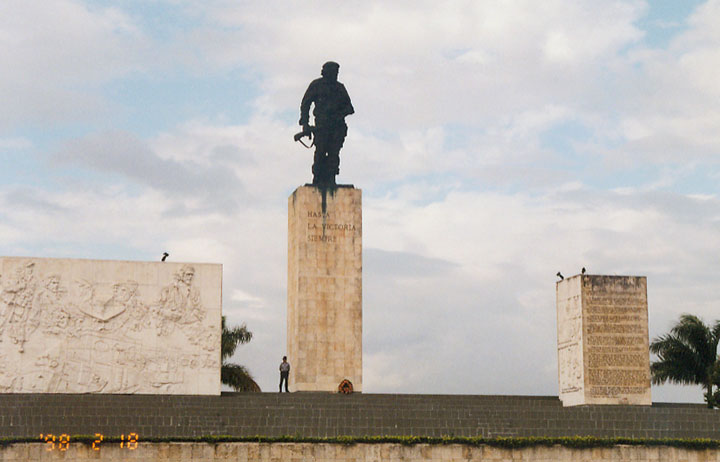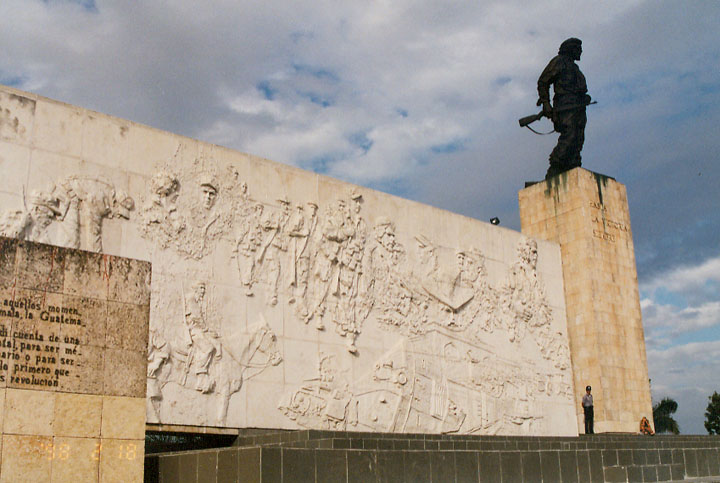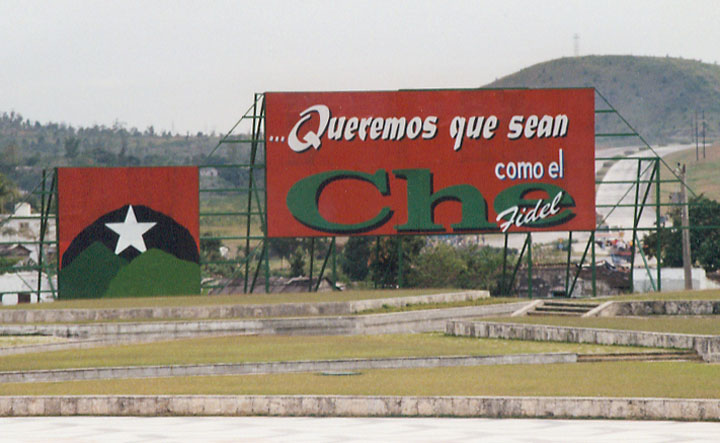 roadside banner

Literacy Program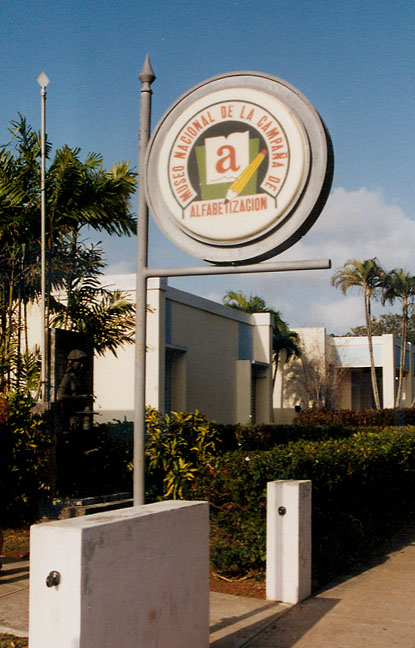 Literacy Museum
Castro's government launched a number of programs aimed at improving social conditions among poor and uneducated Cubans. In 1961 the government temporarily closed schools and sent about 270,000 students and teachers to the countryside to teach illiterate citizens how to read and write.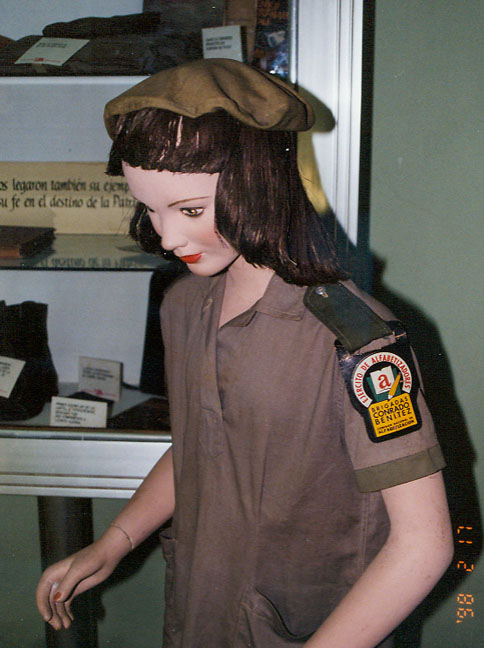 uniform of one the student literacy teachers
This crash program to increase literacy, and follow-up efforts in subsequent years, taught almost everyone to read and write. Before the revolution about a quarter of all Cubans were illiterate, with a median schooling level of third grade. In the mid-1990s the literacy rate approached 95 percent, and the typical Cuban had a middle school education.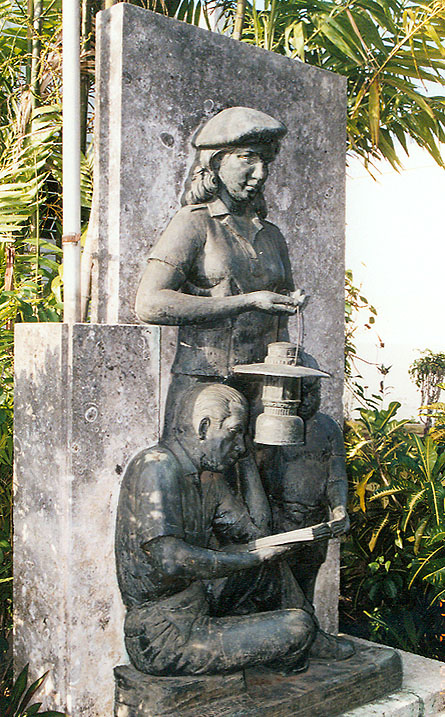 Monument to the Literacy program

Committees for the Defense of the Revolution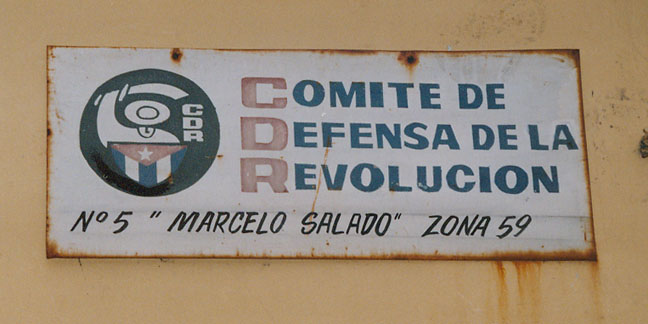 Every dwelling block has a
"Committee for the Defense of the Revolution"
to monitor for the support of
revolutionary principles.

Seeking to shape a new society, the government strongly fostered cooperative activities in neighborhoods and in the work place. Neighbors cleaned up streets and parks, encouraged recycling of materials, and helped in mass vaccination campaigns. Workers built housing units next to their work places. Committees for the Defense of the Revolution were formed in each neighborhood to ensure that all activities were focused on the preservation of the Revolution's gains.



Text from Microsoft Encarta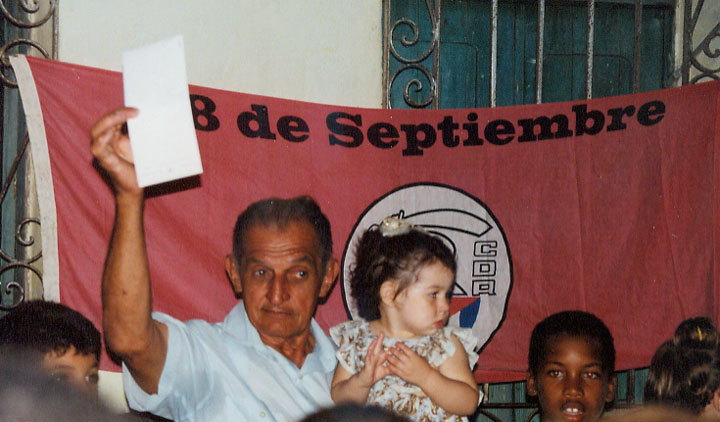 local Committee meeting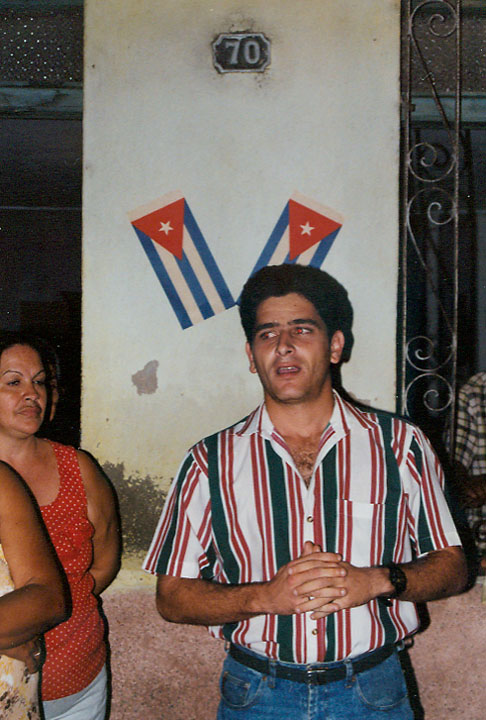 neighborhood leader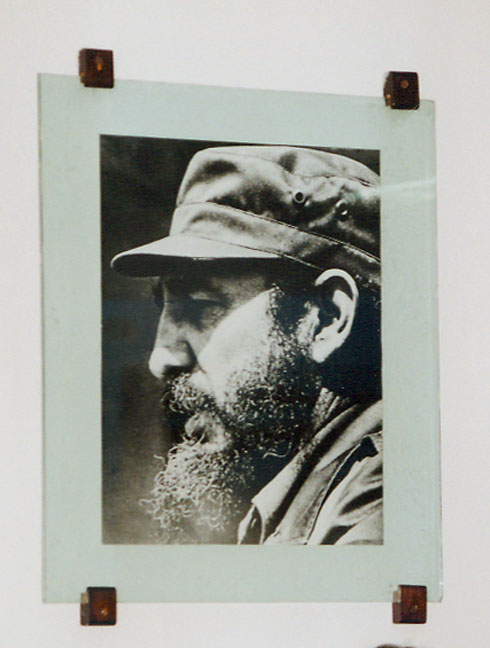 ever present likeness of Fidel Castro