Cassoday
A "Quiet" town of Butler County, Kansas
A "Quiet" town is defined as one which has lost a large portion of its former population due to changes in economic conditions,
or been subjected to natural disasters. It becomes "Quiet" when the schools are closed.
They are often called "Ghost towns", which in Kansas, is not correct since people still do live there,
unlike many ghost mining towns of the West which have been totally abandoned.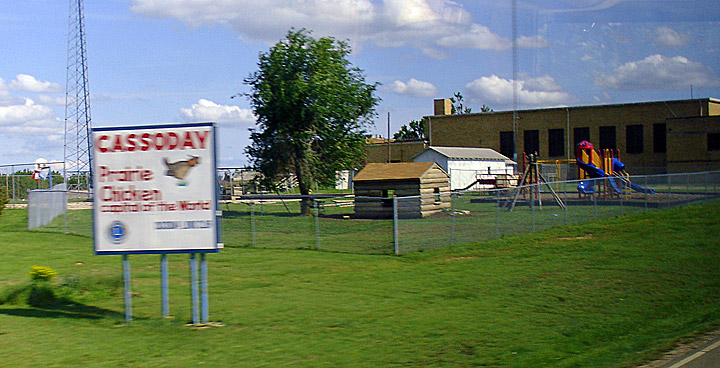 entering Cassoday
Cassoday, Kansas is located just off the turnpike, in the Flint Hills, in the heart of the finest cattle grazing country in the world. As early as the 1850ís, the Flint Hills were used to pasture cattle, but the boom days came with the railroad, when Cassoday was known as the Cow Capital of Kansas. From the mid twenties to the late fifties, cattle were brought in by rail from Texas, Oklahoma, and other states to spend the summer, grazing on the rich grasses of the Flint Hills. In those days, more cattle were shipped from Aikman, Cassoday, Matfield Green, and Bazaar than any other 25 mile stretch on the entire Santa Fe railroad.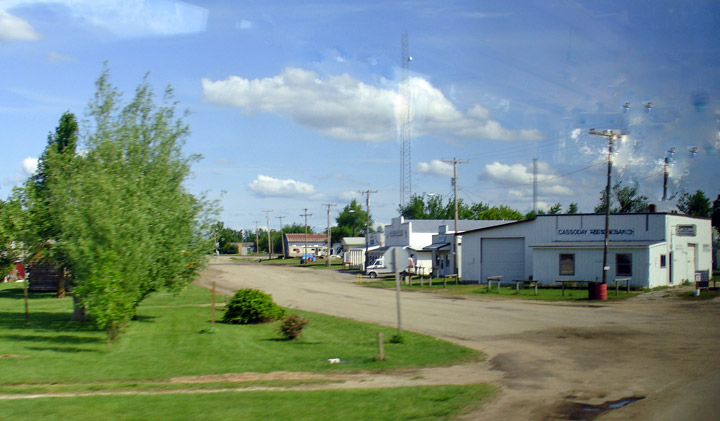 Cassoday. a "Quiet" town, due to a large decrease of population
Driving the animals from the depot to the pasture and back were the ranchers and their horses - those independent individuals with the know-how, tenacity, and quick reflexes of the true cowboy.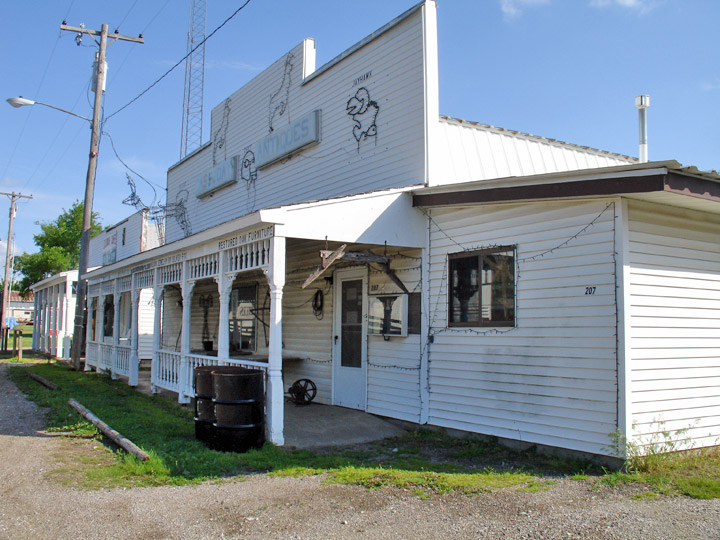 on the main street
Since that time, shipping of the cattle has given way to shipping by truck, which is largely done from pens in the pasture, or at the Turnpike pens, usually in April and October. But cowboys are still a vital part of the process, driving the cattle to and from the pens, branding, weighing, and vaccinating them, caring for them while they are on the pasture.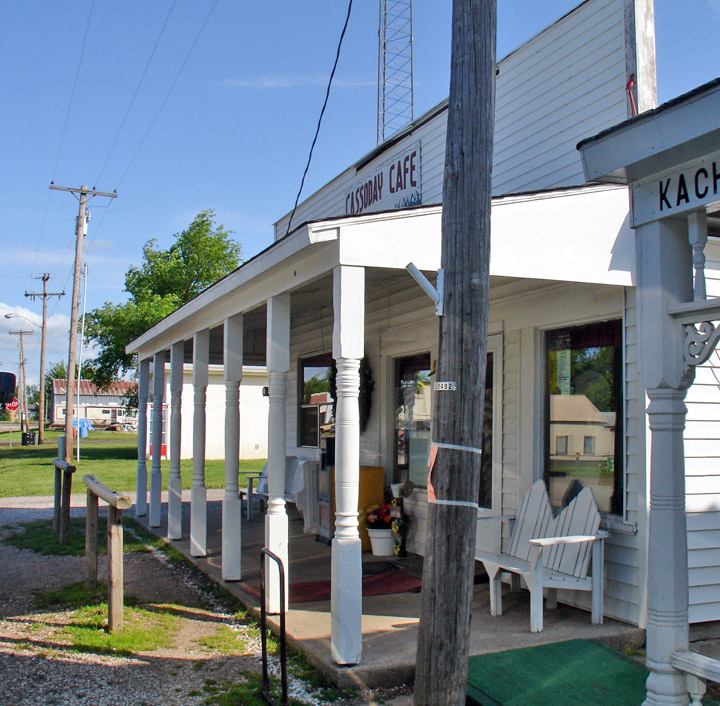 Cassoday Cafe
Cassoday is still a true cow town, where people make their living working with cattle. As many as fifty stock handling personnel are employed by surrounding ranches.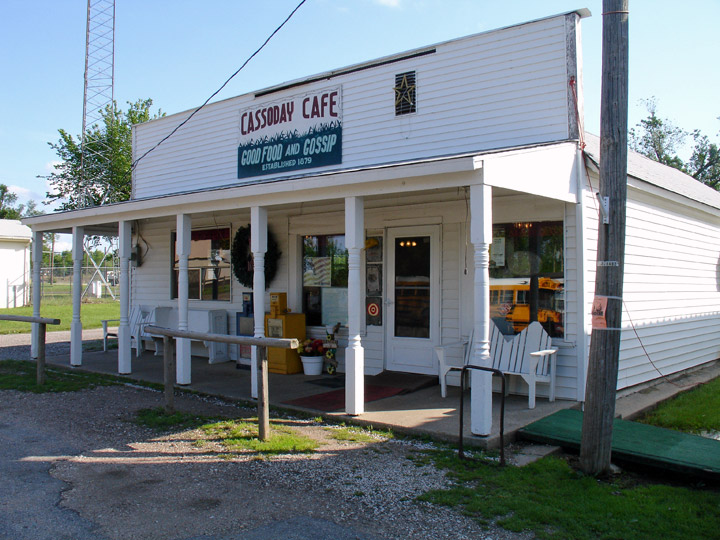 "Good Food and Gossip"
Although methods have been modernized, the pace here is more relaxed than other places. People have time to sit and swap stories, bake bread, and help each other in times of need. The nearest shopping center is 24 miles away; the breeze coming off the grasslands is cooler in the summertime than in the city; and, the people here know how to make their own fun. Life in Cassoday is reminiscent of, and holds the values of an earlier time. It is truly a refreshing respite for anyone tired of a harried routine.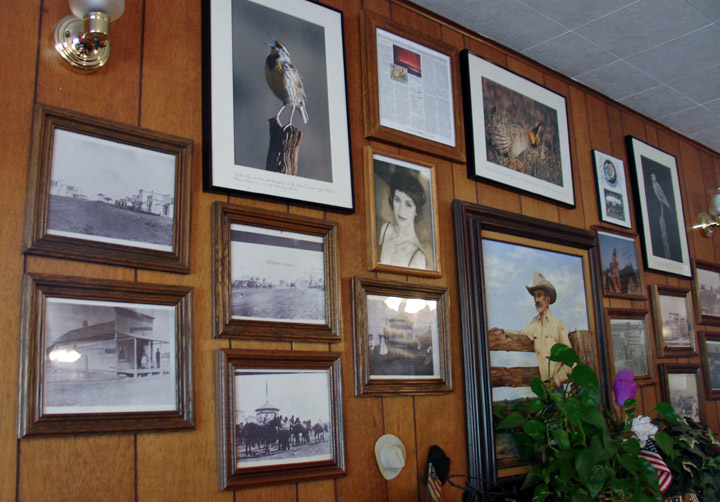 memorabilia on the wall of the cafe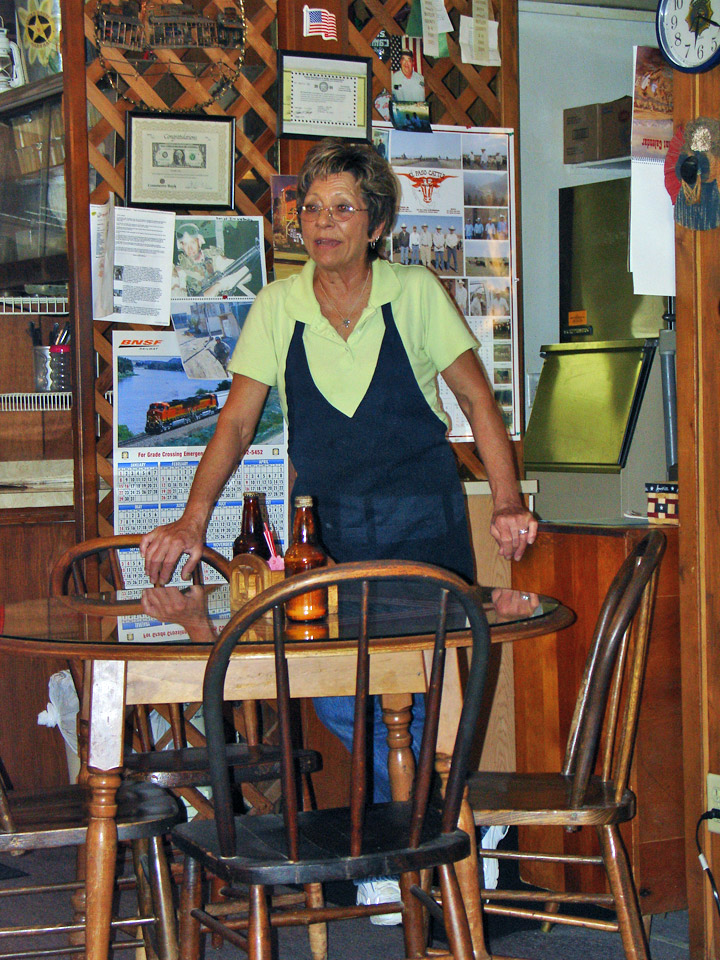 Diane Carlson, the owner of the cafe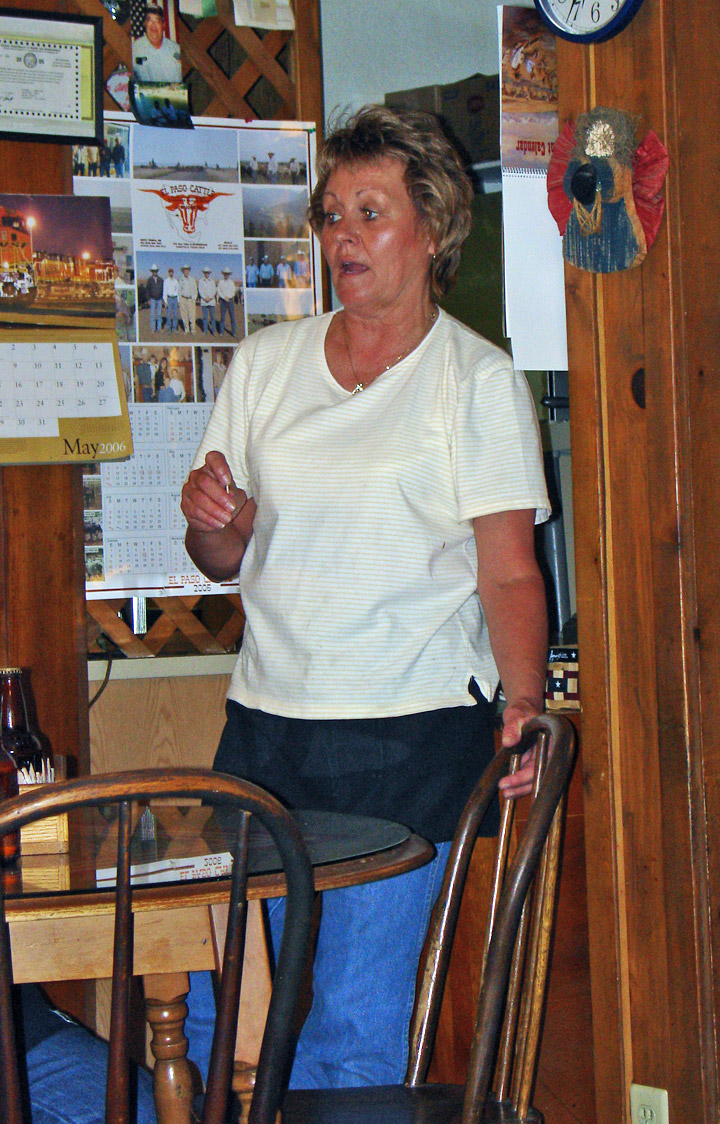 and her helper, Debbie Hoy, an accomplished rodeo participant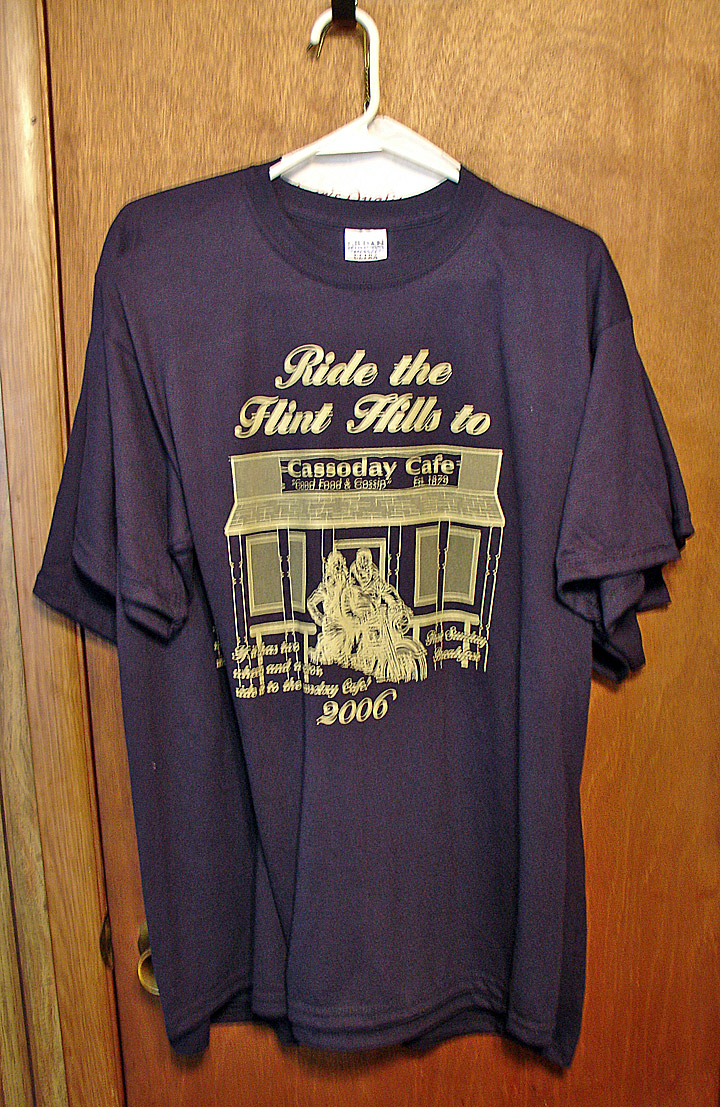 a favorite with bikers
who come once a month to this cafe for Sunday breakfast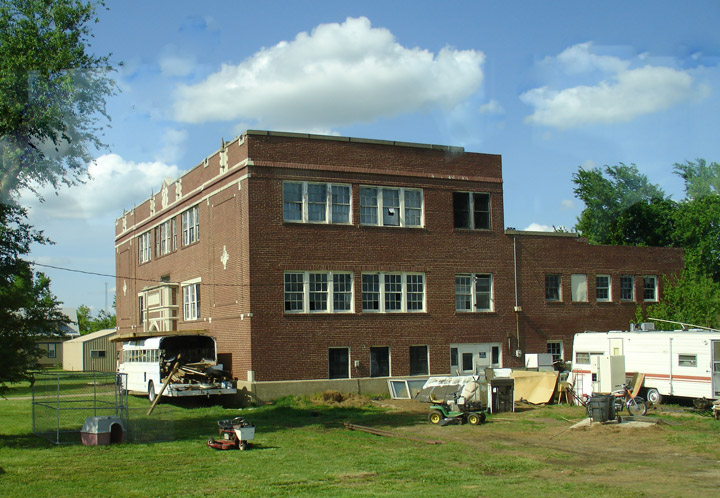 the school
was closed due to declining enrollment,
but now open due to unification with Rosalia, KS with ever increasing enrollment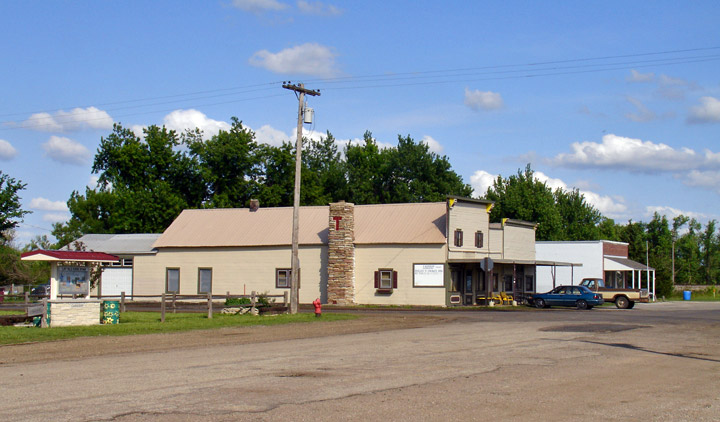 a remaining business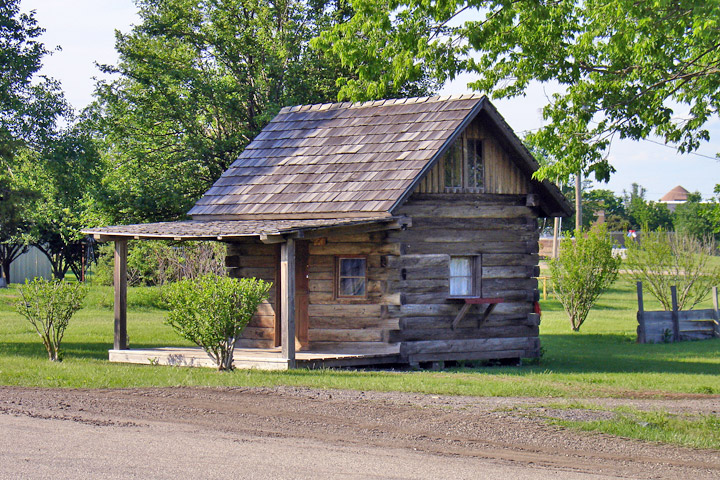 a reminder of the old days

---
---