Elmdale
A "Quiet" town of Chase County, Kansas
A "Quiet" town is defined as one which has lost a large portion of its former population due to changes in economic conditions,
or been subjected to natural disasters. It becomes "Quiet" when the schools are closed.
They are often called "Ghost towns", which in Kansas, is not correct since people still do live there,
unlike many ghost mining towns of the West which have been totally abandoned.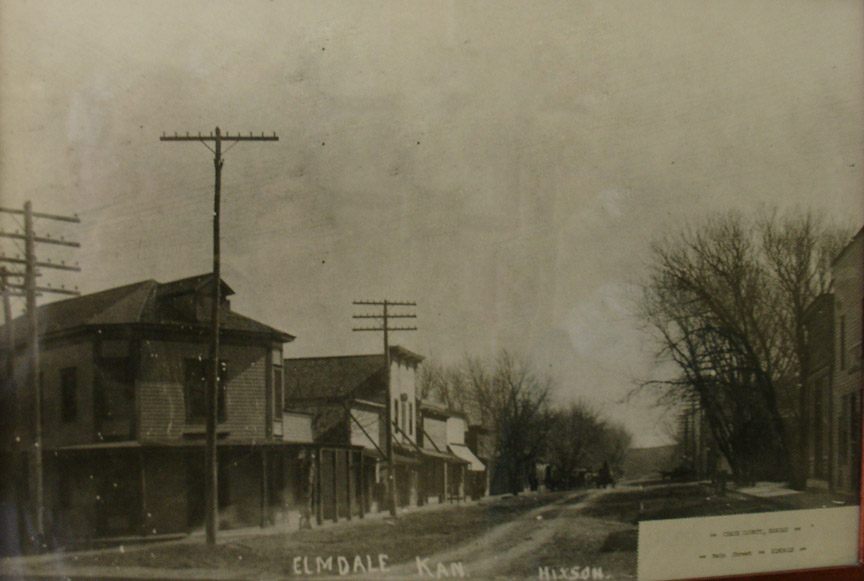 Old-timers still remember when well-kept houses dotted this tiny community's tree-lined streets, and it only was a few moments' walk to the bank, hardware store or one of two grocery stores. But two sizable floods and several smaller ones have rippled through Elmdale in the past 50 years, damaging once-stately homes, closing businesses and sweeping many of its residents out of town. Only about 50 people still live inside the city limits and, according to U.S. Census figures, the still incorporated Flint Hills ranching town is the third most declining place in Kansas, losing about 40 percent of its population in the past 10 years.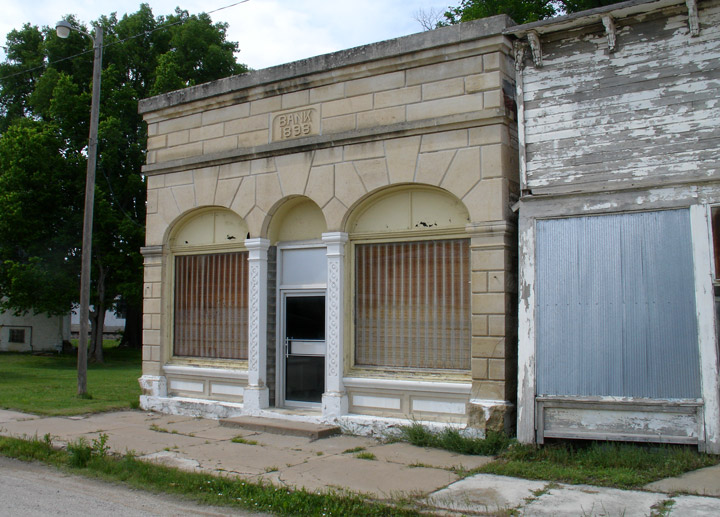 the former bank of Elmdale
"It truly is taking on the characteristics that make communities its size turn into ghost towns," said Nancy Horst, a former resident who lives on a ranch a few miles. away. "It's a sad sight — something that's hard to think about when I drive through it."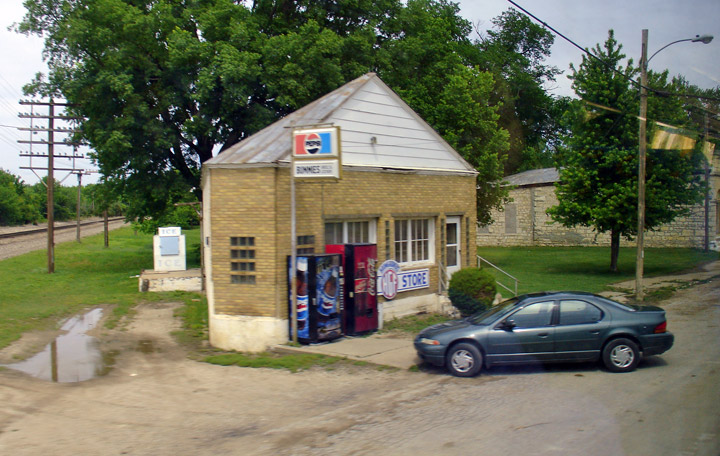 Bummies Grocery
Only remnants of what used to be a booming Elmdale still exist. Two schools sit empty, side by side. The high school closed in 1967 and the grade school soon after. One grocery store is left, Bummies Grocery, about the only business on the main street. But the market isn't as busy as when Maria (pronounced Moriah) Baumgardner and her husband, Glenn, first opened the operation near Elmdale's train depot in 1947. Baumgardner has watched friends and acquaintances leave, one by one. The first exodus was after the 1951 flood, which tore into town and left more than 4 feet of water in her store.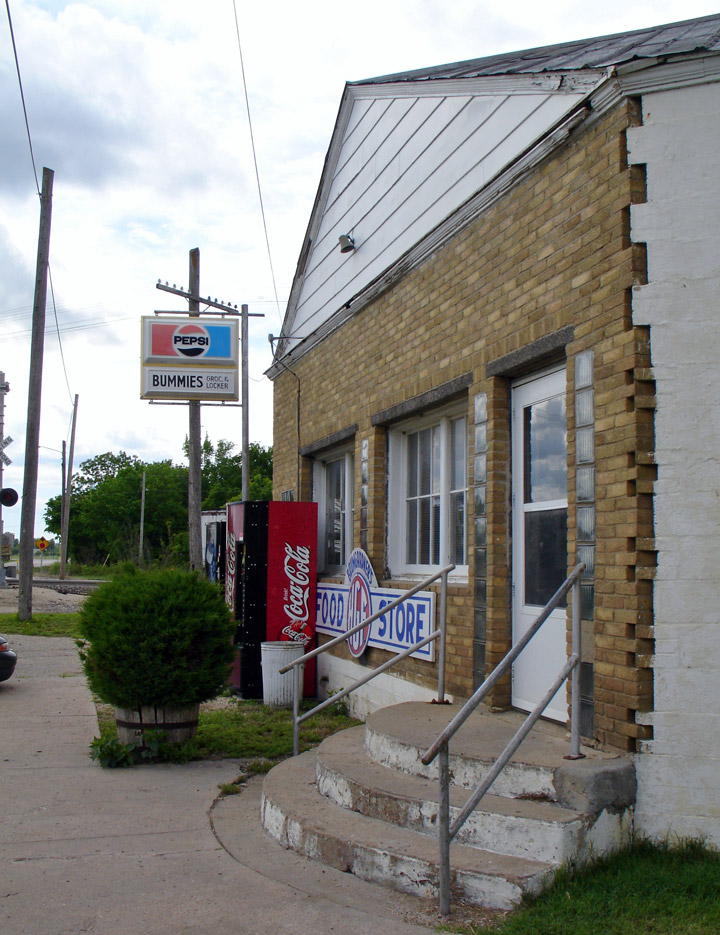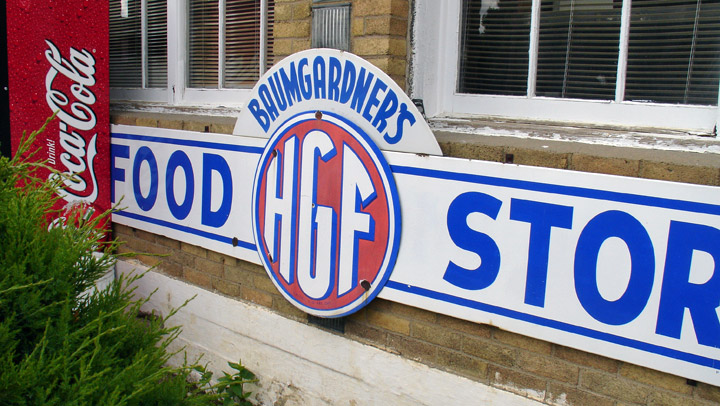 Baumgardner's Grocery
Some residents stuck it out, she said, but later left after a flood hit in November 1998 — going over the town's levy. "We had a doctor, a pharmacy, two hotels at one time," she said. "The hardware didn't reopen after the 1951 flood. Then the high school and grade school closed, the bank closed. This is what happens to towns when something devastating like a flood comes through."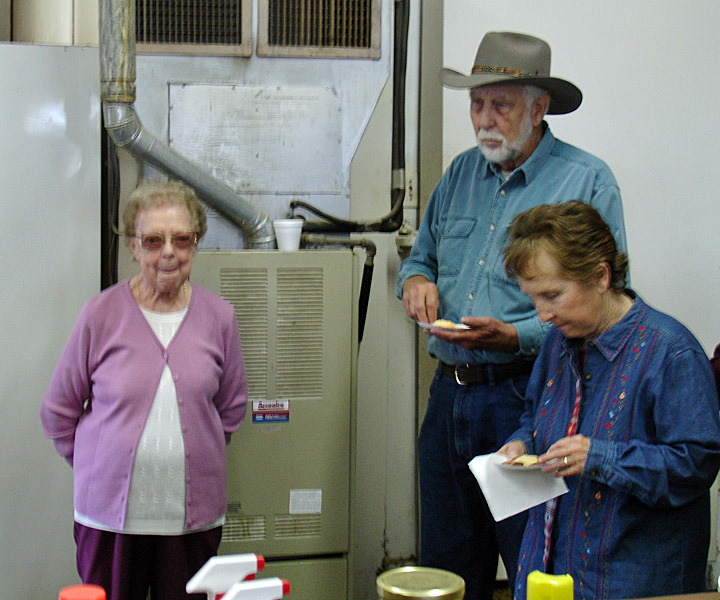 Maria (pronounced Moriah) Baumgardner (left)
with Dr. Tom and Silvia Bridge, of nearby Saffordville
another ghost town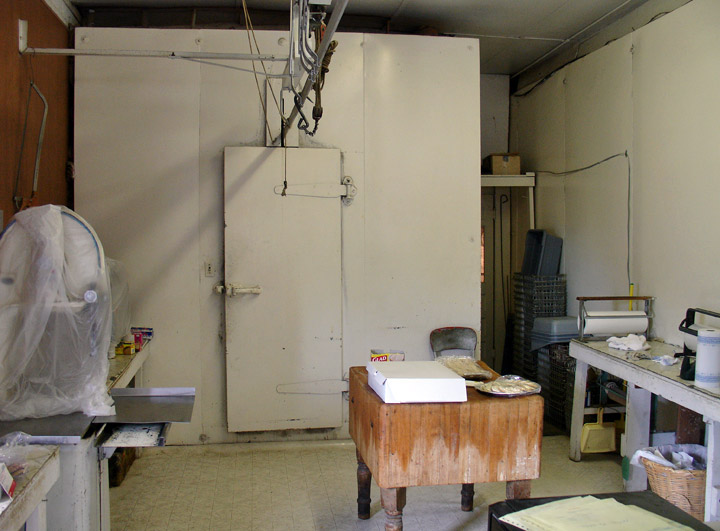 meat market portion of Baumgardner's Grocery
not longer in use due to the declining business

Coping with floods
Floodwaters used to swell into Horst's childhood home while she was growing up during the 1950s and '60s. Because of her age, she didn't realize how painful it was each time the waters would come in. "As kids, we would play in it," Horst recalled. "As I got older, I saw what my parents had to go through each time our house flooded." Horst's home flooded more often than other Elmdale residents' homes, because it was on the other side of the levy. Before her father died in 1985, a flood came through again. "We had to move my folks out of there," she said. "It was the first flood I can remember where I realized how painful flooding could be." After her father died, Horst's mother, Marjorie Gibb, 74, finally left Elmdale in 1989 and moved to Cottonwood Falls. "It was the home my mother lived in as a child," Horst said. "Floodwaters had damaged her home so bad we finally had to burn it." It was hard to move, Gibb said. She was born near Elmdale's Middle Creek, moving to Elmdale in 1937 at age 10. Her father built a filling station off Kansas Highway 50.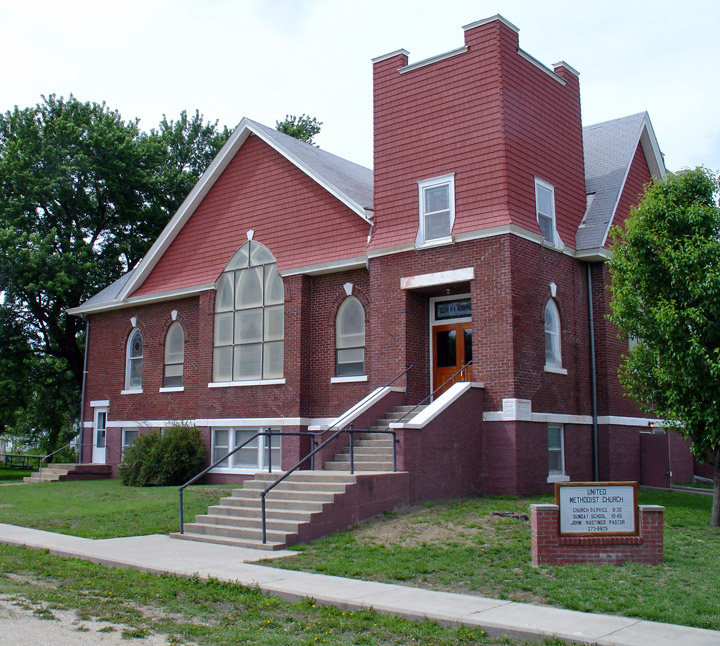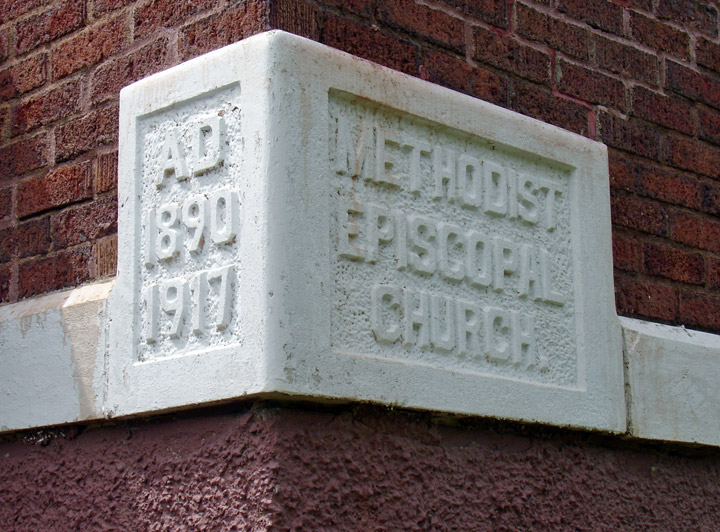 Methodist Church

"I was sad," Gibb said. "And it was tough. But it was a good thing I moved. That flood they had in 1998 would have been terrible. That was really the end of it over there." It was easier to clean up the film that was left from the dirty waters at a younger age, said J.T. Overstreet, 72, who finally moved himself, his wife and his insurance ie business out of town to Strong City soon after the 1998 flood. They couldn't clean up the mess as they had before. "If I had been 50 years old, I wouldn't have moved out," he said. As floodwaters began to move through the town, the Overstreets began to move everything upstairs, where they waited the flooding out. By the end of 1998, he and his wife had made up their minds to move. More than 10 families followed his example, he said. Some residents moved to Cottonwood Fails, some to Strong City and even some to Emporia. "Sometimes I go by there," Overstreet said of the town he moved to in 1961. "It's sad, it really is. We had lived there for 35 years, and it was pretty near like home."
Braving the floods
"I think the first demise of Elmdale was the 1951 flood," Gibb said. She was married, had a two boys, a 3-year-old and a 9-month-old. 'We went to my parents' home," she said. "We went upstairs and the water came up and up —5 foot deep. It was so swift, we had to get out." A boat came by and the family stepped into it off the back-porch roof. "I don't believe I was ever so frightened in my entire life," she said, "It never leaves you, that feeling you have."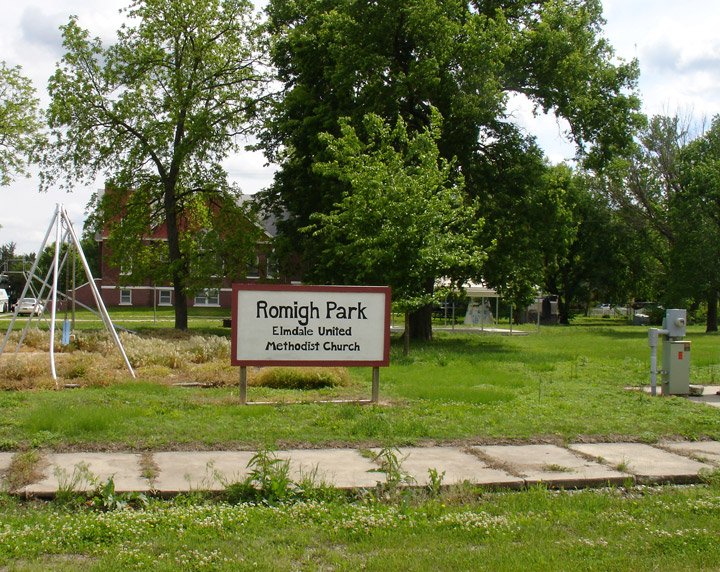 now empty lot next to the Elmdale Methodist Church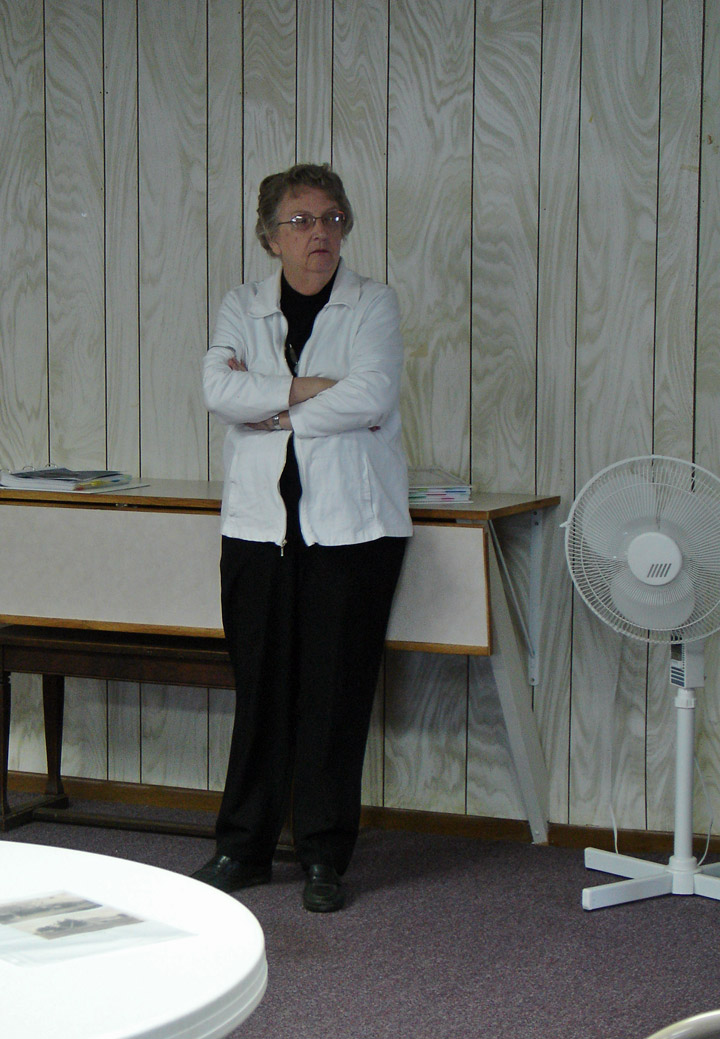 Ruth Childs tells the history of the town and the church
which has repeatedly had high flood water in its lower floor

Elmdale Mayor Ray McClellan tried to fight the 1998 flood to the bitter end. He and some other residents tried to sandbag a portion of the levy. "We stood at the highway and watched it come in, knowing there was nothing we could do about it," said the 68-year-old, who has lived in the community since 1971. "I told my wife, We've got to get out of here. We have to leave everything and get out of here.' We had about 15 minutes. I got a couple of my vehicles out." Once waters had subsided, officials condemned his double-wide trailer, which he had put in new in 1983. Water had stood in it for six days, rotting the floor and damaging all the McClellans' belongings. If it hadn't been for the levy, built in 1978, the force of the water would have been stronger and could have done more damage, he said. But what damage that was done was enough. Federal Emergency Management Agency bought his and three other residents' homes. Others decided to rebuild, repair or get out.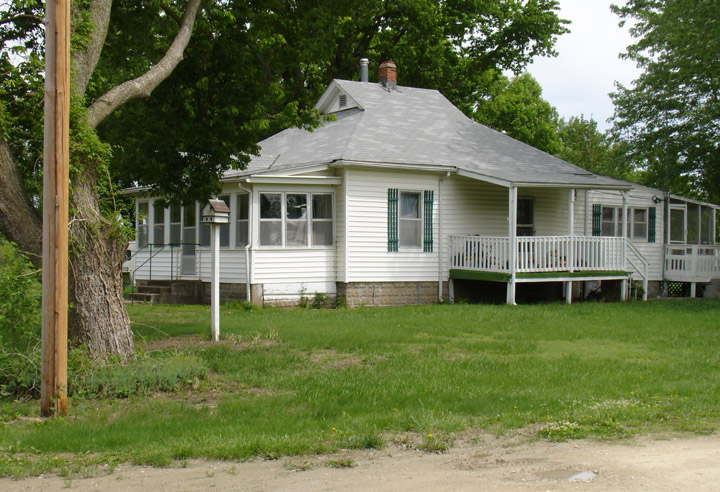 a remaining residence
McClellan, not ready to move, instead, bought Overstreet's home. "This is home to us," McClellan said. "We raised our kids here. We are getting to be too old to relocate." McClellan said he hopes he can get the town back in shape The sewer lagoons have been repaired, the water system is up to quality. He hopes to begin working on the city's streets and repairing the city hail — work he and others do without pay.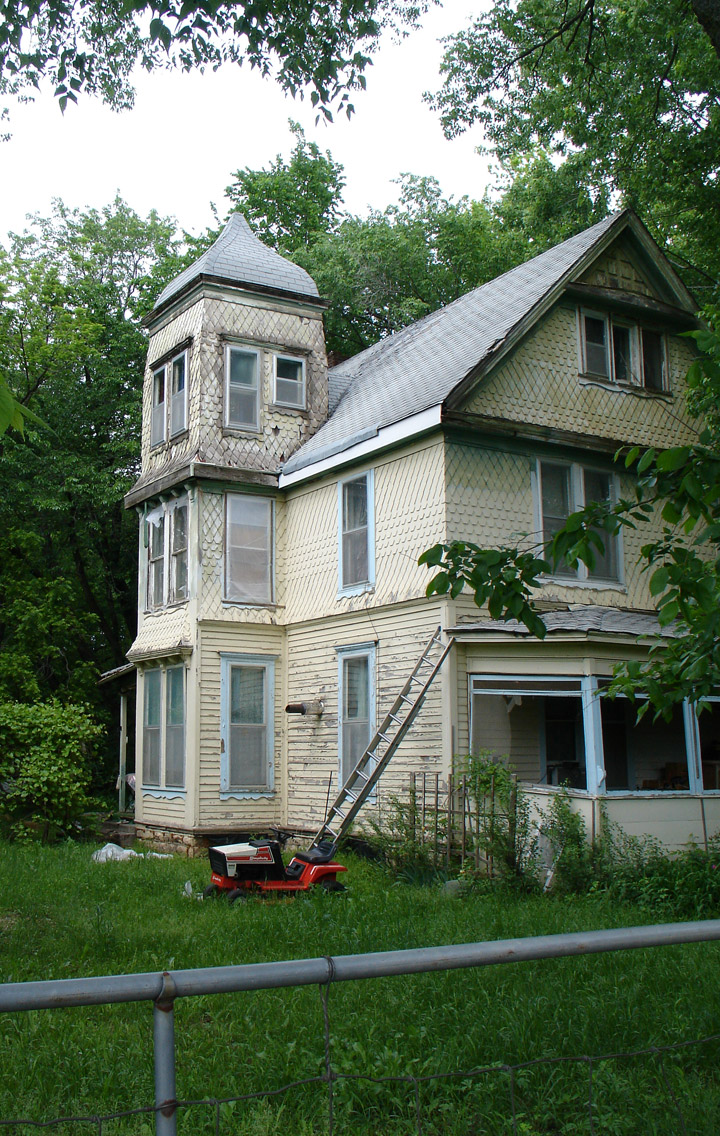 once elegant, but still in use
"It's going to take four or five years to get it all cleaned up," he said. "We're trying to do everything we can to keep it going. I've been trying to get people to work together. As the old saying goes, if people work together, you can't beat them. Separated, they are lost. ... I'm not going to give up."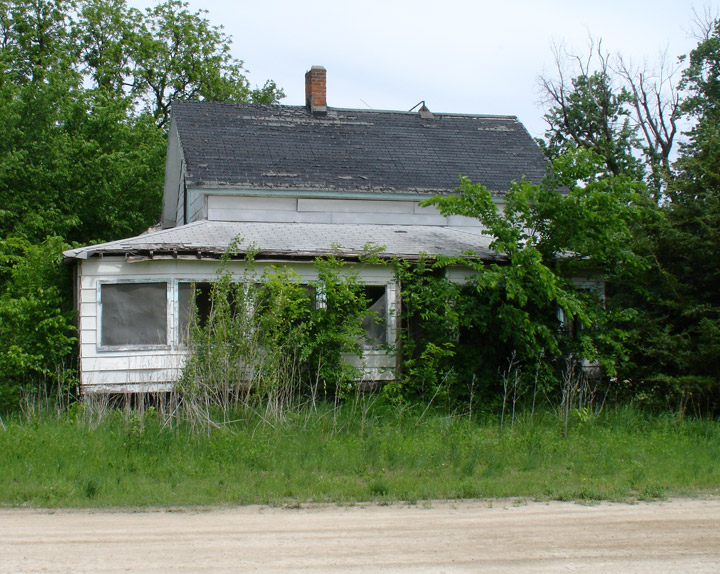 abandoned
Baumgardner still gets up and opens the grocery at 6 a.m. six days a week so farmers and ranchers can get their morning cups of coffee. She still makes sandwiches at noon for those wanting to grab a quick lunch. She still whips up milk shakes, grinds hamburger and makes sausage. She doesn't know how much longer she will operate her little store, but she needs something to do, she said. She just can't sit around. Each day she watches the slow death of the town she's lived in for so long.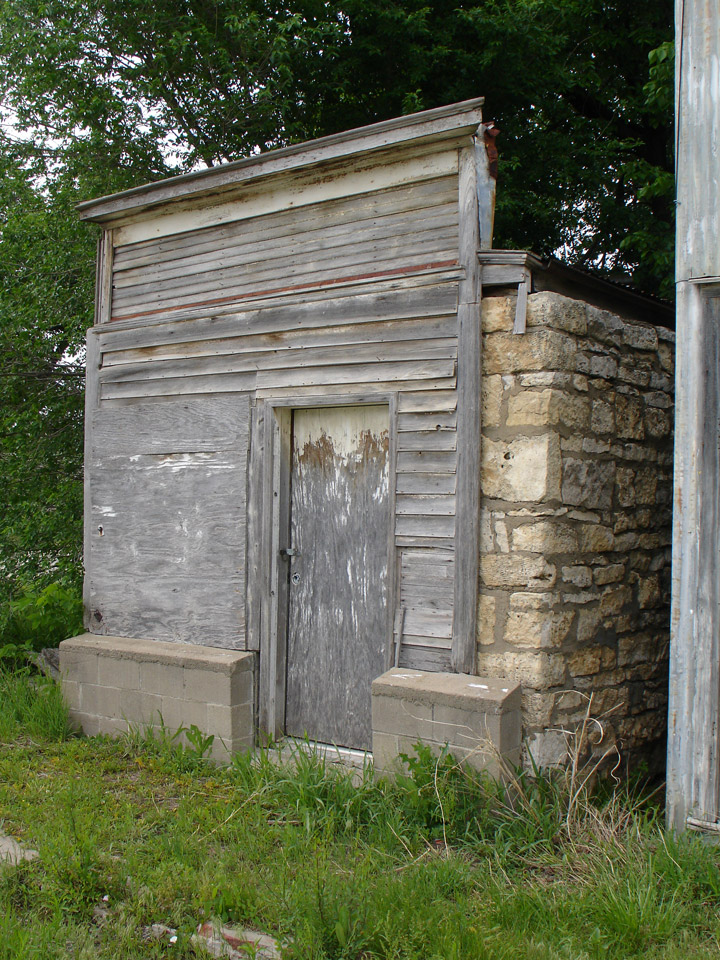 limestone building with a wood frame front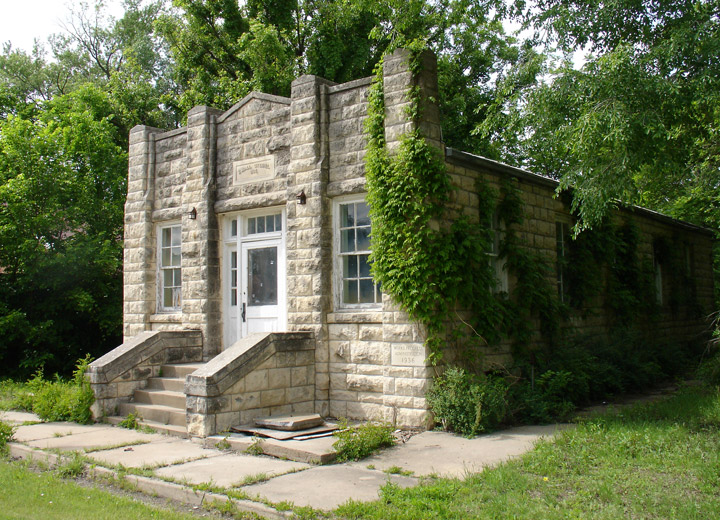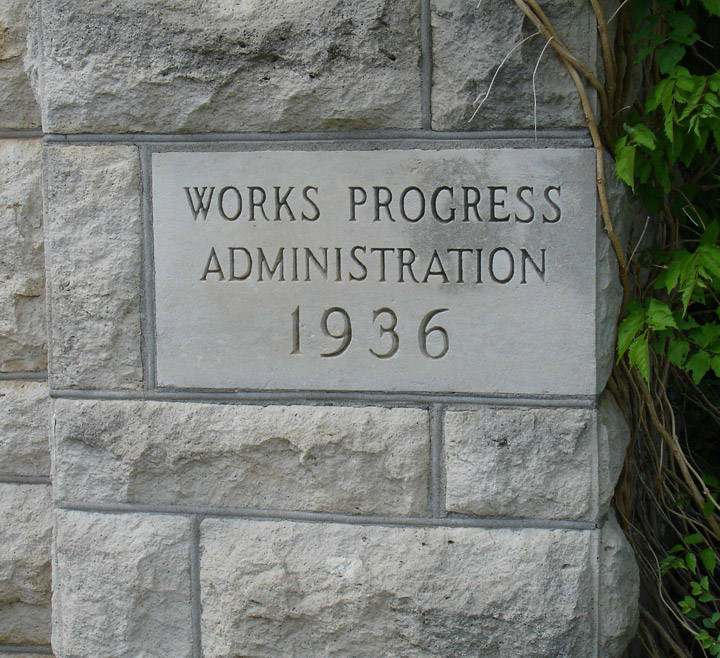 town hall, built by the WPA in 1936
It's a fact of life, she said. Across Kansas, small communities like Elmdale that once dotted the plains are struggling to survive. Residents have moved on. Their children have moved on, looking for better jobs in a more prosperous economy. Others travel to work in larger cities, where they also get their groceries and buy their fuel. Others will have to cope, also, Baumgardner said. "It's just how it is anymore," she said. "All these little towns have done the same thing. Time goes on. That was then. This is now."

Text By Amy Bickel
The Emporia Gazette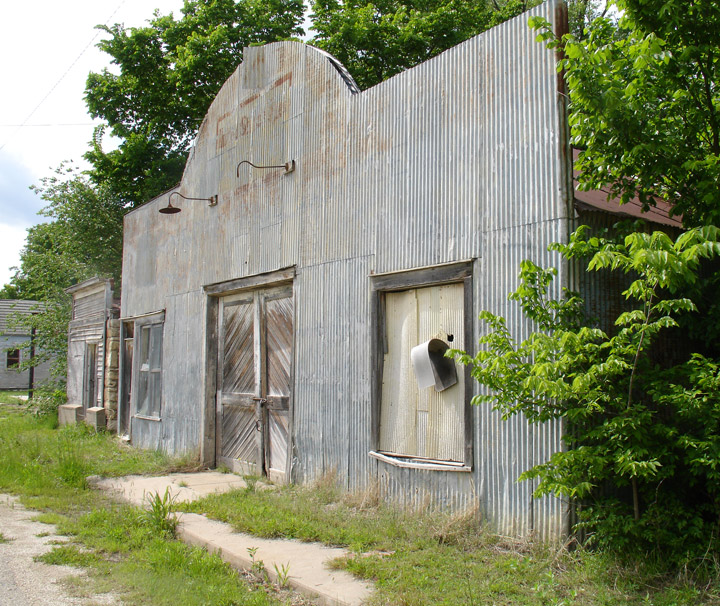 abandoned garage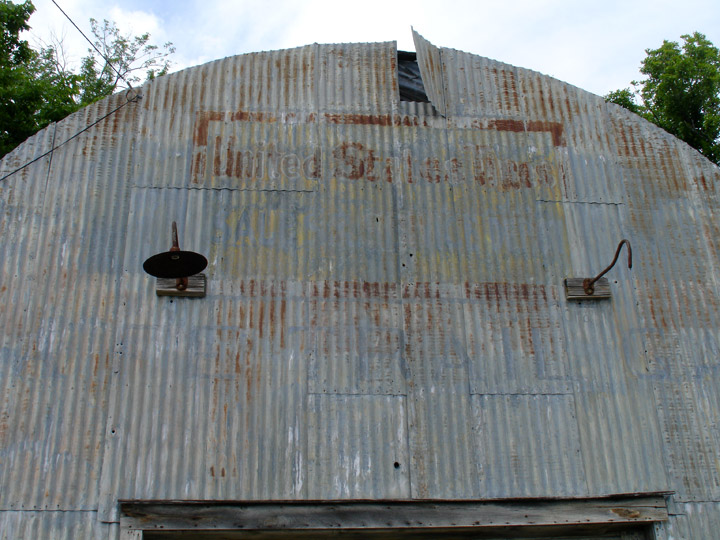 with a hint of its former advertizing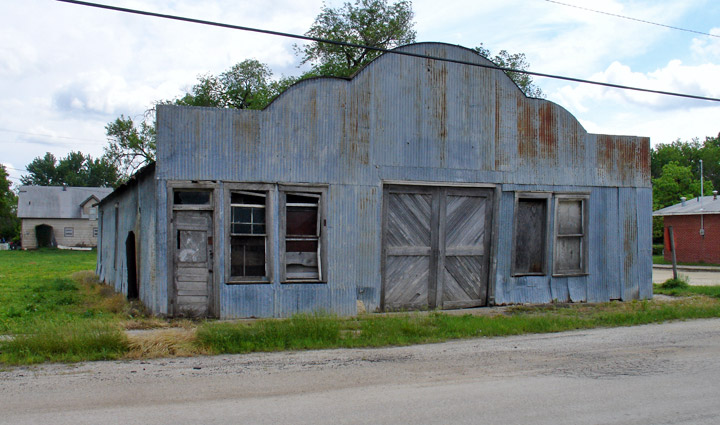 the former competition across the street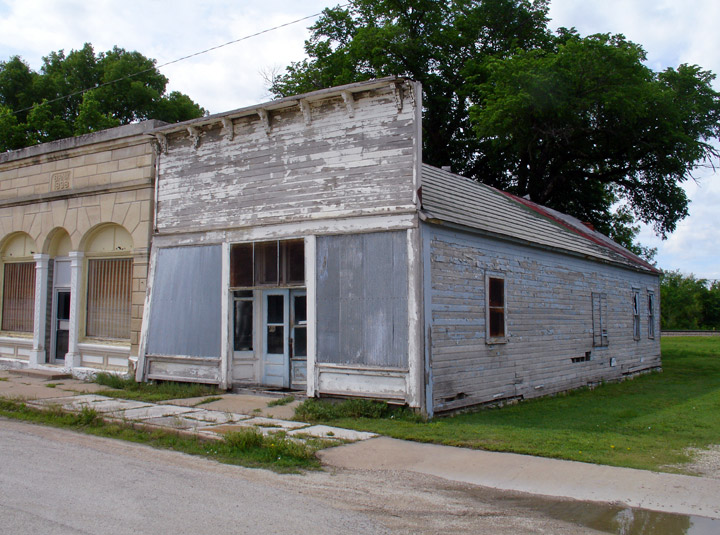 former store next to the bank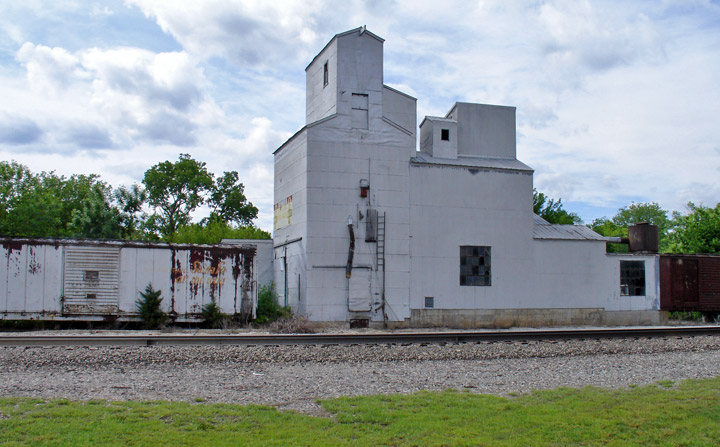 mill operation along the railroad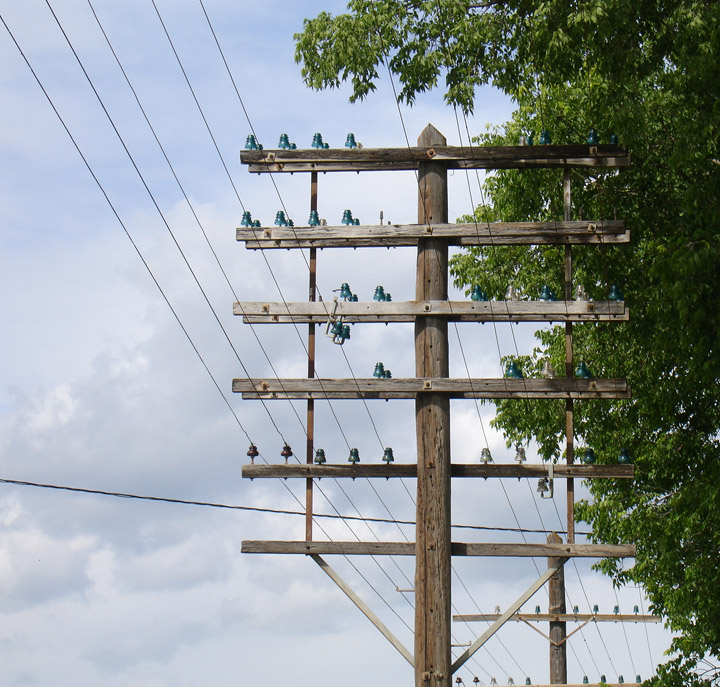 pole on the railroad
formerly carried the railroad telegraph
but now fewer lines
---
September 2007 update of the The Emporia Gazette article

by
Thomas Seigler
There is quite a bit of activity in Elmdale these days. The limestone
school is being rejuvenated for use as a clubhouse for Middle America
Riders Society, a motorcycle touring club, the elevator is being turned
into an outlet for locally produced handicrafts, and the tree house,
built in '99 as an example of how one deals with living in a flood
plain, is being used as a guesthouse for supporters of M.A.R.S. until
the school is ready. There are plans for an RV park on the five acres
located in the southeast portion of town. The town, in combination with
Camp Wood and the Methodist Church, is pursuing grants to rework the
water system.
---
---