Belfast, Maine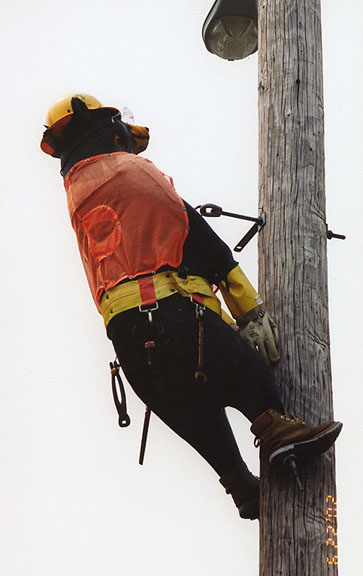 bear climbing utility pole

Belfast (Maine)

, city and port in south central Maine, the seat of Waldo County. Belfast is located on Penobscot Bay, 46 km (29 mi) south of the city of Bangor. It was founded in 1770 by Scotch-Irish settlers and named for Belfast, Northern Ireland. It was incorporated as a town in 1773 and as a city in 1853. The city is governed by a city manager.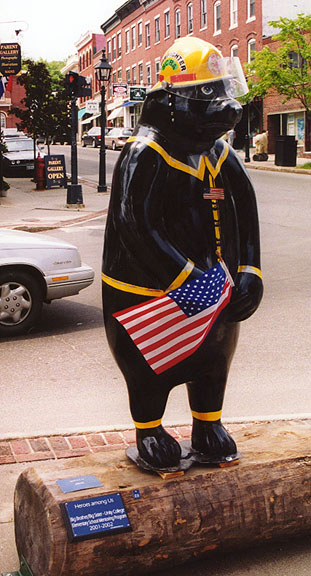 firefighter bear

Belfast and the surrounding region have a rich historical legacy from the American War of Independence (1775-1783) and the War of 1812. The British disrupted the settlement in 1779 and their troops briefly occupied the town in 1814. Retired sea captains built many of Belfast's architecturally beautiful old houses. They include the Williamson home (1789), Stevenson Tavern (1800), the Johnson house (1801), and the Field home (1807). The bay and adjacent area is a popular tourist destination. Population 6,639 (1998 estimate).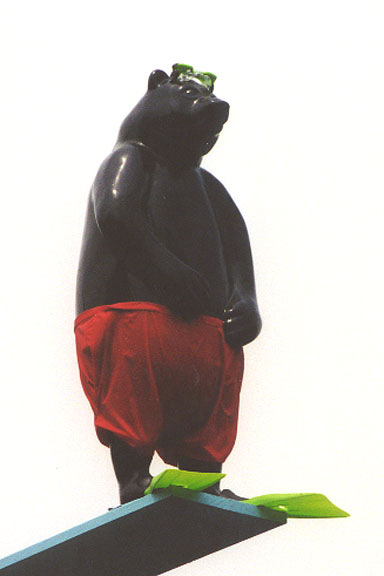 swimmer bear with snorkel gear
(jumping from top of building)

Belfast Bearfest
What is the Bearfest?
The Bearfest is the State of Maine's coolest, friendliest, and most fun public outdoor art event of the year. Over forty Maine artists have each decorated, adorned, re-created, embellished, bejeweled, and painted over 50 larger-than-life-size bears. The Bearfest is a hands-on, touchable art event, proving that art doesn't have to be "serious" to be good.
Why Bears? (Why not moose?)
The decision to "do" bears was really a process of elimination. We didn't want cows (the copy-cow thing). Lots of folks lobbied for moose (naturally), but they lost out for several reasons: the artists weren't wild about their "canvas"—lots of legs and antlers, but not much body; moose molds cost three times more than bears; moose molds cost more to ship than bears; and moose antlers are invitations to vandals. The Belfast Bearfest was born!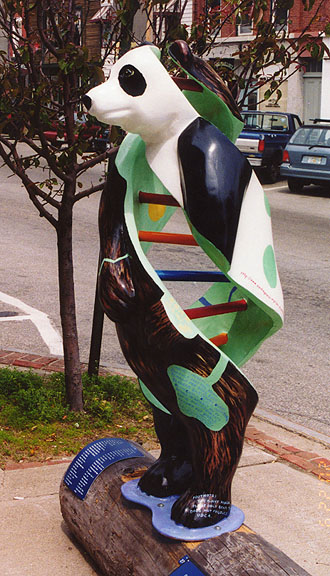 black eyed bear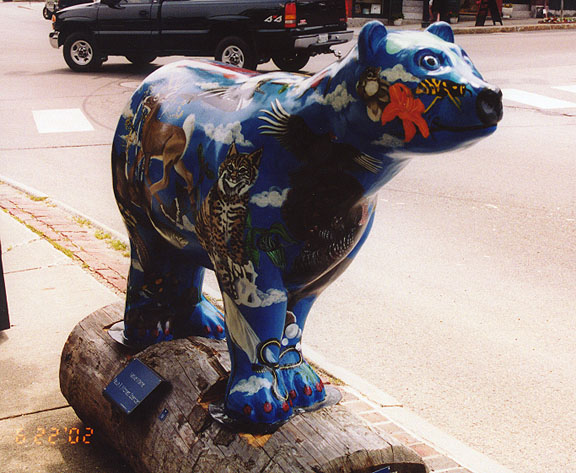 blue bear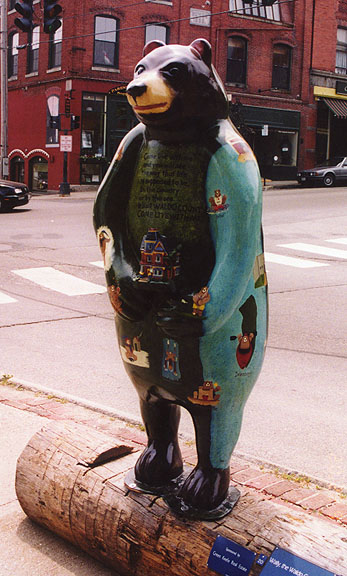 green bear

Return to Elderhostel program on Campobello Island