Fort Apache
Arizona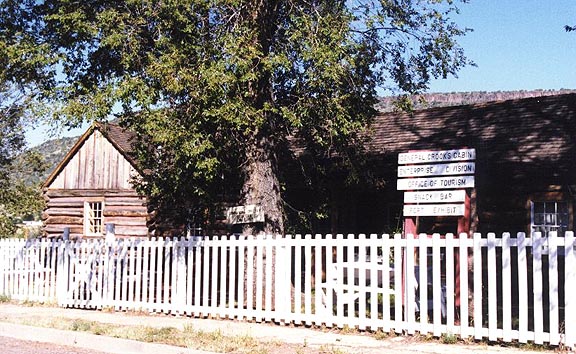 General Crook's Cabin
Fort Apache Historic Park is four miles southeast of Whiteriver on Fort Apache Indian Reservation. The 1.7 million-acre reservation in the mountains of east central Arizona represents a small part of the historic domain of the White Mountain and Cibecue Apache, who once ranged freely throughout the Southwest and Mexico.
HISTORY
1846-1854 - The Southwest became part of the United States following the Treaty of Guadalupe Hidaigo and The Gadsden Purchase.
1863- Arizona was separated from New Mexico Territory, and white settlers began to move into northern Arizona.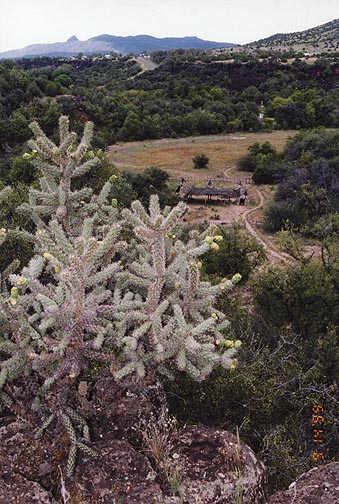 Apache village constructed near the Fort
1869- Brevet Col. John Green marched from Fort Thomas with a small expeditionary force. Instead of "hostiles," Green found a peaceful tribe living on their ancestral lands. Because of the abundance of timber, water, game and farm land, Green recommended a fort be built at the confluence of the north and east forks of the White River.
1870- A fort and reservation were established for the White Mountain and Cibecue Apache. The original reservation extended roughly from the Gila River to the Mogollon Rim, from Cherry Creek to the New Mexico border, nearly twice the present size.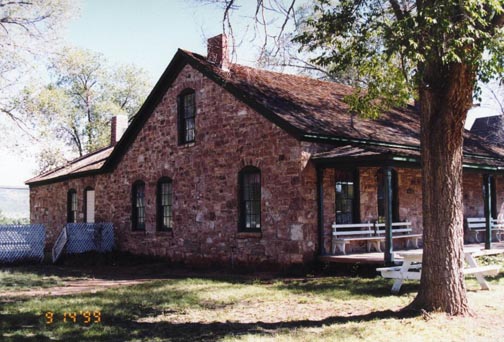 Officer's quarters
1871- Capt. John G. Bourke arrived at Camp Apache with Gen. George Crook. Crook enlisted 44 Apache Scouts from the White Mountain and Cibecue bands to serve in the Army for the Tonto Basin campaign of 1872-73.
1872-73 Quarters were primitive, consisting of rows of log "squad huts" and tents. Crook occupied the log cabin at the end of Officer's Row, now restored.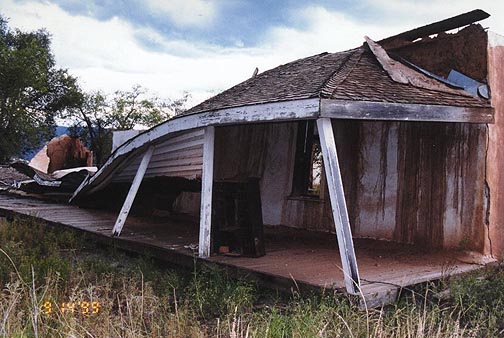 ruins of former enlisted men quarters
1877- Under political pressure from white settlers, many Tonto, White Mountain, Cibecue and Chiricahua Apache were forcibly moved to San Carlos where they lived under concentration camp conditions.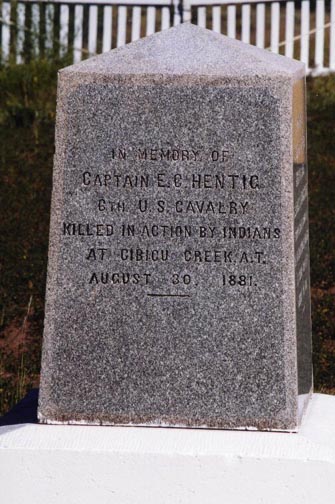 1881 - Military authorities ordered the Cavalry to arrest a medicine man named Noch-Ay-dei-klinne whom white settlers had accused of "stirring up unrest". In the Battle of Cibecue that followed the arrest, the medicine man, some of his followers and eight troopers were killed. Seeking retribution, mounted Apache warriors attacked Fort Apache, but were driven back. It was the only instance of the. fort being attacked.
Contrary view explained by Rico Leffanta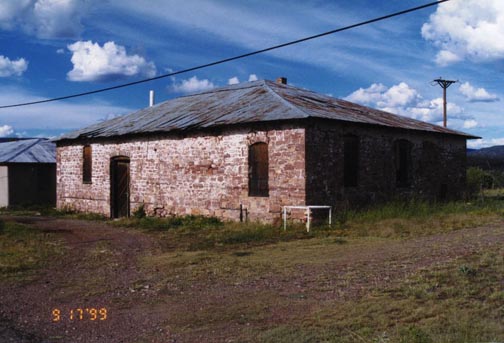 stockade at Fort Apache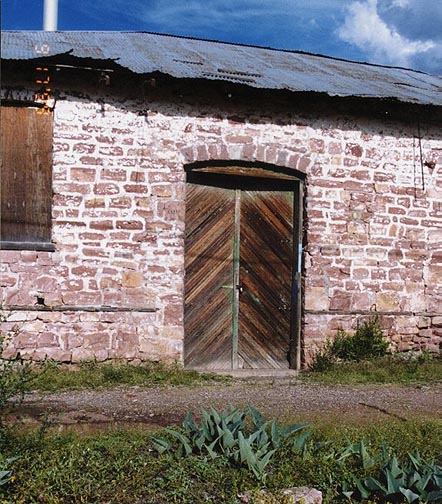 Geronimo was jailed through this doorway
1886- After the surrender of Geronimo, White Mountain and Cibecue Apaches who had been relocated were allowed to leave San Carlos and return to their homeland.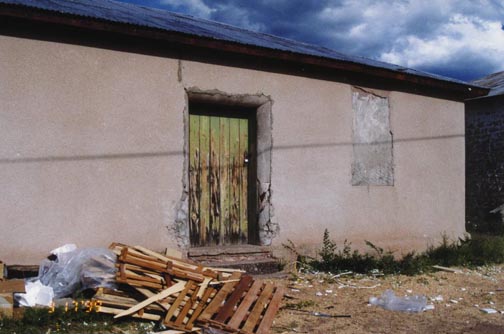 storehouse from which the apaches were given their "rations"
1890-1910 - Fort Apache was a unique blend of cultures that interacted socially. In addition to white soldiers of every ethnic background, there were African American troopers, Chinese, Mexicans and Anglos in civilian employ.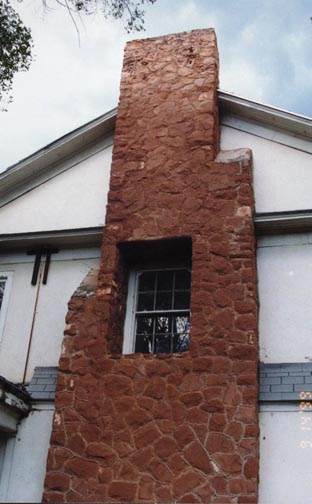 unique chimney
The fort was self-contained, with a steam-powered sawmill, farms, granary, meat plant, dairy, school, hospital, chapel, lime kiln, bakery, stone quarry, and blacksmith shop.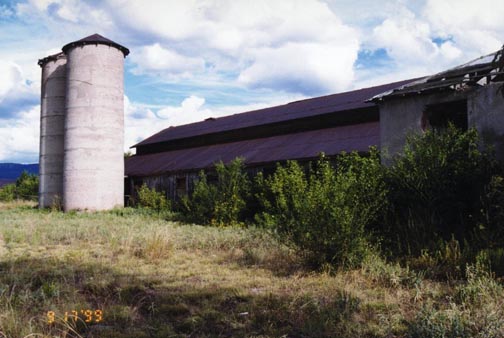 stables for Cavalry horses
1922- Congress disbanded the military at Fort Apache. It was the last Cavalry post in operation in the United States.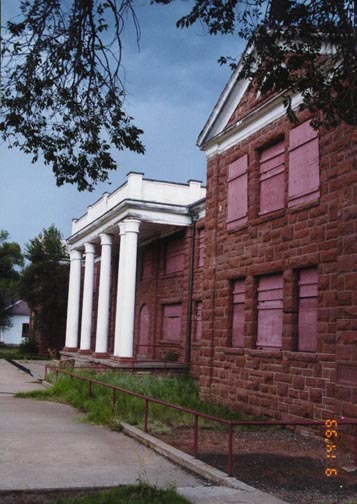 school dormitory (now boarded up)
1923- Theodore Roosevelt Indian Boarding School was established at Fort Apache. Children 3-8 were taught primarily vocational skills. The children were non-Apache, mostly Navajo, taken from their homes involuntarily, the purpose being to "take the Indian out of the Indian."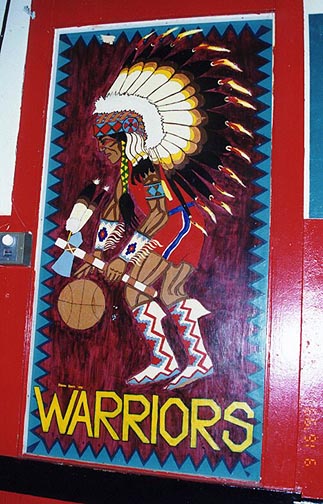 school mascot (politically correct here?)
The school is still in existence, although it now places great emphasis
on retaining American Indian values and traditions.


Return to White Mountain Elderhostel page