Biarritz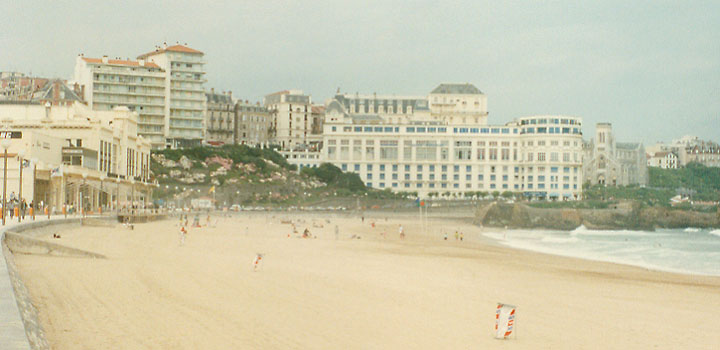 Biarritz beach
Biarritz (French: Biarritz, Gascon Occitan: Biàrritz; Basque: Biarritz or Miarritze) is a town and commune which lies on the Bay of Biscay, on the Atlantic coast, in southwestern France. It is a luxurious seaside town and is popular with tourists and surfers. Biarritz also boasts some of the best beaches in Europe and has won multiple awards for their top class standards.
Biarritz is located in the Pyrénées-Atlantiques département, in the Aquitaine région. It is adjacent to Bayonne and Anglet and 11 miles (18 kilometres) from the border with Spain. It is in the traditional province of the French Basque Country, Labourd.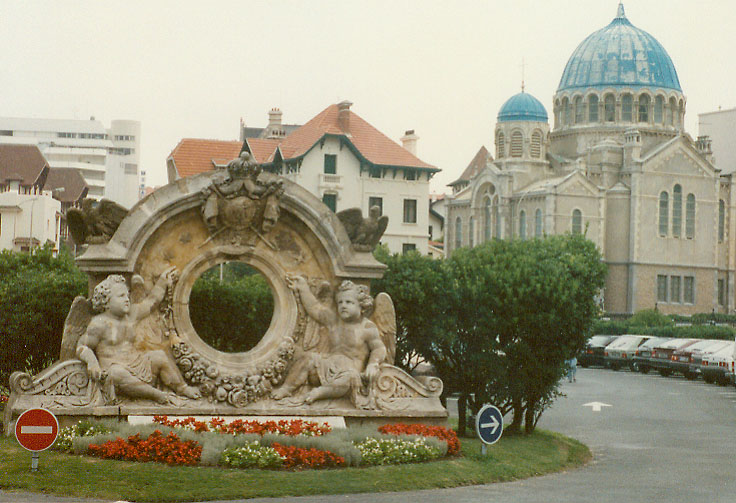 The Russian Orthodox Church in Biarritz,
constructed in the 19th century for visiting Russian aristocrats, with its famous blue dome.

Vikings who invaded Gascony in 840 settled in Biarritz, which was a good whaling location. Biarritz is a Basque name with locative suffix -itz attested Bearriz in 1170, Bearids in 1186, Bearritz in 1249. The Scandinavians settled in the area above the Gardague Beach. After the defeat of their chief in 982, the descendants remained here and continued hunting whales. It has been suggested (disputedly) that the remaining Vikings became "Agots," a social group in Gascony not allowed to mix with the population at large. Segregation among these communities—there were many in Gascony and Navarra— disappeared only in the early 20th century.

Biarritz has long made its fortune from the sea: originally a whaling village, in the 18th century doctors recommended that the ocean at Biarritz had therapeutic properties, inspiring patients to make pilgrimages to the beach for alleged cures for their ailments.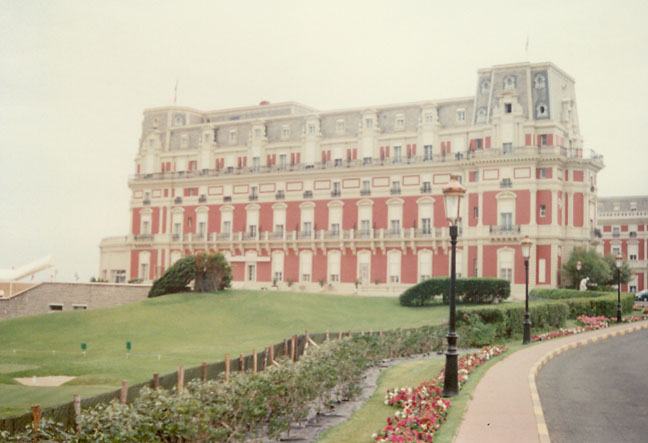 Hotel du Palais or Eugenie Palace
Biarritz's became more renowned in 1854 when Empress Eugenie (the wife of Napoleon III) built a palace on the beach (now the Hôtel du Palais). The British royal family regularly took vacations in Biarritz: European royalty such as Queen Victoria, Edward VII, and Alfonso XIII of Spain were frequent visitors.
Text from Wikipedia
---
---