Strasbourg
Photos from April 23. 1991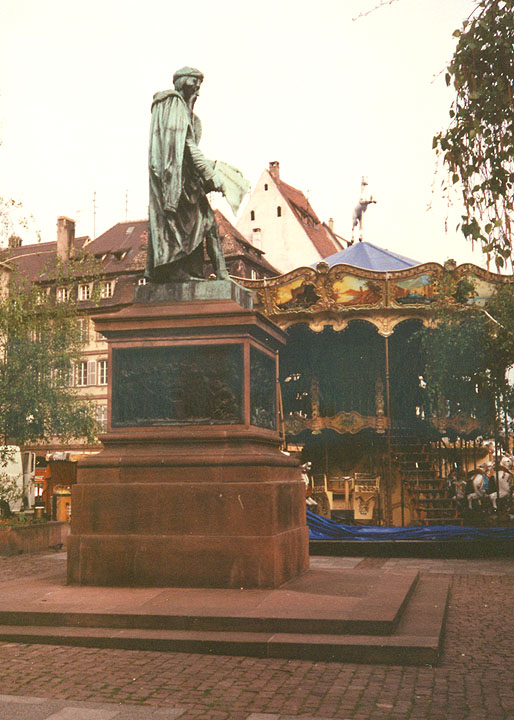 Gutenberg statue near the carousel
Strasbourg (German Strassburg), city in eastern France, capital of Bas-Rhin Department, at the confluence of the Bruche and Ill rivers, near the Rhine River and Germany, in Alsace. Strasbourg is a commercial, manufacturing, transportation, and cultural center. The city is noted for the production of pâté de foie gras; other products include refined petroleum, machinery, metal goods, printed materials, and electrical and electronic equipment. Strasbourg is served by a major port on the Rhine River.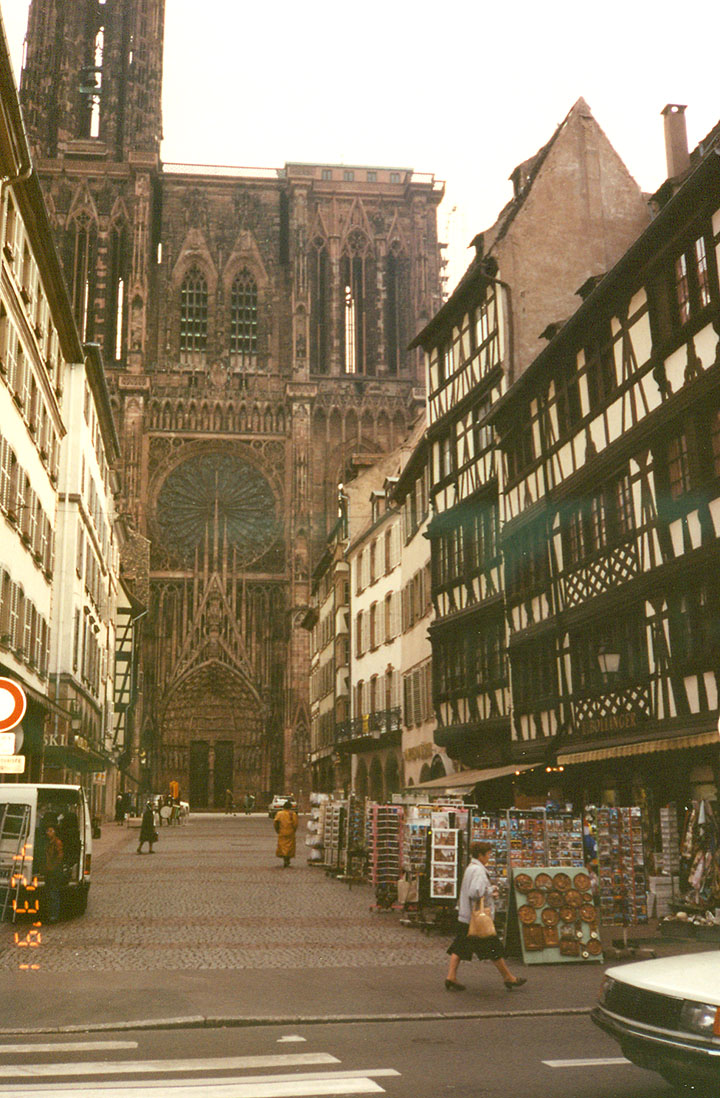 Cathedral of Notre Dame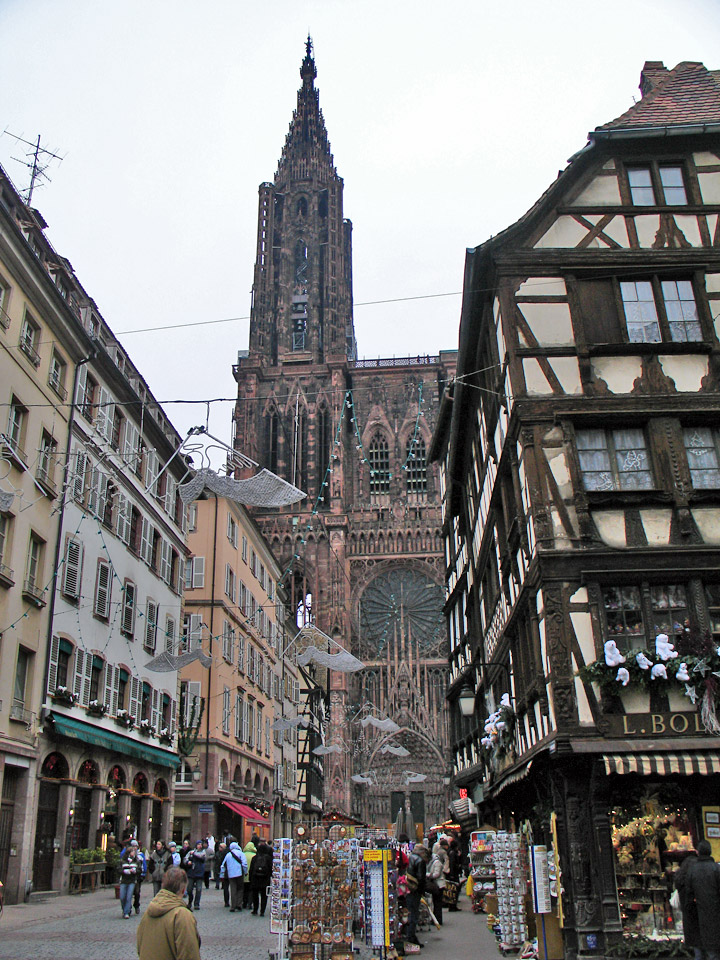 same street, Christmas 2006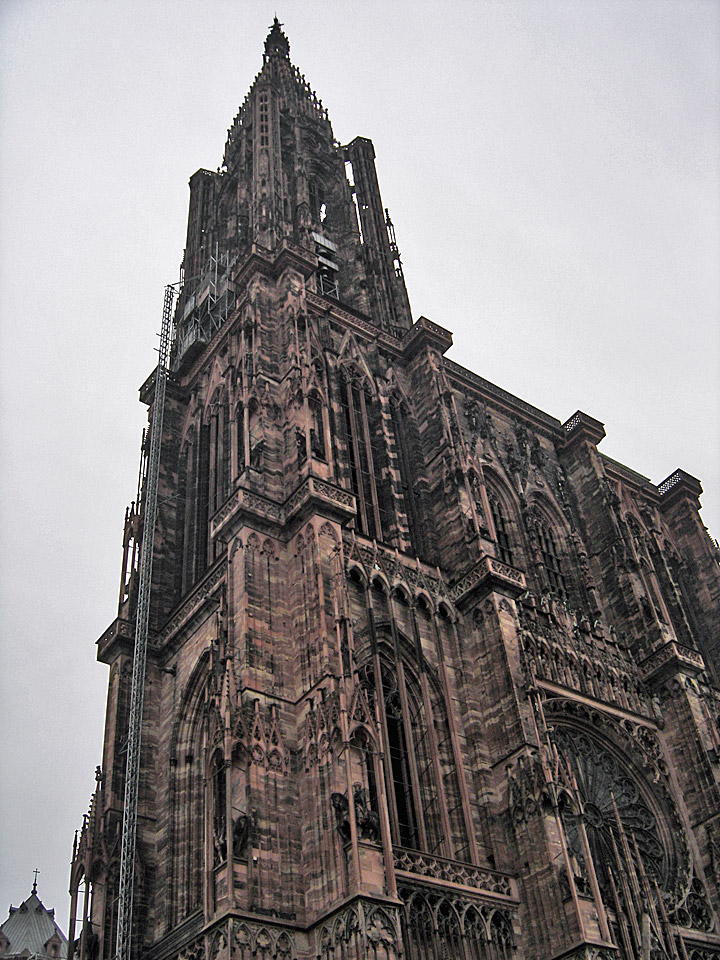 The Ill River divides at Strasbourg and its arms and canals surround the oval-shaped central district which is the old section of the city. The famous Cathedral of Notre Dame of Strasbourg is situated in the southeastern part of the old quarter. Construction of the cathedral was begun about 1015, but only the crypt and part of the choir remain from this period. The Romanesque choir dates from the 11th and 12th centuries; the Gothic nave was reconstructed in 1275, and the western facade, begun in 1270, has a tall spire that was completed in 1439. Other features of the cathedral include stained-glass windows, an astronomic clock, and numerous sculptures. Among additional points of interest in the city are the Gothic church of Saint Thomas (13th-14th century); the Palais de Rohan (1731-1741), now housing the municipal art museum; and the Hôtel du Commerce, the best example of Renaissance architecture in Strasbourg.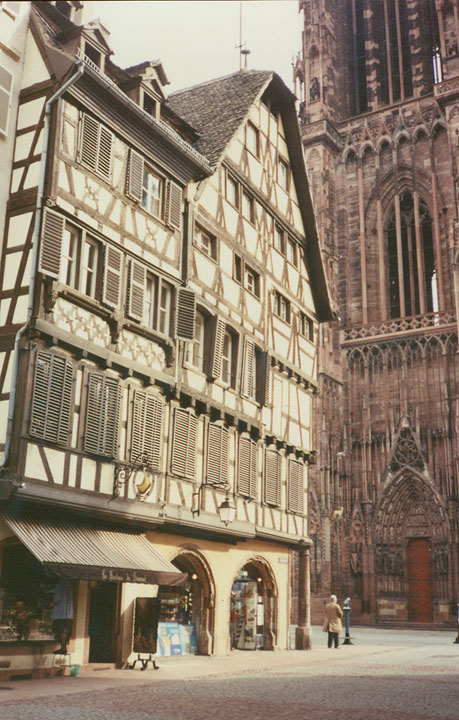 old town, next to the Cathedral
The city is the seat of the universities of Strasbourg I, II, III (1538, reorganized 1970) and the Council of Europe. Strasbourg is a meeting place of the European Parliament, an organ of the European Union.
Known as Argentoratum to the Romans, Strasbourg has been an episcopal see since the 4th century. The city was destroyed by the Huns in 455, but it was soon rebuilt by the Franks. In 923 Strasbourg became part of the Holy Roman Empire. In 1262, after a long struggle with the ruling bishops, the citizens gained the status of free imperial city for Strasbourg.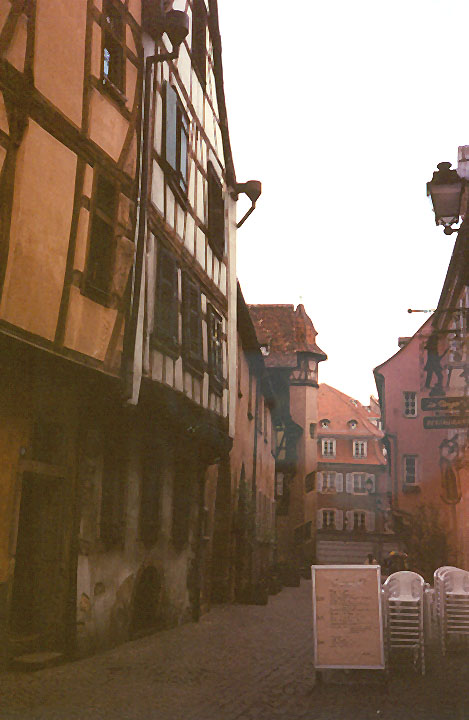 By the time of the Reformation, in the 16th century, Strasbourg was a prosperous community, and its inhabitants accepted Protestantism at an early date (1523). In 1681Louis XIV of France took possession of the city, and the right of France to Strasbourg was recognized in 1697 by the Peace of Ryswick. The city passed to Germany in 1871 as a result of the Franco-Prussian War but was returned to France in 1919, following World War I. It was occupied by the Germans and badly damaged in World War II (1939-1945). Population (1999) 264,115.

Text from Microsoft Encarta

---
Old Town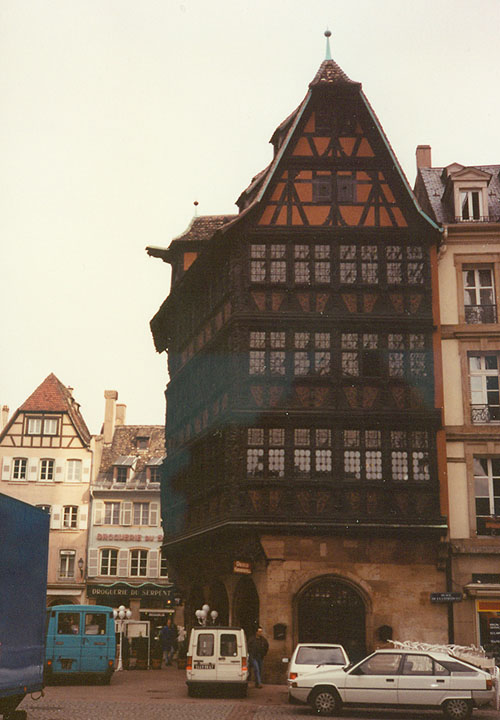 ---
---