Lexington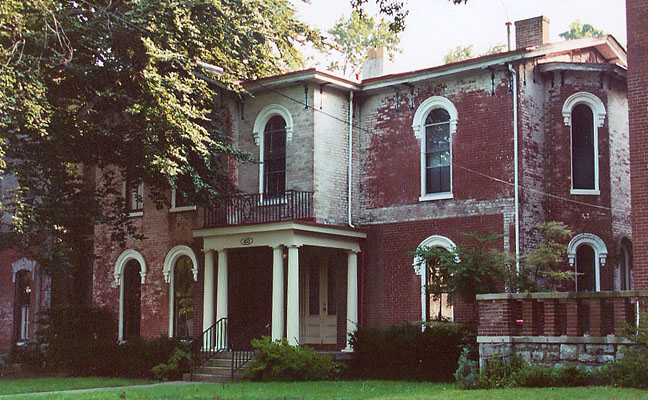 along West Second street historic district
(style was to paint white the red brick exteriors)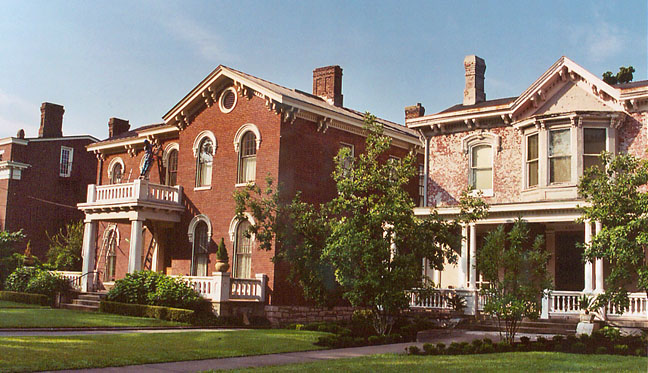 Lexington (Kentucky), also Lexington-Fayette, consolidated city with Fayette County, north central Kentucky. The surrounding area, known as the Inner Bluegrass region, is a leading world center for horse breeding and sales. Lexington is also a regional retail, financial, manufacturing, and educational center. Products include computer printers, automobiles and parts, electrical and electronic equipment, paper goods, and processed food. The city is served by Blue Grass Airport.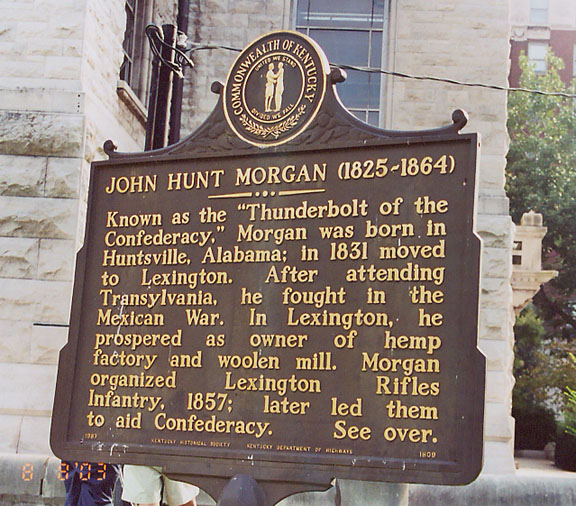 John Hunt Morgan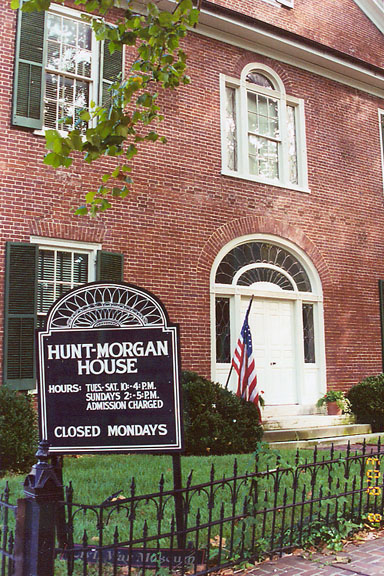 the Hunt Morgan House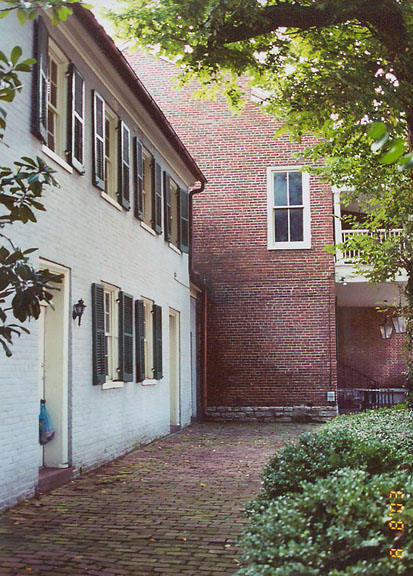 rear view of the house
Tourists are attracted to the area's many horse farms and to the city's points of interest, among them Ashland, the home of the statesman Henry Clay; Hopemont (1814), the Hunt-Morgan House, home of Confederate General John Hunt Morgan and his nephew, the Nobel Prize-winning biologist Thomas Hunt Morgan; and the home of Mary Todd Lincoln, the wife of President Abraham Lincoln, in the Western Suburb Historic District.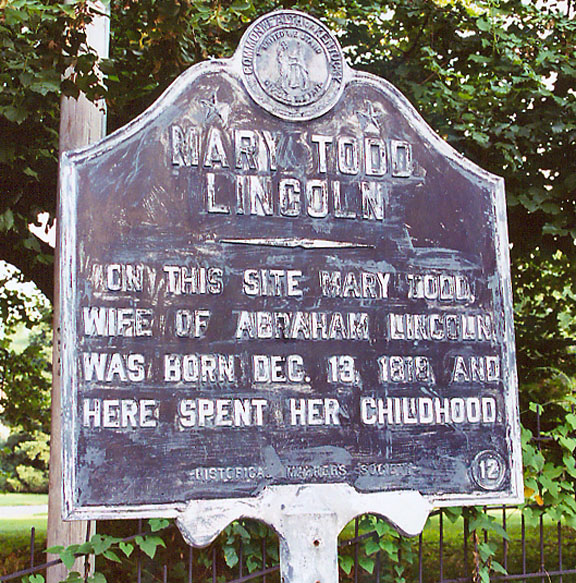 site of the childhood home of Mary Todd Lincoln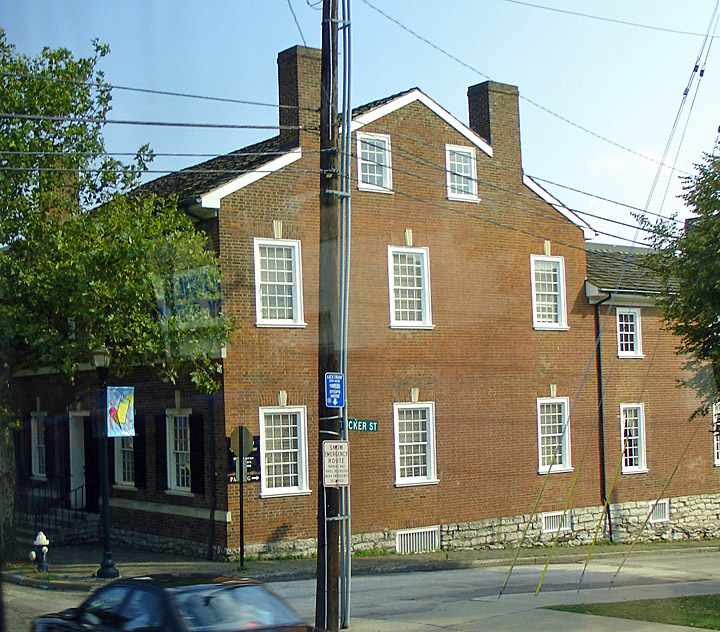 where she lived till her marriage to Abraham Lincoln
Museums include Waveland, a Greek Revival mansion now housing displays of Kentucky home furnishings, and the Lexington Children's Museum, which counts among its exhibits those on history, science, and civics. Other attractions are the Keeneland Race Course, Kentucky Horse Park, Red Mile Harness Track, and the American Saddle Horse Museum. Transylvania University (1780), the University of Kentucky (1865), Lexington Theological Seminary (1865), Lexington Baptist College (1952), and three community colleges are also located in the city. Annual events include the Festival of the Bluegrass, held in June.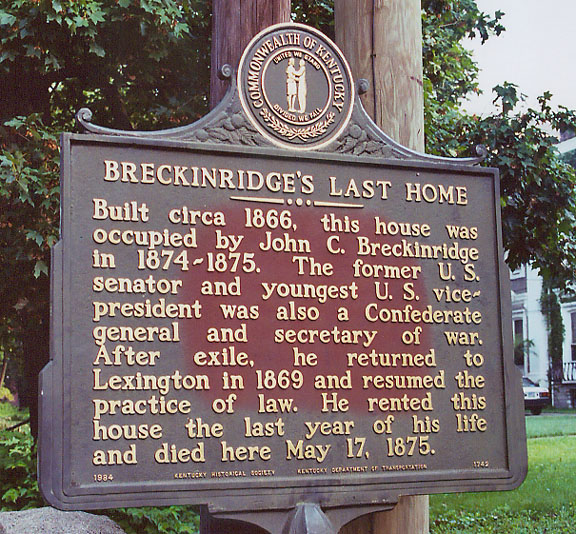 Breckenridge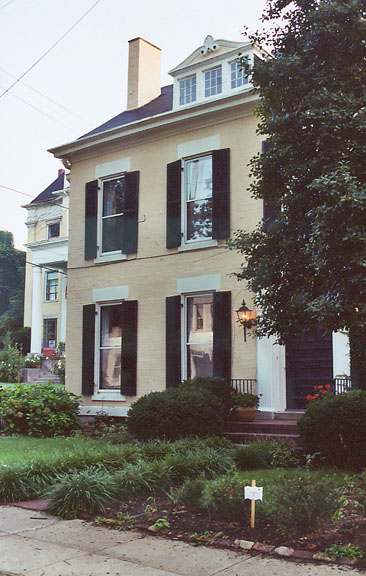 John C. Breckinridge's house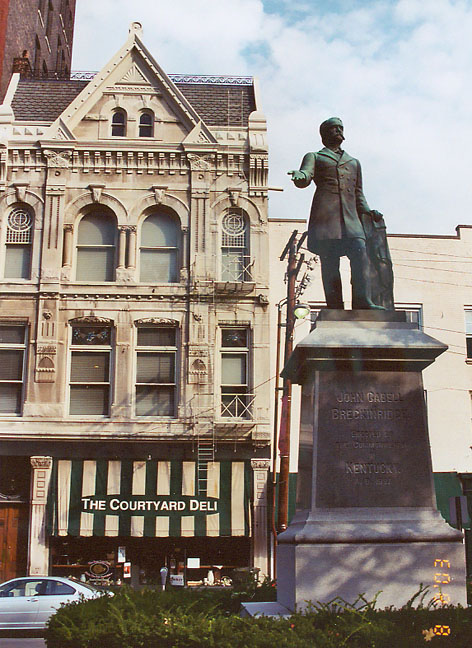 statue of Breckinridge on courthouse square
The site of Lexington was selected for a settlement in 1775 by Robert Patterson and other frontiersmen. They decided to name it for the Battle of Lexington, the first battle of the American Revolution (1775-1783), which had taken place only a few months before in Massachusetts. Although the site was subsequently abandoned, Patterson returned with others in 1779 to found the first permanent settlement. The first Kentucky state legislature met there in 1792. In 1832 Lexington incorporated as a city. By the early 19th century, Lexington was a regional cultural and trade center. Hemp, the city's principal crop, was replaced by tobacco after 1870. The city, which developed into a major manufacturing center after World War II (1939-1945), was consolidated with Fayette County in 1974. Lexington in the mid-1990s experienced growth in business and population.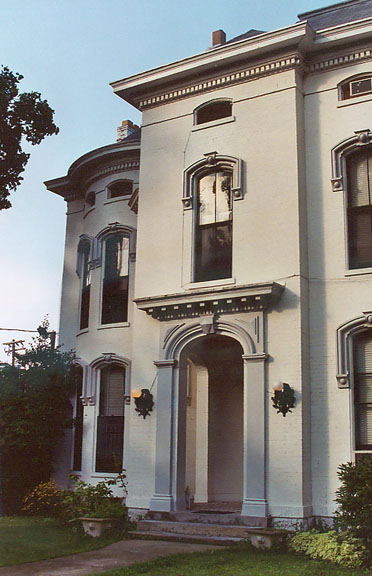 Northside Historic District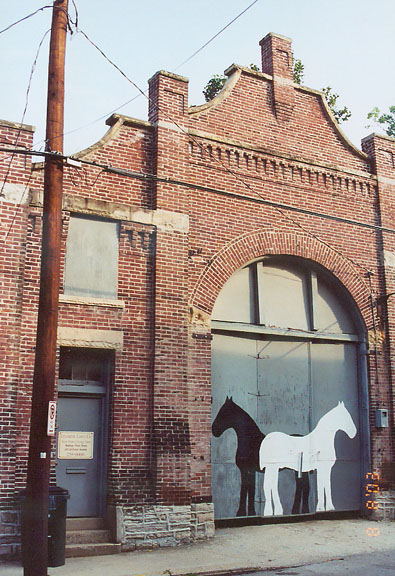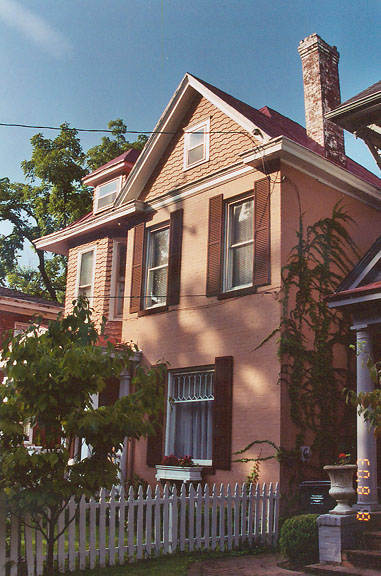 Lexington covers a land area of 736.9 sq km (284.5 sq mi), with a mean elevation of 288 m (946 ft). According to the 1990 census, whites are 84.7 percent of the population, blacks 13.4 percent, Asians and Pacific Islanders 1.5 percent, and Native Americans 0.2 percent. The remainder are of mixed heritage or did not report ethnicity. Hispanics, who may be of any race, are 1.0 percent of the people. Population 204,165 (1980);; 241,749 (1998 estimate).).

Text from Microsoft Encarta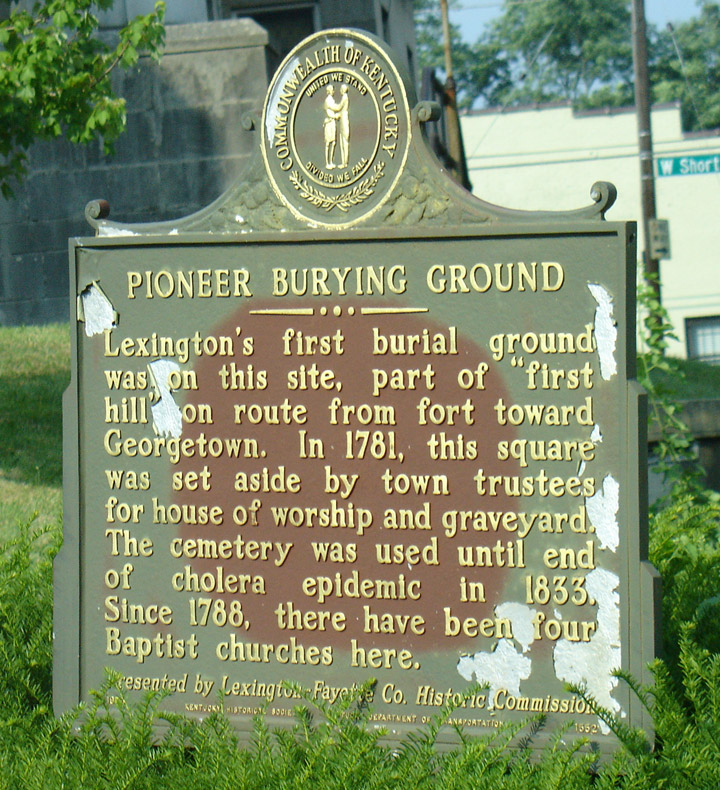 old Pioneer burying ground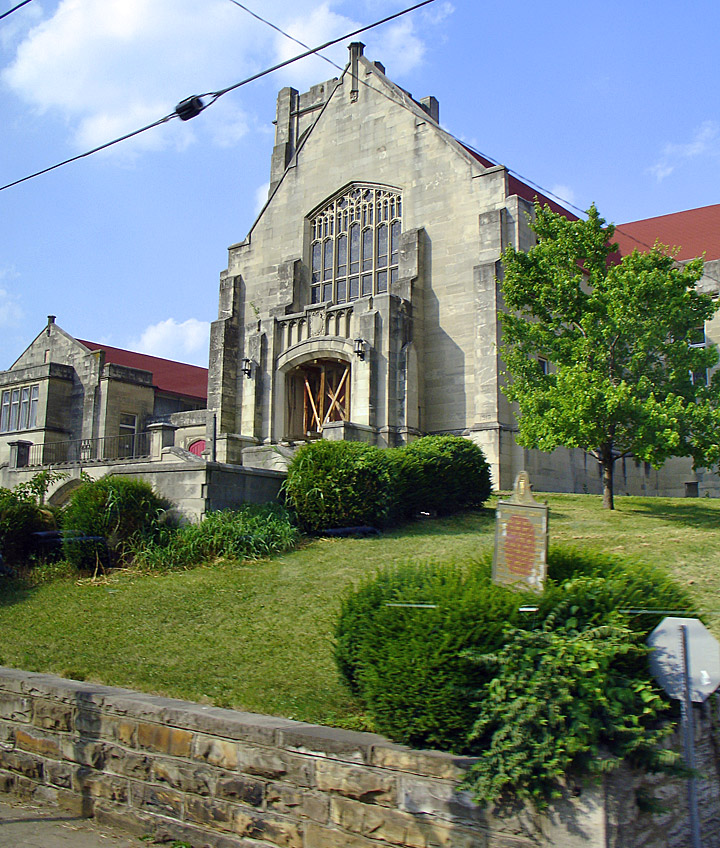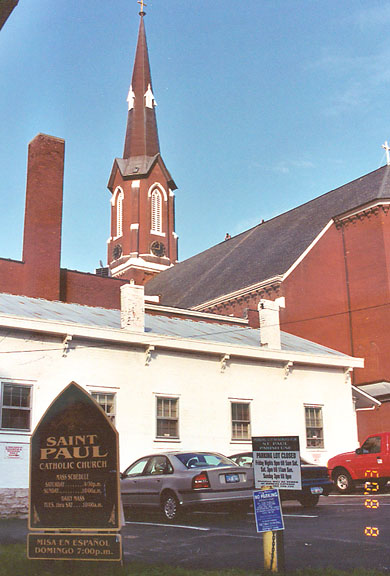 Saint Paul Catholic churchch
Saint Paul's 1865
Victorian Square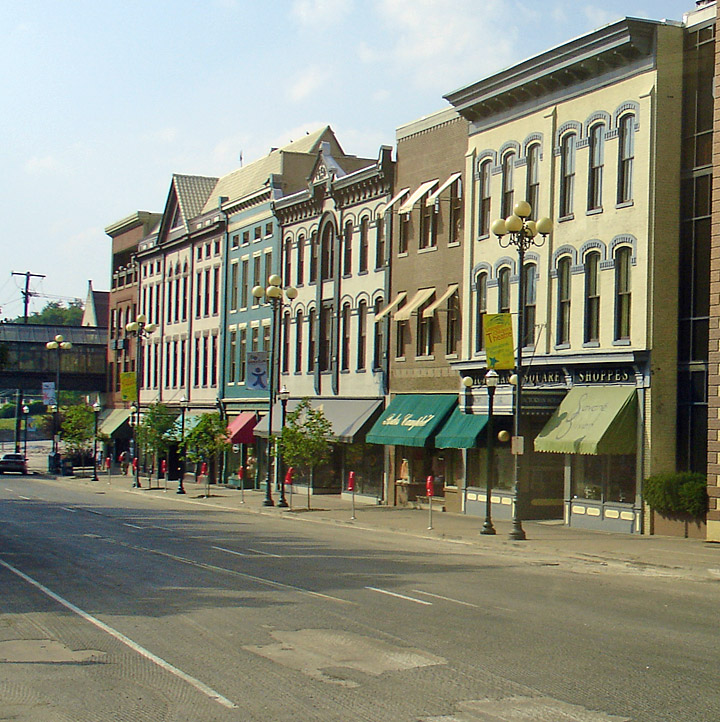 buildings along that street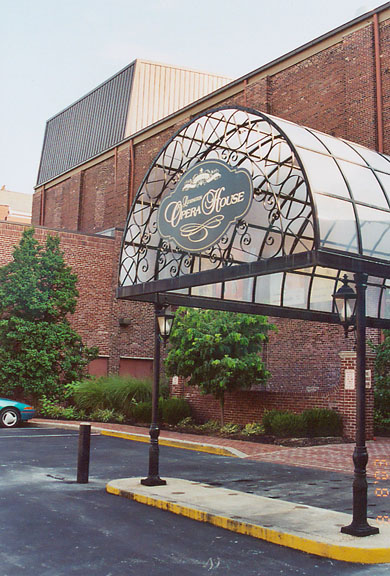 Lexington Opera House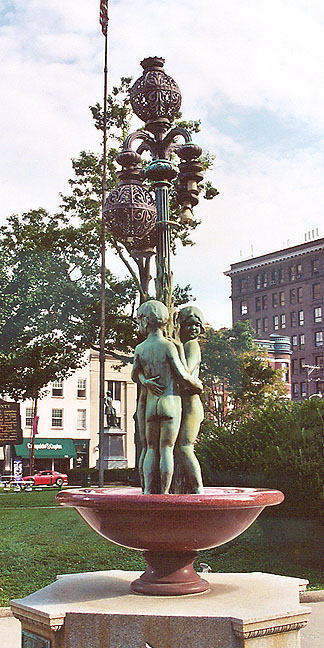 in old courthouse square
fountain dedicated to children and pure water
"Trois Enfants dans le Font"