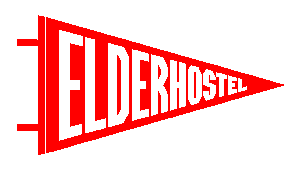 ELDERHOSTEL

11 Avenue de LaFayette
Boston, Massachusetts 02111-1746
Elderhostel, a non-profit educational organization, offers inexpensive, short term academic programs hosted by educational institutions around the world. You'll live on college and university campuses, in marine biology field stations and environmental study centers and enjoy the cultural and recreational resources that go with them. Some of our educational institutions that do not have residential facilities or whose residence halls are not available will use modest commercial sites for their programs.
Programs I have attended


| | |
| --- | --- |
| | (Click on program to find more details of my experience) |

I have attended 83 ELDERHOSTEL programs.

Elderhostel is a not-for-profit organization that provides learning adventures to nearly 160,000 older adults each year. Elderhostel offers nearly 8,000 programs a year in more than 90 countries.
Elderhostel believes learning is a lifelong pursuit that opens minds and enriches lives. Sharing new ideas, challenges and experiences is rewarding in every season of life. Participants come from every walk of life to learn together, to exchange ideas, and to explore the world.
From Paris to New Orleans, Delhi to Council Bluffs, Elderhostel offers educational experiences, infused with adventure, that enrich and enhance the lives of the participants. Our instructors share stimulating information through in-depth lectures, field trips and cultural excursions. Lively discussions with faculty and fellow participants illuminate issues and broaden horizons.