PHOTOS BY COUNTRY
As of January 2011 I have visited 180 of the independent countries of this world. As a reference there are 191 countries in the United Nations, 192 are watched by Amnesty International, 197 participated in the 1996 Summer Olympics in Atlanta, and 210 countries and territories are serviced by CNN.
INTERNATIONAL TRAVEL NEWS has compiled a list of 192 countries, of which I have visited 176 as of January 2011. ITN address
A group called the Travelers' Century Club lists the countries that are sovereign and dependencies which are separate enough due to geography, culture or history to warrant being considered separate territories. As of January 2003 they have 317 designated.
As of January 2011 I have been to 271 of the Travelers' Century Club areas.
This means that there are still about one tenth of the world's places that I have not yet visited. I have no urge to be complete. But I do like the feeling of having viewed most of the world's peoples and seen much of their cultures. Many of the remaining 19 independent countries (including Iraq, Afghanistan, North Korea), 16 in fact, are in Africa, where past colonial political subdivisions have divided them, not true distinctive culture differences. These areas are thus of less interest to me, and also because travel in that area of the world is not very easy, and can be dangerous.
World Map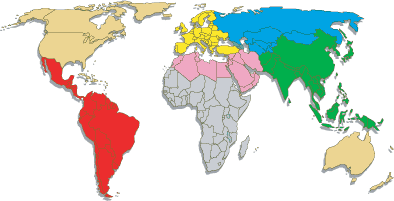 To find my photos from around the world click on a region above.
PLACE, DATE OF FIRST VISIT
*****************************
(In the following list, when a location is highlighted it means that photos are attached. Click on the highlighted location to view.)

ANGUILLA, 1991
ANTARCTICA - BELLINGSHAUSEN, 1989
BALEARIC ISLANDS (MALLORCA), 1958
BARBADOS, 1987
BOSNIA & HERZEGOVINA (SARAJEVO), 1975
DODECANESE ISLANDS (RHODES), 1989
ERITREA, 1995
GERMAN DEMOCRATIC REPUBLIC, 1963
KIBRIS (TURKISH REPUBLIC OF NORTHERN CYPRUS), 1998
MALAWI, 1992
MICRONESIA, FEDERATED STATES OF, 1989
NIGERIA, 1999
RUSSIAN SSR (SOVIET UNION), 1963