Susan Butcher and the Iditarod trail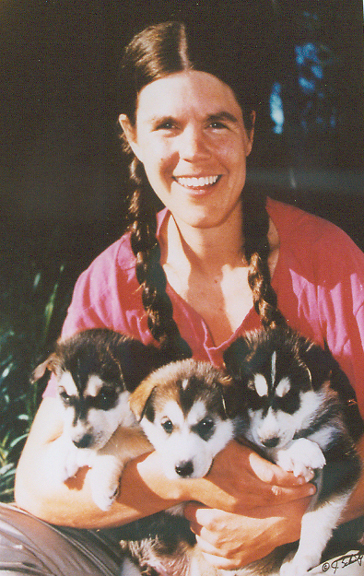 1954 - 2006
Susan Butcher with her dogs
Butcher, Susan (1954-2006), American sled-dog racer, four-time winner of the Iditarod Trail Sled Dog Race, the most demanding race of its kind. Butcher was born in Cambridge, Massachusetts. After graduating from high school in 1972, she moved to Boulder, Colorado, and became involved in sled-dog racing, or mushing. In 1975 she moved to Alaska, eventually settling in a small cabin in the Wrangell Mountains, where she lived in virtual isolation while training a dog team.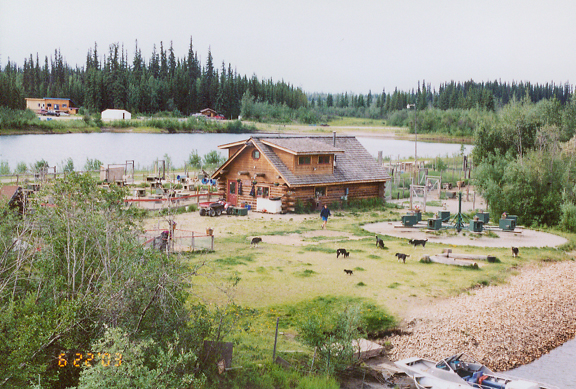 Susan's dog training facility
In 1978 Butcher entered her first Iditarod, finishing 19th. The next year she finished ninth, and soon after the race she helped lead the first sled-dog team to reach the summit of Mount McKinley, a peak in south central Alaska that is the highest in North America. Butcher placed fifth in the Iditarod in both 1980 and 1981.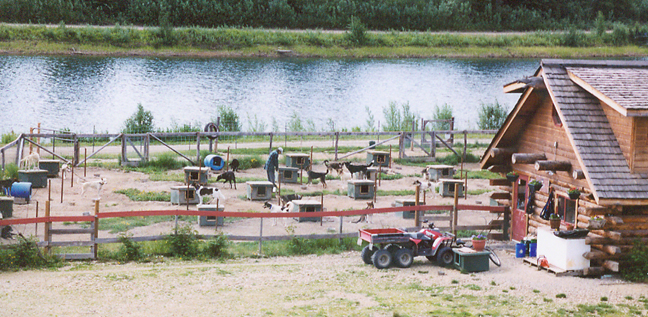 her dog kennels
She finished second in 1982, ninth in 1983, and second in 1984. In 1985 her team was attacked by a moose and she had to withdraw from the race. In 1986, however, she won the race with a record time of 11 days 15 hours 6 minutes (since broken). Butcher was only the second woman to win the race, following American Libby Riddles, who won in 1985. Butcher also won the Iditarod in 1987 and 1988. She finished second in 1989 and won in 1990, becoming the second person to win the Iditarod four times, after American Rick Swenson. Butcher also won numerous other sled-dog races during her career.

Text from Microsoft Encarta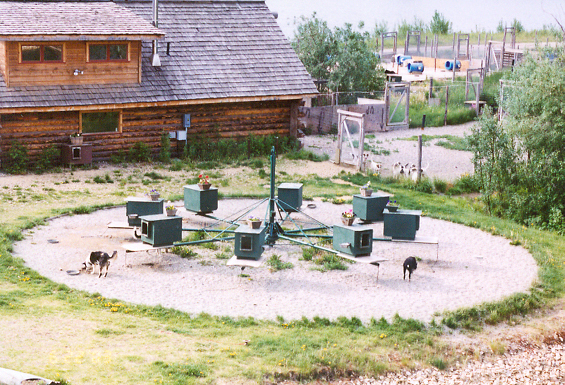 dog exercise wheel
(if dogs gets tired, they just hop into their house and ride along)
she chats to the passengers as Capt. Binkley's Discovery III goes by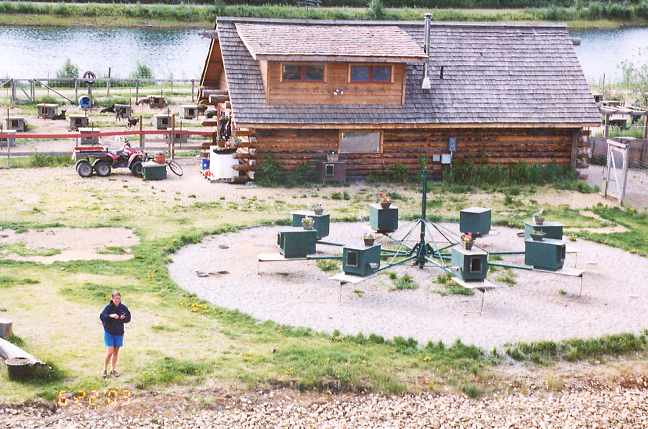 saying Goodbye to the boat people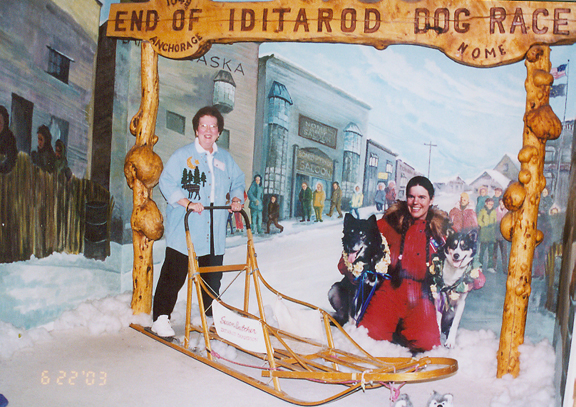 at Capt. Binkley's landing
any tourist can be photographed with Susan at the finish line
The dog on Susan's left. Elan
has a pup, Scuba, who is now retired and living
in North East Wisconsin with Julie Verrette
at Summer Place Kennel
Photos of Capt. Binkley's Discovery III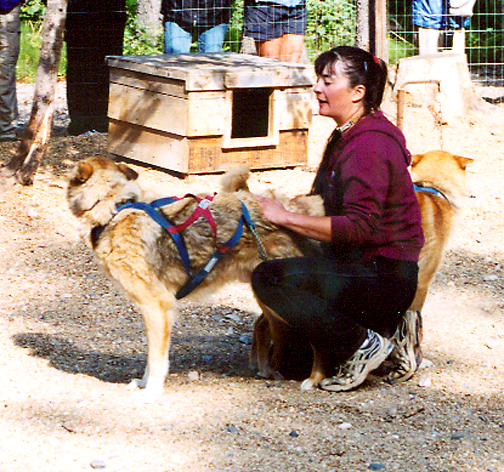 a young musher, Jessie Royer, talks about her dogs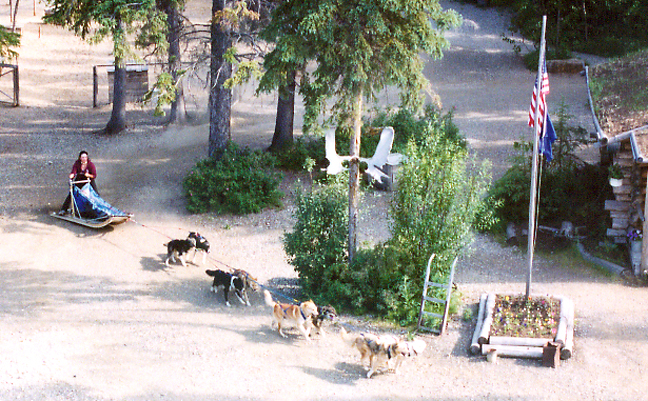 demonstrates a run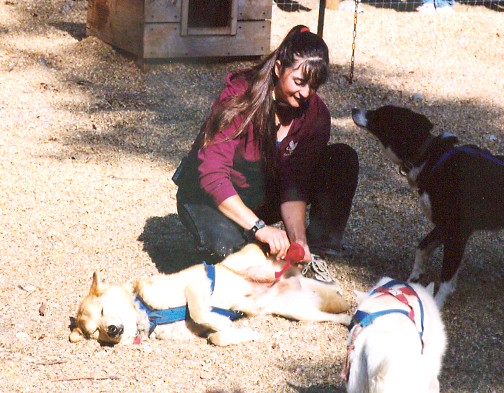 shows how to put on the nylon foot booties

Iditarod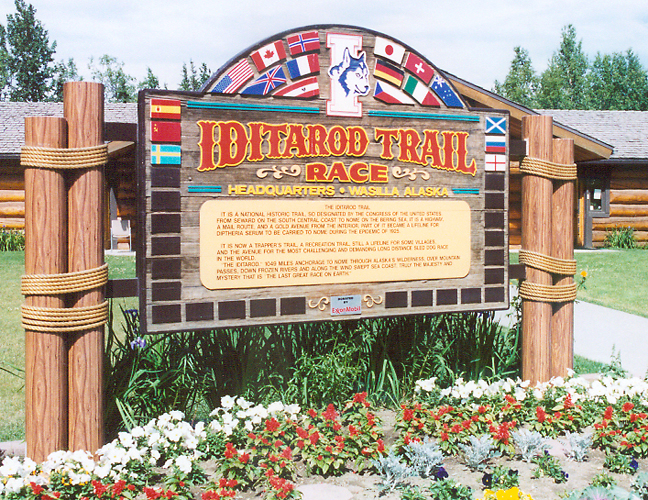 headquarters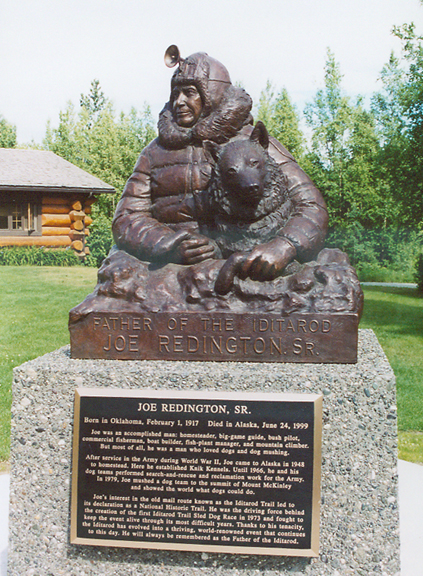 father of the Iditarod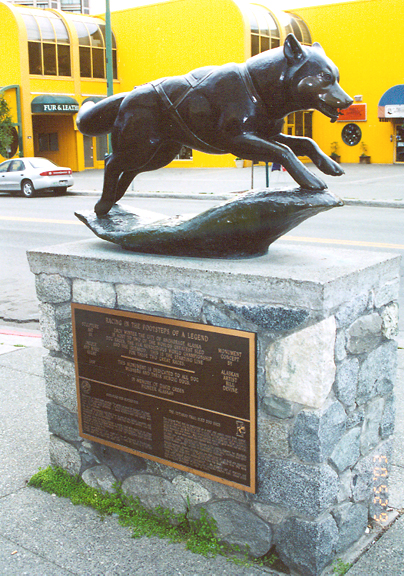 statue at the start of the trail in Anchorage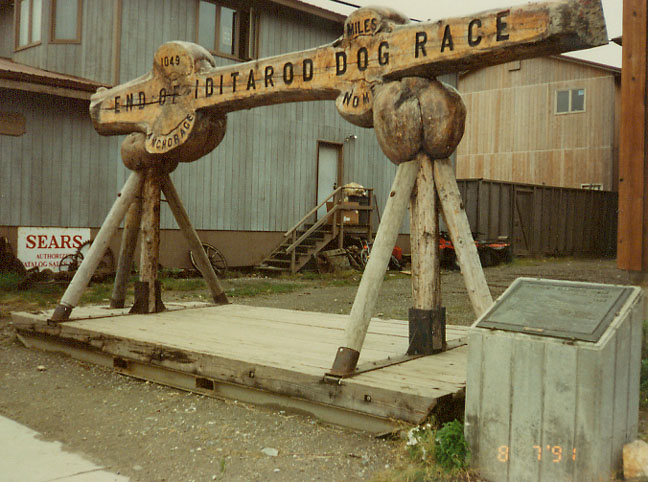 the end of the trail in Nome
Other Photos from Nome, Alaska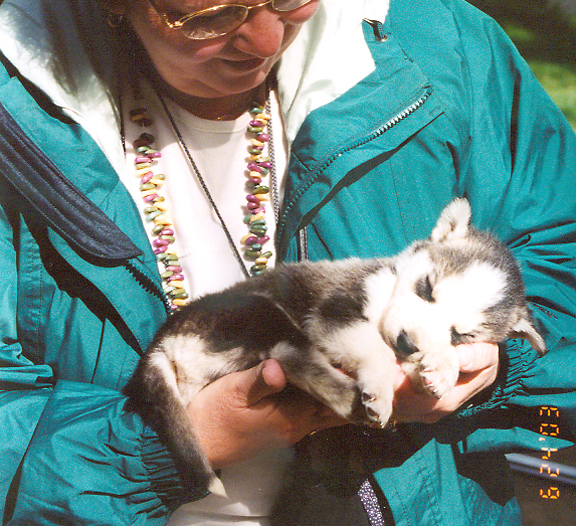 holding s puppy if fun
even if it is sleeping
but more fun to go for a ride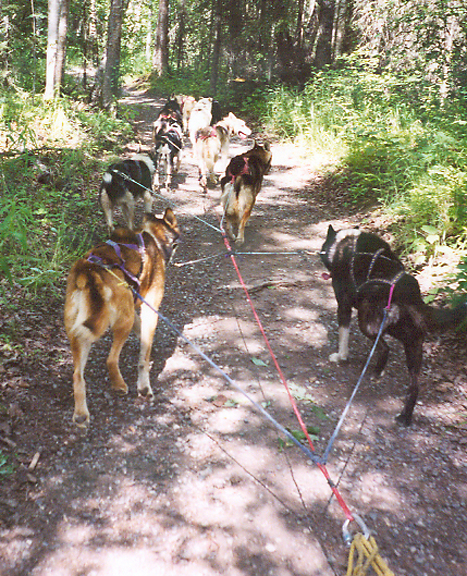 flying through the woods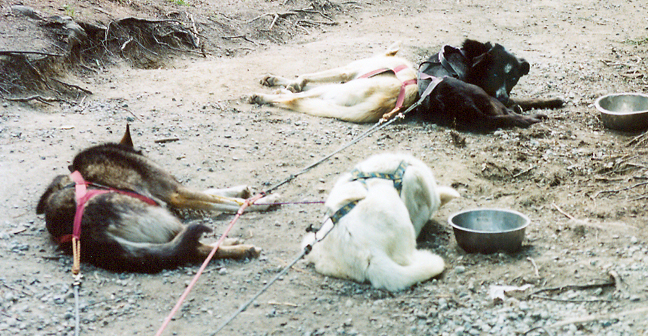 at the end of the trail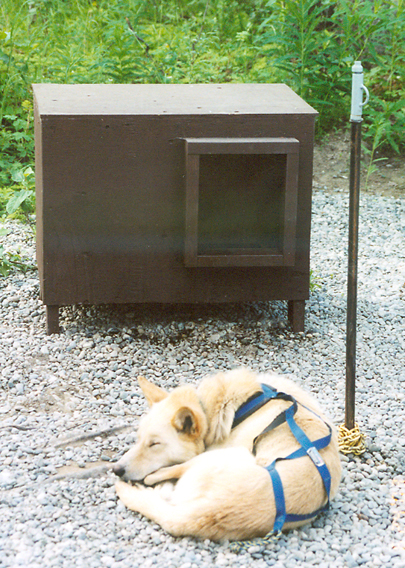 and happy at home

Link to more information on Susan Butcher