Cedar Rock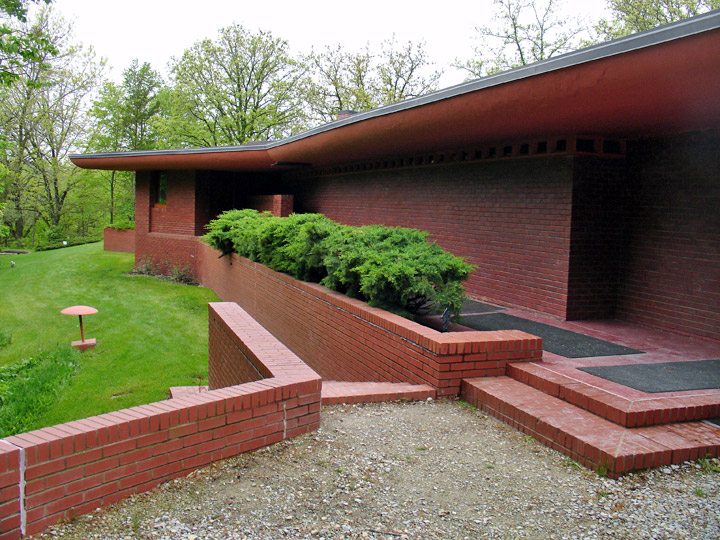 Cedar Rock
When Iowa businessman Lowell Walter died in August of 1981, he and his wife, Agnes. left their dream home, Cedar Rock. to the Iowa Department of Natural Resources and the people of Iowa. Designed by the famed architect Frank Lloyd Wright, the residence lies on a limestone bluff overlooking the Wapsipinicon River near Quasqueton in Buchanan County.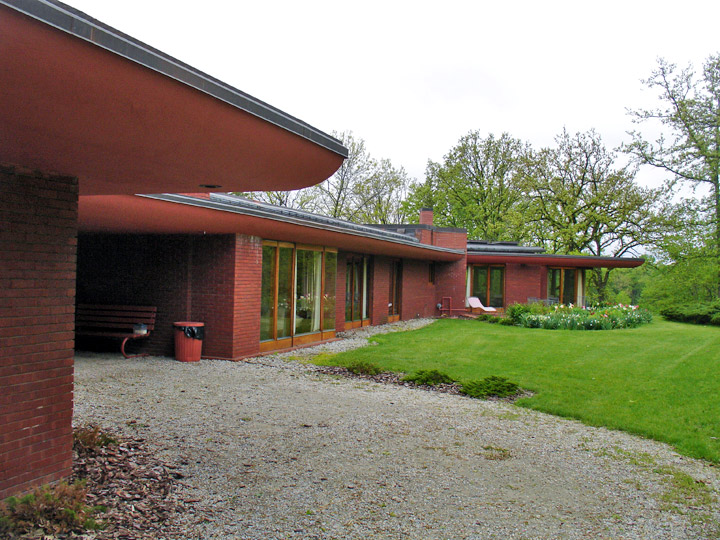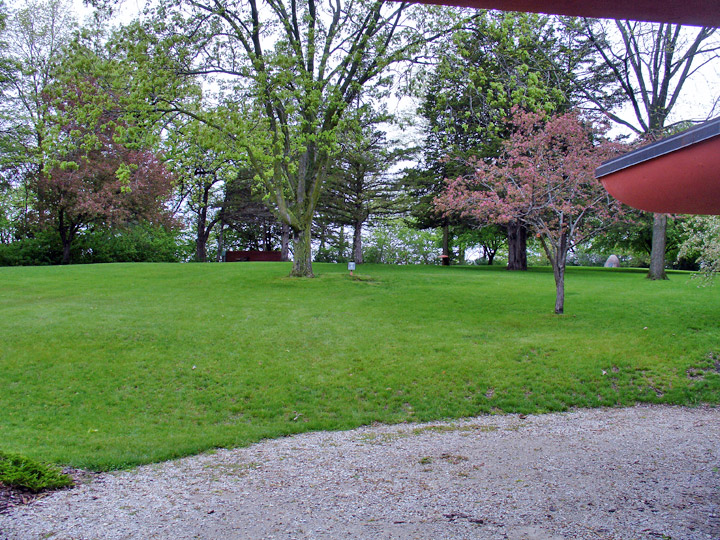 looking over the landscaped hill top
The Walter House was one of Wright's most complete designs. Nearly everything at Cedar Rock bears the architect's imprint. Wright designed the furniture. selected the carpets. chose the draperies .and even picked out the accessories. Cedar Rock was begun in 1948 and completed in 1950. Its roof and floors are concrete; the walls are brick, glass. and walnut. Cedar Rock is one of ten buildings Wright designed in Iowa.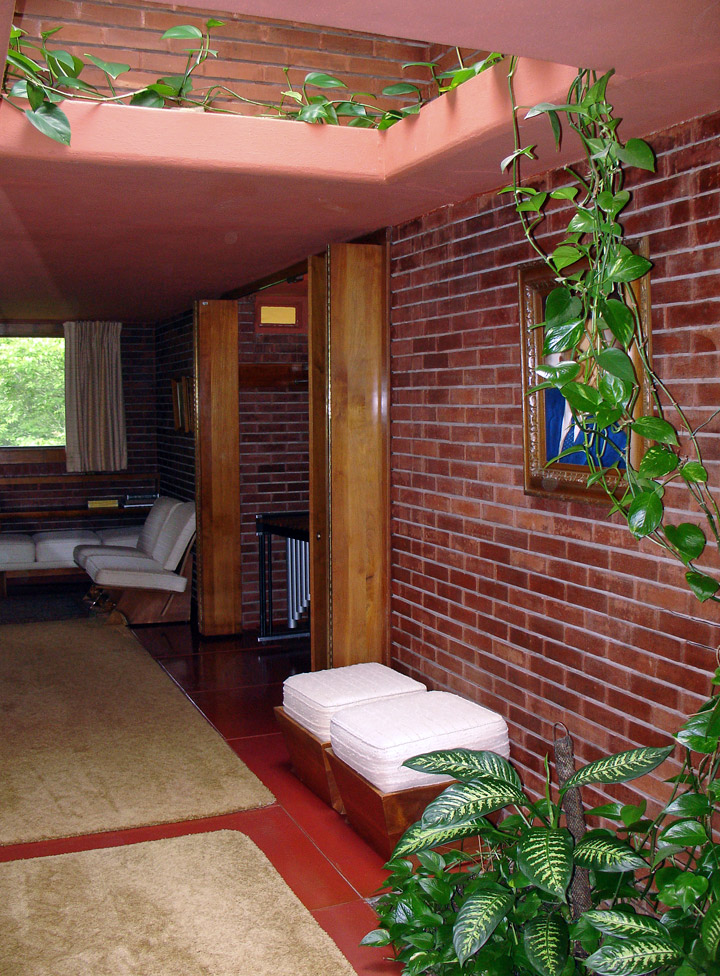 entrance hallway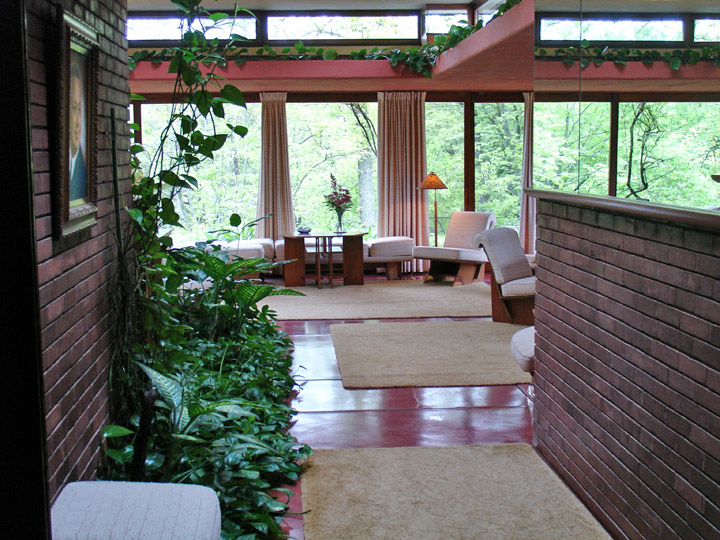 looking into the Garden Room
The Walter House is an example of a simplified style of house Frank Lloyd Wright developed and called "Usonian." The Plan for the Walter House follows the characteristic "tadpole" form, typical of Wright's Usonian homes - the bedroom wing of the house constituting the tail of the "tadpole" and the living/dining room the head. The house is one story and the overall length is about 150 feet Everything about the Walter residence is compact and efficient - everything that is, but the combination living/dining room which Wright called "the Garden Room." The Garden Room covers more than 900 square feet and has a fireplace which can hold five-foot logs.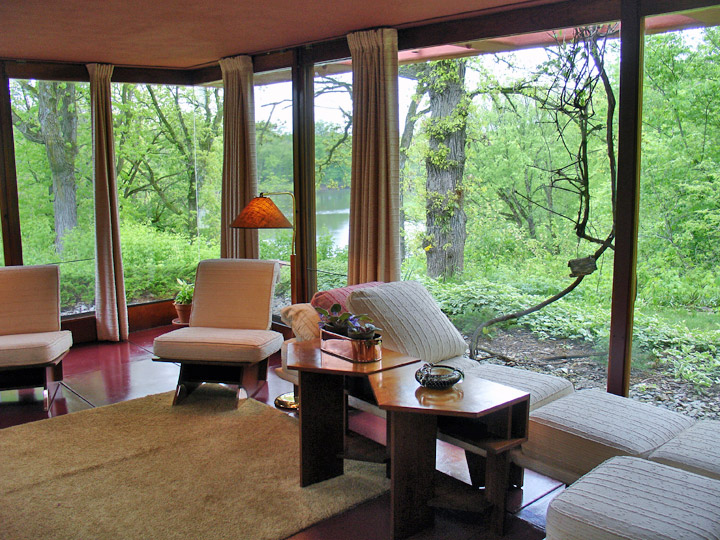 Garden Room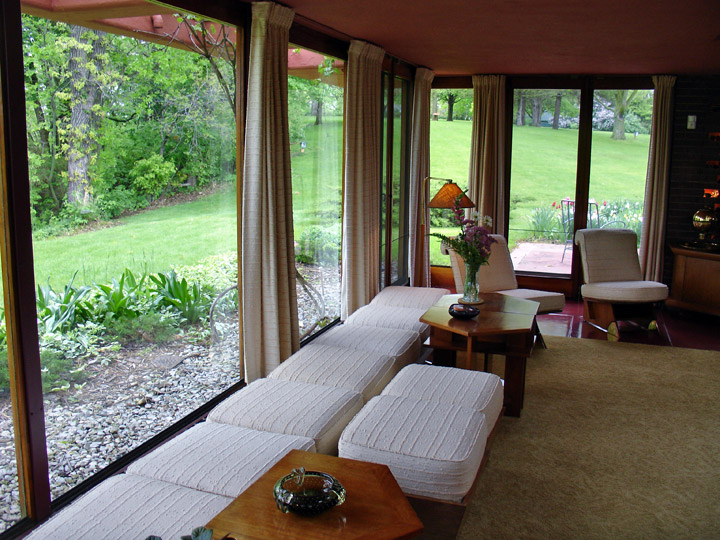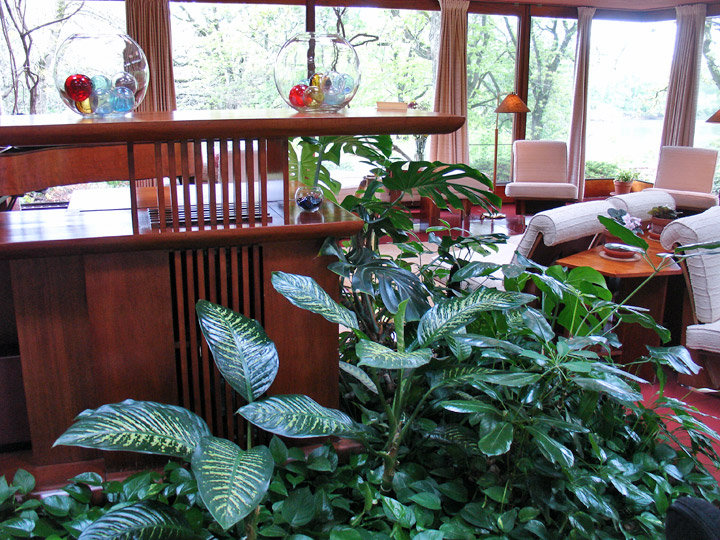 The view of the river and wooded valley, through the Garden Room's three glass walls, is breathtaking. Glass doors open directly from living areas to ground-level terraces. Natural light fills the house. Broad overhangs with upturned edges soften sunlight and shade the glass walls.
dining area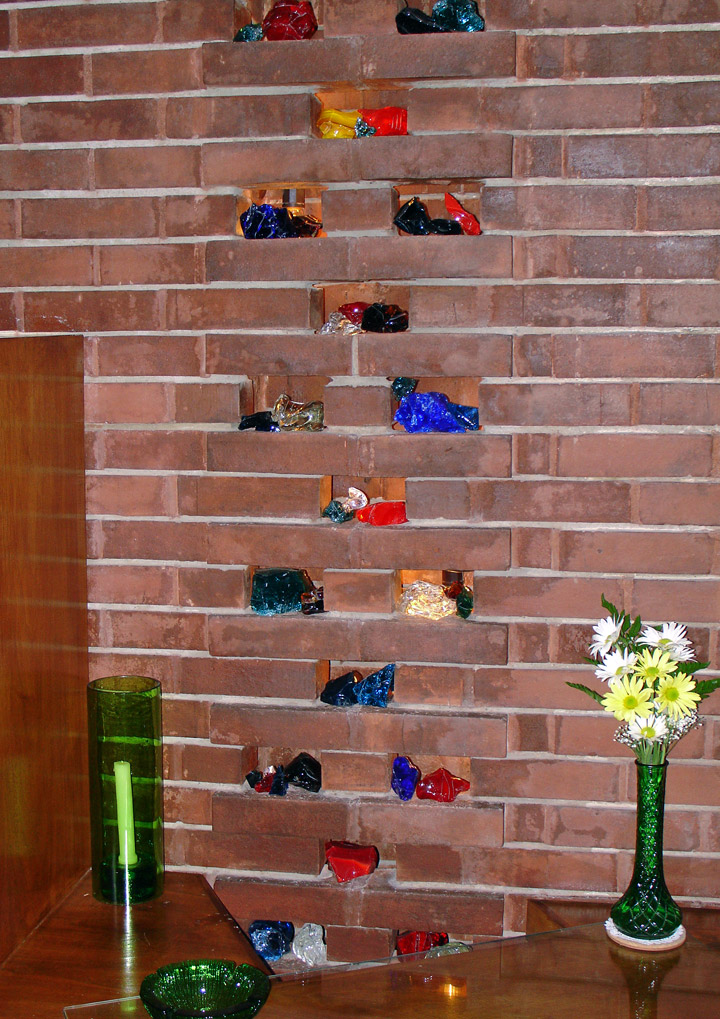 wall decor
blobs of left over glass from Corning
selected by Wright
There are openings in the overhangs covered with vines for summer shade. Clerestory windows or skylights are incorporated in every room to brighten interior spaces and release hot air trapped near the ceiling. Recessed artificial lighting creates the effect of natural light, even at night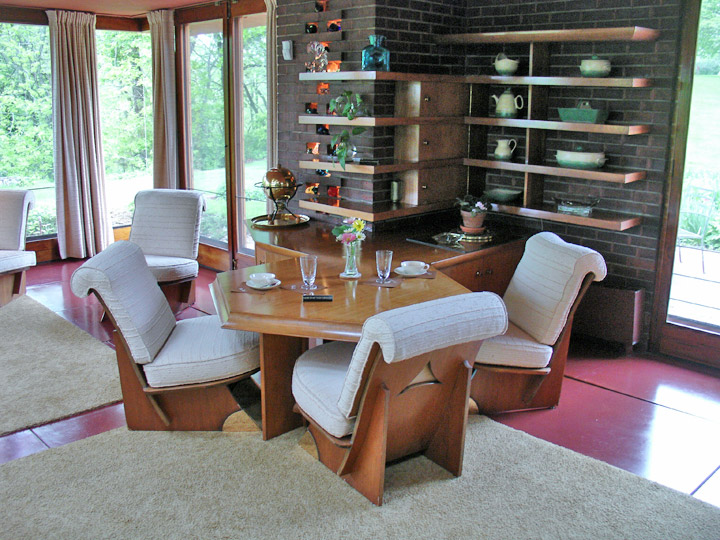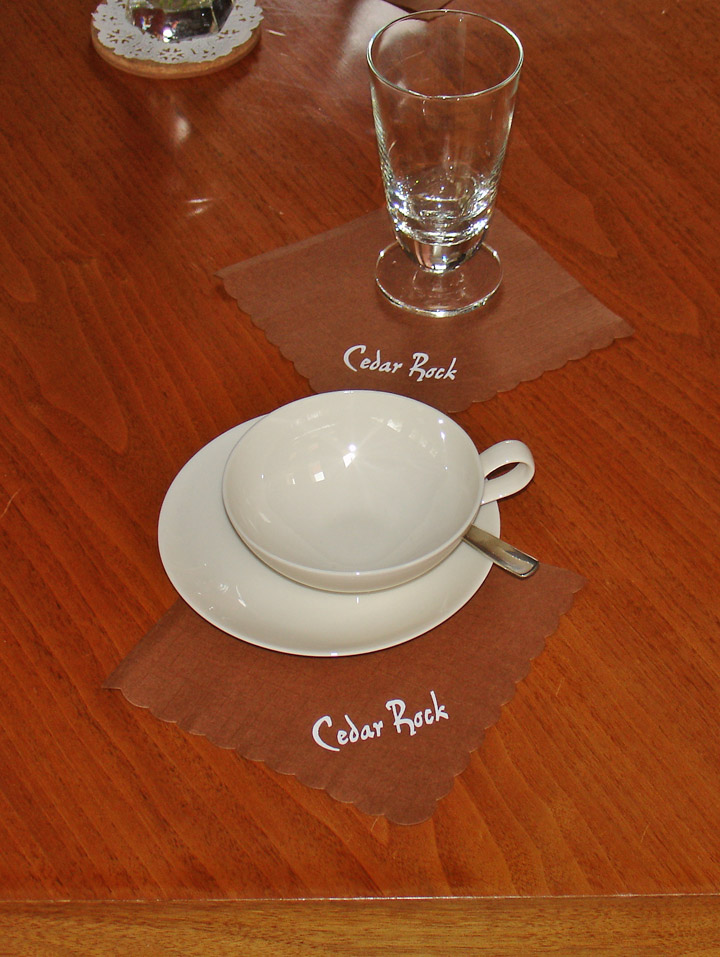 pattern selected by Wright

In addition to the house, the wooded 11 acre site contains a boathouse and a fire circle, also design by Wright. Cedar Rock is an important example of the Midwestern residential style developed by Wright, characterized by its provisions for living simply and in harmony with nature.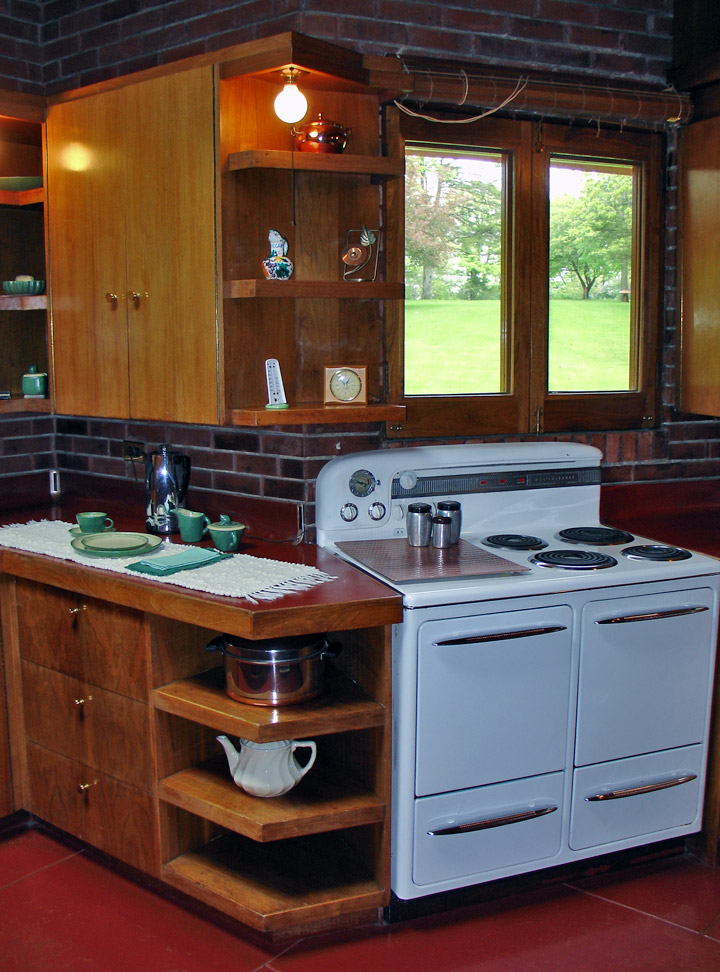 kitchen area
The Walters were justifiably proud of Cedar Rock Very little has been altered in the house since its construction; the structure and furnishings are in good condition. The Walters have assured preservation of the residence by providing a trust fund for the perpetual maintenance of the property.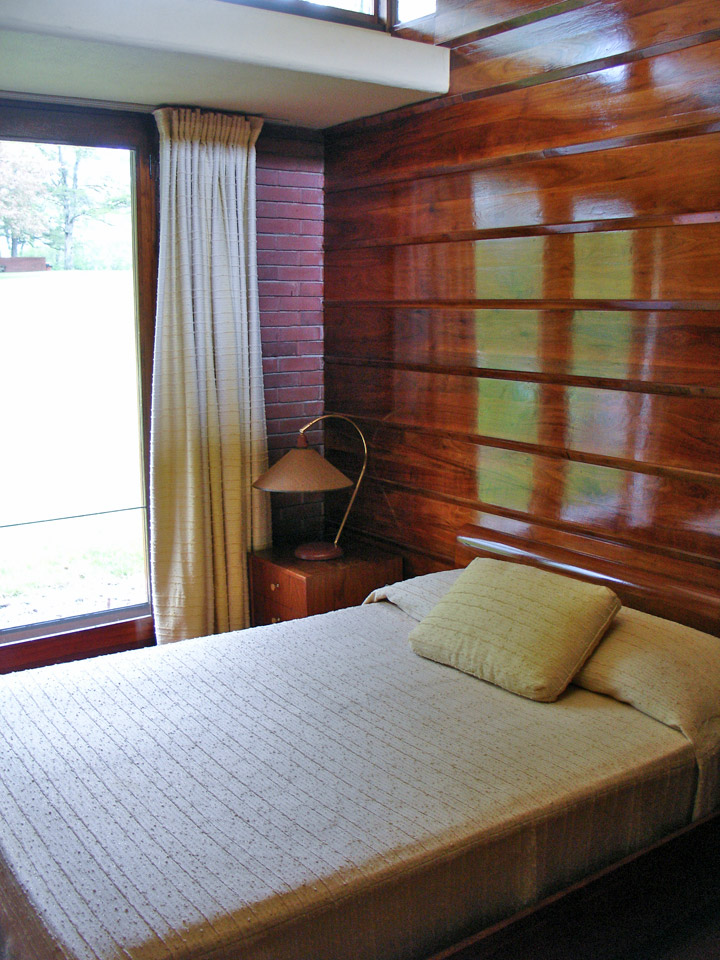 guest room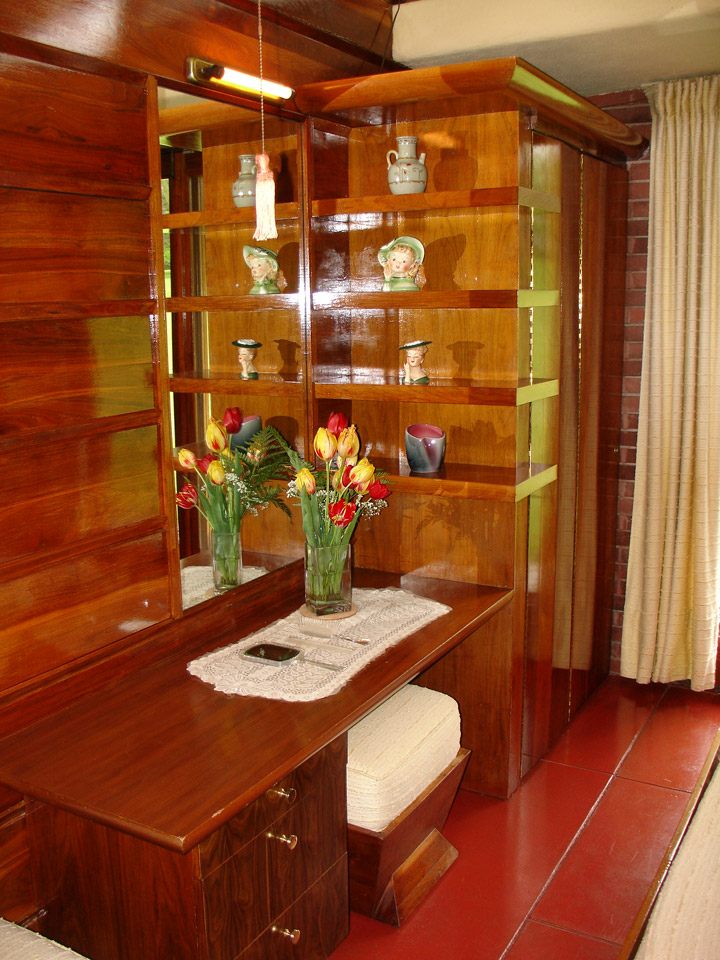 vanity area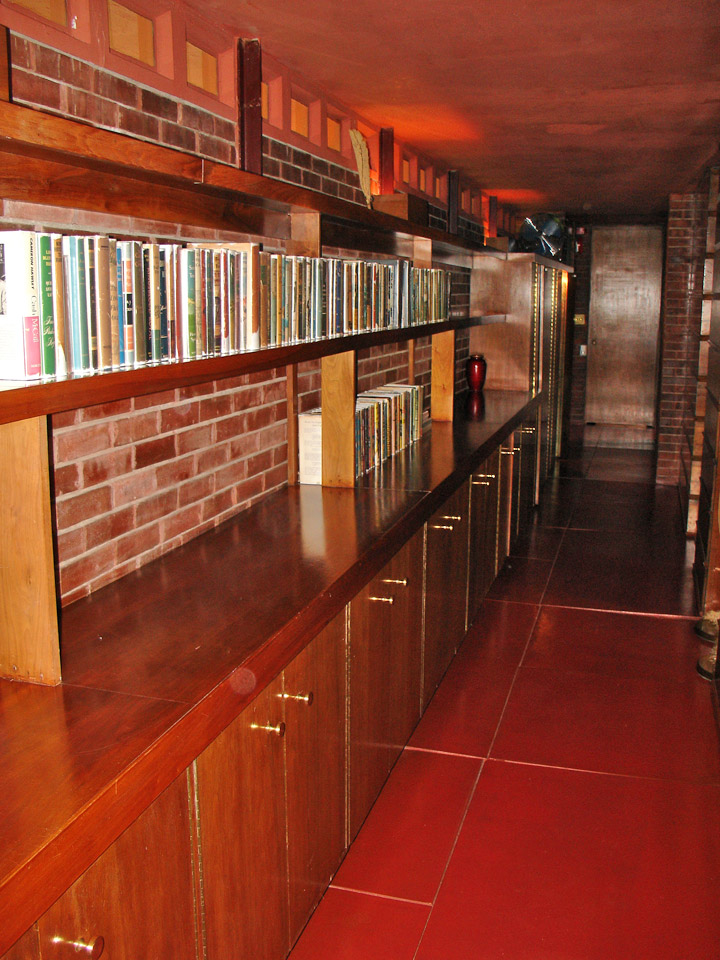 storage in hallway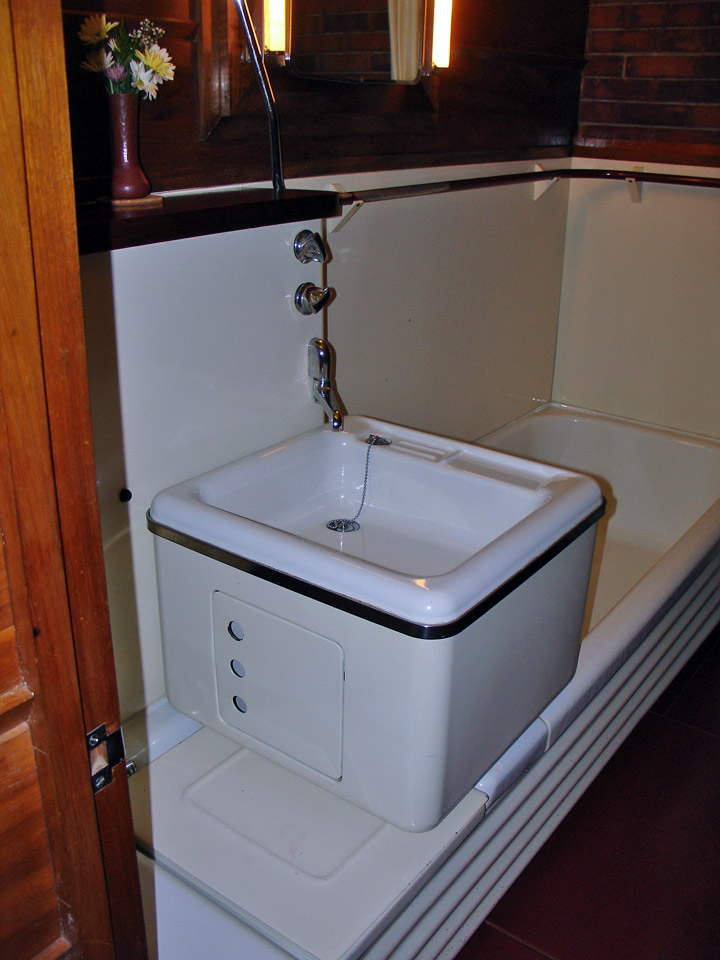 movable lavatory over the toilet next to the bath tub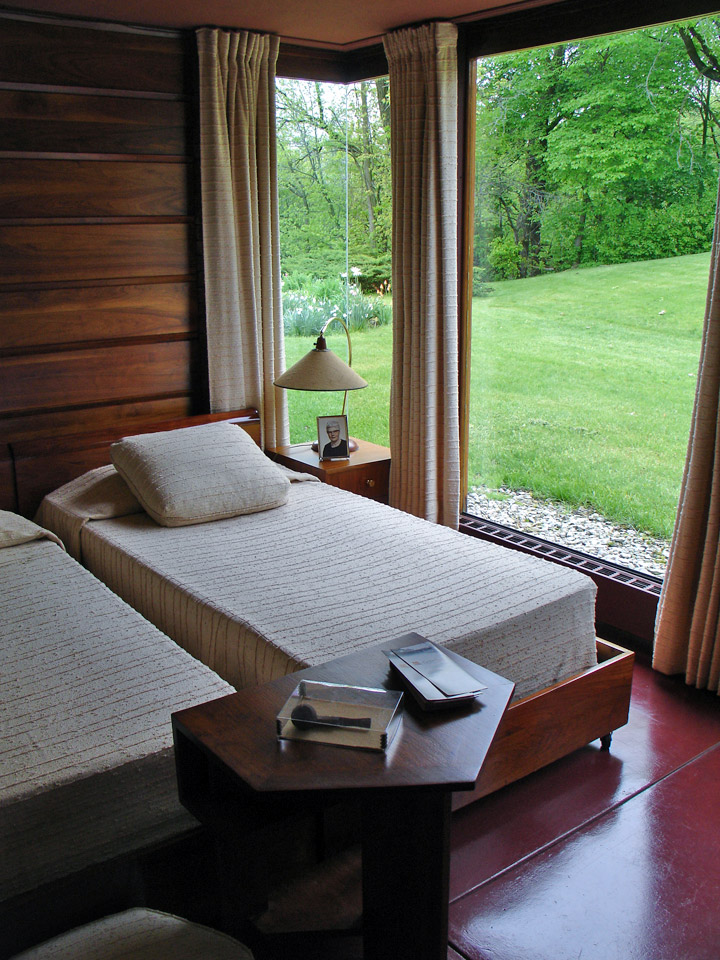 master bed room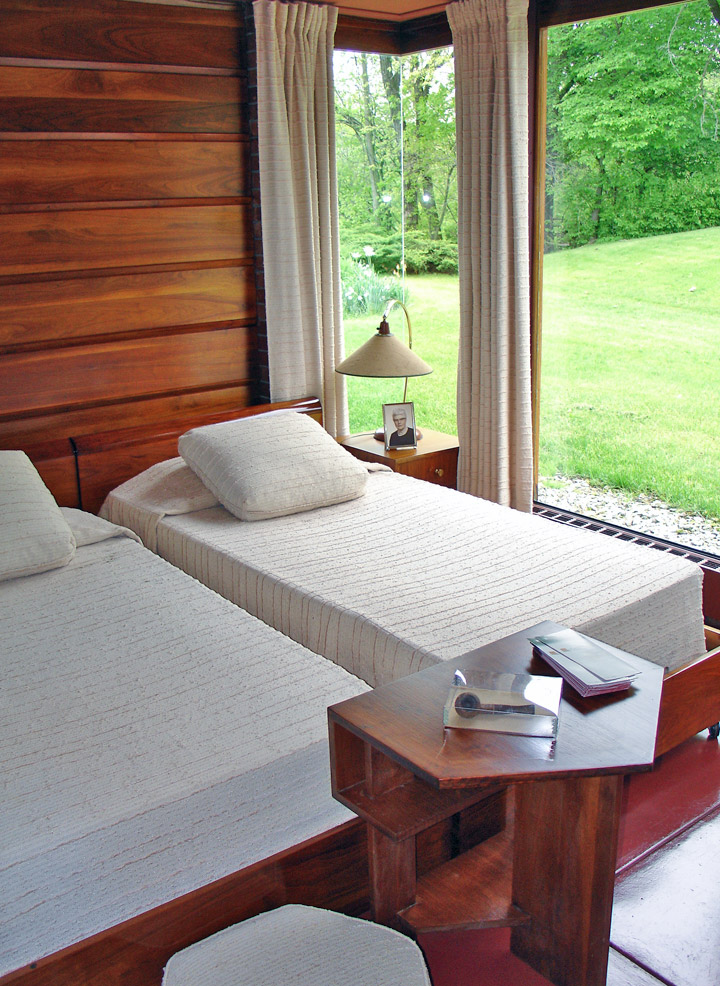 with a view to the landscape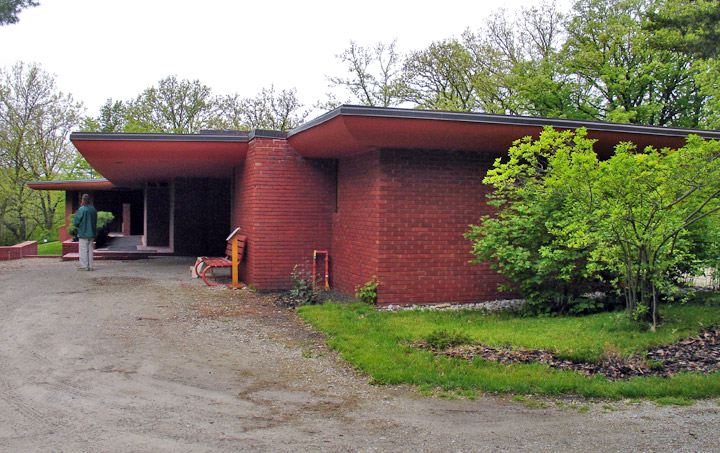 tail of the "tadpole" is a carport and "maid's quarters"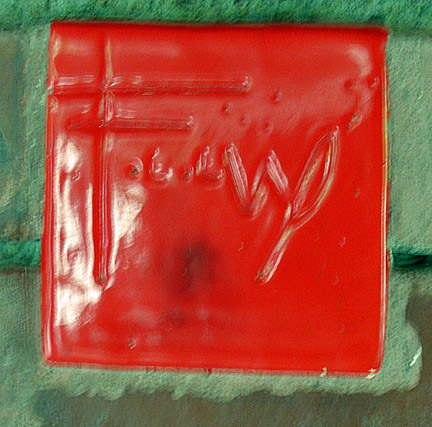 Frank Lloyd Wright's mark on a tile
indicating his approval of the finished project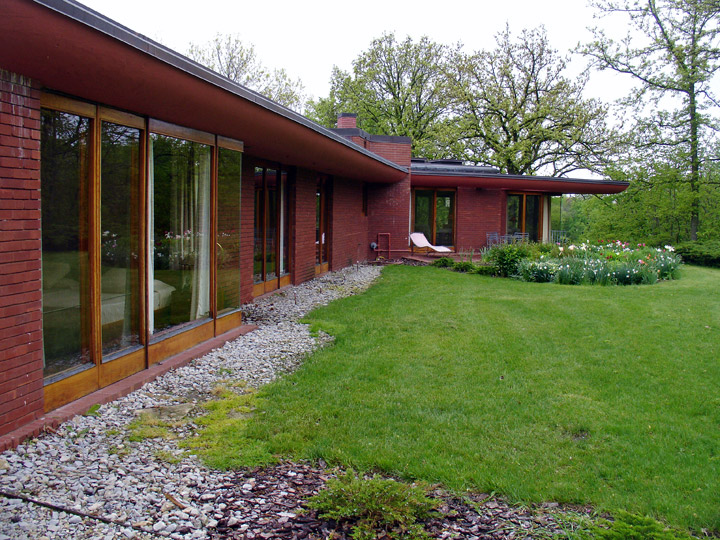 windows along the garden side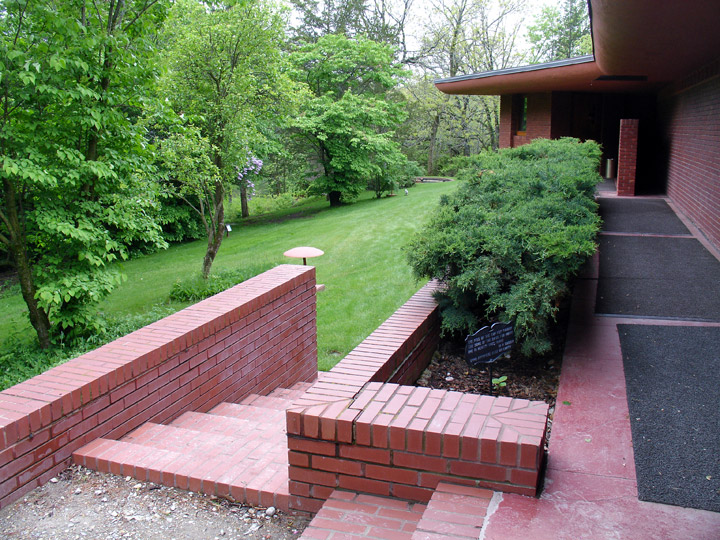 to the entrance along the slope to the lake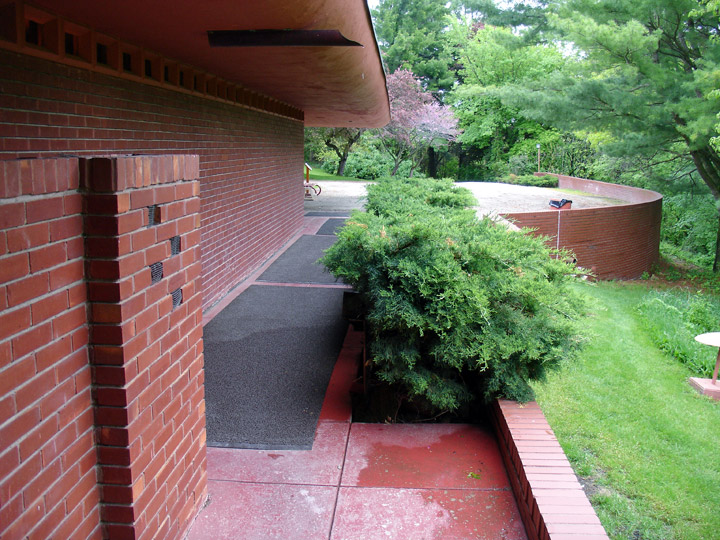 looking back to the carport and parking area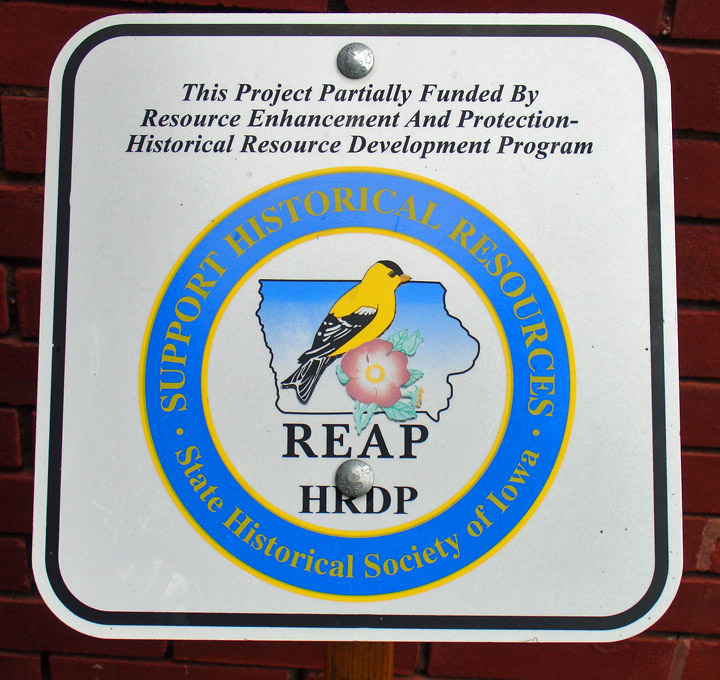 a project of the State of Iowa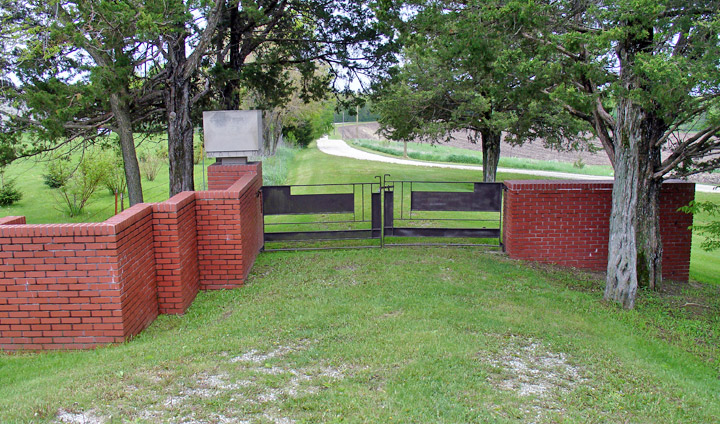 original entrance to the house grounds
designed by Wright
---
---