Galesburg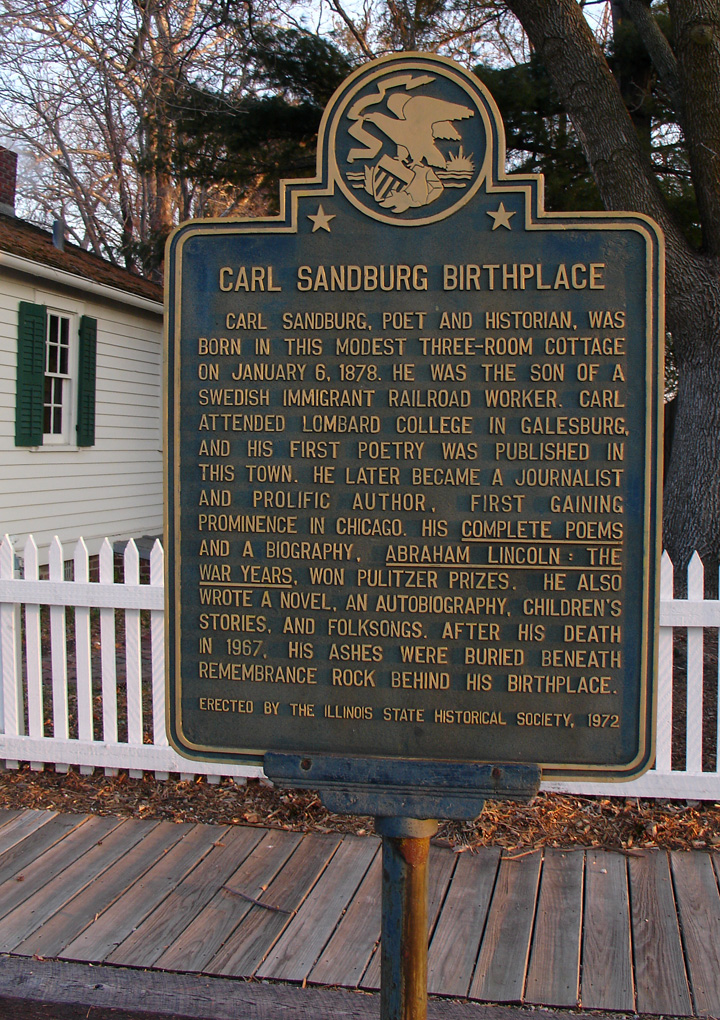 birthplace of Carl Sandburg
Carl August Sandburg (January 6, 1878 – July 22, 1967) was an American poet, historian, novelist, balladeer, and folklorist. He was born in Galesburg, Illinois of Swedish parents and died at his home, named Connemara, in Flat Rock, North Carolina.
Sandburg's home of 22 years in Flat Rock, Henderson County, North Carolina is preserved by the National Park Service as the Carl Sandburg Home National Historic Site.

Carl Sandburg College is located in Sandburg's birthplace of Galesburg, Illinois.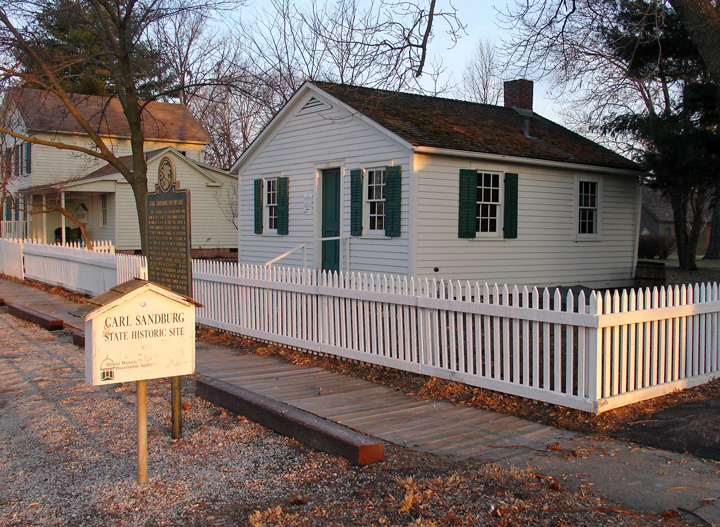 birth home
Carl Sandburg's boyhood home in Galesburg is now operated by the Illinois Historic Preservation Agency as the Carl Sandburg State Historic Site. The site contains the cottage Sandburg was born in, a modern museum, the rock under which he and his wife Lilian are buried and a performance venue.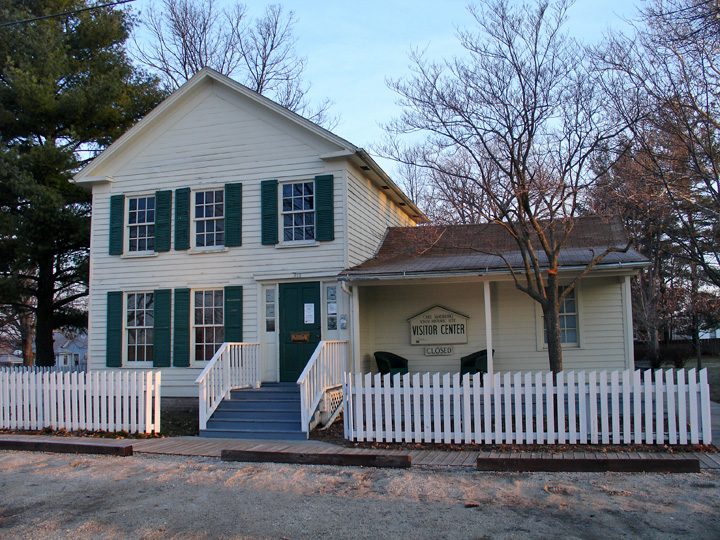 Carl Sandburg State Historic Site
---
His Life
During the Spanish-American War, Sandburg enlisted in the 6th Illinois Infantry, and he participated in the landing at Guánica on July 25, 1898 during the invasion of Puerto Rico. Following a brief (two-week) career as a student at West Point, Sandburg chose to attend Lombard College in Galesburg. He left college without a degree in 1902. He was a heavy drug user during his college years and was eventually threatened with expulsion if he didn't leave on his own. It is widely believed that he was thrown out because of the many wild parties that he threw.

Sandburg lived for a brief period in Milwaukee, Wisconsin, during which he became a member of the Social Democratic Party and took a strong interest in the socialist community. He worked as a secretary to Mayor Emil Seidel, the first socialist mayor in the United States.

Sandburg met Lilian Steichen, sister of the famed photographer, Edward Steichen, at the Social Democratic Headquarters. Lilian (nicknamed "Paus'l" by her mother and "Paula" by Carl) and Carl were married in 1908; they would go on to have three daughters.

Sandburg moved to Harbert, Michigan. From 1912 to 1928 he lived in Chicago, nearby Evanston and Elmhurst. During this time he began work on his series of biographies on Abraham Lincoln, which would eventually earn him his Pulitzer Prize in history (for Abraham Lincoln: The War Years, 1940).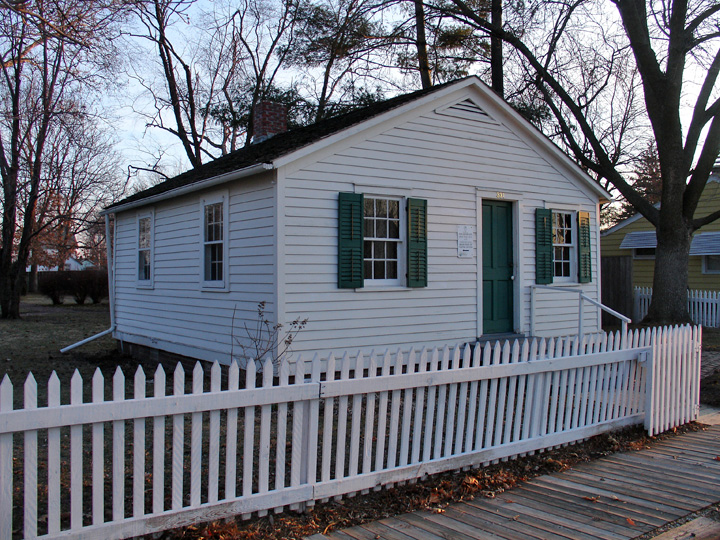 home in Galesburg
In 1945, the Sandburg family moved from the Midwest, where they'd spent most of their lives, to the Connemara estate, in Flat Rock, North Carolina. Connemara was ideal for the family, as it gave Mr. Sandburg an entire mountain top to roam and enough solitude for him to write. It also provided Mrs. Sandburg over 30 acres of pasture to raise and graze her prize-winning dairy goats.

Much of Carl Sandburg's poetry, such as "Chicago", focused on Chicago, Illinois, where he spent time as a reporter for the Chicago Daily News and the Day Book. His most famous description of the city is as "Hog Butcher for the World/Tool Maker, Stacker of Wheat/Player with Railroads and the Nation's Freight Handler,/Stormy, Husky, Brawling, City of the Big Shoulders."

Sandburg is also beloved by generations of children for his Rootabaga Stories and Rootabaga Pigeons, a series of whimsical, sometimes melancholy stories he originally created for his own daughters. The Rootabaga Stories were born of Sandburg's desire for "American fairy tales" to match American childhood. He felt that the European stories involving royalty and knights were inappropriate, and so populated his stories with skyscrapers, trains, corn fairies and the "Five Marrrrvelous Pretzels".
Text from Wikipedia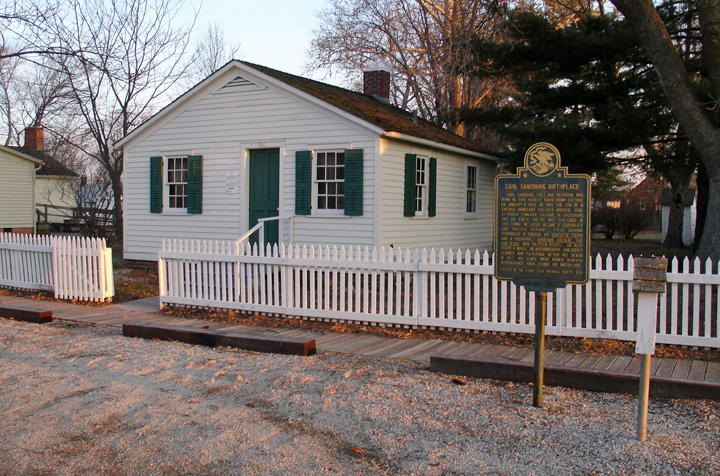 birthplace in Galesburg, Illinois
---
---