Beastie Beat
Milwaukee, Wisconsin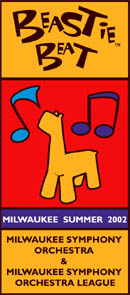 Welcome to the Beastie™ Beat, Wisconsin's largest public art exhibit! The Beastie Beat, currently features 45 full-size fiberglass Beasties that have been "adopted" by individual and business sponsors, and decorated by local and nationally-recognized artists.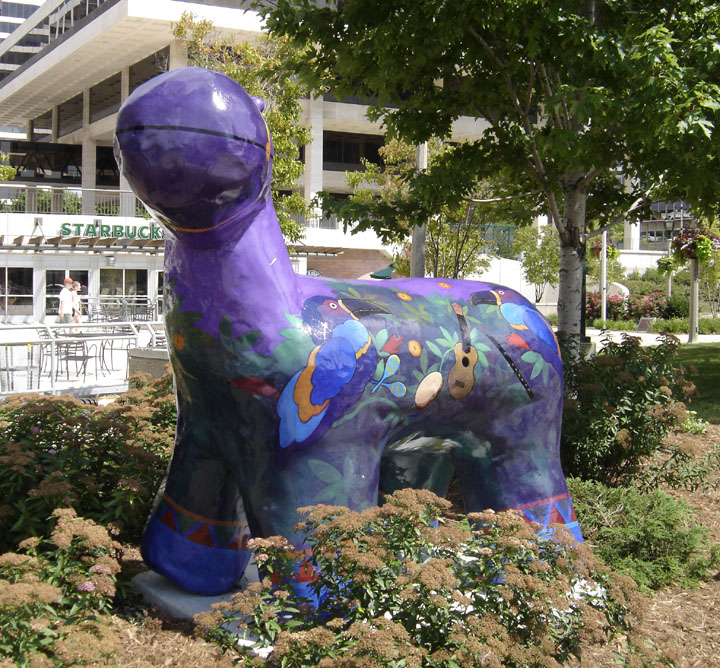 #18 TROPICALIA

All the Beasties highlight a musical theme. They may be seen singing, strumming, snorkeling and otherwise sashaying about selected public viewing locations around Milwaukee.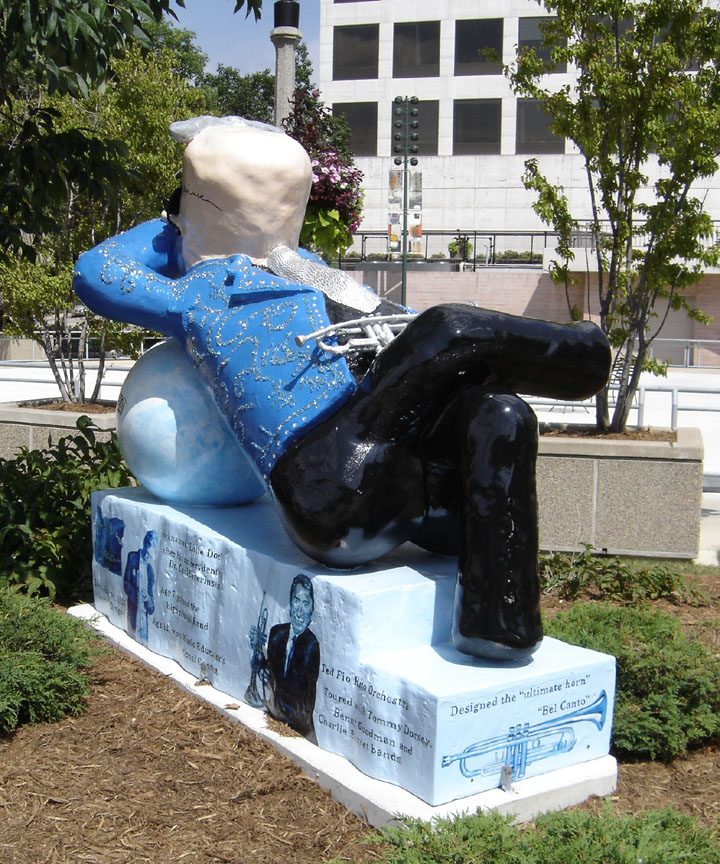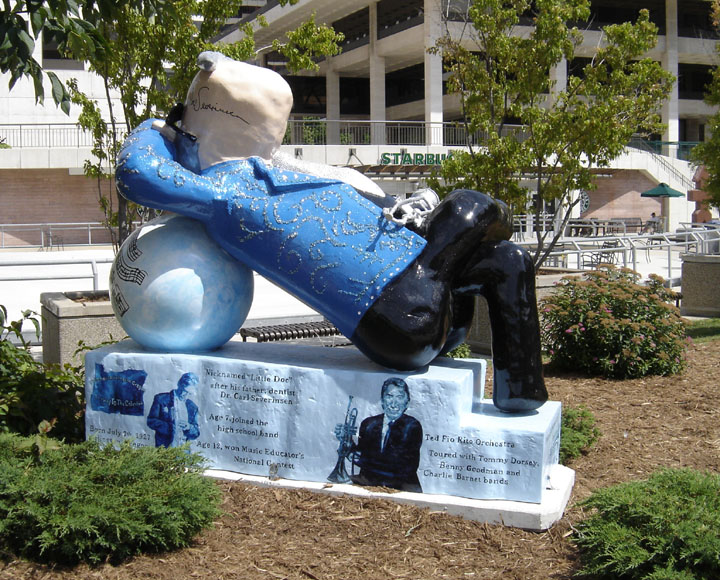 #20. DOC'S HOLIDAY
Everyone loves the Symphony's Principal Pops Conductor, Doc Severinsen including MSO Board member Marty Krebs and his wife Alice. A trumpeter himself, Marty wanted to sponsor a Beastie in honor of the famous musician. Enter art teacher Julie Trump and her students at Bayside Middle School, who came up with a laid back design capturing the lively entertainer. It's just the right balance between glitz and glamour—black shirt, black tuxedo pants, a rhinestone tie, and a bright blue jacket sparkling with gems. Across his lap lies a silver trumpet, and he's holding a baton. Once glance at his silver hair and mustache and that jazzy pair of sunglasses, and you know it's Doc. The base is a timeline of his life.
---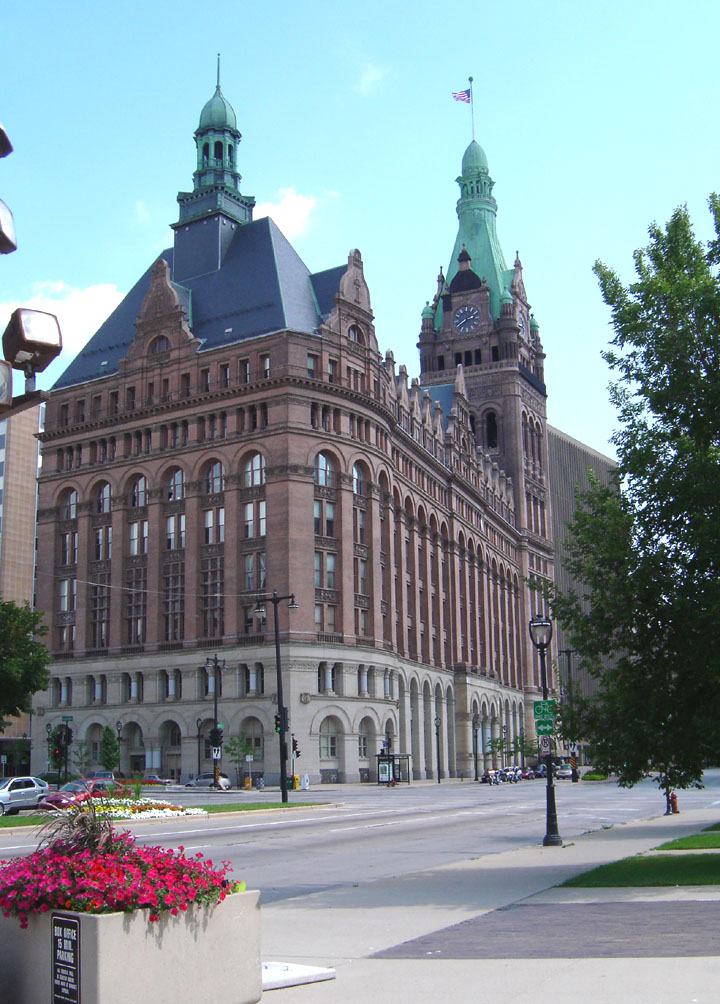 Milwaukee City Hall
Capitalizing on the popularity of similar national public art exhibits, the Beastie Beat celebrates Wisconsin's indigenous creature, the Beastie. The Beastie Beat is a joint project of the Milwaukee Symphony Orchestra and the Milwaukee Symphony Orchestra League, in conjunction with the City of Milwaukee; the Milwaukee County Department of Parks, Recreation and Culture; and the Milwaukee Arts Board. The goal is to feature Milwaukee's high-caliber artistic community, attract residents and tourists to Beastie locations, and showcase Milwaukee's downtown renaissance.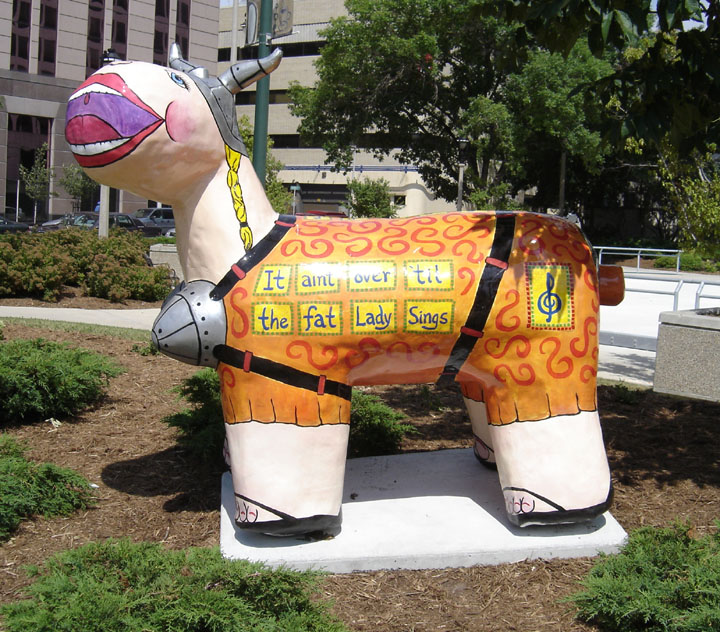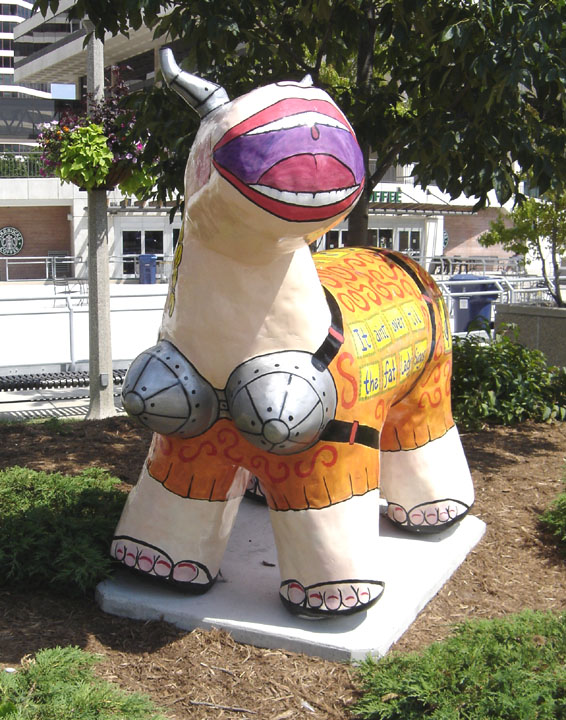 #19 IT AIN'T OVER 'TIL THE FAT LADY SINGS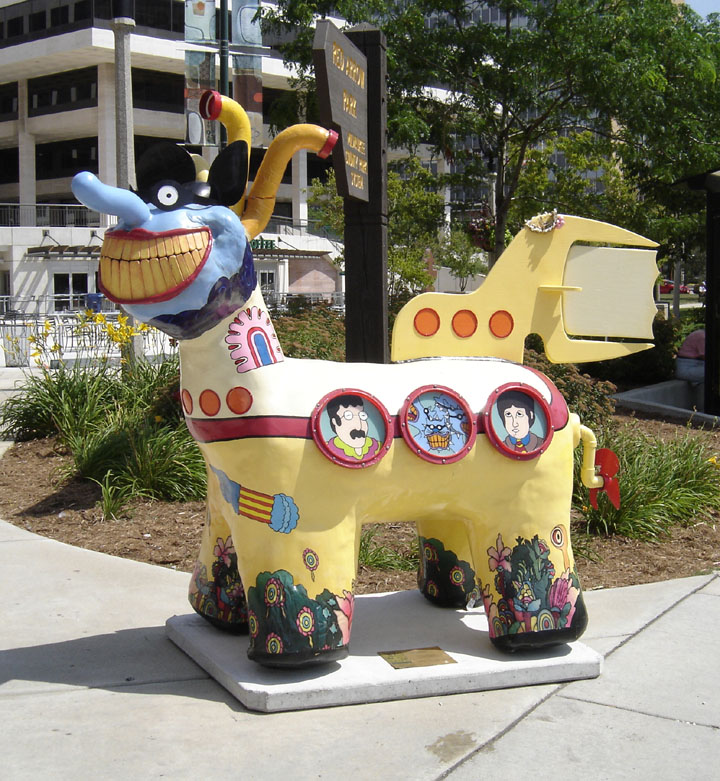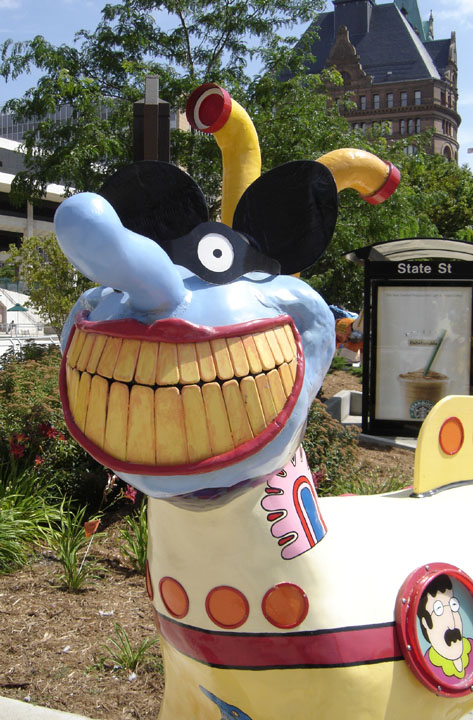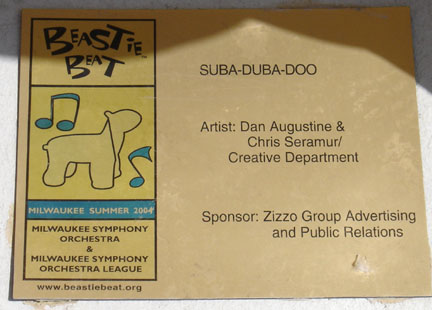 #21 SUBA-DUBA-DOOOO
Chris Bishop Seramur and Dan Augustine, the artists behind "Suba Duba Doo", credit their Beastie creation to the days they spent under the influence of Suba snacks. Dan, infamous in a few small art circles for his obsession with the color yellow, and Chris with his fascination with building Lego's, collaborated to create their Beastie as a tribute to The Beatles famous Yellow Submarine. Several gallons of paint, pounds of clay, and layers of lacquer later, their Beastie was born.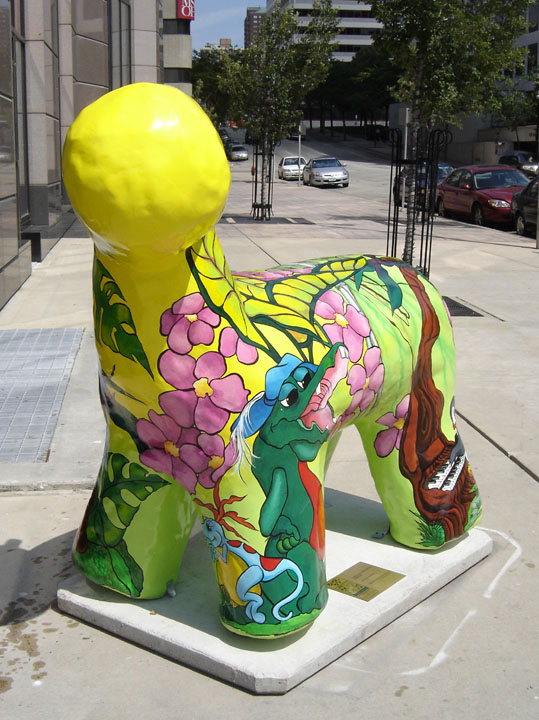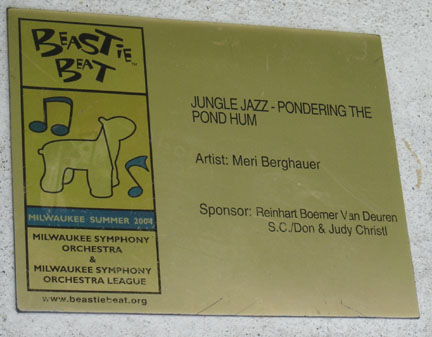 #22 JUNGLE JAZZ - PONDERING THE POND HUM
Jungle Jazz is a collection of tropical creatures with a fantasy twist—Meri Berghauer's specialty. The organ-playing toucan is accompanying the serenading croc, while a cockatoo provides backup. A chorus line of flamingos can-can to their tunes. The audience consists of a dreamy lizard, a startled giraffe and a "root" stomping tree. If you listen closely, you can hear the musical hum of insects at the edge of the pond.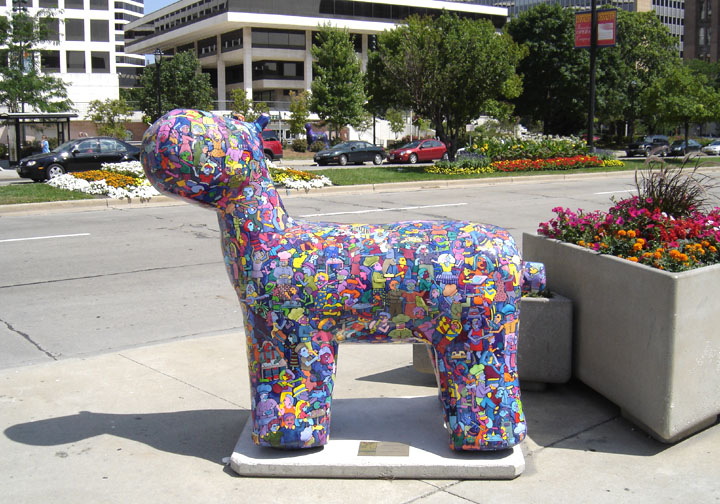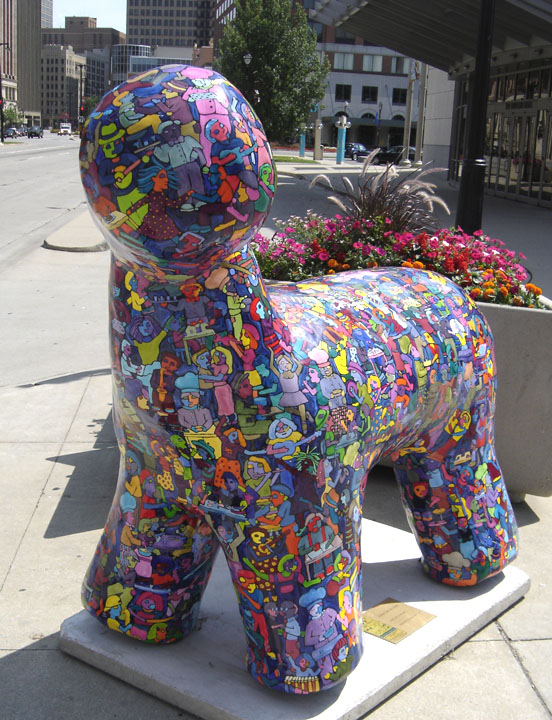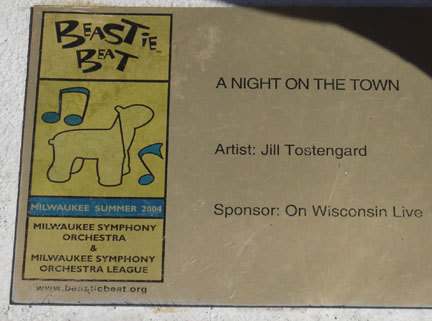 #23 A NIGHT ON THE TOWN
Fun and funky—that's how Jill Tostengard describes her "contemporary folk cubist representation abstract" design. You can look at it a dozen times and still find something new among the hundreds of happy people enjoying the entertainment scene in Milwaukee—a reflection of the coverage on OnWisconsin.com Live. The intricate detail and interlocking figures are mesmerizing. As one art critic described Jill's people, "They seem to be trying to tell you two or three stories at once." Jill has included many of her "favorite accessories:" polka dots, Mary Janes, big buttons, overalls, and hats plus a surprise or two like a portrait of Jerry Garcia.
---
On City Hall Corner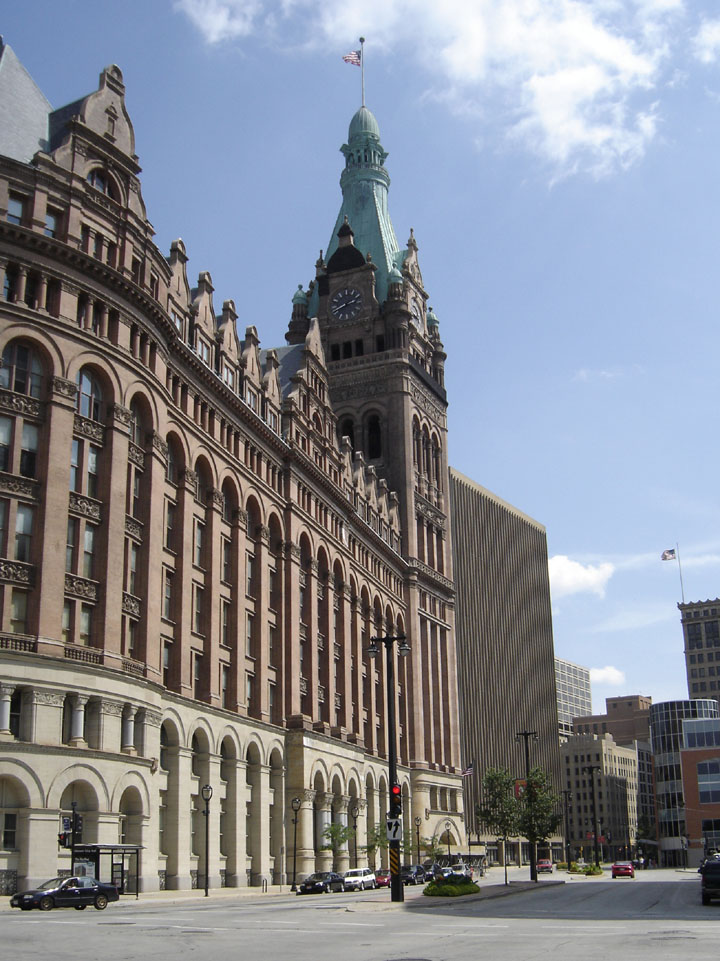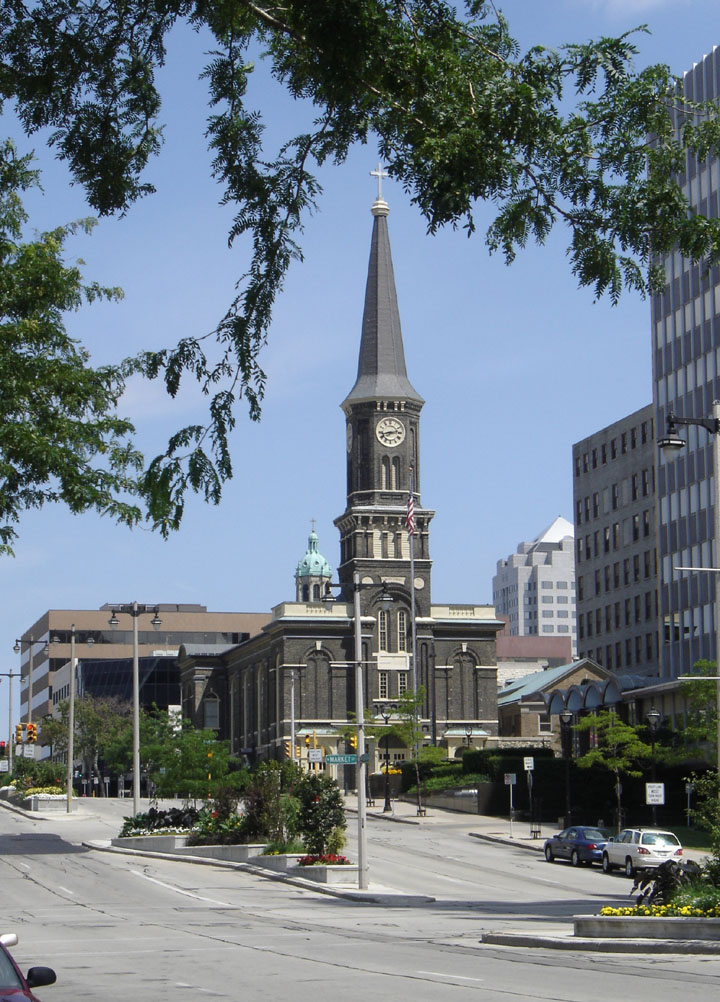 ---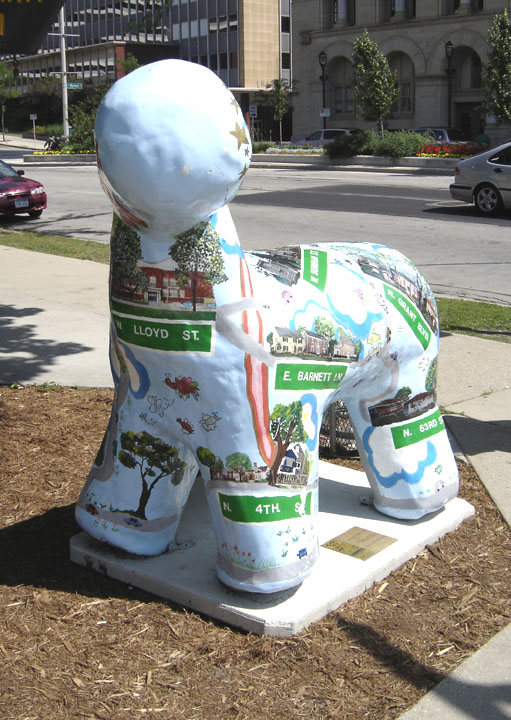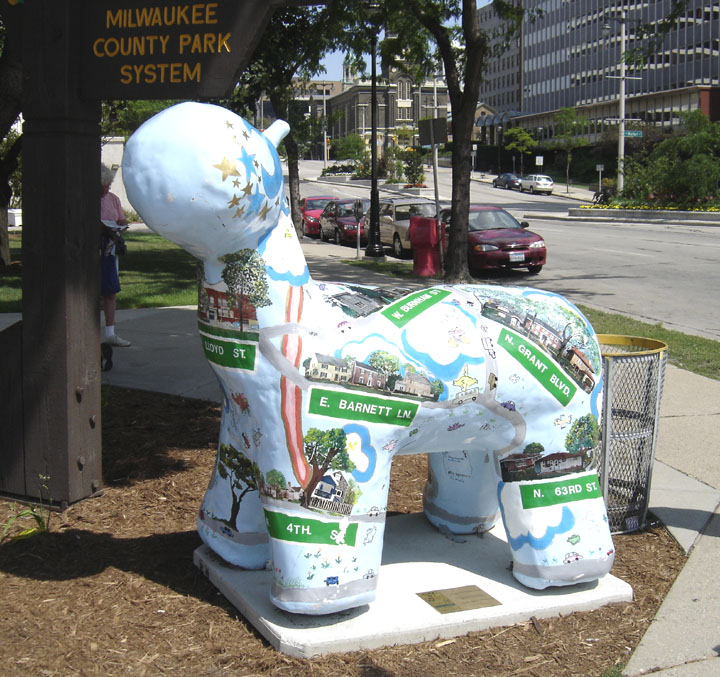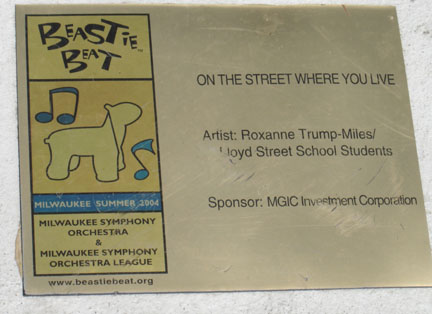 #17 ON THE STREET WHERE YOU LIVE

When the Lloyd Street School students lost their art teacher due to budget cuts, music teacher Roxanne Miles-Trump and her art teacher sister Julie Trump (from Bayside Middle School) thought it would be a great project for Lloyd's 5th grade students. They had it all planned, then discovered that the 21st century Beastie was too wide to go through the doors of the 100-year-old school building. As a result, the Beastie ended up living in the teachers' mom's garage. Every afternoon after school, Mrs. Miles took groups of students to Bayside to paint the Beastie. The team started by taking pictures of houses around the Milwaukee area and "modge podged" them onto the sculpture. Then they painted street signs and painted over the photos so they wouldn't fade in the summer sun. The children learned about digital photography, mixing colors, use of different paintbrushes and, most important, how to cooperate to achieve their goal. Different groups of kids found out they could work together even if they didn't hang out together.

---
---